Basel is located on the border of three countries – Switzerland, Germany, and France. But for us it has always been a transit city – we passed it many times on our travels to the Czech Republic and back, or when traveling to shopping in Germany. But this time we chose it as a goal of our trip, so since on Saturday was almost spring weather, we set off to explore its beauty.
Updated on 2nd November 2021
How to get to Basel
Basel can be easily reached by train or air and is a regular stop for river cruises. Basel's Airport is actually the EuroAirport which is also for Mulhouse in France and Freiburg in Germany so remember to exit into the Swiss side when you leave the airport building.
How to get around Basel
Easily: on foot 🙂 Although Basel is the third-largest city in Switzerland, it is, like other cities here, perfectly walkable. When you check-in to your hotel, hostel, or Airbnb you will be given a 'Basel Card'. The Basel Card offers free public transport around Basel, access to free wi-fi in the city, and discounts on lots of attractions.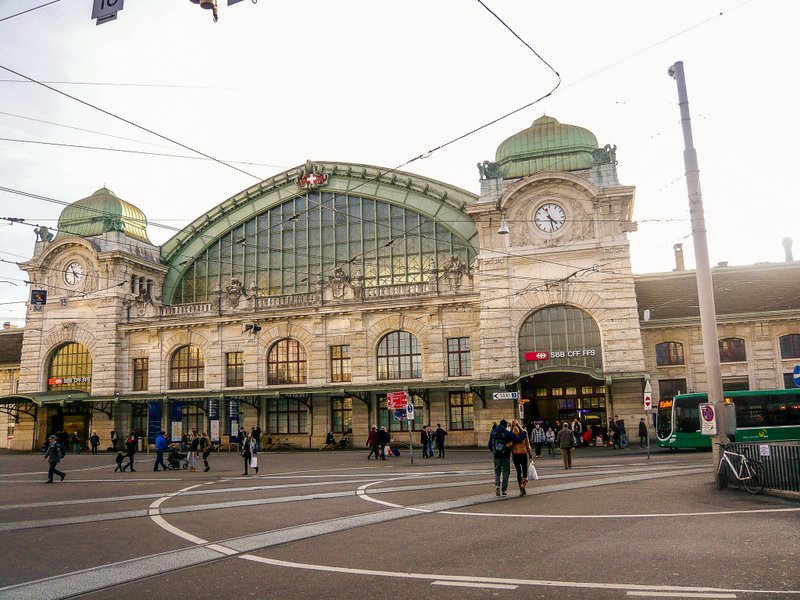 Barfüsserplatz
From the main train station (whose outdoor architecture is remotely reminiscent of the Prague Main Station) we went down to the city center following Elisabethenstrasse. Green tramways (their appearance rather be classified into one of the many museums in Basel) were passing by. We came across the first when we arrived at the Barfüsserplatz. Here in the former church from the fourteenth century (the former because it was deconsecrated in the 18th century) Historical Museum is to be found. We did not go on tour, we just viewed in the foyer of a scale model of the city and then out various stone historical artifacts (fragments of stone slabs, statues, etc.).
Rathaus
Then we walked through the local shopping street Freie Strasse, where we walked through the crowds of tourists (again, I felt like in Prague :)). Freely we drew up at the market square, where you can find the town hall – Rathaus – from the 16th century with a distinctive red façade. There was a market at that time on the square, so we walked past the stalls with cheese, sausages, flowers, cakes … feast not only for our eyes but also for taste and olfactory cells.
After a while, we came to a bridge over the Rhine River, which divides the city into two parts: Grossbasel and Kleinbasel (Large and Small Basel). We stayed at the Great and continued its steep street called the Rheinsprung and if we suddenly found ourselves in another world. Far from noisy tourists and ubiquitous restaurants with front gardens, in quiet picturesque streets with charming medieval half-timbered houses, which then gave way to large mansion houses with courtyards on Martinsgasse.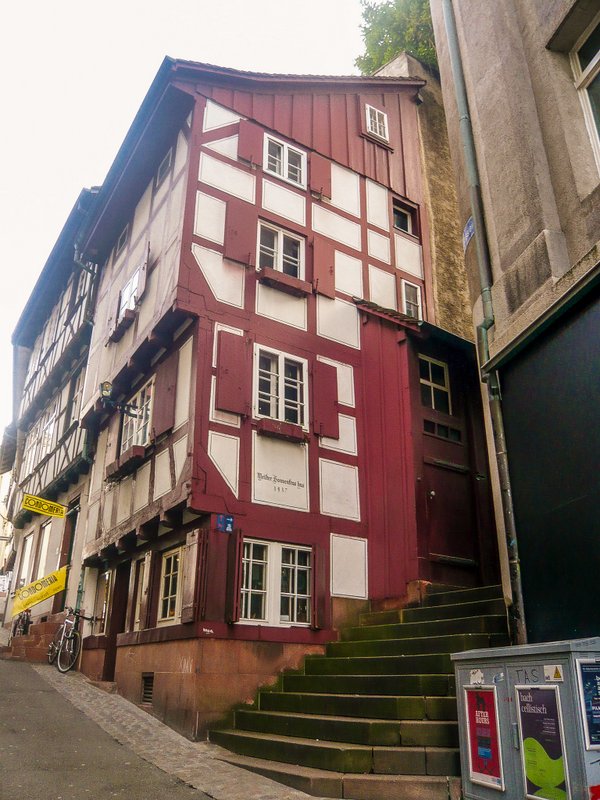 Münster
Soon we arrived at Münster – Basel magnificent cathedral, built in the thirteenth century from red sandstone. Due to the ongoing mass, we couldn´t admire its interior (where, among other things, the tomb of Renaissance humanist Erasmus of Rotterdam is to be found), so we only bypassed it around. First, we found ourselves on an open bastion Pfalz, where we could see one of the traditional rope ferries as cruising the Rhine River and carrying locals and tourists from one bank to another.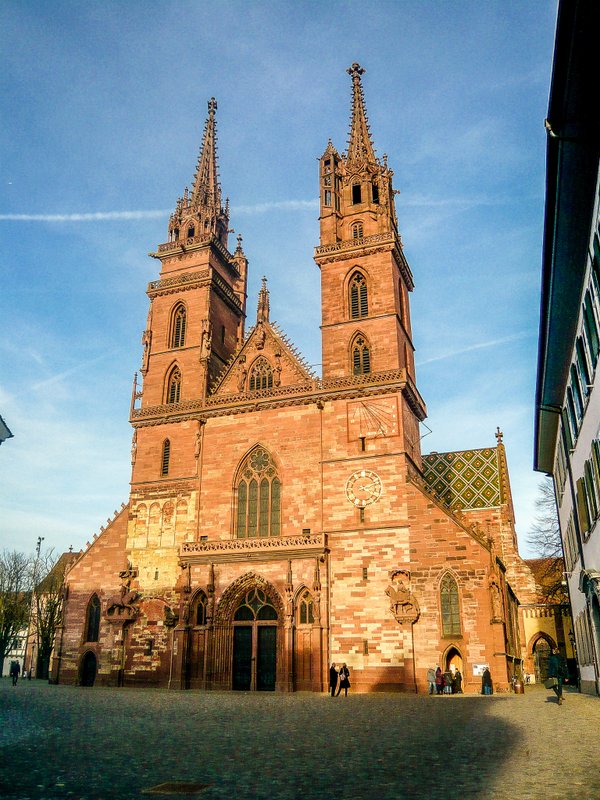 The highlight for me, however, was the monastic cloister walk (or cross corridors) with magnificent Gothic pointed arches that surround the south side of the cathedral. At this point, which literally invites contemplation, we ended our journey in Basel.
Museums
As I wrote in the title, Basel is a city of museums, judge for yourself: besides the Historical Museum you here in quite a small area of the historic center you can find also the Museum of Antiquity, Music Museum, Museum of Architecture, Natural History Museum, Museum of Art and the Museum of Contemporary Art, Paper Museum, Museum of Dollhouses, Pharmacy Museum, Jewish Museum, Museum Jean Tinguely … I would like to visit at least some of these museums, but with three small children it is unfortunately not possible (what I heard, children are in Swiss museums like the arch-enemy 🙁 )
And why Basel seemed to me as a city of contrasts? On one side it was very noisy (all this noise was caused by trams, tourists, loud music from stores), on the other hand very silent (in particular in the almost deserted medieval streets); Basel is both modern and historic, conservative and trendy and nonconformist. And therefore definitely worth a visit!
Basler Herbstmesse – Basels autumn funfair
The Basel Autumn Fair is more than just an ordinary funfair (although it might seem so from some of the shots). This tradition has a history of more than 550 years and is spread over seven Basel squares and the halls of the fairgrounds.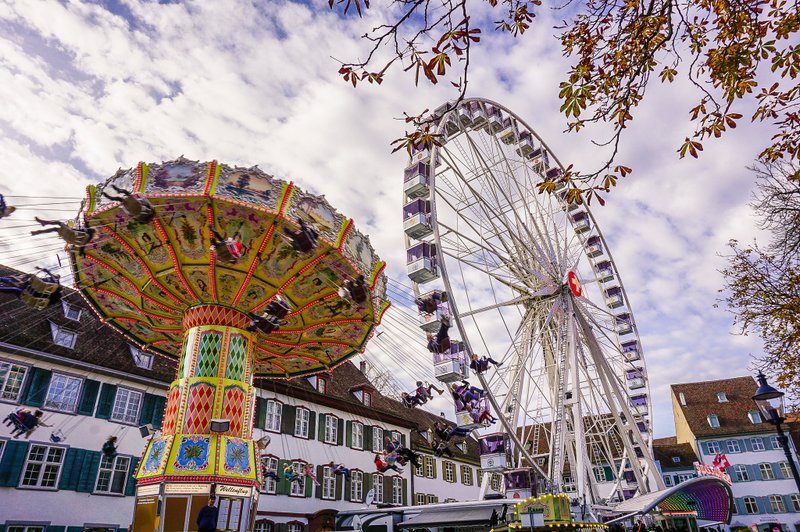 Day trips from Basel
If you love animals, visit Basel Zoo, one of the 15 best zoos in the world.
If you have more than one day in Basel, include the Roman ruins of Augusta Raurica into your itinerary. It is known for the biggest Roman theater north of the Alps.