Last time, when we wanted to get to the Allmendhubel playground, the funicular was not YET in operation (it was almost late April!). When we wanted to give it a second chance, in the second half of October, it was NO LONGER in operation. But while last time we were alerted about this fact at the ticket office, now we forgot to ask. Arrrgghh….!!! So this trip could have resulted in just another "hiking fail" (remember Buochserhorn or Sentier des Monts?). Fortunately, it has ended "only" as a trip with a moral lesson to our children (which they have surely immediately forgotten 😀 ).
Getting there
To reach the Flower Park playground, first, you have to take a cable car from Stechelberg to Mürren. Then a 5minutes walk through Mürren to the Allmenhubel funicular. Alternatively, you can hike uphill just like us 🙂
By car: From Bern, the journey takes just over an hour. Drive the highway in the direction Interlaken, then take the exit to Wilderswil/Grindelwald/Lauterbrunnen. Then head for Lauterbrunnen and continue through the valley to Stechelberg. A large metered lot is right next to the valley station of the Schilthorn cable car. Parking for 4-8 hours costs 7 francs, for the whole day 10 francs.
By train/bus: From Interlaken (Interlaken-Ost Station) take the train to Lauterbrunnen, here you have to transfer to bus no.141, which takes you directly to "Stechelberg, Schilthornbahn".
Buy a return ticket to Mürren. It costs 22.50CHF (with Halb-fare card 11.20CHF, children from 6 to 16 with Junior card traveling with parents are free of charge). The Allmendhubelbahn ticket is paid separately (return ticket for 14CHF, half with Halb-fare card).
Be prepared for buses with crowds of tourists who want to get to the famous peak where one of the James Bond´s movies was shot (as soon as the cable car´s door closes behind you, you hear a familiar introductory theme 🙂 ). The journey to Mürren takes 12 minutes.
Mürren
The alpine village Mürren is located on a cliff over the valley. Like in Wengen, cars are not allowed here either. You can get there by cable car or train along the mountain ridge.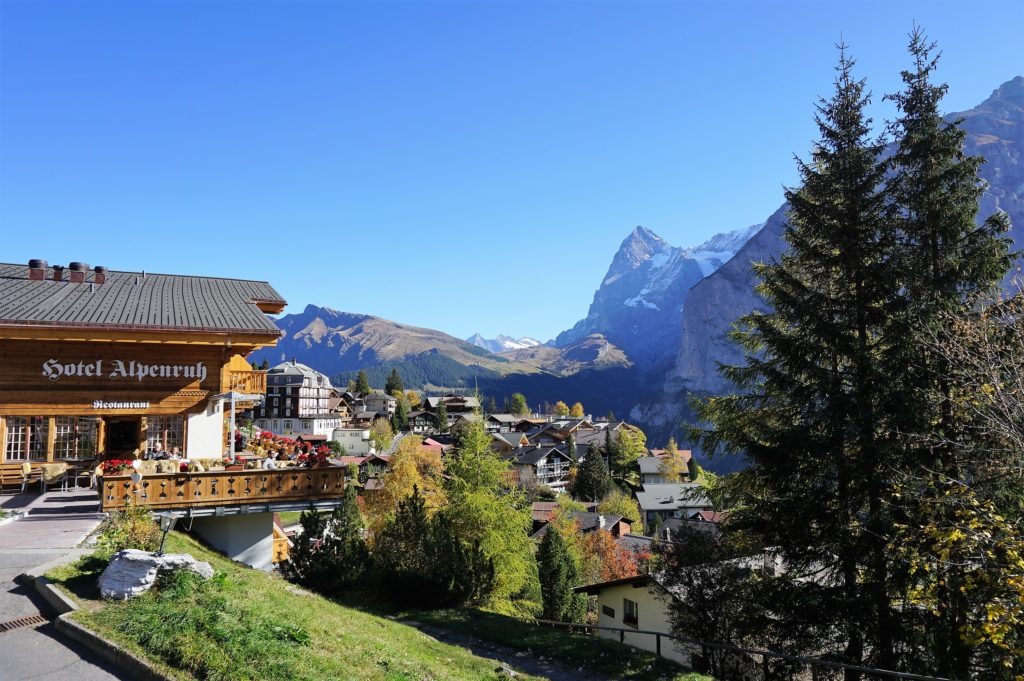 Allmendhubel – on foot
Even as we saw the two wagons standing side by side in the middle of the track, we started to think that there was something wrong. S*it, why they are not running? At the station, we found that the cable car was closed for a week now due to maintenance :O Since we did not give up, however. We had consulted the situation with the "Uncle Google", and we decided we would try to hike the hill up. We followed the slope No. 5, which was indicated by the map in front of the cable car station. Approximately after half an hour, we reached the ski lifts. Frankly, we hoped they would be in operation and take us up, but we were hoping in vain 🙂 . So we went on. The wide "slope" has turned into a narrow path (in the winter it is a snowshoe trail). The hike up was only about 15 minutes.
Flower Trail
A further few dozen meters we found us in the middle of the loop theme trail – the "Flower Trail". Due to the season, we were not greeted by a blooming summer alpine meadow. But even if there were only a few herbs left, our kids liked the trail. Mainly the interactive panels (I will tell you, I thought that we would not move from the "Musical World Tour!").
Flower Park
And then, there it was! The most beautiful playground we have ever seen!!! I probably do not have to say that the kids were rushing to it as fast as they could! The big advantage was, that they had the playground almost for themselves (except two girls). And my husband and I could spend a lot of time there relaxing while the kids were playing. And, of course, enjoy beautiful views of the Eiger, Mönch, and Jungfrau! Just great!
Children´s Adventure trail
Approximately one hour later, we set out on the way back. Now along the other side of the hill. First following a wide path, then a narrow path (shortcut) directly to the Restaurant Sonnenberg. We followed the tarmac road for a couple of minutes, then we turned right to the forest (thanks to the trail runner in an orange shirt that advised us because there was no marking on the fork).
Right after a few meters in the forest, we came across a playground with a slide, seesaw, and other play elements. The path continued less than two kilometers downhill before we reached the picnic area.
Picnic area
Wow, what a surprise, another playground! And also fun in the form of waving to tourists floating above our heads in the cable car going to Schilthorn 🙂
From here, it is a few steps to the cable car station in Mürren.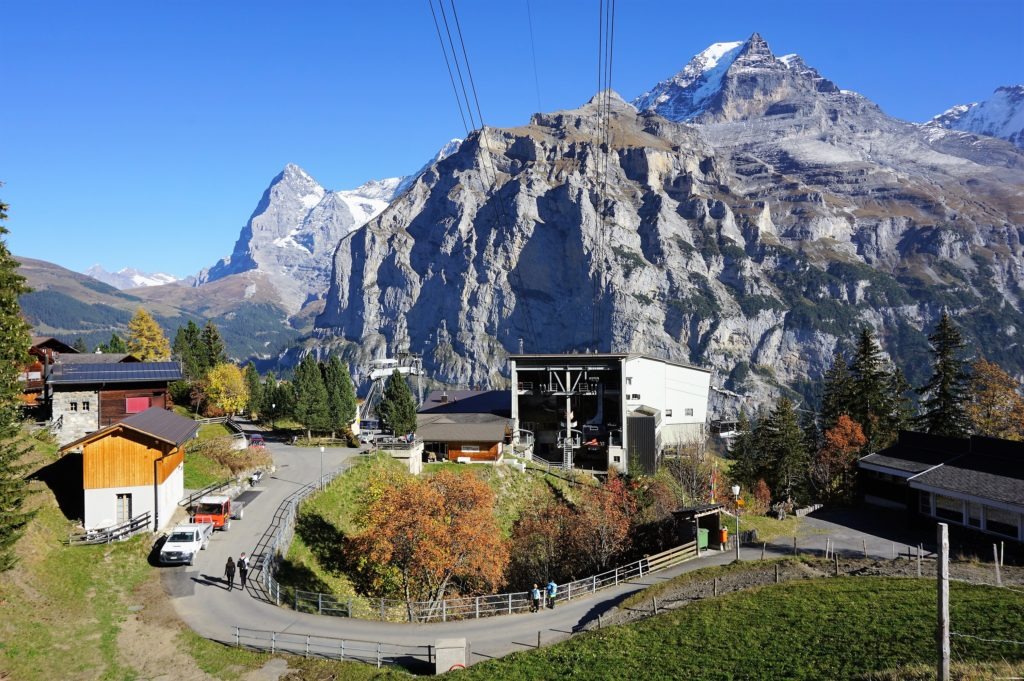 Summary
In the beginning, I promised some of the moral lessons learned by the children. We tried to explain to them that they should overcome obstacles. Also, it is not necessary to give up at the first failure and that there is always a solution (even if it is not the simplest one). I'm really curious if they take anything out of it 😀
Anyway: The route of our (involuntary 🙂 ) hike is shown on the map below. The trail is not suitable for a stroller (stones, roots, etc.). But a three-year-old (walking-trained) child can handle it.
Finally, my husband and I agreed that everything has a silver lining and that it was a cheap trip to such a well-known location. Thanks to having saved on the Allmendhubelbahn funicular ticket plus we both have Halb-fare cards and the children have Junior cards.
I highly recommend visiting the Trümmelbach falls on your way home.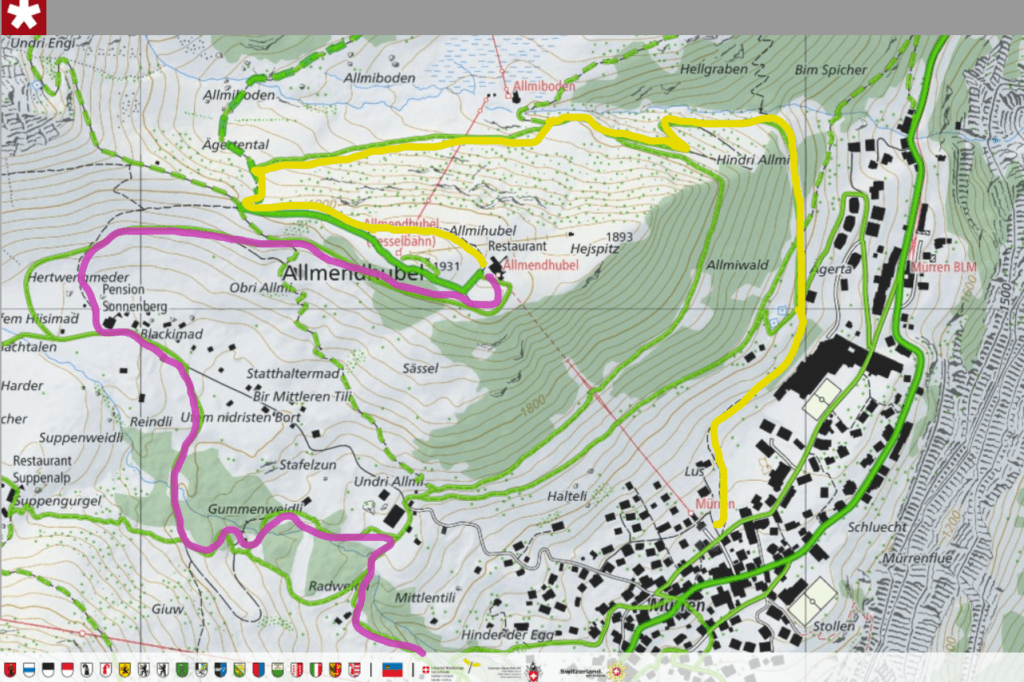 If you don´t want to miss any of my recent posts please sign up for my blog in the top right-hand corner of this page. Thank you. Be sure to follow me on Facebook, Pinterest, and Instagram. And of course, I look forward to reading all your comments.