Aeschbach Chocolatier is, as is customary in Switzerland, a traditional family company that has been producing chocolate creations in the third generation (since 1972) according to their own original recipes. The ChocoWelt (Chocolate World) right at the premises of the factory in Root, is an interactive and educational exhibition where visitors learn about the history of chocolate and especially the production of chocolate creations by Aeschbach Chocolatier.
Getting there
The headquarters of Aeschbach Chocolatier is located in the village of Root in central Switzerland, not even 15 kilometers northeast of Luzern.  It's an 11-minute train ride from Lucerne (line S1) and the factory is right in front of Root D4 train station (it's literally across the platform).
By car, the journey from Bern takes about 75 minutes, from Zurich you are here in 40 minutes.
Opening hours and admission fee
ChocoWelt is open to visitors from Monday to Sunday from 10 am to 5:00 pm. Entrance fee for adults is 15 francs. Along with this ticket, you will also get a 5CHF voucher to use in both the chocolate shop and café. Admission for children from 6 to 16 years old is 8 francs (no voucher). For more information, visit the Aeschbach Chocolatier website.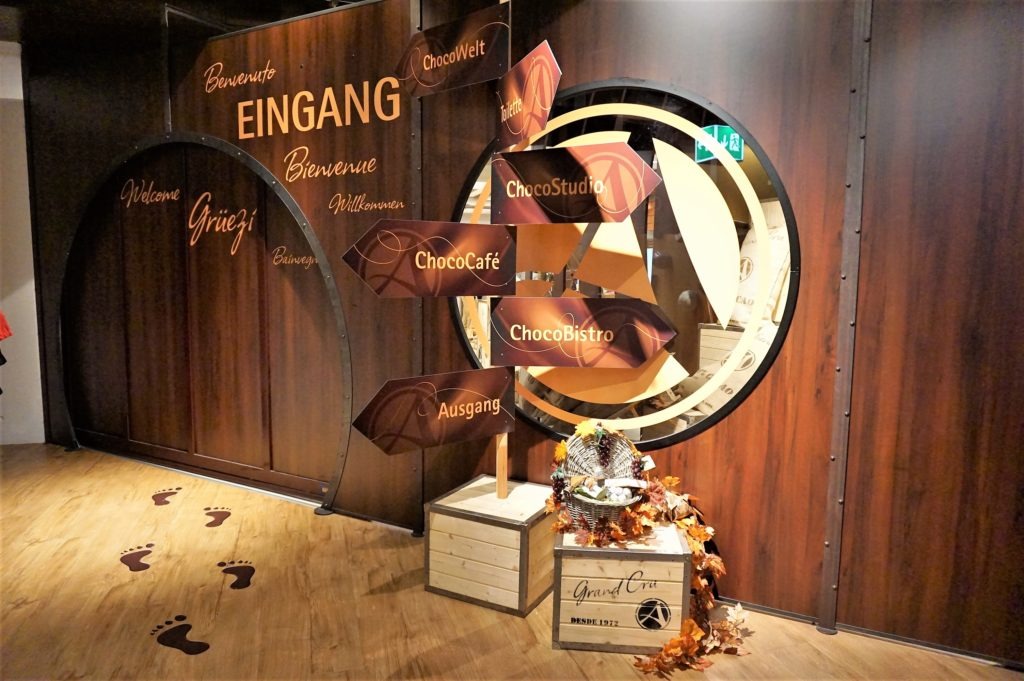 ChocoWelt
In 2012, Aeschbach Chocolatier moved their headquarters to Root Lucerne. In the energy-efficient new construction, you can find not only the headquarters of the management, the production, the café, the shop, and the event facilities but also the interactive exhibition called ChocoWelt.*
It is a self-guided tour, you can enjoy it at your own pace. At the beginning of the tour, you will find out where the cocoa beans are grown, how they arrive in Europe and how they are further processed.  The setup is such that as you go from display to display and as you walk through you can read about the chocolate making process and watch short videos.
There are big windows that look down into the chocolate factory where all sorts of are chocolate being made or packaged. Next time, I would definitely want to visit ChocoWelt during the week so I can see machines and people at work.
Of course, during the tour, there are plenty of chocolate samples you can try. From small chocolate cubes with different cocoa contents, chocolate coins, or you can "tap" liquid chocolate from chocolate fountains and flavor your cup with different toppings.
In 1984, the company was selected by the two NGOs Heimatschutz and ProNatura to produce the well-known Schoggitaler (chocolate coins), which are sold annually by around 300,000 schoolchildren.*
Create your own chocolate bar!
For an extra 10CHF, you can make your own chocolate bar. Milk or dark chocolate is poured into a flat mold and then you can decorate it with a variety of different candies, nuts, or fruit. Then it's cooled and packaged for you to take home.
ChocoCafé
As I mentioned, you can use a 5CHF voucher here. While enjoying your coffee or snack from the saisonal menu, children can enjoy themselves in a small children's corner. I personally would appreciate more salty snacks in the café because after tasting so many chocolate I had no longer a taste for other sweet goodies 😉
Chocostore
The shop will attract you with its beautiful decoration. And you will not know where to look first.
Summary
From the pictures, it may seem that we had the exhibition only for ourselves, but it´s not true. Since we visited on a rainy day, there were lots of families visiting, scouts group etc. (I just waited for the right moment to take the picture 🙂 ). The premises are big enough, we didn´t have to crowd together and we enjoyed our visit.
The exhibition is barrier-free, in the toilets, there is a room with a changing table.

The information boards were only in German though the short films attached to each were also in English.

The staff is very nice and welcoming.
Overall, we spent about an hour in the exhibition area, the same in the café and the shop.
Aechsbach Chocolatier is the perfect place to feel good even in the rainy afternoon.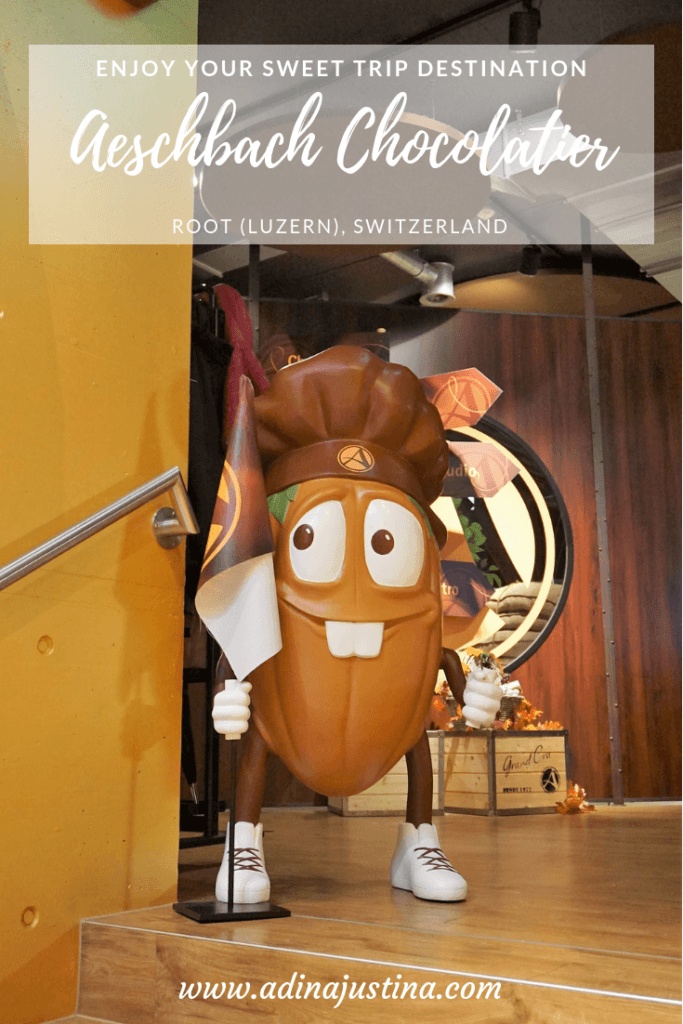 Source:
*https://aeschbach-chocolatier.ch/ueber-uns/