Are you going to spend one day with kids in Bern during your travels through Switzerland? Or you live in Switzerland and you´d like to make a day trip to introduce the Swiss capital to your kids? Read this guide with 10 tips where to take your kids and make your visit to Bern just unforgettable.
The Swiss capital is a picturesque medieval city that has a long history and is listed as a UNESCO World Heritage Site since 1983. You'll find almost all spots within the Old Town. If you come by train, the city center is walkable from the train station (or you can take a tram).
NOTE: There are clickable links in the points below. You can click through to read original (more detailed) posts.
1. Zytglogge
You can find the astronomical clock (installed in 1530!) at the beginning of the Kramgasse street. While standing and waiting for the parade of little bears to appear, keep an eye on your kids since the buses and trolleybuses drive through the streets of the Old Town.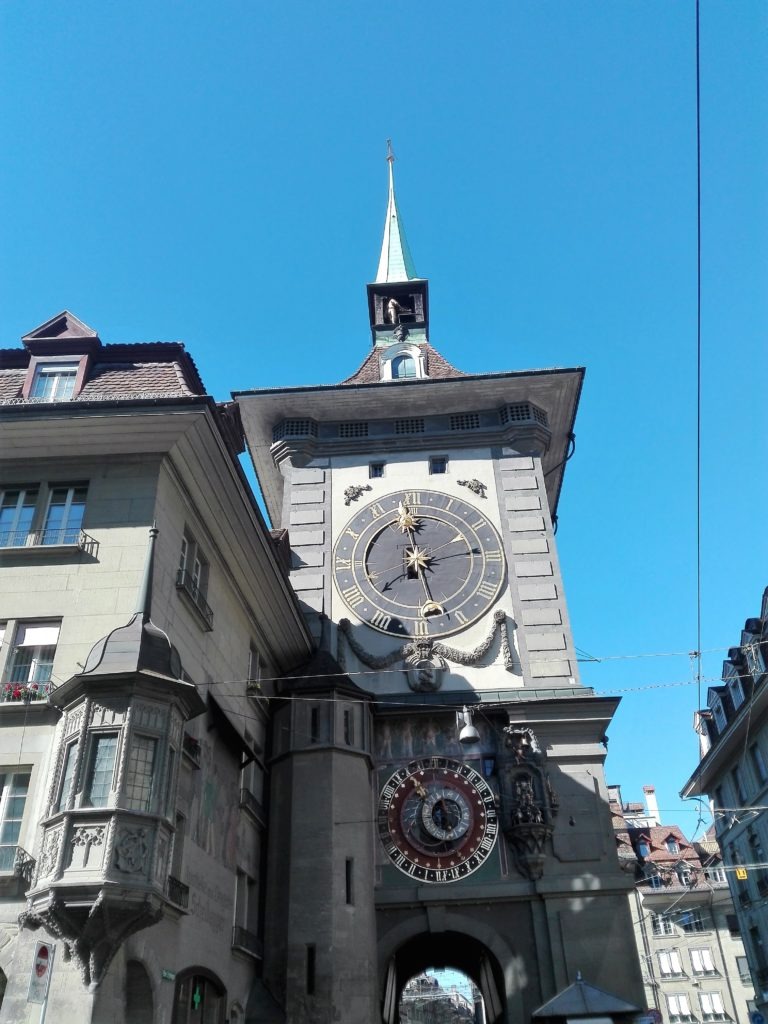 2. Bears
From Zytglogge, walk through the Kramgasse in the direction of the Nydegg bridge (Nydeggbrücke). At the end of it, you'll find Bärenpark with its three inhabitants. Bear is the traditional symbol of both the city and Canton Bern. It became a symbol when Duke Berchtold V., the founder of the city, caught the bear as the first animal in the surrounding woods in 1191. In 2009 Bärenpark replaced the existing "Bärengraben" – so-called Bear Pit, which has become insufficient for three bear's needs. In Bärenpark, situated on the hillside above the Aare river, can Finn, Björk, and Ursina freely run, climb, swim, play together or just relax.
3. Bern Cathedral
From the Bärenpark, you can walk back towards the magnificent gothic cathedral, called Münster. I really recommend climbing its tower. You can motivate your kids to climb 300 steps to the top by telling them, that they get a small surprise up there if they find the tiny house of the Jimmy Flitz Mouse (btw. You can follow Jimmy Flitz all over Switzerland!).
4. Münsterplatform
Close to the cathedral, you´ll find the playground, also with great views. Kids can play here (don't forget their table-tennis rackets) and you can have a picnic or enjoy your coffee at "Einstein au Jardin".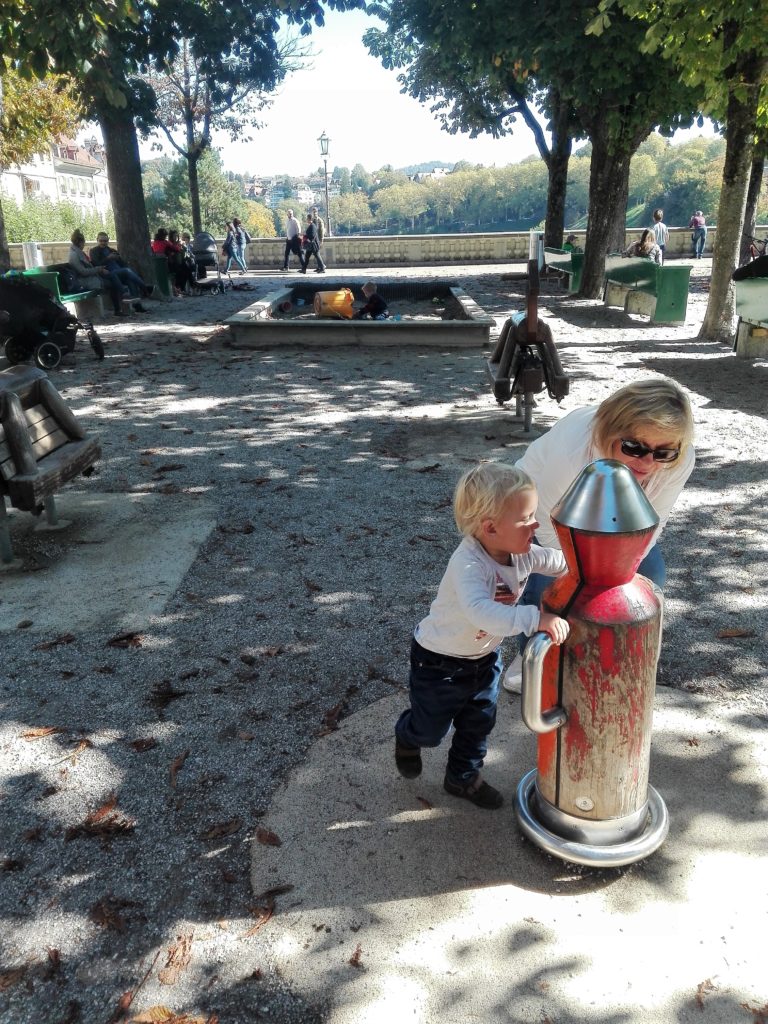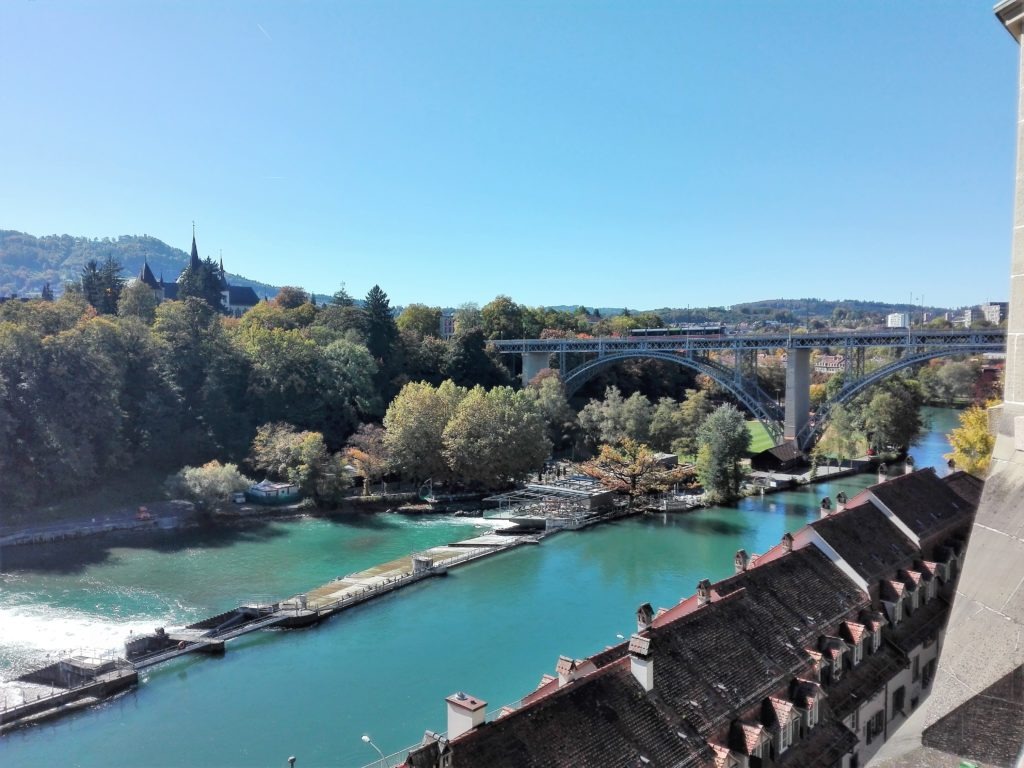 5. Einstein´s House
Apropos Einstein: did you know that Albert Einstein came to the idea of the relativity theory in his house near Zytglogge? You can visit his house, or Einstein's Museum if you cross the bridge towards Helvetiaplatz. Here or in the nearby you can also find Bern History Museum, Swiss Alpine Museum or Museum of Communication.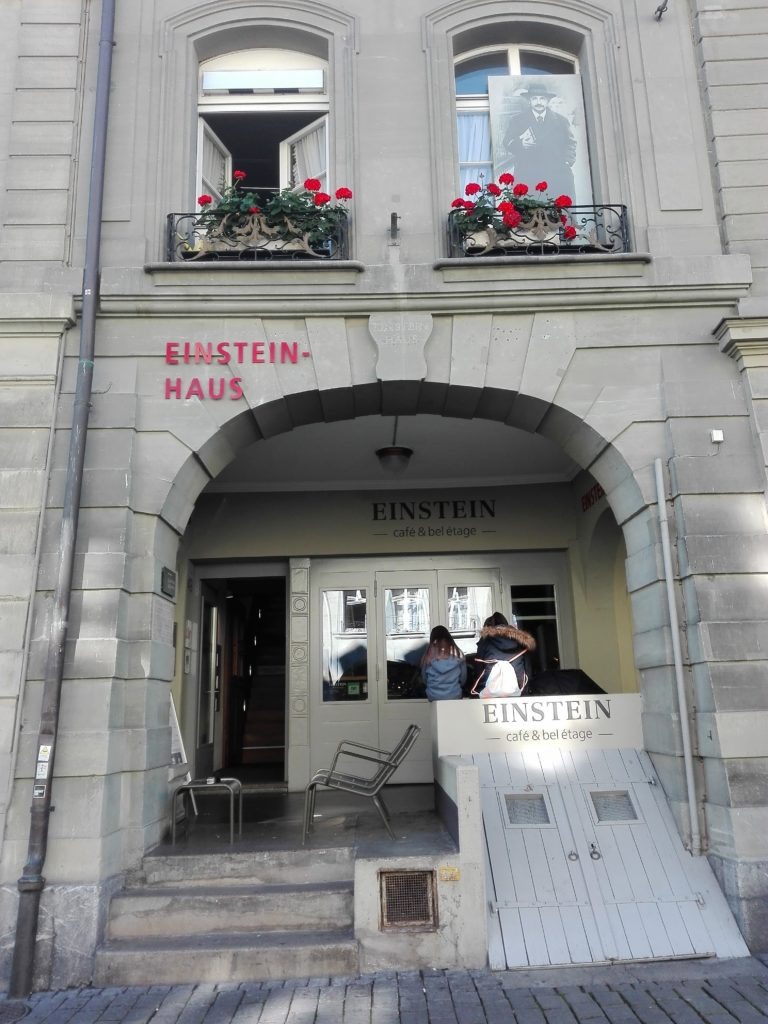 6. Kindlifresserbrunnen
During your walk, you'll certainly meet countless fountains (there are more than 100 in Bern). I dare say the most famous one is the Kindlifresserbrunnen (of a man eating a child) that you can find on Kornhausplatz.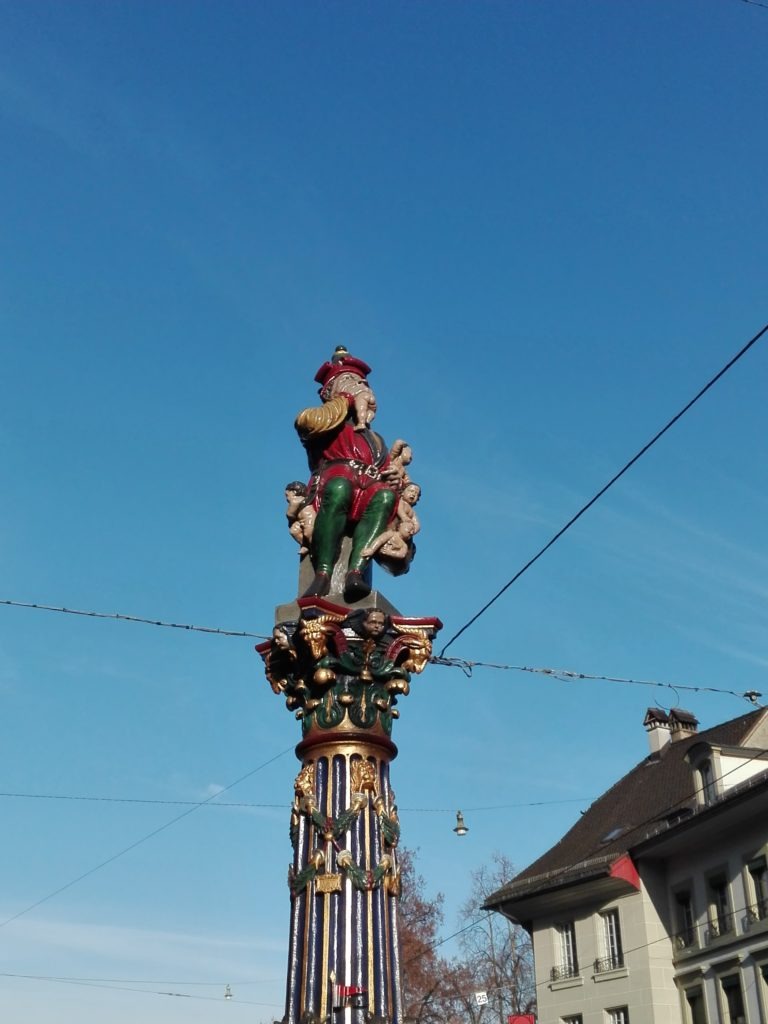 7. Bundesplatz
During hot summer days, you'll surely appreciate water jets in front of the Federal Palace on Bundesplatz square. And since the middle of October to the almost end of November, you can enjoy the light show on the facade of the palace called "Rendez-vous Bundesplatz" (more info here).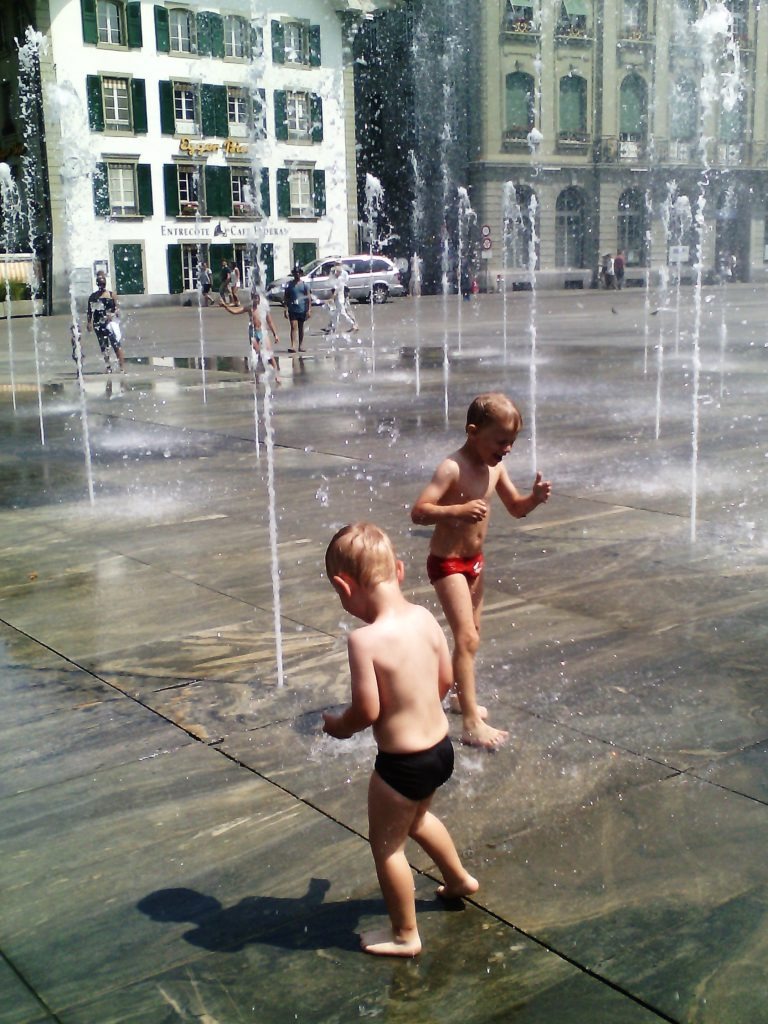 8. Gurten
You can enjoy a lot of fun on the Bern´s local mountain Gurten. Take the tram Nr.9 in the direction Wabern, stop Gurtenbahn. After 5 minutes walk you get to the funicular station that will take you up the hill. Here you can enjoy the views across Bern from the lookout tower, children will surely enjoy a ride with miniature railway, playground or huge marble run.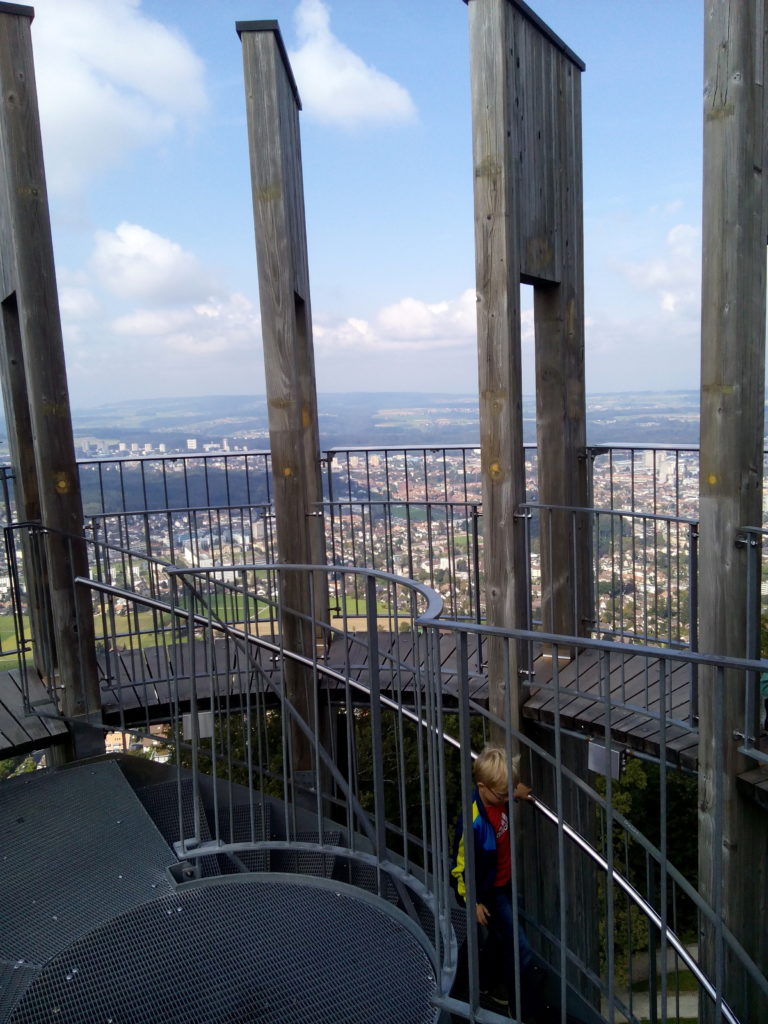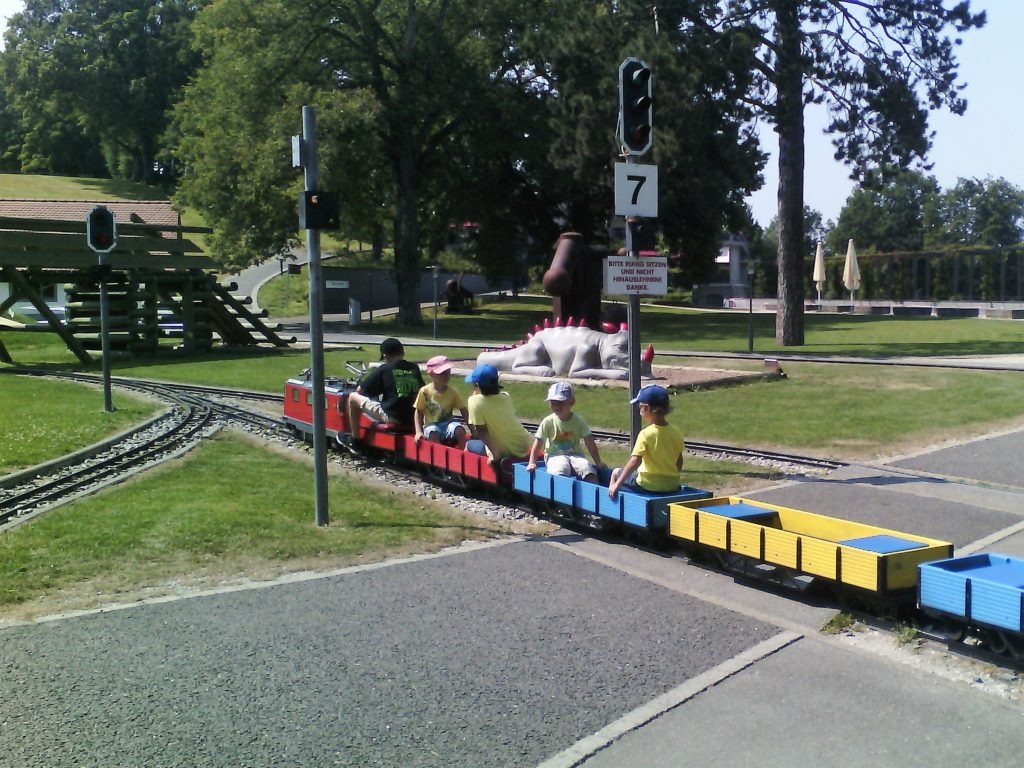 Animal lovers can visit the ZOO in Dählhölzli park, which isn't located so far from the city center. Those who like more adventurous experiences can try Rope park that you can also find in Dählhölzli woods.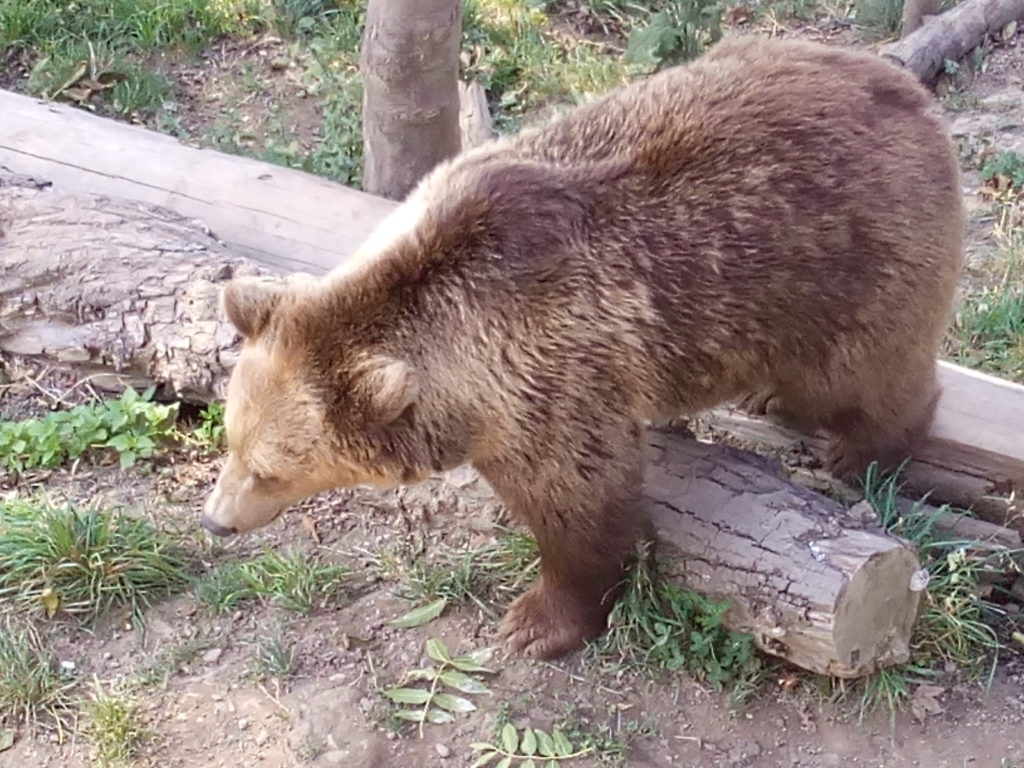 10. Bernaqua
If you want to relax after the whole day discovering the beauties of Bern, I highly recommend visiting Bernaqua which is an aquapark located on the premises of Westside Shopping center. And if you stay at the Holiday Inn Hotel, you´ll get a free entrance to the aquapark.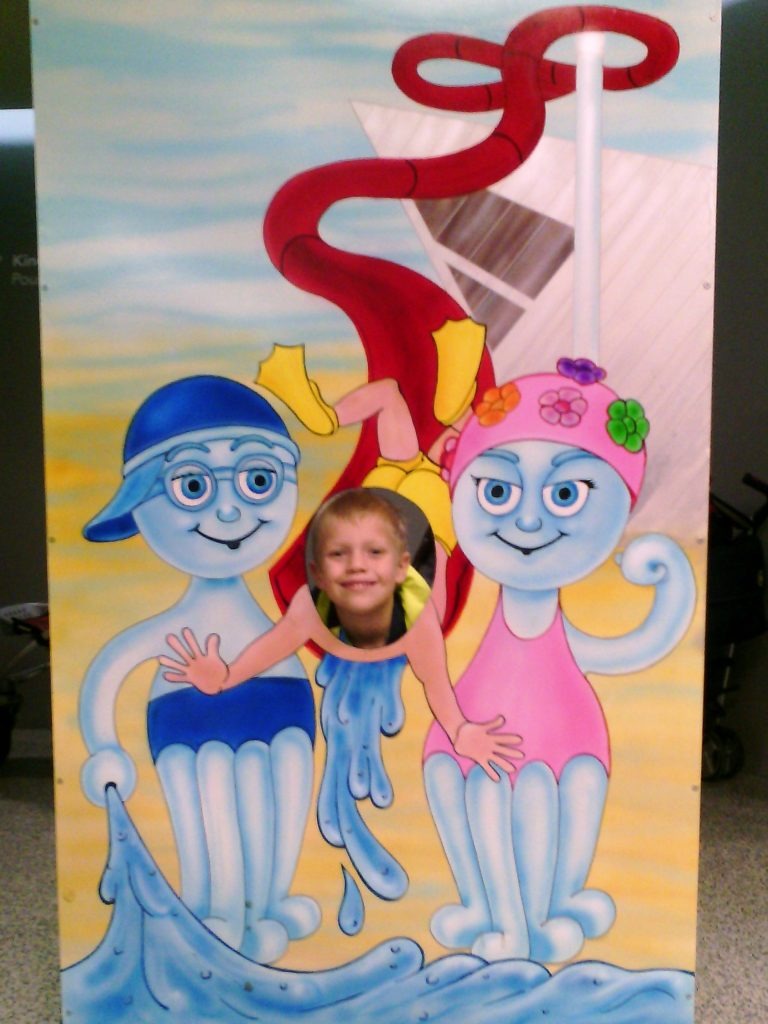 Where to eat
With this extremely packed itinerary, you will be probably looking for a place where to eat. There are two grocery chains in Switzerland: Coop and Migros. You can either eat in their self-service restaurants that offer menus for reasonable prices (12-15CHF comparing to 20-25CHF in "normal" restaurants). Or you can grab your lunch (various hot & cold sandwiches, french fries, grilled chicken, etc.) in Takeaway and make your own picnic on the "Münsterplatform" near the cathedral. 
Coop City  (restaurant & takeaway): Aarbergergasse 53, 3011 Bern
Migros  (restaurant & takeaway): Marktgasse 46, 3011 Bern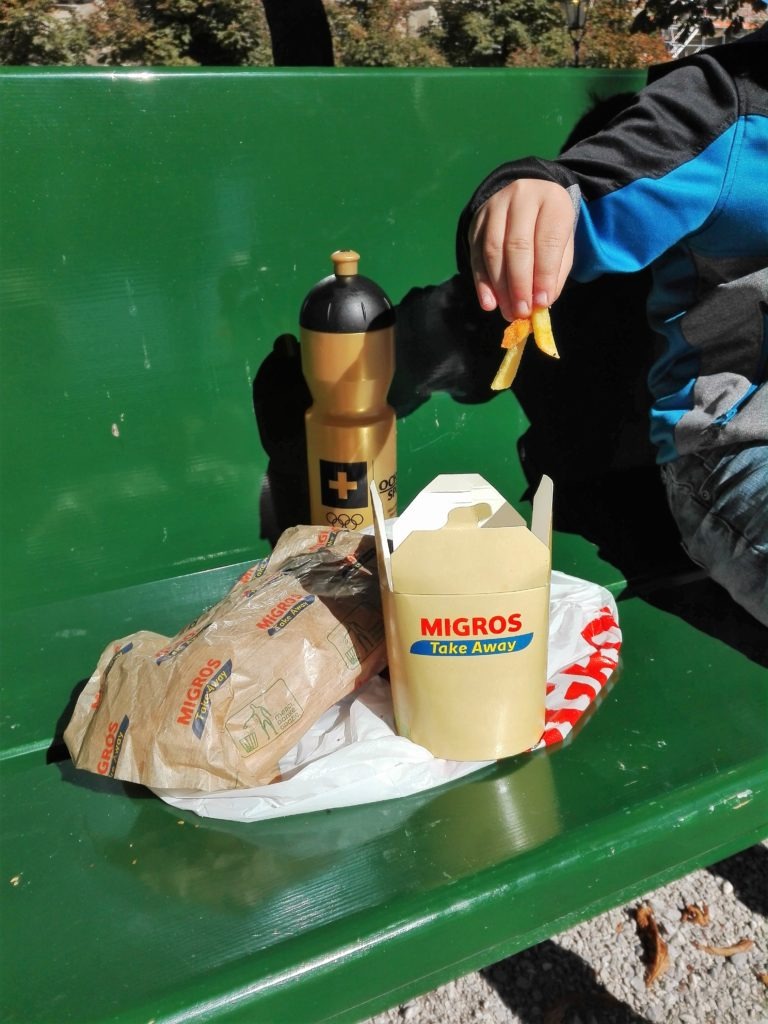 My tips
If you want to make day trips from Bern, I recommend visiting the Emmental Cheese Factory and the Kambly Biscuits factory (both located in the famous Emmental region east of Bern).

If you travel Switzerland by train, get the Swiss Rail Pass. You can buy it for 3, 4, 8 or 15 days and then you get unlimited travel throughout the rail, bus, and boats. You also get 50% reduction on most mountain railways and cable cars. And, what is also important, you get free entry to 500 museums in Switzerland, which usually costs 15-18 francs for an adult.

I know that planning is the key, but try not to plan every moment, go with the flow and enjoy your time in Bern!
Map of places
You might also like
Hope my guide will be helpful and if you like it, please share it! What about Pinterest? 😉