One of the things that I like about Swiss kindergarten and school is that they devote to a certain topic during the school year. For example, life on a farm, work of firemen, how the post works, chocolate etc, and learn about the world around them in context. The theme is then interwoven with activities in the kindergarten and school and includes practical demonstrations, mostly in the form of visits, where children can "touch" the theme on their own (visit to a farm, fire station, etc.).
Therefore, when our older elder son recently had a dinosaur theme at school, and when I found out that the Natural History Museum´s topic for the Museum Night was "meet T-Rex", our program for one evening in March was pretty clear 🙂
Getting there
The Natural History Museum (the oldest museum in Bern, by the way) is located just outside the historic center of Bern, on the other side of the Aare River, just off Helvetiaplatz, at Bernastrasse 15.

It is best to get to the museum by public transport, as the parking options around the museum are very limited. There is a blue zone with one-hour parking time limit, but it will not be enough for you to visit the museum. The nearest large parking lot is the Casino parking house (about 10 minutes on foot).
From the train station you can get here by tram No. 6 (direction Worb), No. 7 (direction Ostring), No. 8 (direction Saali) or by bus No. 19 (direction Elfenau), stop Helvetiaplatz. From here it is a 3-minute walk to the museum.
Opening hours and admission
The museum is open Monday 2 pm – 5 pm; Tuesday, Thursday, Friday 9 am – 5 pm; Wednesday 9 am – 6 pm; Saturday, Sunday 10 am – 5 pm
Admission prices are quite favorable. The adult ticket is 10 francs, children under 16 are free!
Museum tour
The museum is very large – the exhibition area is spread over four floors. As I wrote, we visited the museum as part of the Museum Night 2019. Although there were many people everywhere, we went through the places that captivated us. But even so, we haven't seen all the expositions (I will mention it at the end).
Africa
The boys were very surprised by the life-sized animals (of course not alive 🙂 ).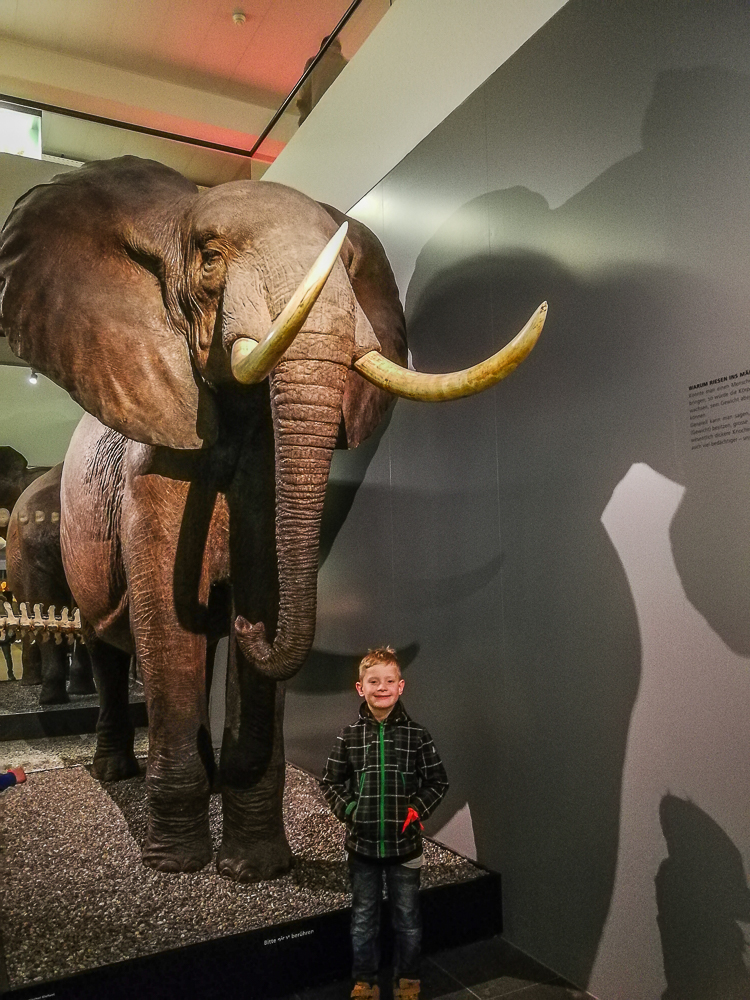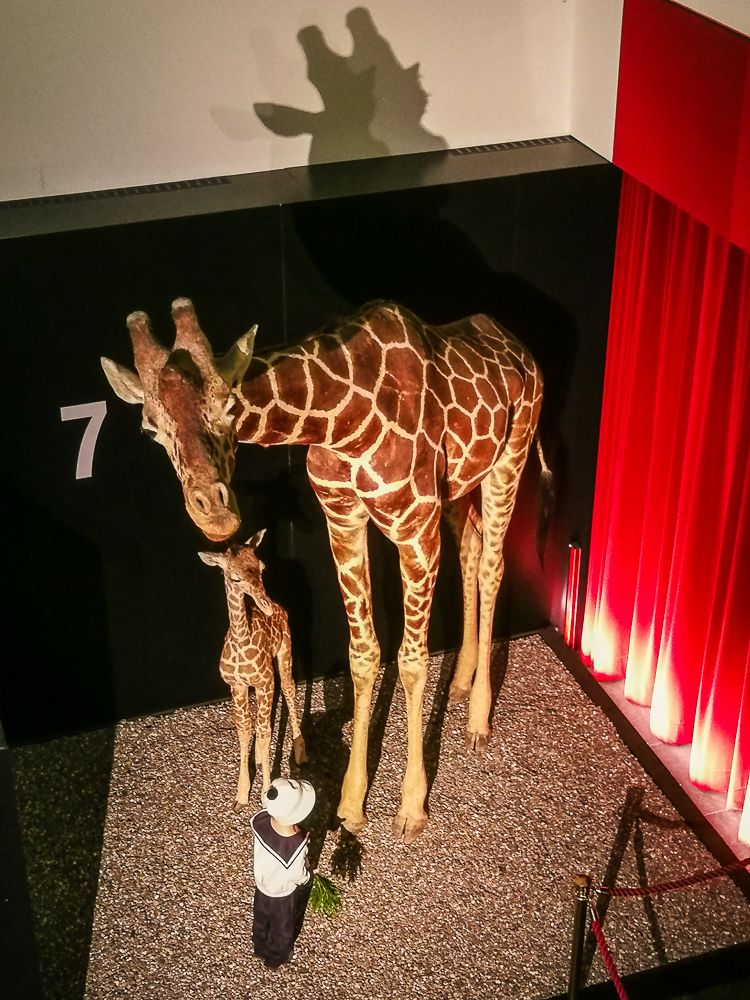 Skeletensaal – Skeleton hall
Here you can admire a lot of skeletons – from a dwarf mouse to a 23 meter skeleton of a fin whale.
Animals of Switzerland
I was surprised myself how the museum tour captivated our boys. We probably spent most of our time in the permanent exhibition, which presents "Animals of Switzerland". I would like you to see their enthusiasm: "Oh, Mum, I know the bird, Mum, we've been learning about this animal at school …" really, really awesome.
The exhibited animals can be admired behind showcases in their natural environment. The animals look really lifelike.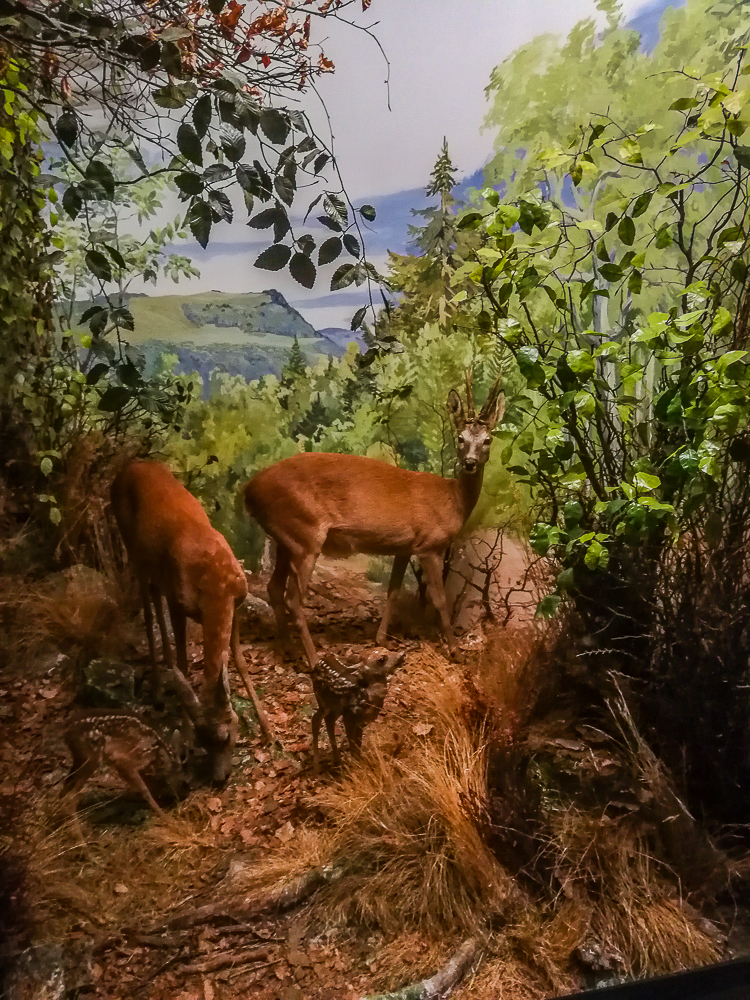 Invertebrates
In the gallery above "Skeletsaal", you can admire many kinds of small animals for a change. Before the dinosaurs, our son´s topic was butterflies, so I could examine him, if he still remembers something 🙂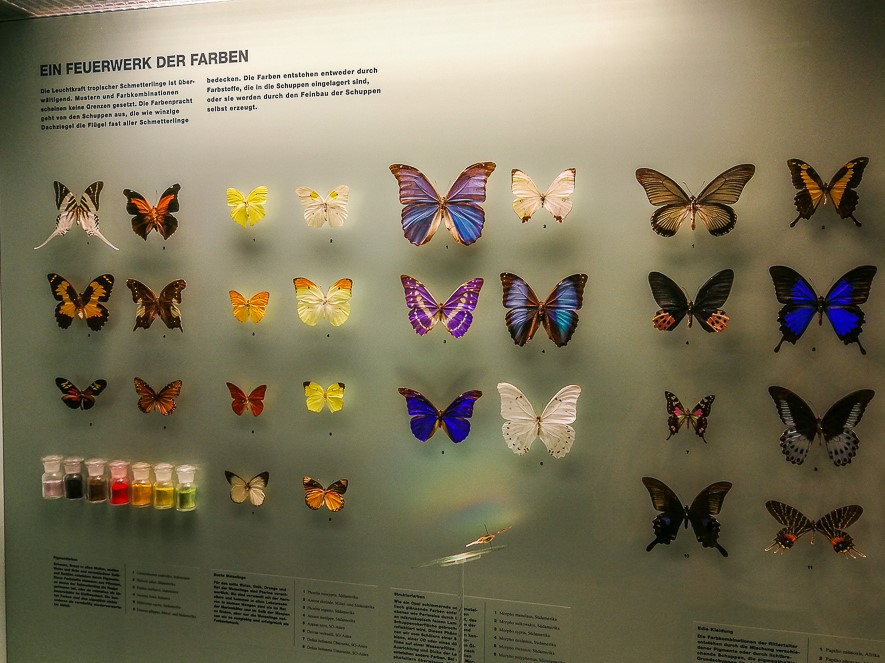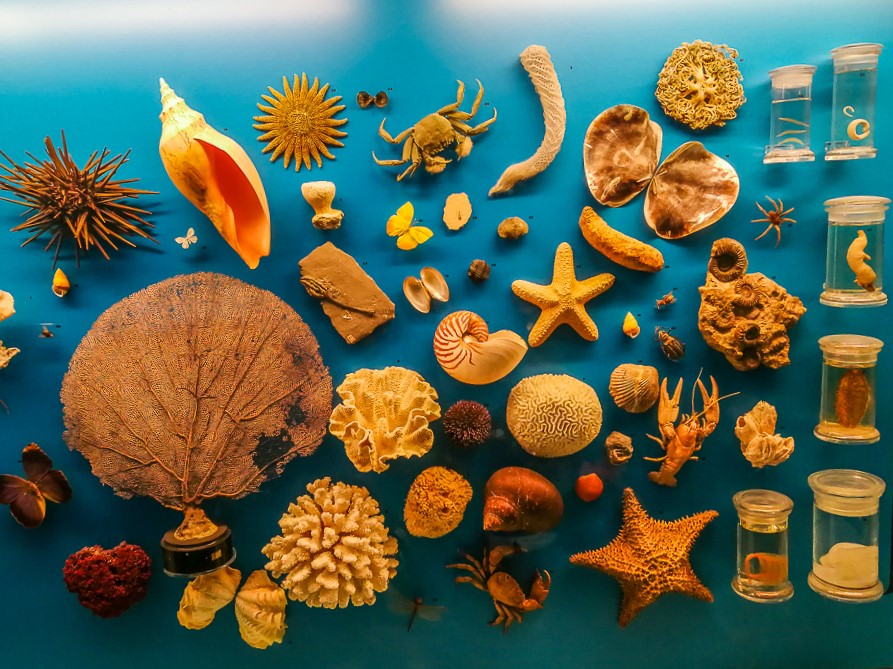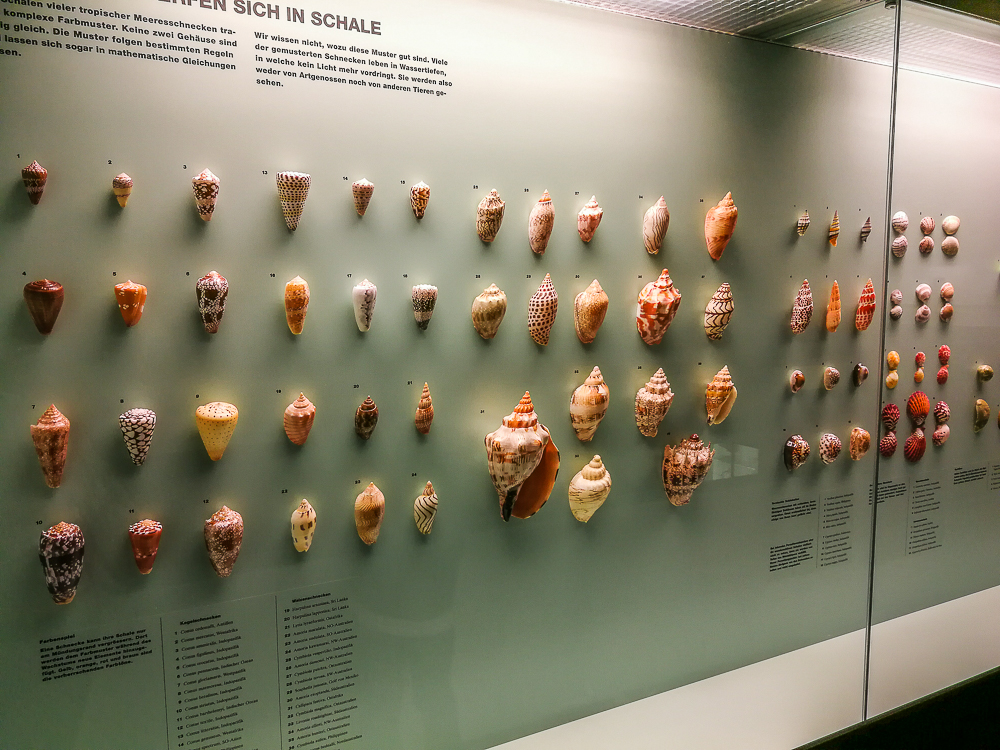 Meet Barry
A small but nice exhibition about Barry, the legendary Bernardine with a keg on his neck, which is said to have rescued 40 people from avalanches and snow in the Bernard Pass. But the forty-first (Napoleon's French soldier) was fatal to him because he accidentally shot him in the belief that he was a wolf. Before entering this exposition, you will also find a photo booth where you can take a photo with Barry and add different backgrounds.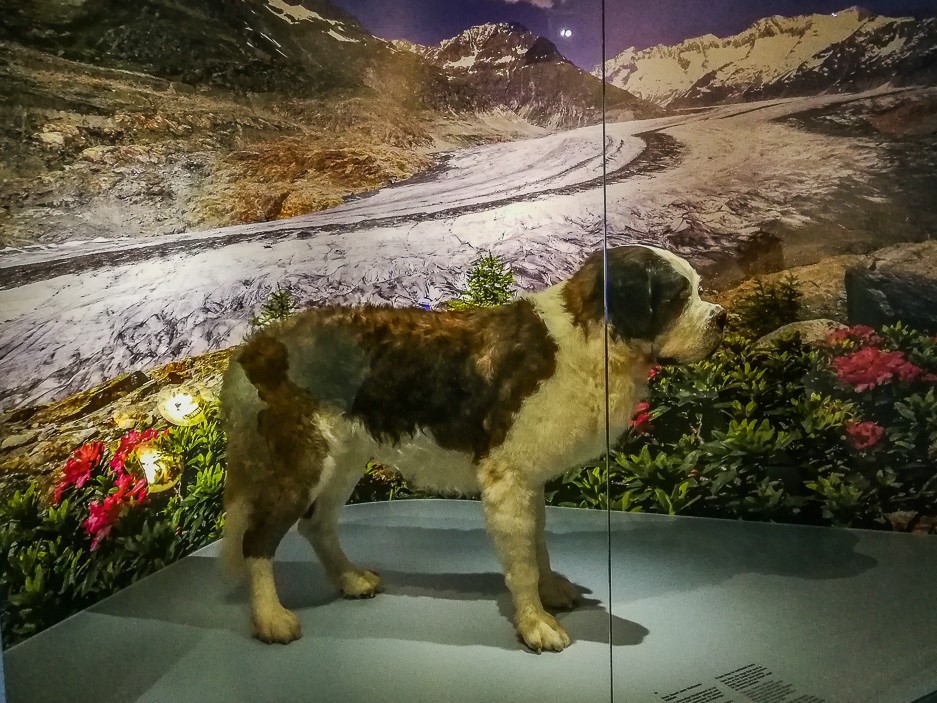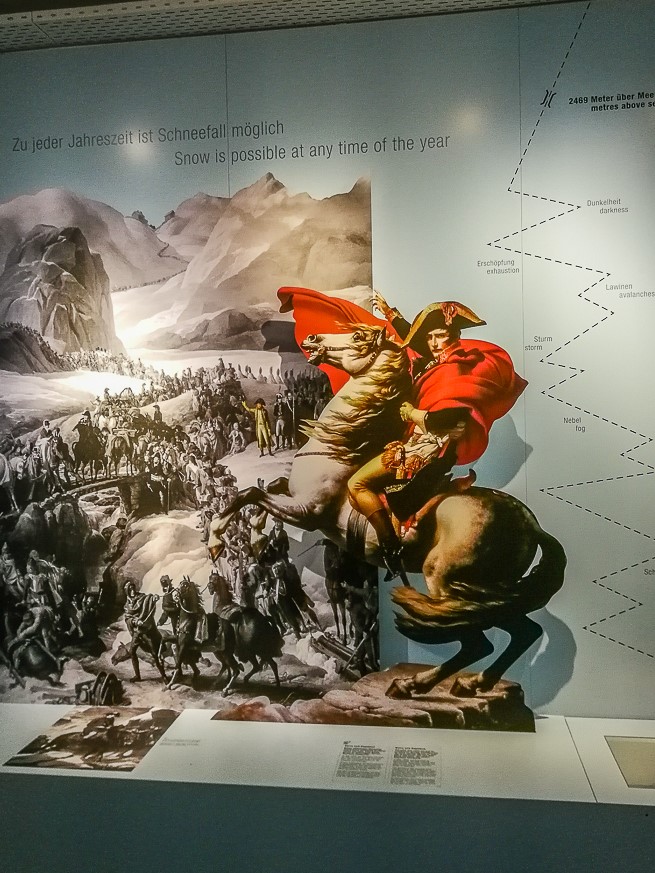 Playing Room
During the Museum Night, in this playroom children could make paper dinosaurs, puzzles, or flip through interesting dinosaur books. Of course, this room is also accessible to children outside the Museum Night.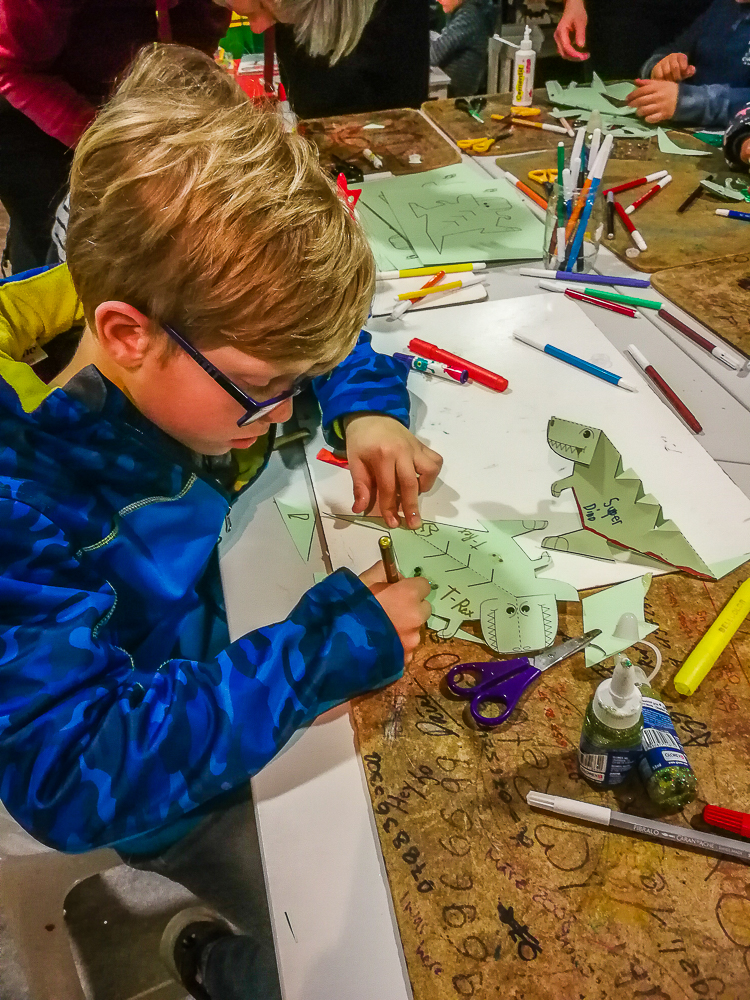 Accompanying program

The Museum Night program included a puppet show
Tiergeschichten (in German only). Normally, it is on the program roughly once a month on Sunday afternoon in Skelettsal. Show dates can be found here
Summary
We were positively surprised by the museum. The exhibits are beautifully displayed, there are many of them, the labels (mostly in German) explain everything.
As I found out later at home, we were not in "Kristallraum" in the basement of the museum, where various kinds of stones (even meteorites!) Are exposed. But at least we have a reason to visit the museum again. Because I think it's very educational and everyone here will find something interesting.
Those who want to relax can sit down in the café downstairs. It's great that there is a picnic area, either inside (1st floor) or outside).