Recently, I wrote an article for a Czech internet portal for parents. It was an objective description of our experience with the pre-school system here in Switzerland. However, in my today's post, I´ll allow myself a bit of subjectivity and my point of view. Because I don´t think I think everything is ideal here (and where is?), and although it may not seem at first sight, the system here has also its negatives.
5 things I like about Swiss kindergarten
1.Themes and worldview in context
During the school year, the children in the kindergarten devote to a certain theme "from life". For example, life on a farm, work of firemen, how the post works etc, and learn about the world around them in context. The theme is then interwoven with activities in the kindergarten and includes practical demonstrations, mostly in the form of visits, where children can "touch" the theme on their own (visit to a farm, fire station, etc.). Believe me, our son still remembers for the last year's ride on the fire truck platform!
2. The Kindergarten is a nice introduction to school
What I like is that the Swiss kindergarten is far more than just nursery. It is like a pre-school class in other countries (such as the UK, for example). Of course, kids play a lot,  both structured and less structured, but it's not just playing. There are teachings in a play way method: they learn the letters (but they do not learn to read) and practice numbers (matching and sorting exercises, comparing what is smaller/larger, shapes …), work on motor skills (fine and gross), learn about days, months, seasons etc. And all this supporting both teamwork and individual learning.
3. Emphasis on the development of independence
Much debatable may seem to be a strong emphasis on the development of children's independence. Whilst it may seem inconceivable to someone to leave a five-year-old child walk alone to kindergarten, this is commonplace. Before that happens, children in kindergarten receive "training" with a police officer who teaches them how to safely cross the road. They also get reflective tapes. It must be pointed out that at the beginning, the parent is accompanying the children, about half a year before they are really sure that the child can make the way to kindergarten and back home safely itself. Moreover, most often children don´t walk alone, but in groups – they have places where they meet their friends and go to kindergarten together.
Walking to a kindergarten without parents is also linked to an emphasis on independent decision-making. Children not only have to decide when it is safe to cross the road, but it also goes on to do activities in the kindergarten where they have to choose activities to do (building blocks, puzzle, painting, books, beading, etc.). I think that this ability will definitely not be lost in their lives.
4. Emphasis on practical and manual skills
I like the fact that emphasis is focused not only on the development of graph-motor skills needed for school attendance but also on practical and manual skills. In our kindergarten, they even have a workroom where they learn to cut with a small saw, or to hammer in nails when making various pieces of works. The classroom includes a small kitchen with a cooker and oven. Before the birthday celebration, the birthday boy or girl bakes bread with his/her friends – from preparing the dough to pulling the baked bread out of the oven.
5. Additional activities
What I like about our kindergarten is that it has a lot of additional activities included in the program. During the school year, they often go to the forest, where parents can accompany them if they have time. Once a week, they go to the gym and pre-school children attend the school library.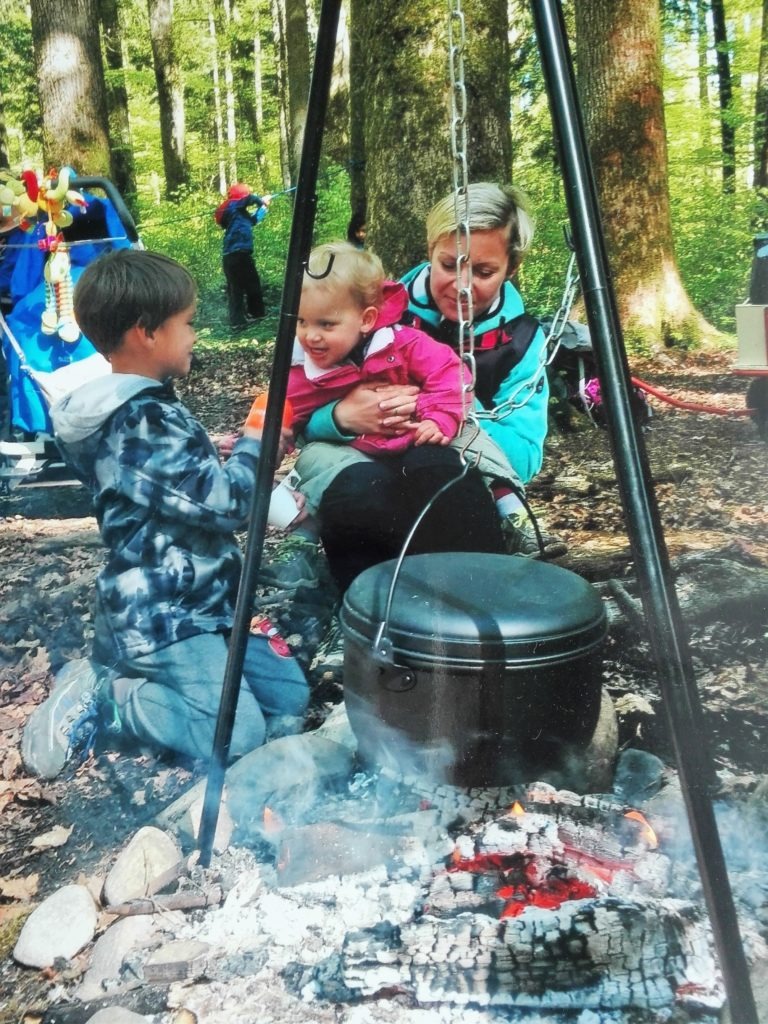 For this to be balanced, there are, of course, things that I do not quite like, but with which one has to accept.
5 things about the Swiss kindergarten that drive me crazy
1. Admission to kindergarten
What I´m entirely not happy with (okay, I can afford to be a little bit indecorous on my blog – so what really really irritates me) is that children start the kindergarten up to 2 years before they start schooling, ie at 4 years old. Some even at 5, when they were born in the second half of the year. Which is the case of our youngest, who´d have been already attending the Czech kindergarten this year, but she has to wait another two years here. Two years, guys, two years! There is, of course, an alternative. If I wanted to put her in the pre-kindergarten facility earlier (and it´s possible since 4 months of age since my maternity is only 16 weeks in Switzerland), I would pay quite a lot of money for it. These pre-kindergarten facilities are similar to Czech private nurseries. And the priority admission have the children of working parents.
2. Timetable – limited school hours
Two years of kindergarten belong to the primary level of education. That's why there is a timetable in kindergarten. In Switzerland, the kindergarten starts after eight o'clock and ends shortly before twelve. Some kindergarten starts at 8:05, another at 8:20, but the morning's "teaching" lasts for 3.5 hours. Then the children go home for lunch. And the afternoon schedule (once a week) starts at 13:30 and lasts until 15:15 (again depending on where you live). In addition, children who are in the nursery for the first year usually have day-off on Wednesdays. And on some day of the week, they only have the afternoon session. Which is quite nuts in terms of combining with the work-life balance. Many mothers, therefore, stay at home or work part-time. I belong to the first here, but I will tell you, sometimes I´m sometimes really tired of defending my decision to be a stay-at-home-mom.
3. There are no lunches provided in the kindergarten
Maybe you ask what children do in the free time between about twelve and a half two before going to afternoon "lessons"? They're going home! Lunch is not provided in the kindergarten. There is the opportunity to pay for the so-called Tagesschule. The children get lunch there and stay until their parents pick them up in the afternoon. But mostly they are just going to lunch at home.
4. Children go outside in all weathers
The children in the kindergarten must apparently get a daily dose of fresh air, so they must play in the garden, whether it´s hot or cats and dogs are pouring down. Don´t get me wrong here, our children are not made of sugar and a few drops of water will definitely not hurt them but sometimes I say, that what it´s way too much. Now, just imagine that your child comes home for lunch soaked from head to toe (because who would bother with a raincoat).
5. Children don´t change clothes when entering the class
Maybe it will come to you as a minor issue, but when I think that the most popular boys' clothing here is the jeans, I just find it pretty uncomfortable as clothes for playing. Would it do any harm to kinder to change into trainer trousers? In addition, the parents aren´t in most cases allowed to go to the dressing room with the children and don´t help them with dressing (remember that emphasis on independence 😉 ). So if a child decides to enter the classroom in clothes which they came to kindergarten, he'll be playing in the salopettes in the classroom before going to the garden.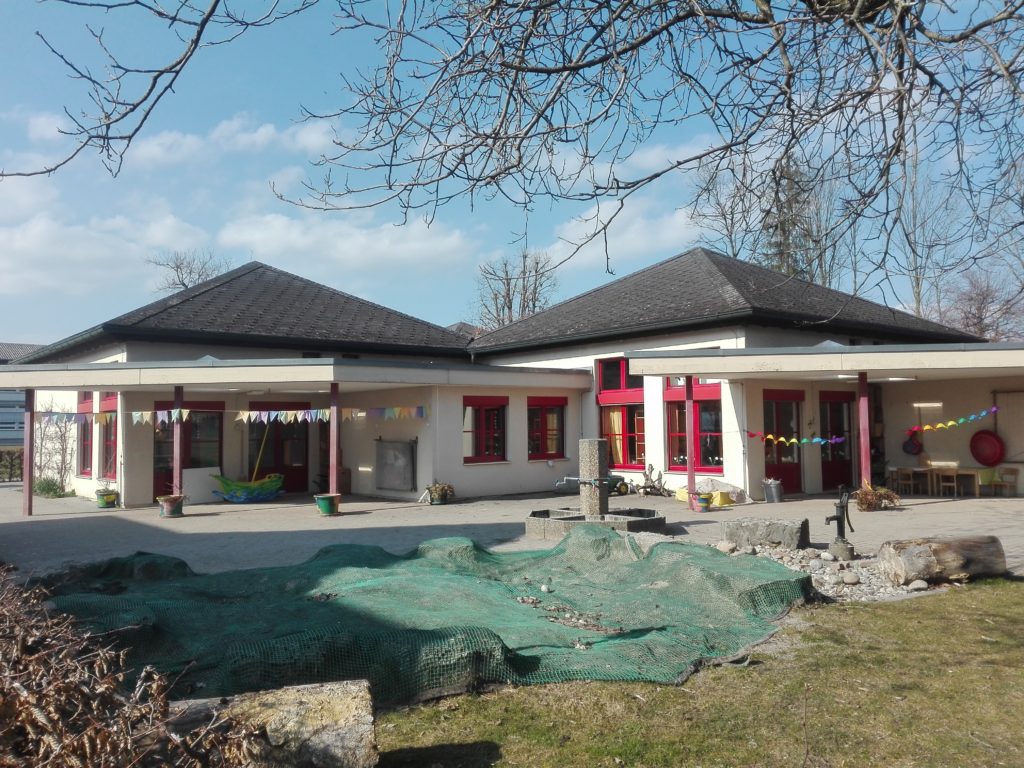 As you can see, everywhere each coin has two sides. I do not want to compare whether the Swiss system is better or worse than the Czech one, because everyone has their own positives and negatives as well. I just wanted to show that nothing is as rosy as it may seem from a distance at a glance. All parents want the best for their child and I just hope that the Swiss preschool system has a positive impact on our children.
And what is your opinion on the Swiss pre-school system? Send me your comments!
If you don´t want to miss any of my recent posts please sign up for my blog in the top right-hand corner of this page. Thank you. Be sure to follow me on Facebook, Pinterest, and Instagram. And of course, I look forward to reading all your comments.