Since I´m a pen a paper girl all the way, I´m used to putting down a list of places I would like to visit during the following year in my paper year planner and keep it for myself (and my family, of course 🙂 ).
But this time I would like to share my list with you because I found lots of inspiration on my fellow bloggers' blogs. And their posts even increased the desire to visit the places I have on my list.
So here is the list of 10 places I´d love to visit this year.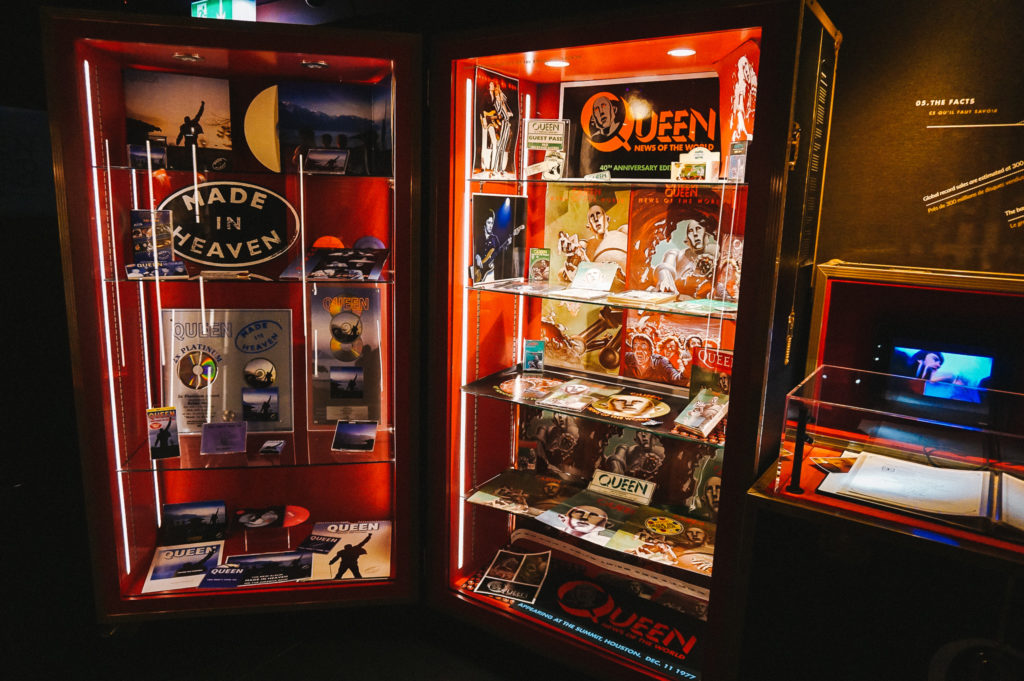 I managed to visit this not-so-well-known place already in January during our epic train ride through Switzerland.
After the success of Bohemian Rhapsody, I think the attendance of this small (and free!) museum on the premises of the Montreux Casino will increase significantly! But it´s absolutely worth a visit if you are in Montreux!
For many years, Geneva has been on my bucket list. You may ask why? Although we have been to Geneva already three times, we only managed to visit the famous Motor Show taking place near the Airport in the Expo hall. We´ve never got to visit the city itself! But now I can say that the second item on the list is also checked 🙂
Although Instagram is now full of pictures of blooming magnolias and cherry trees in blossom, for me, there real beginning of spring has been always characterized by the flowering forsythia, daffodils, and tulips! I love tulips!
Although I can't convince my husband to visit the famous Keukenhof, I'm glad I found a "replacement" in Switzerland.
And I am hopefully heading to Morges next week, so stay tuned 😉
4. SlowUp Solothurn or Lake Murten
The SlowUp event takes place in several places in Switzerland during the year. Last year, we took part in SlowUp Emmental/Oberaargau. And I was totally excited because the roads were closed for cars and we could enjoy a perfect family bike trip. This year I would like to try another route. Either near Solothurn (which takes place on 12th May) or along Lake Murten (which takes place on 28th April).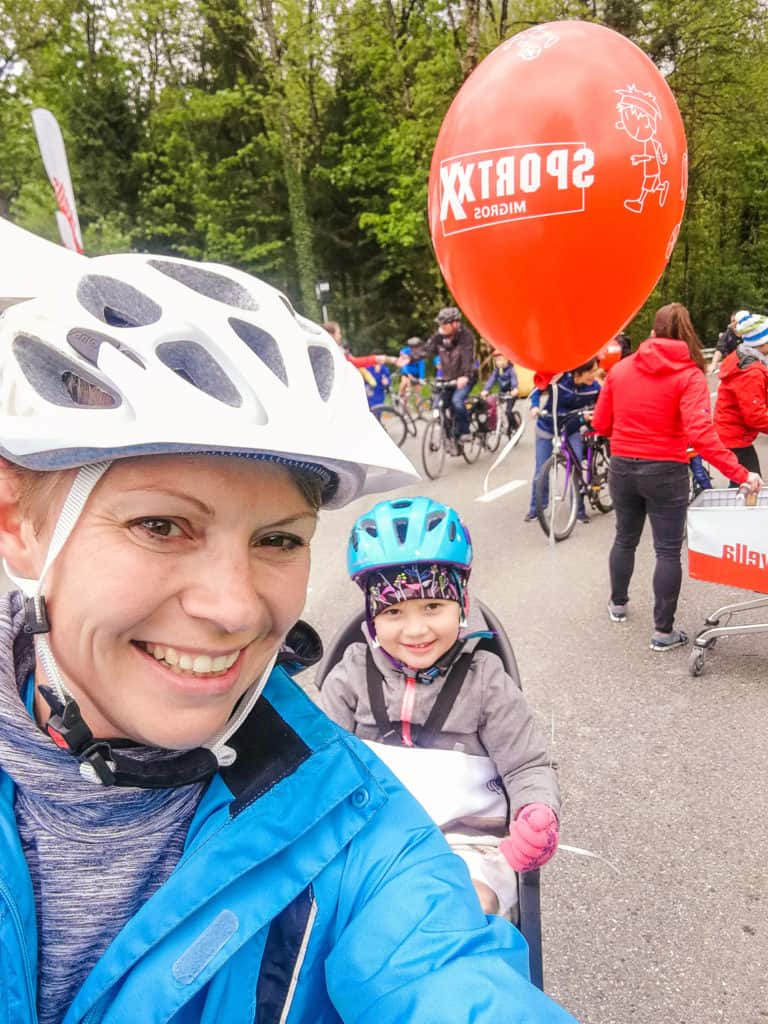 5. Skiing on Schilthorn
Already during our trip to Allmendhubel, when we took the first part of the cable car, which then continues to Schilthorn, we thought it would be nice to know Schilthorn from another perspective. Not only from what it is known to Japanese tourists (e.g. take a cable car up, take a few pictures and then ride down again). It would be great to ski here for a day.
And now, 5 places recommended by my fellow bloggers!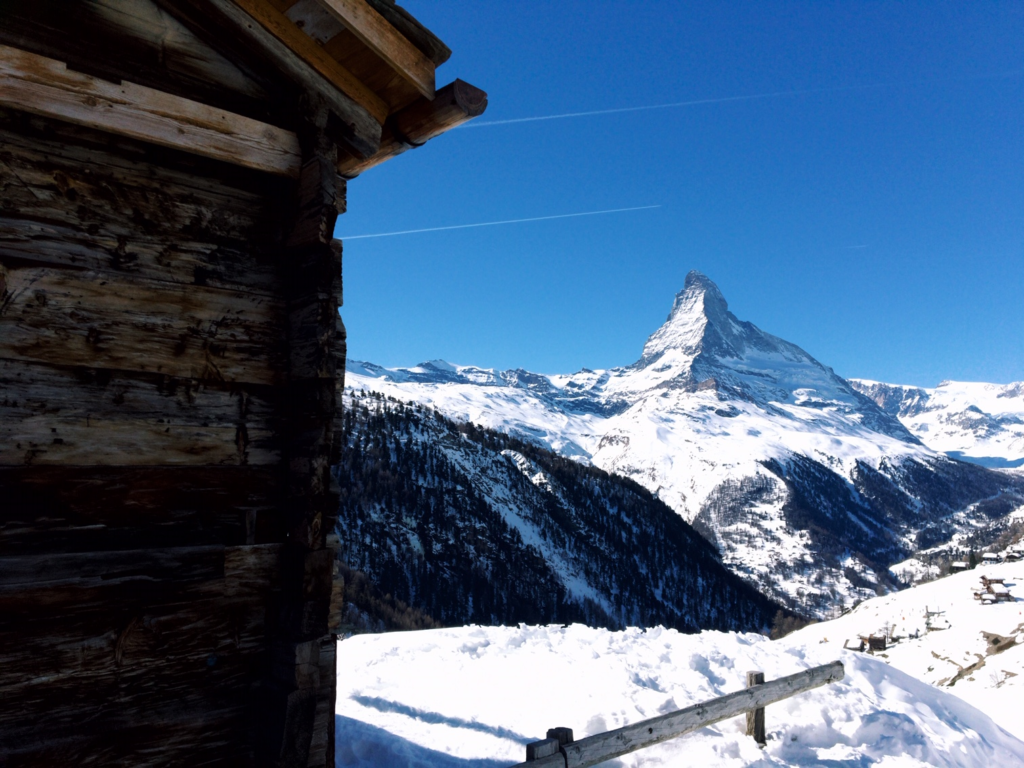 Home to the Matterhorn, one of Switzerland's most famous and most photographed mountains, Zermatt should be on everyone's Swiss Bucket List! Zermatt is a car-free town which makes it easy to walk around the cute town center with kids. What we liked most in Zermatt was our walk towards the historic settlement of Findeln. To go there, you should take the Sunnegga mountain metro up. It was winter when we did this walk, so there were still a lot of skiers, but hiking must be fantastic here in summer! A walking trail takes you down to Findeln, which is a little hamlet with typical Swiss wooden mountain huts, where the Zermatt families used to live in summer. Make sure you have your camera with you! Findeln has a stunning view on the Matterhorn and very good restaurants with terraces facing the Toblerone-shaped mountain. Really a beautiful place!
The whole post about the trip to Zermatt first appeared on Laura´s Let´s Explore Blog.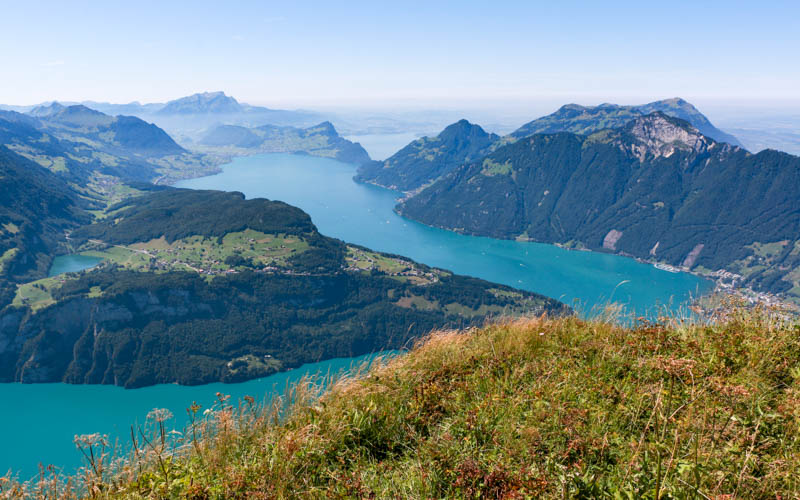 Stoos is one of our favorite mountains in Switzerland, both for casual family outings and to impress visitors. You start with a thrill ride on the world's steepest funicular up to the quaint car-free village. Then you ride chair lifts up to a breath-taking view over the cliffs toward Luzern, with a bright blue lake below and dozens of mountain peaks in every direction. Make sure you pick a day with clear skies so you get the full experience.
The short panorama trail at the top and the new playground at the viewpoint makes it a good choice for families. Or for those wanting to stretch their legs, the longer ridge trail is a real treat, with drama around every corner and endless wildflowers. Stoos also has a theme trail for children with interactive stations around the moor near the village. Although it's becoming more popular each year, Stoos is much quieter than tourist magnets like the nearby Pilatus or Jungfraujoch. No matter how many times we've hiked and skied here over the years, we keep going back for more.
You can read more about Stoos on Tanya´s blog Swiss Family Fun.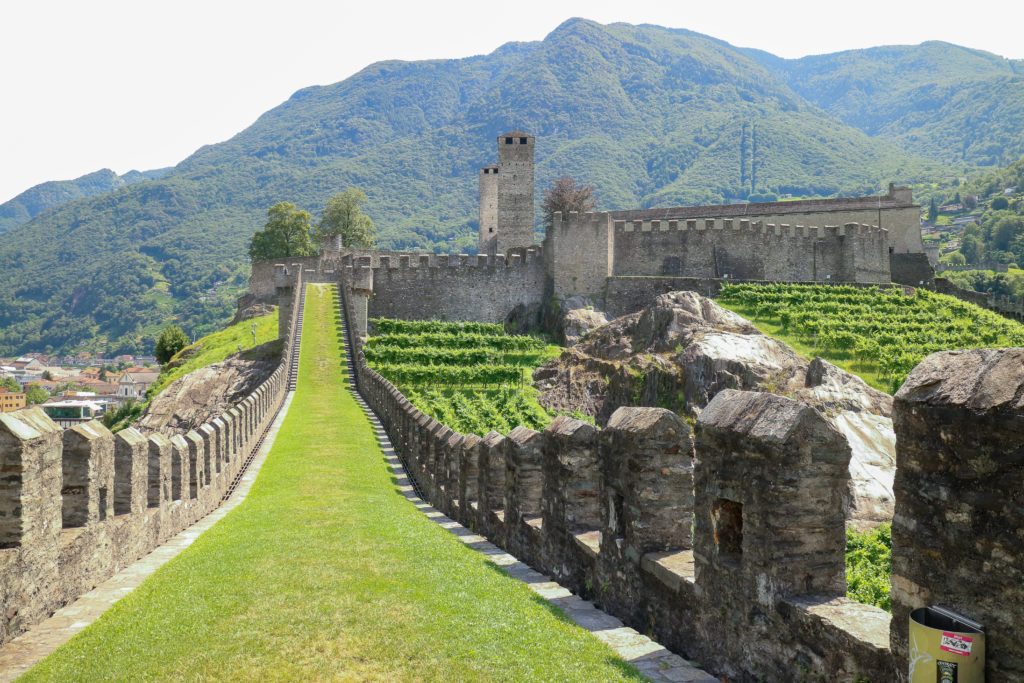 While Bellinzona might lack the lakeside wow factor of Lugano and Locarno, it makes up in its medieval history. Home to three UNESCO heritage listed castles and an old town that will charm your socks off, the capital of the Canton of Ticino is a worthy candidate for your Swiss Bucketlist. I recommend starting your trip off on a Saturday with a visit to the local market. Pick up local produce for a picnic lunch before heading up to the grounds of Castle Grande. While you enjoy a picnic of local Prosciutto, cheese and crusty bread, the kids will love rolling down the grassy hills. Spend the rest of your time walking between and exploring the castles, getting lost in the old town and don't forget to stop in the Piazza for an Aperol Spritz.
The post on Bellinzona´s castles appeared first on Kristin´s blog Swiss Family Travel.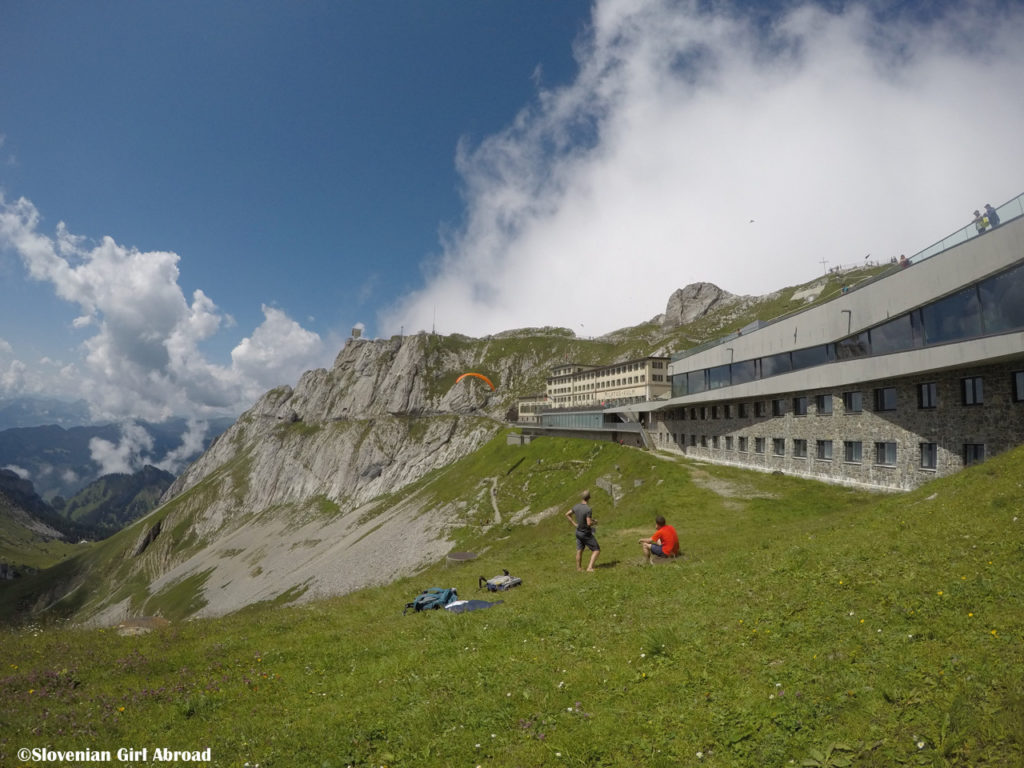 Lucerne's home mountain Pilatus is a popular destination for many people who visit Central Switzerland. Not surprising, because it is a beautiful scenic place and it does not only offer easy access via the world's steepest railway (48% gradient), cable car and gondolas, but also a wide range of activities suitable for everyone: you can test your courage at the adventure park and toboggan run at Fränkmüntegg, have a meal at one of the picnic areas or restaurants or stretch your legs at one of many hiking paths ranging from easy to difficult. On your hike you can learn about the interesting myths and legends of the region, observe the alpine flora and fauna, and enjoy the breathtaking vistas over Lake Lucerne and the Alps. On a clear day you can see 73 Alpine peaks, including the famous Eiger, Mönch, and Jungfrau! 
Even though Pilatus is a very touristy place, you can still find beautiful peaceful spots where your only hiking companions might only be cows or, if you're lucky, Ibexes.
You can read a full post about hiking Pilatus on Urška´s blog Slovenian Girl Abroad or watch the video on her YouTube Channel.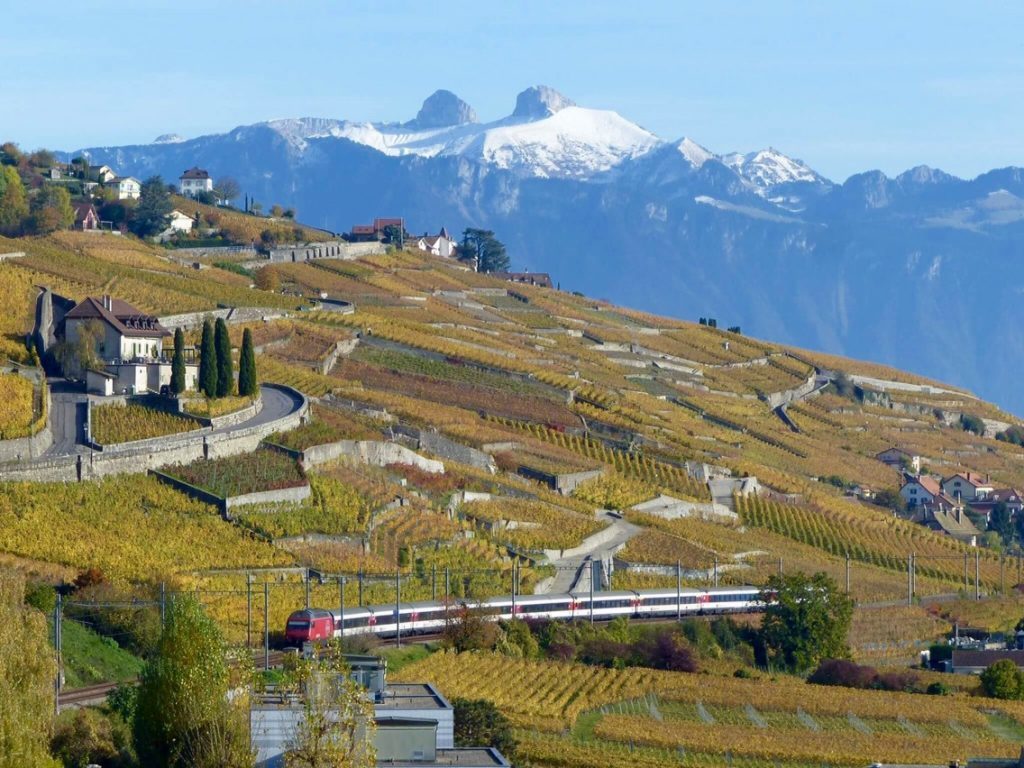 The Lavaux vineyards, an UNESCO heritage site, with a postcard perfect view of the lake Geneva is something everybody should be doing when visiting Switzerland.
There are so many variations of hikes to do in the Lavaux vineyards so you could basically start and end your walk wherever you want. If you are not into hiking, you can take the Vineyard express train from Lutry to the different point views!
More on hiking through the Lavaux Vineyards on Dawan´s blog Family Earth Trek.
And what´s on your Bucket List for this year?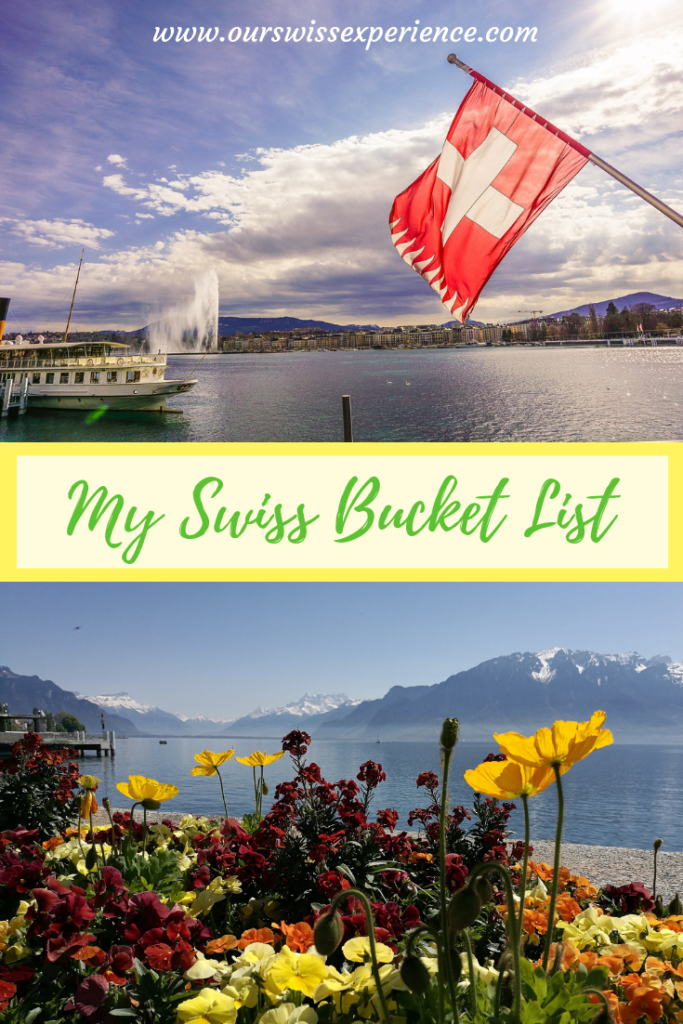 If you don´t want to miss any of my recent posts please sign up for my blog in the top right-hand corner of this page. Thank you. Be sure to follow me on Facebook, Pinterest, and Instagram. And of course, I look forward to reading all your comments.