You will surely agree with me that every physical activity is good for kids and they should be active as much as possible. Our kids (especially the boys) have thanks to playing ice hockey and football more than enough of sport, but they are always open to trying something new. We took advantage of recent spring break and, on the wishes of the boys, set out on a trip towards Bern to enjoy trampoline jumping.
Getting there
The Trampoline Hall is located in Belp, near Bern, next to the airport, at Flugplatzstrasse 2.
By car, you are here from Bern in 20 minutes. There are about 60 parking places right next to the hall, while others are about 150 meters further by the football field.
By public transport, take the bus no.160 to Flugplatz, stop Belp Giessenbad from the Belp train station.
Opening hours and admission fee
It is open from Monday to Friday from 2 pm to 8 pm, on weekends from 10 am to 9 pm (check the current opening hours on the website here). On national holidays, the Sunday opening hours apply.
Before visiting Wednesday afternoon, when children do not have afternoon lessons, and on weekends, it is necessary to make an online booking for a given time slot.
You can either pay online when booking or on the spot (ATTENTION! The PostFinance card is not accepted!)
Admission is based on the time you want to jump.
1 hour CHF 15.00 / 2 hours CHF 25.00 / 3 hours CHF 33.00
Spectators / people who don´t jump don´t pay the admission.
Changing rooms
Upstairs, you'll find changing rooms, toilettes, and showers.

What to wear
I recommend comfortable clothes that allow a wide range of movement, so rather sportswear. You don´t have to wear necessarily the anti-slip socks (although you can buy them for CHF 3 at the rental desk), normal socks or "turnschläpli" will do.
Let´s jump!
The enormous space (I would say former tennis halls) is filled with dozens of trampolines of different shapes and sizes and big air pillows.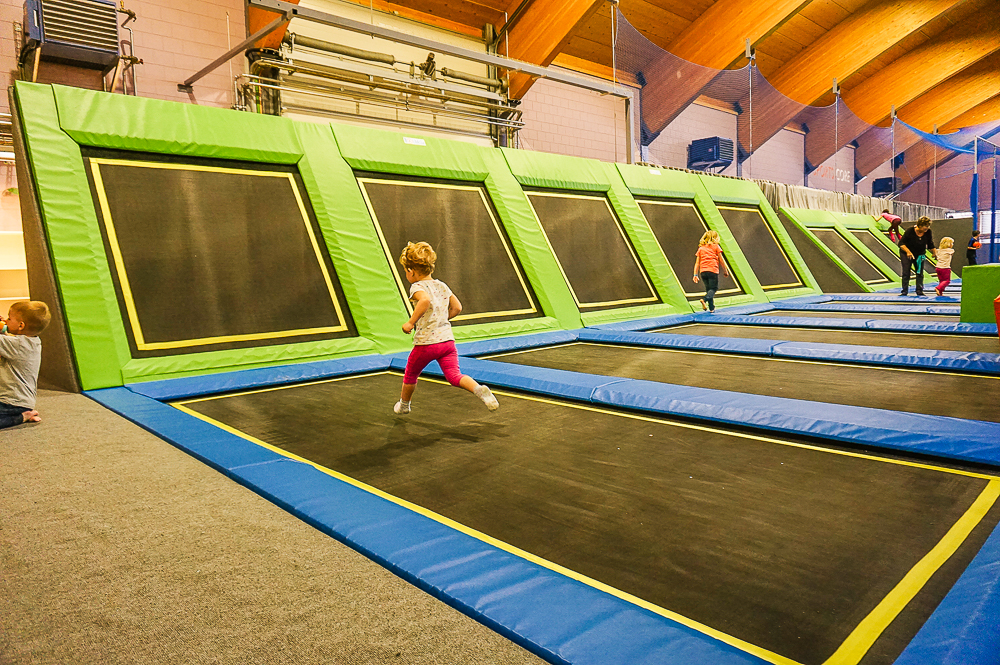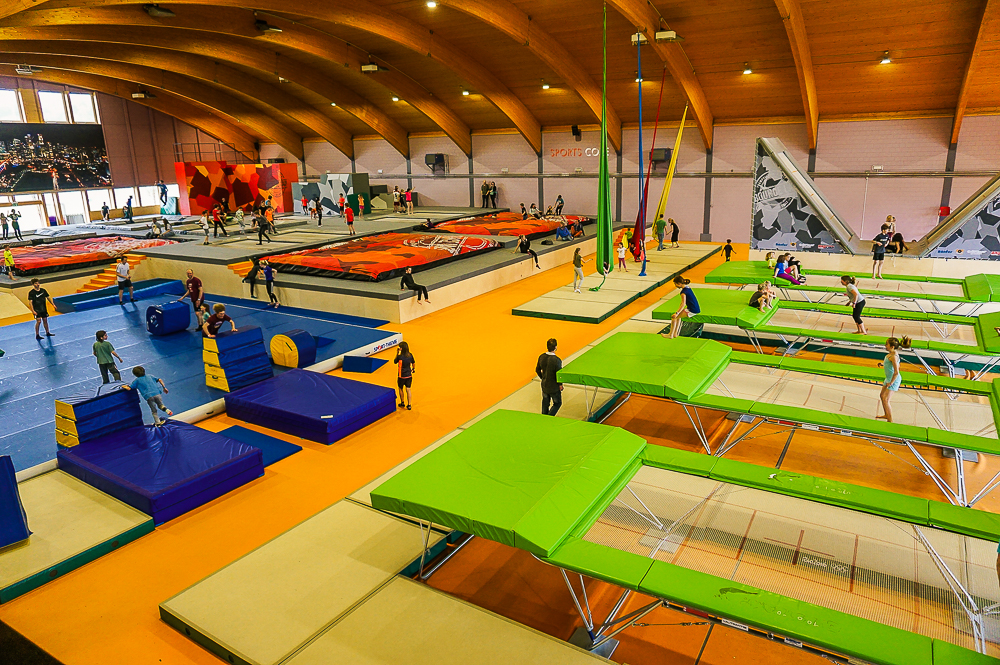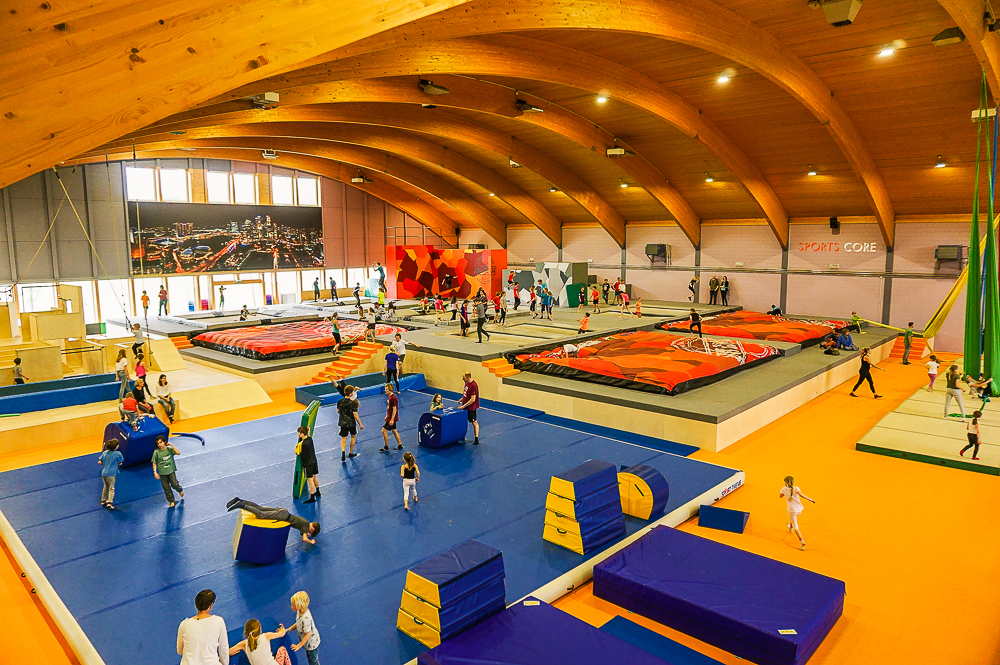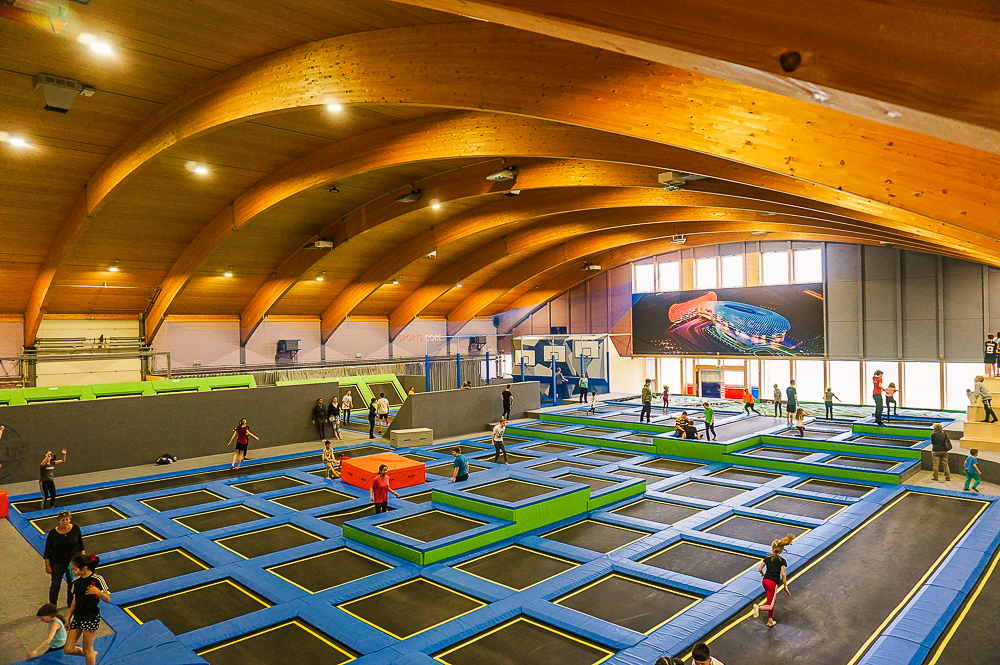 For most of the trampolines, there are no lines (if so, the kids wait politely for their turn). Therefore there is no staff making sure everyone turn.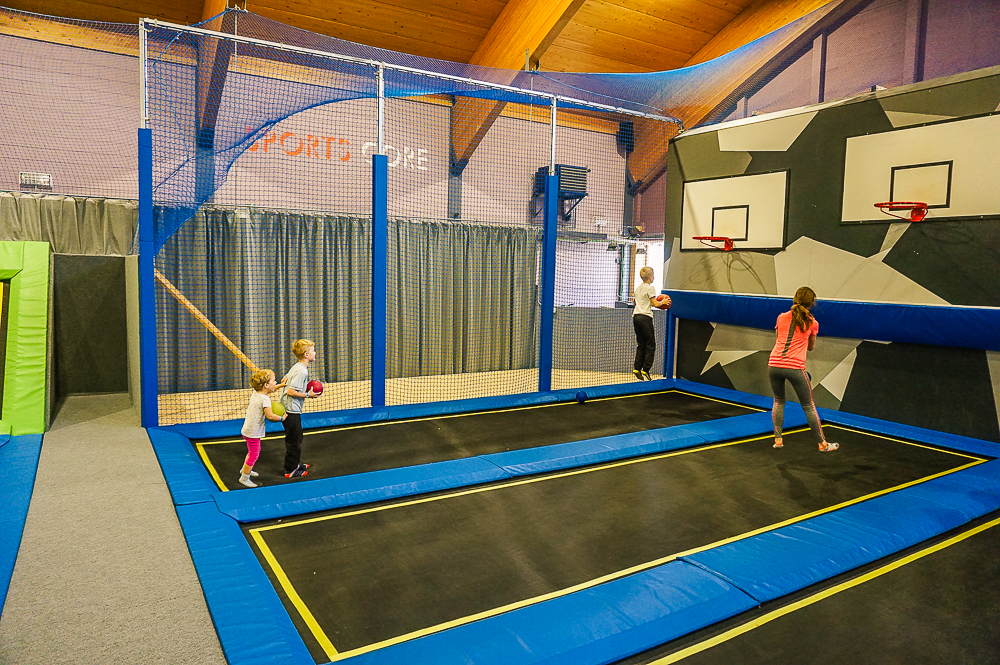 There are also a few large air pillows in which children can jump from a trampoline …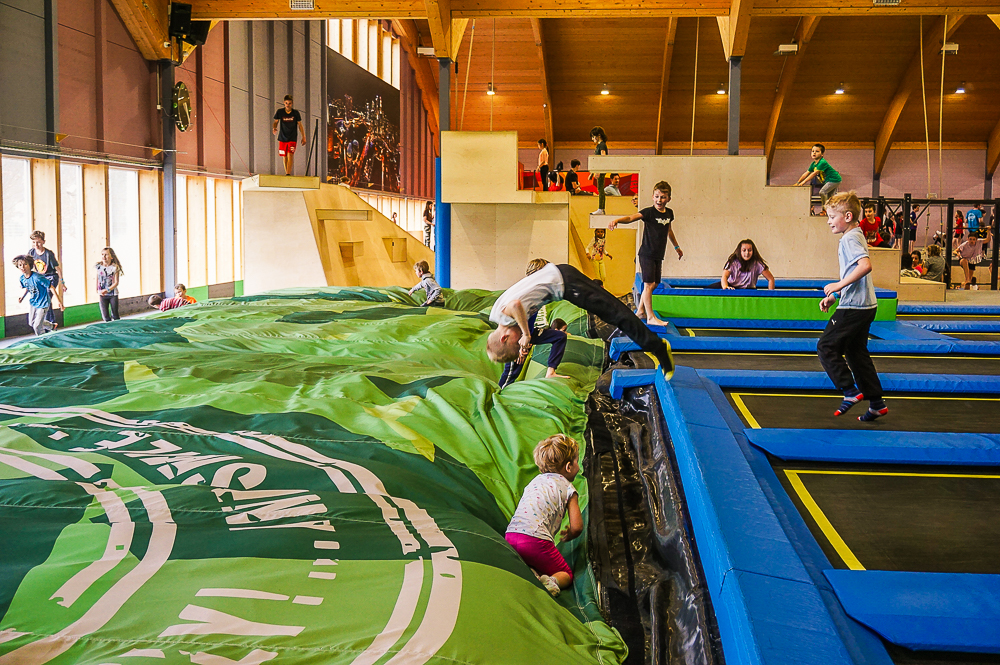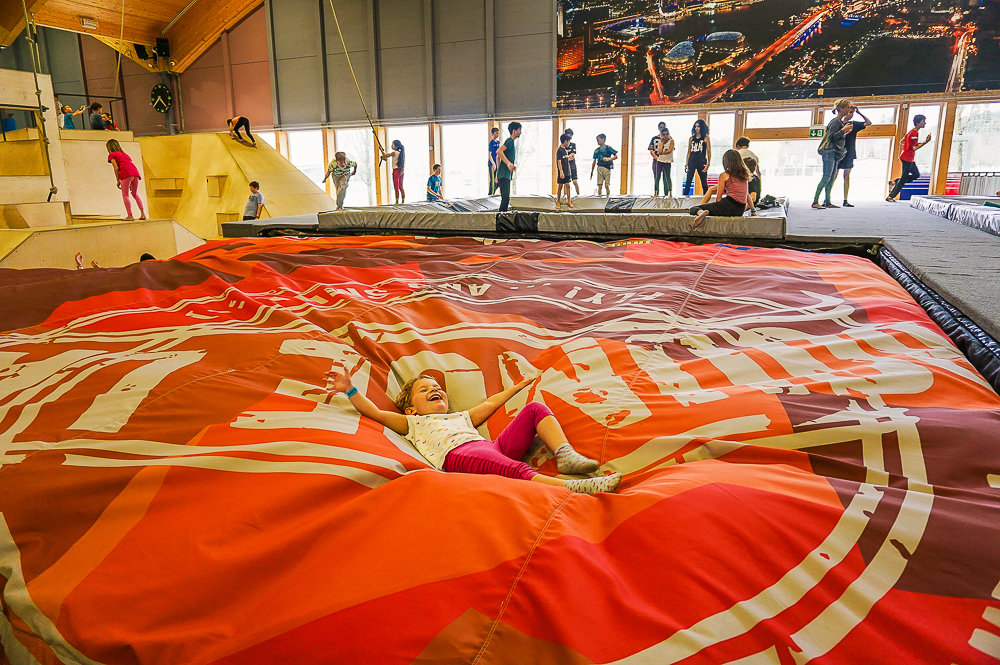 …or from the "wall".
Restaurant
Free syrup and water are included in the admission which I find absolutely great!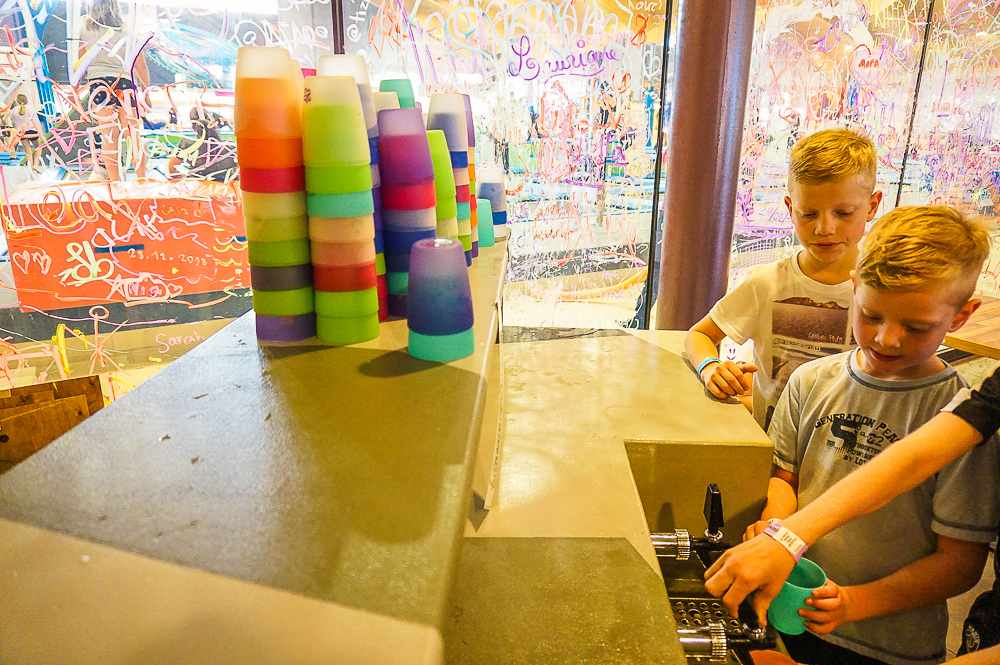 In addition to regular treats, they also offer fruit (apples, bananas) at a reasonable price.
The outdoor terrace offers mountain views when the weather is nice (we only saw a bit, but we can imagine what is behind the clouds 🙂 ).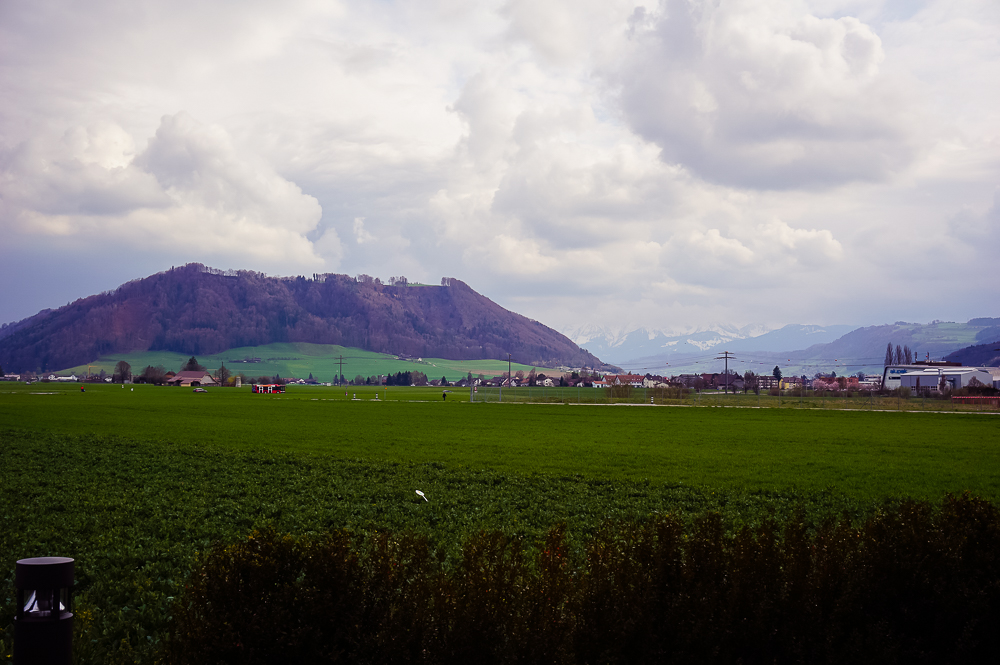 Summary
Kept clean place.
Very friendly staff.
Although they say on BounceLab website that jumping is not limited by age, I would say it's OK for kids 5+. Of course, younger kids could enjoy it, but with some close supervision.

It´s not cheap for a whole family, but worth every franc.
My husband asked me in the evening, "Why didn't you jump?" Well, why ?! I had to document everything! But next time I will be jumping too, I promise! 🙂