Jucker Farm is a family-run experience farm where tens of thousands of visitors head for the traditional spectacle of the pumpkin sculpture exhibition, especially in the fall. But it's not just any show; it has a fascinating history. I was delighted when we finally made it to the Bächlihof in Jona for the first time in almost nine years in Switzerland to enjoy this fall season event as well.
Where to find Jucker Farm
In Switzerland, you will find four experience farms cooperating under the Jucker Farm brand, each with its character and different offer: at Lake Pfäffikersee, there is the Juckerhof Seegraben; in Jona the farm Bächlihof, the Römerhof in Kloten and the asparagus farm in Rafz in the north near the border with Germany.
Pumpkin exhibition
The annual exhibition of pumpkin sculptures is held on the Jucker family estates in Seegraben and Bächlihof Jona and attracts tens of thousands of visitors yearly. As is often the case with successful business models, the idea came about by chance: it all started on the Juckerhof farm in Seegräben, where Martin and Beat Jucker grew up (btw. the history of the Jucker family in Seegräben dates back to 1907 when Martin and Beat's great-grandfather bought a farm here). In the mid-1990s, the 30-hectare plot of land with newly planted fruit trees froze. The Jucker family wanted to use it anyway and decided to grow vegetables on it – including pumpkins. They planted in the spring, but then most of the land was forgotten. Before the first frost, Beat went to see what the field had produced and, to his surprise, took over 400 pumpkins to the farm. He stacked them next to the farm store, and they were all sold out within two days.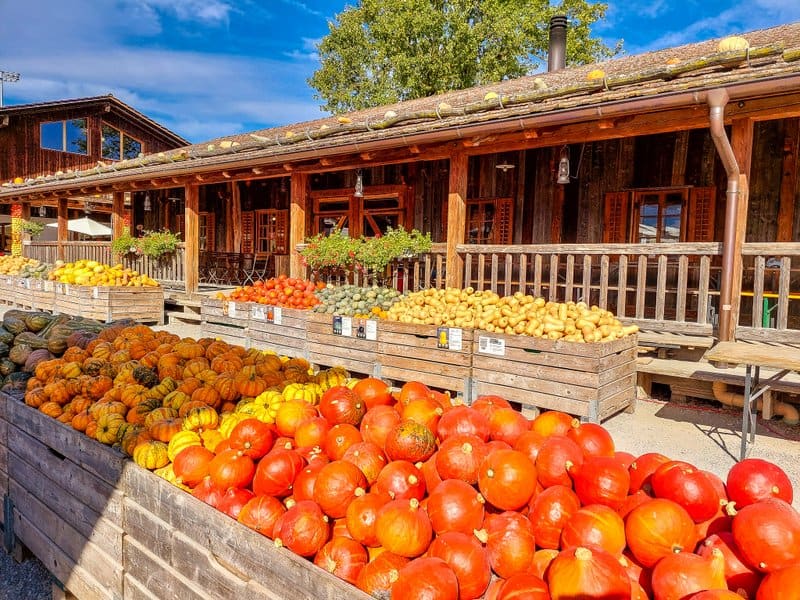 In 1997, they brought over 70 varieties of pumpkins from a farmer in France, and the following harvest was stacked by variety and displayed in the yard. And again (also thanks to a report in the NZZ newspaper), it was soon sold out. And when they were planning their next exhibition, they thought they could spice it up by adding objects. Pit Ruge, who still makes pumpkin sculptures for the Jucker Farm and is the exhibition's artistic director, came up with the idea of pumpkin figures.* Three years later, brothers Martin and Beat Jucker moved the pumpkin exhibition to the Blühende Barock in Ludwigsburg near Stuttgart, Germany. Since then, the "largest pumpkin exhibition in the world" has been held yearly.*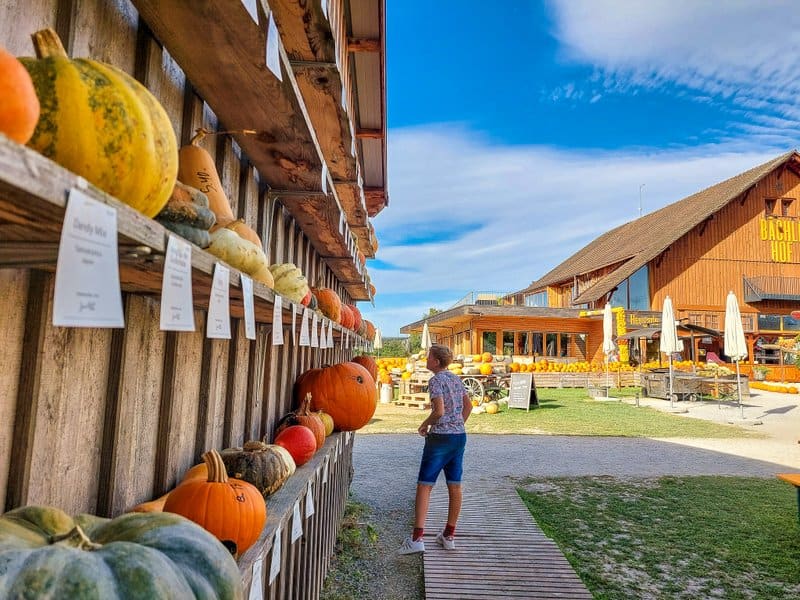 Bächlihof Jona – how to get there
By public transport: Take the train to Blumenau station from Rapperswil station; from there, it is less than a kilometer walk to Bächlihof. You can also take the local bus line 992 from Rapperswil to the Grünfeld stop. From here, it is about 600 meters on foot.
By car: Paid parking is available at Grünfeldstrasse, 8645 Rapperswil-Jona. From the car park, it is a 5-minute walk to the farmhouse. You can only park directly at the farm if you buy your produce here and it weighs at least 5 kilos.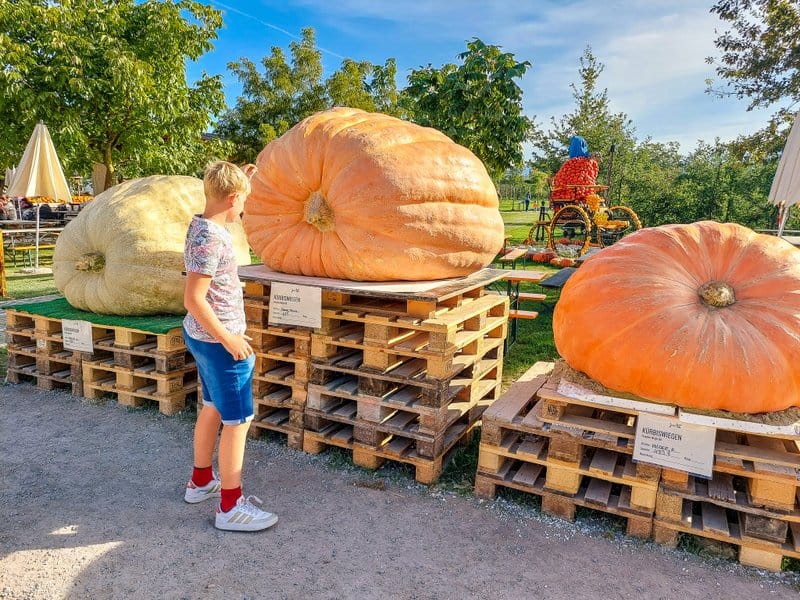 This year's theme: Frauen Power
The exhibition has a different theme every year. This year's theme is "Frauen Power," i.e., the power of women, while in previous years, the themes were music, forest, mythical creatures, or fire. Judging by the photos on social media, it has to be said that there are more sculptures at the "flagship" farm in Seegraben. Among others, you will find a statue of Cleopatra, Frida Kahlo, or even climate activist Greta Thunberg.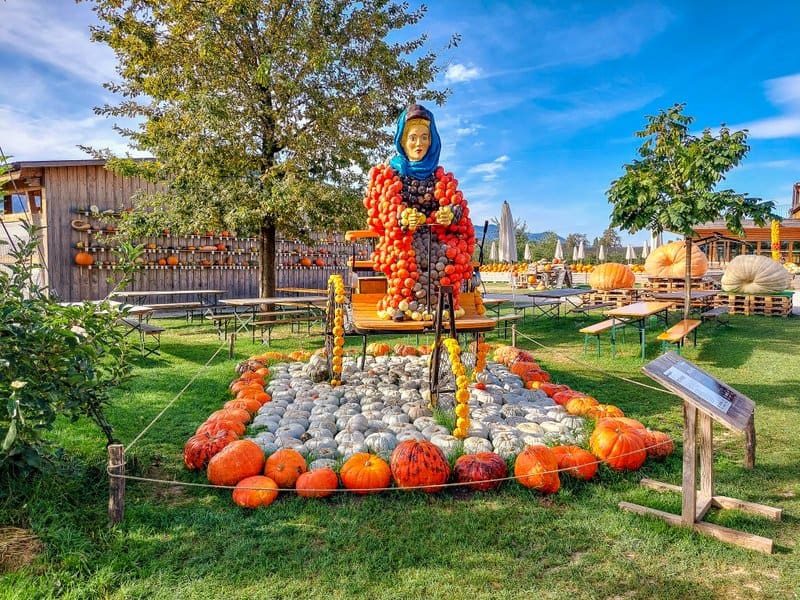 Other activities on the farm
Jucker Farm is not just about the pumpkin show. You'll find a large children's playground with a sandpit, wooden structure, and haystacks to jump on. Kids can also climb into the enclosure to see the goats. Of course, the whole area is stroller-accessible.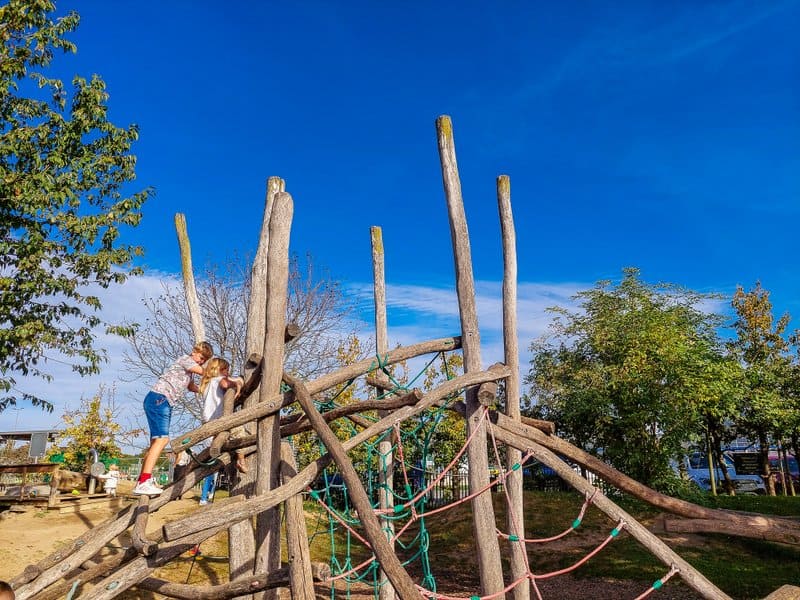 Purchase of pumpkins and farm produce
From July to September, everyone can pick blueberries here. And, of course, you can buy fresh and seasonal farm produce: From fruit, vegetables, wine, pumpkin seed oil, to pickled vegetables, jams, pumpkin seeds, bread, and pumpkin beer.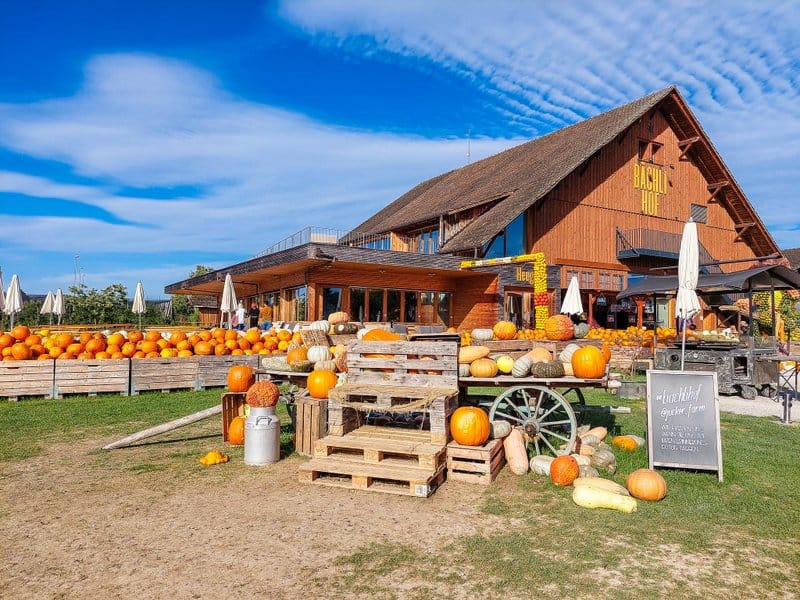 Restaurant
The restaurant also offers many culinary delights from the local produce – pumpkin soup, pasta, pies, fresh salads, ice cream,, and coffee.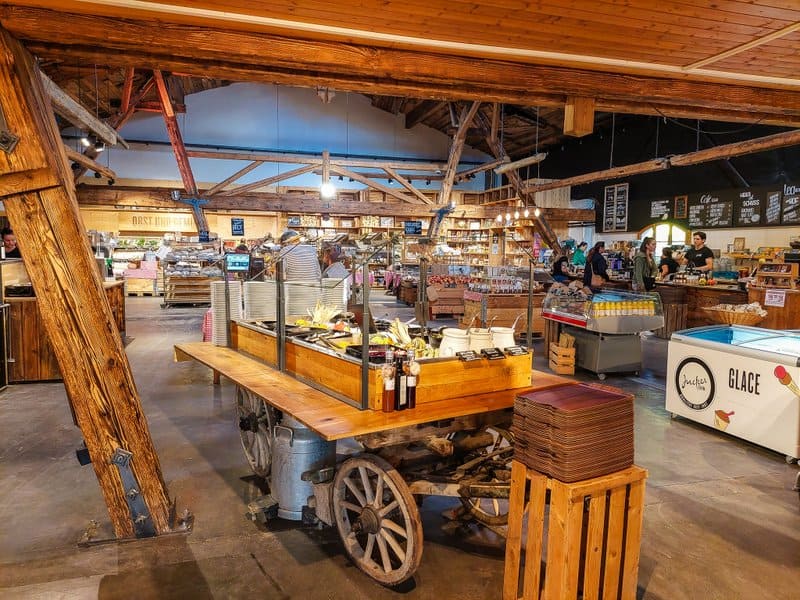 In summer, you can buy sausages and "Schlangenbrot" (bread dough you wrap around a stick) and roast them on-site for a nice picnic.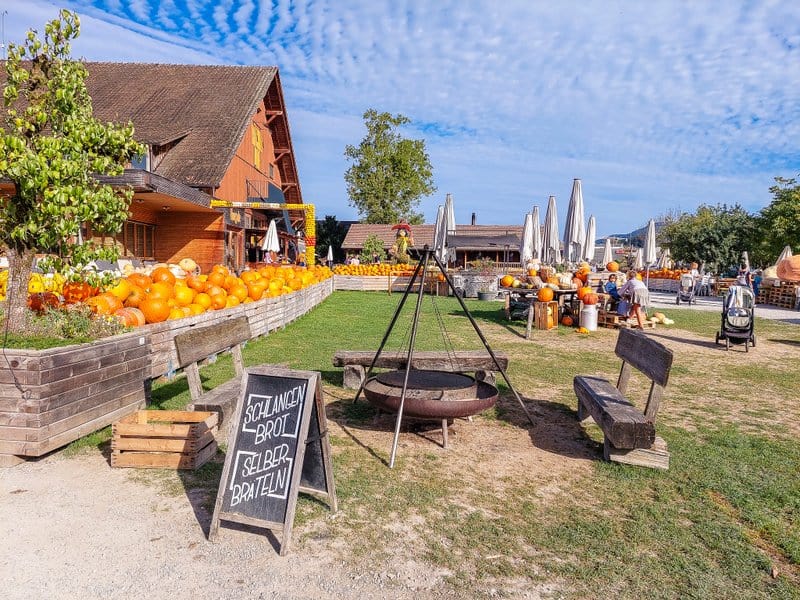 Summary
The pumpkin season starts around the first week of September and lasts until mid-October. But of course, you can visit Jucker Farm all year round (they are open 365 days a year).
During pumpkin season, expect it to be crowded, especially on weekends. It's not recommended to come by car at all. The best time to visit is early on a weekday morning when the parking lot is not yet full.
You can spend an hour on the farm or even the whole day.
Next you can head to the lovely town of Rapperswil or spend your day by the lake.
*Source Wie kamen die Juckers zum Kürbis?