I will be absolutely honest with you: the Stoos ski area in central Switzerland has attracted us especially with the favorable price of a family ski pass. So we wanted to know if for 126 francs for the whole family we would get exactly the value we expect from family skiing in Switzerland (no matter how spoilt I may sound). And what is our verdict? You will find out in the following lines.
Getting to Stoos
Stoos is a picturesque car-free mountain village in the canton of Schwyz. But the world's steepest cable car gets you there. Its valley station is about a 50-minute drive from Zurich, 45 minutes from Lucerne, or 1 hour 45 minutes from Bern. Directly at the cable car station you will find a paid parking lot and parking house (see below), which may soon be full. If this happens, continue in the direction of Muotathal to the P + R car park. From here, buses provide a shuttle service to the cable car station.
By public transport: take the train to Schwyz, from there the bus (line no. 1) goes directly to the cable car station (Stoosbahn stop).
Parking house
Since our visit was not as spontaneous as last time, we had time to find out that it is possible to book a place in the parking house in the immediate vicinity of the cable car station. It costs 13 francs a day (which is quite pricey compared to the fact that parking e.g. in Lenk is free), but on the other hand, it gives a chance to those who come from far away they do not have to get up at 5 in the morning to catch a free spot. Once you enter your vehicle's license plate online and pay, you have to do virtually nothing but arrive at the place in your chosen time slot. Then you don't have to worry about anything at the entrance, the system recognizes your license plate and the barrier lets you in.
Tickets prices
Ski pass prices are very favorable to the family budget. In addition, when you buy ski passes over the Internet, you can save another 2 francs. I consider the family daily ski passes for 126 francs (for 2 parents and all own children under 15) or 88 francs (for one parent and all own children under 15) to be a big plus. Children under 5 years (incl.) ski for free. There is a deposit of 5 francs for all ski passes. All price lists can be found here.
NOTE: The family ski pass is no longer available. If you buy a season pass at Stoos in the 2022/23 season as an adult, your children who have an SBB Junior Card ski for free.
Map of the area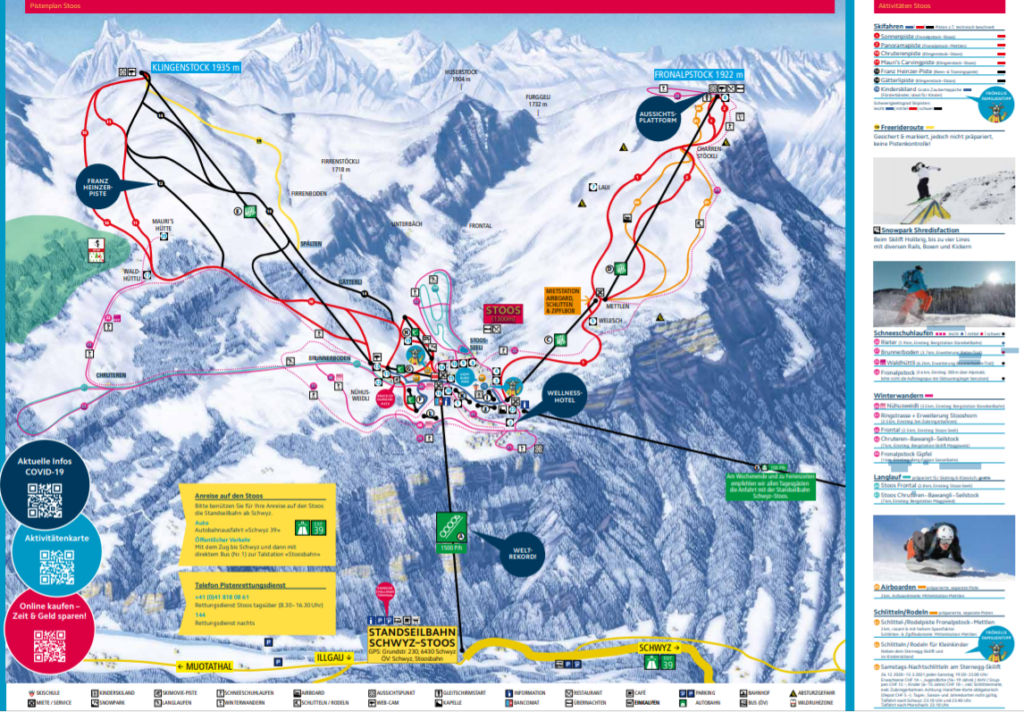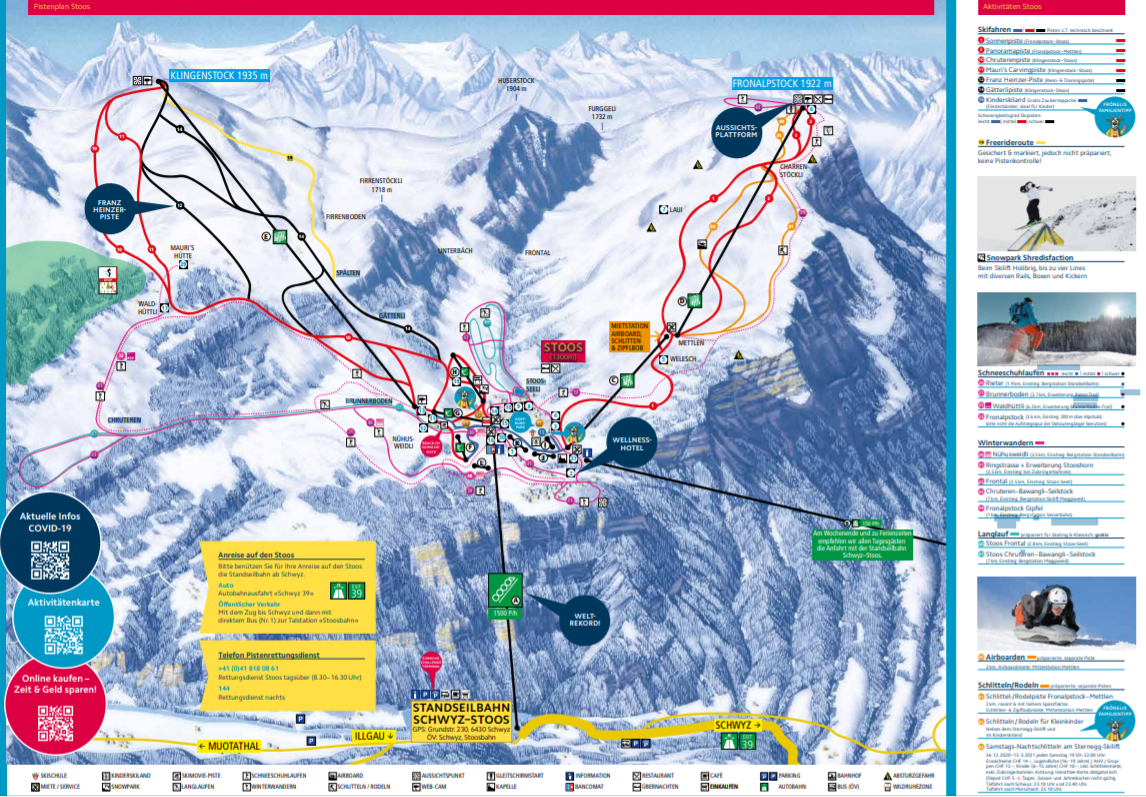 Skiing for beginners and advanced beginners
Kinderskiland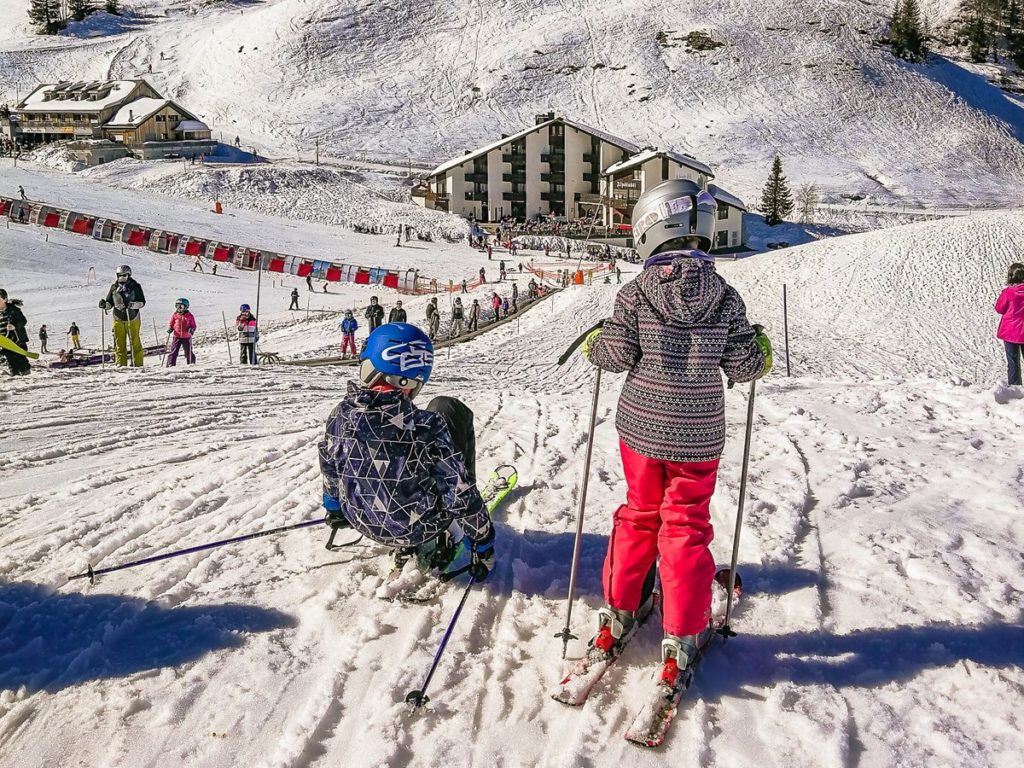 For absolute beginners, there is a free Kinderskiland area with a rope lift and two magic carpet lifts. You can also use the services of the local ski school, which will introduce you or your children to the basics of mastering the slopes from blue to black.
Blue runs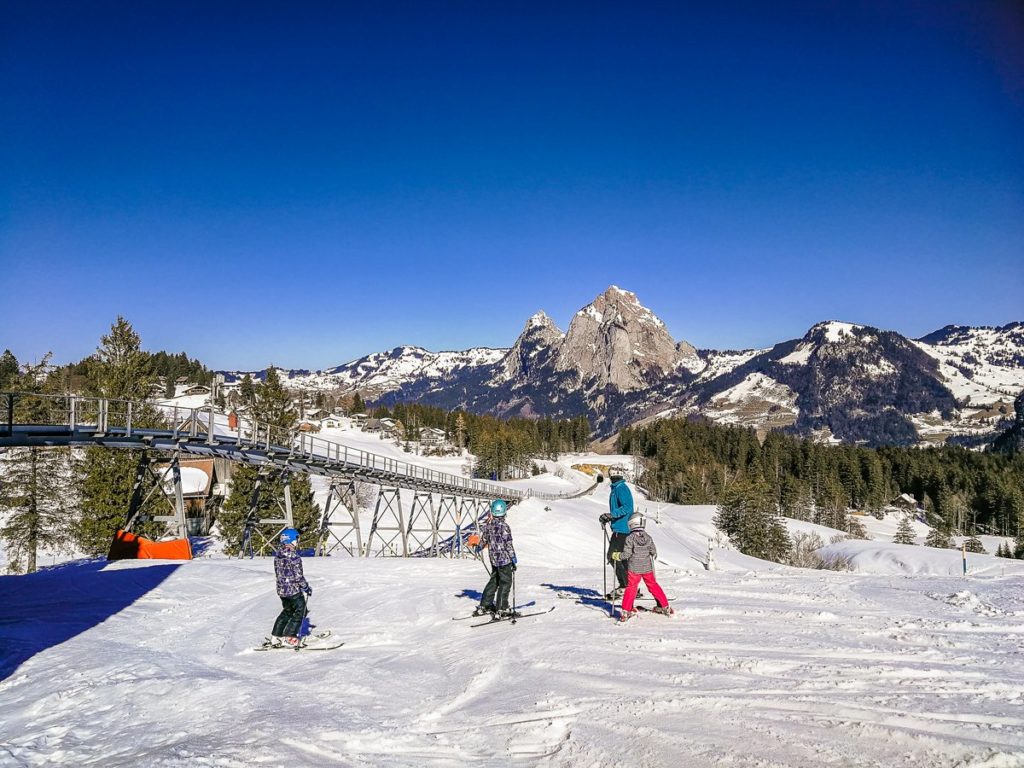 For intermediate skiers, there are blue slopes with two T-bar lifts. One is right next to the funicular station, the other a little higher.
Skiing for intermediate and more advanced skiers
The two opposite peaks of Fronalpstock and Klingenstock offer great activities for intermediate and more advanced skiers and snowboarders. Between the chairlifts there are the above-mentioned children's lifts, so you can use them to move comfortably on skis and not have to walk between them.
Fronalpstock
The four-seater cable car takes you to Fronalpstock, from where there are pretty wide and not very steep slopes (Sonnenpiste and Panoramapiste) suitable for advanced beginners and intermediate skiers. There is also a sled and air-pillow run.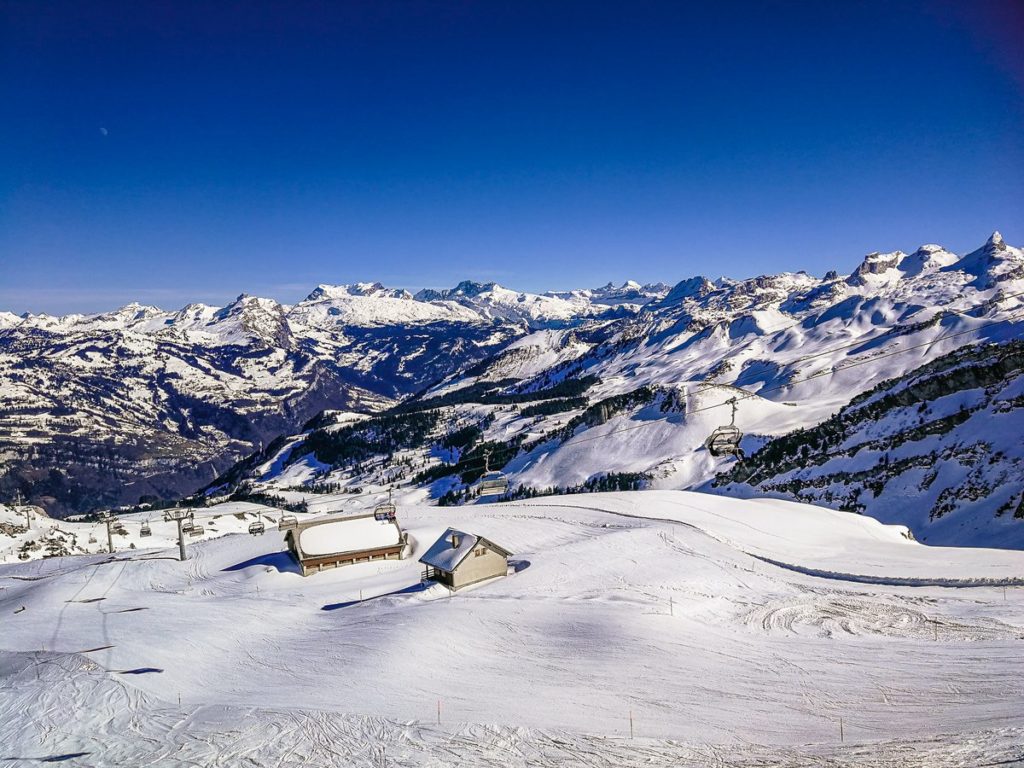 From Fronalpstock you can also enjoy beautiful views of Lake Lucerne and from there you can take a short winter panorama loop walk.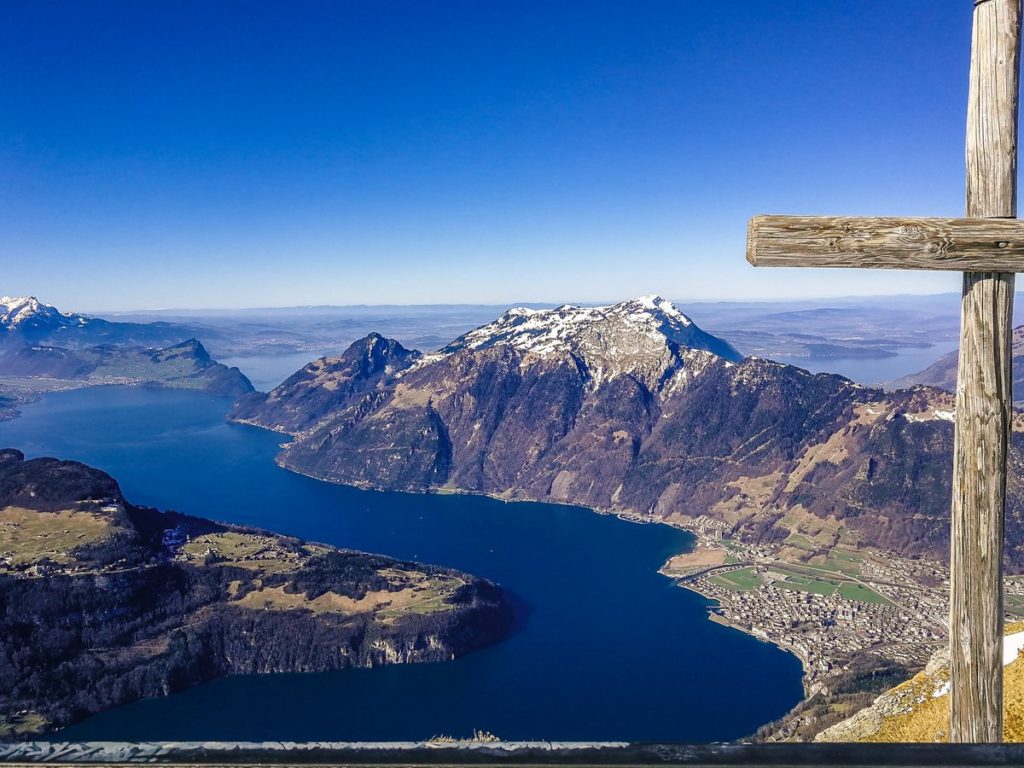 Klingenstock
Klingenstock has much steeper slopes (red and black), which can be said to be more for intermediate to advanced skiers. As a family of five, we also appreciated that the cable car to Klingenstock is a six-seater 🙂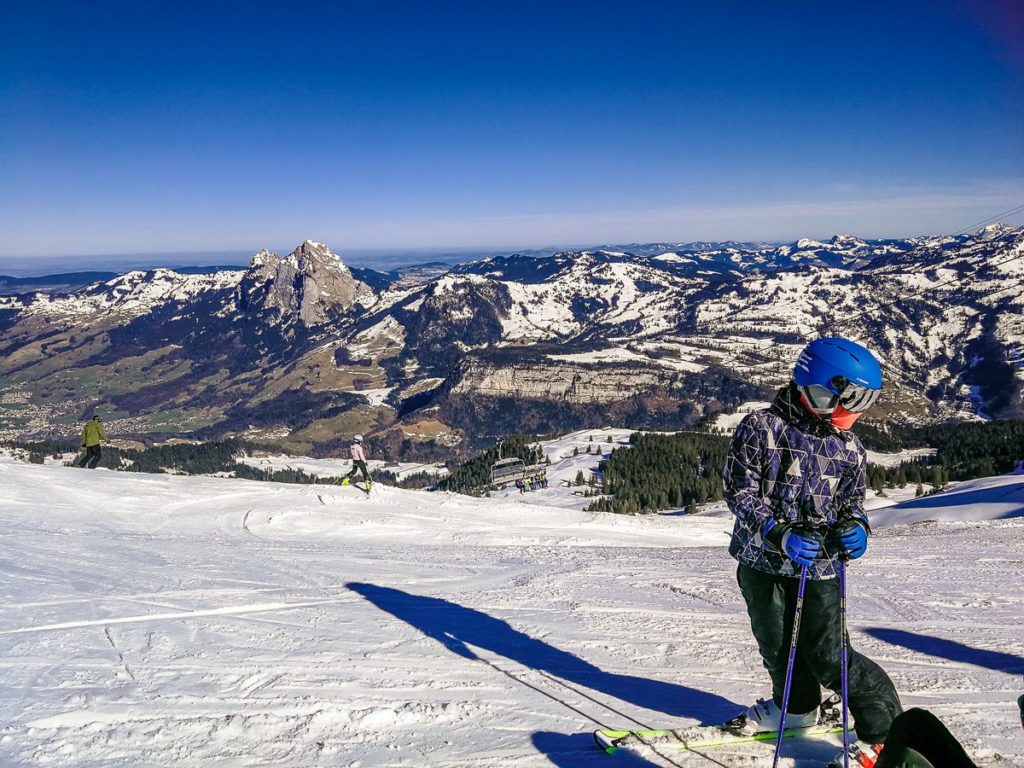 Brack.ch Skimovie Piste
But what our skiers enjoyed the most, was the slalom on the Brack.ch Skimovie piste that was measured. It's free and in addition to measuring your time, Your ride is automatically filmed and you can then access your ride via the Skiline app or via www.skiline.cc. With a little luck, you could win a voucher for one of over 200,000 products supplied by BRACK.CH. More information here.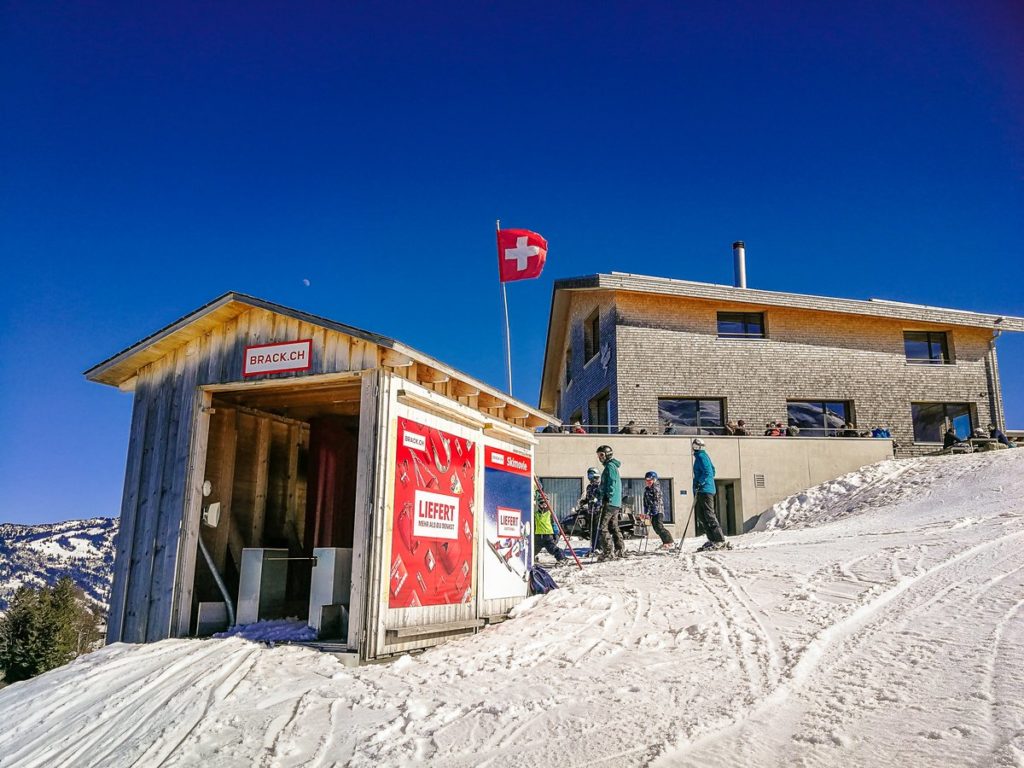 Catering options
Along the slopes and in the village itself, you will find many opportunities for refreshments. At the moment, of course, only in the form of take-away, but at least with food you can sit on the outdoor terraces, which are prepared for keeping the distance and other measures.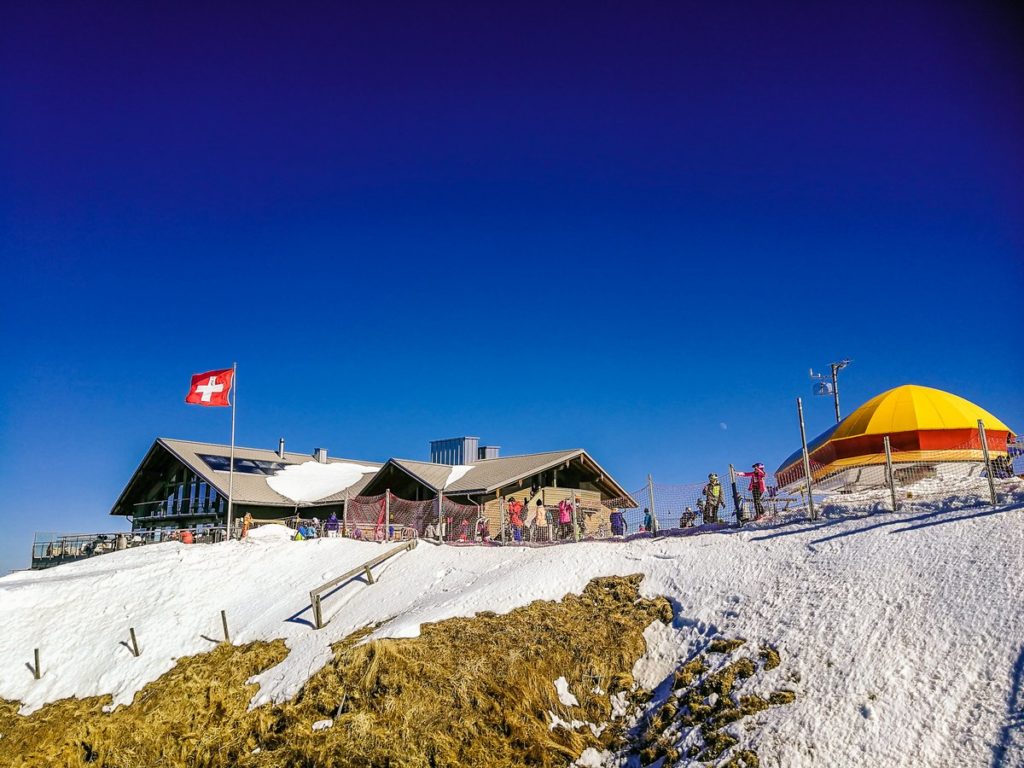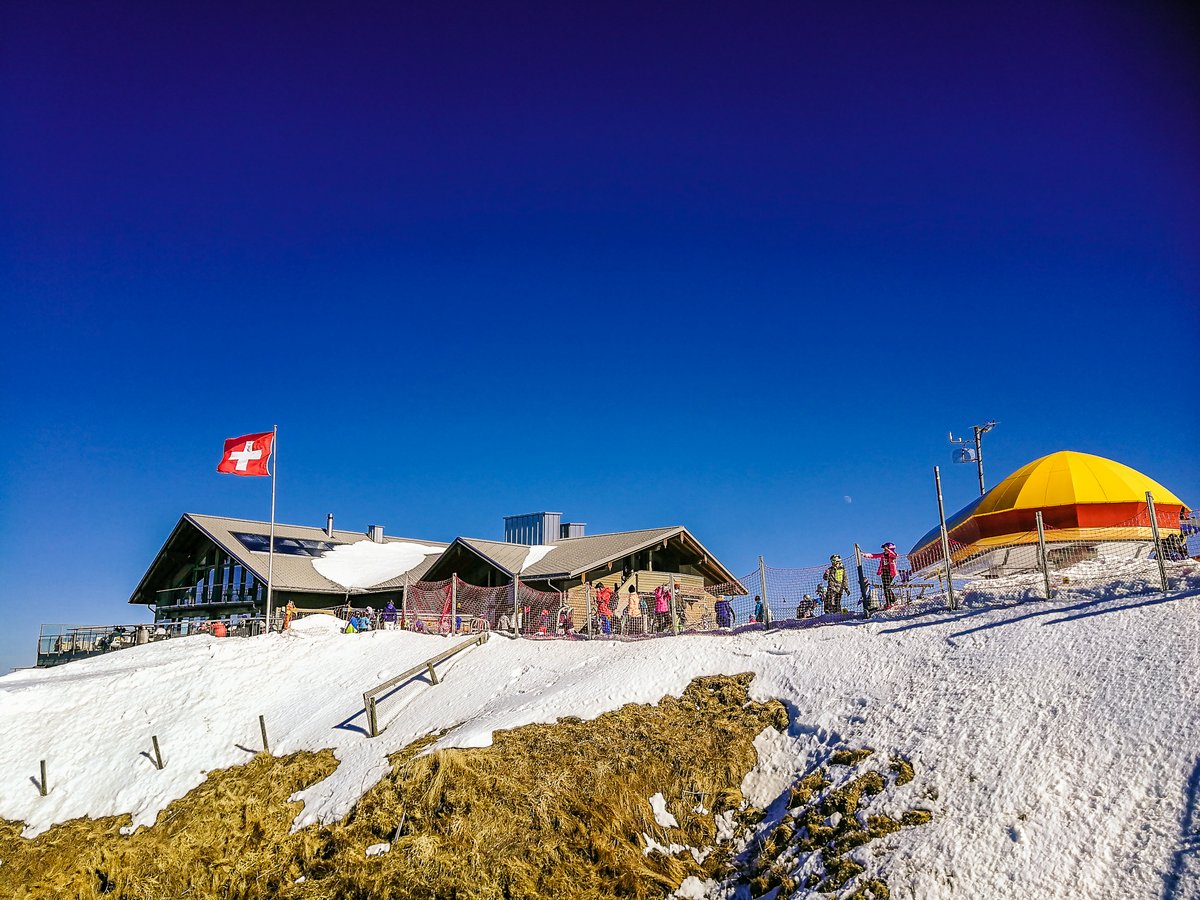 Summary
Stoos is an ideal winter resort for families, where you can spend the whole day, whether you are skiing, sledding, winter hiking, or you just want to enjoy the winter vibes and do nothing.
You can also come here with a pram or dog.
If you do not want to leave your backpacks hidden under the benches in different places, you can use lockers at the exit of the funicular (2 francs deposit).
Even if you pay 13 francs for parking plus another 126 francs for family ski passes, it is still a price comparable to similarly large resorts, so skiing here is definitely worthwhile.