Meiringen-Hasliberg is a lovely ski area northeast of Bern's canton in the Berner Oberland on the southwestern sun terrace above the Aare valley. Located 50km south of Lucerne and less than 30km east of Interlaken, it is also one of the closest ski resorts to the capital city of Bern. Here you will find long runs for all types of skiers – from beginners to advanced skiers and those who like to off-piste free-ride on fresh powder.
Getting to Meiringen
By car: for those heading to the Hasliberg area from Bern, it's best to head straight to Meiringen in the Haslital Valley. You'll find a large paid parking lot (Parkplatz Talstation Alpbach, watch for the brown signs "Bergbahnen Meiringen" as you exit the main road). All-day parking costs 5 francs, and you can pay either in cash or via the Paybyphone or Sepp parking apps (Twint is not available). From the car park, it is about a 5-minute walk to the lower gondola station.
By public transport: By train to Meiringen station, from there take bus 174 to the Meiringen, Luftseilbahn stop. Alternatively, it is a 10-minute walk from the station.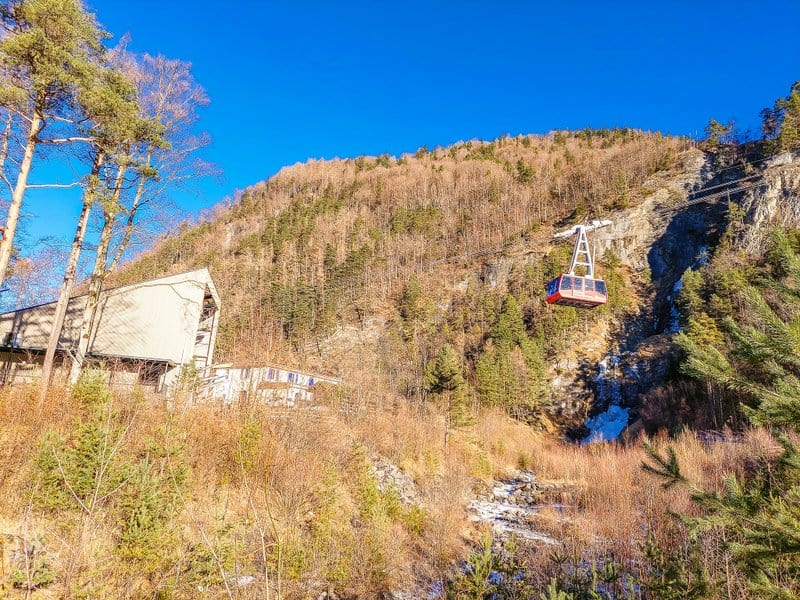 Ski pass prices
In the 2022/23 season, you can buy full-day and multi-day ski passes, as well as ski passes for the morning (until 1 pm) or afternoon (from 12 pm) skiing only. A full-day ski pass for an adult costs 62 CHF, while a child from 6 to 16 years old costs 31 CHF. The family tariff offer is also very nice – the family price is provided if at least one adult and one child buy the same ski pass. In this case, a day pass costs 46 CHF for an adult and 24 CHF for a child.
Area Overview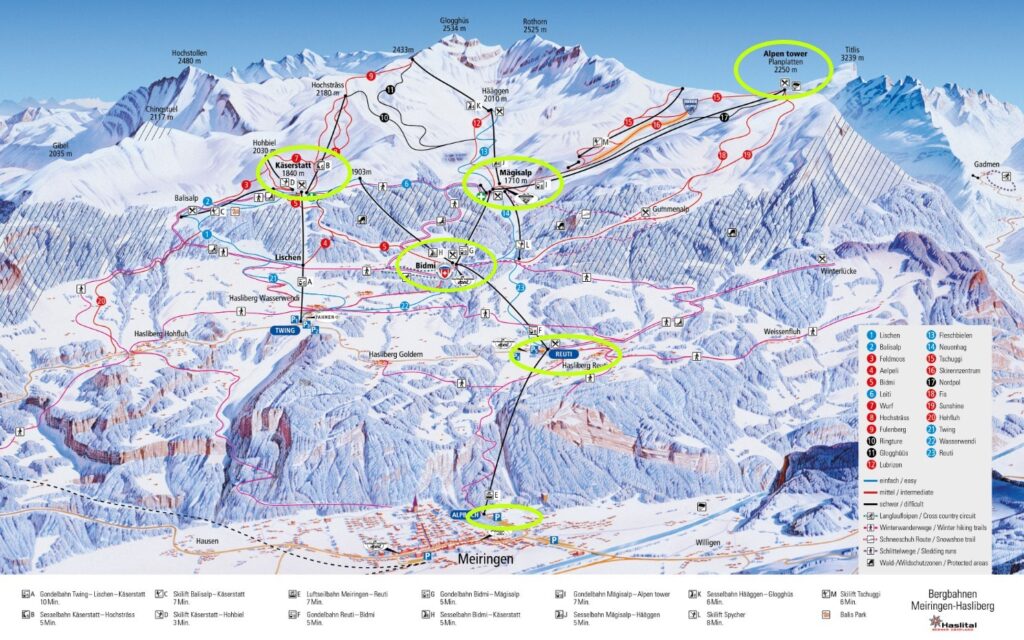 The slopes are located at an altitude of 1,055 to 2,433 m above sea level. A gondola takes you from Meiringen to Reuti, where you change to another cable car to Bidmi. Here you can decide whether you want to explore the slopes in the Käserstatt area or continue on to the Mägisalp or even the Alpen Tower. An interactive map with the currently open lifts and slopes can be found here.
Bidmi
In the Bidmi area, you will find the meeting point of the local ski school and a training area for complete beginners with a magic carpet and rope lift. There's a self-service family restaurant on the ground floor of the lift station, near is the Bärgbeizli restaurant, where you can enjoy, for example, a great homemade beef burger or a slice of bread with melted cheese. For those who prefer just a drink, there's the après-ski bar HäxäChessel. Both places are equipped with lounge chairs to relax in the sun.
Mägisalp
From Mägisalp there are two nice blue slopes. Either you can take the shorter one No. 14 just to Bidmi, or the longer one No. 23 goes all the way to Reuti station.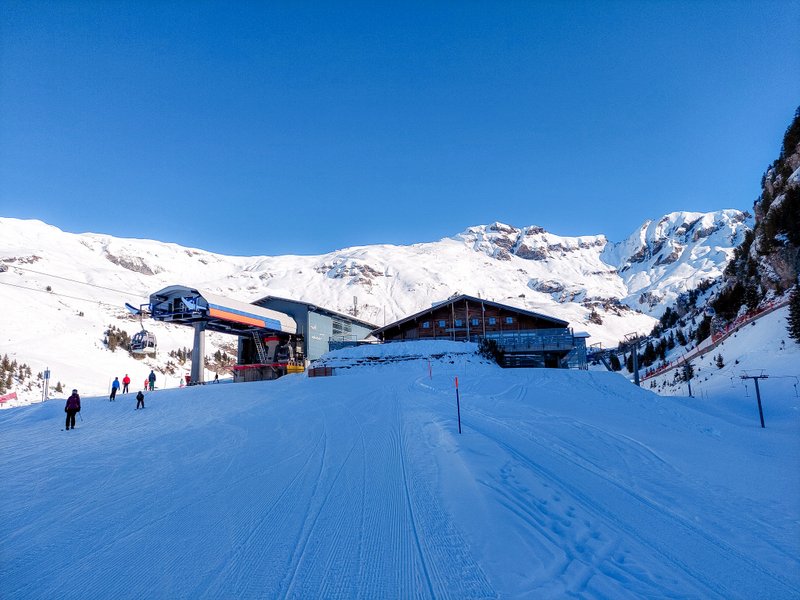 Alpine Tower
From the Mäglisalp you can also go even higher up to the Alpine Tower. Before you head back down the red or black slopes, don't forget to take in the spectacular panoramic views or grab a bite to eat in the local restaurant with its daily menu.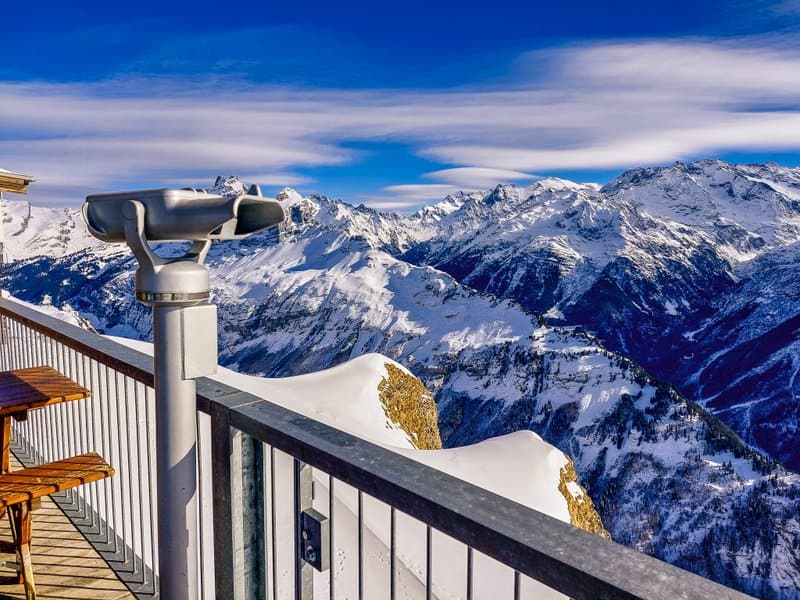 Käserstatt
From Bidmi, you can take the chairlift to the other side of the area to Käserstatt. If you take the chairlift even higher up to Hochsträss, you'll feel like you're going to heaven 🙂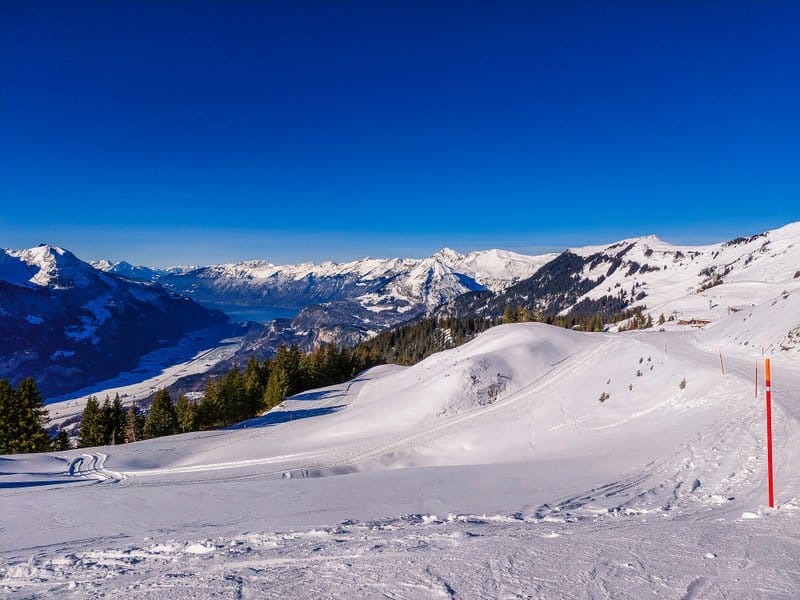 Other activities on the Hasliberg
In addition to skiing and snowboarding, the Meiringen-Hasliberg area offers numerous winter hiking and sledding trails. You can rent sleds at the Mägisalp station. Please note that in some places the winter hiking and sledding trails follow or cross the ski slope. Please be very careful and respectful.
Want to know more places where to sled with kids in the Bernese Oberland?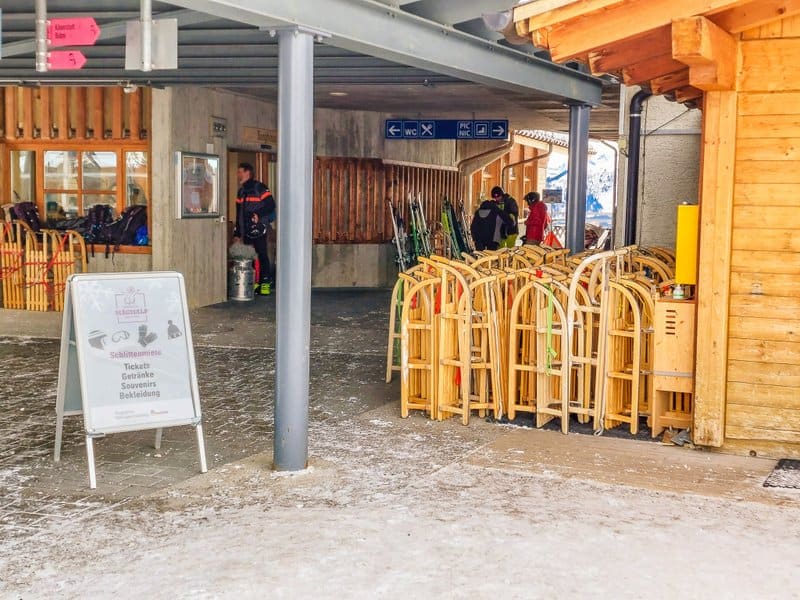 Something for Sherlock Holmes fans
Sir Arthur Conan Doyle had his Sherlock Holmes die at the nearby Reichenbach Falls. In the center of Meiringen, at 26 Bahnhofstrasse in the Anglican Church, you will find an authentic replica of the salon in the house at 221b Baker Street, the only one in the world. This small museum features carefully collected authentic exhibits relating to Sir Arthur Conan Doyle, Sherlock Holmes, and the Victorian era. Museum opening hours are here.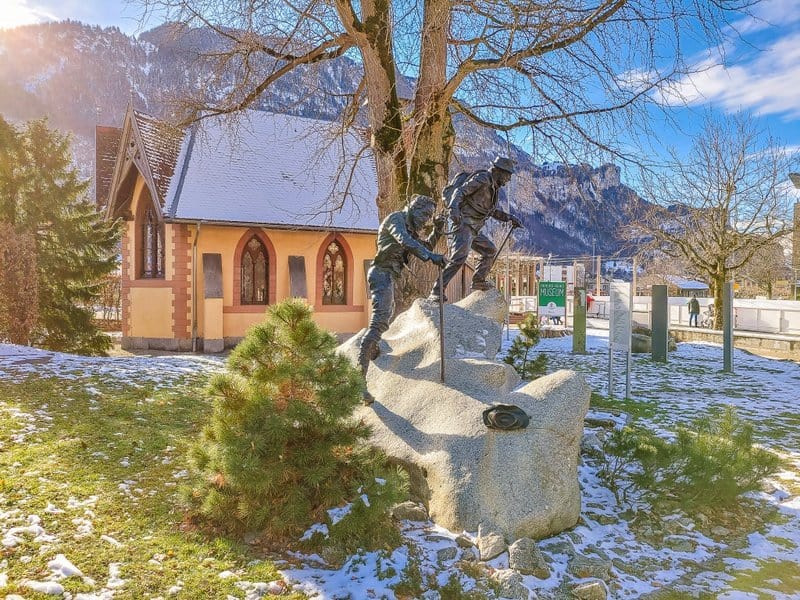 Summary
Meiringen-Hasliberg is a very pleasant ski area, which you can choose for a day skiing or a whole week's stay. Here you'll find well-groomed slopes, mostly comfortable chairlifts or cable cars, and enjoy beautiful views wherever you ski. Prices for ski passes are also very fair.
My opinion is not at all influenced by the fact that at the time of my visit, the conditions were perfect for skiing – a beautiful sunny day with temperatures just below freezing, no wind, and relatively few people (it was a working day) 🙂 .