Cinque Terre is one of those icon places in Italy that had been on my list of places to visit for quite a few years (thank you, Pinterest and Instagram) and we finally made it there this October. Our initial plan was to visit this place last year during the autumn holidays, but as you know from my blog, we ended up heading to Venice. Cinque Terre, a string of five villages on the Italian Ligurian Riviera, is known for its colorful seaside houses and rewarding hikes with breathtaking views. Yep, no wonder they attract millions of tourists from all over the world every year.
In this blog post, I want to share with you the best things to do in Cinque Terre to ensure you make the most of your trip. I hope this guide gives you a good idea of what to do, what to see, where to stay, what to eat, what to avoid, and many other tips for your trip to Cinque Terre!
Where is Cinque Terre located?
Cinque Terre, Italy, once a hidden gem, is now one of the most popular destinations to visit in Italy. This beautiful region is located on the Ligurian coast in Northwestern Italy, not too far from Genoa. Cinque Terre (which means literally Five Lands) comprises five picturesque villages – beginning with (from north to south): Monterosso al Mare, Vernazza, Corniglia, Manarola, and Riomaggiore. Each of the villages has its own unique character.
The coastline, the five villages, and the surrounding hillsides are all part of the Cinque Terre National Park and it is a UNESCO World Heritage Site since 1997.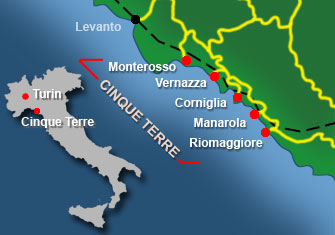 When to visit Cinque Terre?
The high season in Cinque Terre is generally from April to October. I would definitely recommend visiting during shoulder season though, like April, May, September, or October, so the crowds aren't quite as bad, but you still get great weather!
How to get to Cinque Terre?
The nearest airports are Pisa and Genoa. You don't need to drive from the airport, because the best and fastest way to get to Cinque Terre is by train. You can hop on a train from Pisa Centrale and Genoa which will connect you straight to Cinque Terre through La Spezia.
Each of the 5 villages has a train station and from La Spezia, it is only 8 minutes by train – Cinque Terre Express – to the first village: Riomaggiore. The distances between 5 villages are very small, each train ride takes only a couple of minutes.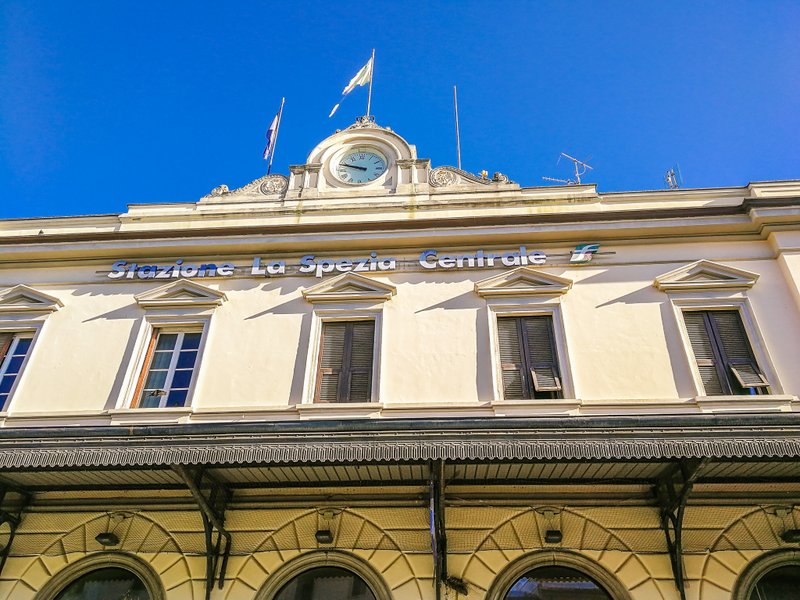 How to get around Cinque Terre?
As mentioned above, the best and fastest way to get to Cinque Terre is by train. But don't expect a scenic train ride from village to village with beautiful views of the Mediterranean sea – the trains run through the tunnels in the rocks between the villages.
What is Cinque Terre Card
Two types of cards are available:
– Cinque Terre Trekking Card: giving you access to the footpaths only. There is over 120 km of trails along the Cinque Terre coast line. There are 48 hiking trails and you only need the Cinque Terre Trekking Card for the two most famous trails: Monterosso – Vernazza and Vernazza – Corniglia. All other paths are for free and you don't need a Trekking Card.
– Cinque Terre Train Card: this card already includes CT Trekking Cards. This card gives you access to the hiking trails together with unlimited train travel on the Cinque Terre trains. Cinque Terre Train Card costs 16 euro for adults, 10 euro for kids under 12 years old (per day).
The Cinque Terre Cards can be purchased at the information desks at every train station or Tourist Info Points in Cinque Terre, Levanto and La Spezia.
If you want to see the coastline of Cinque Terre, which is absolutely incredible, you'll want to take a boat tour to see it all. The ferry offers amazing coastal views of the towns! Corniglia is not accessible by ferry.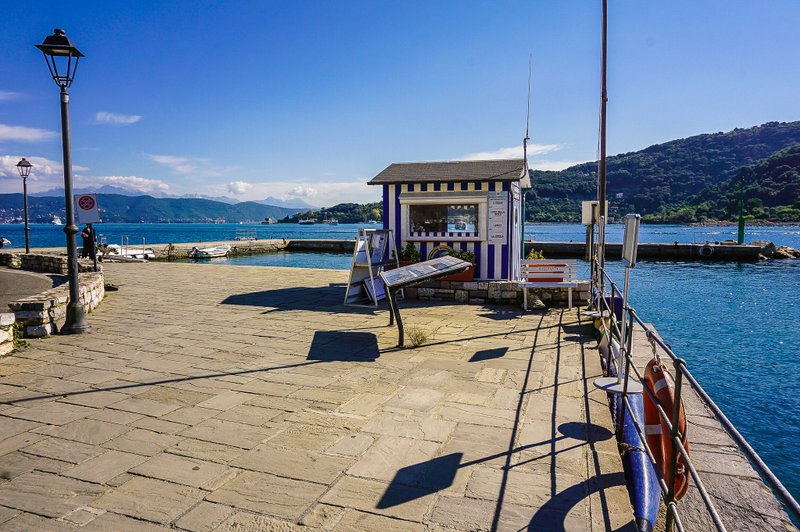 I don´t recommend getting to Cinque Terre villages by car – the roads are narrow, parking is mostly impossible.
Measures before traveling to Cinque Terre
Be sure to double-check the latest official news and requirements before planning your trip, and ensure all flights, accommodation, and car hires are refundable!
Where to stay in Cinque Terre?
I think your best bet is to actually stay out of Cinque Terre in La Spezia. We stayed in an apartment house called Residence Levante. This was about a 15-minute walk from the train station so it made it easy to get to the villages of Cinque Terre.
Monterosso is the best place to stay in Cinque Terre if you are looking for beach time with young kids.
How many days do you need to explore Cinque Terre?
Unless you are planning to spend lots of time on the beach, you really don't need more than two days in Cinque Terre itself. If you plan on spending 3 days in Cinque Terre, great! I found it to be the perfect amount of time because you can also get the know the neighborhoods.
We spent two nights here, which I would say it's the minimum amount of time you need if you really want to make the most of this unique place (see our itinerary below for inspiration).
Hiking in Cinque Terre
Most people travel to Cinque Terre because of the hiking trails between the villages. But in fact, there are multiple hikes that you can enjoy in the area (48 hiking trails to be precise), but yeah, most travelers come to hike between the five villages of Cinque Terre. As there are 5 villages, there are 4 trails between them. But don't expect to hike from one village to the next. The trails can be closed due to damage (landslides) or floods, so make sure to check the Cinque Terre website before heading to your hike.
Because of the current situation, we only took the hike from Corniglia to Vernazza, which took about 90 minutes. The ratio of the distance to the time it took us to cover the route already shows that it can be a little tough (and if if you're not used to hiking even more). Regardless of which trail you take, it requires that you wear proper hiking shoes (not flip flops), bring plenty of water and headwear. You also need to buy a Cinque Terre Card (this can be done at the entrance of the trail) for €7.50 (see above).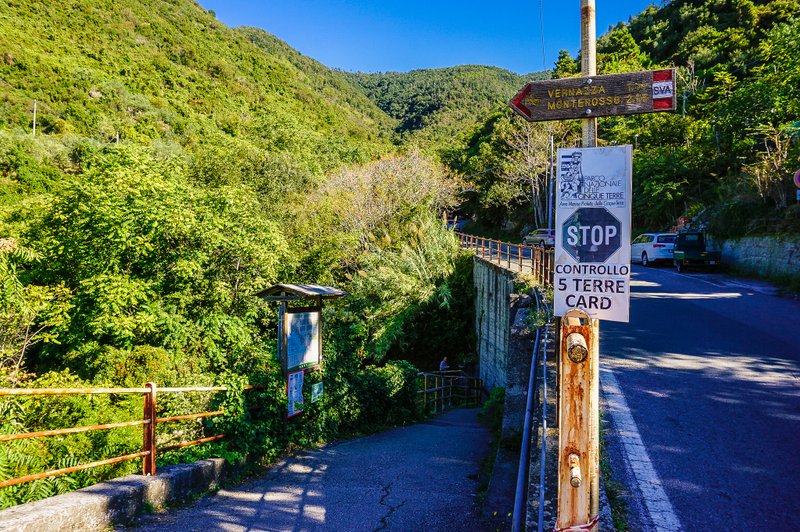 You can easily follow our 3-day itinerary
DAY 1
Wake up early to beat the rush and get the most out of your day and take the train to Corniglia. Corniglia is perched upon the cliff edge of the mountains surrounding Cinque Terre. It's not accessible by sea, only by foot or bus. It's by far the hardest village to reach as you'll need to climb 377 steps from the bottom of the hill. If you want to avoid the stairs, you can take the road connecting the station with the village centre (it's about 1.5 km), or wait for the bus (ticket included in the Cinque Terre Train Card).
Stop in Corniglia for a cup of espresso and walk around town quickly (there is a beautiful observation terrace behind the church – actually, you find two churches in this tiny village). Don't plan for much time in Corniglia, it is really tiny village.
Hike in the direction of Vernazza. You will be there in about 90 minutes. Depends on your fitness level. The path leads through vineyards and olive orchards.
Stop above Vernazza and get some bird's eye shots. According to some, Vernazza is the most beautiful of the Cinque Terre villages.
As a reward for the challenging hike, have an ice cream at Gelateria Vernazza, or buy a few souvenirs (do you want tree ornaments in the shape of lemons? 😉 ).
Take the train to Monterosso al Mare.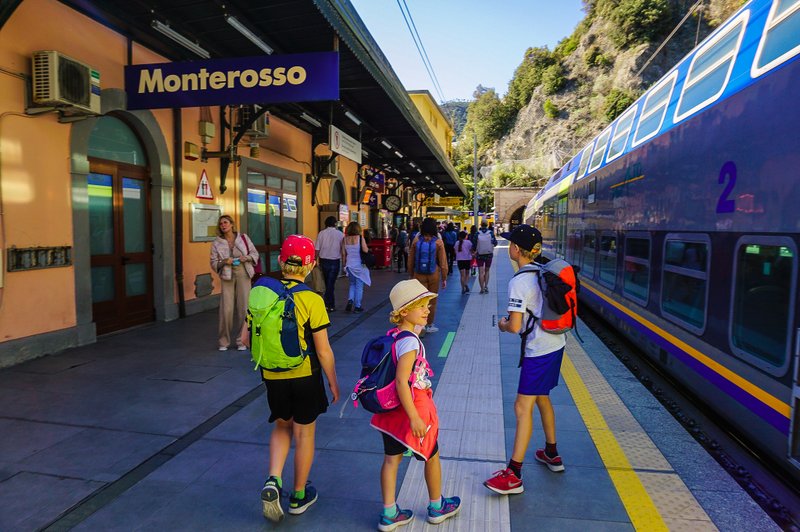 Head to the beach, which is right across from the train station, and enjoy a day in the sun (yes, even in October you can swim in the sea 🙂 ).
Take the train to Manarola to catch the sunset. We headed out above the village in the direction of Corniglia. The other option to catch the colourful houses illuminated by the setting sun is the harbour.
DAY 2
Drive or take a bus (line 11 from La Spezia) to Porto Venere and explore this charming town. You can spend the afternoon on the local beach.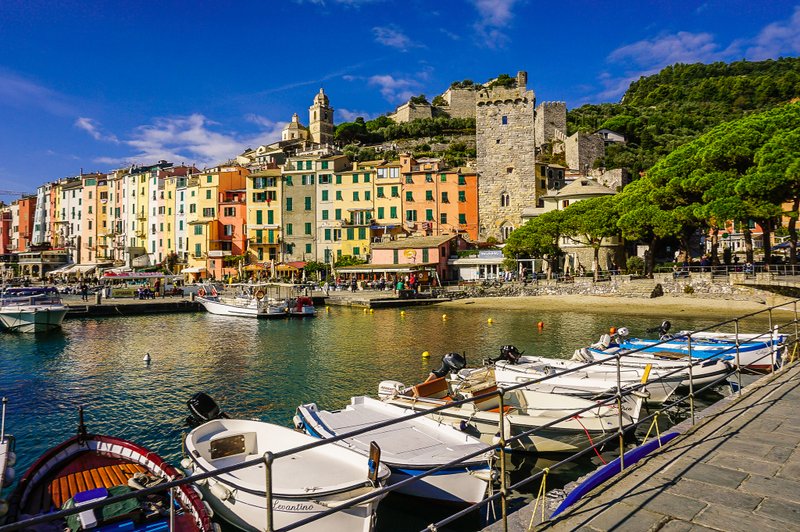 DAY 3
You have to tick the last village on the list. Then go to Riomaggiore. It is in Riomaggiore that you will find the iconic scene of the colourful buildings "falling" into the sea. That's right, it's the "postard instagram spot" that appears in everyone feed when they visit Cinque Terre – and I was no exception 🙂 .
What to eat in Cinque Terre?
Each village has bakeries selling focaccia, pizza, and ready-made pasta dishes to take away. You'll also find fried seafood to take away, and of course gelato. The best gelato I think I've ever had was in Gelateria Vernazza!
At a local pizzeria in La Spezia (ok, I'll give you the name – it's La Spartana located on Largo San Michele 10) we tried a local specialty – a delicious dish called farinata. It's a fried pancake made of chickpea flour that originated in Genoa and later became a typical dish of the Ligurian coast. On the owner's recommendation, we had it with local cheese. And it was really delicious!
Pin this post for later and share with friends
You might also like