This post is your guide to spending 4 days in Puglia, the region in the heel of Italy's boot and taking day trips to visit the towns of Matera, Lecce, Ostuni, Alberobello, and Bari. If you're planning your holiday in Puglia and looking for some ideas and inspiration on what to see in Puglia, then this is the post just for you!
Honestly said, Puglia has never been on the list of my dream destinations. We were looking for some weekend getaway and this destination was reachable from by low-cost airlines and flights and accommodation were available in the dates we needed to make our trip.
But as soon as I sat down to the PC and started to look at what could be seen in Puglia, I was pleasantly taken aback and immediately fell in love with Puglia. Besides, the fact that Puglia is lesser-known than e.g. Tuscany makes it even more appealing. So we spent a total of about four days in Puglia and discovered its beauties.
How to get to Puglia
To get to Puglia, we flew into Bari, the capital of Puglia. Bari Airport is also called Palese Airport or Karol Wojtyla Airport. Another airport with international connections is Brindisi south of Bari.
Traveling in Puglia
We agreed that hiring a car is much more comfortable for us than traveling by local transport. We rented a car directly at the airport from Sixt. Yes, it's not the cheapest option (Avis or SicilyByCar are definitely cheaper), but it was much easier to pick up our rental car when we arrived without waiting long queues. And of course, we had much more freedom with wheels of our own.
Where to stay in Puglia
There are tons of possibilities where to stay in Puglia. Our home base was lovely I Turchesi club village in Castellaneta Marina about 90 kilometers south of Bari (you can find iTurchesi on booking.com).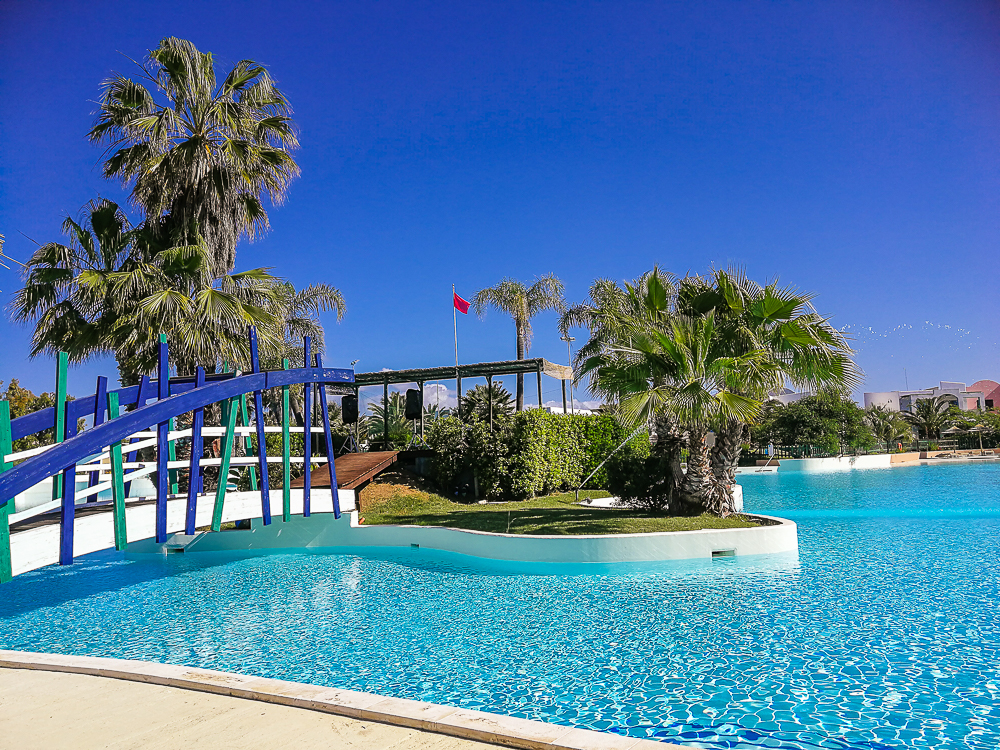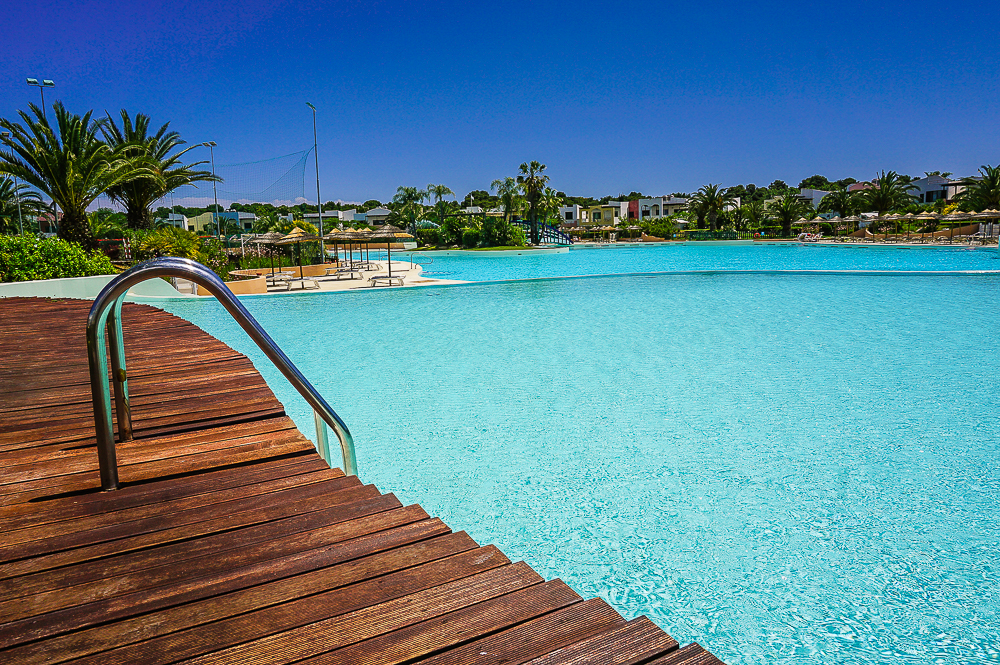 5 charming towns to discover
1. Matera
The town of Matera lies basically in the region of Basilicata, but very close to the border with the Puglia region. This city of caves and houses carved right on the hills out of stone is one of the oldest continuously inhabited cities in the world. In Sassi di Matera, Paleolithic people carved their homes into limestone rocks. Because of the poor living conditions (people lived in caves without electricity, running water or sewage) were the cave dwellings evacuated in the 1950s.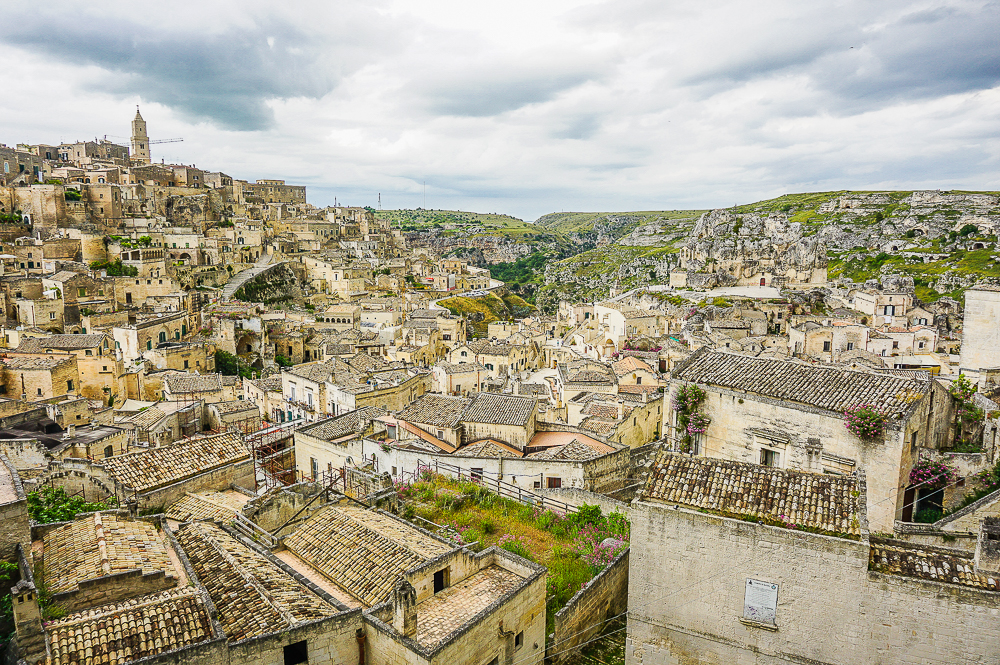 Most of the caves are now homes, hotels, restaurants, and bars. It became a UNESCO World Heritage Site in 1993. Surprisingly, what was once "the shame of Italy" is now the 2019 European City of Culture.

I was sorry that in the tangle of crooked narrow streets and stairs we missed Casa Grotta di Vico Solitario, a small museum, where you can see how people lived in these caves in the 18th century. But at least we visited Matera Cathedral.
2. Lecce
If you are a fan of the baroque architecture and churches, Lecce is the right place for you. The entrance to the main churches (Duomo, Basilica di Santa Croce, and others) is paid since they are tourist attractions. But at the information center, you can buy a "family" ticket covering the entrance to the most important ones.
But we were here mainly to see the ancient monuments: the Roman amphitheater in Piazza Sant'Oronzo and the Roman theater (the entrance is on Via degli Ammirati and costs €3 and includes entrance to a small museum).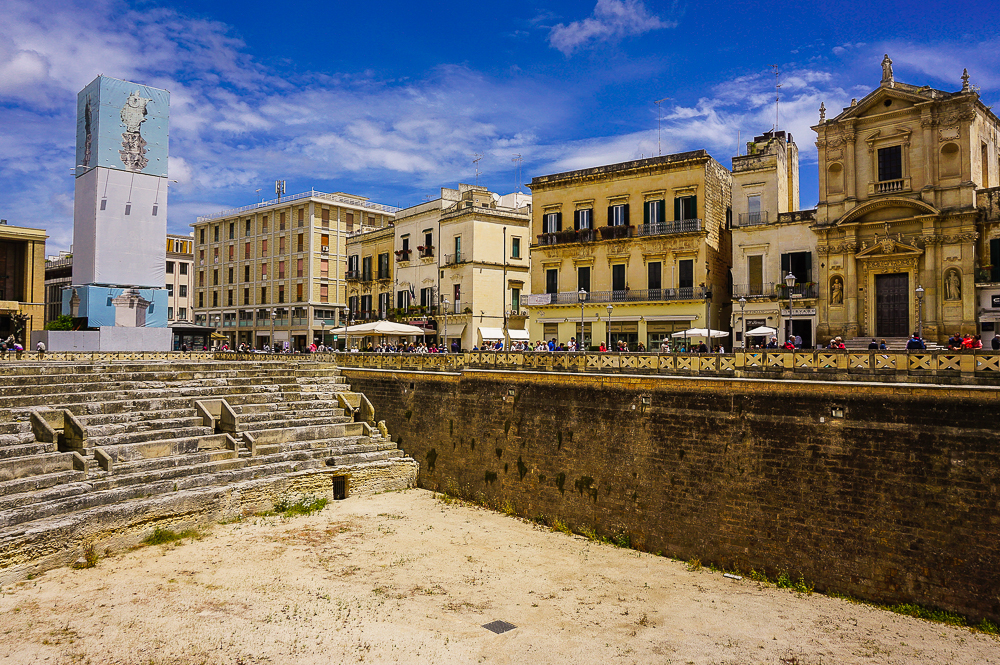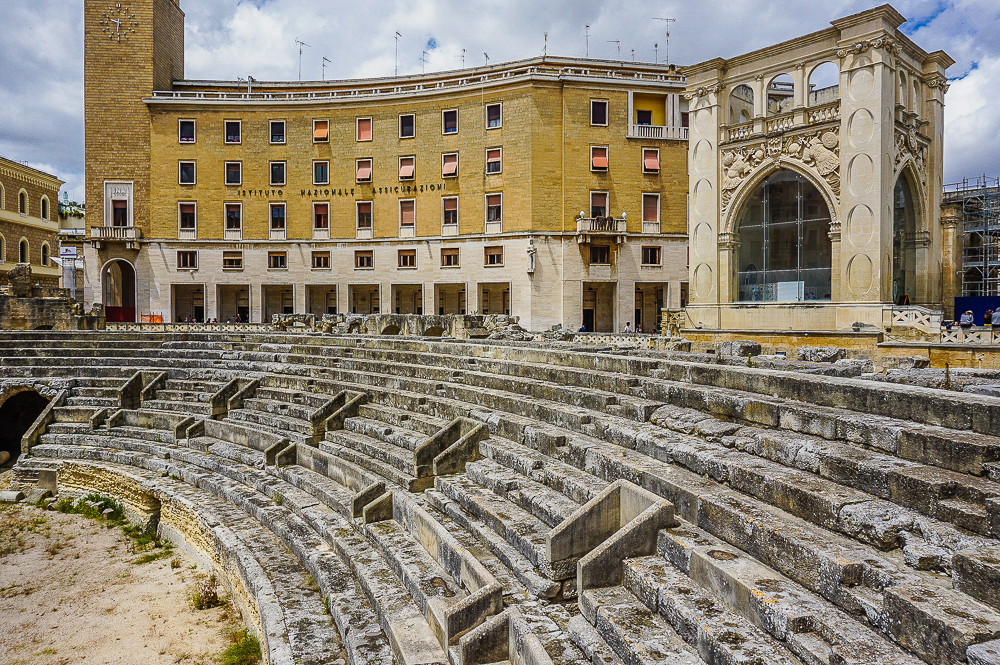 3. Alberobello
The sole reason most people come to Alberobello is to wander the streets lined with 1,500+ wonderfully preserved and restored Trulli houses – the whitewashed round houses with conic roofs built without cement because they could be easily dissembled. More about this unique place that is a UNESCO World Heritage site since 1996, in this blog post (because, believe me, this place deserves its own separate blog post 🙂 ).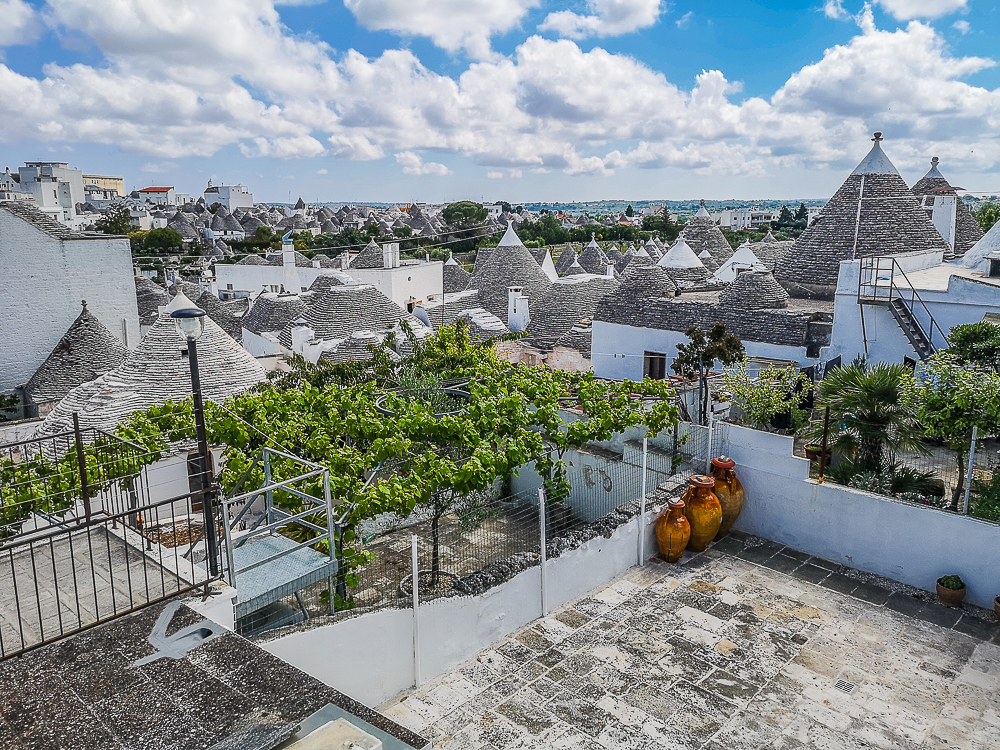 4. Ostuni
Ostuni is known as "la Città Bianca" Puglia's White City because of its white-washed houses. The white city is perched on a hill, from which you will have an amazing look to the countryside full of olive trees and the Adriatic sea a little further.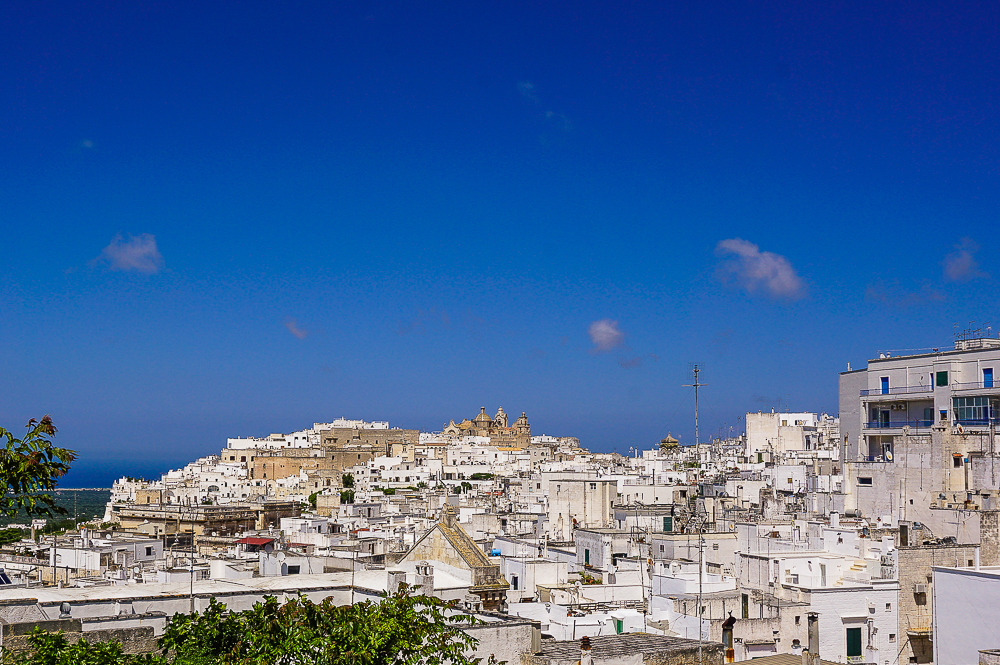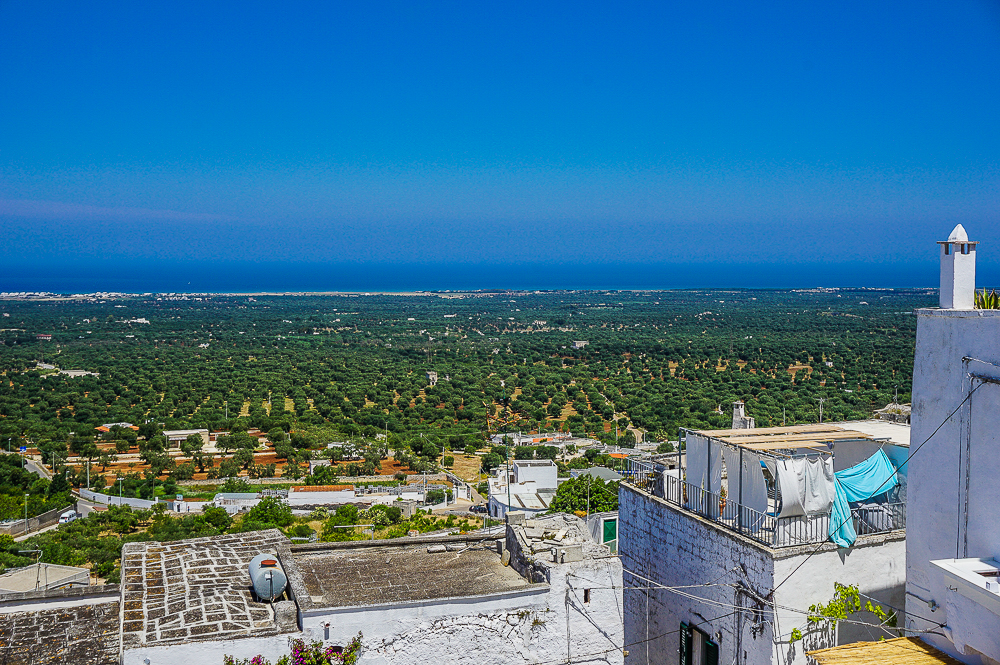 Take a walk from Piazza Libertà through the main street Via Cattedrale, which is snaking its way up to the Cathedral and it's full of shops, cafés, and restaurants.
5. Bari
The best idea of the day was to visit the Bari Tourist Information office at Piazza del Ferrarese 29. The nice lady working there gave us not only the map of this coastal town but also marked the route we should go to see the town's most famous landmarks. First, we walked around the city walls to get to the Basilica San Nicola with the subterranean tomb of Saint Nicholas of Myra (you will maybe know this saint as Santa Claus). The cathedral that dates back to the 11th-century has a very simple structure on the outside but is ornate and majestic on the inside.
For me, personally, Bari was so vivid and colorful. One could see that there is a real life in those narrow streets.
At the tourist office, we were also told the name of the street, where the traditional hand-made orecchiette pasta is being made – walk through the Arco Basso (opposite the Castello Normanno Svevo – the Norman castle) and enjoy a unique street food experience. Ladies who live on the ground floor of the houses make and sell the typical sun-dried pasta "orecchiette" in the shapes which resembles an ear ("orecchia" in Italian).
Beaches
Puglia has 2 seas – Adriatic and Ionian sea. With about 800 kilometers of coastline, Puglia is the biggest coastal region in Italy.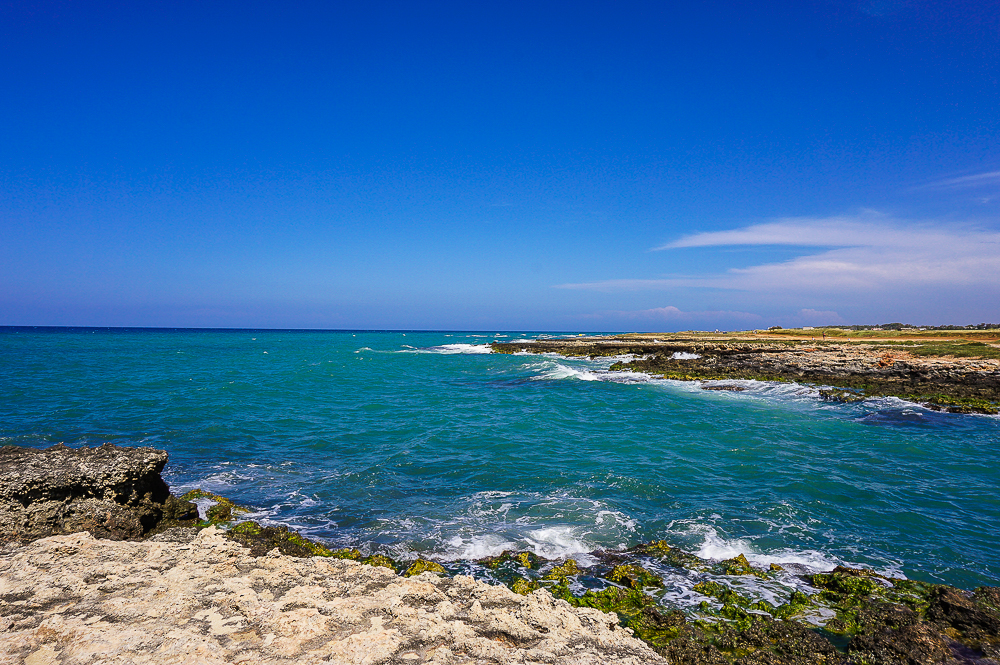 I Turchesi club village was not directly by the sea, but the hotel provided a shuttle bus that took you to the Lido Sablè in five minutes.
On the way from Lecce, we made a stop on Punta Prosciutto beach (no, it does anything to do with the prosciutto ham 🙂 ), about 40 km north of the famous Galipolli.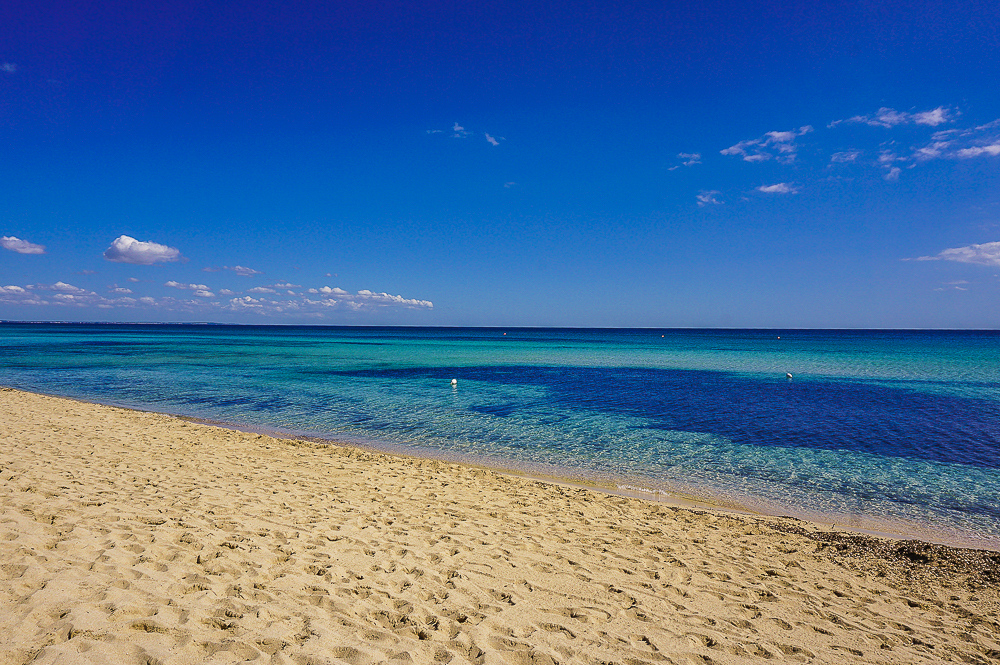 Before leaving Puglia, we took a break at the Bari´s local beach Spiaggia Pane e Pomodoro (don´t ask me why it is called "Bread and Tomato 😀 ).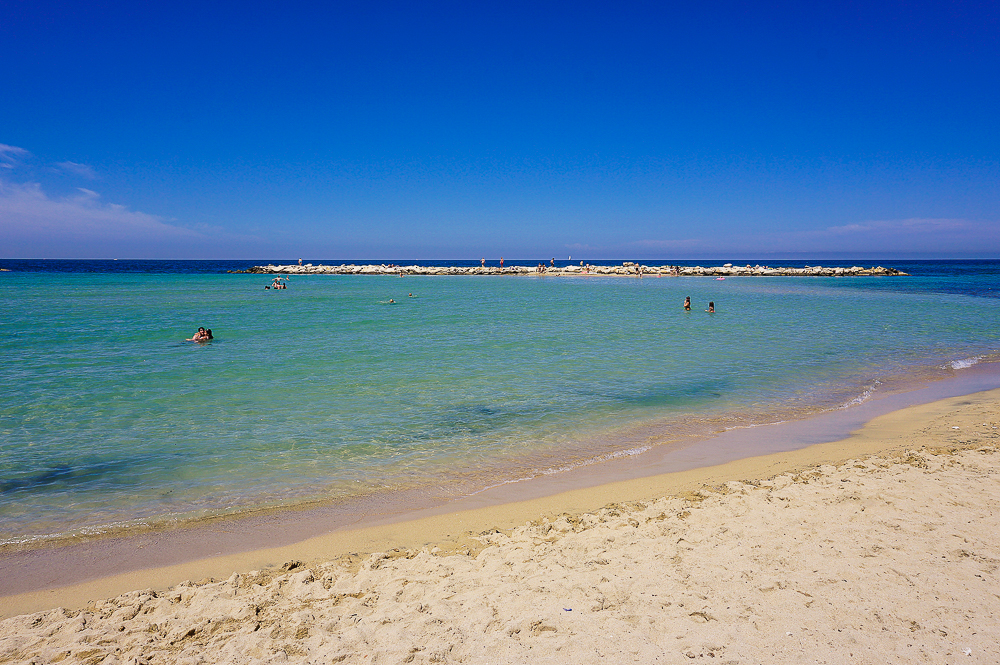 Map
You can see the places we visited during our stay on the map below.
If you don´t want to miss any of my recent posts please sign up for my blog in the top right-hand corner of this page. Thank you. Be sure to follow me on Facebook, Pinterest, and Instagram. And of course, I look forward to reading all your comments.
NOTE: This post contains affiliate links. When you make a purchase using one of these affiliate links, I get paid a small commission at no extra cost to you.