To make the most of our recent weekend in Chur, we had to spend the night somewhere. Chur Tourismus had chosen a truly unique accommodation for us: the Bogentrakt Hostel, which was built on the site of what used to be the strictest prison in Switzerland. Now that's interesting accommodation indeed. And yet we liked it very much! Don't you believe it? Then come with me for a peek behind the walls where the hardest criminals served their sentences.
Note: our overnight stay at Bogentrakt Hostel was sponsored by Chur Tourismus, thank you 🙂
Where to find Bogentrakt Hostel
The hostel is located in a quiet area very close to the Bishop's Palace at Sennhofstrasse 19a, within a nice walking distance from the train station (about 10 minutes walk). Although there are no signs to the hostel anywhere along the way, I think if you ask the locals for "Sennhof" they will all know and direct you which way to go. There is no place to park your car at the hostel (only for loading/unloading luggage). You have to leave your car in one of the nearby parking houses (e.g. Parkhaus Quader or Parkhaus Hof).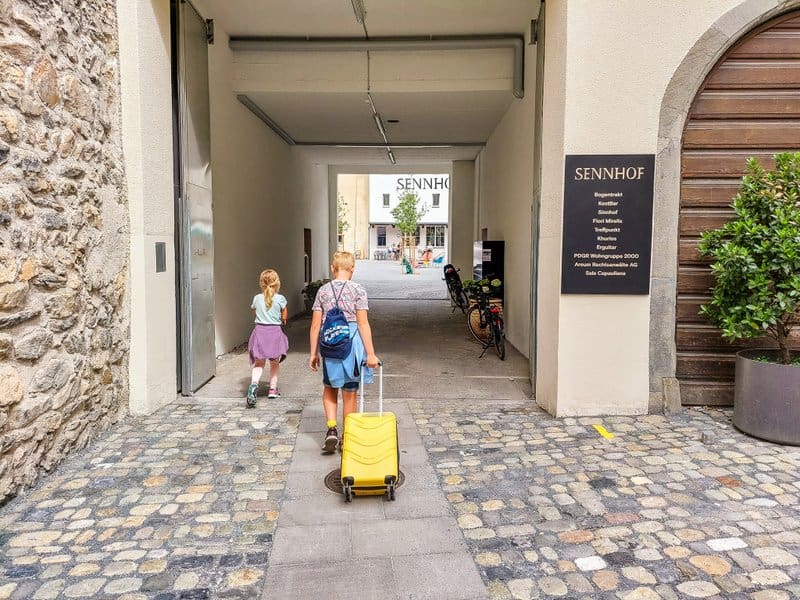 Bogentrakt Hostel Chur
When the prison on the site was being closed in 2020, the Sennhof site was being considered for future use. The plan was to make it a touring site. Many locals were therefore looking forward to finally seeing places they would normally prefer to avoid. But then came covid and we all know how it was with tours and visits to anything. Nevertheless, the area did get a new use. A team of young people decided to convert it into a place where travelers could meet the locals. They also wished to bring community life to the previously gloomy place, bringing people of all ages, cultures, and backgrounds together. And so, in March 2023, the doors of Bogetrakt Hostel opened.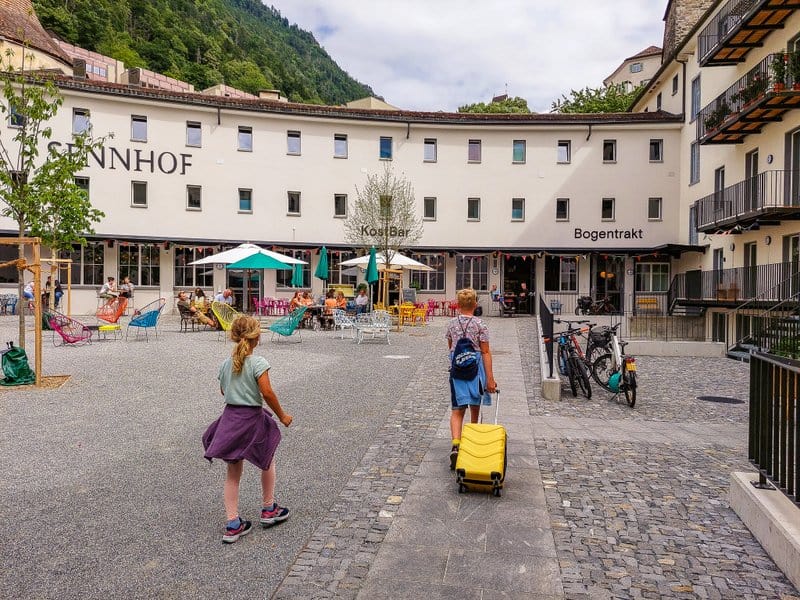 Rooms in Bogentrakt Hostel
The former prison cells have been tastefully converted into simple and minimalist rooms. The hostel has retained several elements from the former use of the building, such as the bars in the windows and corridors. Also very cool are the original doors to the cells, now rooms. We spent one night with our family (2 adults, 3 children) in a six-bed room "Die Launderette". This room used to be the laundry room of the old prison, hence the name. In the 20m2 room, we had our own bathroom with shower, toilet and sink. I like that the hostel also offers rooms for female solo travelers who prefer to share a room without men.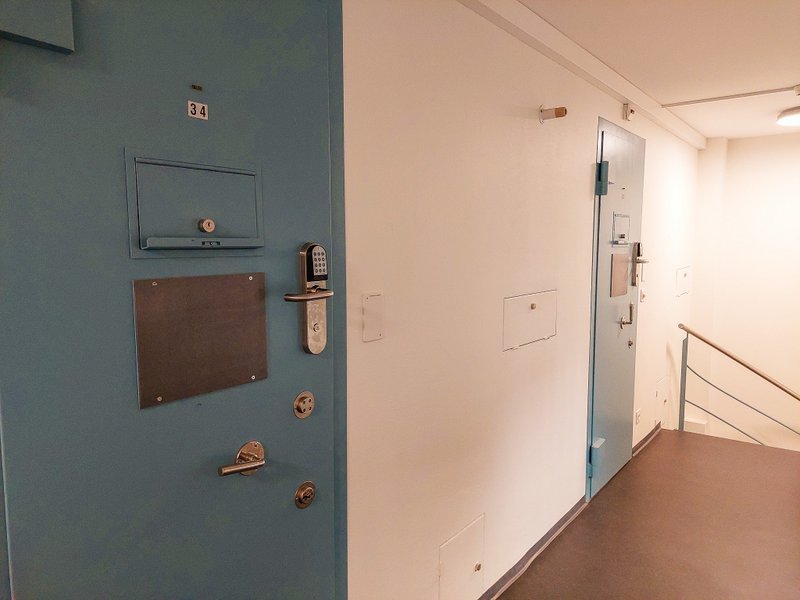 Common rooms
The hostel has a well-equipped common kitchen, a community room with a library and various board games in the medieval tower, and a coworking space one floor below. Both rooms are nicely decorated and feel very cozy. As you walk through the corridors, you will find snippets of the prison's past on the doors of some of the cells – for example, that one of its "residents" was the famous Swiss writer Erich von Däniken.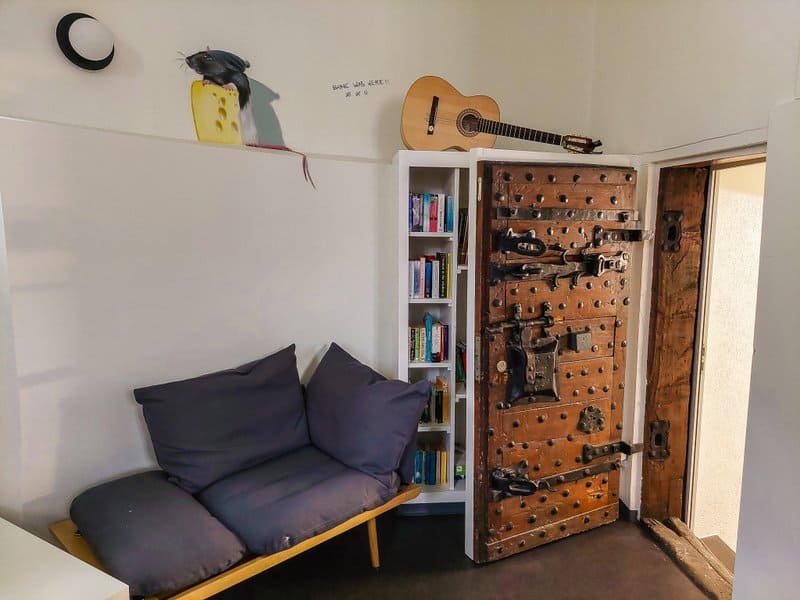 Dinner at KostBar
There is also a restaurant KostBar, where we spent a pleasant evening. The menu here is short and – parents be warned – you won't find any fries or various pre-made products. But an interesting menu prepared with locally sourced ingredients, including a meatless option, of course. And some dishes are even served in original dishware from the former prison!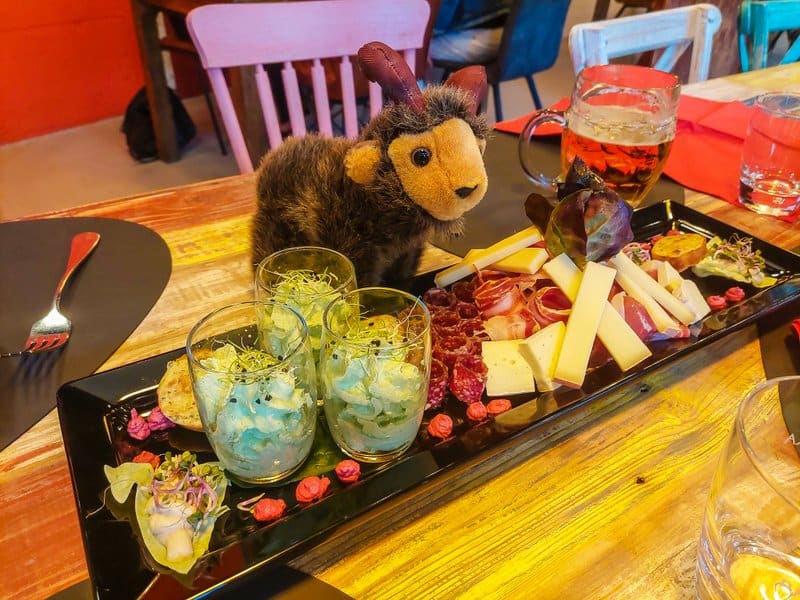 What to say in the end? We enjoyed our stay at the hostel very much and I am very happy to recommend this place to others next time someone asks me about accommodation in Chur. Because besides accommodation with a story, you will also find very nice and helpful staff at Bogentrakt Hostel, which I think is half of the success of any such accommodation.
You might also like