When I went skiing in Hasliberg in winter, I promised myself that I would definitely come here again in summer with my kids. Mainly to explore the themed children's trail Muggestutzweg (aka Dwarf Trail) together, which leads from the Mägisalp intermediate station to the Bidmi station. The trail is less than 5 kilometers long and is ideal for introducing small kids to hiking.
Getting to Meiringen
By car: for those heading to the Hasliberg area from Bern, it's best to head straight to Meiringen in the Haslital Valley. You'll find a large paid parking lot (Parkplatz Talstation Alpbach, watch for the brown signs "Bergbahnen Meiringen" as you exit the main road). All-day parking costs 5 francs, and you can pay in cash or via the Paybyphone or Sepp parking apps (Twint is unavailable). From the car park, it is about a 5-minute walk to the lower gondola station.
By public transport: By train to Meiringen station; from there, take bus 174 to the Meiringen, Luftseilbahn stop. Alternatively, it is a 10-minute walk from the station.
Muggestutzweg – Dwarf Trail
The children's themed trail is based on a fairy tale book about dwarves living in the Hasliberg region. There are two Muggestutzweg trails in the Hasliberg area – one leads from the Mägisalp Intermediate Station to Bidmi Station and the other leads from Käserstatt Station to Bidmi Station. We took the one that starts at Mägisalp and leads less than 5 km down to Bidmi (see purple on the map). There are 18 play stations on this children's themed trail, which correspond to the storybook. Of course, you can complete the route without reading the book.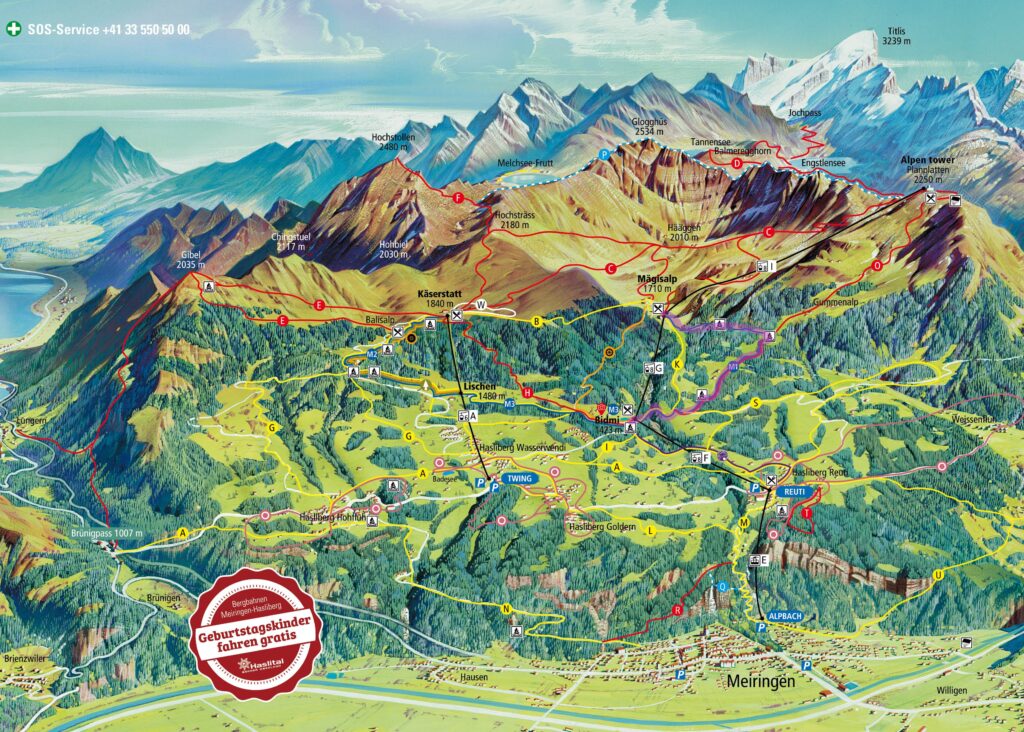 Fares
You can find a complete price list on the Hasliberg website. If you only want to do the Muggestutzweg, you buy a Wandertageskarte: from Meiringen; it costs CHF 44 for an adult, CHF 29 with a Half-fare card, and CHF 22 for children from 6 to 16 years old. Children with a Junior Card and children under six years old ride for free.
Since we combined the Muggestutz weg route with an "extra" – a 3 km long marble run from Bidmi station to Reuti station, we needed a one-way ticket from Meiringen/Alpbach to Mägisalp and then from Reuti back to Meiringen/Alpbach.
A one-way ticket from Meiringen to Mägisalp costs CHF 37; CHF 18,50 with a Half-fare card + children from 6 to 16 years old; children with Junior Card and children under six years old ride for free.
A one-way ticket from Reuti to Meiringen costs CHF 9; CHF 4.50 with a Half-fare card + children from 6 to 16 years; again, children with Junior Card and children under six years old ride for free.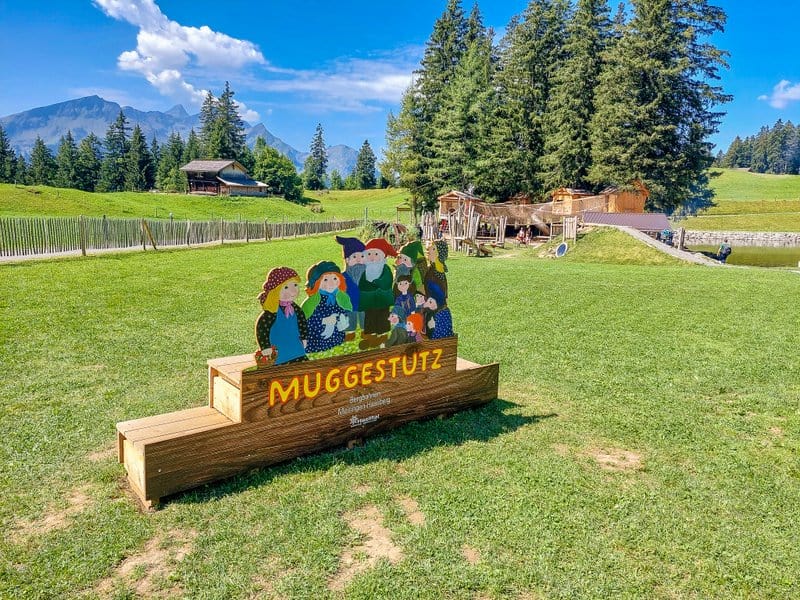 Muggestutzweg Trail Mägisalp – Bidmi
The route starts at the Mägisalp intermediate station. The trail is very well signposted and begins just below the Mägisalp station.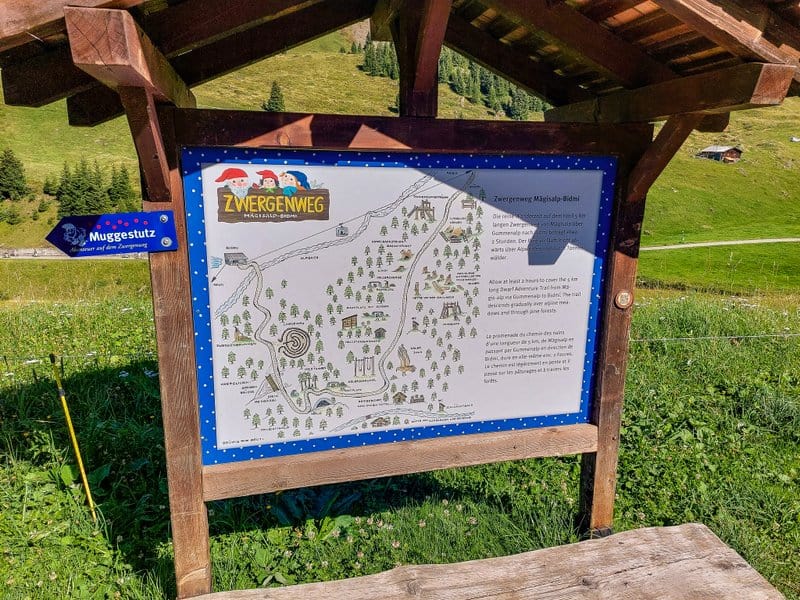 As I mentioned above, there are 18 play stations along the route. Some of them are very close to each other – for example, 50-100 meters, some are further away (250-350 meters).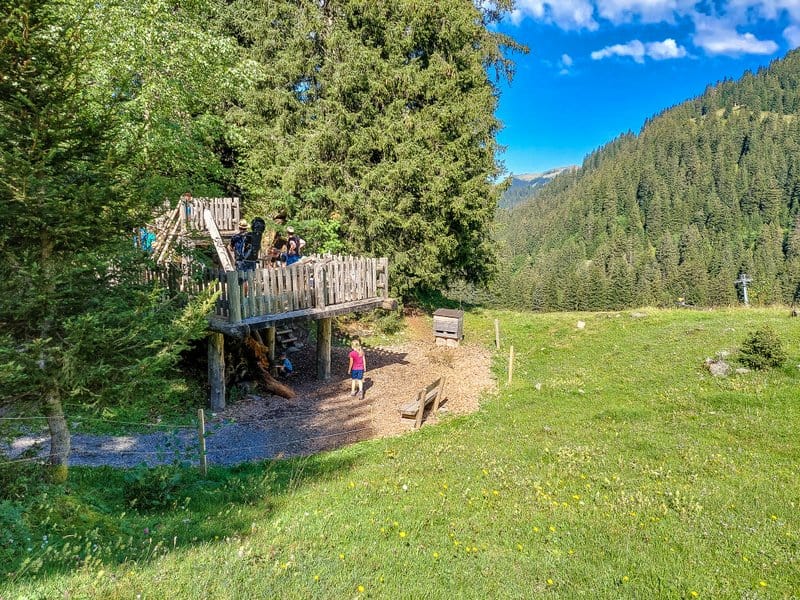 At stations 5 and 6, you will find beautiful picnic and barbecue spots with prepared wood.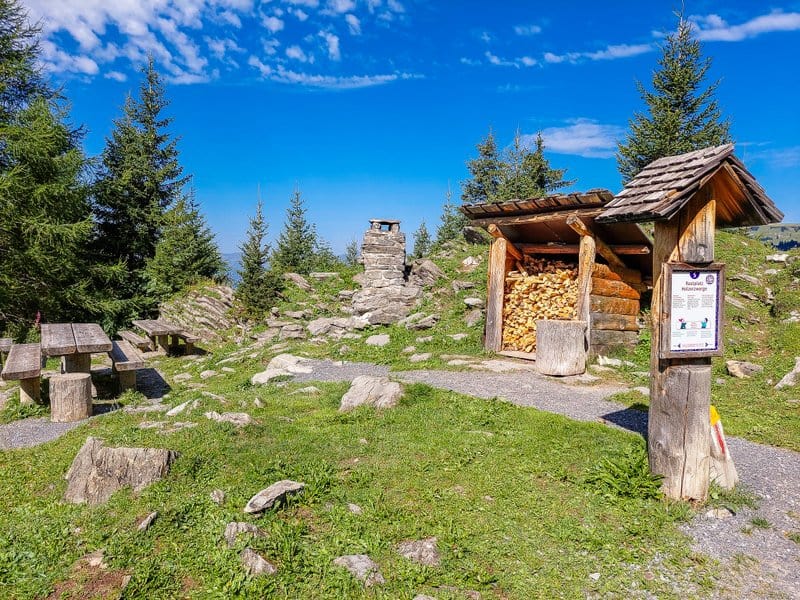 Some of the stations are designed as "playgrounds" (swings, ladders), and some require more imagination. But the biggest highlight for me is the dwarf houses – where kids can climb in and explore.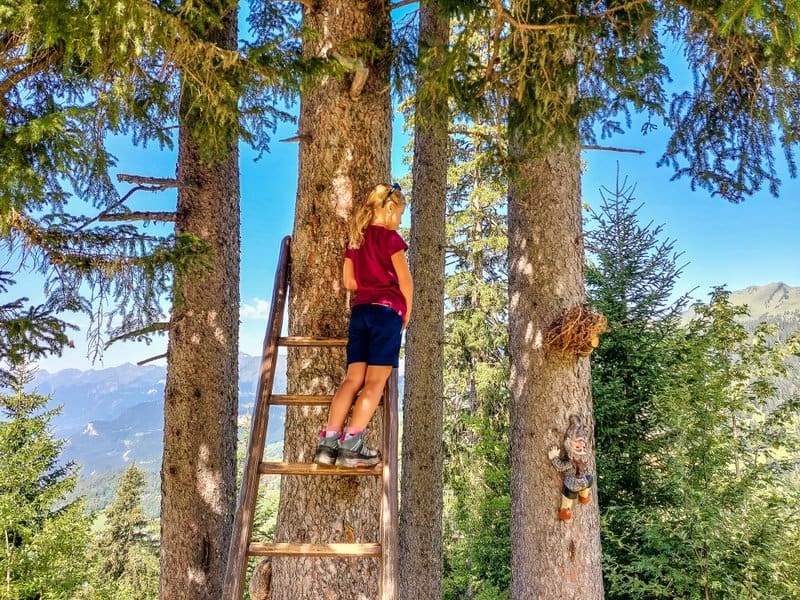 The route includes, of course, beautiful views of the surrounding peaks and glaciers.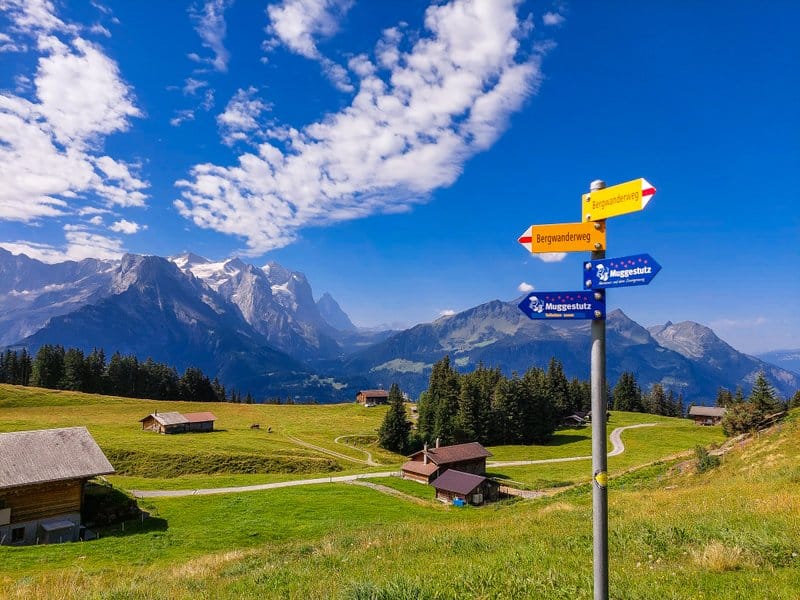 The second to last station, in the form of a labyrinth, also thrilled the children.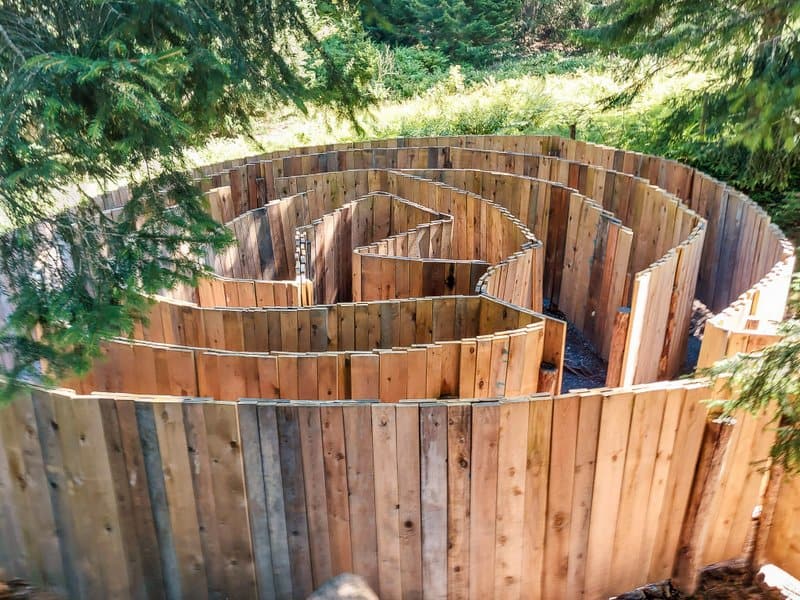 Zwergenspielplatz – Dwarf playground – Bidmi
However, the highlight of the route is the large playground in the Bidmi intermediate station.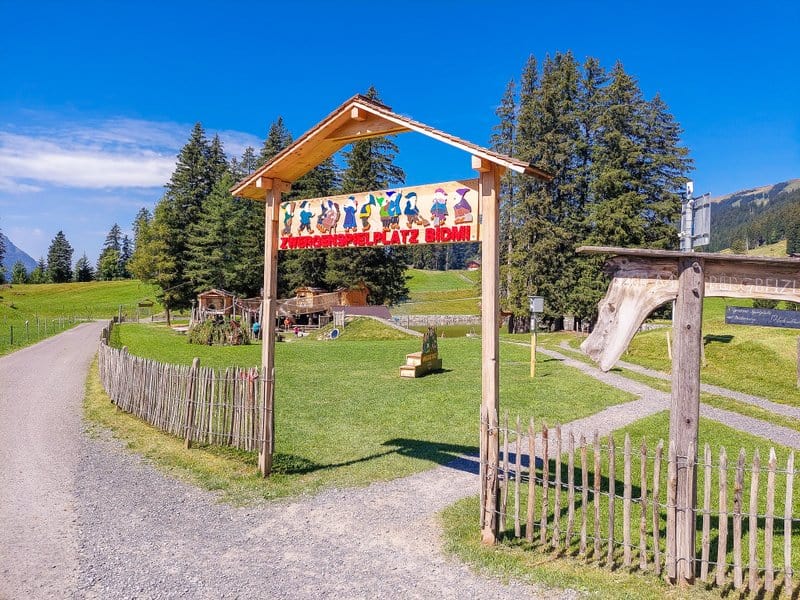 Refreshments
As I've already mentioned, you'll find several barbecue spots right on the trail, there's also one right on the playground at Bidmisee lake, but you can also refresh yourself at the self-service restaurant Familienrestaurant Bidmi or a little further on at Bergbeizli.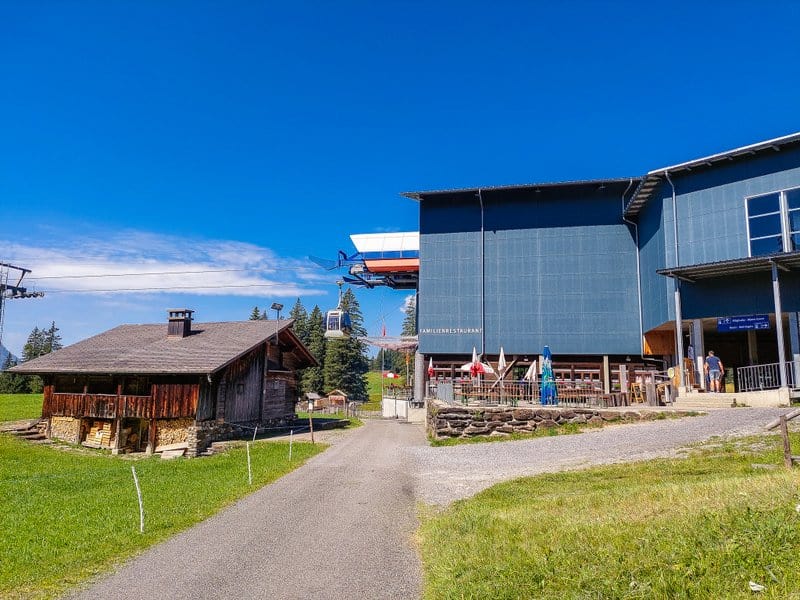 More extended option – Marble run trail (Kugelweg) Hasliberg
You can combine the Muggestutzweg with the Kugelweg, which adds another 3 km downhill with 11 elaborate marble run tracks. Look out for details in this blog post:
Summary
The Muggestutzweg is more suitable for more minor children whom you want to introduce to hiking in a fun way. Our almost eight-year-old daughter was excited but not so exciting for our eleven-year-old son.
The route is very nicely designed, and more minor children will enjoy it.
The route is not suitable for a stroller.
The route is 5 kilometers long and took us about two hours. I imagine that you will definitely be on the trail longer with smaller kids.
As the route is very popular with families with small children, it may happen that, for example, on a weekend or holiday, there will be many of you on the route, and some of the stations and barbecue areas will be occupied. You will have to wait for them to become available (which will not help the children's mood). Therefore, I recommend that you do the hike during the week.
PIN THIS FOR LATER!