Even though fall is in its full swing, it certainly doesn't do any harm to remember the recent summer days. In one such beautiful summer day, we, together with other participants of our German course set off for the annual trip, which this year included a cruise on Lake Thun! And it was wonderful! Therefore, today I bring you the 6 reasons why you should definitely not miss a cruise on Lake Thun if you visit the Bernese Oberland.
According to the guide * 17.5 km long and 3.5 km wide Lake Thun (Thunersee) is the most beautiful water reservoir in Switzerland. It is named after the nearby city of Thun, which is located in the northernmost tip of the lake and is available a half-hour drive from the capital Bern. We were driving many times along this lake (which is, among other things. connected with the Lake Brienz with ship canal), but this August I have discovered it from a different perspective – from the deck of the ship. So here are some of my top reasons to take a Lake Thun ship cruise:
1. Comfort
When concentrating on driving your car you have hardly a chance to spot all interesting things (buildings, rocks, vineyards…) your co-travelers are pointing at. You don´t have to deal with sometimes heavy traffic in little towns along the lake, so you can much more enjoy your trip. This is also related to the next point: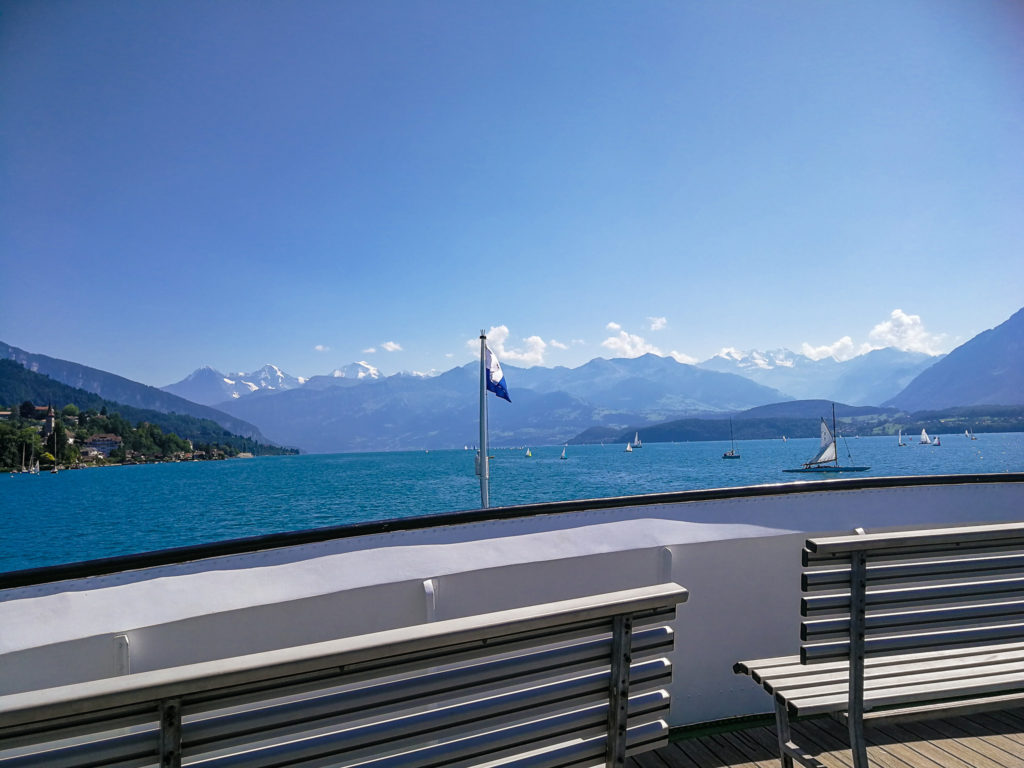 2. Relax
While cruising you have plenty of time to relax and just enjoy the serenity of being on the lake. It´s up to you whether you enjoy it in air-conditioned interiors (with a well-stocked bar, snack food service), or in the fresh air of the open upper and rear deck. It´s hard to imagine anything more relaxing than cruising on the calm lake and enjoy:
3. Breathtaking views
When the weather is nice, you can enjoy stunning views of the peaks Niesen and Stockhorn in the west of the lake, forested slopes of Beatenberg (with the peak Niederhorn) in the east, and the snow-capped Bernese Alps in the south – led by the trio of the Eiger, Mönch, and Jungfrau.
4. Turquoise blue water
I think I've never seen so pristine water, as in Swiss lakes and rivers. No wonder that this water surface lures you to go sailing on boats, yachting, kayaking, paddle boarding, and other activities (I would like to try to ride around the lake on a bicycle – who will join me? 😉 )
5. Baths
The summer weather in Lake Thun is nothing less than idyllic and one of the best sun bathing spots are (besides open decks on the ship) outdoor baths – Strandbads/Badis – almost in every village along the lake. At random: Merligen, Hirschen, Oberhofen… You can swim both in the lake and sometimes even in the adjoining classic pool. They, of course, have facilities for children (playgrounds, sandboxes…) and snacks.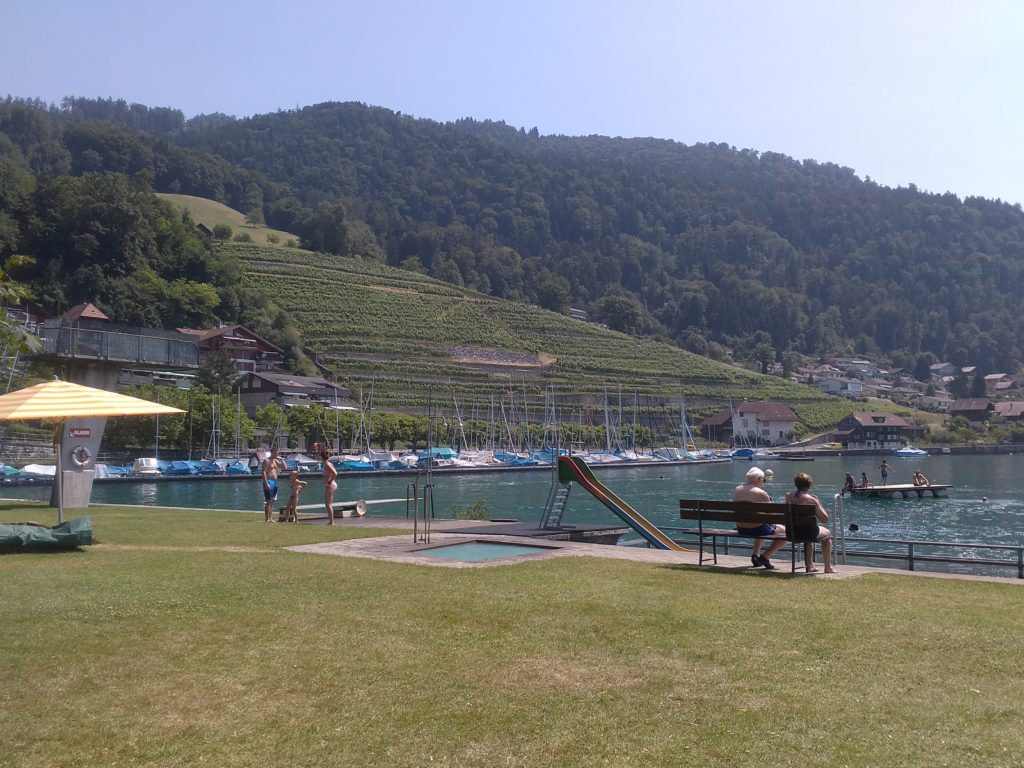 6. Castles
Lake Thun during the summer is absolutely magnificent. And this great atmosphere is completed with wonderful five castles scattered around him: Hünneg Schloss, Spiez, Oberhofen, Schadau, and Thun.
Practical info
Public shipping on both lakes is operated since 1835, and the story of its creation you can read here. At this moment, 10 ships cruise the lake waters.
Shipping around Lake Thun and Lake Brienz operate the BLS company. In summer there is logically more frequent timetable and ships stop eg. in ports Spiez, Oberhofen, Faulensee, Beatenbucht or Beatushöhlen. For additional information (tickets for a cruise, timetables, special offers) view directly BLS website.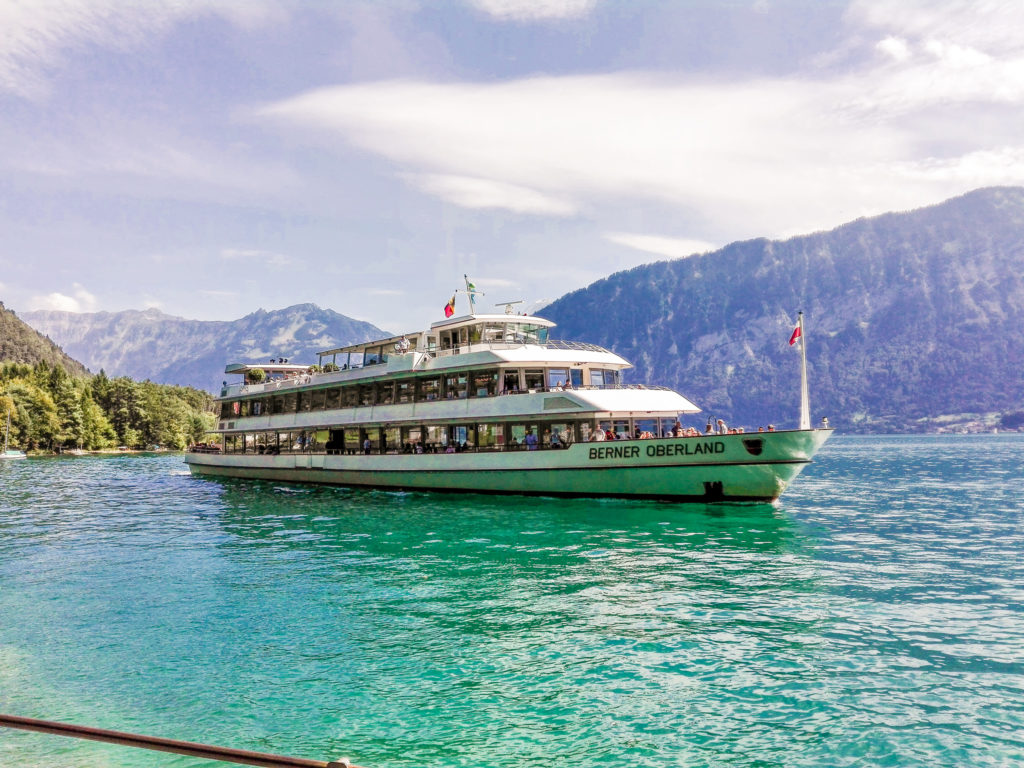 From what I have described above, I think you understood why taking a cruise on Lake Thun is a great activity on how to spend a day with family or friends.
If you dont want to miss any of my recent posts please sign up for my blog in the top right-hand corner of this page. Thank you 🙂
I will appreciate any time if you share my posts on Facebook or Twitter. It helps get my blog out to more people, who may like my posts.
Be sure to follow me on Facebook, Pinterest, and Instagram.
And of course I look forward to reading all you comments.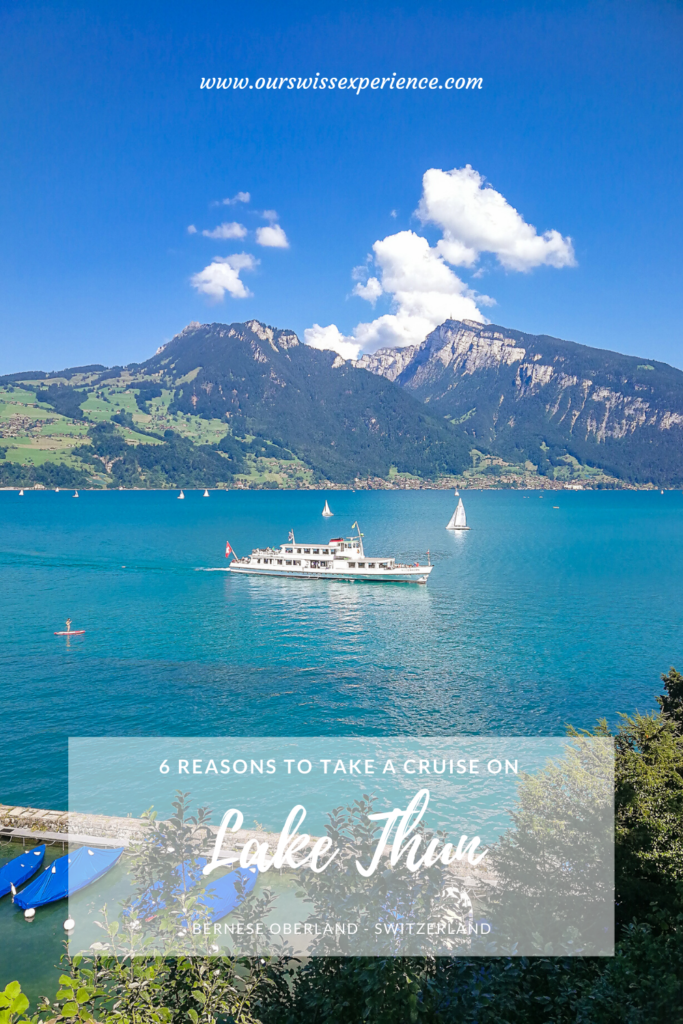 *) source:
Švýcarsko – 2.edice, Svojtka & Co., Praha 2013 (přeloženo z "Switzerland 7th edition", Lonely Planet 2012)