The small winter resort of Jaunpass (1 508 m.a.s.l) in the Simmental area has everything winter pleasure seekers can wish for: well-groomed broad slopes, cross-country skiing, and winter hiking trails. Moreover, here you can enjoy a bit of adrenaline when renting popular snow bikes.
Getting there
Jaunpass is located about 70km from Bern. It takes a little more than an hour for you to get there if you aren´t stuck in a traffic jam (as happened to us). After driving through the village of Boltigen, don´t continue in the direction of Zweisimmen, but turn right. Then, you can expect circa 8 kilometers of climbing the serpentines, see photo below.
An alternative is to arrive from Friborg – Bulle – Jaun.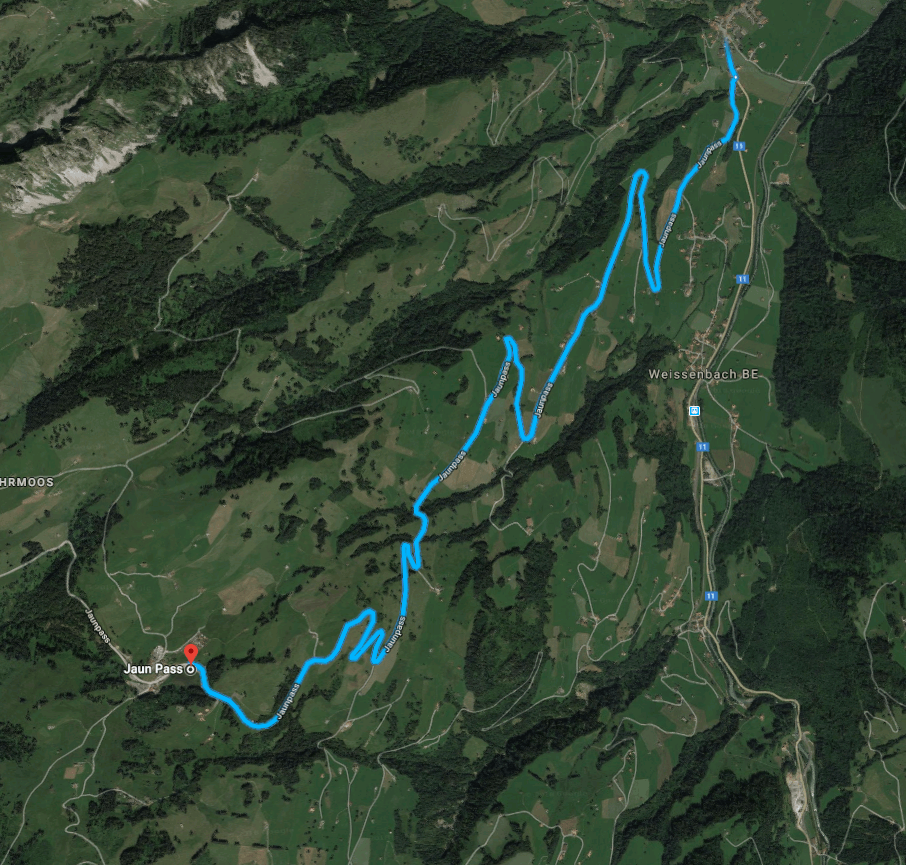 On the site, there is a metered parking lot along the road – the 1st hour is free, then 2CHF/3 hours, 5CHF for the whole day. From the car park follow the signposts towards camping or Restaurant Taverna. After approx. 5 minutes walk uphill you will come to the ski lift.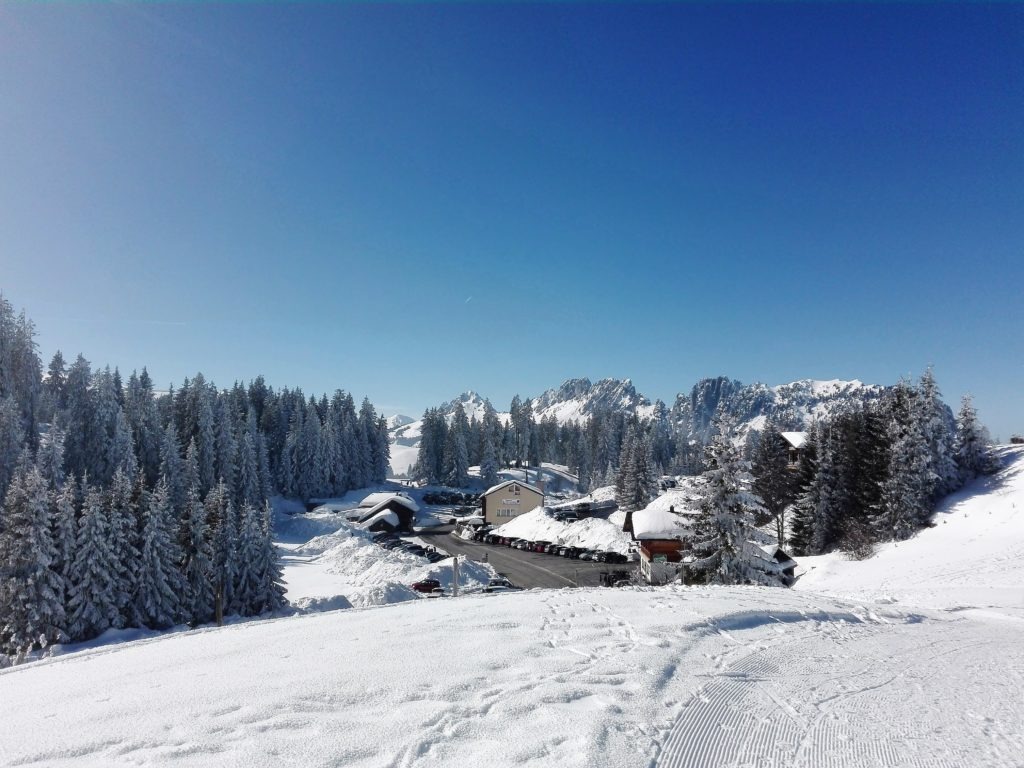 Skiing
Jaunpass offers 2 T-bar lifts – one 700 meters long (100 meters height difference), the other 900 meters (200 meters height difference). Nearly shallow blue slopes are very suitable for children and beginners. Nevertheless, don´t be fooled by children's signboards – the slope underneath it's a regular skicross slope after a few tens of meters. At least in my eyes – the boys really enjoyed the ride and the final "jump" 🙂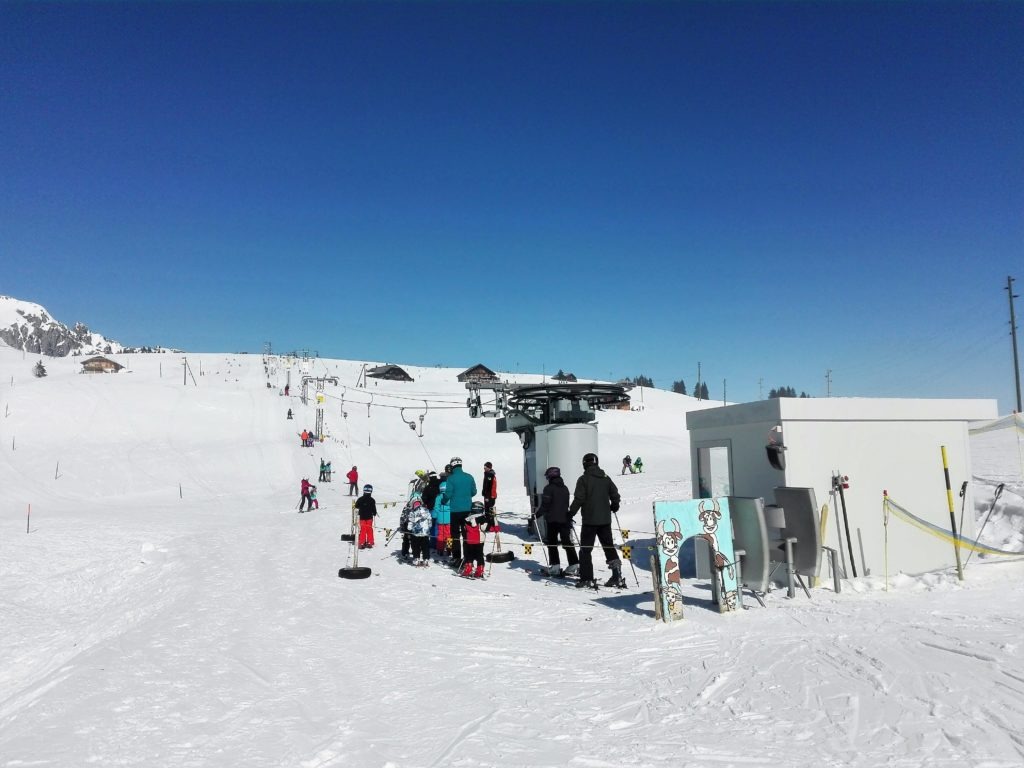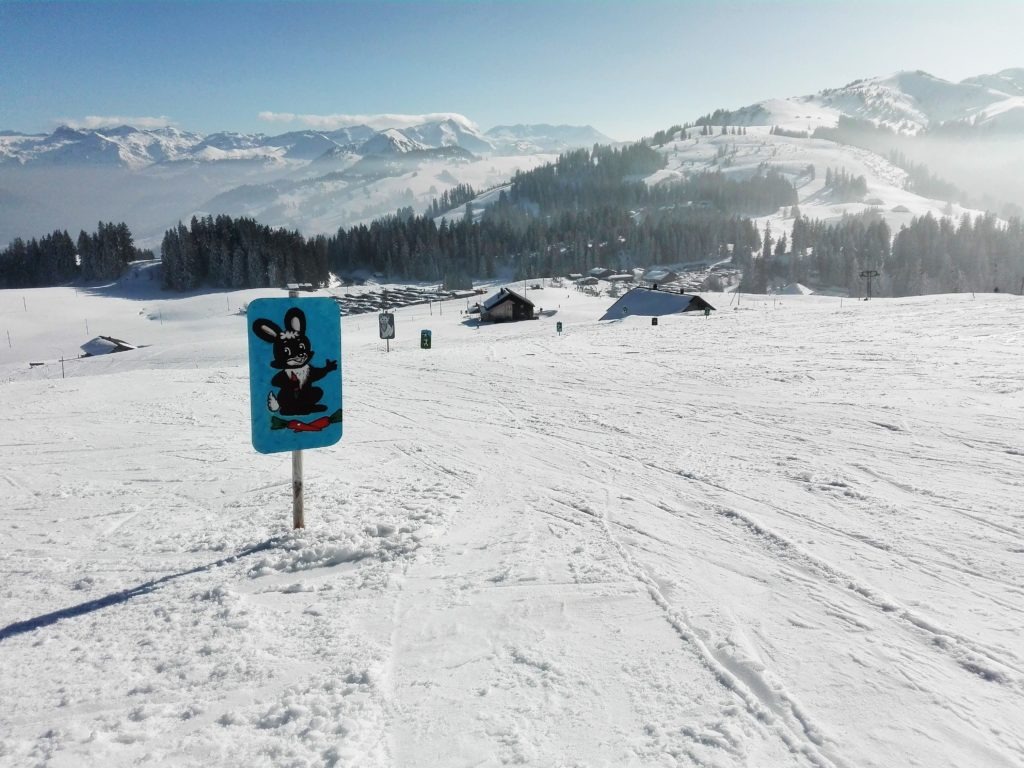 The second lift Winteregg also offers red and black slopes. But a tree in the middle of the slope – this is perhaps only possible in Switzerland 🙂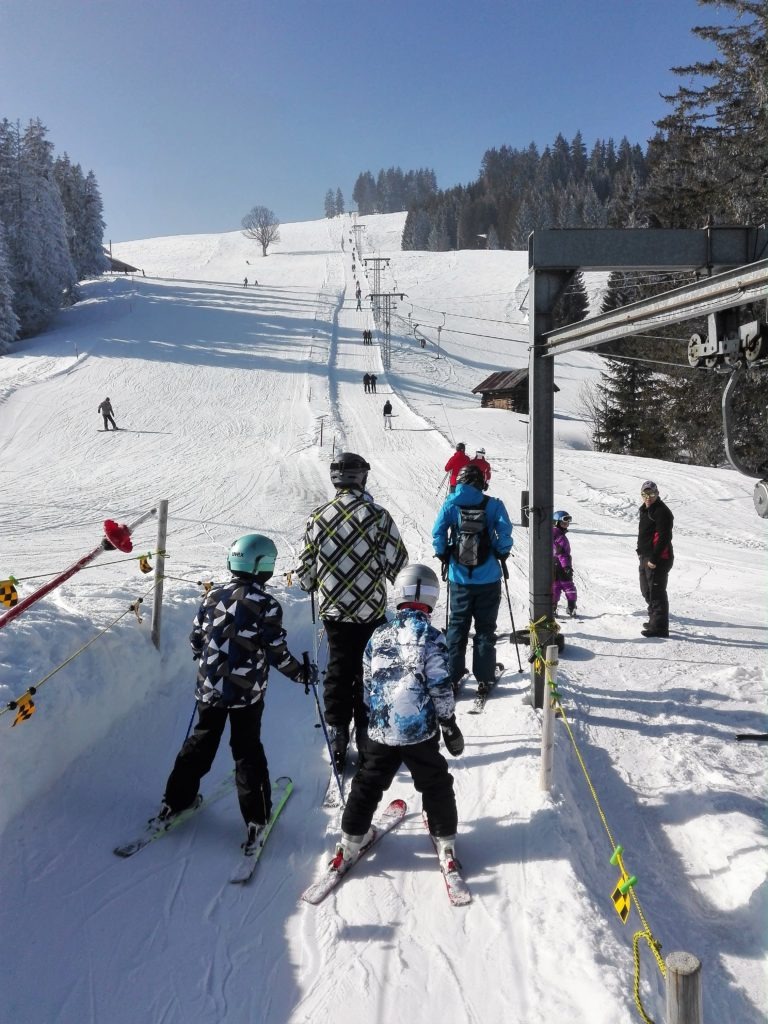 I have to say that I really enjoyed skiing here. I felt like when we were skiing in the Dolomites – well-groomed wide slopes, overlooking the rocky peaks of the surrounding mountains, beautiful weather, just great!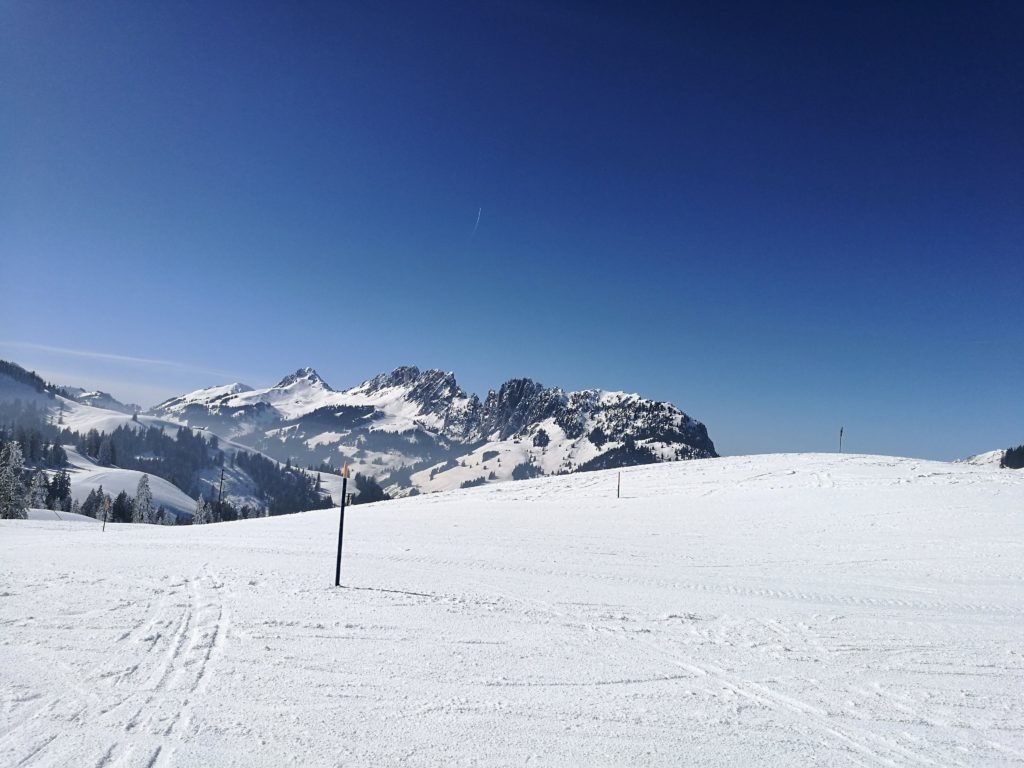 For the smallest skiers, there is a "children's world" (free!) with a rope lift, carousel, and picnic tables right next to the Zügwegen ski lift.
Winter walk
While "my men" were skiing, I took our sled and went for a walk with our little one. On the map, you can see a 2.3km long loop trail marked with a dashed pink line with a little hiker symbol. The trail starts right behind the teepee and leads to the cottages. In front of them, we turned right and walked towards the forest. You do not need snowshoes for this walk, it´s easily doable in normal winter footwear since the trail is groomed. In the evening, the trail is lit, as you can see the light bulbs line – btw. keep following the line since there aren't any other signs to follow.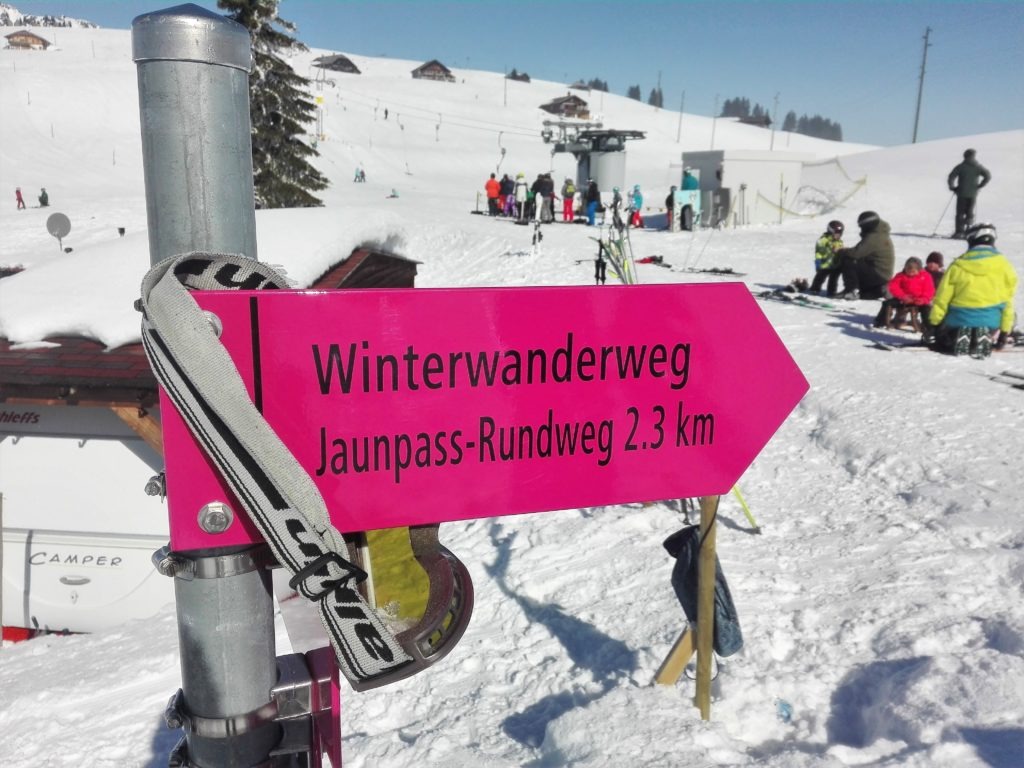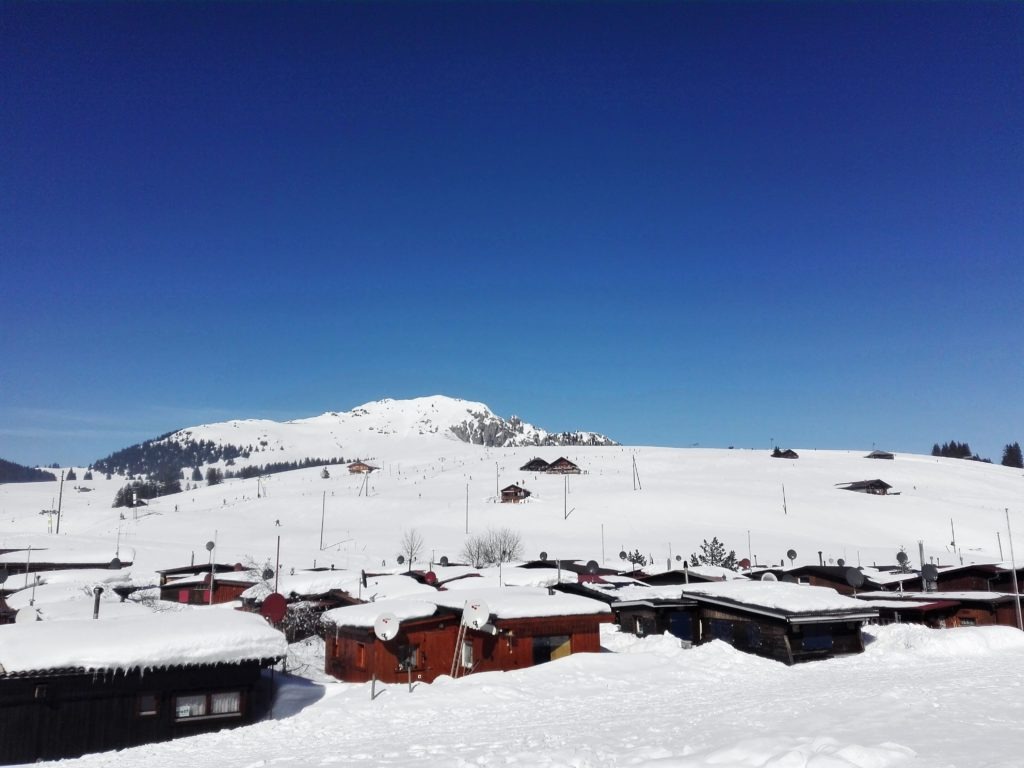 Although I regretted for a moment that I hadn´t taken our baby carrier, the sleds finally proved to be good, because there were downhill sections. 
This is how we reached the Bruchbaragge, where the cross-country skiing tracks begin. There is also a small slope and a children's ski lift.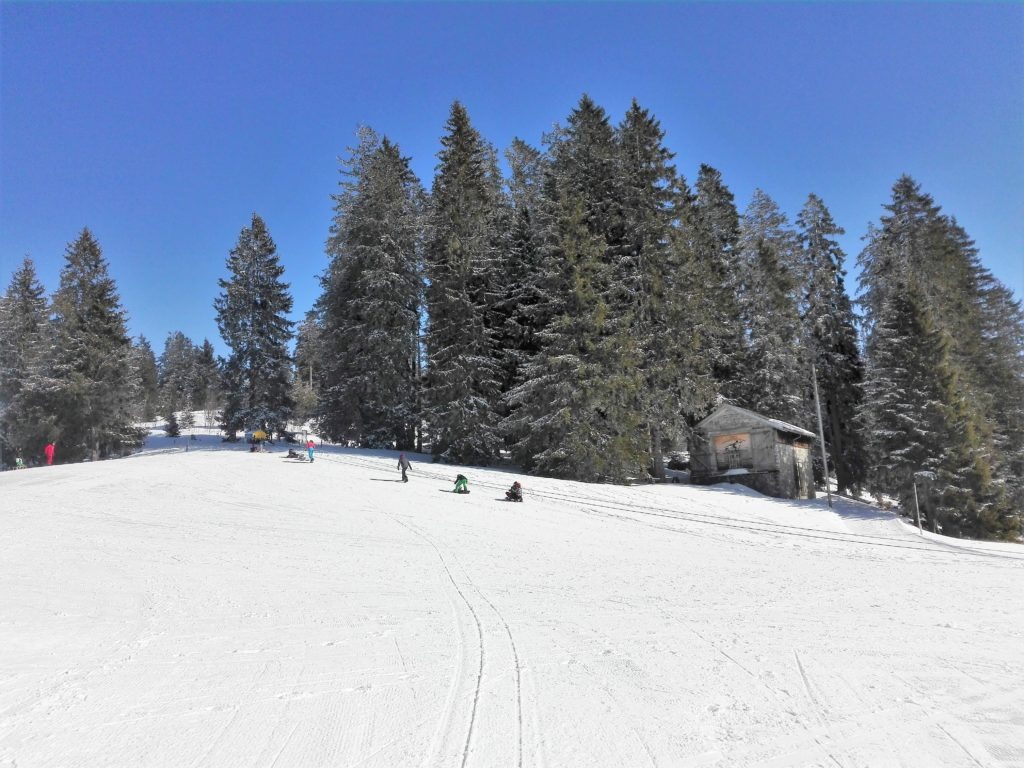 Cross-country skiing
Jaunpass is known mainly amongst cross-country skiers because the local Gastlosen Arena offers 16 km of tracks for both styles.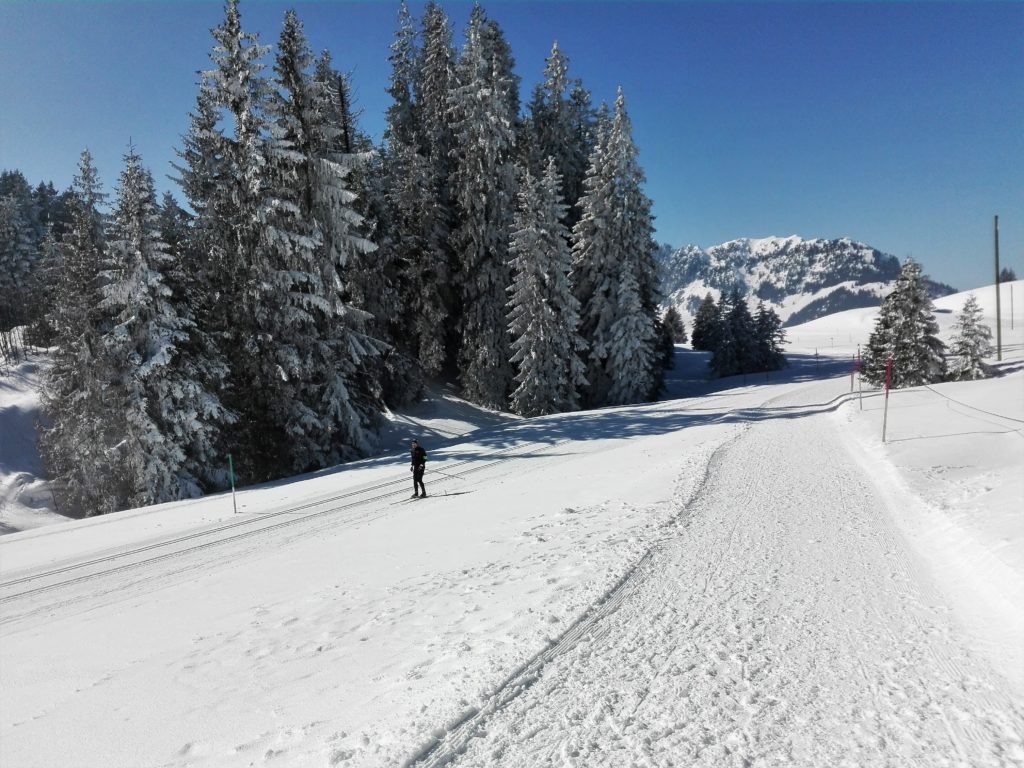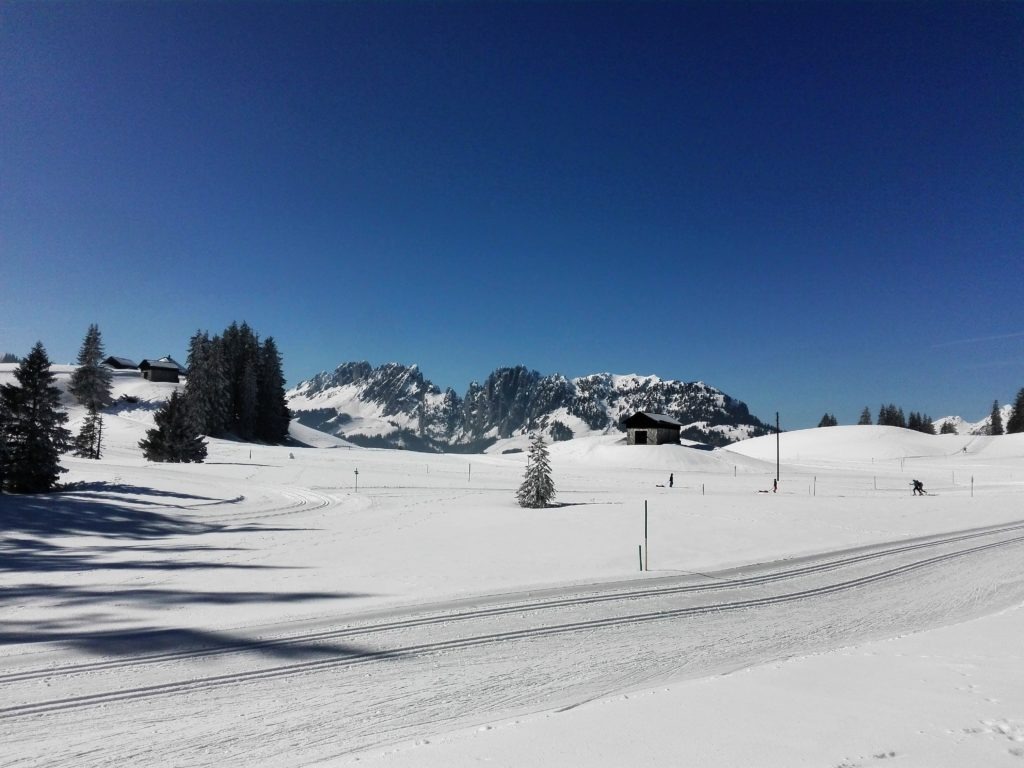 Other activities
In addition to the carousel, children can slide or play in a teepee. And as I wrote above, you can experience some adrenaline here. You can rent fat bikes (or snow bikes if you like), lift up and follow the marked trail downhill (I hope it´s clear that there is no one from our family on the picture, isn´t it? 😀 ).
Restaurants
The area offers a lot of places to refresh: whether it's a bistro at the camping site (Btw. camping in the winter, for the Dutch no problem 🙂 ), Taverna Restaurant, Skistübli Fängli directly on the ski slope, or already mentioned BruchBaragge stand at the beginning of cross-country skiing trails.
Summary
We really enjoyed our day at the Jaunpass ski resort. I can recommend it for families with children (hello, moderate family prices! 🙂 )  and for beginners. And, of course, for non-skiers who just want to enjoy a nice winter walk with wonderful views. We also met nice people who gave us a tip for a nearby spa and wellness in Charmey.
I hope you liked my post. If so, don´t forget to share it on Facebook or Twitter. It helps get my blog out to more people, who may like my posts. Be sure to follow me on Facebook, Pinterest, Bloglovin, and Instagram.
And of course, I look forward to reading all your comments:)