Barcelona, Spain's second-largest city, is a city of beautiful architecture, sunny beaches and Catalan culture. With all this Barcelona is the perfect destination for a long weekend city break with kids. When one says "Barcelona", everyone seems to think of something else. We tried to show our children the widest range of things that could interest them in their age.
First of all, here are some practical information you might find useful 🙂
Getting around Barcelona – a transportation guide
Barcelona has a very dense public transport network: it includes buses, trams, and metro. Plus funiculars and cable cars. Unlike London, where the children under the age of 11 can travel for free on public transport in the company of an adult, Barcelona is not so friendly with traveling with children. Children under 4 years of age travel free of charge, older ones must have the same ticket as adults.
We made a lot of use of their metro and buses, getting you out to sightseeing places really quickly. While we saw an announcement for an app of TMB (Barcelona´s public transport company), we searched for all connections through Google Maps.
You get on the bus by the front door, even with the stroller (and we've seen three in a row!). Metro stations are barrier-free, but when you have to change the lines, I have not noticed any elevators at transfer stations. Everywhere just stairs. And actually, I've seen almost no strollers in the underground.
Amongst many places and sights, especially in the center and its immediate vicinity, you can also walk. Barcelona is a pedestrian-friendly city with wide sidewalks (but sometimes be careful not to step into "something"!).
Fare
The regular one-way ticket costs 2.20 € and you can travel with it both by subway, by bus, and by train. Another option is a T-10 ticket. It costs 10,20 € and you can take up to 10 different rides. More people can use this ticket – but each person has to tag it in the machine/turnstile then counts as one ride.
Touristic cards
There are two types of these cards: Barcelona Card vs. Barcelona Hola Travel Card. You can buy them for 2 to 5 days. You get unlimited public transportation (including a trip to/from the airport), a discount or free admission to some of Barcelona's museums and monuments.
I suggest you buy the card online before traveling because it can save you a few euros from the regular price on the spot. You can pick up the card, for example, at the Barcelona Turisme information office directly at the airport.
If you have a little time to explore the city and still want to see most of the sights, I recommend Bus Turístic. Its three lines take you to the most famous places without having to look for (sometimes quite complex) public transport connections.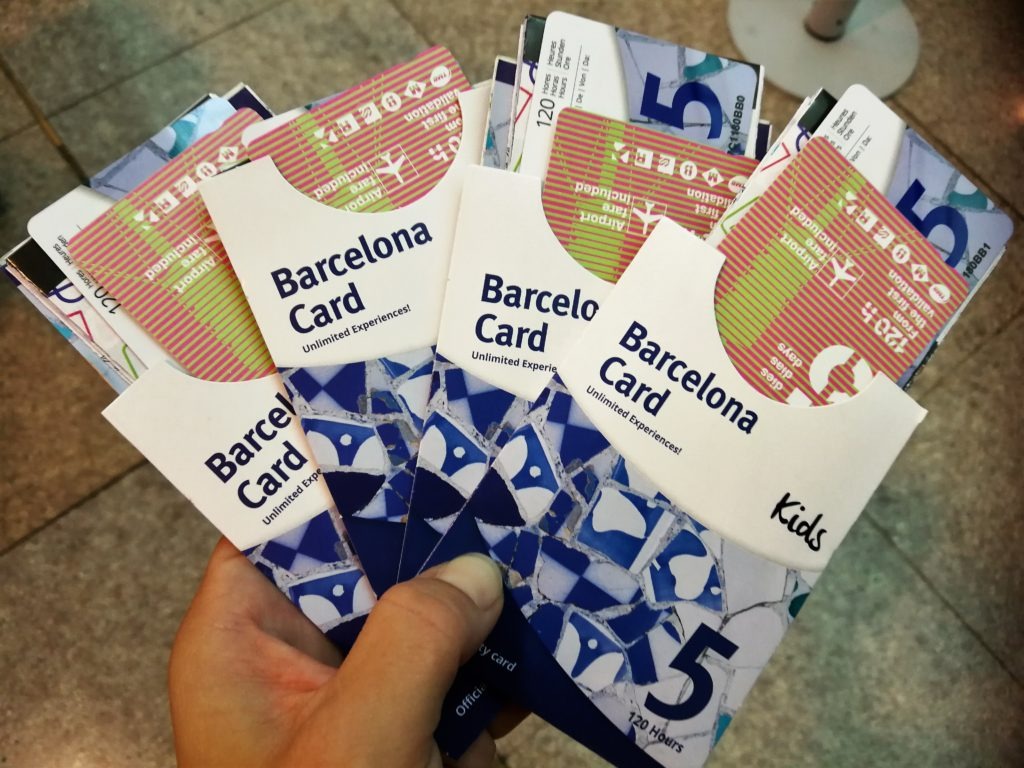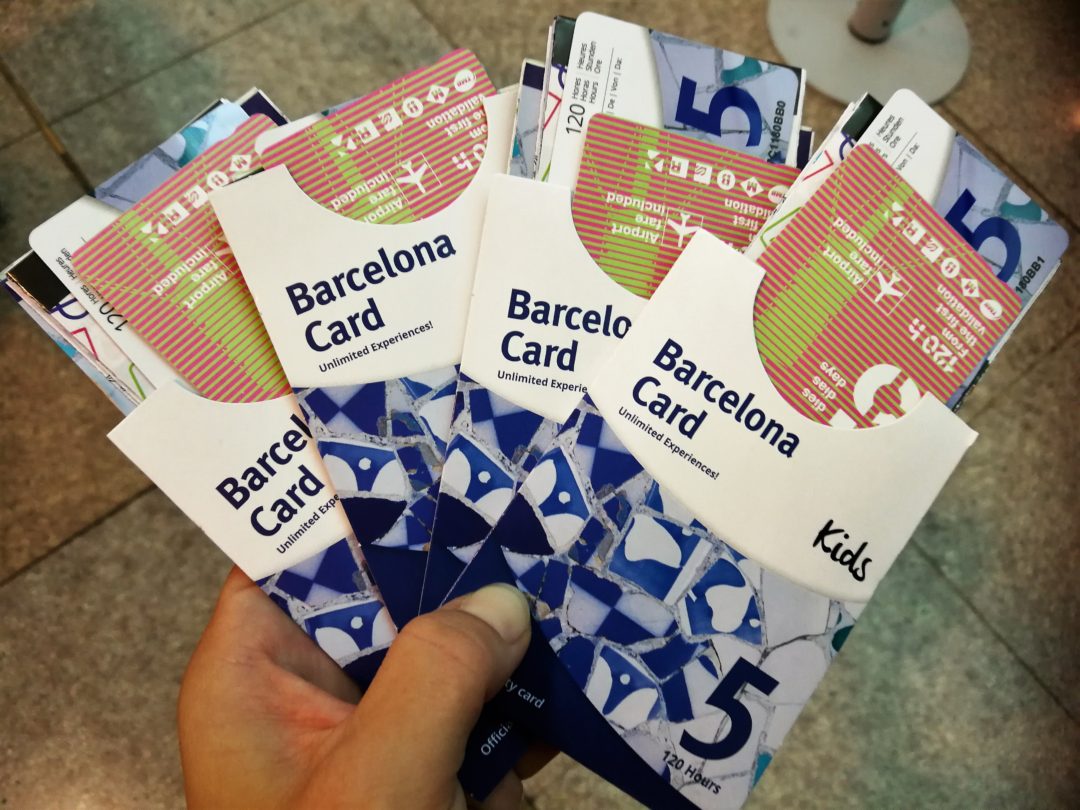 From/to the airport
If you don´t have any of the two tourist cards mentioned above, you will get from the airport to the center of Barcelona (Placa Catalunya) by Aerobus (return ticket is 10.20 €). We had a Barcelona card purchased in advance. It also includes a ride from/to the airport, but on a "regular" bus line No. 46 (you will arrive at Placa Espanya).
Barcelona sightseeing – our itinerary
The list of Barcelona sites of interest is endless, there is so much to do and see (and taste) in Barcelona. You could definitely spend here more than just a long weekend and you would still have a chance to discover new places. Touring the architecture of Catalan architect Antoni Gaudi (curved lines, asymmetry, and influences from the natural world) is for some people the main reason to visit Barcelona. But even if your kids do not like architecture and all that "boring stuff" that adults enjoy, you should definitely take them to see at least one of the buildings by this genius architect.
1. Beaches
Perhaps the most famous is due to its good accessibility from the center is the Barceloneta beach. But we lived in the Poblenou district and "our" closest beach was Platja de la Mar Bella. But we had to carefully choose a place on its edge because the part was a nudist/gay beach 😀
There is no admission to the beach, the sand is fine-grained and the sea is clear. Along the beach, there is a long boulevard, widely used by local runners, cyclists or just for a pleasant walk. Our boys mainly admired the youths in the local skate park.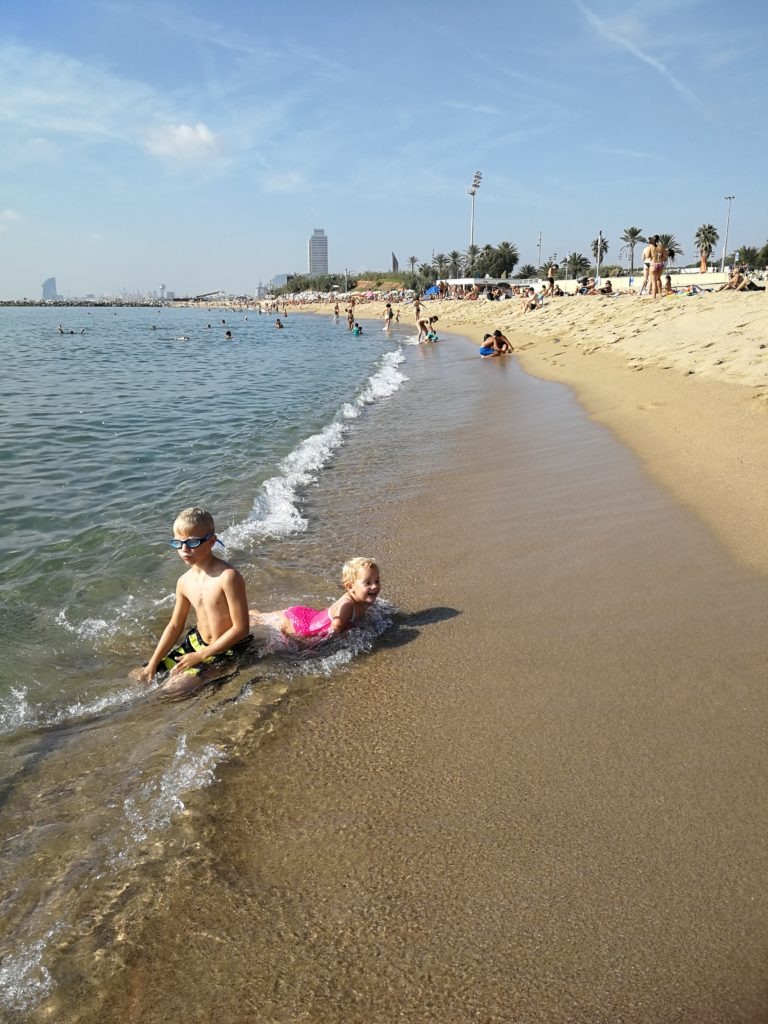 2. Camp Nou
Ok, this one might not be that surprising 🙂 As a football family fan, we just had to make a visit to Camp Nou, it was a "must-see" item on our Barcelona bucket list. This time, however, we did not go to a museum tour, like at Arsenal or San Siro, but we went to the stadium to watch the La Liga match. Even if you're not a football fan, there is something about being nestled within other fans in the largest football stadium in Europe.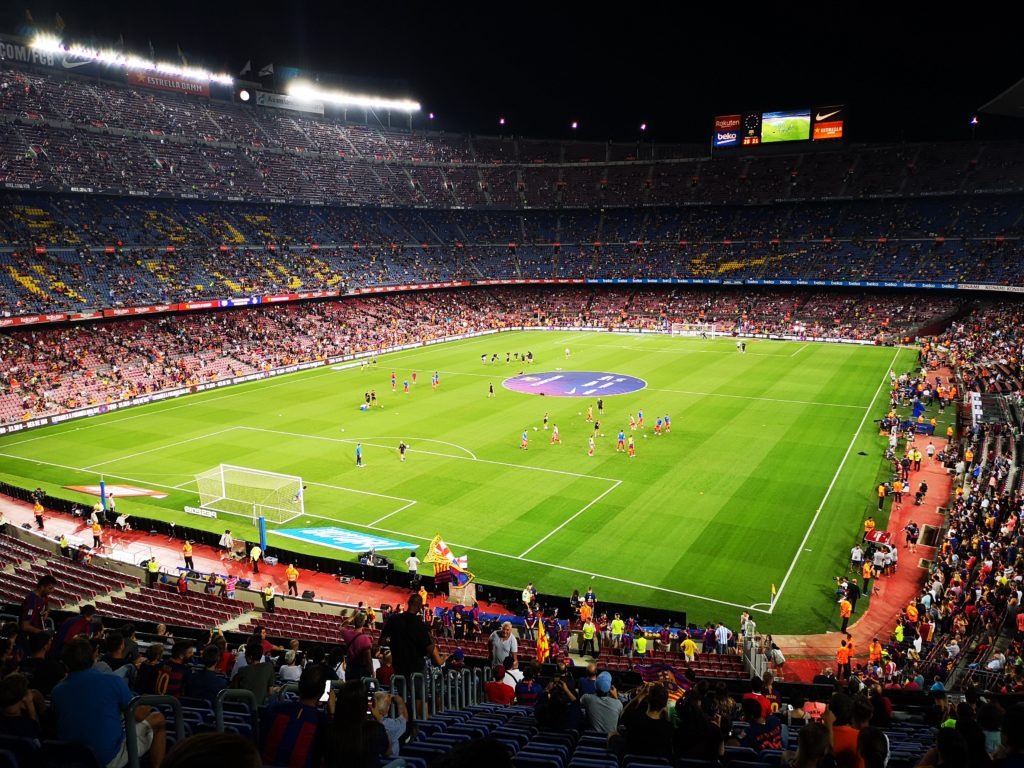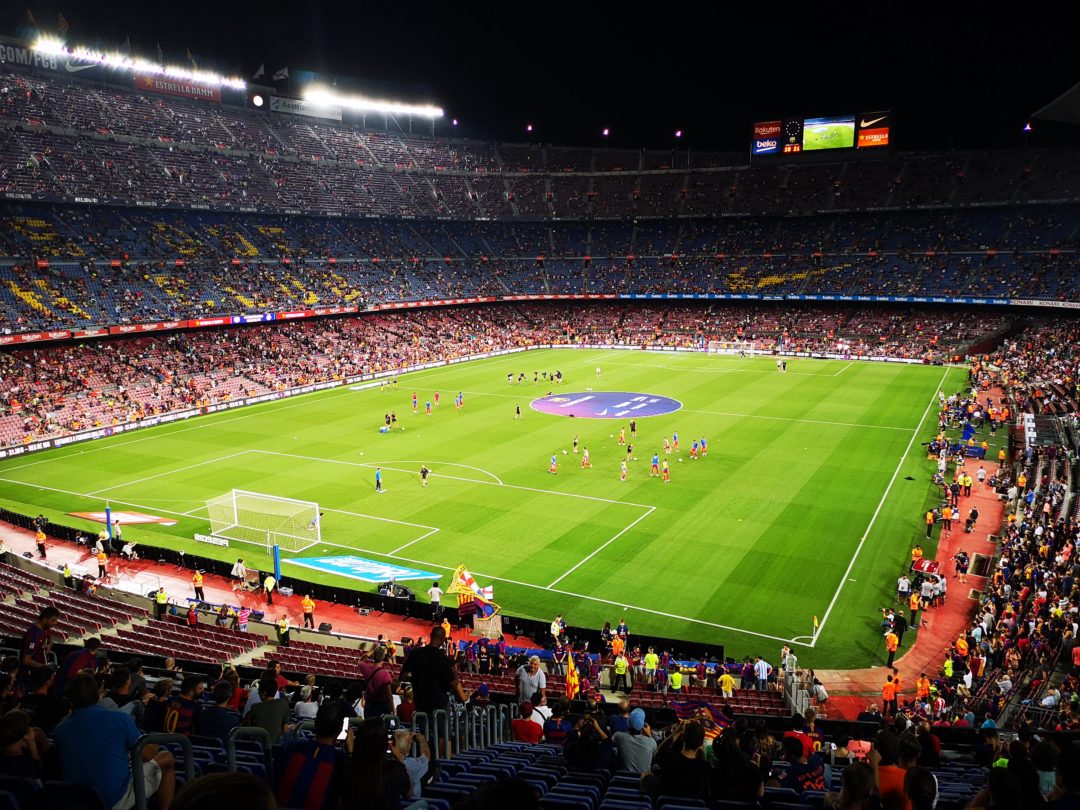 3. Aquarium (L'Aquàrium de Barcelona)
The aquarium at the old harbor, Port Vell, is Europe´s largest aquarium dedicated to the Mediterranean Sea. It is spread over 3 floors and perhaps the biggest attraction is the 80-meter-long glass tunnel where you can walk, better to say – ride on a moving walkway, and sharks, lots of small and big fish and wild animals will swim above your heads. Before the visit, I recommend buying a family ticket online. When buying tickets at the ticket office, this option is not available and you pay 10 euros more (if you are 2 adults and 2 paying children).
4. Museum of Chocolate (Museu de la Xocolata)
The visit to this museum was free of charge within our Barcelona card, so we decided to give it a go. We were pleasantly surprised at the entrance when we got a bar of chocolate with a Czech flag as a ticket. Otherwise, in the museum (as in the Swiss Chocolate factory Maison Cailler) you will learn how chocolate came from Central America to Europe. The most interesting are chocolate sculptures, children will surely be interested in chocolate sculptures of cartoon characters. But it is quite a small place and we looked at everything within half an hour.
5. Gothic Quarter with a Cathedral
As the name suggests, it is home to Gothic architecture, but some buildings are dating back 2,000 years to the Romans. The gothic cathedral is the seat of the Archbishop of Barcelona. Don't forget to pass by Carrer del Bisbe Irurita with a Neogothic-style bridge by architect Joan Rubió. 
6. Park Güell
Park Güell (I dare say after Sagrada Familia the second best-known place in Barcelona) is a UNESCO World Heritage Site. It is probably the most colorful of Gaudí's work in Barcelona and offers the best panoramic views of the city. You will get there taking the bus no. 24 and 92, which stop just 250 meters from one of the three entrances. Part of the park is free to enter, so you can stroll to your heart's content. But to enter the monumental zone where you can see the truly incredible mosaic works of Gaudí, is charged. The number of daily visitors is limited, so I recommend buying a timed ticket in advance – they only let 400 people every half an hour.
7. Sagrada Familia
The incredibly ornate and huge cathedral of La Sagrada Família (Church of the Holy Family) is is just as impressive inside as it is outside. With its Gothic and Art Nouveau style and Gaudí's typical manuscript, the cathedral has become so popular that you have to buy an online ticket for a certain time slot (children up to 10 years have free admission, adults € 15). The construction, which should be completed in 2026, is one of the most interesting buildings I've ever been in (although I cannot say one of the most breathtaking ones).
8. Montjuïc
Montjuïc is a beautifully landscaped area of the city that is famous for its gardens, museums, castle and the hill itself. From the fortress, which used to be a prison for political prisoners, you will enjoy views of the city and harbor. Montjuïc can be reached by a funicular, which is part of the local public transport (so included in the Barcelona Card), and you can reach the summit by cable car or by walking.
9. Olympic stadium and museum
On the Montjuïc hill, you will find the Olympic stadium, which seats up to 65,000 people and where the Olympic Games took place in 1992. A few steps from the Olympic Stadium is a museum full of photographs and other memorable items that relate to this sporting event. The museum is not as extensive as the Olympic Museum in Lausanne, but you can learn a lot of information (with Barcelona Card is free to visit).
10. La Rambla
Over a kilometer long pedestrian boulevard lined with trees, shops and street artists is perhaps the most famous street in Barcelona. Unfortunately, because of its popularity among tourists, you should be aware of pickpockets.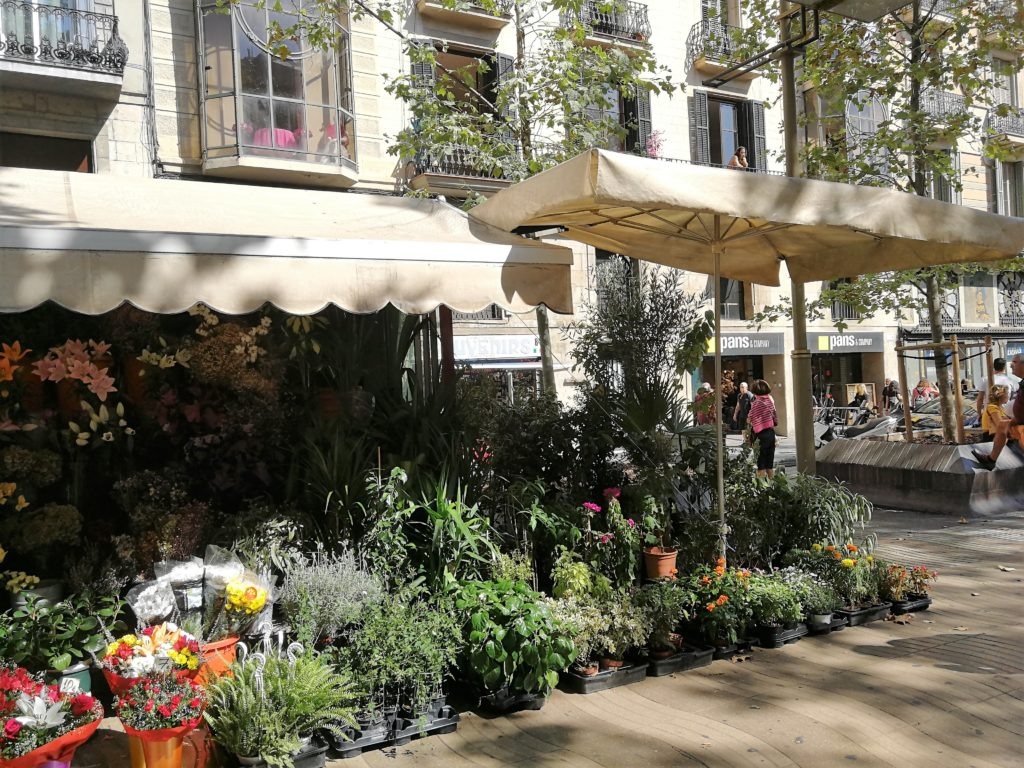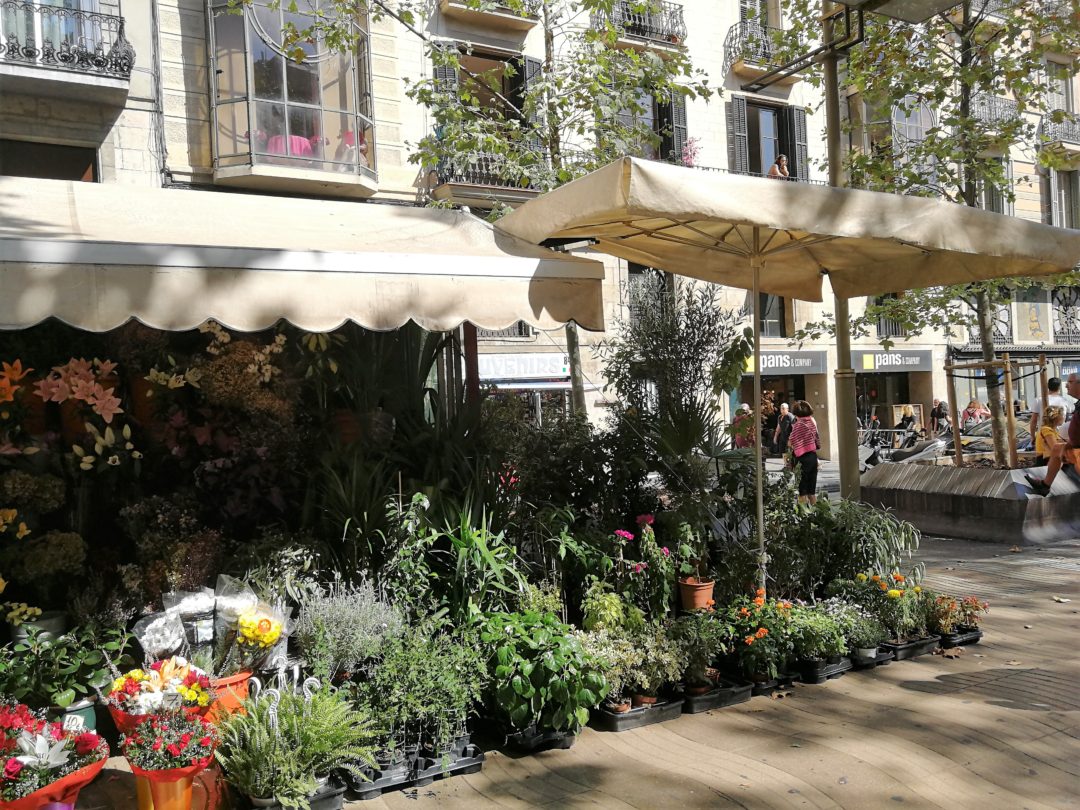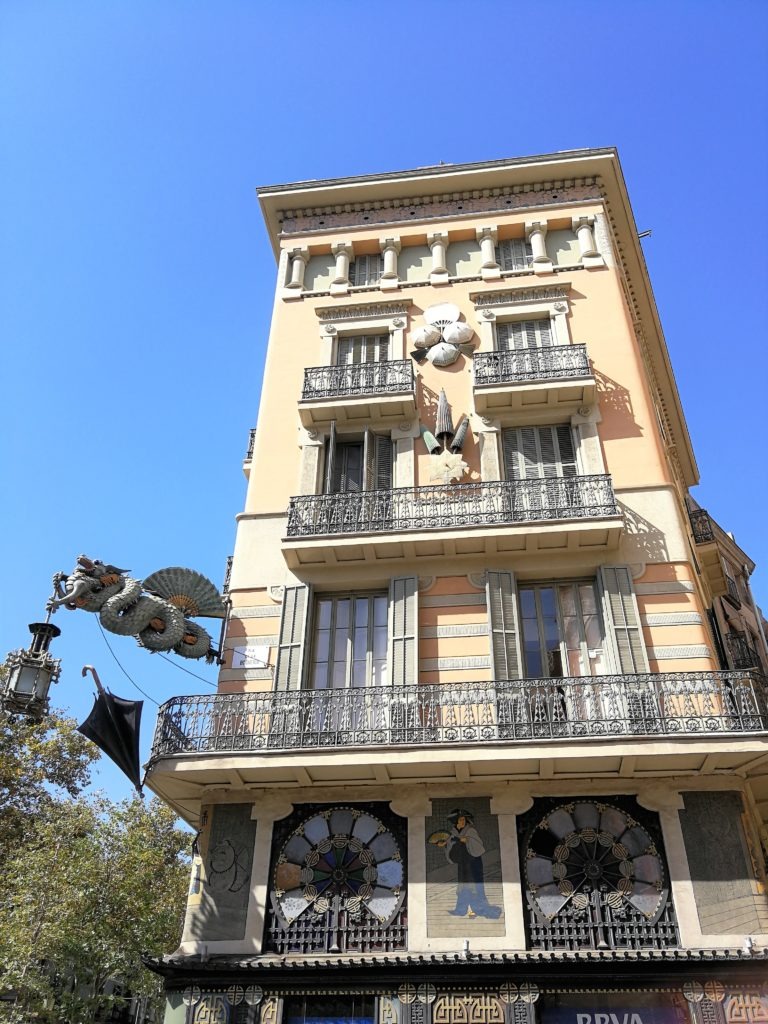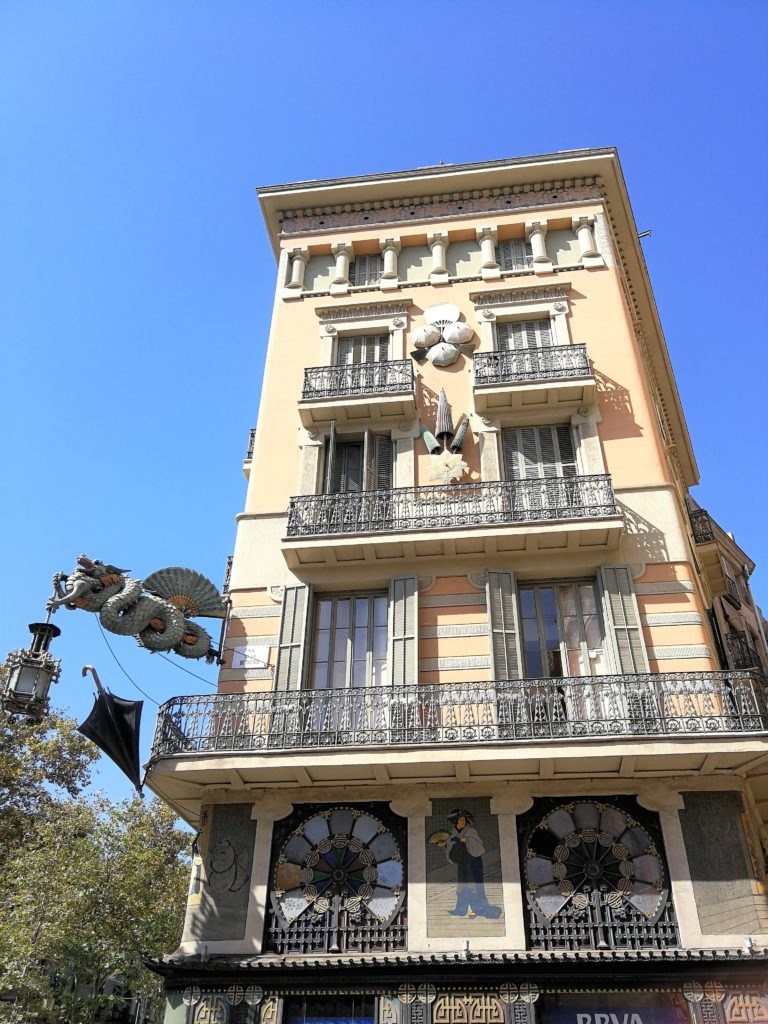 11. La Boquería
The largest food market in Europe is located right next to La Rambla. All those colors and scents … it is really worth visiting!
12. Museu Blau – Museu de Ciències Naturals de Barcelona
A little further from the center you will find the Museum of Natural Sciences. Aa nice audiovisual projection shows the Earth history from the beginning of the planet Earth. The main exhibition includes fossils, minerals, plants and animals on one floor of a futuristic building. Fortunately, this is not just objects behind the glass, but there are also multimedia tasks for kids.
13. Ciutadella Park
Very pleasant and charming park where you can enjoy a peaceful picnic on the grass. Unfortunately, the well-known Cascada Monumental Fountain was empty as it was currently under maintenance. The park has a lake with rowing boats for hire.  At the end of the park, you will find the Barcelona Zoo.
14. Arc de Triomph
At the other end of the park, you will find an impressive red brick arch. But it is not a reminder of any war victory. This red giant was built as an entranceway for visits to the 1888 Barcelona World Fair.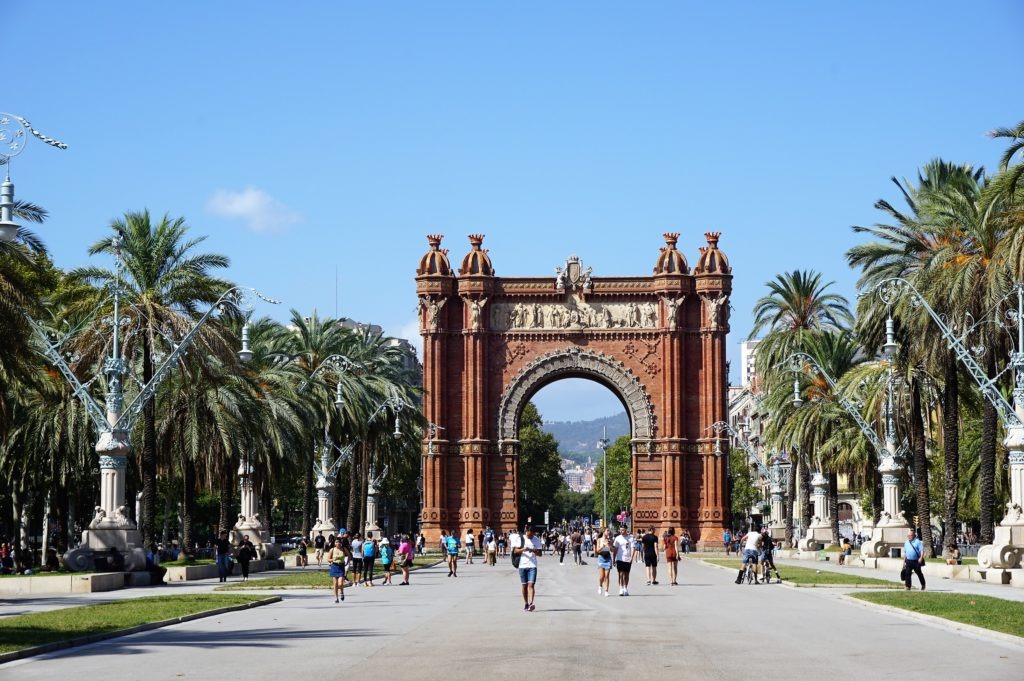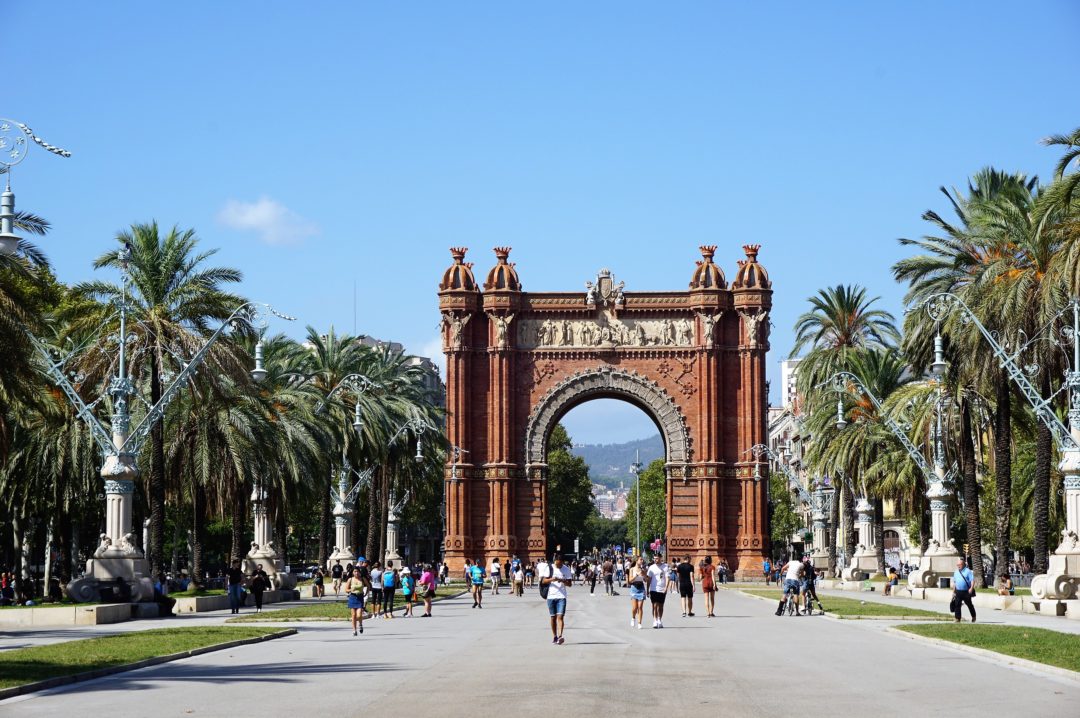 15. Passeig de Gràcia: Casa Milá a Casa Batló
This elegant street is famous for its high-end shopping. But it also offers a showcase of beautiful architecture. The two most famous buildings on this street are certainly Gaudí's Casa Batlló and Casa Milà. Their beautiful facades are worth seeing! However, the ticket prices are somewhat high (€ 22.50 for an adult!), so you might be satisfied with admiring an interesting exterior. But other, lesser-known Art Nouveau houses on this street captured my heart.
I think we enjoyed a lot of unforgettable moments in Barcelona and the kids had a lot of fun. On my "bucket list", there were still other places we haven´t managed to visit (such as the Tibidado Amusement Park, the Cosmocaixa Science Museum, the Columbus Monument at Port Vell, the Maritime Museu, the ZOO etc.). So I believe that will come back to Barcelona sooner or later.
I hope that you got a lot of useful information in my guide to help you plan your trip. If you need more inspiration, these travel guides for kids might help you as well*:
[amazon_link asins='1787014843,8461657454,9887714895′ template='ProductGrid' store='adinajustina-21′ marketplace='DE' link_id='888f1a48-cc80-11e8-9832-9d4360fff609′]
Do you have other tips what to see in Barcelona with kids? Where to go, where to stay and what to taste? Share your tips with others! And do not forget to save this picture on Pinterest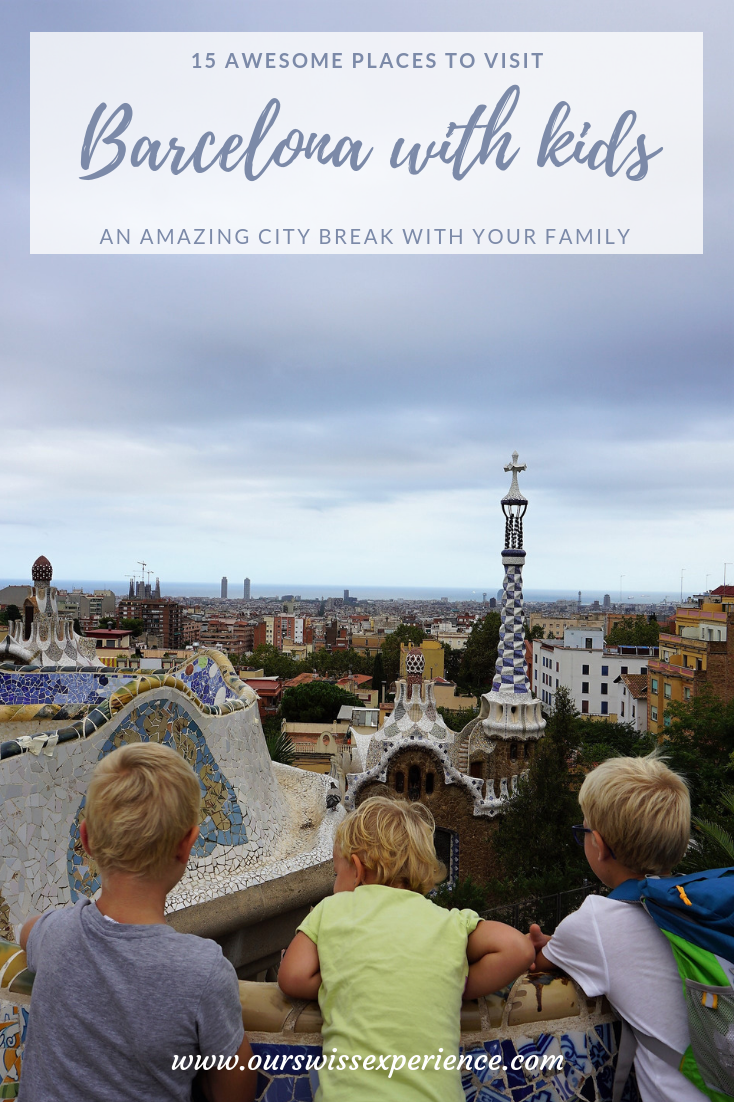 If you don´t want to miss any of my recent posts please sign up for my blog in the top right-hand corner of this page. Thank you. Be sure to follow me on Facebook, Pinterest, and Instagram. And of course, I look forward to reading all your comments.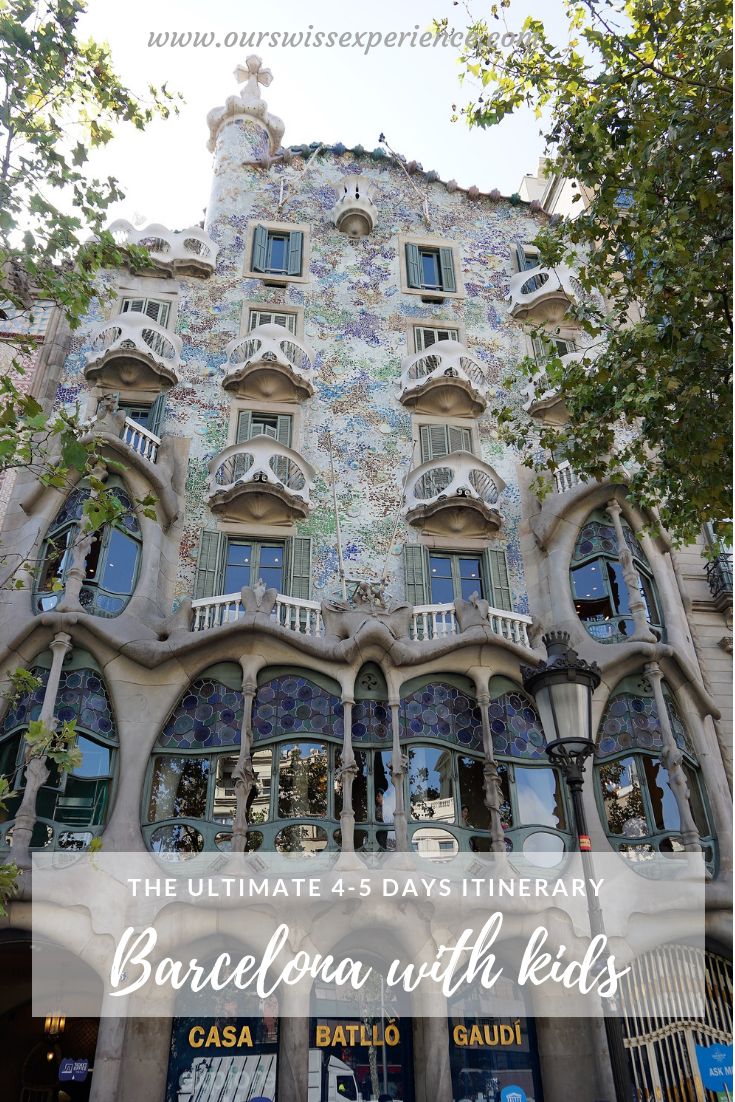 *This blog is a participant in the Amazon Affiliate program. If you purchase from Amazon using one of these links I may make a small commission at no additional charge to you! I don't ever link to items I don't actually recommend!