"Where are you going on holiday? To Switzerland? In summer? And why right there? They don't even have a sea there! And it's expensive there! " You may have heard these arguments to talk your holiday in Switzerland out, or even to discourage you from doing so. Yes, I admit that Switzerland is not exactly the cheapest holiday destination. But still, in this article, I have decided to convince you why it is definitely worth giving Switzerland a chance for your summer holiday.
1. Switzerland is within easy reach
Did you know that Switzerland is easily accessible by train or bus from many European cities? And that several airlines fly to Switzerland (including low-cost ones)? There are two main airports are in Zurich and Geneva, you can also get to Basel or Lugano.
2. Switzerland is part of the Schengen zone
Although Switzerland is not part of the European Union, it has been part of the Schengen area since 2008. So traveling here is very easy, you just need the Schengen visa, if you dont live in the Schengen zone.
3. Switzerland is a Instagram postcard-perfect country
Switzerland is such an amazingly scenic country that you will probably want to go everywhere: it is a country of picturesque valleys, majestic mountains, crystal clear lakes or historic cities. You will find something for everyone here because there are really lots of spectacular things to see and experience for yourself (and which you can then share on social media 😉).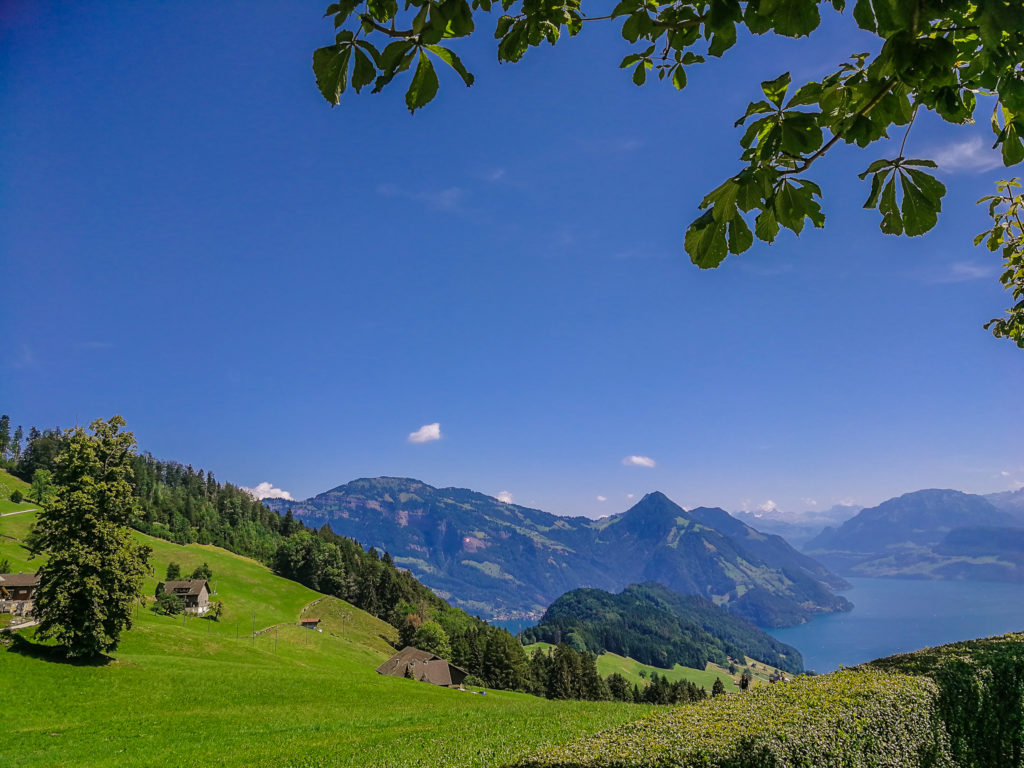 Read also: Family holiday in the Bernese Alps – 10 trip destinatios in the Jungfraujoch region
4. Switzerland has a great infrastructure
Switzerland is also a perfect country in terms of infrastructure. I don't think you'll find a better public transport network anywhere in Europe that goes literally everywhere, even to the smallest and most remote Swiss villages you can imagine.
You can stay in a larger city and have it as a "base" and from there take day trips to explore the beauties of Switzerland.
If you are planning a holiday in Switzerland, because you like driving through the beautiful landscape, the Grand Tour of Switzerland is just for you.
Read also: Grand Tour of Switzerland – enjoy your "slow travel" epic road trip
5. Swiss Travel Pass
The Swiss Travel Pass offers unlimited traveling in Switzerland because it gives you access to pretty much the entire public transport network, including all trains, buses, and boats. With the purchased Swiss Travel Pass, you have free admission to 500 museums in Switzerland and discounts for the cable cars which – let's be honest here – is the best reason to get the STP. Why? Because cable cars are so expensive!
For example, you can take a trip to the Rigi or Pilatus mountains, go on a steamer cruise on Lake Lucerne or Lake Geneva, or visit Chillon Castle near Montreux.
Read also: Traveling to Switzerland: Is the Swiss Travel Pass worth buying?
6. Switzerland is a safe country
Switzerland is a country where you can feel safe, whether in big cities or in the most remote places. Although it must be said that in cities such as Geneva, Zurich, and Lucerne, there is a risk of pickpocketing.
Read also: In Switzerland, things arent stolen, only moved
7. Drinking water in Switzerland is almost everywhere
Plus it's free! Water in Switzerland is safe to drink everywhere (unless otherwise stated) and in most cities, you will find public fountains spouting out pure, glacial water that is better than anything you can buy in shops.
8. Switzerland has great customer service
The Swiss standard in service is, I dare say, one of the highest in all of Europe. The Swiss are known for their courtesy and the rule: "The customer is always right." applies here.
So, did I convince you that it is definitely worth going on holiday to Switzerland? I understand that planning such a vacation can be challenging and is not everyone's cup of tea. That is why I can create for you an itinerary tailored to your needs and wishes! Email me at hello@ourswissexperience.com and we'll work out the details!
I wish you a beautiful summer!