We had a trip to Schilthorn on our "Bucket List", a list of places we would like to visit, practically since we moved to Switzerland. But then we still
were converting everything to Czech crowns
didn't know the level of Swiss prices
didn't have a Half Fare card

So it seemed to us that spending 108 francs for one person, or about five and a half thousand crowns, just to take the cable car to the place where one of the series of films with the immortal agent 007 was being shot, was really crazy.
But as the years went by, we bought a Halb-fare card for our trips, with which all the lifts come at half price and Schilthorn finally started to climb up on the bucket list. And when we thought that this year it really is, as our sixth anniversary of living in Switzerland is approaching, and it would be nice to take another "extra" trip (like last year to Zermatt), another nice bonus came: in mid-August, in our local Migros, I came across Branches chocolate bars, on the box of which there was a voucher for 2 rides for the price of one, ie a 50% discount on the Stechelberg-Schilthorn return ticket! And that was something! In addition, the discount also applied to those who have Halb-fare cards. Since we definitely don't despise good chocolate in our family (and in addition Dominik's birthday was approaching, when he normally takes these chocolates to school and then also for training), I bought three boxes right away! This is because it was planned that my parents and my brother with his girlfriend would come to us for one week during the autumn holidays as usual.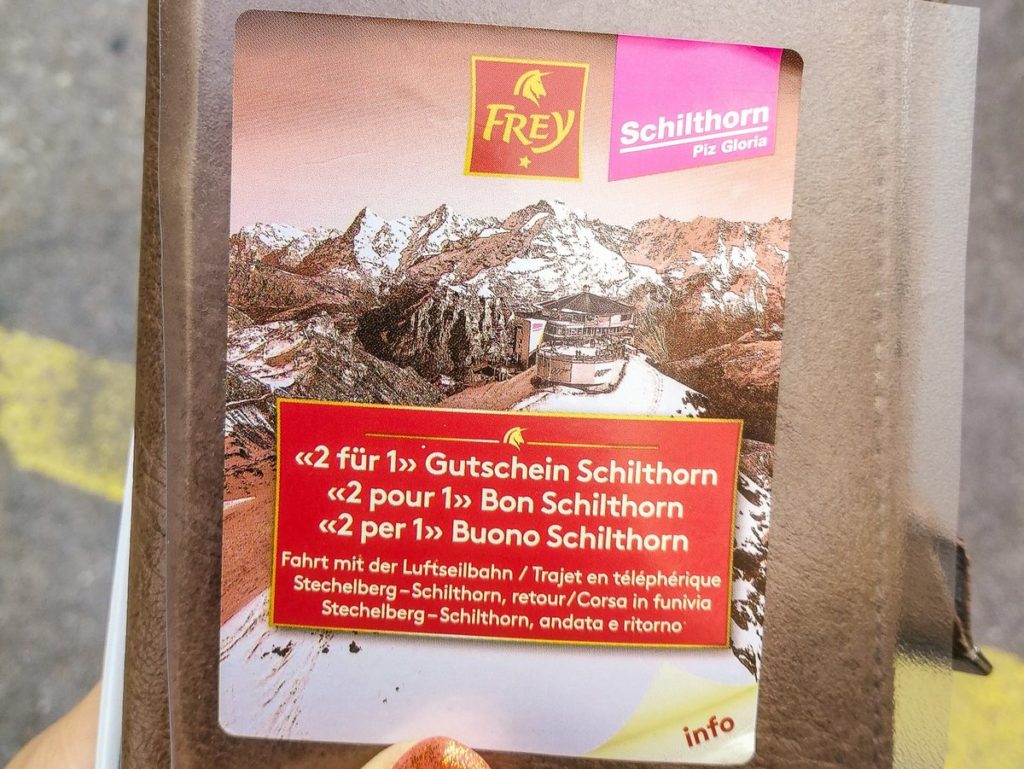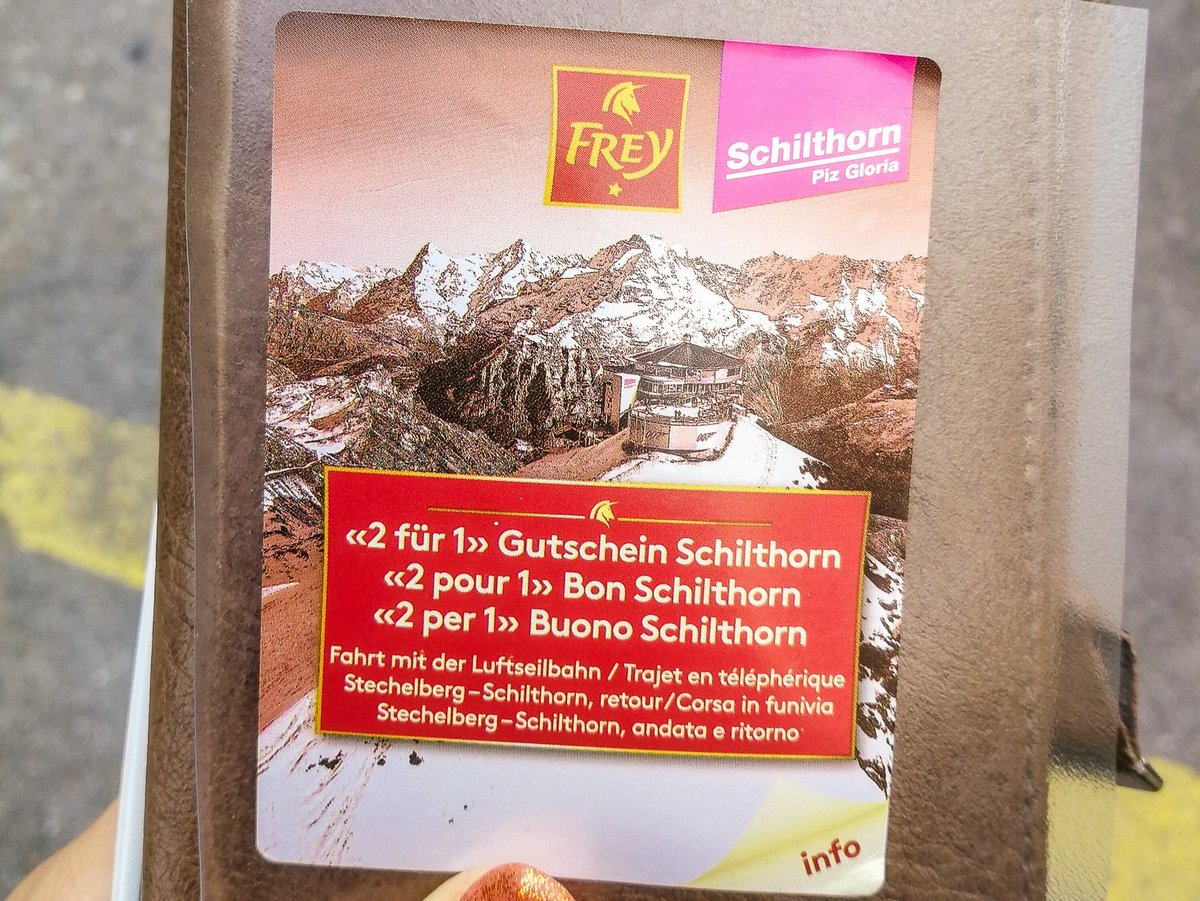 But my parents and my brother didn't come in the end (you can read about how complicated we had to organize our meeting in the next article), so I handed out the other two vouchers and we used our one on a beautiful Sunday in October.
Getting there
By car: From Bern, the journey takes just over an hour. Drive the highway in the direction Interlaken, then take the exit to Wilderswil/Grindelwald/Lauterbrunnen. Then head for Lauterbrunnen and continue through the valley to Stechelberg. A large metered lot is right next to the valley station of the Schilthorn cable car. Parking for 4-8 hours costs 7 francs, for the whole day 10 francs.
By train/bus: From Interlaken (Interlaken-Ost Station) take the train to Lauterbrunnen, here you have to transfer to bus no.141, which takes you directly to "Stechelberg, Schilthornbahn".
Timetable & Tariff
You can find the operating rules of the cable car on the website. As I mentioned above, a return ticket for an adult costs 108 francs, with a Halb-fare card for half price. Children with a valid Junior Card have a free ride accompanied by a paying adult.
Piz Gloria – 2970m a.s.l.
You have to change three times to get to the top by cable car. We were therefore a little surprised that the recommendation to keeping the recommended distance was definitely not taken into account in the cable car cabins. And even though we all had face masks, we were crammed like sardines. Despite this slight discomfort (I'm not even talking about the unpleasant feeling), we reached the very top of Piz Gloria after 32 minutes. As a matter of course, the wow effect is definitely guaranteed in beautiful weather.
Binoculars for children at their height level are also a nice bonus. I was just a little sorry that the 007 Walk of Fame trail to another viewing platform (which our little one is looking through binoculars) was not open either.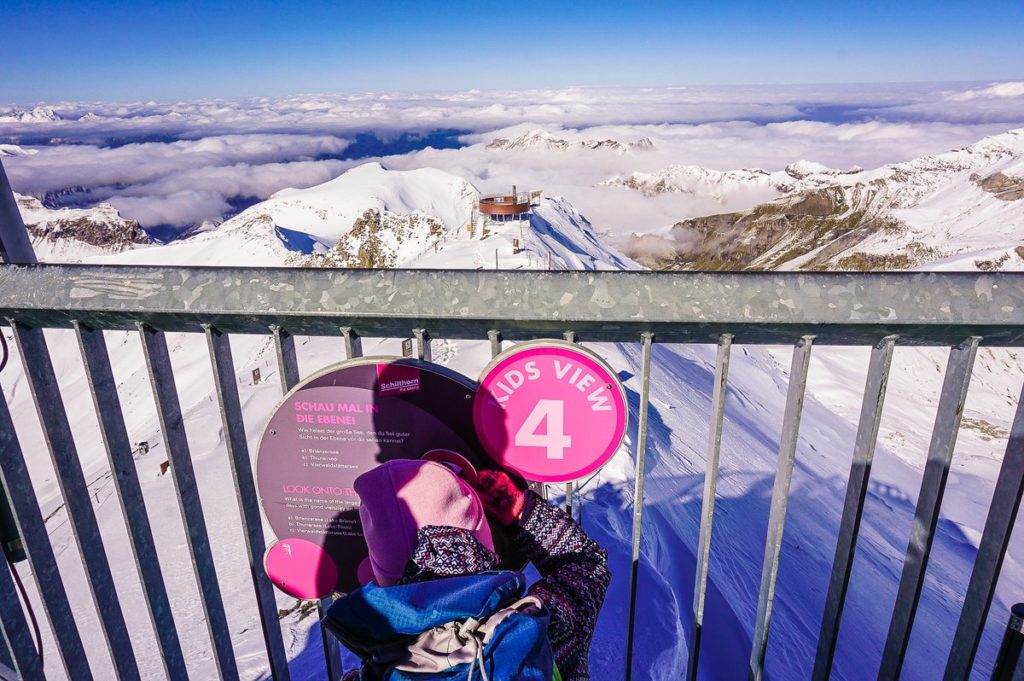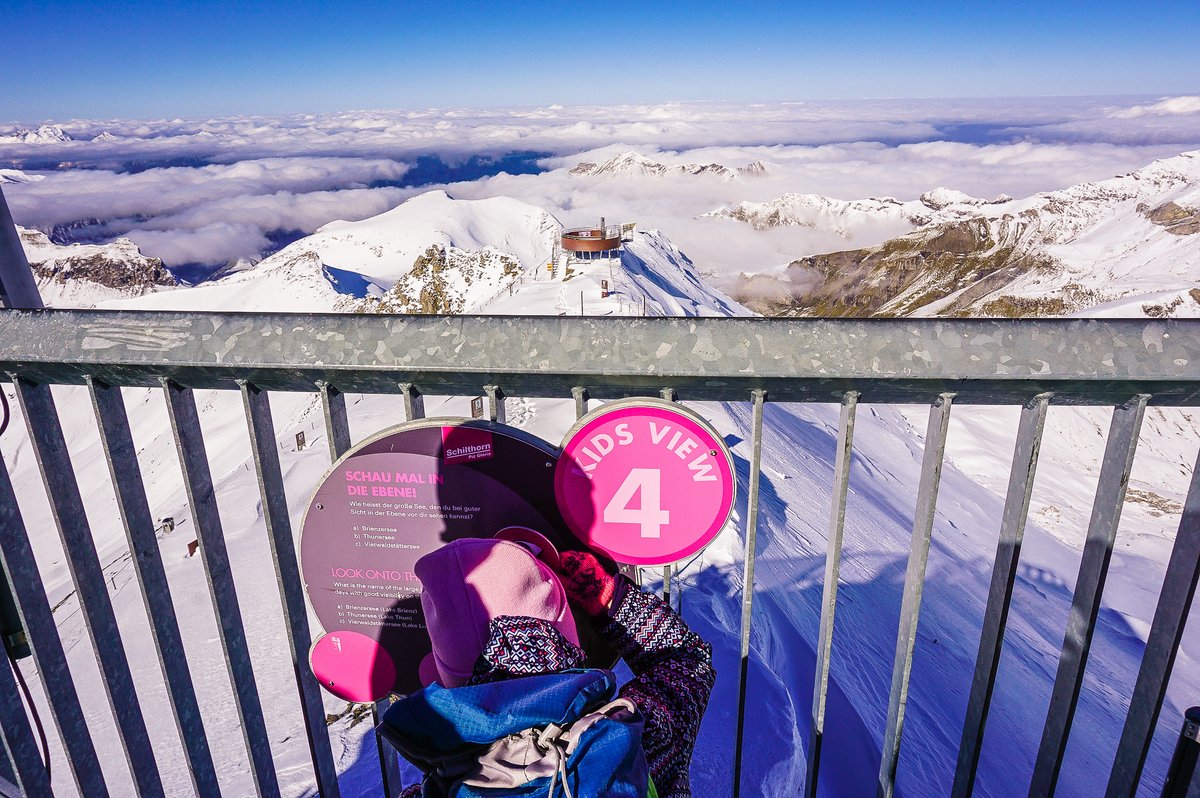 360°- Skyline Restaurant Piz Gloria
The experience is definitely to have something good (like James Bond Burger) in a restaurant that revolves around its axis (it can do it in 45 minutes and only rotate the tables by the window, not the whole restaurant, as I naively thought – um). We were deprived of this experience because we did not make a reservation in advance and we didn't really want to wait a few hours for the table to become available. But at least I took a quick picture here to let you know what it looks like inside. Downstairs below the restaurant is a bistro, where you can have coffee and some snacks without a reservation and still enjoy the nice views.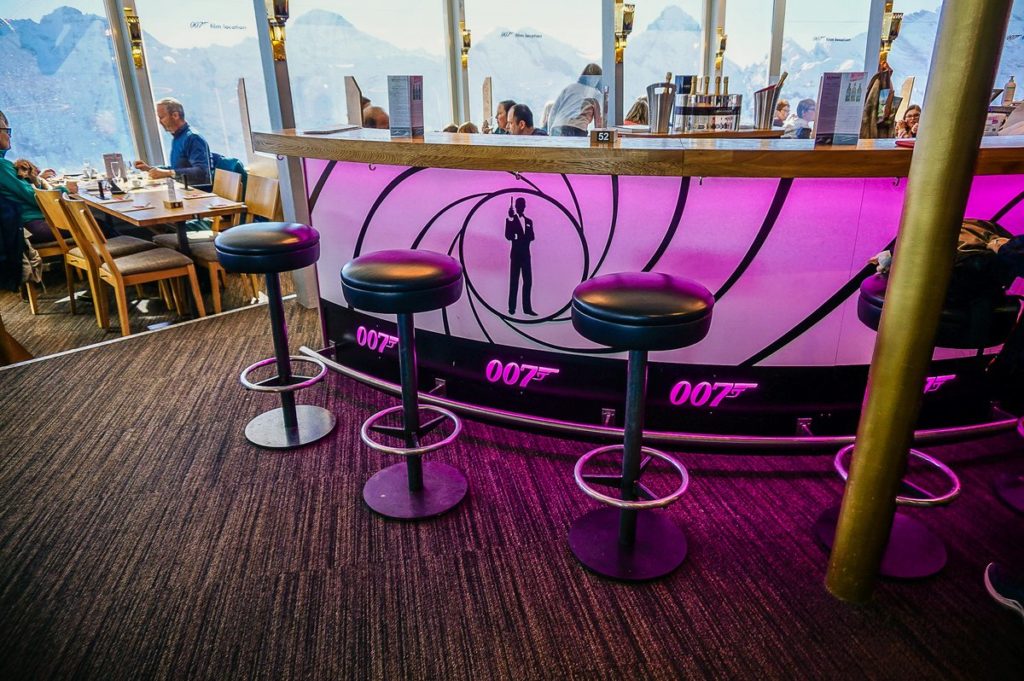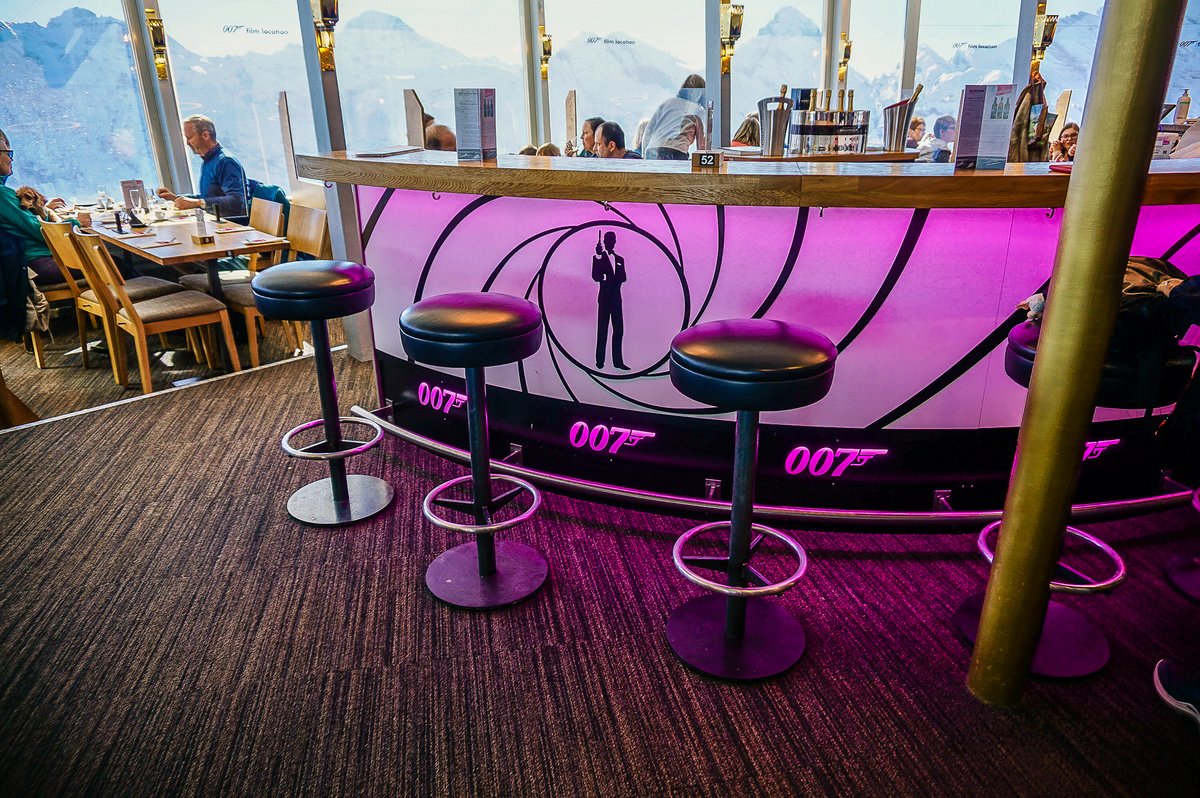 Bond World
James Bond, that's the one everyone comes here for. Schilthorn became famous for the 1963 movie On Her Majesty's Secret Service, which was shot here. For some the best, for some the worst movie in a series of bond movies (I don't know, I haven't seen, I can't judge, for me the Bonds are only three – Connery, Craig and Roger Moore with both eyes closed – and I'm willing to watch movies only with them 😉 ).
And it is in the small museum dedicated to this film that you can learn a lot of interesting things from behind the scenes of this film – for example, how many instructors from local ski schools took part in the filming, how the avalanche had to be pulled down because of the film or how the action scenes on the bobsled track were filmed (Look, maybe I'll end up giving the movie a chance based on the short movies I saw in the museum). A nice bonus is that admission to the museum and the adjacent cinema hall, where beautiful shots of the local mountains in all seasons await you, is free.
Yeah, and before you go back to the valley again, don't forget to go to the bathroom here! It's an experience too, whether you're Bond or Bondgirl! 😉 My husband still can't recover from a woman's voice speaking to him in men's restrooms and asking, "Hey, what are you doing here?"
Middle Station Birg
At an altitude of 2677m a.s.l. lies on the rock massif the Birg station, where in addition to the bistro you will also find the SKYLINE WALK platform, which is located above a vertical slope and the views from here on the Eiger, Mönch and Jungfrau are even better.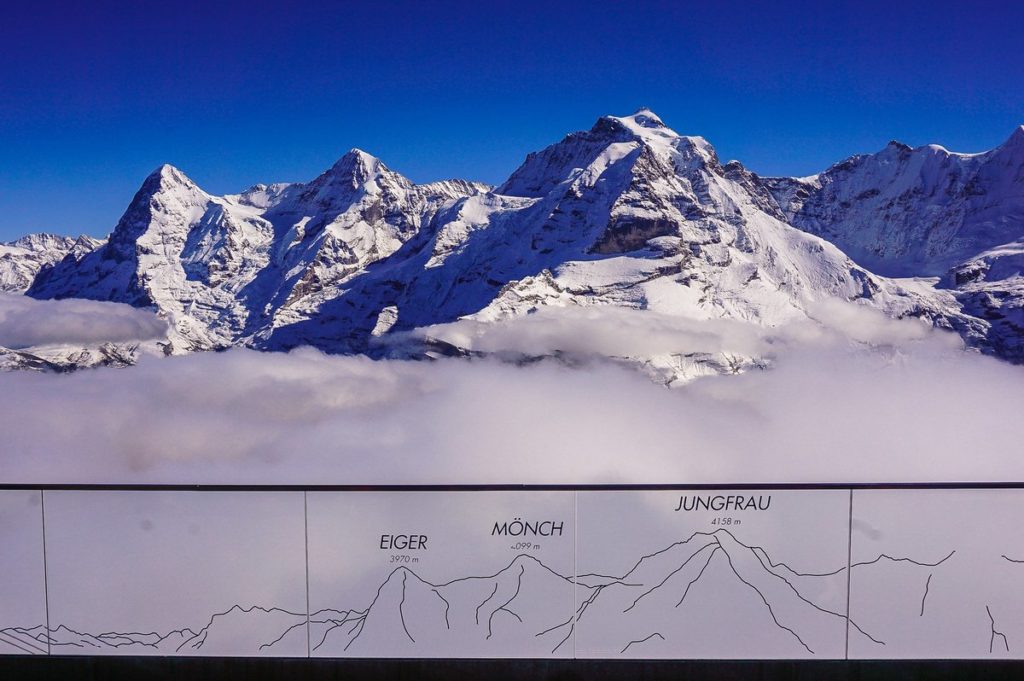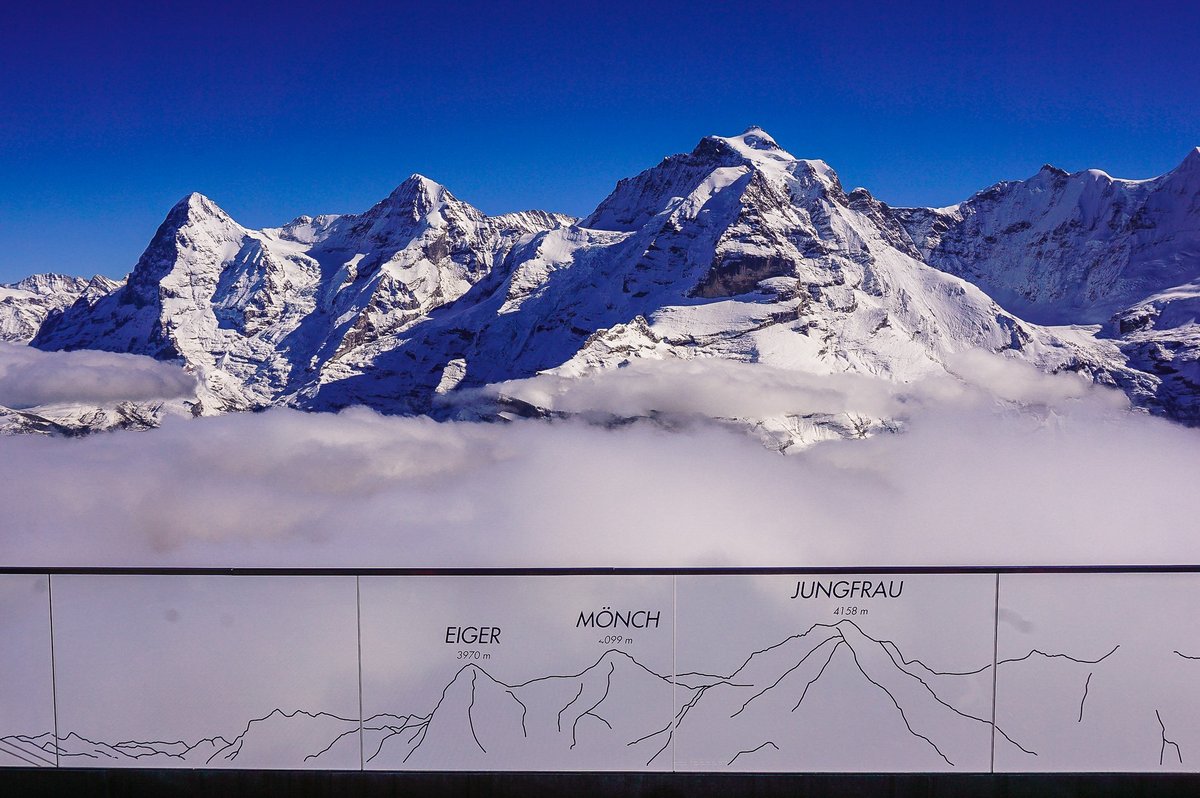 An absolute highlight, however, is the THRILL WALK trail, which leads down past the vertical walls of an impressive rock massif (it reminded me a lot of the First Cliff Walk in nearby Grindelwald).
You might also like in the neighborhoods
Allmendhubel Flower Park – an amazing children´s playground
Hiking with kids: From the Grütschalp to the Allmendhubel
Trümmelbach falls: The amazing power of water
Overall, I think we all liked the trip and we really enjoyed it here. If you also liked the article, I will be happy if you share it, lets start with Pinterest 😉