Before our trips completely shrunk to driving to the ice rink and back, we used one beautiful October afternoon, when temperatures were still hitting twenty degrees and set out on a trip to Lake Thun. More precisely, a few kilometers above Lake Thun, to the village of Sigriswil. Here you can find a suspension bridge, which, with its length of 340 meters, is one of the longest suspension bridges in Switzerland.
Getting to Sigriswil
Sigriswil is located about 40km southeast of Bern (about 45 minutes by car). There is a large, free car park right next to the suspension bridge.
By public transport: From Thun train station, take bus line 25 to Sigriswil or boat to Gunten, from there take bus line 25 to Sigriswil, station "Sigriswil Dorf". If you would like to start your hike in Aeschlen then take the bus No. 21 in the direction of Oberhofen in Thun, here you have to change to line 24.
Our trip began unexpectedly when we had the opportunity (just like the week before in Weesen on Lake Walensee) to watch the so-called Alpabzug – (the alpine descent) the processions of cows crowned with flowers and hung with huge clanging bells, that descend from summer alpine pastures to their village winter barns.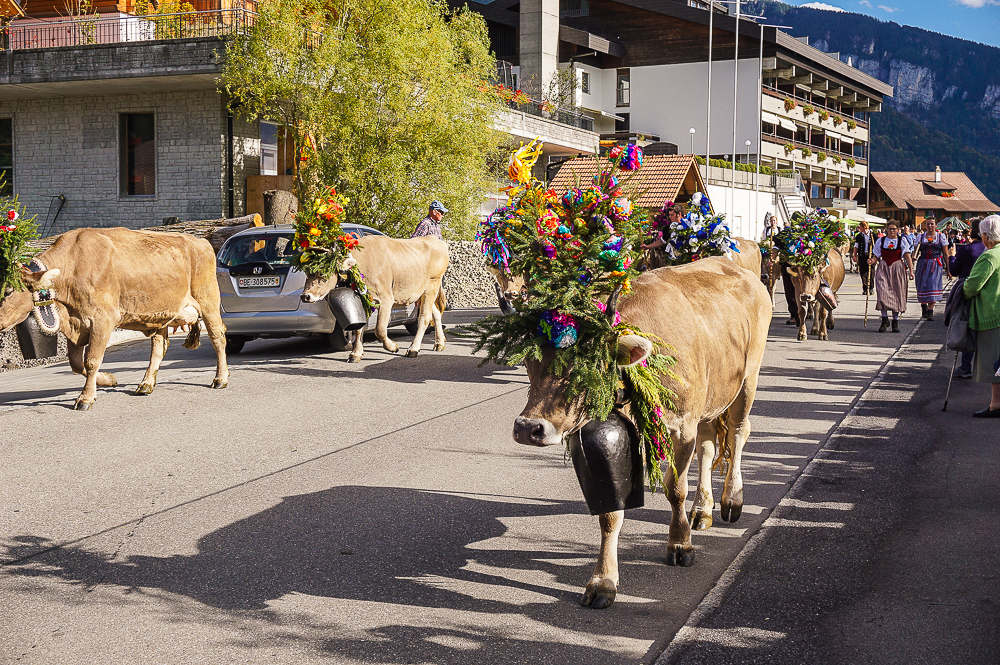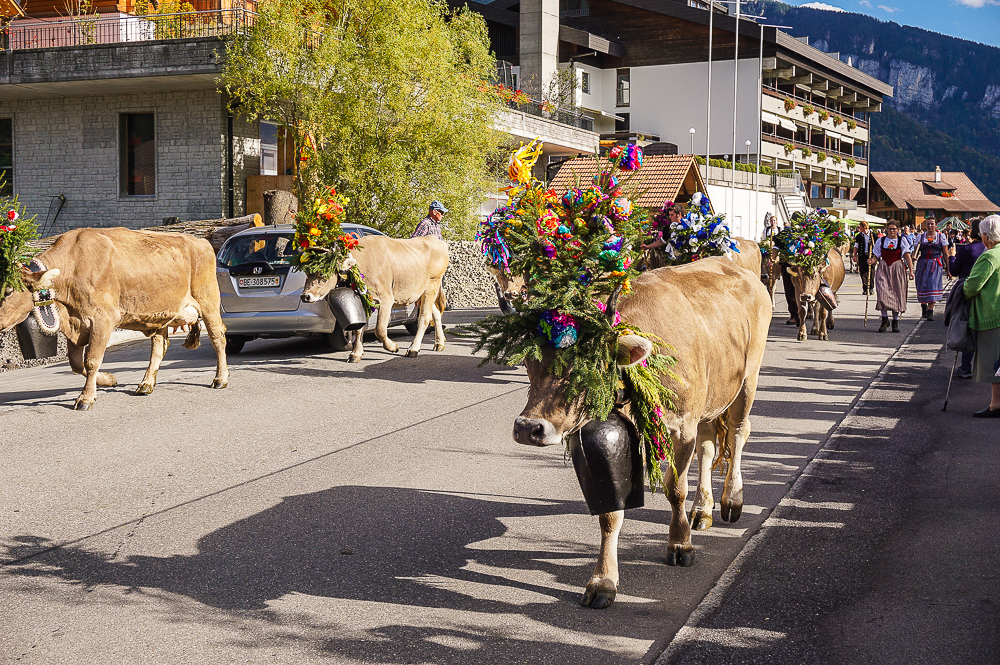 Schluchtrundweg: Gorge Loop Trail Sigriswil – Aeschlen
Originally we intended to hike a short route through the Gummischlucht Gorge, as I found it on the Wandermagazin SCHWEIZ website. But when we wanted to turn to the ravine, a warning sign appeared in front of us (only back at home I found out that the trail was not viable probably due to the consequences of bad weather in the previous days). So we went around the gorge instead of into the gorge.
We headed along the Dorfstrasee towards Tschingelstrasse, following the sign "Sigriswil – Aeschlen Schluchtrundweg".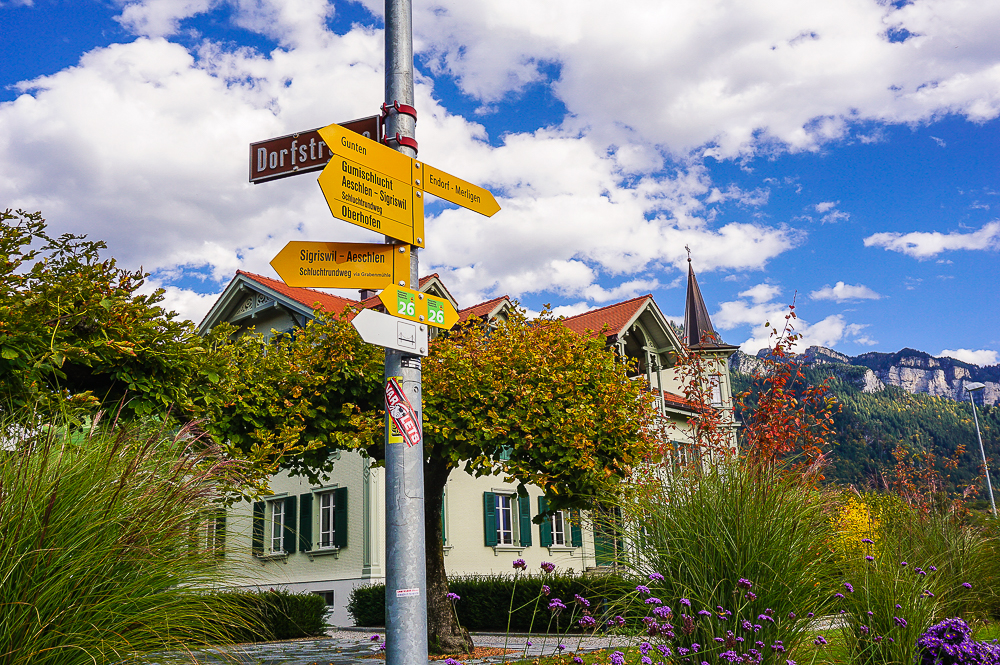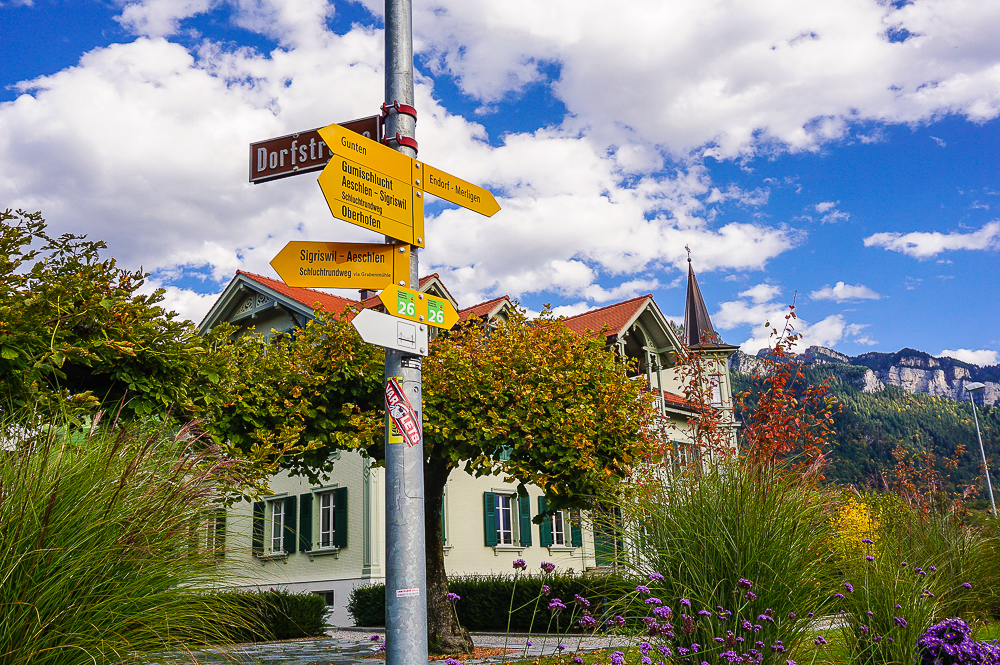 On the Tschingelstrasse we turned left and set out along the asphalt road slightly downhill towards Grabenmühle.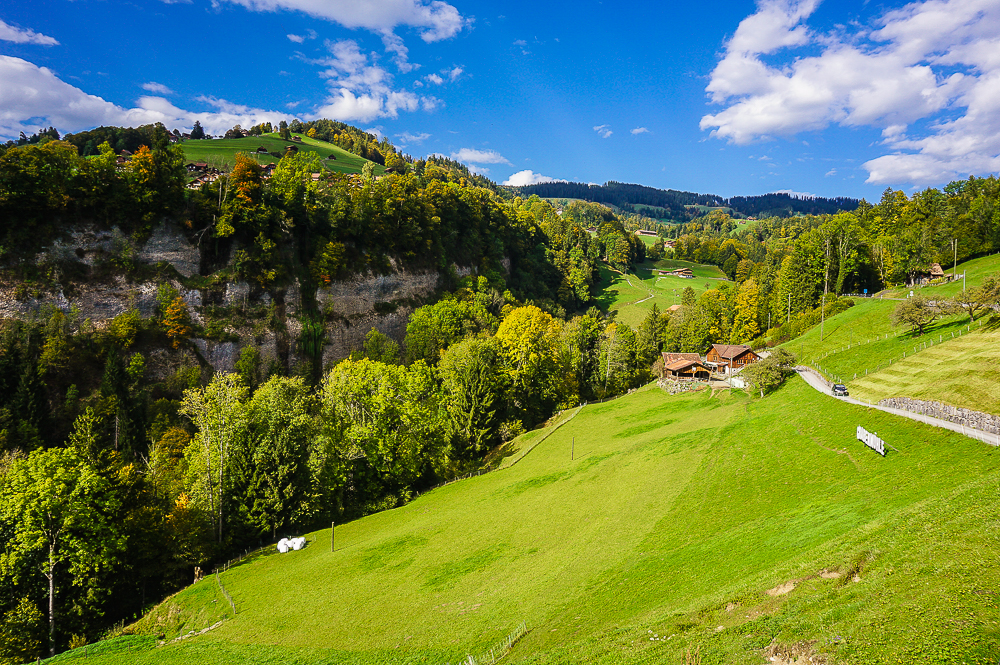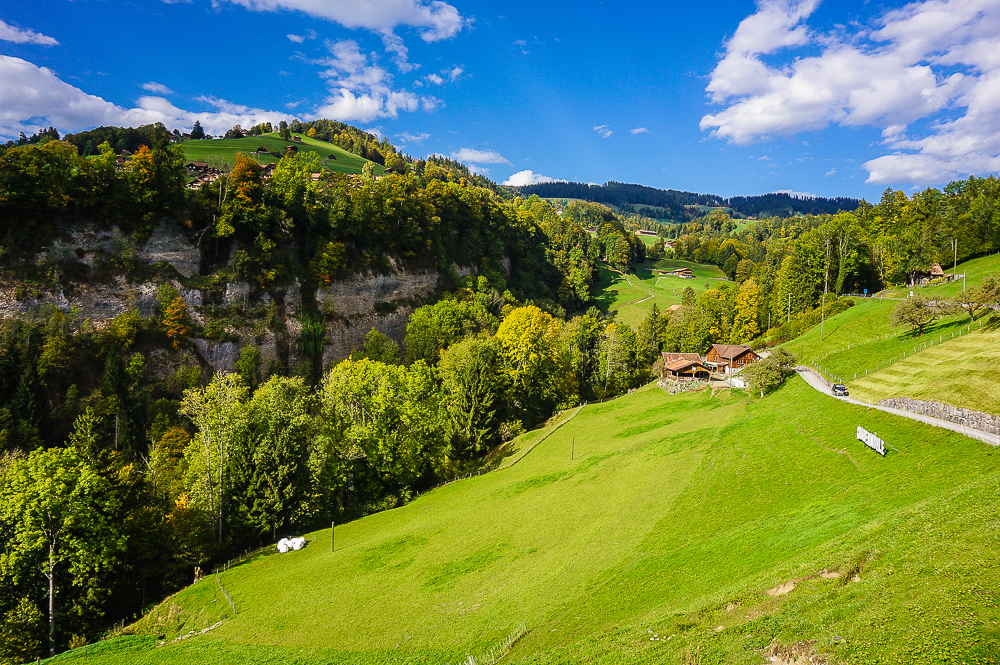 As we turned back, we saw the suspension bridge over which we would then return.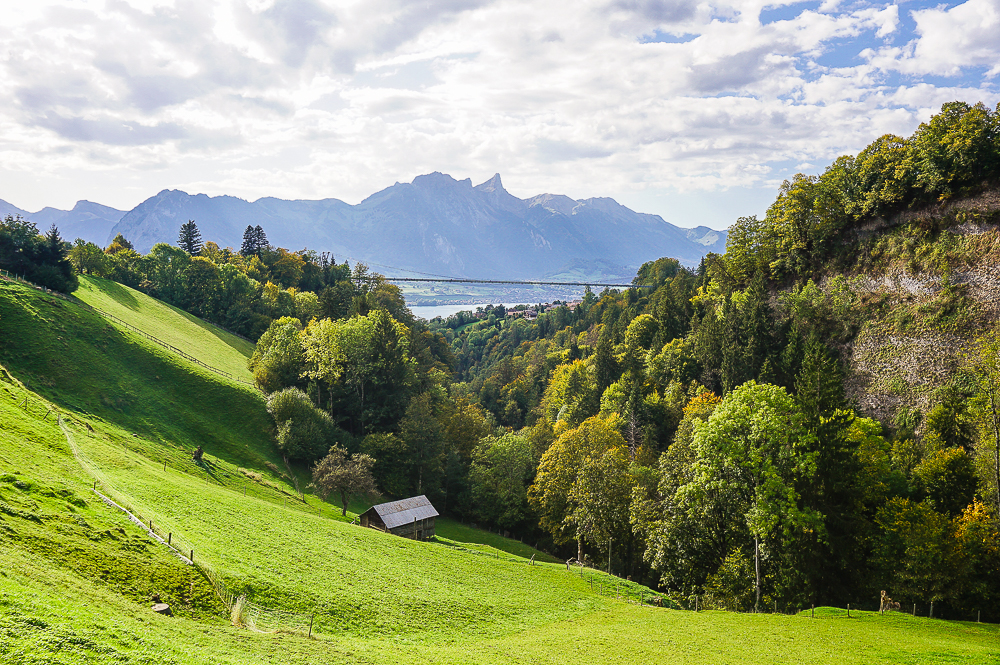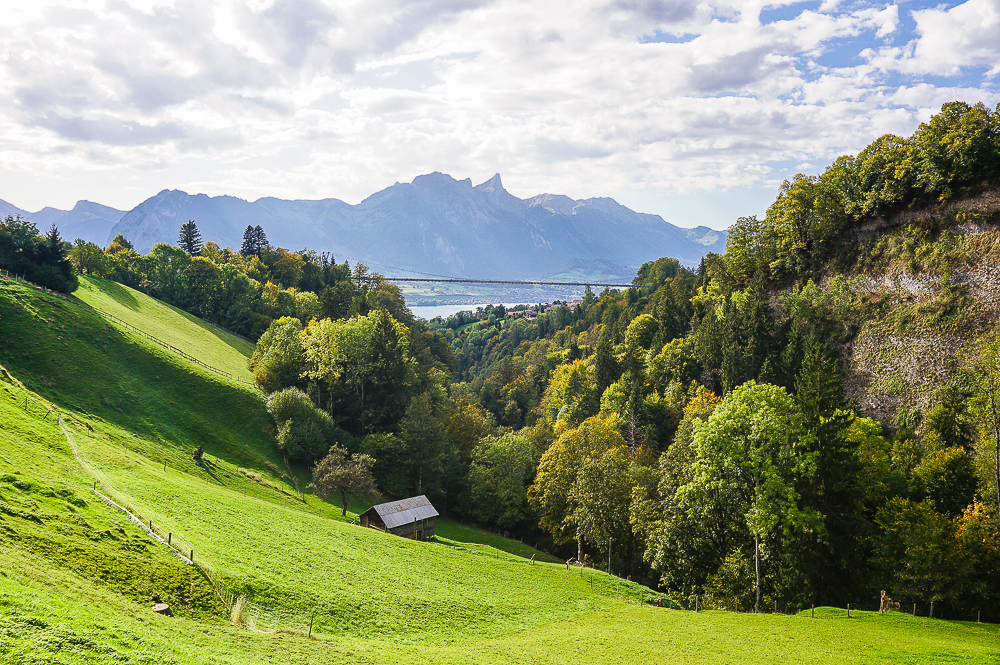 Grabenmühle
After a few minutes, we reached Grabenmühle, which is – as you can see from the picture – a former mill. Depending on the number of cars parked, the location is clearly a popular trip destination. Although it is a mill, the rest of the premises are conceived here as a settlement from the Wild West and Gold Panning periods. The entrance fee costs CHF 5 for adults and CHF 1 for children. Provided you eat at the restaurant, you have free entry.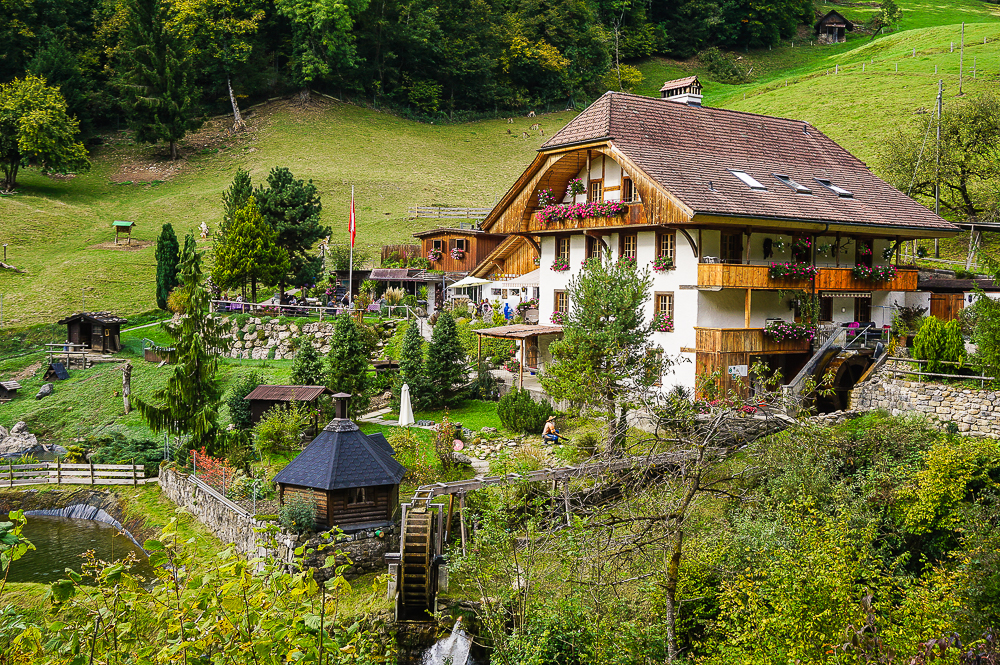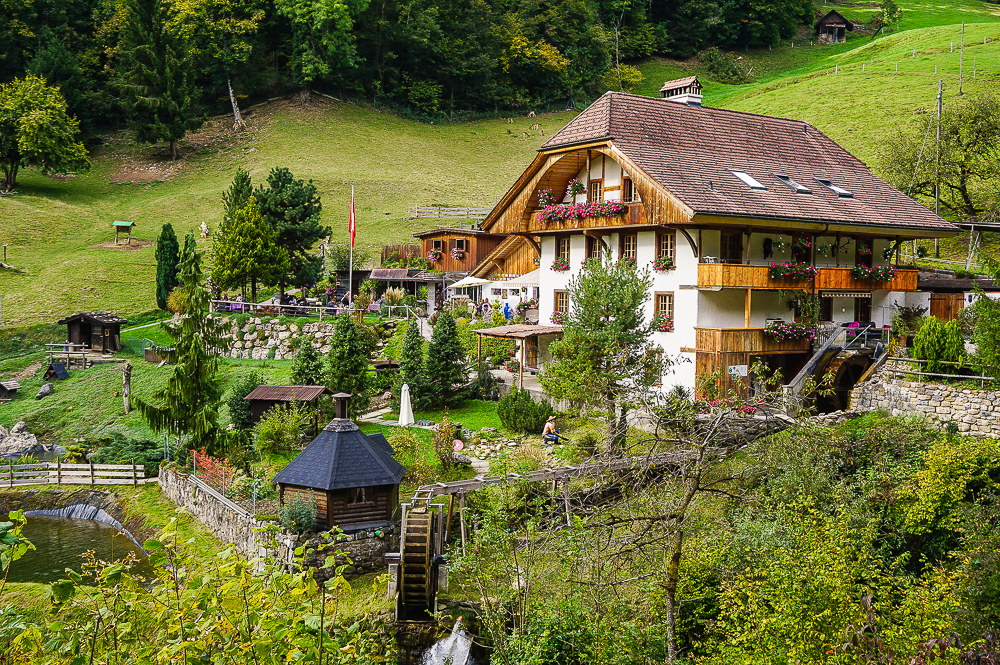 From Grabenmühle begins the climb, about half a kilometer up through the pastures.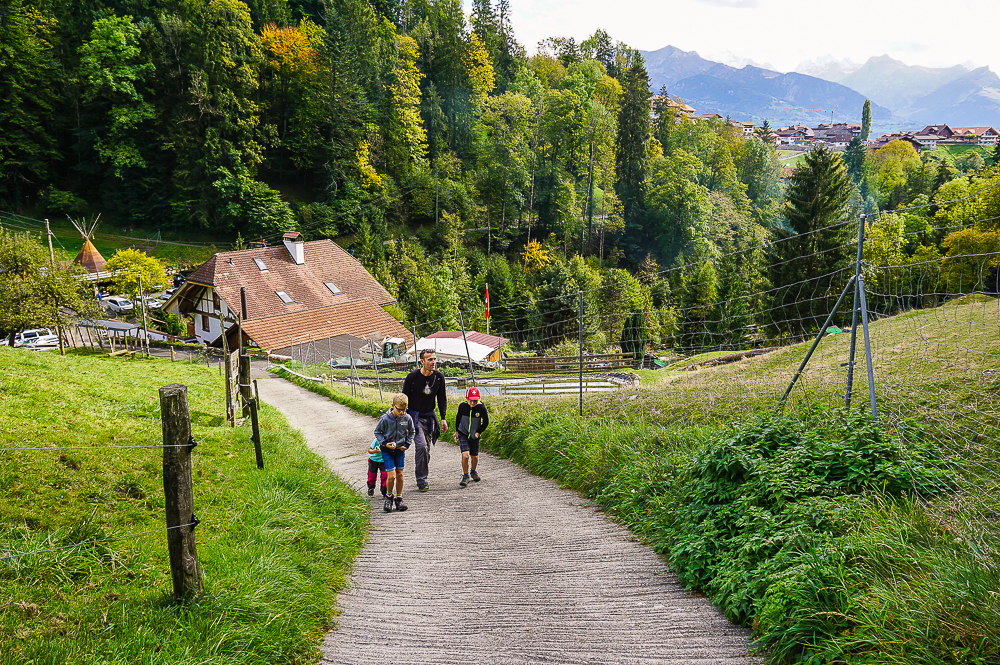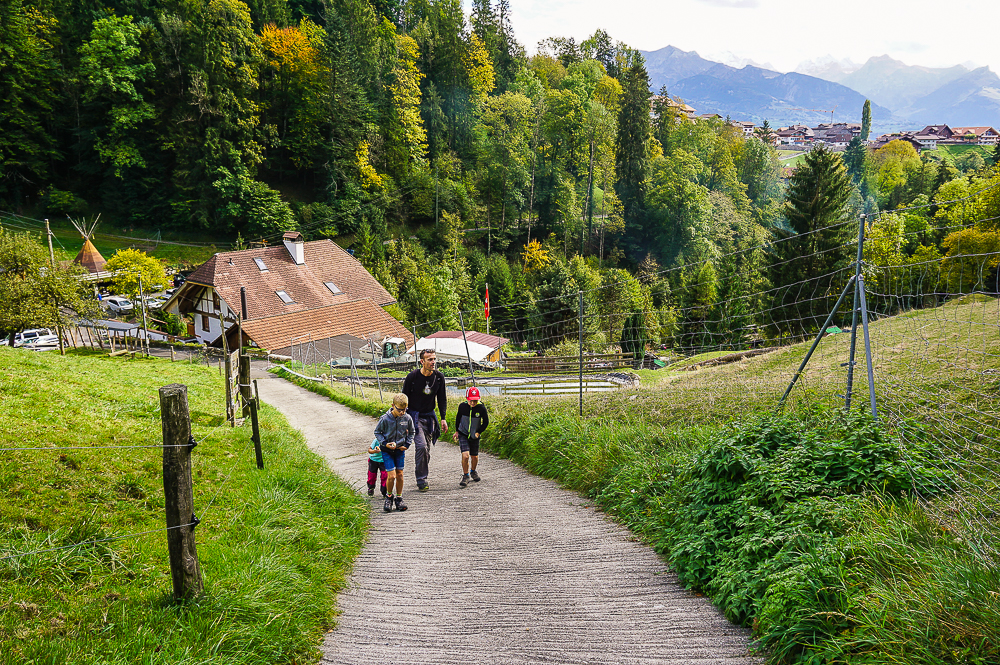 Unterdorf
When we reached the village of Unterdorf, the children relaxed because we reached the highest point of our hike. And from here we had beautiful views of Sigriswil, Lake Thun and the Bernese Alps.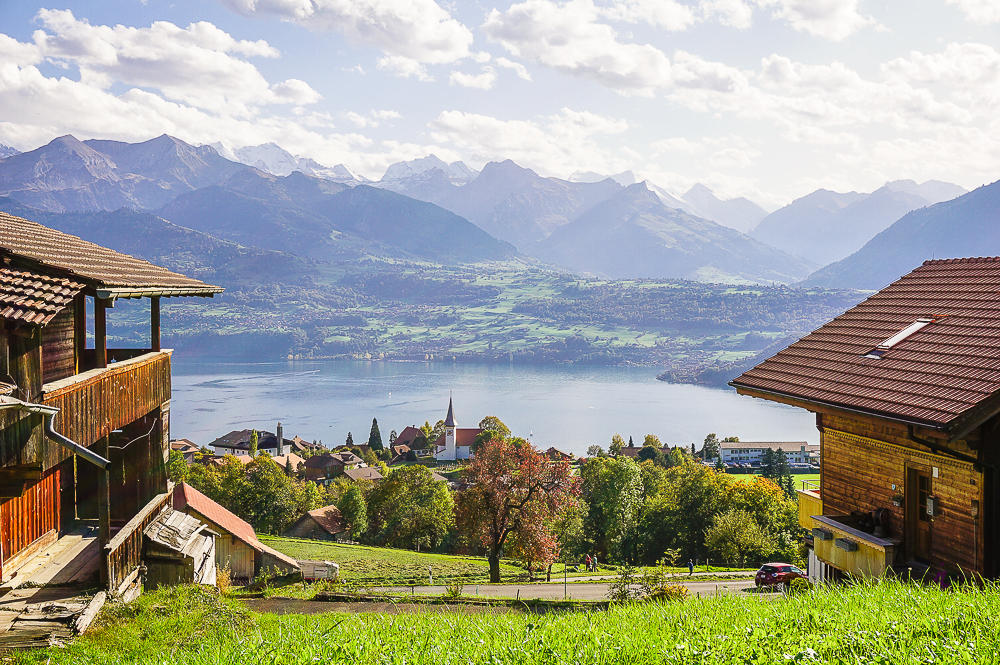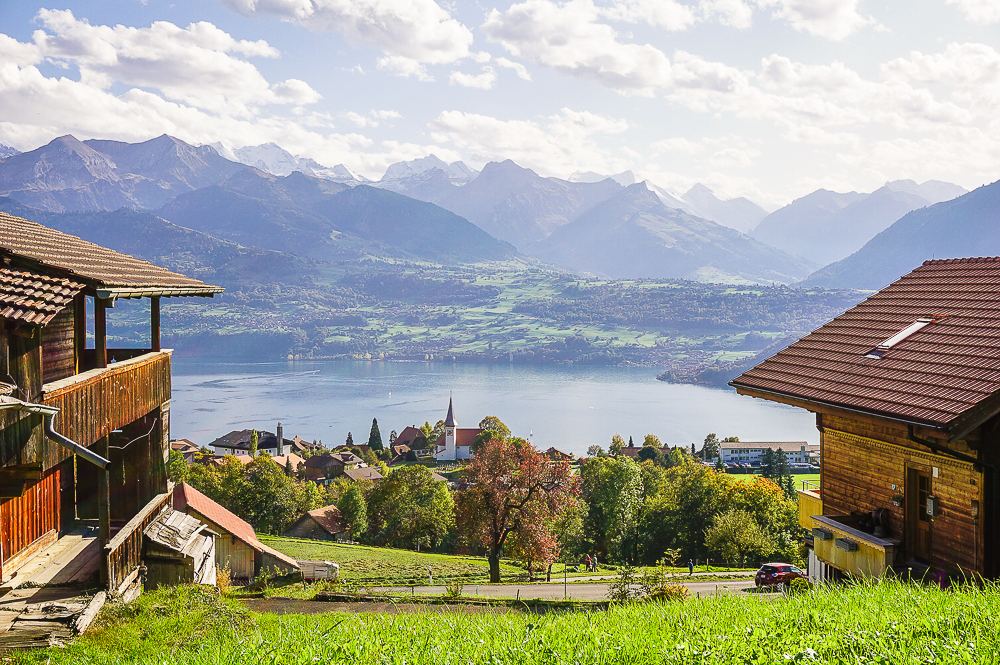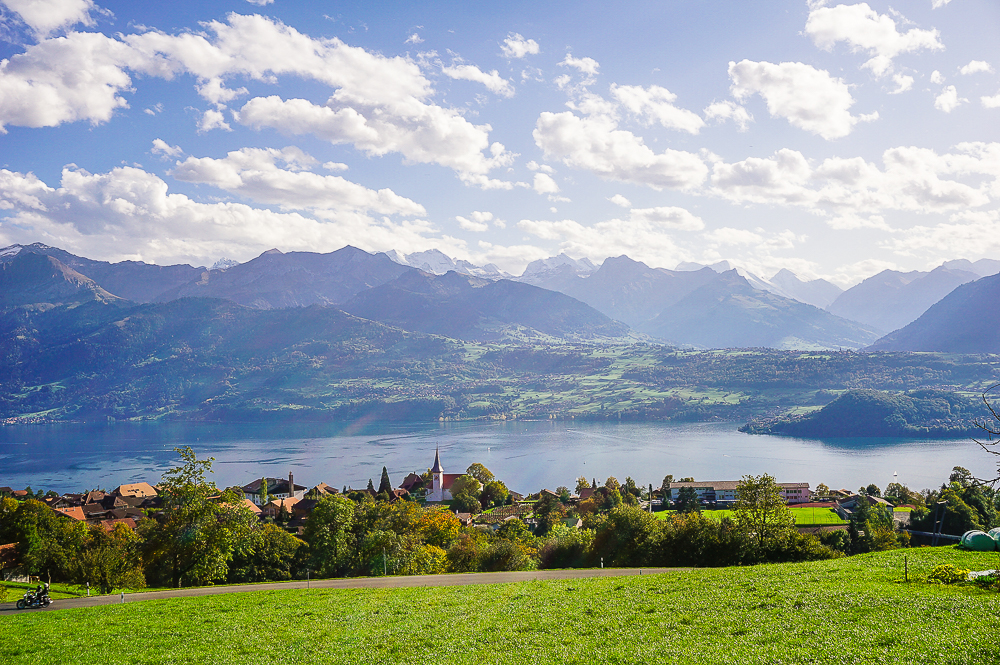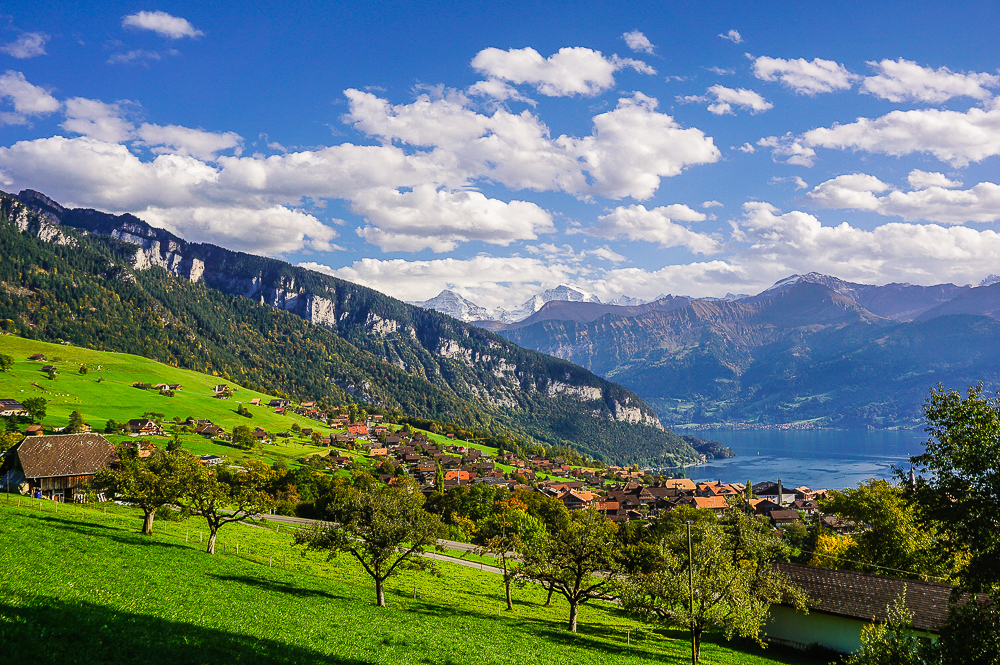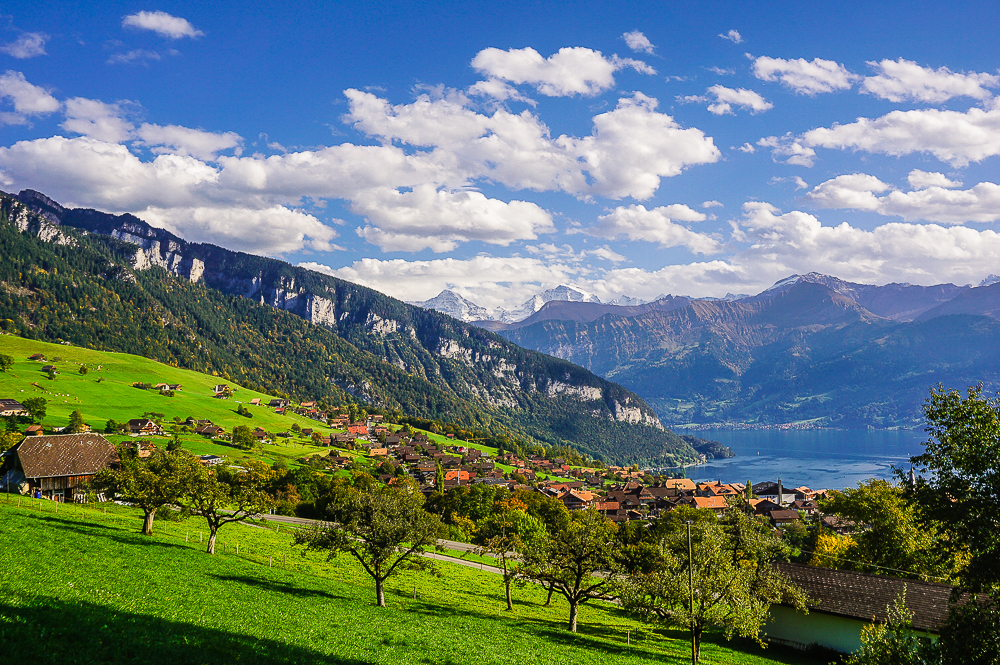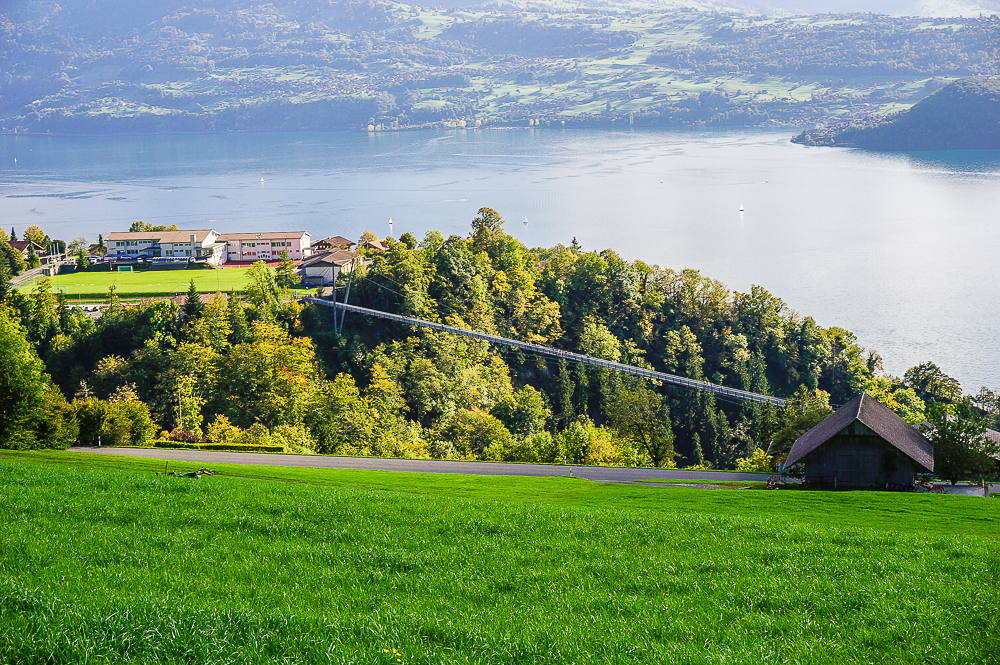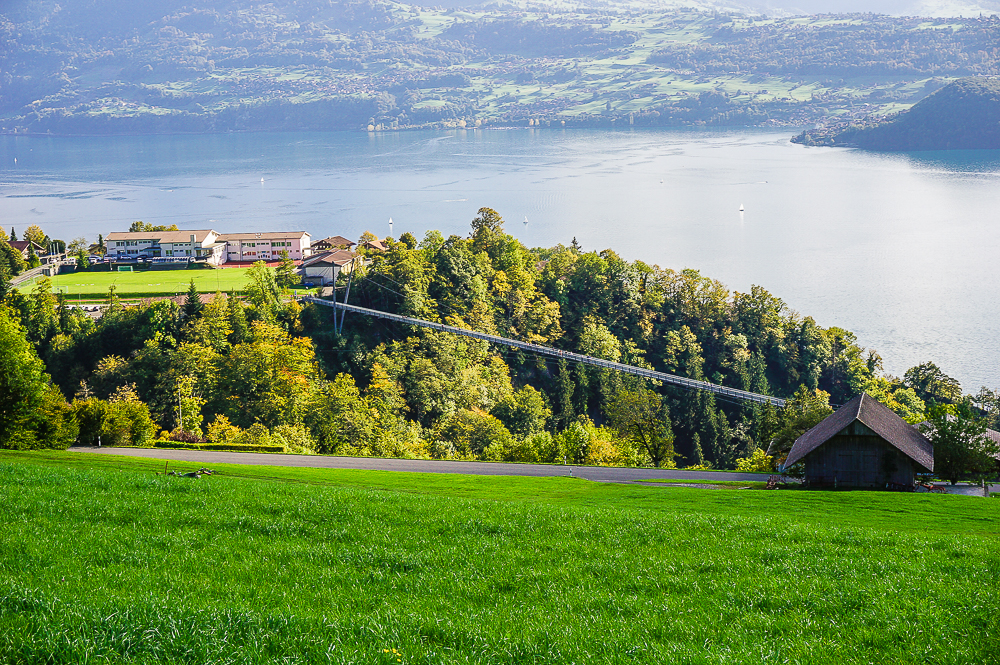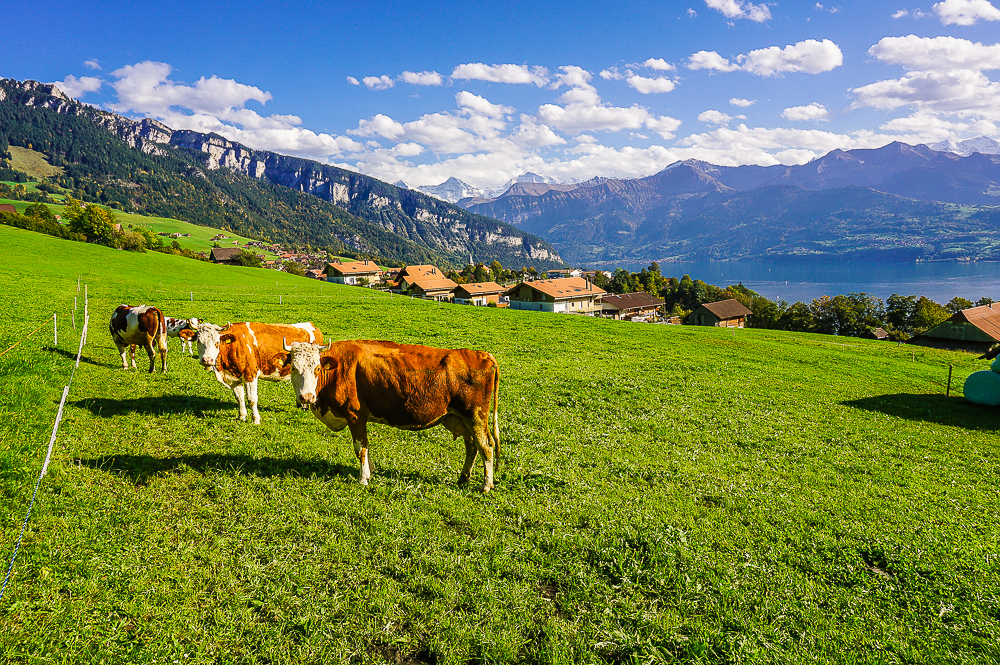 Hotel Panorama
After about two kilometers, we reached the Hotel Panorama. Here the children enjoyed the playground for a while, and we could enjoy the views before we set out to highlight of our trip.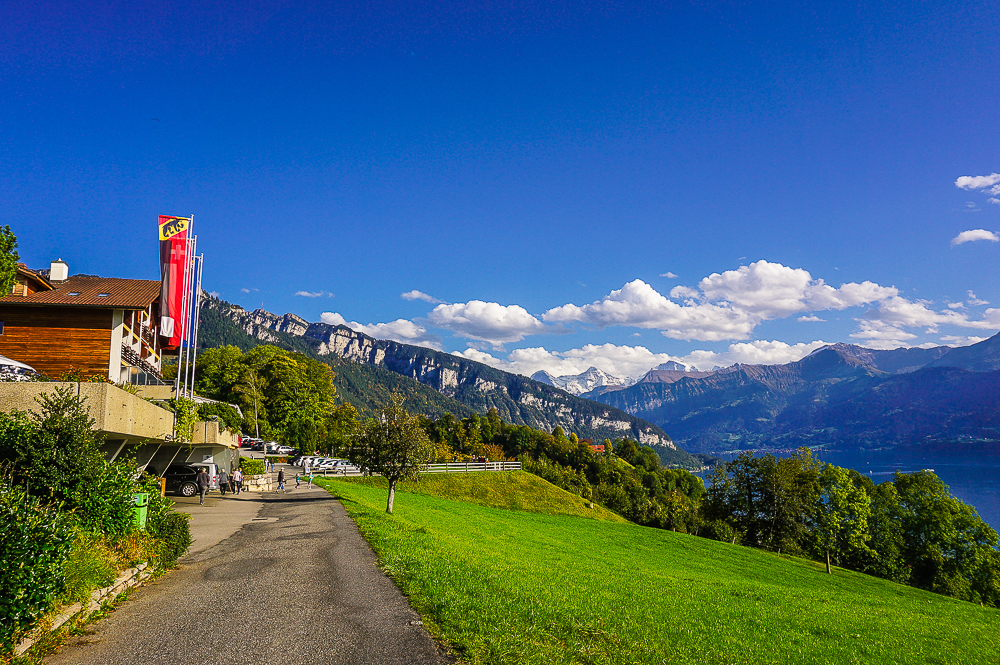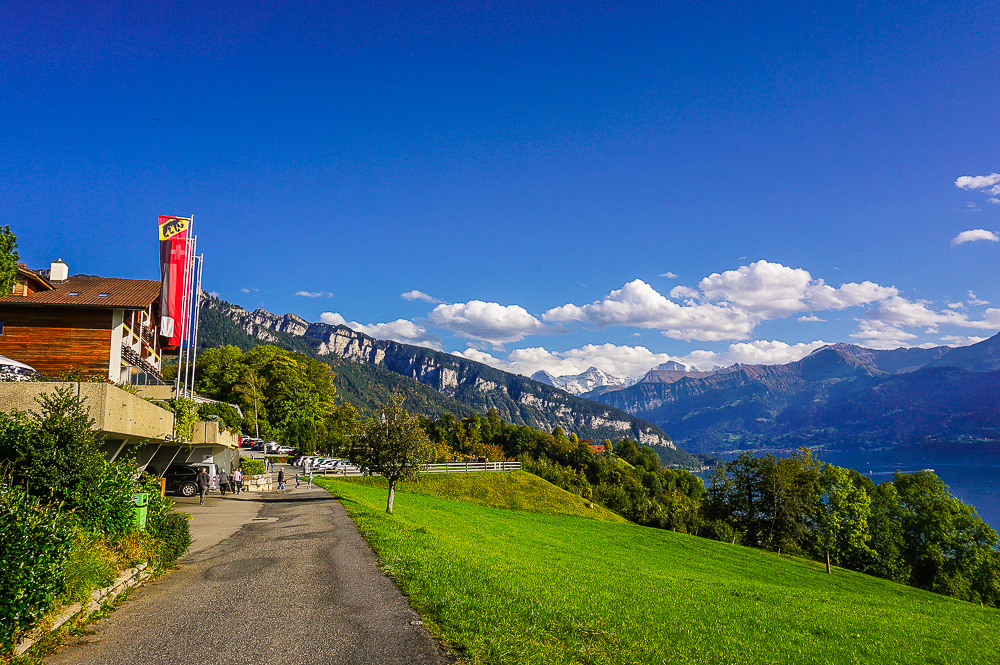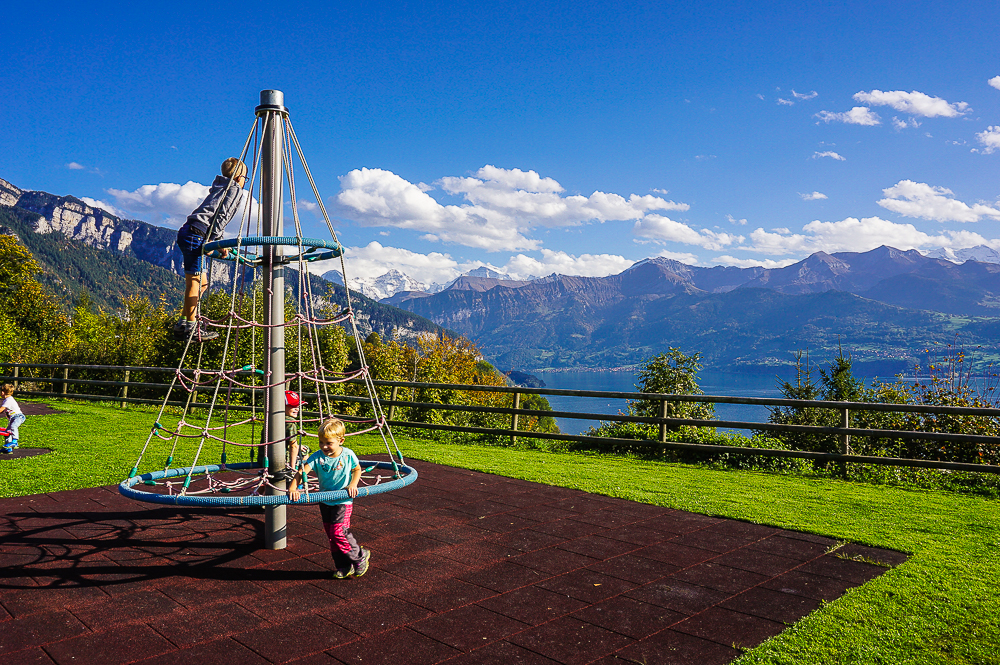 Panoramabrücke Sigriswil
The metal pedestrian bridge is 340 meters long and was opened on 14 October 2012 and connects Sigriswil with Aeschlen over the Gummischlucht Gorge. The bridge was built as part of the Panorama Rundweg Thunersee project. The Panorama Rundweg consists of four stages through the Bernese Oberland with views of breathtaking alpine panoramas, historic sites, and caves. Suspension bridges shorten hiking trails through gorges and form a loop around Lake Thun. At the moment, three suspension bridges are open: Panoramabrücke Sigriswil, Panoramabrücke Leissigen (144 meters long, opened in 2011) and Panoramabrücke Beatenberg near St.Beatus Höhlen (80 meters long, opened in 2017). *
Apropos: did you know that there are 57 suspension bridges in Switzerland? You can find their list here.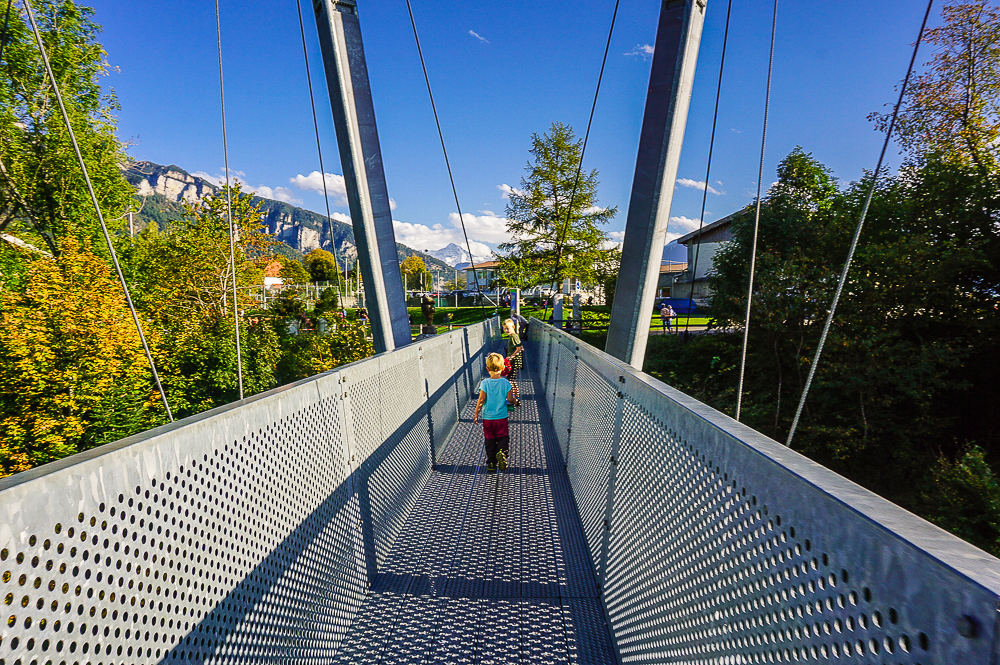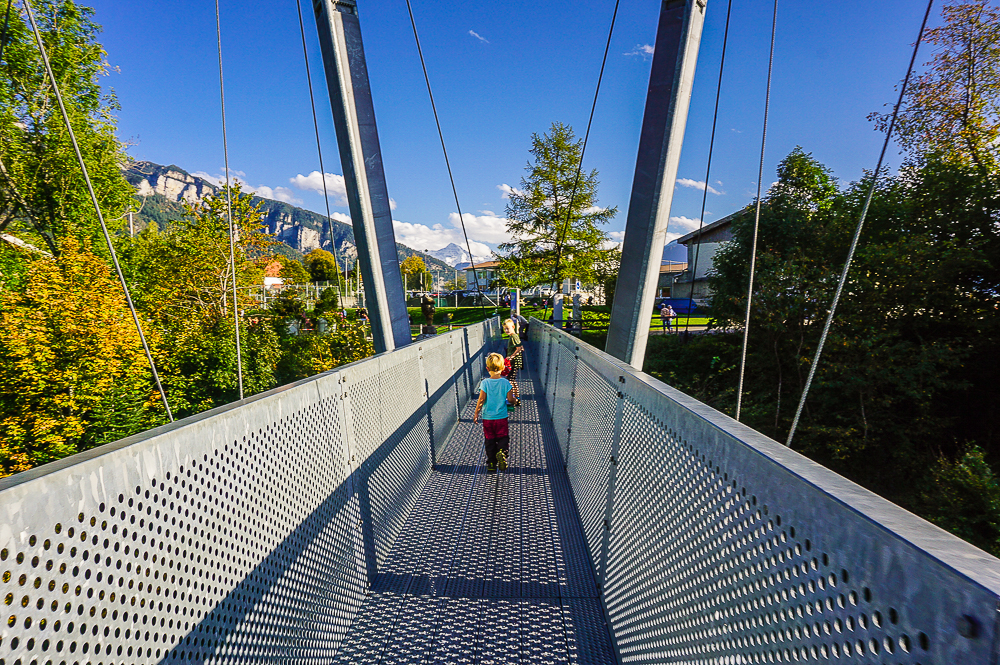 And now the right adrenaline started. At least for me, who is not afraid of heights, but has a panic of metal bars under her feet. If the bridge was made of glass or wood, it doesn't bother me as much as this 340-meter long perforated piece of sheet metal so that you can better see the rocky deep abyss below. I don't know what a strange phobia this is, but to say that I enjoyed crossing a swinging bridge would be bold.
After crossing the bridge, a ranger waited for us to collect "bridge tolls". Children up to 16 years of age have free access to the bridge, adults pay 8 CHF. But this is a full-day ticket, so at this price, you can cross the bridge as many times as you like during the day (I don't have to say that for me, crossing the bridge once was more than enough 😀 ).
At the end of our hike, still met "good old friends" 🙂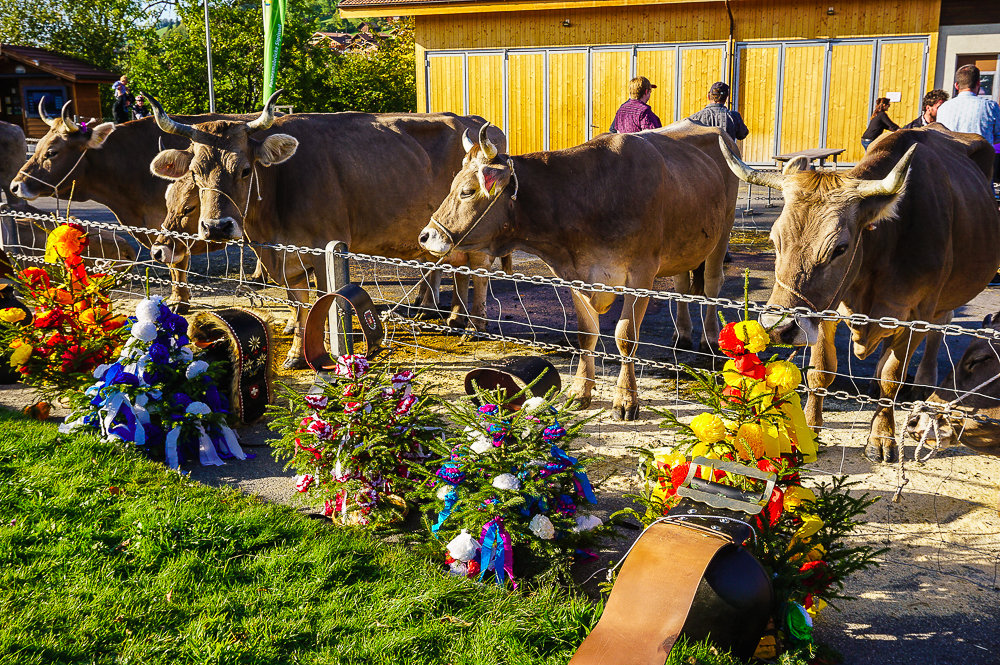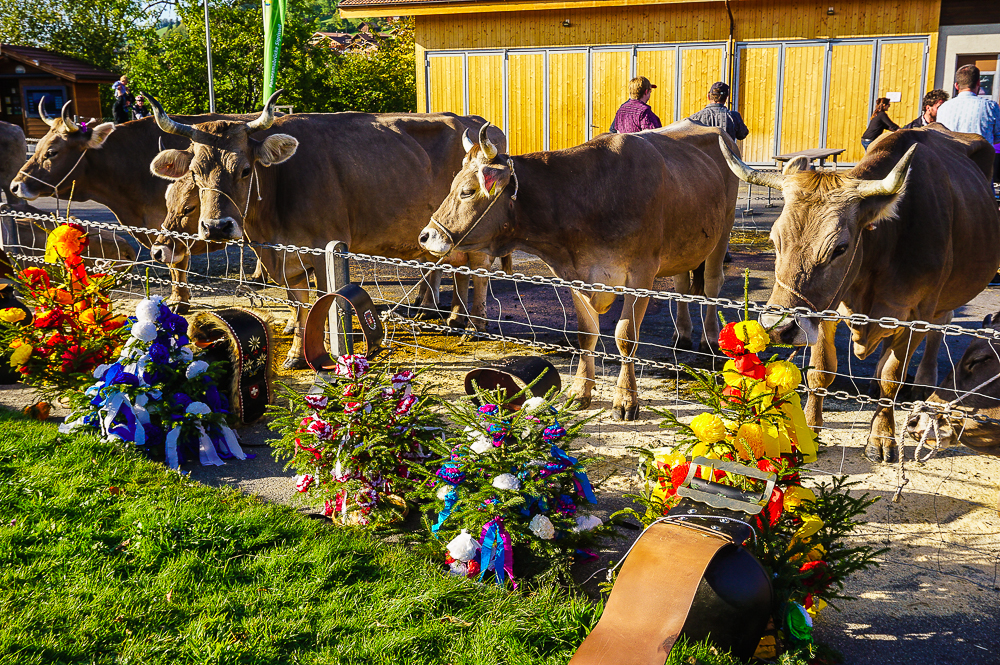 Summary
The loop trail is 3.8 kilometers long and is not suitable for strollers.
Altitude profile and 3D hike map can be found on the Wandermagazin SCHWEIZ website.
If the parking lot at the suspension bridge is full, it is still possible to park a few dozen meters away by the local school.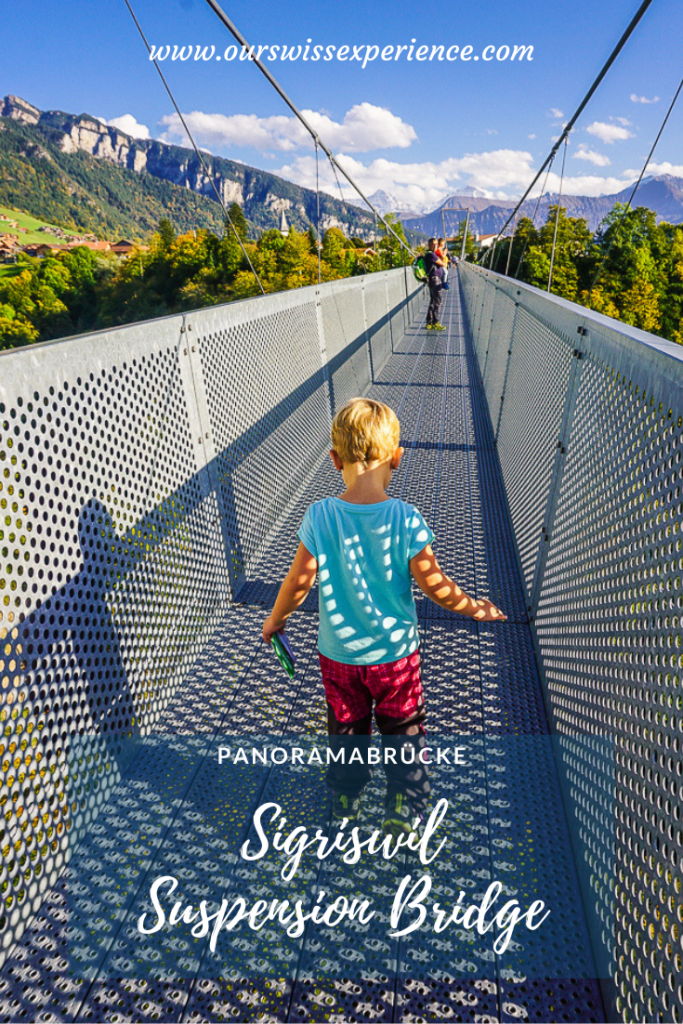 *Source: Brückenweg.ch