Of course, I am exaggerating a bit, but I had this feeling when I first saw the giant with its characteristic and unmistakable shape towering above Zermatt. Another item on my Swiss bucket list checked, and I don't have to see more from Switzerland (haha, of course, I have to, there are still a lot of places that I would like to visit). But guys, this is the Matterhorn! For most people, seeing the Matterhorn is a once-in-a-lifetime experience.
And when I was thinking about a trip to celebrate our five-year anniversary in Switzerland, I had no doubt where I wanted to go.
Before the trip
Before we set out, I carefully read the blog posts of my blogging colleagues to get as much information as possible (you can find the list of these inspirational posts at the end of this post). Maybe you find it a bit exaggerated, after all, like "a day trip, and so what, you've already made plenty of those". But not a trip to Zermatt! Mainly because the way how to get there is not the easiest one. And I also know that my colleagues have children themselves, and I know that I can rely on their judgment about places and family-friendly activities.
Getting to Zermatt
Zermatt is a car-free village, so you have to park your car in the village of Täsch, about 6km from Zermatt. Here is a large Matterhorn Terminal parking lot near the train station. It cost 15,50CHF to park there for the day.
From Täsch, shuttle trains run every 20 minutes and the journey takes 12 minutes. Return tickets cost CHF 16.40/adult, CHF 8.20/child, Swiss Travel Pass holders travel for free, Half-fare and Junior cards are accepted. More information here. You can also splash out and take a ride to Zermatt with an electric taxi or a horse-drawn carriage 😉.
We decided to go to Zermatt by train. Of course, I was wondering if such a one-day trip is worth spending 6 hours on the train. But yes, it is definitely worth it! Mainly because our municipal office (Gemeinde) had free day passes (Tageskarte) for the planned day of the trip (you can read about traveling through Switzerland with the day pass for 45 francs in this post), so my biggest concern was "only" the weather forecast.
From Bern, the train ride takes slightly above 2 hours. If you leave Bern at 8:06 with the InterCity train, with switching to the regional to a regional train in Visp, you will be in Zermatt at 10:14.
Zermatt
Tourists from all over the world travel to Zermatt to see the Matterhorn – a majestic mountain with a characteristic Toblerone-shape that is typical of Switzerland as the Eiffel Tower is typical of France. The once small mountain village is now a place where the tourist season is in full swing all year round and where people from all over the world meet.
As soon as our train arrived in Zermatt we headed for the Tourism Office next to the station. The number of tourists buying tickets for the well-known cog railway at Gornergrat has confirmed our initial idea of going in another direction, to Sunnegga.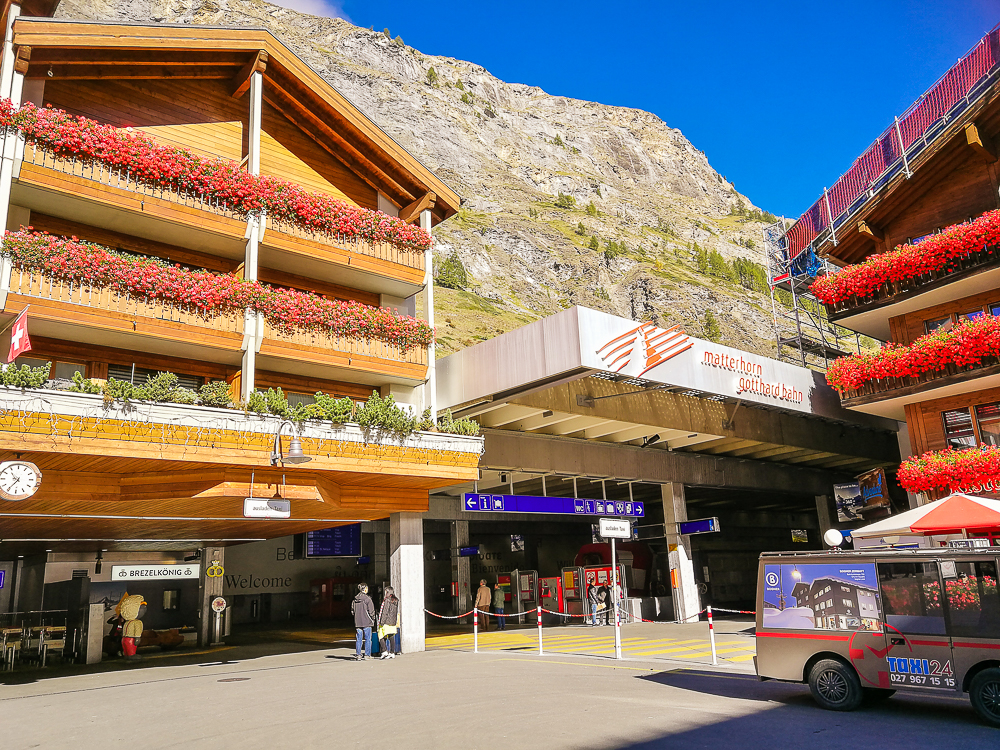 Sunnegga
Along the way to the funicular station, we had a view I had been waiting for five years!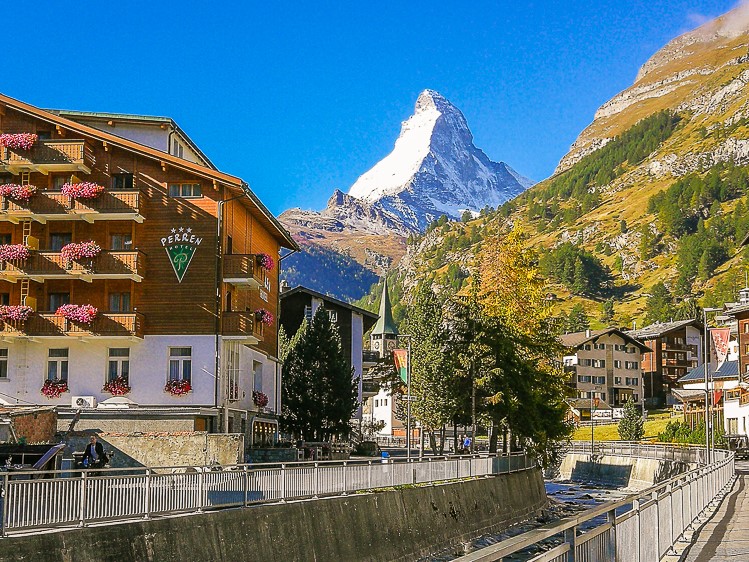 A one-way funicular (which is also called "metro" because it runs through a tunnel in the mountain) ticket costs 8 francs with Halb-fare card. SBB Day passes are not accepted here, but children under 8 years of age are free and Junior Cards are accepted. With the Swiss Travel Pass, you get a 50% discount.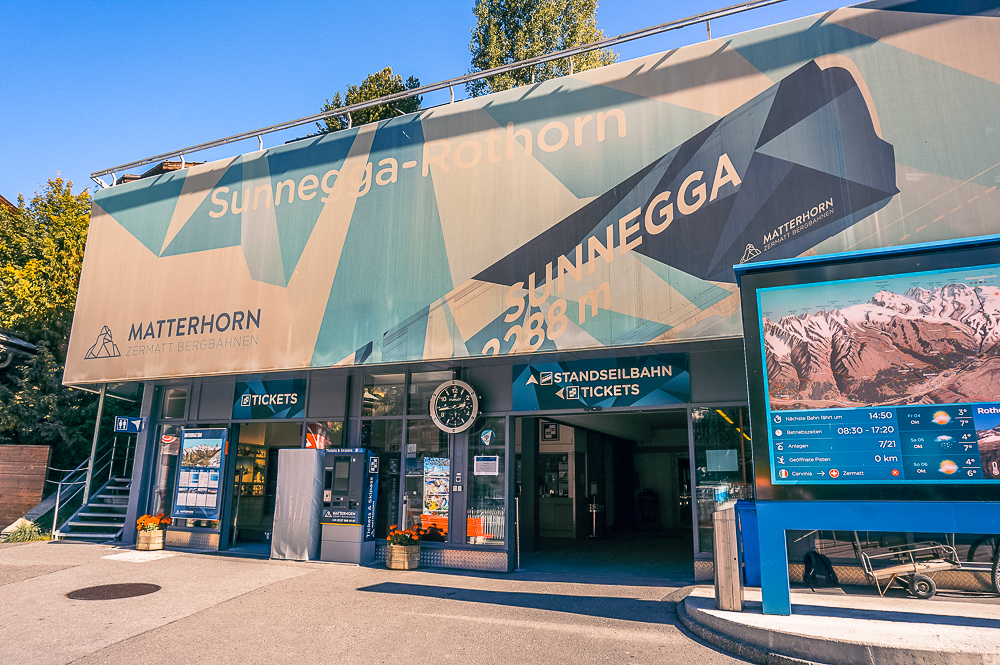 A quick four-minute ride takes you to a height of 2,288 meters above sea level. And here you can enjoy the wonderful views of the Matterhorn.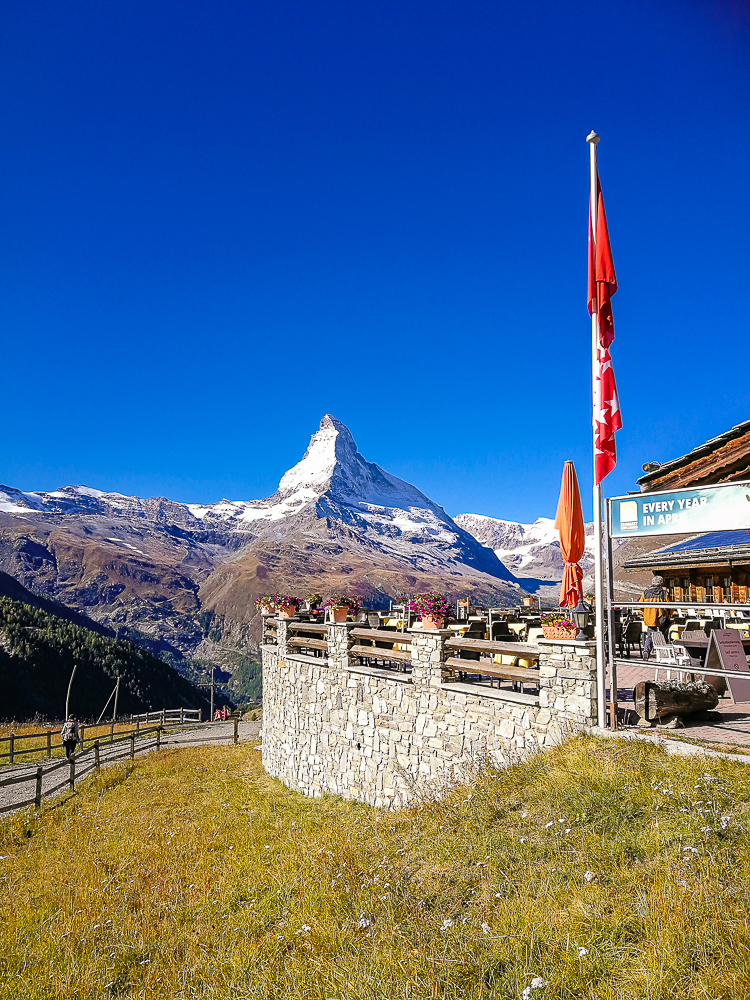 Leisee lake & Wolli's Adventure Playground
The Wolli Lamb is the mascot of the local children's ski area and playground. To get to the lake, you can either walk through the tunnel to the elevator leading directly to the playground (a great option for those with a stroller) or take a 5-minute walk there.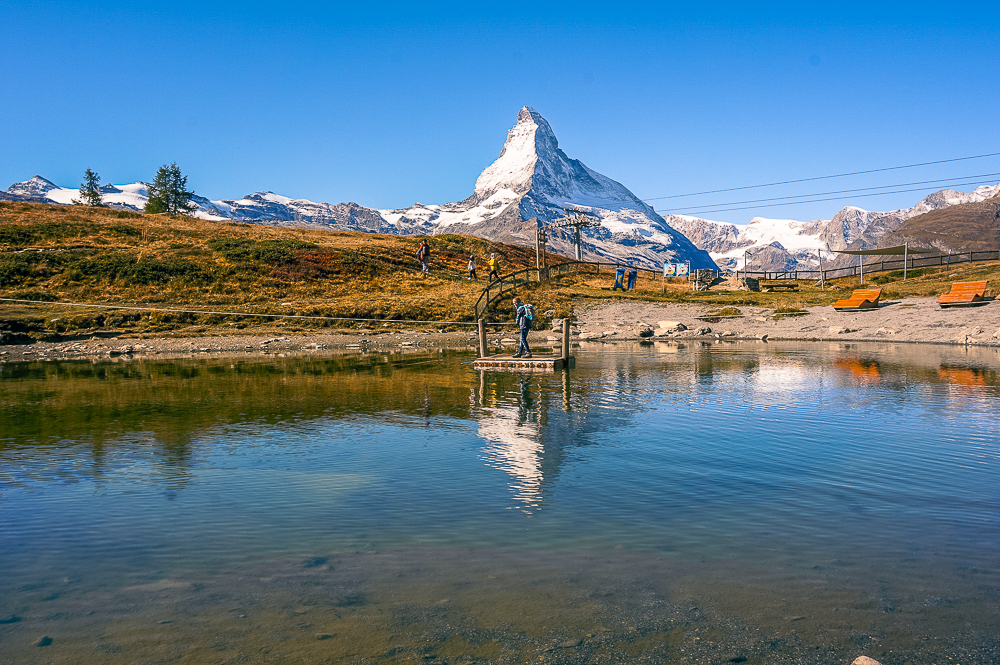 Needless to say that this place is great for taking pictures where you can capture Matterhorn twice – one in the background and the other reflecting on the surface of the lake.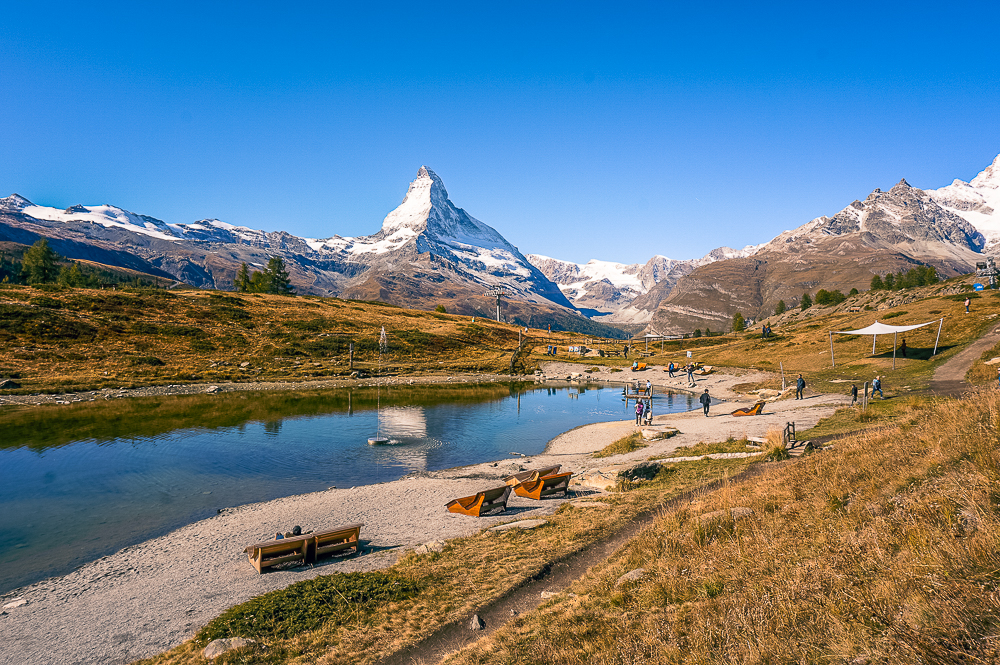 And the playground itself is absolutely fantastic. Our children spent most of their time on the slide, playing with the water features and pulling themselves on the rope raft back and forth across the lake (and "forced" me and my husband to try it too).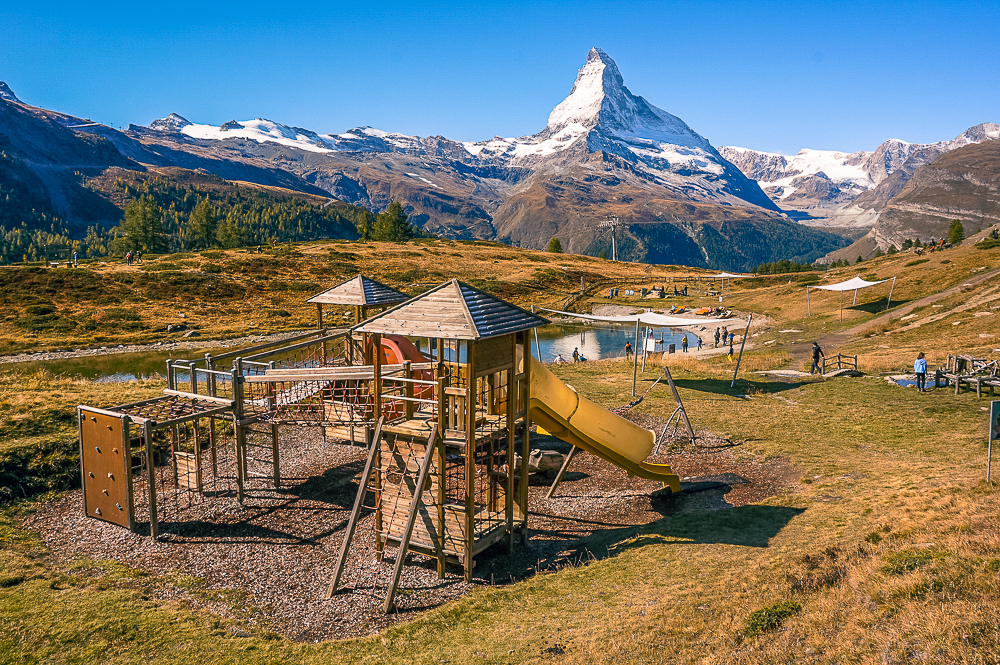 There are wooden sun chairs, a picnic hut and plenty of grills. We didn't make a barbecue here, but at least we drank a toast to celebrate our five-year anniversary.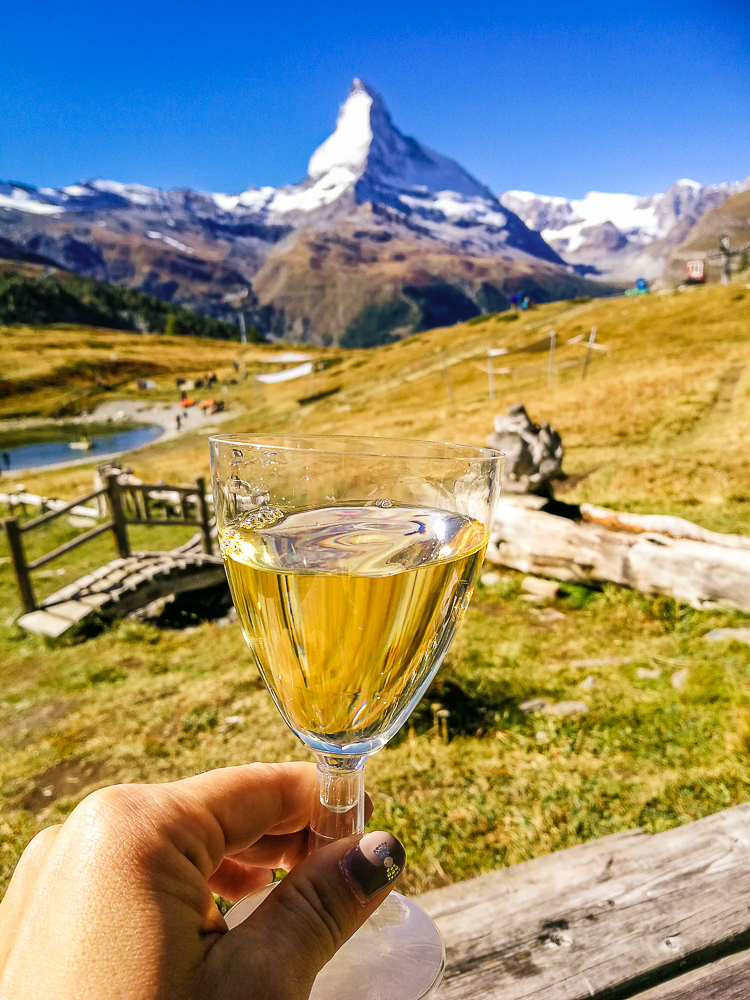 Hiking back to Zermatt via Findeln and Tiefenmatten
When I was planning our trip, I didn't have any hike in my mind. I thought we'd just walk to Lake Leisee and take the funicular back. But when the lady behind the counter assured us that the hike didn't take long (ca 2 hours), and we had a lot of time before the train was supposed to leave, we set out on the road. Right behind Lake Leisee, we headed right to Findeln.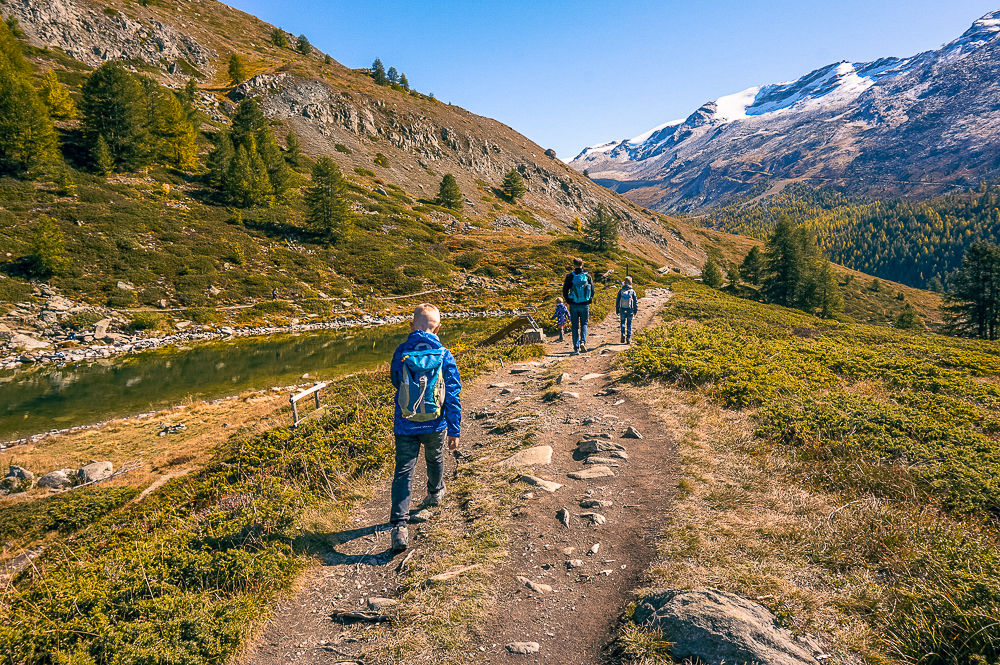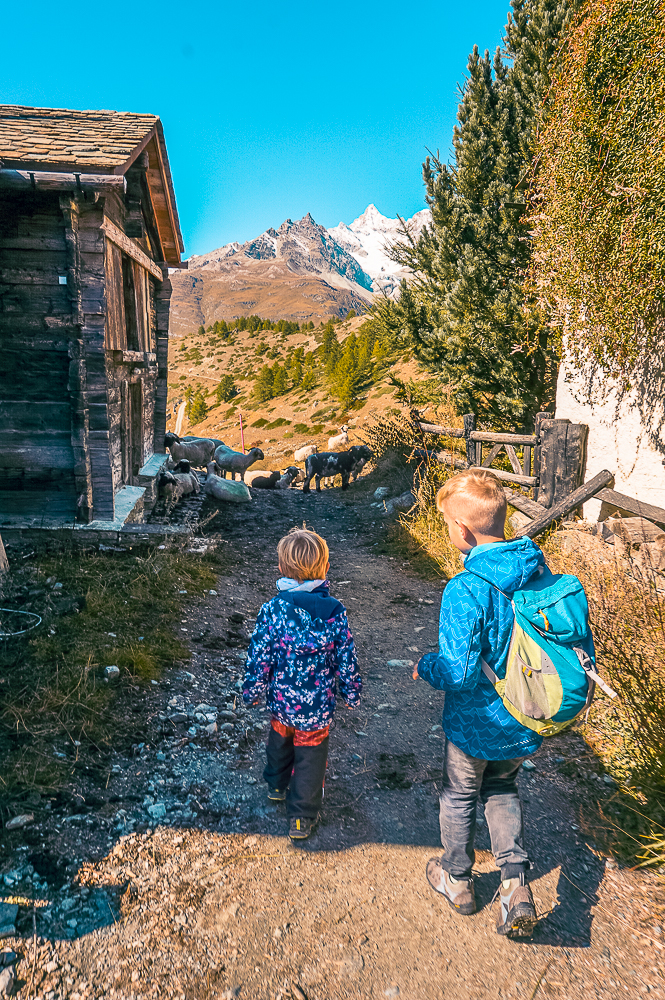 Numerous cozy restaurants with culinary delights and sun terraces with views of the Matterhorn (including the Instagram favorite Chez Vrony or the Enzian and Findlerhof) attract tourists in this tiny village with characteristic wooden alpine houses.
We went on in the direction of Tiefenmatten. Basically, we have copied the "Gourmetweg" theme route. The descent was now not so steep, we walked about 3 kilometers through the forest along the contour and occasionally great views (of Matterhorn, how else 😀) opened to us.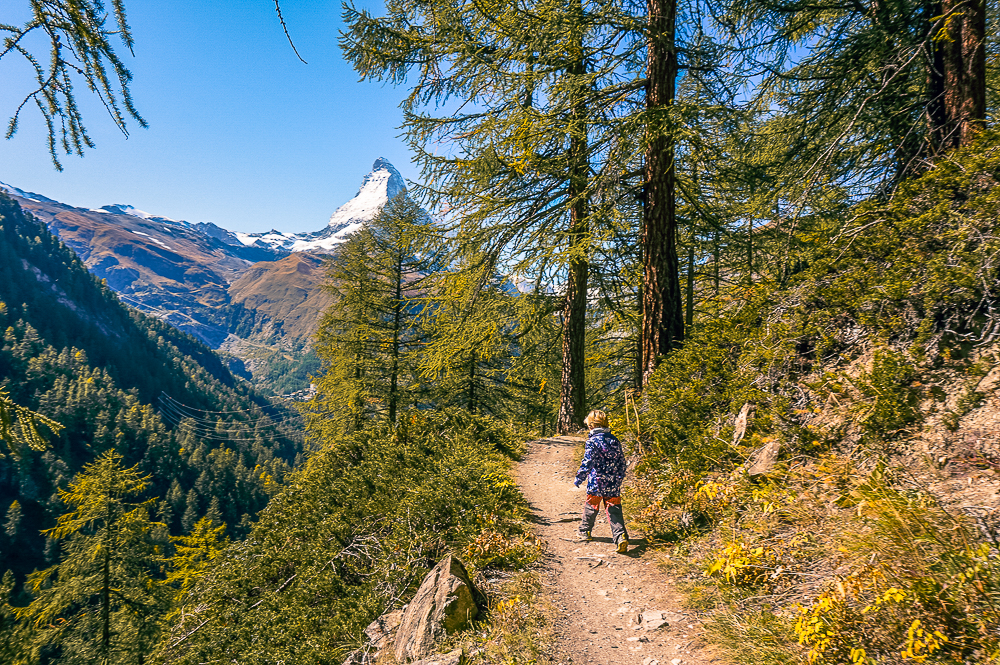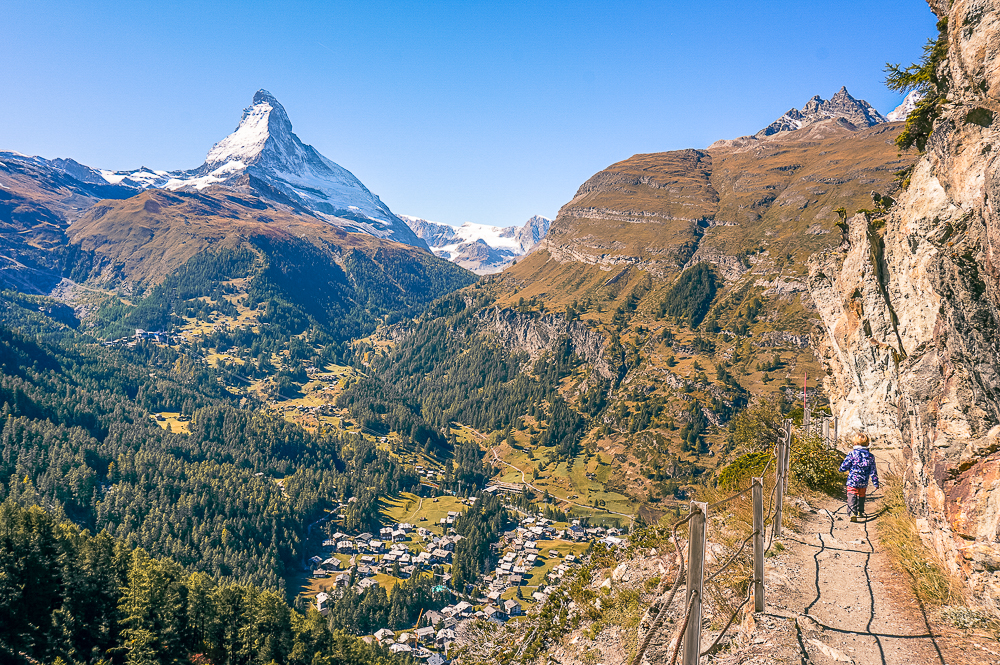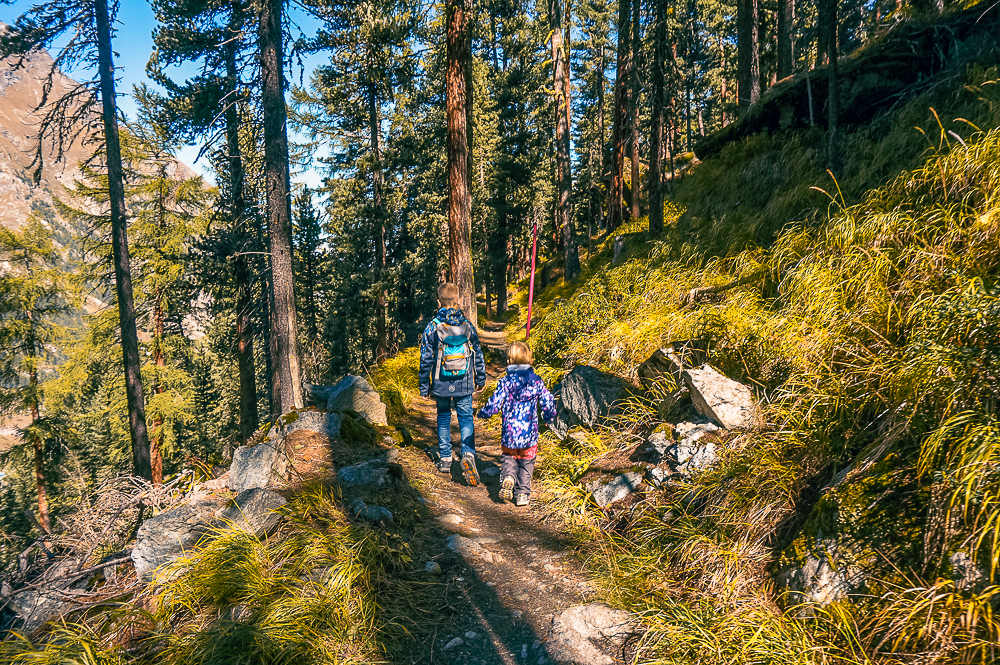 Then again, rather steep 1-kilometer descent to Zermatt. You can shorten your way to the train station by boarding the lift opposite the Cervo Hotel (which you will come across as soon as you leave the forest), which will take you down to the Sunnegga funicular station. From here it is a short walk to the train station.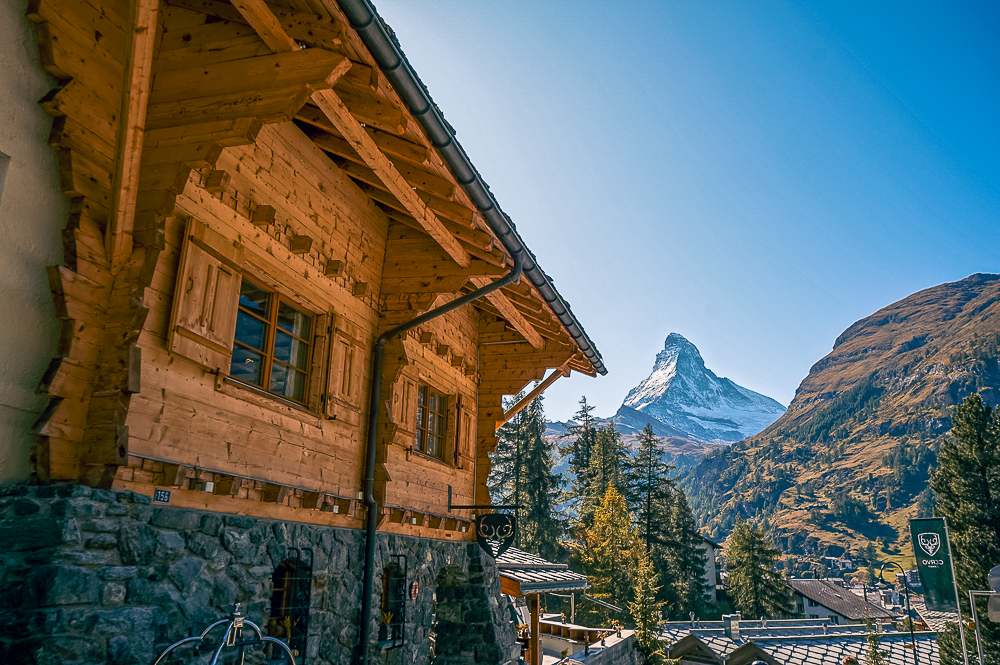 Summary
Probably I don't have to say that this trip will be an unforgettable experience.
The hike took us about 2 hours it was about 7km long.
Not suitable for strollers.
The Sunnega funicular is open from the end of May till Mid-October for the summer season, for the winter season, it is open from the end of November till the end of April.
If you would like take the cog railway to Gornergrat, you can buy a return ticket from the conductor already on the train to Zermatt. It costs 98 francs, with a Swiss Travel Pass or Halbtax card costs half. However, if you want a combined ticket (for example, you only have to use the cog railway to go to Rotenboden, walk to Riffelberg and get back to the cog railway station), you must buy it either at the tourist office or at the Gornergrat Bahn ticket office.
Other great day trips we made with the SBB day pass:
Would you like to visit Zermatt in winter? Check this post:
My inspiration for our day trip to Zermatt:
If you liked my post, I'll be happy if you share it 🙂