I don't know about you, but I think little kids always appreciate a trip to see animals. What about the animals they can pet, which you can't do at a regular zoo? One such place where you can pet a llama, camel, donkeys, sheep or goats – and what's more! You can even follow them into the pen! – is Johns kleine farm in Kallnach near Aarberg.
Getting there
Kallnach is located about 30 kilometres northwest of Bern (also 30 kilometres north of Fribourg or 30 kilometres east of Neuchâtel).
By car: enter Krosenrain 12, 3283 Kallnach in the navigation. As soon as you turn off the main street Mitteldorf into Krosenrain, you will see a sign for the Johns Kleine Farm car park. The entrance to the car park is from the intersection of Haseneggenweg and Hinterfeldweg streets. However, this car park – about 150 m from the entrance – is relatively small (it can accommodate about 15 cars), so you may need to use other parking spaces nearby: at the back of the Gasthof Weisses Kreuz restaurant (about 300 m from the entrance), and on weekends and public holidays you can park at the local town hall (Schmittenrain 2).
By public transport: you can reach Kallnach by train from Lyss or Kerzers. Trains run at hourly intervals. From the train station, it is less than a kilometer walk to the farm.
Opening hours and admission fees
Johns Kleine farm is usually open 365 days a year. In the summer season, i.e. from April to September it is open from 10:00 to 18:00, in the winter season, i.e. from October to March it is open from 10:00 to 16:00.
Admission is free for children under 5 years of age, 6 francs for children aged 5 to 14, and 10 francs for adults. Family admission (for 2 adults and up to 4 children) is 25 francs.
Payment of admission fees is only possible in cash or by TWINT.
You can also bring your four-legged pet to the grounds of the Johns kleine zoo – but on a leash, of course. The animals here are used to them.
A meaningful farm mission
Johns Kleine Farm is not just a tiny zoo where you can pet the animals. This is also a project that helps people with mental disabilities to achieve their goal of finding a professional career in society. At the farm, interested people can complete the practical part of their secondary education as a zookeeper. A total of 19 apprentices have already been able to complete their training here – including 9 apprentices with mental disabilities who have been given the chance to successfully complete their education thanks to Johns Kleine farm.*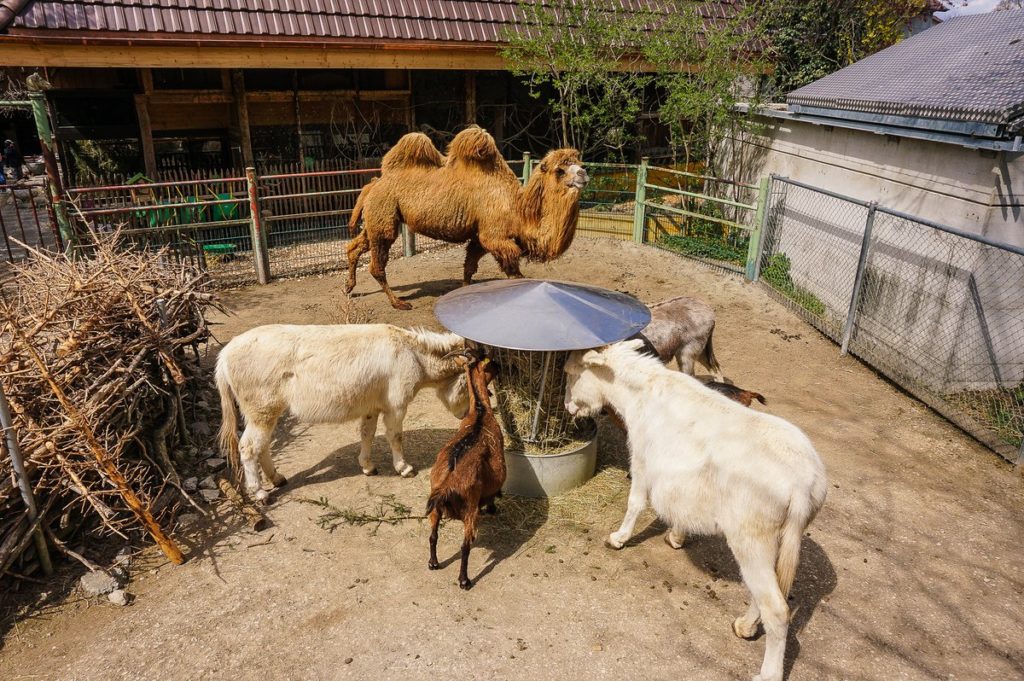 What animals can you see here?
As I wrote in the introduction, you will find here exotic animals (camels, llamas, alpacas, or porcupines), but also domestic animals (such as donkeys, goats, calves, geese) and forest animals (squirrels, foxes, ferrets, lynx). The biggest hit of the farm is that you can follow the big animals into the pens and pet them, which you probably wouldn't be able to do in a regular zoo.
Johns kleine zoo through the lens of our Patrik
Thanks to Patrik's interest in taking pictures, he got an old compact camer in his hands and captured the visit from his point of view 🙂
Summary
I wasn't expecting too much from visiting Johns Kleine farm, but I have to say that it's a cute little zoo, a great destination for a trip with small children – it's really (not only for children) an experience to be so close to the animals.
On the other hand, I found – although the farm is definitely run with a lot of enthusiasm for the cause – that the animals have very little space. I guess my impression is influenced by the fact that the day before we were at the Tierpark Dählhölzli in Bern, where the animals really have a lot of space in their pens.
A visit to the farm is an hour or so affair, certainly not a day trip. So I recommend combining it with visiting other places in the area.
Where to go nearby
A family guide to the Papiliorama
Hiking with kids: to the Chutzenturm lookout tower