A lot of water has passed since I wrote article 3 local Badis I've fallen in love with, and although we remain loyal to our "Badi", it hasn't stopped us from visiting other swimming pools in the region. So now I can bring you a new version of this article, expanded to include the swimming pools in the Bern region that we enjoyed visiting and would recommend to you as well.
1 . Badi Kirchberg, BE
Address: Obere Schache 9, 3422 Kirchberg; bus Nr.466, 467 (bus stop Badimatte)
But what kind of local patriot would I be if I didn't put our lovely swimming pool first? It's a reasonably sized yet peaceful pool for young and old alike. You'll find a 50m pool for swimmers, a pool for non-swimmers, diving boards, a beautiful paddling pool with a slide, lots of play elements in the green, an inflatable jumping pillow, a beach volleyball court, and an outdoor fireplace.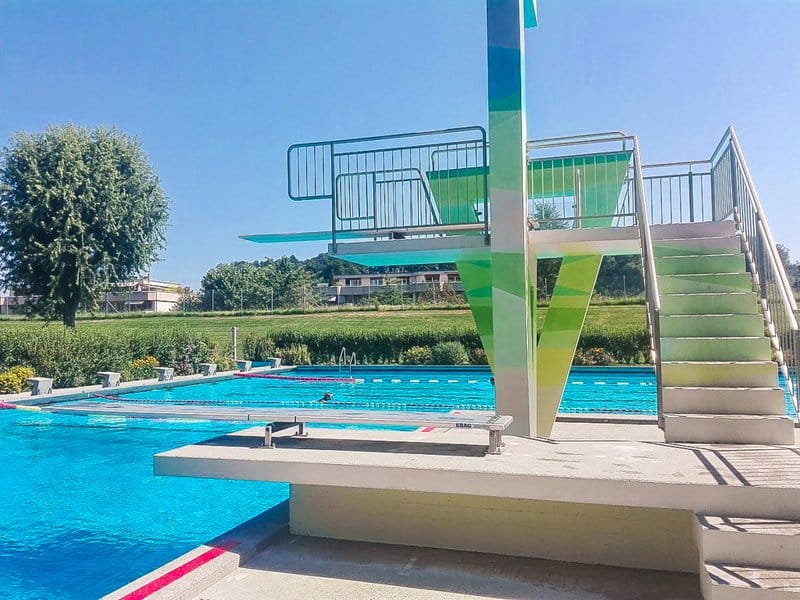 2. Parkschwimmbad Lyss
Address: Werdtstrasse 11, 3250 Lyss; bus M10 (bus stop Lyss, KUFA)
Since repetition is the mother of wisdom, I'm including the swimming pool that appeared in the original article in the second place. The swimming pool in Lyss is located in a beautiful area with many trees, one really feels like in a park here. You can rent sunbeds and umbrellas for a fee. There are a lot of free parking spaces. Children will love the wide slide and the diving boards.
3. Schwimmbad Koppigen
Address: Bläjiweg 2a, 3425 Koppigen; bus 844 (bus stop Schwimmbad)
A lovely village swimming pool where you will find a 50-meter swimming pool, which is connected to a pool for non-swimmers, so you can go from one to the other without having to get out of the water, a slide, and for the little ones there is a nice paddling pool. There is also a natural pond "Bläjiweier" where you can watch ducks or carp.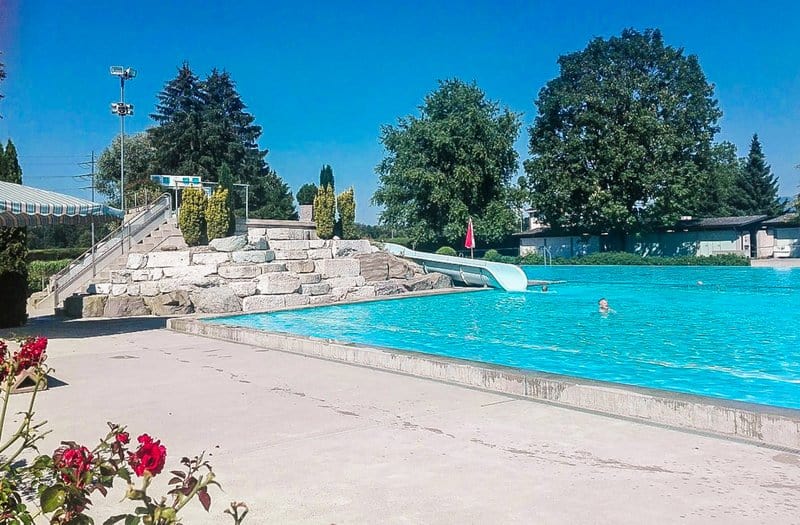 4. Badi Langenthal
Address: Rumiweg 63, 4900 Langenthal
You know this swimming pool if you have read my article 6 places and events to visit in and near Langenthal because it was here that I mentioned the local swimming pool. The kids will love riding the 50-meter slide and can jump off several-sized diving boards. You can have a good lunch and a great iced coffee in the restaurant.
5. Hallen- und Freibad Langnau im Emmental
Address: Schützenweg 253, 3550 Langnau im Emmental
I'll tell you, it's pretty crazy when you spend an August morning at the ice rink in a down jacket, and in the afternoon you move a few hundred meters away to the swimming pool and hurrah for the pool. Oh yeah, that's the life of a hockey family too 🙂
The swimming pool in Langnau has a 50m pool, a pool with a wide slide, a children's pool, a 3m diving tower, and a 1m diving board, a mini-golf course, a beach volleyball and petanque court, and a playground too.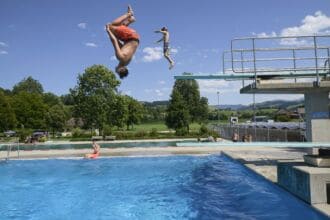 6. Freibad Wyler Bern
Address: Scheibenstrasse 65, 3014 Bern (linka 20, zast. Wylerbad).
I got a tip about this swimming pool right after the original article about Badis was published and I'm happy to recommend it to others. By the way, did you know that there are 4 swimming pools right in Bern (Marzili, Lorraine, Weyerli, and Wyler) and all of them are free? This one is no exception! Here you can jump, swim, relax like in a park under the trees, and watch the hustle and bustle of the nearby sports field.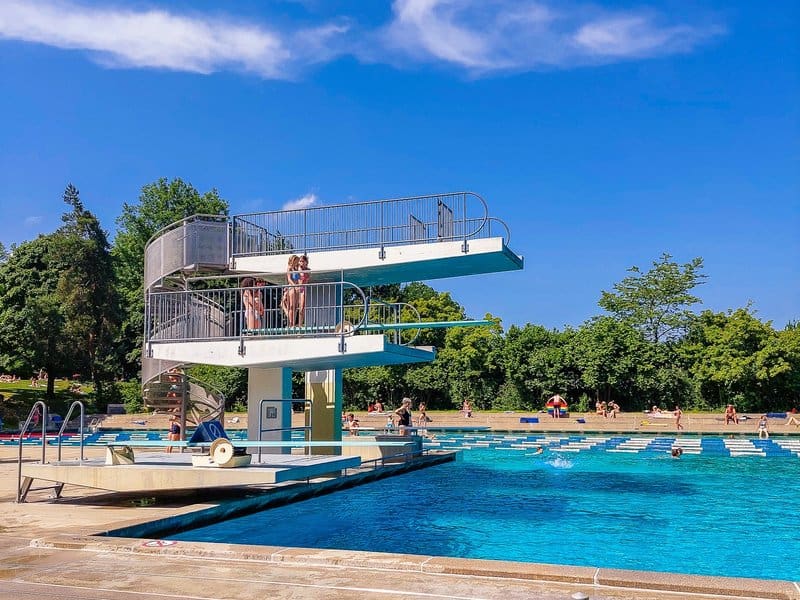 7. Aarebad Muri bei Bern
Address: Kriegliweg, 3074 Muri bei Bern
As the name suggests, this popular bathing spot is located by the Aare River. For the first time, we tried the "'locals' sport" here, i.e. to get into the Aare River and let the current carry you away, and then quickly get out of the water at the designated place. Needless to say, this activity is at your own risk and only for good swimmers. And those who don't feel up to this activity can just sit on the river bank and watch these adventurous swimmers and paddlers during the "Aareböötle" (floating the river).
8. Parkbad Münsingen
Address: Belpbergstrasse 50, 3110 Münsingen
Just a little further upriver is another swimming area at Aare. I probably don't need to describe what our kids enjoyed the most here 🙂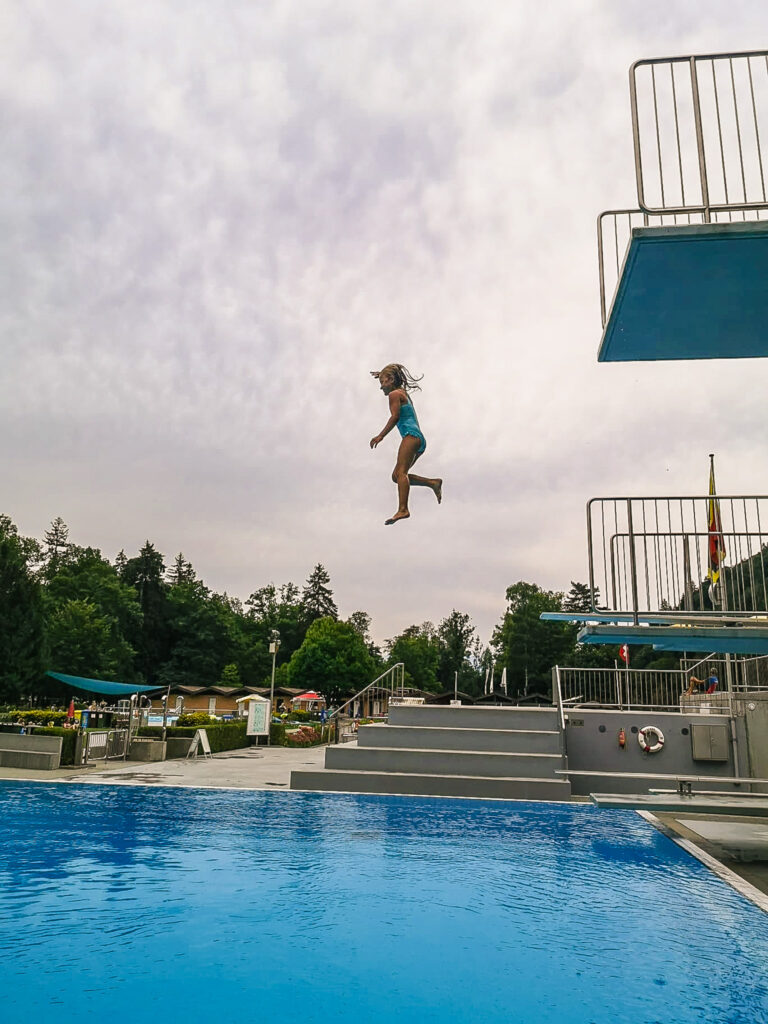 9. Schwimm- und Strandbad Murten
Address: Lausannestrasse 2, 3280 Murten
Not far from the center of picturesque, historic Murten is a lakeside swimming pool. Free parking is available right next to the swimming pool, and there is a self-service restaurant and buffet on site. Children will enjoy the slide and the playground on the lakeside beach.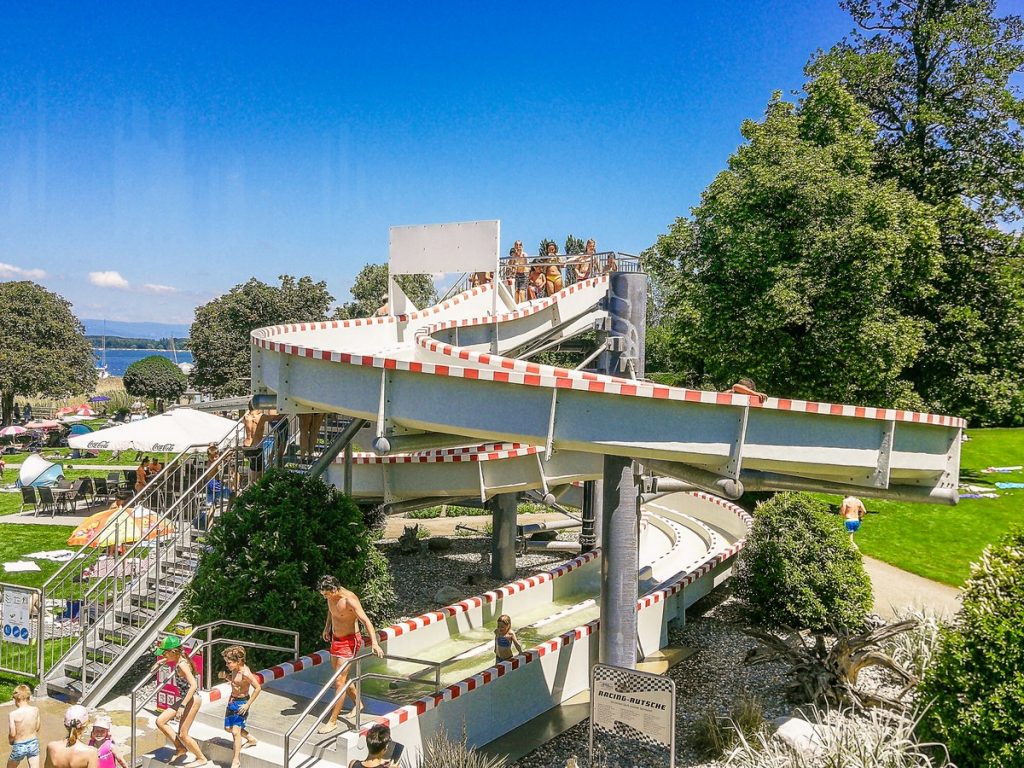 10. Strandbad "Strämu" Thun
Address: Strandbadweg 10, 3604 Thun
The best in the end. There is probably no doubt that the attractiveness of this bathing area on the shores of Lake Thun is enhanced by the enchanting views of the peaks of the Bernese Oberland, especially the Niesen, Eiger, Mönch, and Jungfrau. But apart from the views, you can enjoy swimming in the lake, a wide slide, diving towers (1,3,5, and 10 meters) and of course pools for both swimmers and non-swimmers.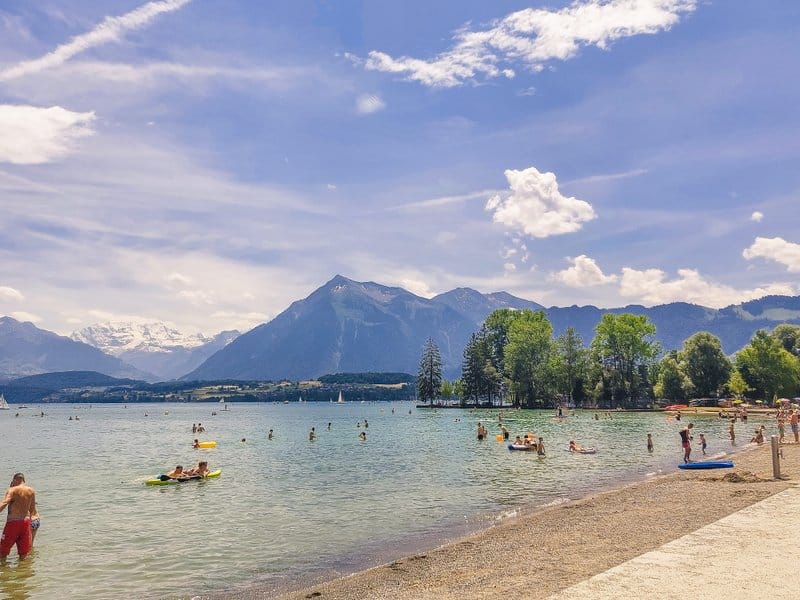 What about you? What is your favorite swimming pool in the Bern area? Let me know, or send me a photo, and I'll be happy to add your tip to this article.
You might also like