Light Ragaz is a light show with 11 stops in the unique location of the Taminas Gorge near the spa town of Bad Ragaz. On the 1-kilometer-long loop route in a unique natural setting, Light Ragaz tells the story of happiness with its light installations – why we look for it, where we find it, and how to learn to enjoy it more.
When the Light Ragaz marketing department approached me to see if my family and I would like to visit this interactive light show, my first reaction in my mind was no. Not because I wasn't interested, but because Bad Ragaz is, after all, quite a distance from our place. But then I realized that on October 1, our son is playing in a hockey tournament at a location just 15 minutes away from Bad Ragaz, so the decision was made! I figured a visit to Light Ragaz would be an excellent way to end the day – either as a reward after a successful tournament or as a consolation prize in case otherwise 🙂 !
DISCLOSURE: we didn't have to pay for our tickets (thanks Light Ragaz), all opinions are my own.
Bad Ragaz
Bad Ragaz is a popular spa and health resort located in the canton of St. Gallen. Its fame is due to its thermal water, which has a year-round temperature of 36.5℃ and which springs from the Tamina Gorge.
How to get there
Bad Ragaz is on the A3 motorway route to Chur. By car, you can be here from Zurich in just over an hour, the same by train. There are also direct trains from St. Gallen every hour, and even every quarter of an hour from Chur.
If you arrive by car, the best option for parking is the Parkhaus Zentrum (Bartholoméplatz, Bad Ragaz, parking fee until 19:00 1 CHF/hour, from 19:00 0.50 CHF/hour). Caution! It is only possible to pay here in cash or via the Parking Pay app (this option was not working at the time of our visit). Whether you arrive by car or by public transport, head to Hotel Krone (Kronenpl. 10, 7310 Bad Ragaz – 2 minutes walk from Parkhaus Zentrum).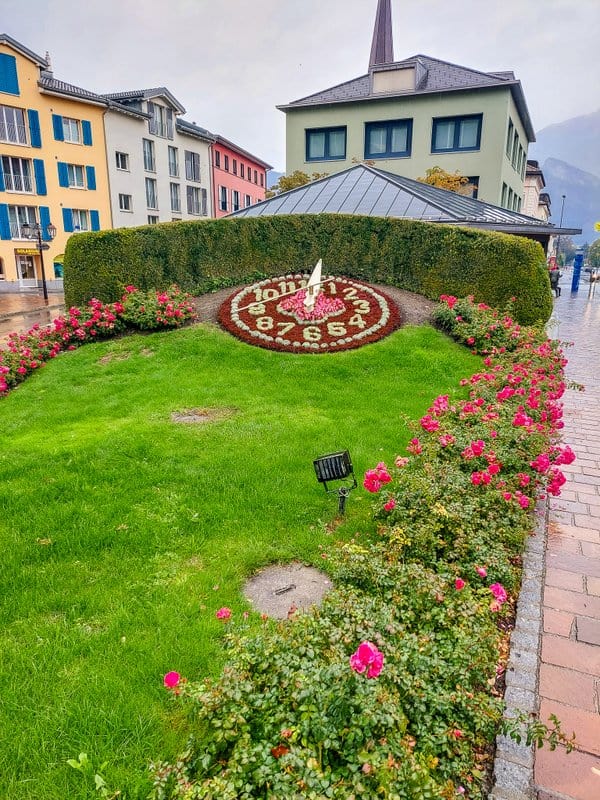 Light Ragaz
The experience lasts 2 hours including the shuttle bus ride there and back. The shuttle departs from Hotel Krone at the appointed time (see below) and takes you within 10 minutes to the old bathhouse building (Altes Bad Pfäfers), where the show starts. The time spent in the Taminas Gorge is approximately 1h 20min. Booked bus journeys are mandatory for you (e.g. going there at 17.30 and coming back at 19.10).
Opening hours
Light Ragaz takes place from late May to mid-October. However, due to high demand, this year's season has been extended by one week and Light Ragaz will run until Saturday 22 October 2022. It is only open for two weeks in May/June as a 'pre-season', with no light show during June, so the main season doesn't start until July.
During this time it is open Monday to Sunday and shuttle buses leave from the Krone Hotel at these times:
17:30 – 18:10 – 18:50 – 19:30 – 20:10 – 20:50 – 21:30
In the off-season (from late August onwards) the show runs from Tuesday to Sunday and buses depart at the following times:
17:30 – 18:10 – 18:50 – 19:30 – 20:10 – 20:50 (also at 21:30 on Fridays and Saturdays).
Admission fees
Tickets must be booked for a specific day and time slot that corresponds to the departure time of the shuttle bus. The ticket includes both admission to the light show and round-trip shuttle bus transportation. Depending on the departure of the bus, you will also be given colored wristbands to help the organizers ensure you get on the correct bus.
Tickets cost 28 CHF for an adult (34 CHF on Fridays, Saturdays, and public holidays), 15 CHF for youth (10-16 years), 10 CHF/child (5-9 years), and children under 5 get in for free. Tickets can be booked online here, families can enjoy a 10% discount when booking online.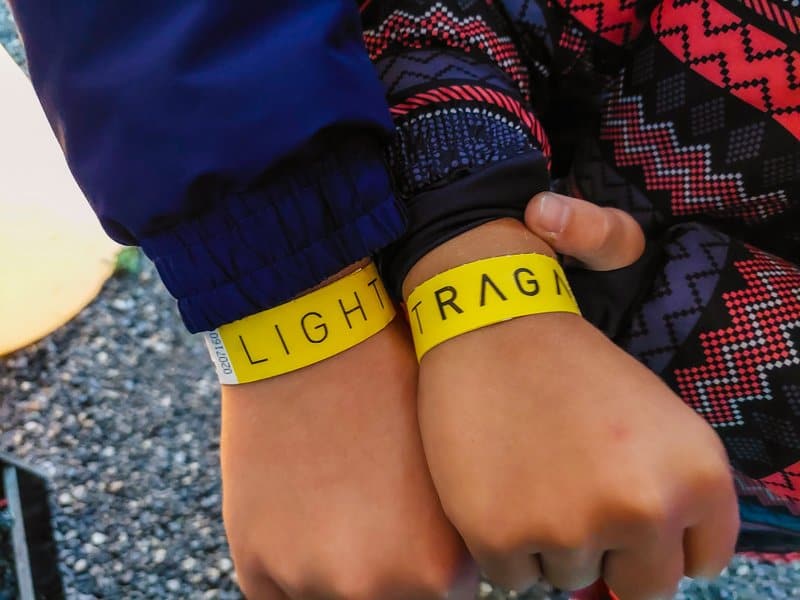 Tunnel in Altes Bad
The show starts in the tunnel in the old bathhouse building, where you will find countless quotes from famous and unknown personalities on the topic of happiness.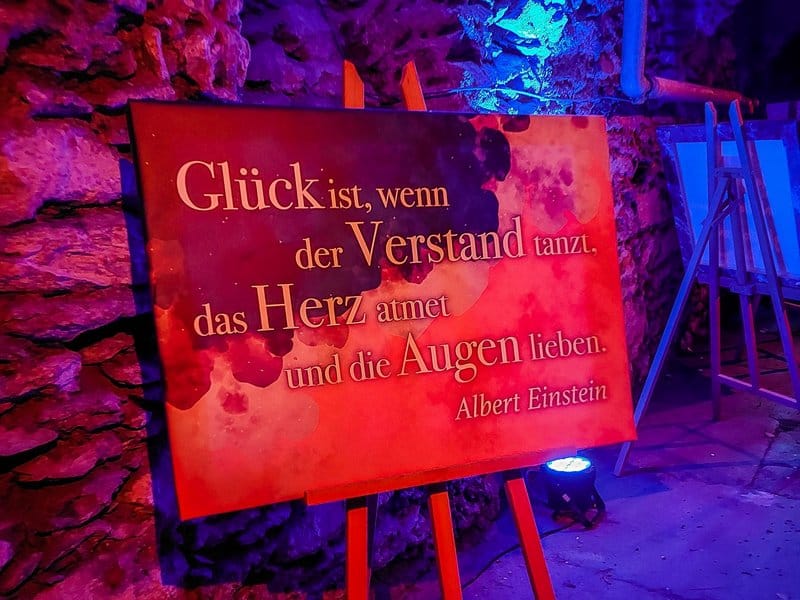 Entrance to the Tamina Gorge
In order for visitors to enjoy the light tour as much as possible and not to "crowd" at individual stations, they are allowed into the tunnel in the gorge by the organizers in small groups. The tour itself is not guided, you go at your own pace.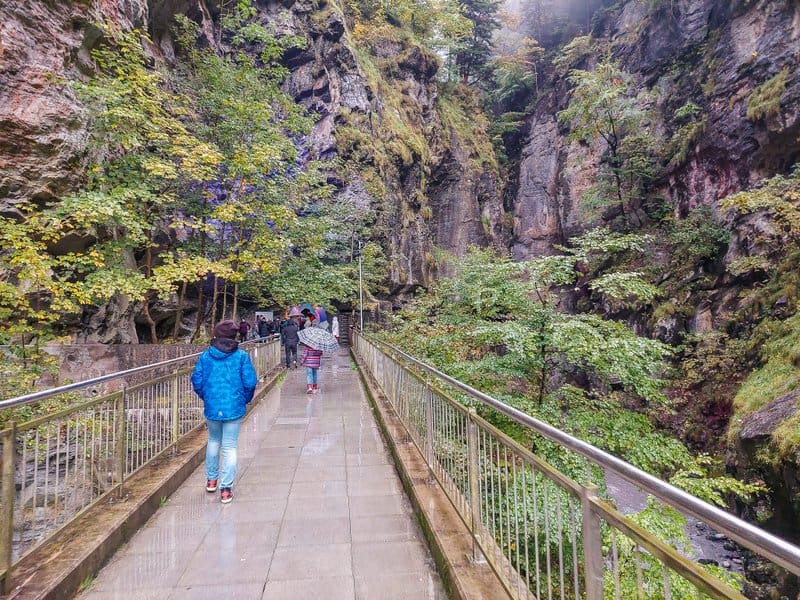 Who are the spirits of the Tamina Gorge?
You start your tour in a long tunnel that has several stations along the way where you will meet the elemental spirits that live there. The stories told (in German only) are beautifully adapted for younger children. You will also learn about the history of the gorge and the thermal waters. At one station you can press buttons to start different animations on the tunnel walls.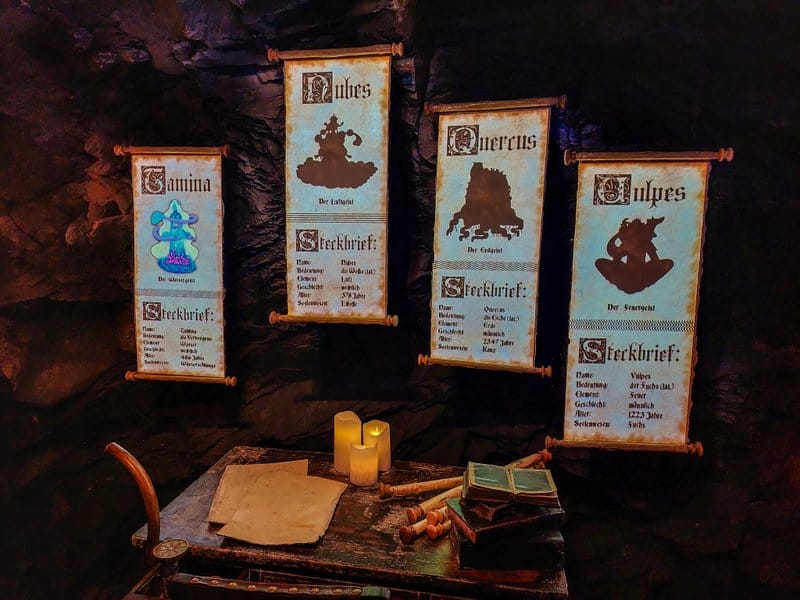 Tamina Gorge
When you exit the tunnel, you will reach a safe walkway in the gorge above the river. Here, at 4 stations, large animations accompanied by music are projected on the walls of the gorge. Each animation lasts a few minutes and repeats in loops, so you don't have to worry about missing anything.
And I must confess something: I don't normally like fantasy very much, and I have quite a lot of " demands " on the illustrations in books, for example – some of them just don't suit my taste. And some books I won't buy for myself (or rather for my kids) because of that, even though the plot would be more interesting. But the animations in the Light Ragaz projections just blew me away with their originality.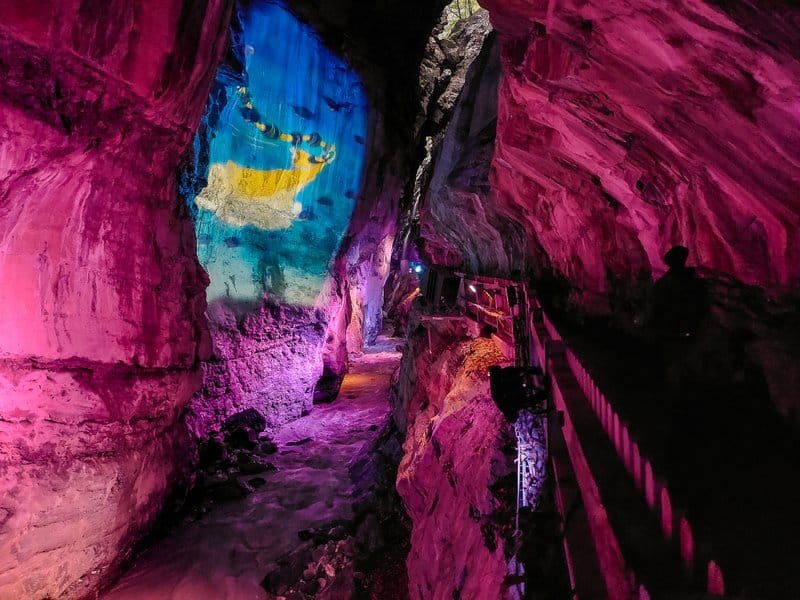 Apéro tent
When you come out of the gorge, you head back to the Altes Bad building, in front of which there is a tent where you can have some snacks and drinks and spend some time until your bus arrives. We spent this time signing the guest book.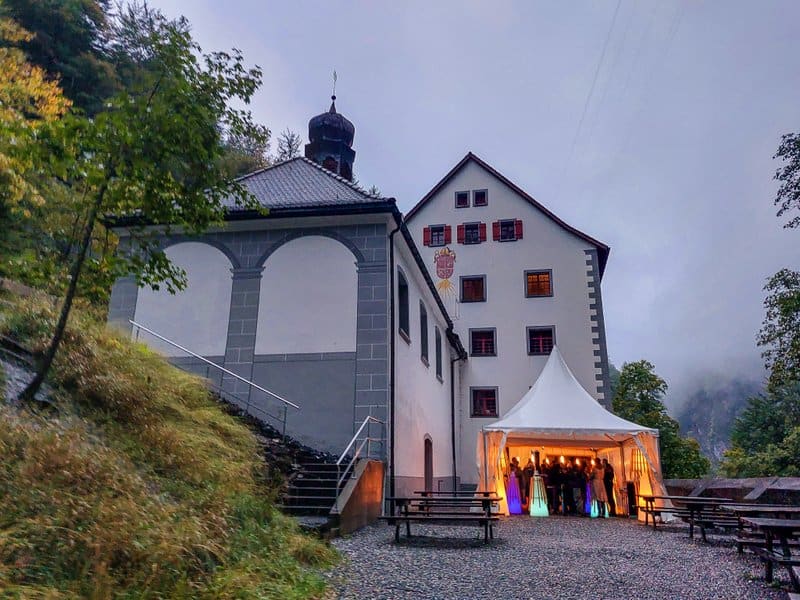 Summary
Light Ragaz is definitely a great tip for an autumn trip.
If you want to spend a full day in the area, I recommend a visit to the spa in Bad Ragaz or a visit to Heididorf in nearby Meienfeld.
I was a little worried before our visit about whether the light projections in the gorge would stand out since our visit would be before dark, but since the walls of the gorge are very high and almost enclosed, the impact of the light is very low and the light projections are beautifully visible from 6 pm.
Light Ragaz takes place in all weather, including rain (which was our case). I recommend warm clothing and sturdy shoes and a raincoat or umbrella. But don't worry, the rain won't spoil the good impression of your visit.
Visiting Light Ragaz is not recommended with a stroller. Wheelchair access is only possible with an accompanying person.
More information and answers to frequently asked questions can be found on the Light Ragaz website.