"Heidi, Heidi, Deine Welt sind die Berge…" every time our youngest hears the famous opening song of the cartoon series on the TV screen, she immediately sits down on the couch and nothing can tear her away from watching the story of Heidi. This world's most famous Swiss girl from Graubünden, who is cared for by her paternal grandfather in the Swiss Alps, originated from the pen of writer Johanna Spyri in 1881. And has since captured the hearts of several generations of readers around the world. When I found out that our Patrik was playing an ice hockey tournament in Grüsch, which is only less than 15 minutes from Maienfeld, I knew I was taking our little one with me and we would visit Heidididorf. In fact, in Heididorf (Heidi's village) above Maienfeld, you get to experience where Heidi is at home.
How to get to Heididorf
By car
Heididorf is located in eastern Switzerland in the canton of Graubünden, about an hour's drive from Zurich. Exit the A13 highway at exit 13 – Maienfeld. Follow the brown signs "Heididorf". These will lead you to the center of Maienfeld. From the center of Maienfeld, follow the brown "Heididorf" signs with the car or bus symbol. The Heididorf car park is located directly in front of the Hotel Restaurant Heidihof. From the car park, it is about a 5-minute walk to Heididorf.
By public transport
Maienfeld can be reached by train or bus every half hour. From May to October, the Heidi Bus (PostBus) departs from Maienfeld Station on Saturdays, Sundays, and public holidays.
On foot: Heidiweg
From Maienfeld station you can take the Heidiweg loop trail – be sure to stop by at the information center on Bahnhofstrasse 1 (open Monday to Sunday). If you have luggage, you can deposit it here (for a small fee).
The route then leads past Brandis Castle and through the streets of the historic town of Maienfeld.
From the town, a gently rising road lined with vineyards leads to Rofels. I had no idea that this northernmost tip of Graubünden is famous for its many fine wines. The 70 wineries here lovingly and passionately grow and sell around 42 grape varieties. In particular, the Pinot Noir from the Bündner Herrschaft has won numerous awards and is repeatedly ranked among the best wines in Switzerland.
From Heididorf, the Heidiweg continues to the hotel's Heidihof restaurant with its large panoramic terrace. From here, a path leads through an oak grove and local vineyards back to Maienfeld. You can take a walk of about 200m to the Heidibrunnen well, but we skipped this one due to the increasing rain.
Walking time from the station to Heidididorf: 35 minutes, distance: 2.4 km
Walking time for the whole loop: 1h 30min, distance: 6,5km.
Heididorf
Opening hours and admission fees
The Heididorf is open daily from 15 March to 15 November from 10:00 to 17:00. Tickets cost CHF 13.90 for adults and CHF 5.90 for children aged 5 to 14. Children under 10 must be accompanied by an adult.
Dogs on a leash are allowed in the Heidididorf, but are not allowed in the buildings and museum and must wait outside.
There is a turnstile at the entrance to each building – you can only enter each building once.
What can you see in Heididorf?
Heidi's House
In Heidi's house, you literally go from floor to ceiling: you can see the cellar, which was used to store food, and then you go upstairs to the room, where Heidi and Peter are waiting for you. Of course, you can also enter Heidi's room. The collection of books about Heidi in many languages is also very impressive. But the biggest highlight was the live cat in "grandpa's" bed 🙂 .
Heididorf also has his Grand Tour of Switzerland photo spot. The photo location is in the front garden.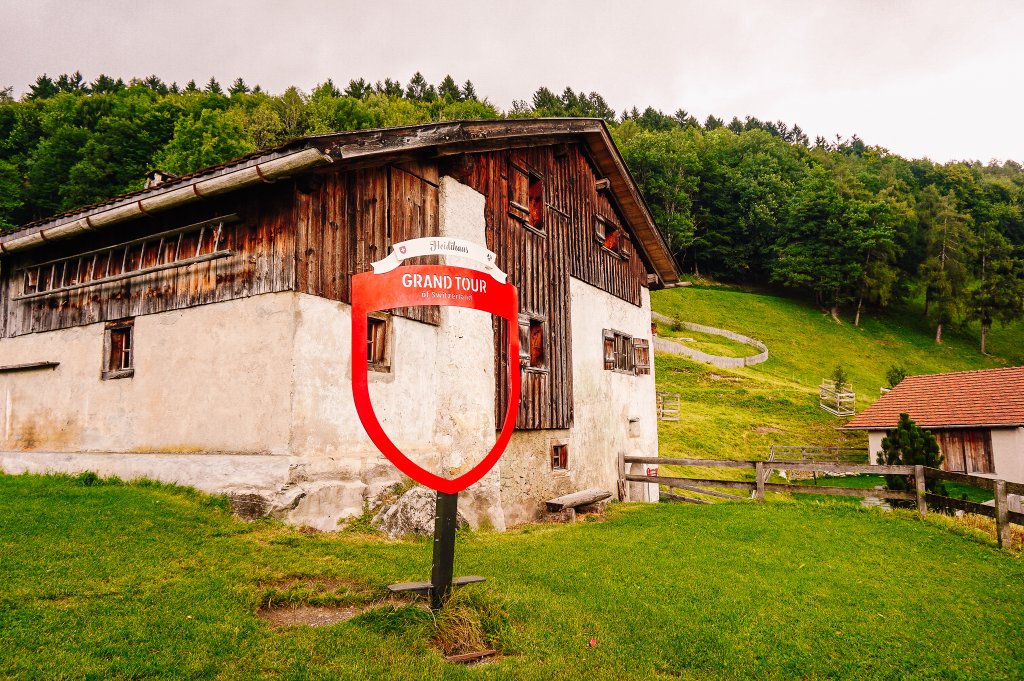 Heidi's Alp Hut
In the summer, Heidi spent time with her grandfather in the mountains in harmony with animals and nature.
Village school
What did a school classroom look like at the end of the 19th century? And was it at all common for children to go to school then?
Johanna Spyri's Heidiwelt Museum
Johanna Spyri's novel is an invaluable contribution to Swiss cultural and literary history. The story of Heidi has been translated into more than 55 languages and continues to serve as an inexhaustible source of inspiration for numerous musicals, animations, and films.
Visitors' Center
In addition to ticket sales, the visitor center also offers authentic souvenirs and gifts for young and old Heidi fans, as well as local culinary specialties. The smallest post office in Switzerland is also located here.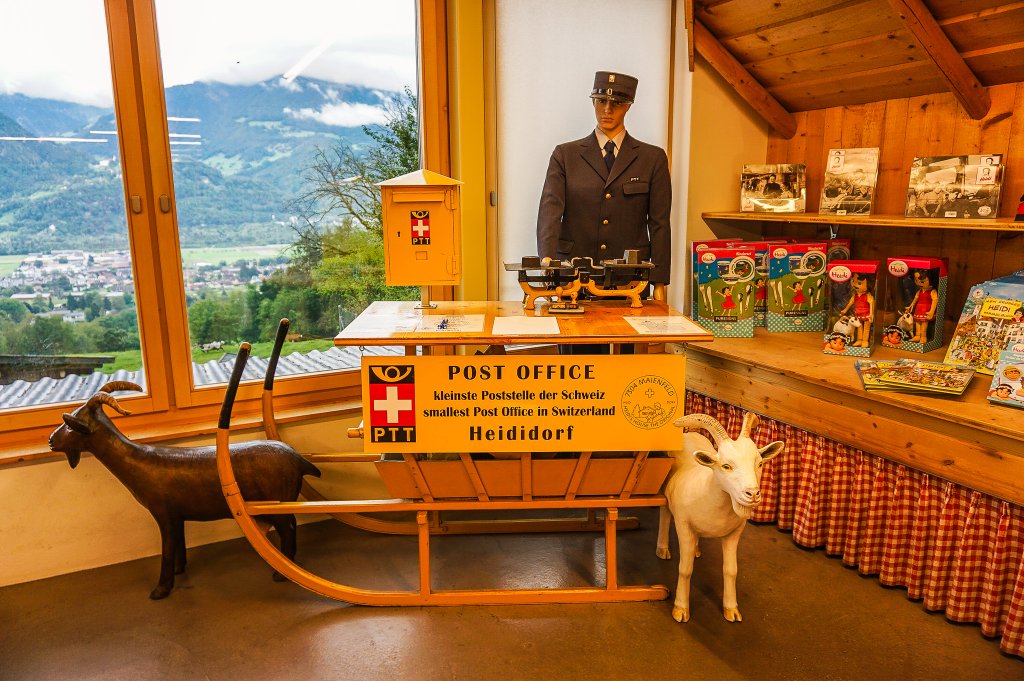 Summary
Heididorf is an interesting trip destination especially for families with small children. The tour itself takes about one to two hours.
I liked the overall concept of Heididorf as a kind of small open-air museum, showing you what it was like in the Swiss countryside and mountains at the end of the 19th century – how people lived, ate, cooked, stored food, etc. Lots of additional information (in German and English), you can read on the information panels on the walls in each building.
The entrance to each building is not wheelchair accessible.
Heidiweg loop trail is 6.5 km long and should take approximately 1.5 hours to complete. The Heidiweg is marked with red "Heidiweg" signs and you can download a leaflet with further information here. The stretch from the train station to Heididorf is accessible from the stroller. You will have to go back in the same direction.