I had been planning a hike to this lovely mountain lake in Naturpark Diemtigtal for almost a year. I got a tip from a local friend and it's really one of those "secret tips from the locals". Lake Seebergsee is located on a plateau between the Simmental and Diemtigtal valleys in the Berner Oberland. Although it is cadastrally located in the municipality of Zweisimmen, it is still included in the Naturpark Diemtigtal. I'm so glad that we could go here in beautiful autumn weather when the colorful trees were reflected in the calm lake, whose surface was only brushed by families of mallards.
How to get there
By public transport: By bus or train to Zweisimmen. Then take a Wandertaxi to Meienberg. This tourist taxi runs only in high season (June – October) and only twice a week (Tuesdays and Thursdays) by prior arrangement at the Zweisimmen Tourist Information Centre (+41 33 722 11 33, zweisimmen@mob.ch). Departure for the mountains: 9.00 a.m., return: 3.30 p.m.
By car: From Bern, take the A6 motorway in the direction of Wimmis – Oey – Naturpark Diemtigtal – Zwischenflüh – Parkplatz Seeberg. From here the hike starts directly to lake Seebergsee. If you are driving, it is important to buy a day ticket for 10 francs at the vending machine at the bakery in Zwischenflüh (just after turning right off the main road leading onto Grimmialp), which serves as a parking ticket! Beware, the machine only takes coins! You can then safely head up the winding mountain road leading to the Seeberg car park. The 10 km asphalt road from Zwischenflüh is very narrow, more or less for one car only, but there are "avoidance" spots along the route.
If you want to start your hike at the parking lot Meienberg, there is another alternative: Arrival by car via Grubenwald (Zweisimmen side) to the parking lot Meienberg, halfway there is a machine where you can buy the permit for Fr. 5.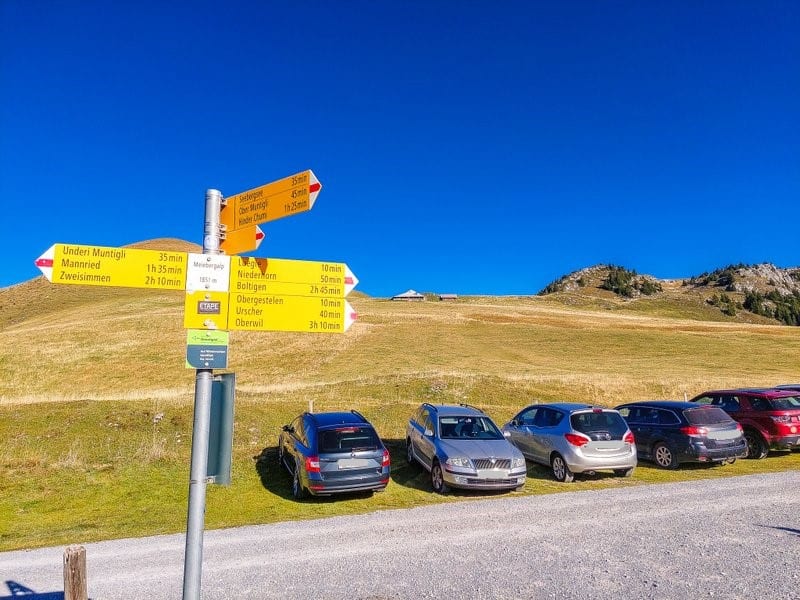 Long loop route around the Seebergsee lake
We chose the "long" circular route (green) for our hike. Basically, we found out only on the spot, according to the signs, that you can also take a short circuit (blue), where you turn off at the Stierenberg restaurant, but since we were already planning such a trip, we would definitely not kill it with just a short circuit. Strangely enough, even the kids didn't protest that we were going to keep going. Because if we hadn't, we would have missed out on more wonderful views (see below).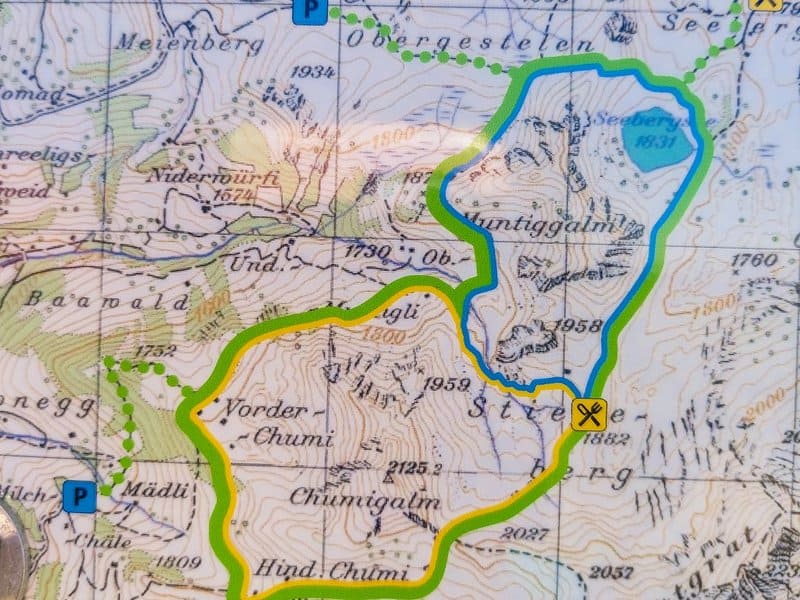 Although it is less than two kilometers from the Meienberg car park to the lake, the signpost shows that you need 35 minutes to cover this distance. This is due to the fact that after about a kilometer of walking you have to climb a steep hill up to the mountain pass "Puur", and then you only descend down to the lake.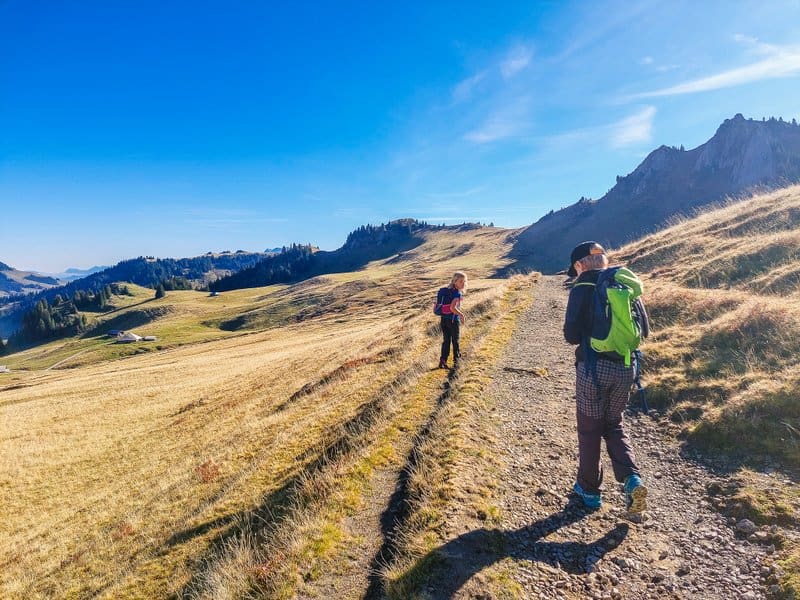 Lake Seebergsee
This lake, located at an altitude of 1,831 m above sea level and covering an area of 6 hectares, is a very pleasant place to recharge your batteries. In the summer months, you can also swim in the lake. It is a wonderful place for a picnic, but beware! There is a ban on barbecues and camping.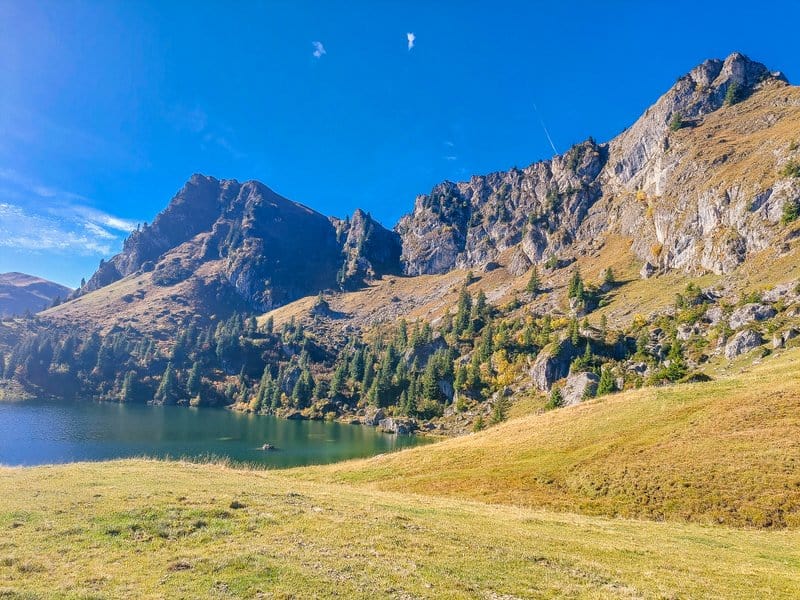 Alp Stierenberg
The route then continues along the trail to Alp Stierenberg, where there is a good mountain restaurant with very friendly service and excellent cuisine.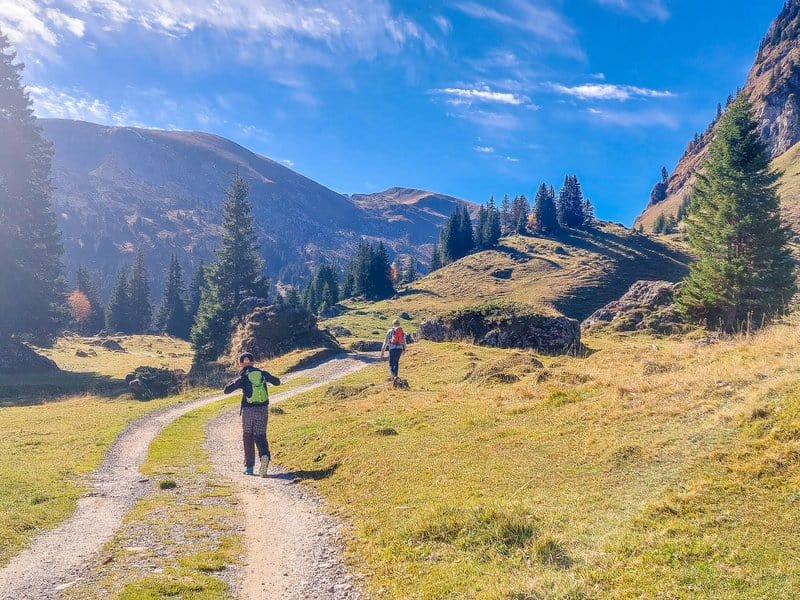 Refreshed with delicious homemade chocolate and hazelnut cake, we moved on. Our steps led us up to 1 987 m above sea level to the Gubi Pass. And it was here that we were treated to spectacular views of the snow-capped Alps, the Zweisimmen, towards the Saanenmöserer and the Rinderberg. This part of the route, which led more or less along the contour around the Chumigalm peak, our children decided to take as a trail run instead of enjoying the magnificent views.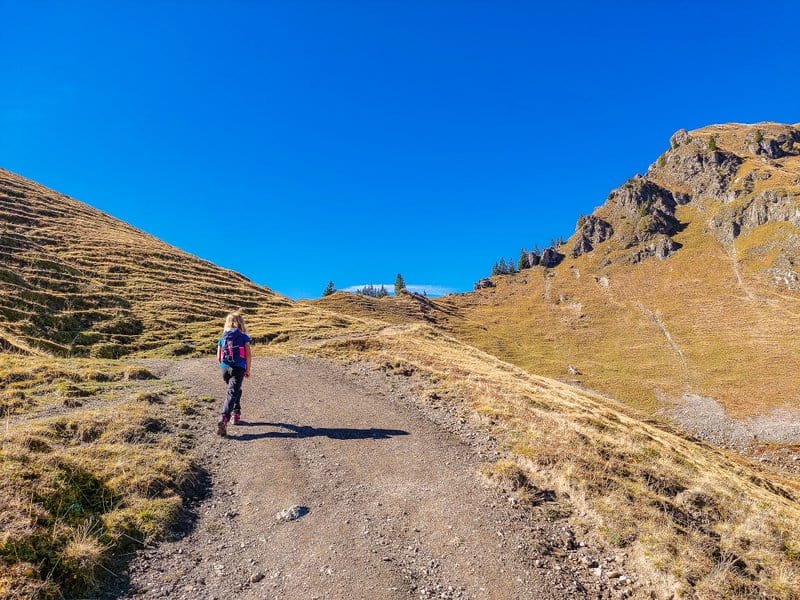 At the Hinder-Chumi signpost, we were basically halfway through the route and started to head back to the starting point. Although the path climbed slightly again it was in the pleasant shade of the trees. We even scared away a (probably) hen grouse with our footsteps.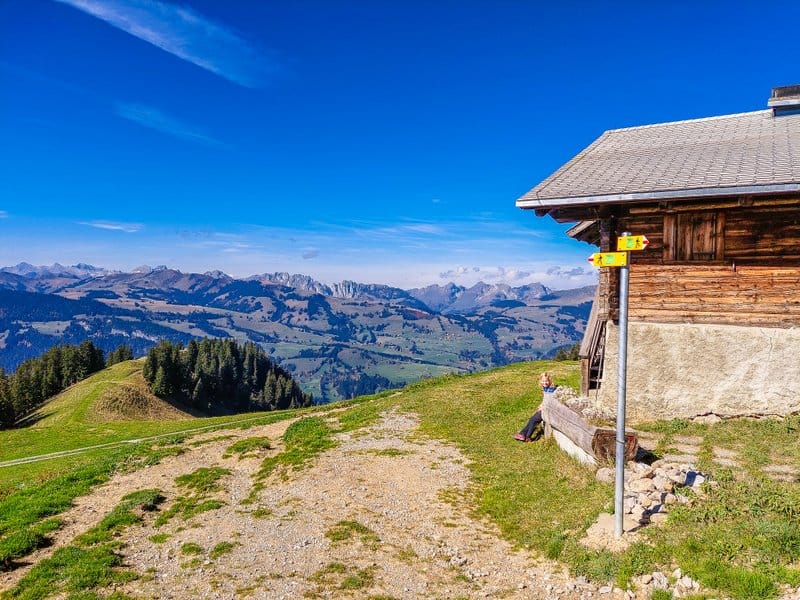 After the Vorder Chumi signpost, we found ourselves in a different landscape. At times I felt more like I was somewhere in the Scottish Highlands or in a strange moonscape where thousands of boulders had spilled out of someone's giant backpack "up there".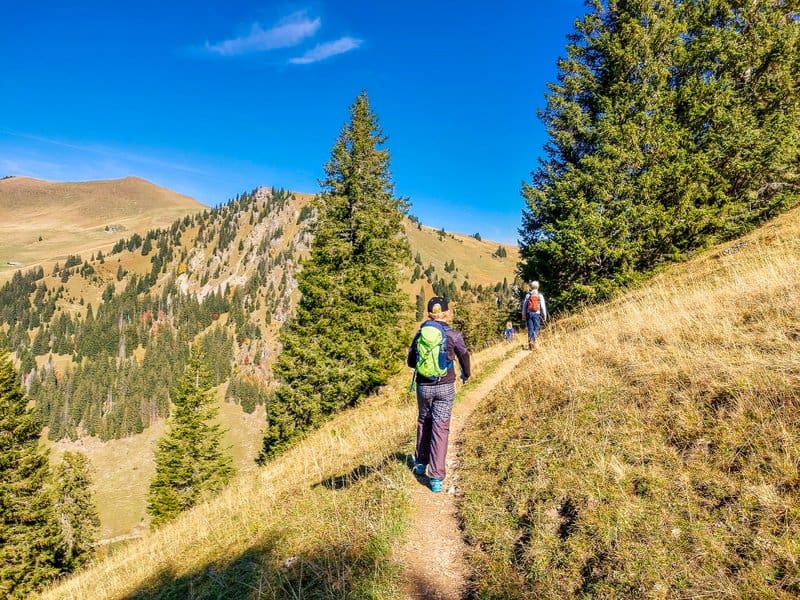 After crossing a mountain stream, the last section of the trail awaited us. Climbing, descending and the final climb. But by then we already knew we were getting close to our car, so it was not so much difficult 🙂 )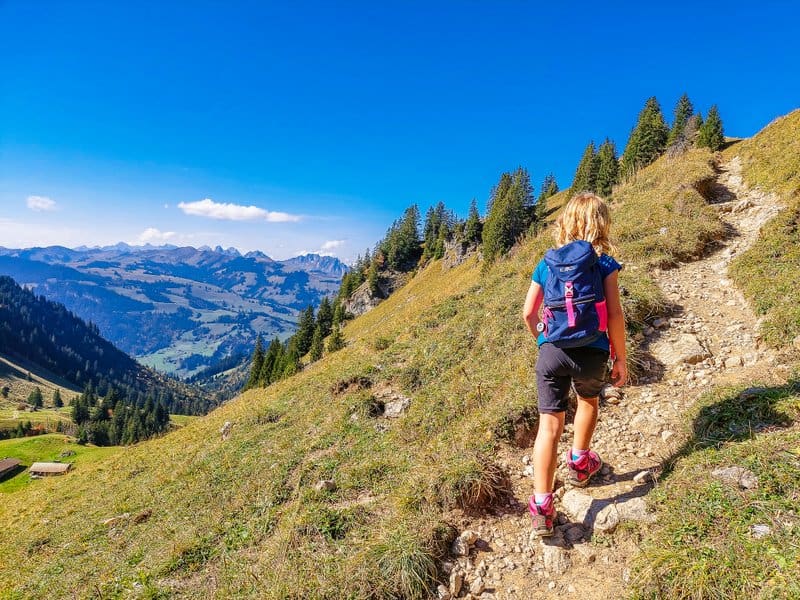 Summary
The route is 10.5 km long.
It is a mountain trail (red and white markings), so don't forget good footwear.
See more tips from Naturpark Diemtigtal