Not far from Bern you can find Gurten Hill (858 m a.s.l.), where we have been to many times during our living here in Switzerland and we have always spent here pleasant time because the park on the top of the hill is really an ideal place to enjoy time with your kids, family, and friends. Gurten resembles me a bit of Petřín hill in Prague. At least you can get there by the same type of cable car and you can find the lookout tower on its peak, from which you can overview the city below. At this point, the similarity ends – except for you could see the Alpes from Petřín 🙂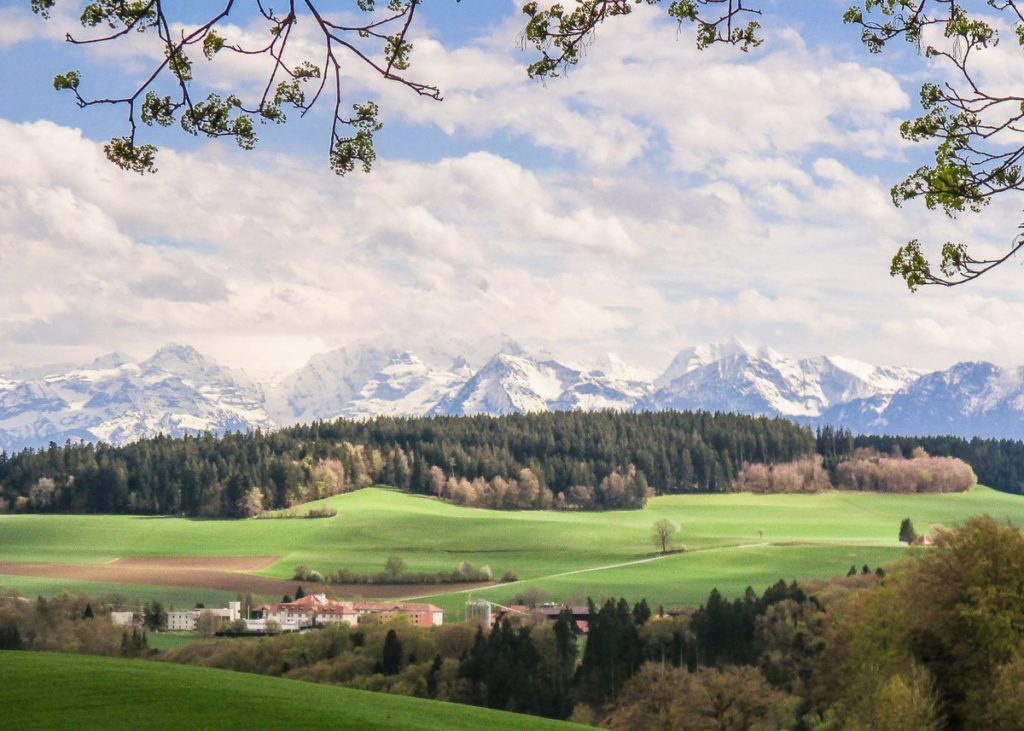 Getting there
By public transport: from Bern by train line S3 to Wabern station. Or take tram number 9 to the Gurtenbahn stop.
By car: From the center of Bern, follow the signs to Gurten. There is a parking house at the cable car station (Dorfstrasse 39, 3084 Köniz)
Gurtenbahn: The Gurten funicular runs every 15 minutes. A return ticket for an adult costs 11 francs. Libero-Abo for zone 101, as well as Halb-Tax and Junior Card are valid here.
Gurtenpark
The park with an area of 100,000 square meters offers small and big visitors a lot of activities:
Miniature Railway
Perhaps the biggest attraction at the Gurten (especially for our children) is a miniature railway. For 2 francs (3 for adults) you can take a ride on the miniature train pulled by steam or electric locomotive. Resourcefully constructed railway leads pass a playground and go even through a tunnel. It also switches on a real signaling for "crossing". It is interesting that the locomotives are operated by boys aged (my guess) 12-16 years, probably trains buffs 🙂
Climbing paradise
Especially bigger kids can enjoy themselves on the playground, that is a wooden structure built between the trees. Here they can climb in tunnels, climb over networks, or slide. Further, in the middle of the train tracks, where you can find a playground for smaller ones.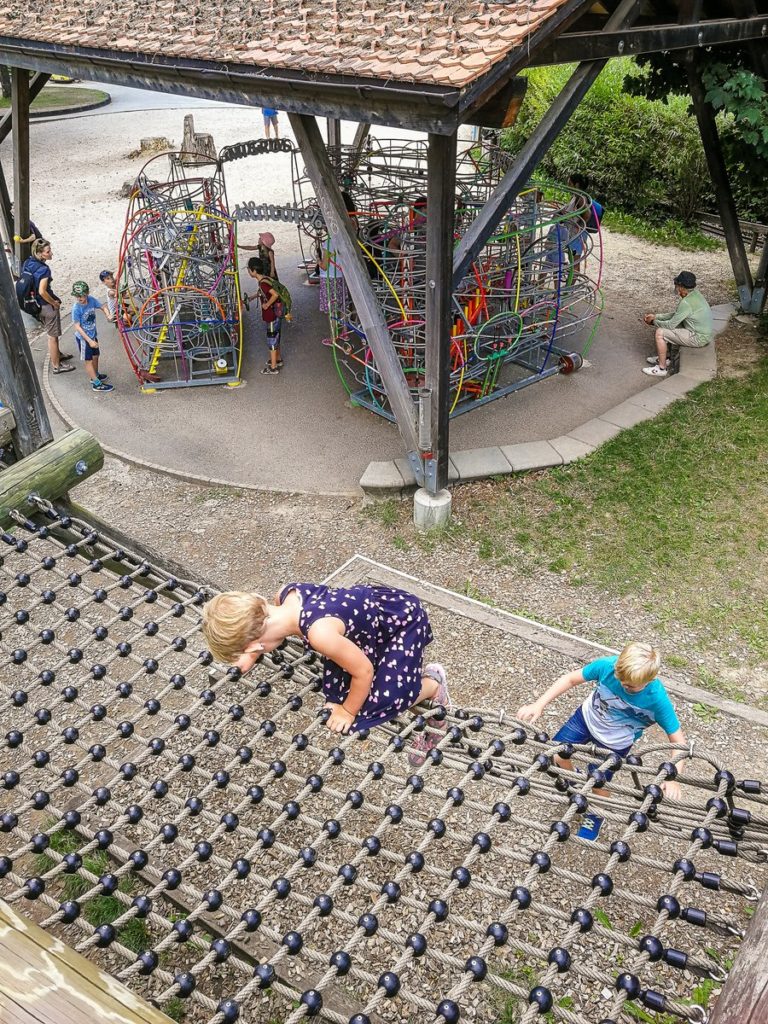 Rolling ball sculpture
Right next to the playground you can find marbles – you can endlessly turn the crank and move multicolored balls on the metal construction, chasing them through obstacles and watch where they wander and where they drop out.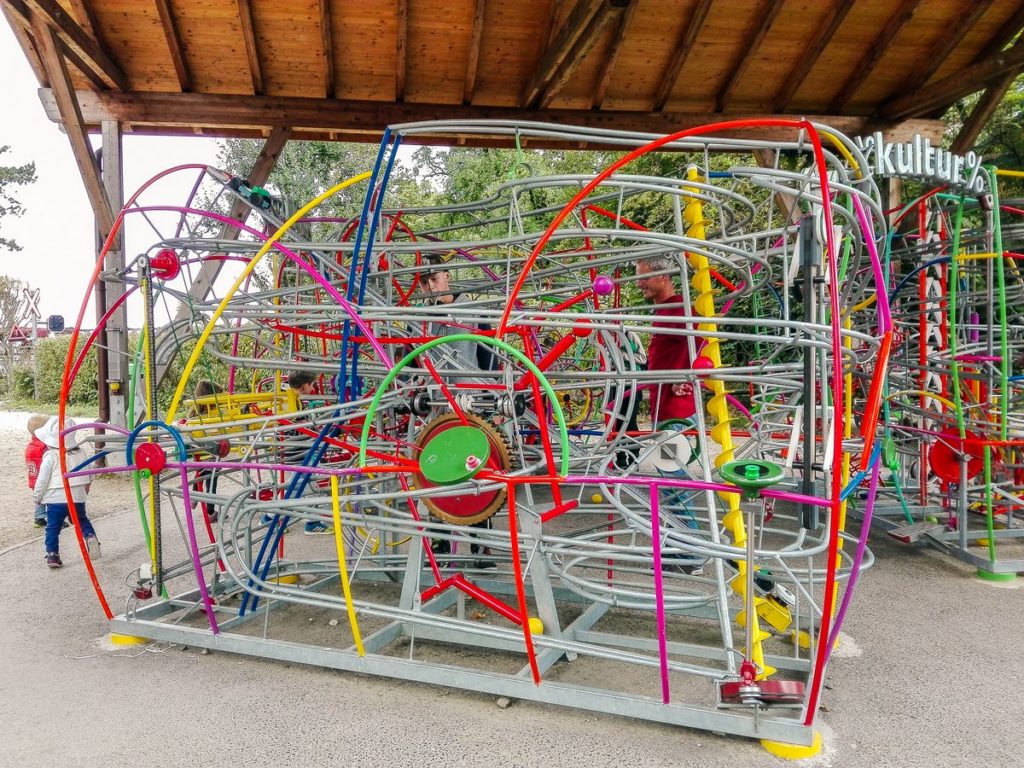 Kids cars
Twelve colorful toy cars are ready for children from three years on a special racing track. For 1 francs can those, who have to wait for driving a real car a few more years, enjoy several minutes of the ride.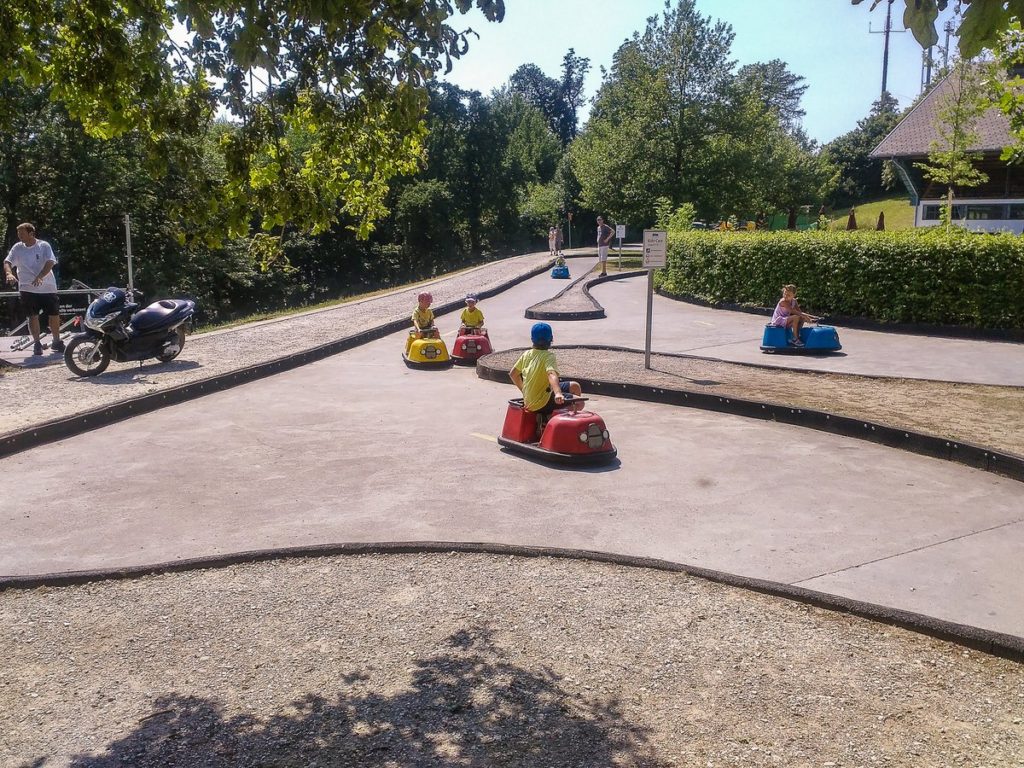 Gurtenseeli – Little Gurten Lake
If you go to Gurten on a warm day, don't forget to pack a swimsuit and towel for the children.
Gurtengärtli – Gurten Garden
Every Wednesday and Saturday afternoon, the garden is open, where you can admire various herbs and flowers, and you can also get involved and experience what such garden work entails. Our Patrik tried working with a shovel while tossing compost and as a reward he was able to harvest the onion grown here.
Where to eat
If you want to combine your visit with gastronomic experience, Gurten is a great place for a picnic. In the park are located a few spaces for grilling and roasting. But watch out for the wind – that lightning the fire didn't last longer than the actual food preparation and consumption 🙂
If you are not interested in preparing food or the weather is not suitable for a picnic, you can have lunch in the restaurant. "Tapis Rouge" is self-service and has very good facilities for families with small children (there are microwaves to heat baby foods, enough children's chairs, changing rooms, etc.). Every day, they have a choice of three types of traditional Swiss food, Rösti. One can sit both inside and on the terrace overlooking Bern. The second restaurant "Bel Etage" is for a little different clientele and more likely for solemn occasions.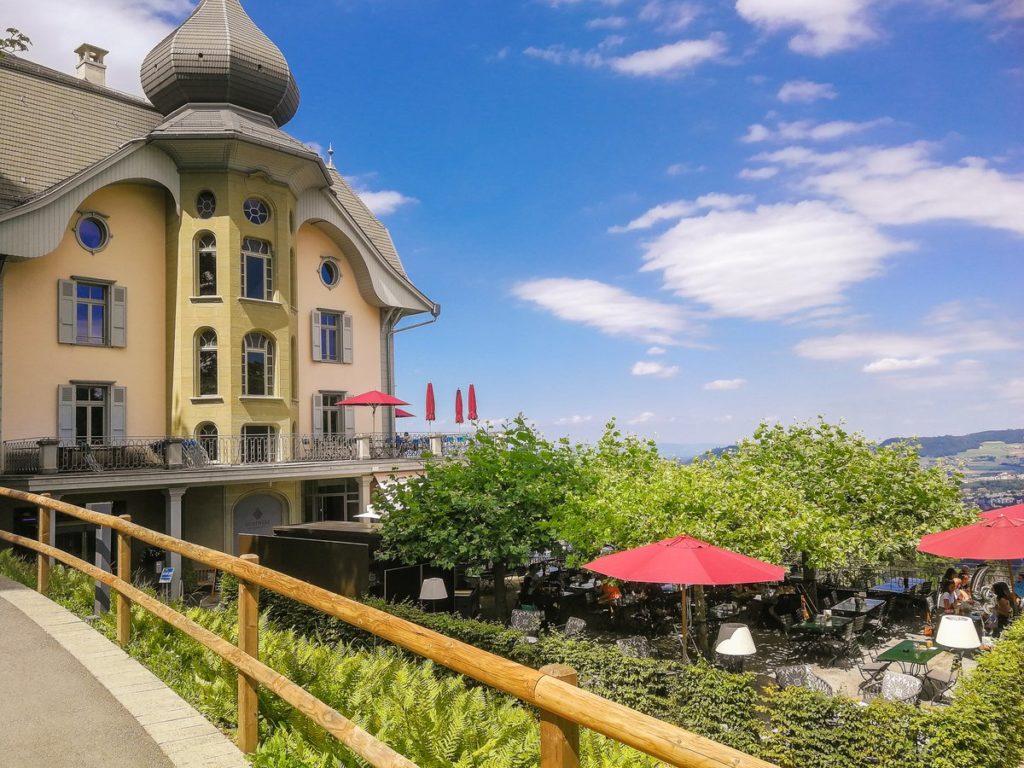 Lookout tower
When you digest your meal (or to get the proper hunger :)), you can climb the 23-meter high wooden tower, from where in good weather is a beautiful view of the Alps and on Bern and its adjacent districts.
Toboggan run
In summer you another of the attractions – 500 m long bobsled. Check the Gurtenpark website what is held at the Gurten (concerts, festivals, shows …)