During one of our recent visits to Kambly, we couldn´t help but notice the large posters inviting to visit the nearby sports center in Marbachegg. And since we love exploring new places, we wanted to test how the skiing outside the Swiss Alps would be. You can read about our experience there in my today´s post.
How to get there
Marbachegg
is a relatively small ski resort in the canton of Lucerne, which is located in a natural biosphere reserve Entlebuch, halfway between Bern and Lucerne.
By car you get there from Berne (via Langnau i.E.) in about 55 minutes, the same time takes it from Lucerne. From Thun then 35 minutes and from Zurich about 1.5 hours.
Parking has sufficient capacity and is free of charge.
If you´d like to use public transport, you can get there with the "Postauto" (bus in typically yellow color), line 251 – the bus stop is directly next to the cable car valley station (Marbachegg, Talstation).
Skiing
Marbachegg offers 8 km of slopes from easy to medium difficulty. The cable car takes you from the valley station (Talstation) on top Marbachegg, which lies at a height of 1 500m.a.s.l. From here you can ski down back to the valley station, or on the other side of the hill to the "anchor" lift.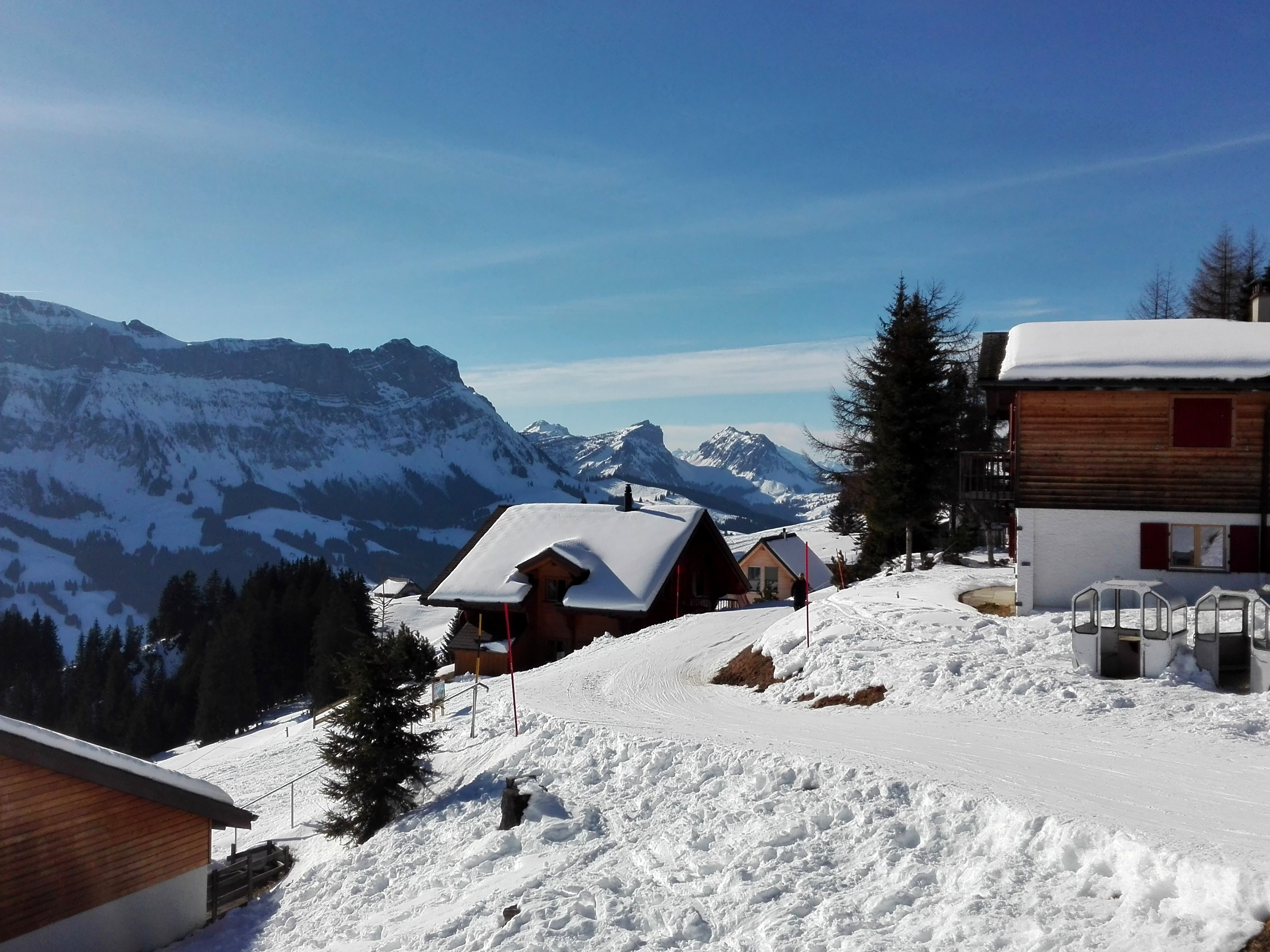 We spent most of our time skiing on A (red/blue) slope. At the beginning, it´s quite narrow and curvy – quite challenging for beginners, but it´s the only way how to get back to the valley station; once you´re at the blue on, it´s quite wide and suitable for kids.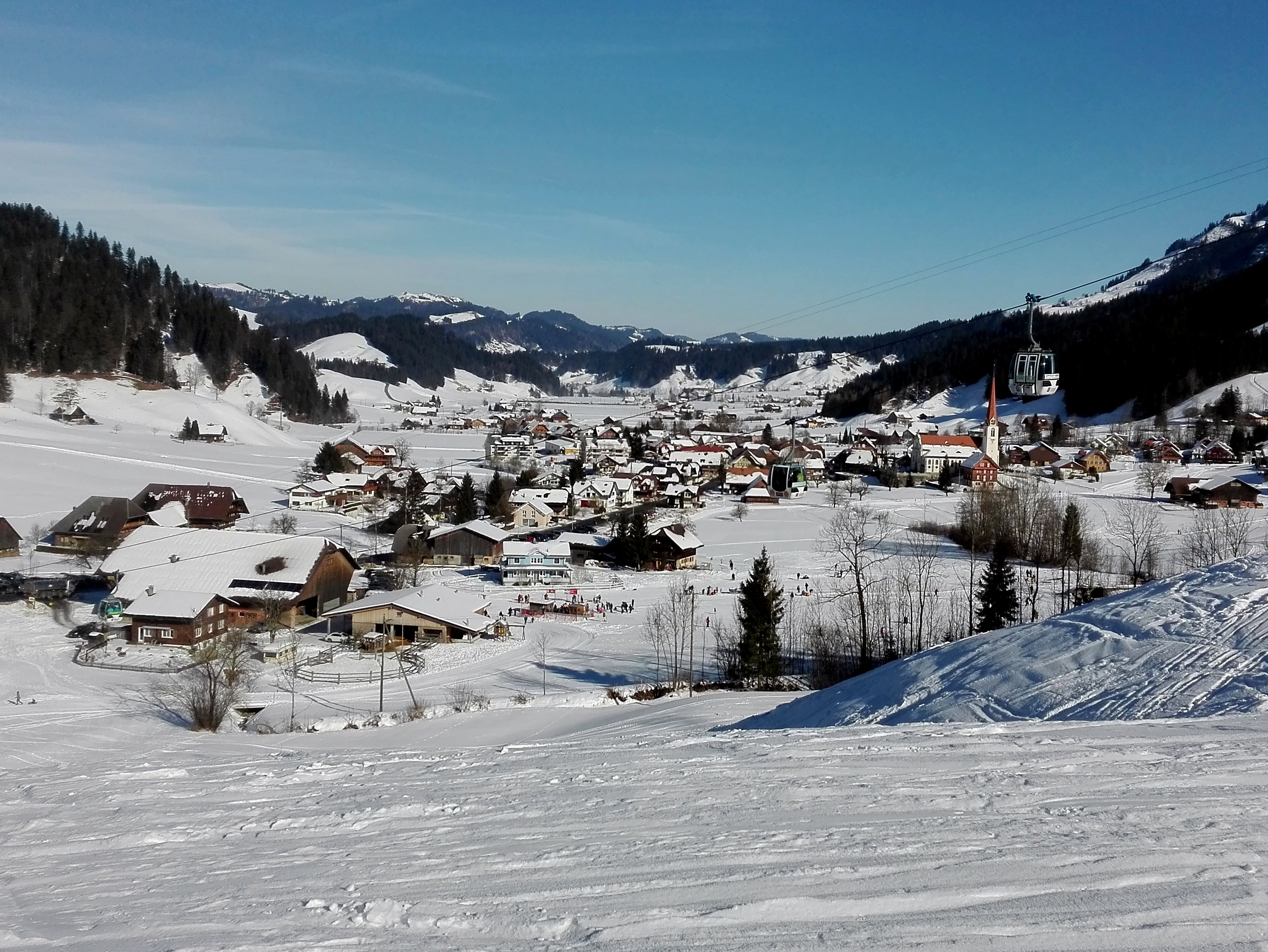 The view of the Marbach village and ski area for kids
Who prefers cross-country skiing to downhill, can enjoy 55 kilometers of groomed trails in the area of Marbach – Escholzmatt – Bumbach, which are suitable both for "skating" and classic style. For winter hiking, there are prepared 26 kilometers of trails (M, N on the map) and 13 kilometers of trails for snowshoeing (J, K, L).
Kids ski lifts
I think Marbachegg is quite a popular place for families with kids, as evidenced by the fact that the queue for the kids lift was longer than for the cable car 🙂 And no wonder: two rope lifts, two modified "slopes", where kids can under the supervision of their parents or instructors from the ski school practice their skills.
I personally would perhaps also welcome the "carpet" for the very smallest, but it's probably a fussy detail.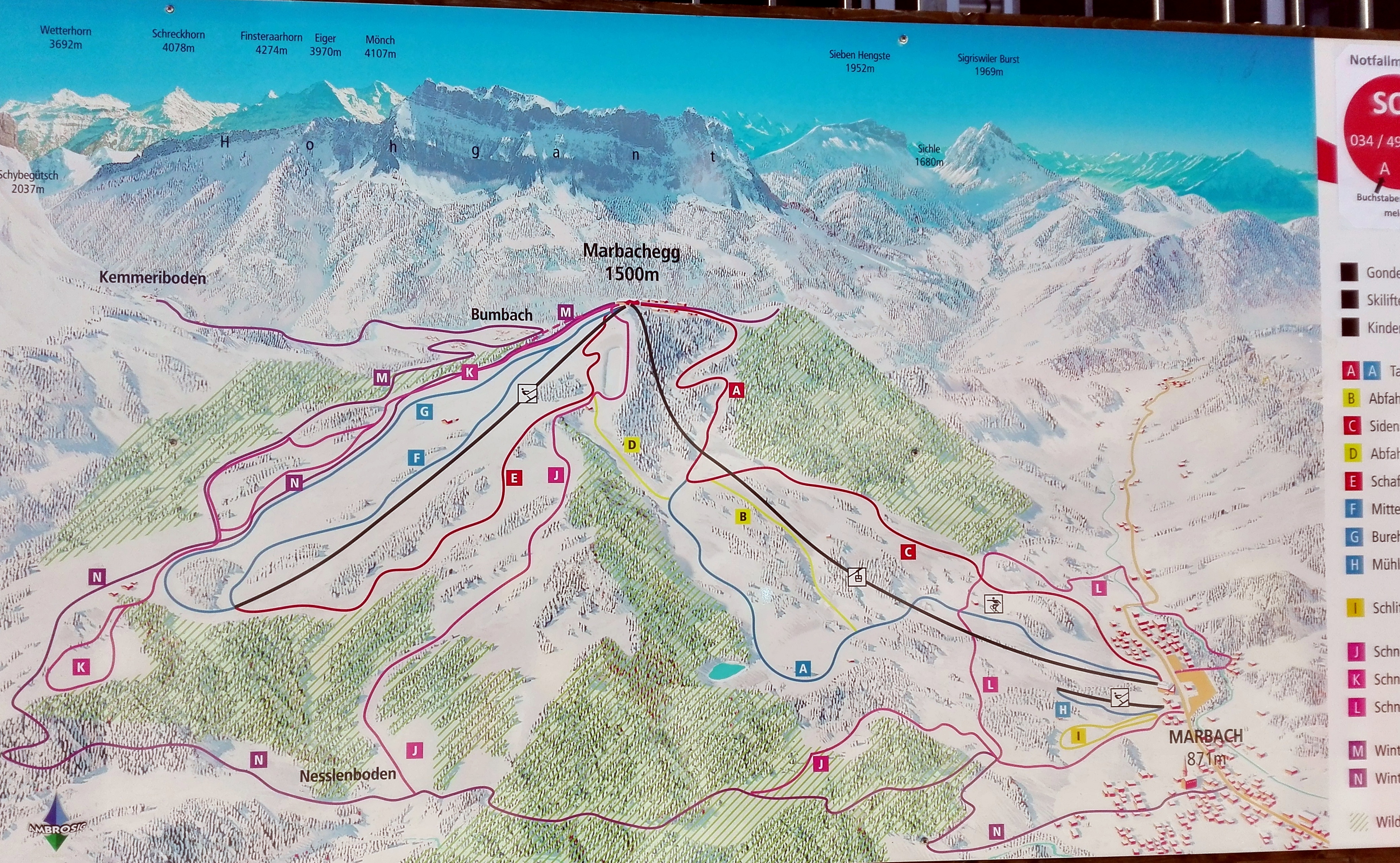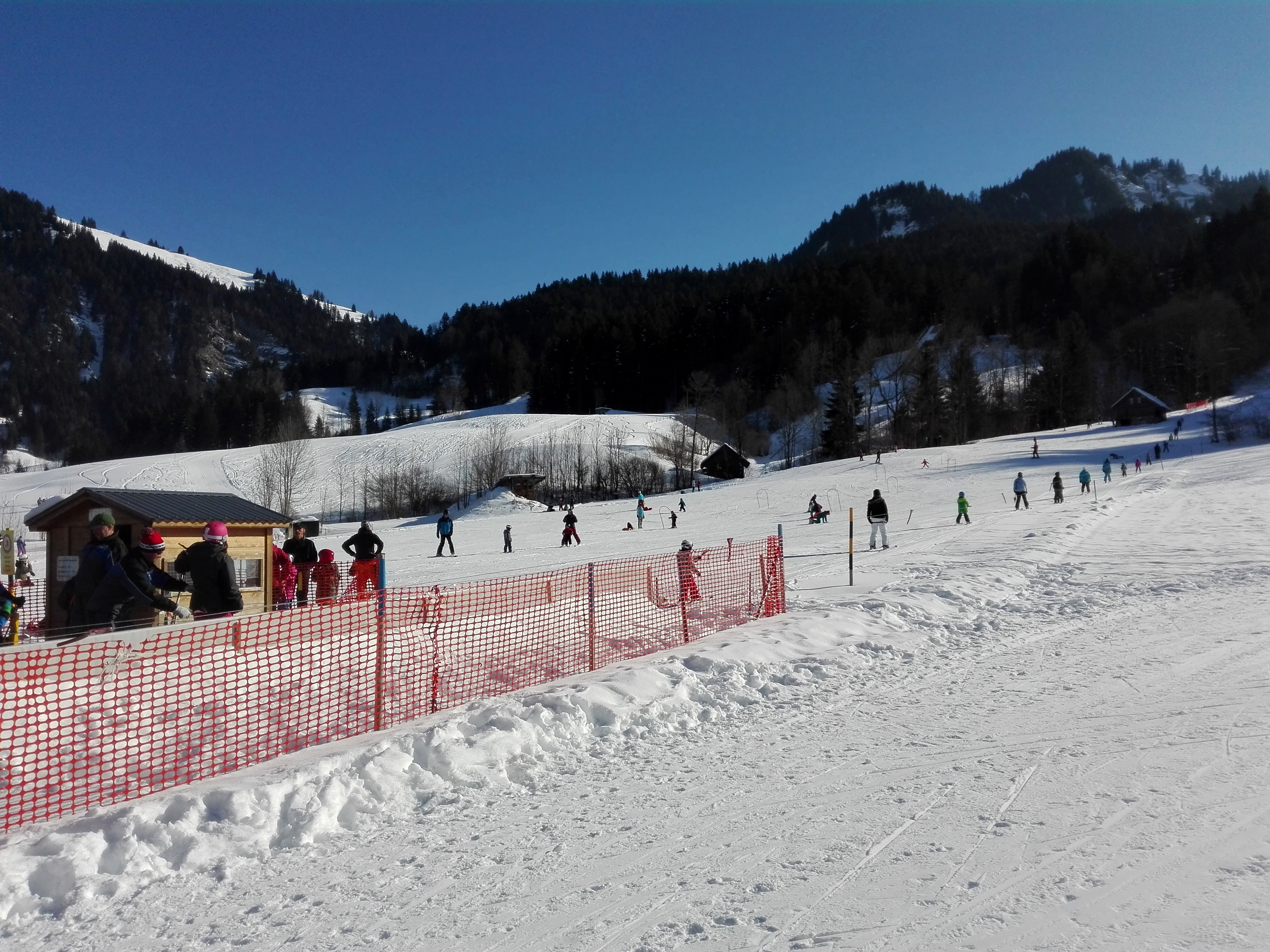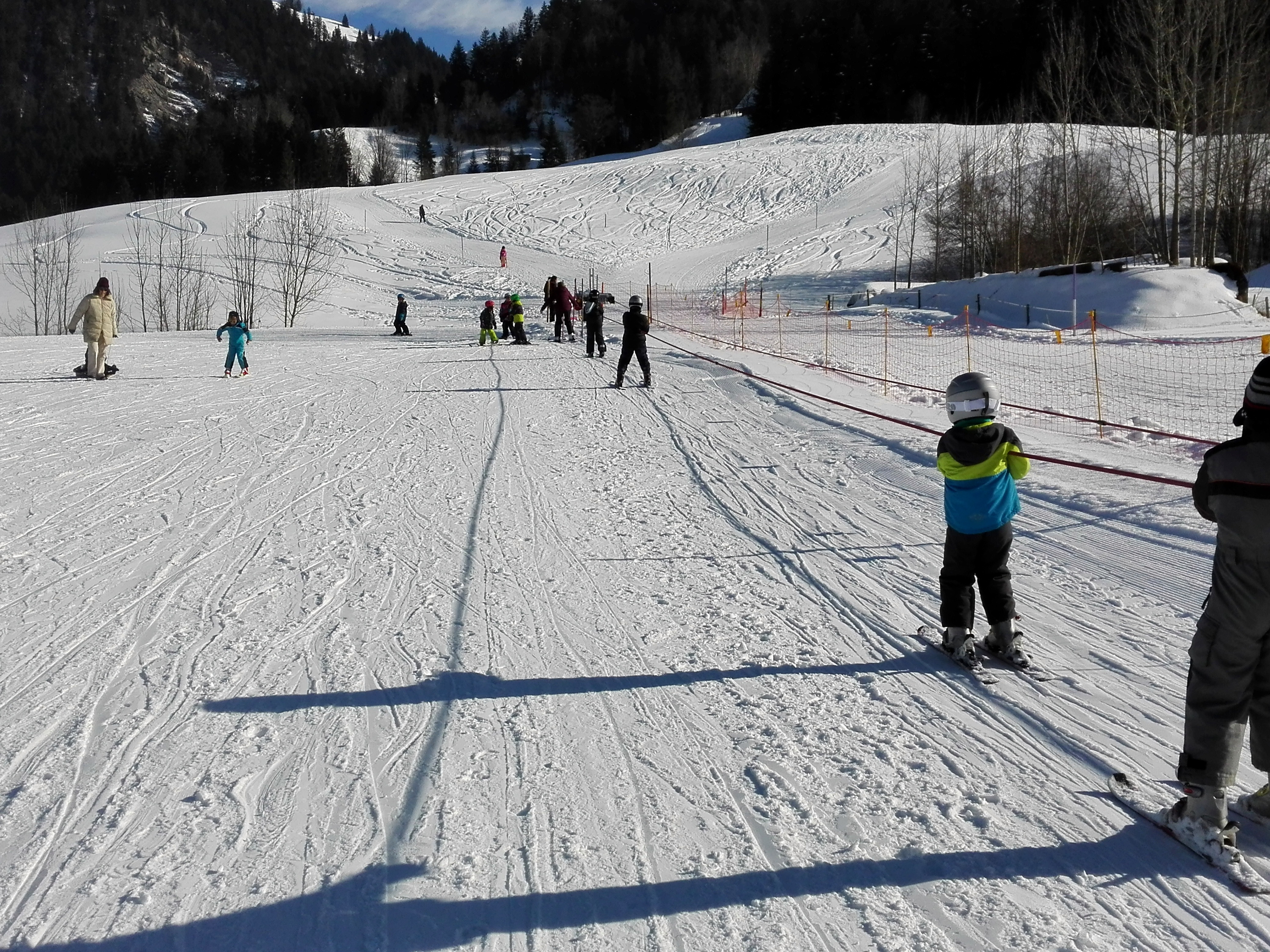 Other (non-skiing) activities
If your kids will have enough of skiing, they can take a sled or plastic sled (or füdlibob :)) and go down the hillock over kids' slopes, which is designed for this purpose.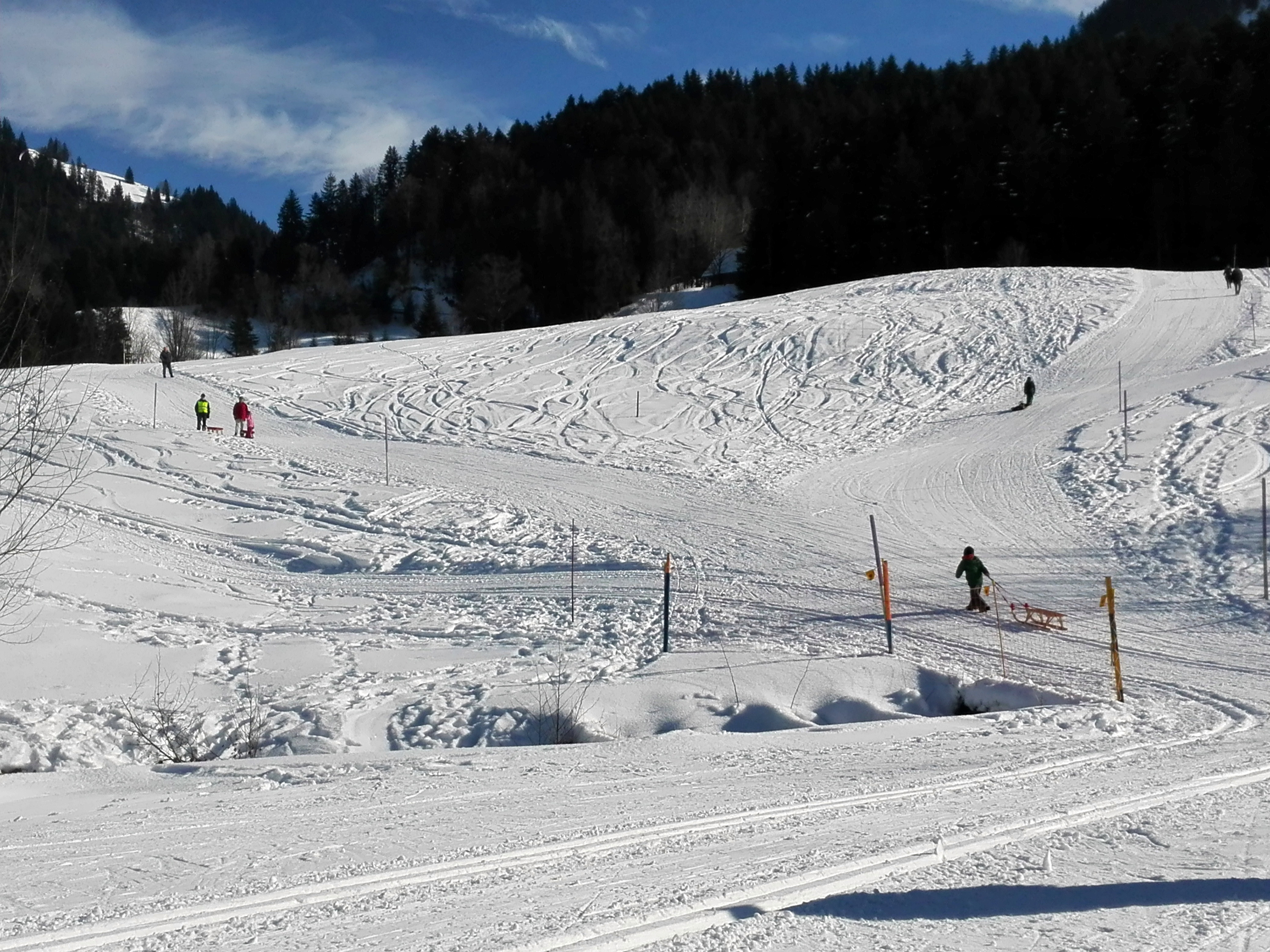 Or in good weather, they can watch paragliders landing on a nearby meadow.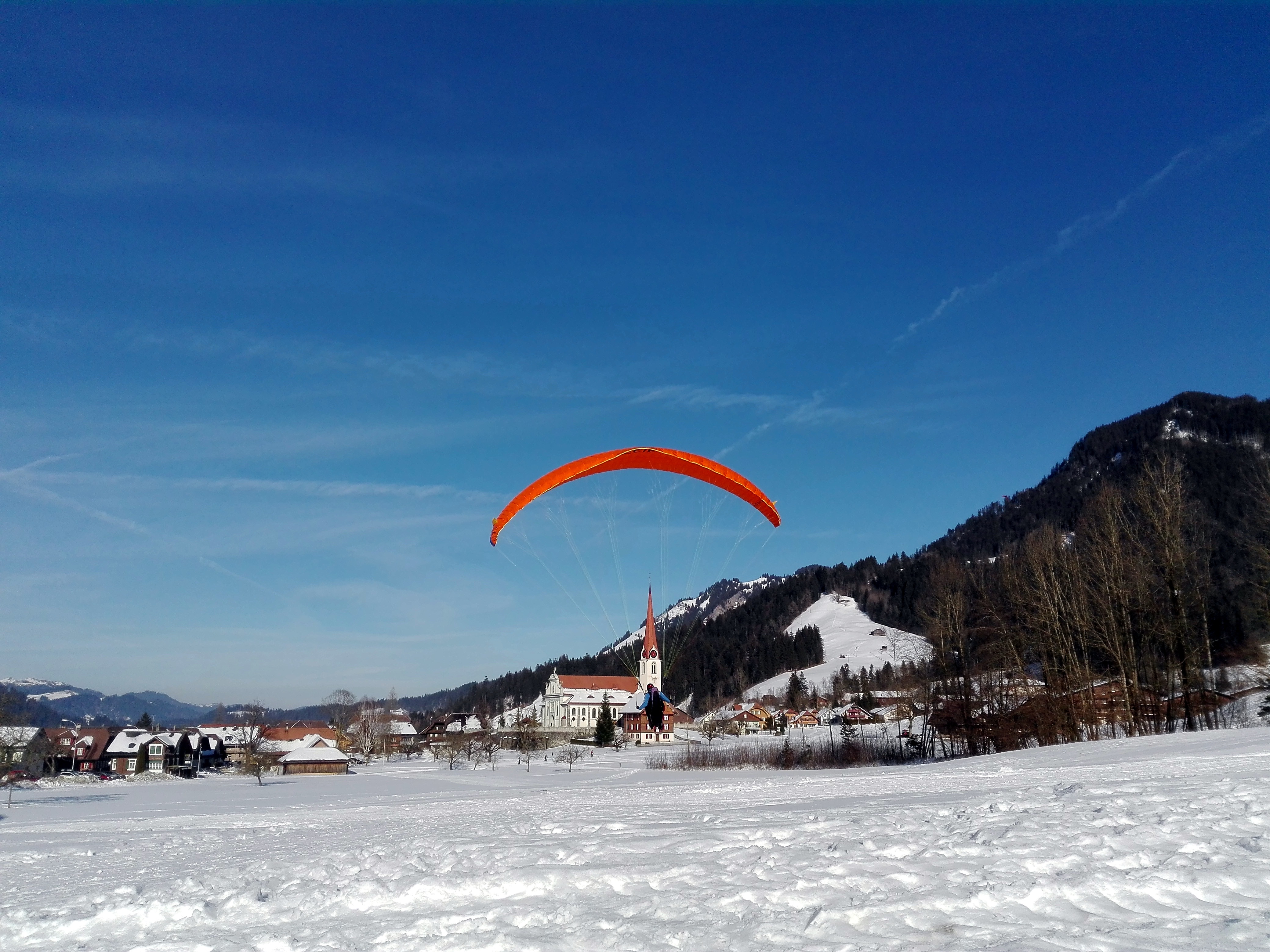 Or they can admire the housed animals by the restaurant
Ranch-Beizli
, which is located next to the kids´ lift. Next to the restaurant, there is also a kids´ playground with a slide and a roundabout, for which you can "yoke" theirs sleds.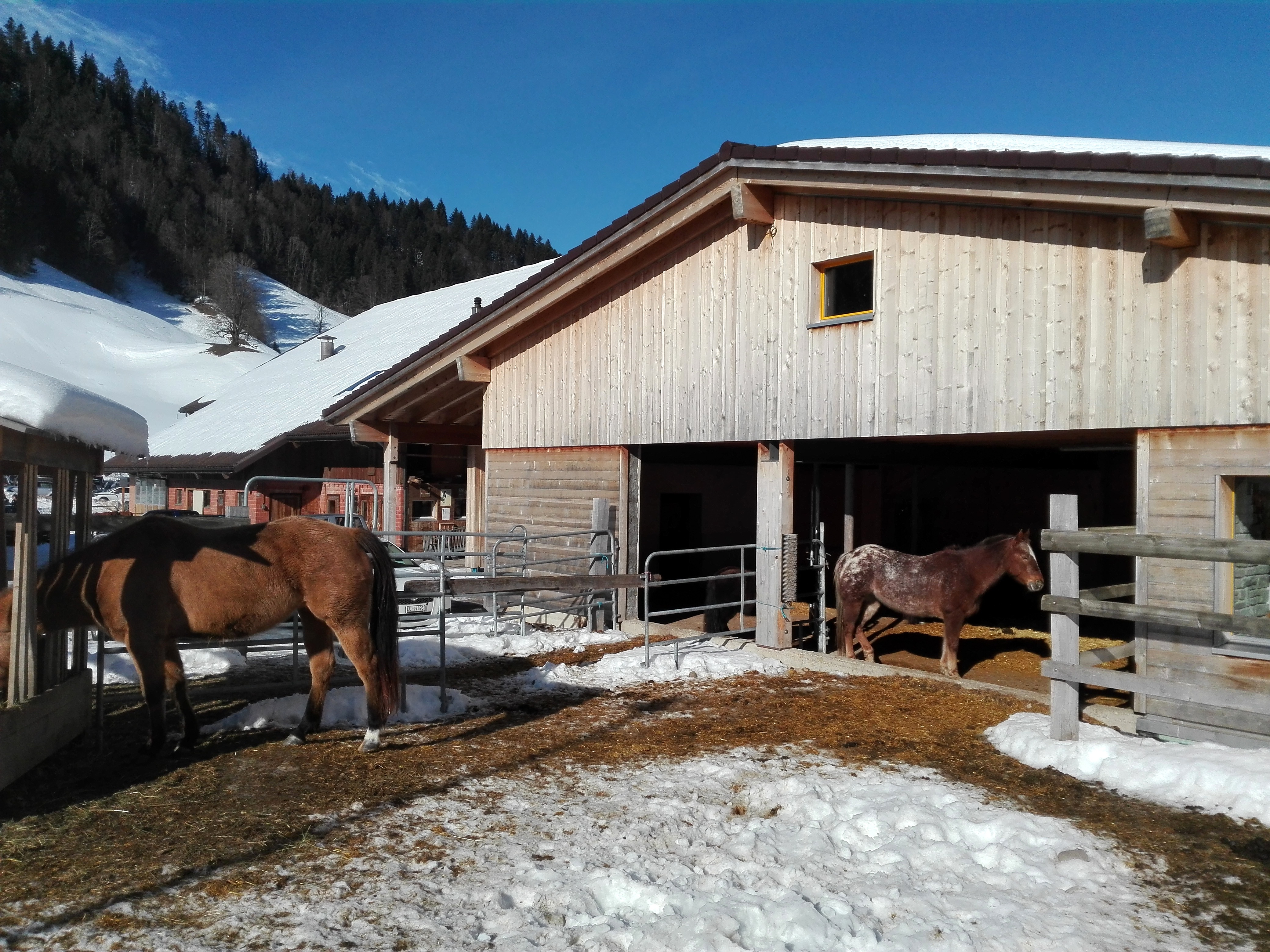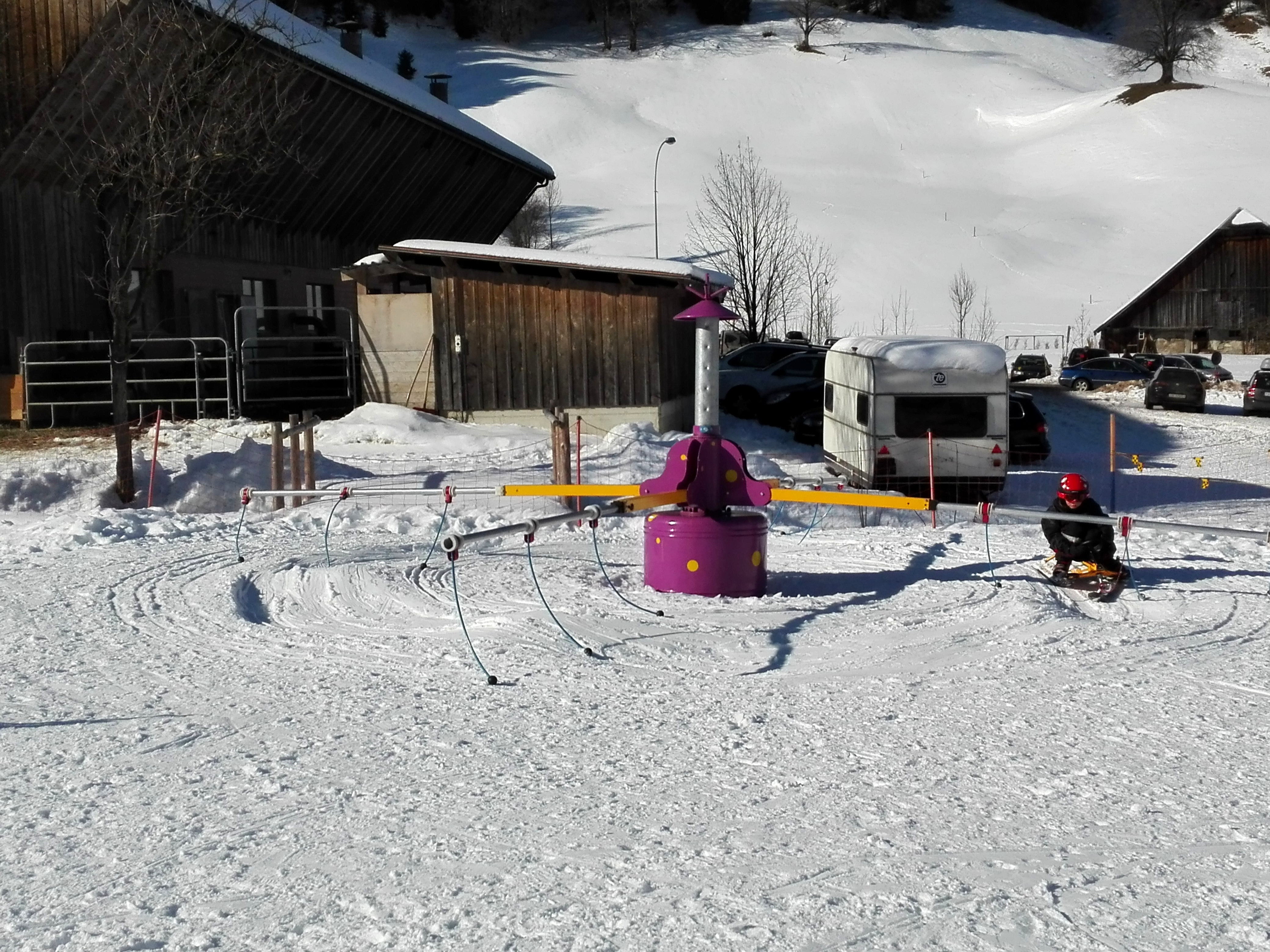 Another playground with a giant slide can be found even at the upper cable car station.
Eating
To be honest, we didn´t try neither the restaurant at the top of Marbachegg nor the Ranch restaurant, but I could smell
typical
grilled sausages from both of them and my mouth was watering 🙂 And full terrace in front of the Bergrestaurant Eigerblick (just behind the cable car, with the view of the Alps) proved they served a really good food there.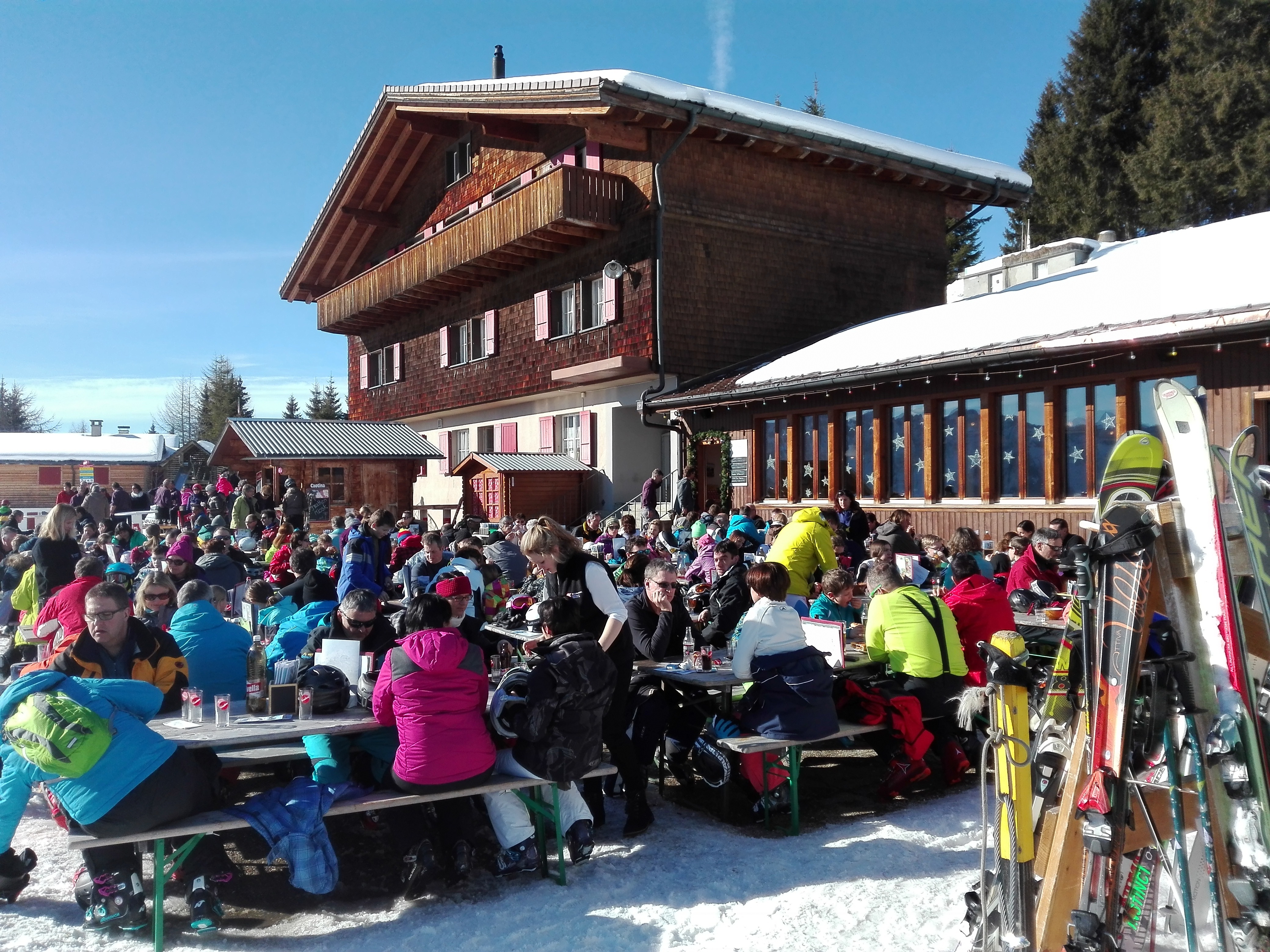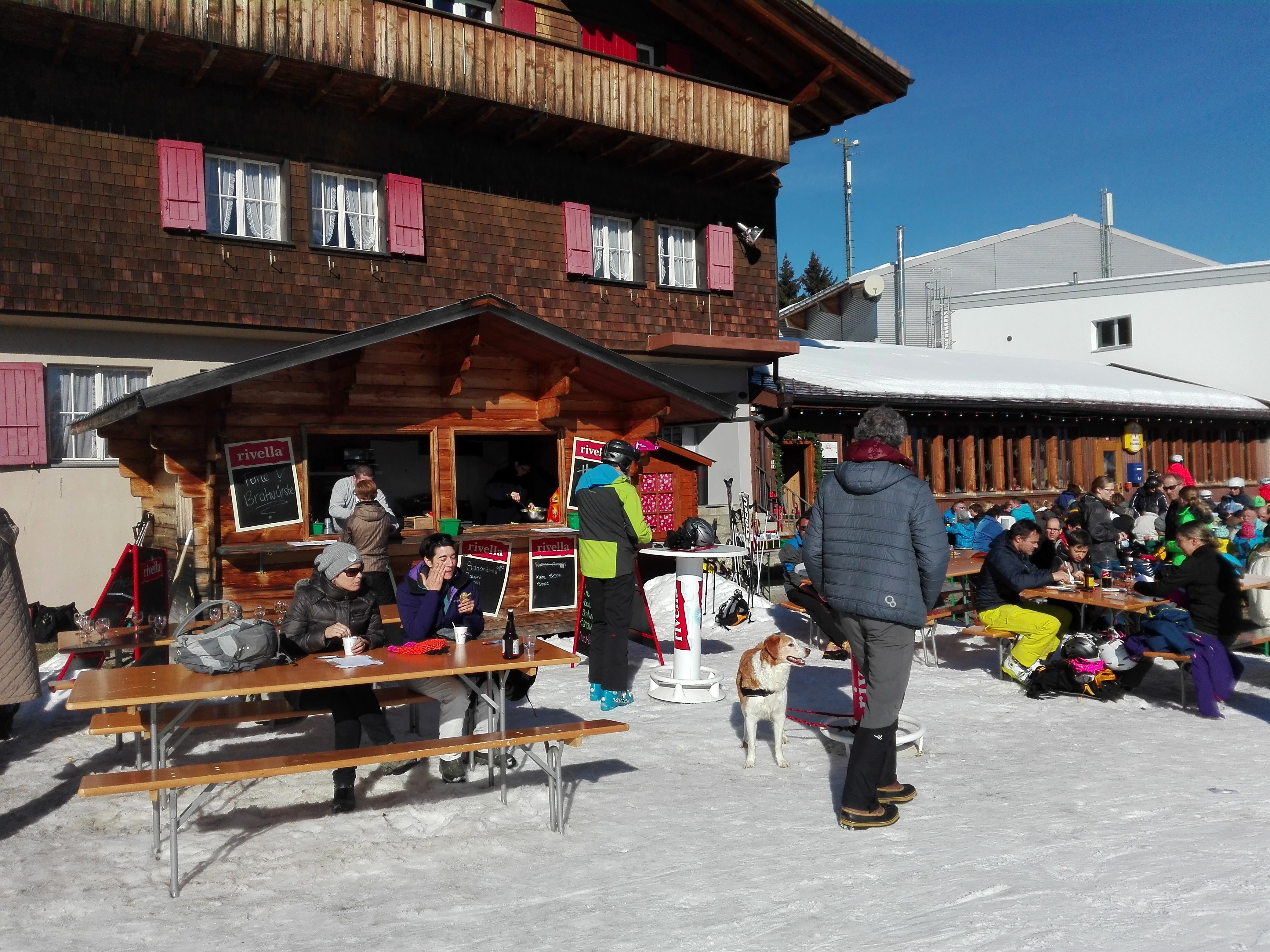 Useful tips:
the first car park on the left (right next to the kids´ ski lift) is only for cars with 4×4 drive. We saw few cars having problems getting out of the parking lot
in the ski rent, they accept only cash
there is 5CHF depot on the ski-pass, so don´t forget to return it after skiing
together with your ski-pass you´ll get a voucher to the local cheese shop and the Kambly shop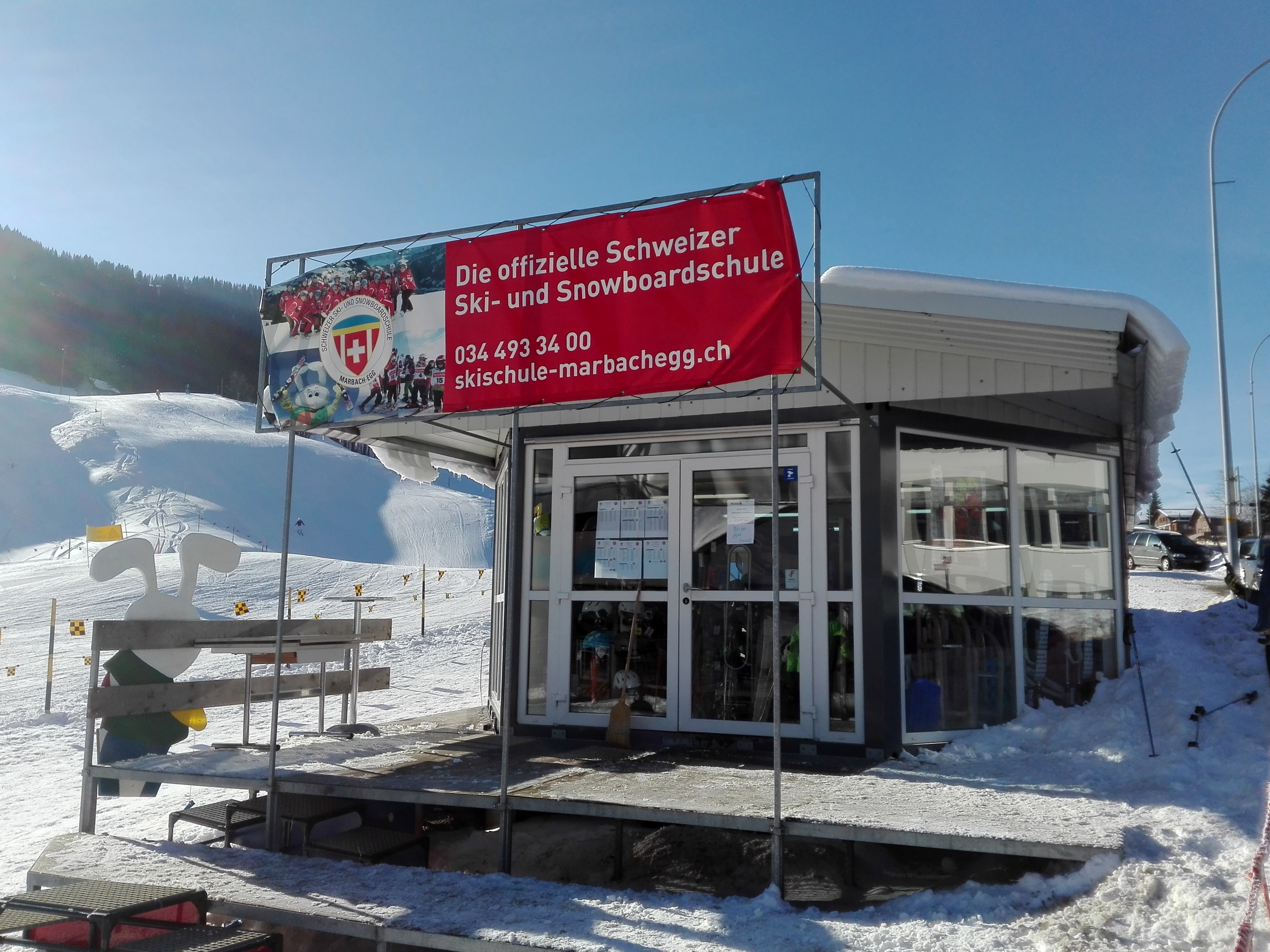 In conclusion…
Although my husband, proficient skier, hasn´t been much impressed by this resort, I was happy here. No queues for the cable car, on the slopes, I would point man all by himself 🙂 The price of the ski school instructors here are much cheaper than in the Alps, which is (when having a big family) paying off.
I would definitely like to come back here in the summer season.
And what about you? Have you ever skied in Marbachegg? Did you like it here? Would you recommend it to others?
If you don´t want to miss any of my recent posts please sign up for my blog in the top right-hand corner of this page. Thank you 🙂
I will appreciate any time if you share my posts on Facebook or Twitter. It helps get my blog out to more people, who may like my posts.
And of course, I look forward to reading all your comments.