…aka from Simmenfälle to Sibe Brünne.
Recently, I´ve been literally bombarded through all social media channels I´ve been using with ads for the Lenk in the Simmental area. Since I am an easy target of all marketers, I knew I wanted to visit Lenk as soon as possible. I´ve already had this place on my "Swiss bucket list" but I was afraid that my husband would grumble about the fact that it´s quite far for a day trip (yeah, one hour and a half drive from our place is far away 😀 ). Anyway, I managed to convince him and on a beautiful Sunday morning we set off in the direction of the Bernese Alps.
Getting there
By car: Lenk im Simmental is about 1.5 hours drive (less than 90 km) from Bern; 2.5 hours drive (200 km) from Zurich. Enter the address of Oberriedstrasse 76, 3775 Lenk im Simmental in the navigation. It is the address of the Hotel Restaurant Simmenfälle, which is the starting point for your hike. The car park is only for visitors of the restaurant, but you will surely have something good here 😉
You can reach Lenk also by train, from the station it is about 5 kilometers to Simmenfälle. You can either walk or take a bus (line 283, stop Simmenfälle)
Trail
The hike starts at the Hotel Restaurant Simmenfälle. Given that they have a playground and a goat's pen, I thought for a while we wouldn´t set out our feet from here.
Simmenfälle – Simmen Falls
We finally persuaded our children (especially our little one) that we needed to go and we certainly come back here later. Not even after five minutes, we reached the waterfalls where the water of the Simme River, with a tremendous roaring, falls over several meters high rock stairs and from here flows into the wide, flat valley to which it gave its name.
Then we set out on the hike. You have to be aware that it´s a pretty steep climb on a stony forest path. Fortunately, for the most part, in the shade, alongside small mountain streams where you can wipe your sweaty forehead with ice-cold water. Or you can supply on water.
Barbarabrücke
The biggest cooling is waiting for you at Barbarabrücke. The ice-cold water sprays up to the bridge so it´s really a welcomed cooling.
Birgflue
The trail full of curves then leads you to Birgflue, a 50-meter-long limestone wall that serves as a nesting place for birds living in the rock.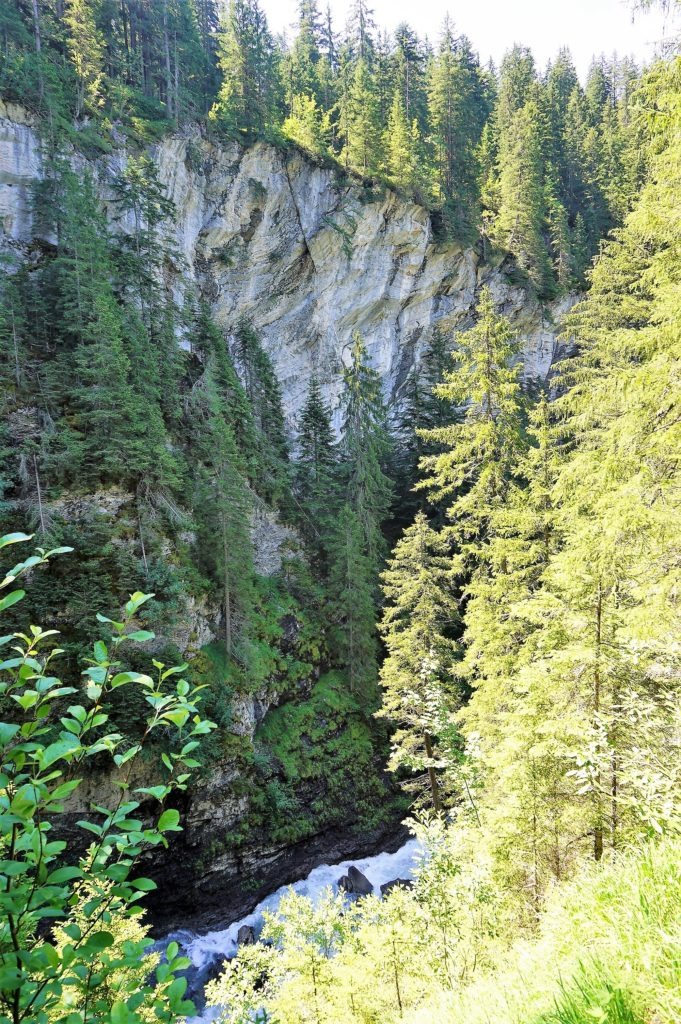 Ammertenbach
The trail goes uphill all the time, sometimes a little steeper and sometimes a little flatter. Before the bridge over Ammertenbach you walk (at last!) almost on the flat.
"Sibe Brünne" – Seven Springs
Once you reach the Siebenbrunnen Restaurant, do not be tempted to have a beer here or other local goodies (you will get to that later), but go a few tens of meters further to the real goal of your hike. Seven springs form the Simme River, which measures 55 kilometers, and flows into Thun Lake near Wimmis.
Restaurant Siebenbrunnen
After my husband cooled his feet in the ice-cold water, we went back to the Siebenbrunnen restaurant. Although it is located in the middle of nowhere, it has a very varied menu. While the fellow-hikers around us were ordering rich cheese plates, we were satisfied with beer, homemade yogurt and ice cream (of course not all at once, but something for everyone 😉 ).
Hiking down
I probably do not have to say that kids hiked downhill down much easier and cheerfully than uphill 🙂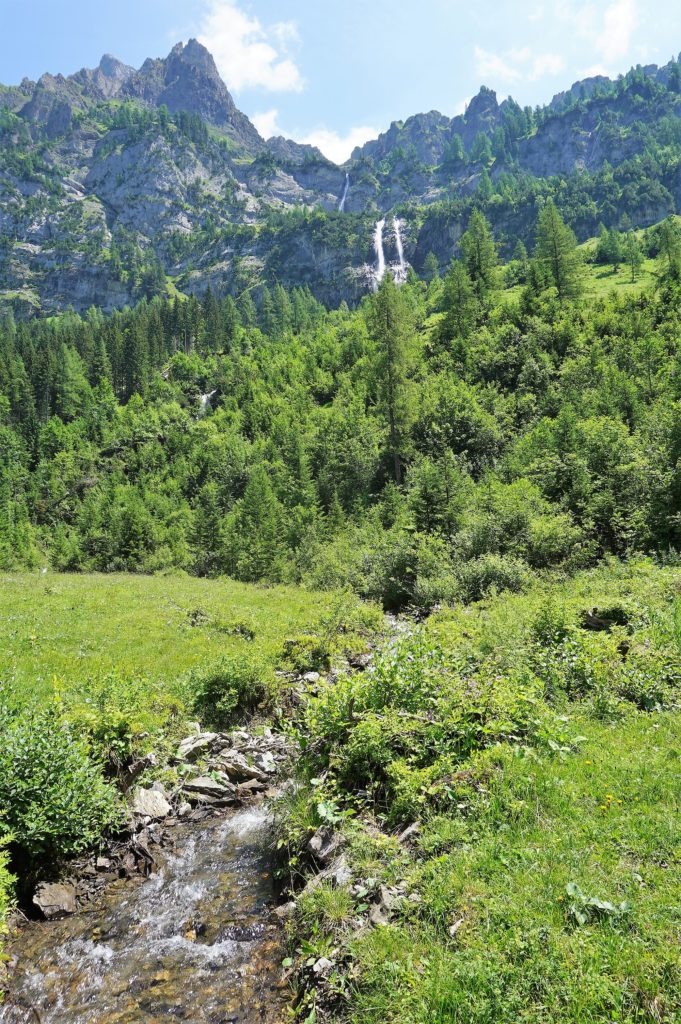 Children´s playground near Lenkerseeli
As we managed our hike relatively quickly, we were looking for where to go next. On the map near the parking lot, I saw that in Lenk, near the local camp, there is a natural pond called Lenkerseeli. The original plan was to walk around the pond. But as there is a beautiful playground on its shore, we have given up on that idea 🙂 In addition to slides, swings, water playground, maze, kiosk, you can also find a small steam rail here. For 2 francs per person, the train will take you twice around the playground.
Our impressions
Hiking from the Simmen falls to the springs of the Simme River, despite its steepness, seems to be a popular destination for family trips. We met a lot of families with small children (I would recommend this hike for children 5+). The entire hike is over 7 kilometers long and the elevation gain is less than 400 meters. It took us about 1 hour 15 mins to hike to the Sibe Brünne, then about 45 minutes hiking back.
The trail is not suitable for strollers and I would certainly recommend good hiking shoes.
The wide Simmental valley is really beautiful, and I know we will definitely come back here again. Because I want to try out one of the three themed children´s trails: Murmelitrail, Luchstrail, and Detektiv-Trail at Betelberg.