Before we left for our holiday to Croatia, my husband and I had agreed that this time we would just relax. No big traveling and exploring, like during our previous two holidays in France. However, our plans began to melt right after arriving at our Airbnb. When our great hostess Suncica began to name beauties of Istria we definitely shouldn´t miss. I admit that I had previously searched a bit on the Internet for the case if we were "accidentally" bored by lying on the beach 😉 Finally, our holiday was a varied mix of relaxation and exploring. And in this post, I would like to share with you the places we visited and liked.

Why Istria?
We chose the holiday in this peninsula in the northwest of Croatia for purely practical reasons. We were looking for a place that would be about halfway between Switzerland (from where we left) and Czech (where we headed after). We didn´t know much about Istria, because earlier (understand: as single and childless 🙂 ), our favorite destination was the Makarska Riviera (as it is for many Czech tourists). That's why we were pleasantly surprised how much this green peninsula offers for family fun.
1. Pula
The very second day of our holiday we headed to the south of the Istrian peninsula to visit Pula Arena – an impressive and preserved 1st-century amphitheater. Although the nearest official car park was full, we found a place right in Flaviovska Street, where the famous monument is located. We were lucky that there was almost no ticket queue (50 kuna adults, 25 kuna children). You will get a small plan of the amphitheater at the entrance, or you can rent an audio guide for 40 kunas. I personally would appreciate some information boards within the arena to get an idea of how it "worked" in such an arena. Anyway, I quite missed the "genius loci" here. It is more likely that there were disturbing elements like a big screen and chairs (probably preparing for the local film festival).
If you are not an absolute fan of ancient monuments but you still don´t want to miss seeing the arena, you can save the entrance fee by walking around the arena from the outside. Alternatively, you can sit in the restaurant gardens right by the fence around the Arena. You get almost the same view as from inside (because there is not much in the arena). You will only miss visiting a small olive oil production museum located in the underground of the arena. Anyway, I would like to visit the "Colosseum" in the evening when it is lit up or attend some cultural event that is held here.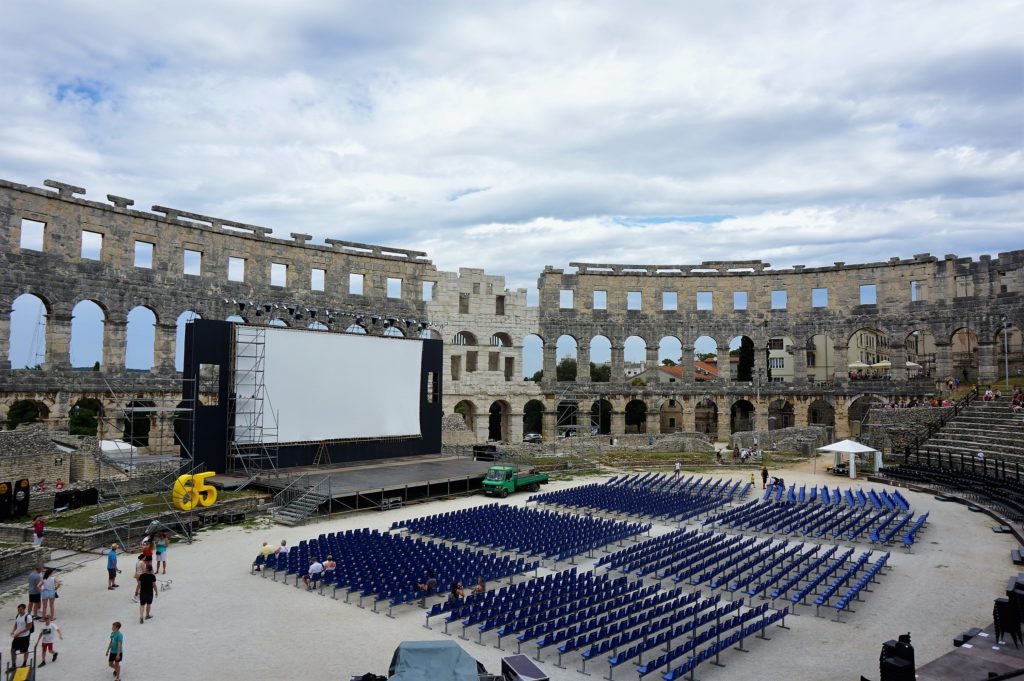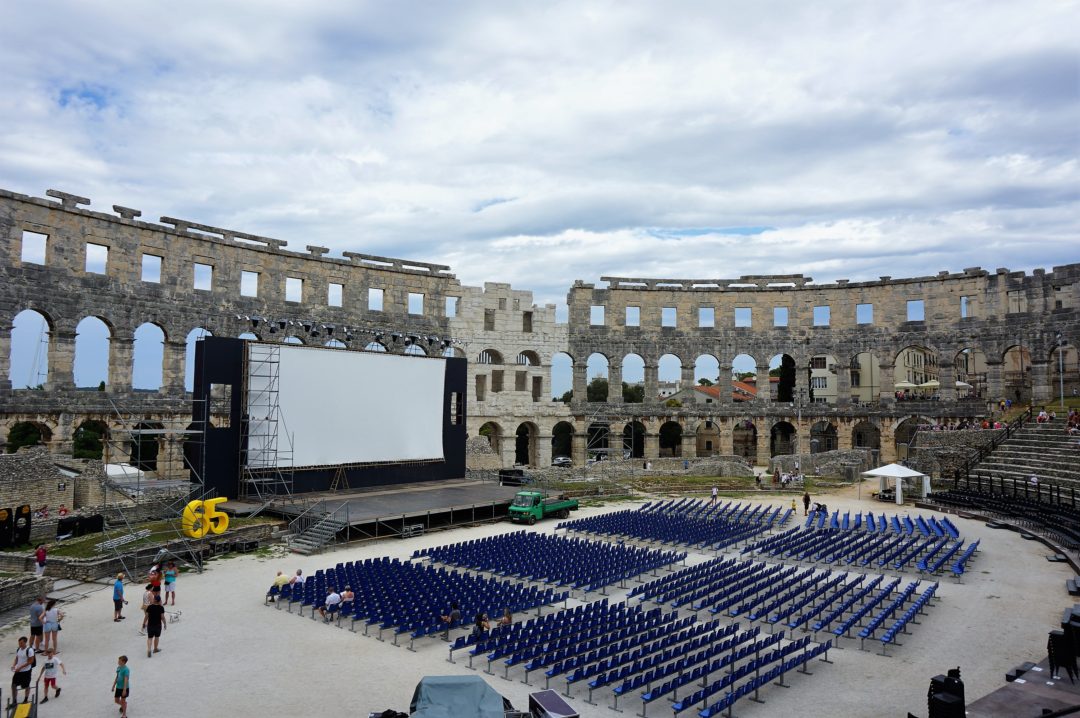 From Arena, we walked towards Forum Square, where the Temple of Augustus is located. Finally, we visited the former Venetian fortress "Kastel". From here we had beautiful views of the city and the harbor.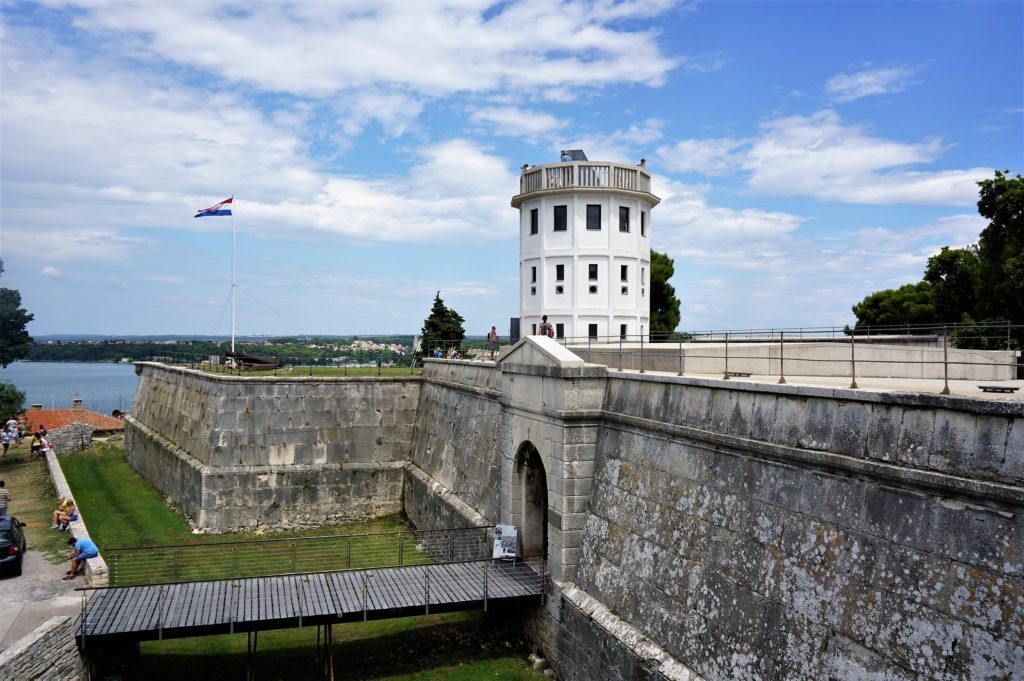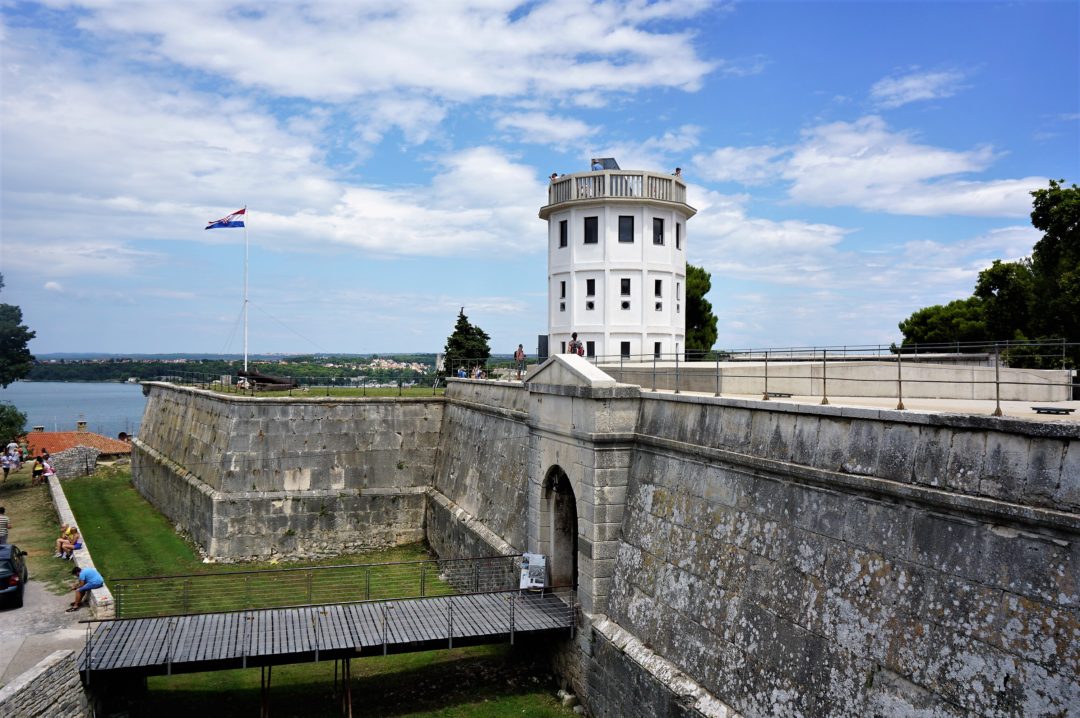 2. Cape Kamenjak
Our hostess advised us that if we are in Pula, we must definitely go to the Kamenjak Cape. It is the southernmost tip of Istria, located about 10 km from Pula (direction Premantura). Kamenjak has plenty of coves to bathe. It is also a protected natural monument, so the entrance to the peninsula is paid (80 kunas per car). And then it's up to you which beach you decide to go to. But be aware of the adventurous ride with unpaved dusty roads and paths (when you go, your car will be covered with a layer of white dust. We drove to Njive Beach, which is recommended as suitable for children.
3. Lim channel
On the way back from Kamenjak to Funtana, which was the place of our stay, we stopped by the Lim channel, which is the most famous channel of the Croatian coast. It is also called the Lim fjord because here the sea here cuts into the shore up to a depth of 9 kilometers.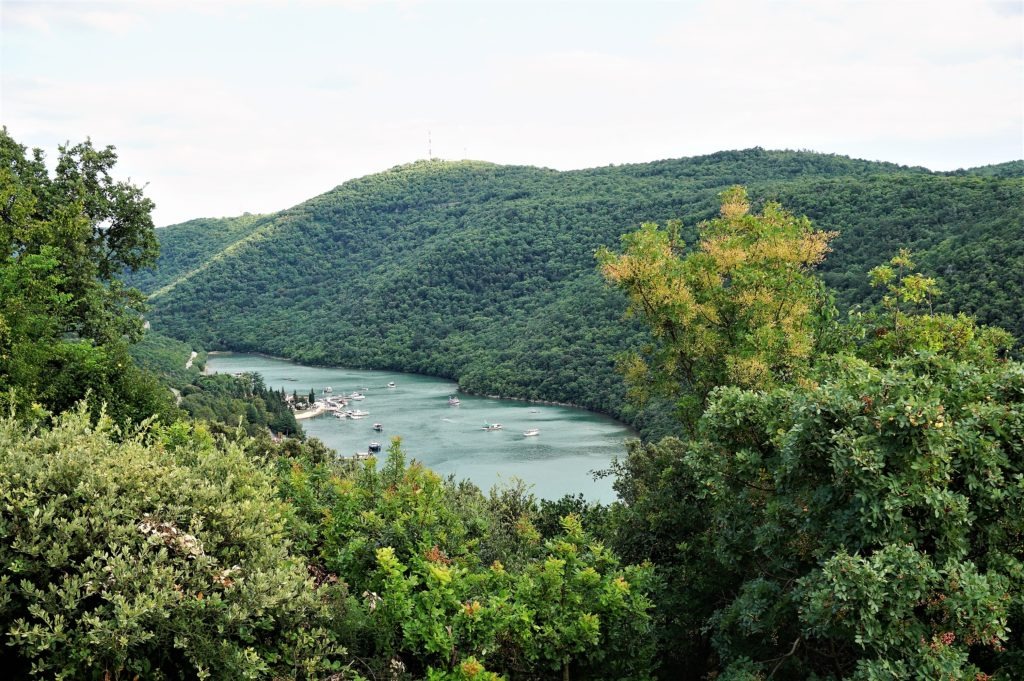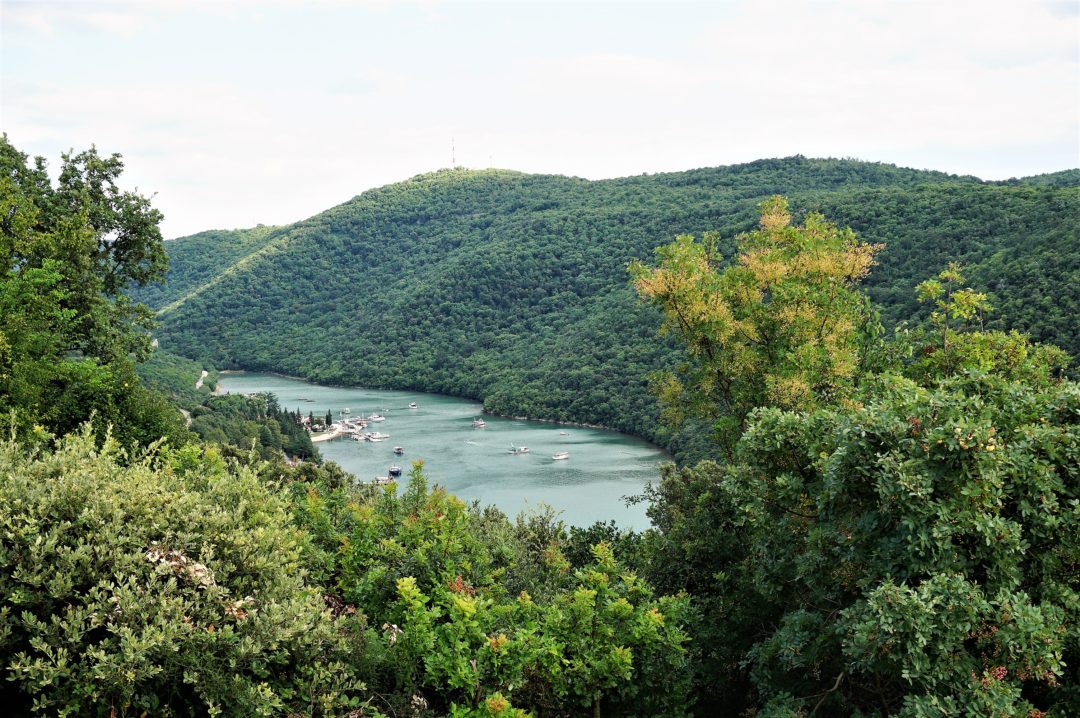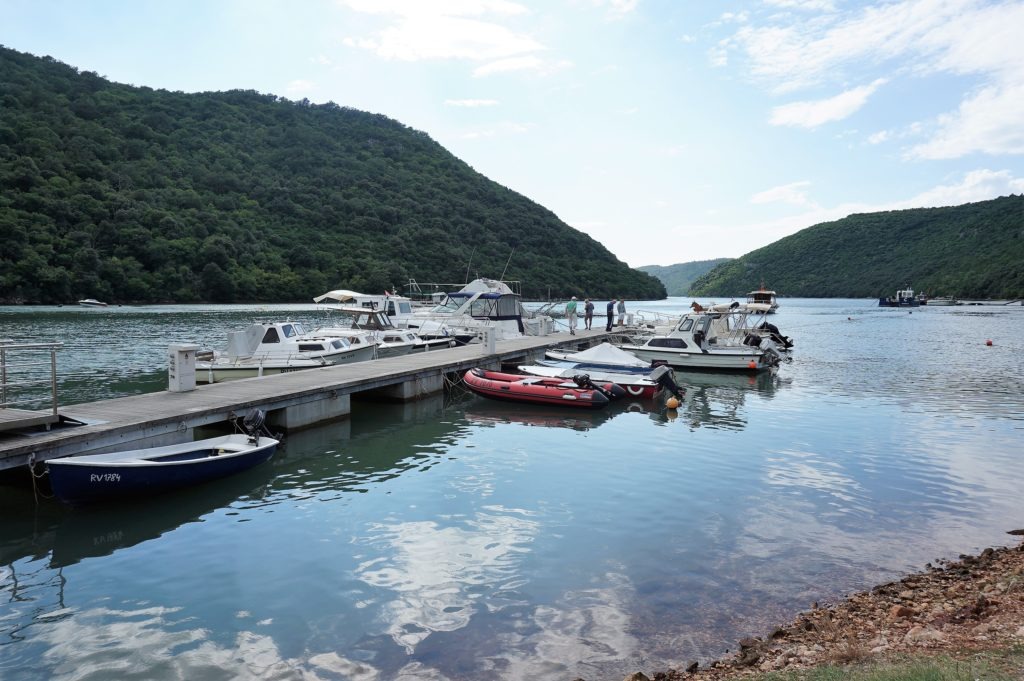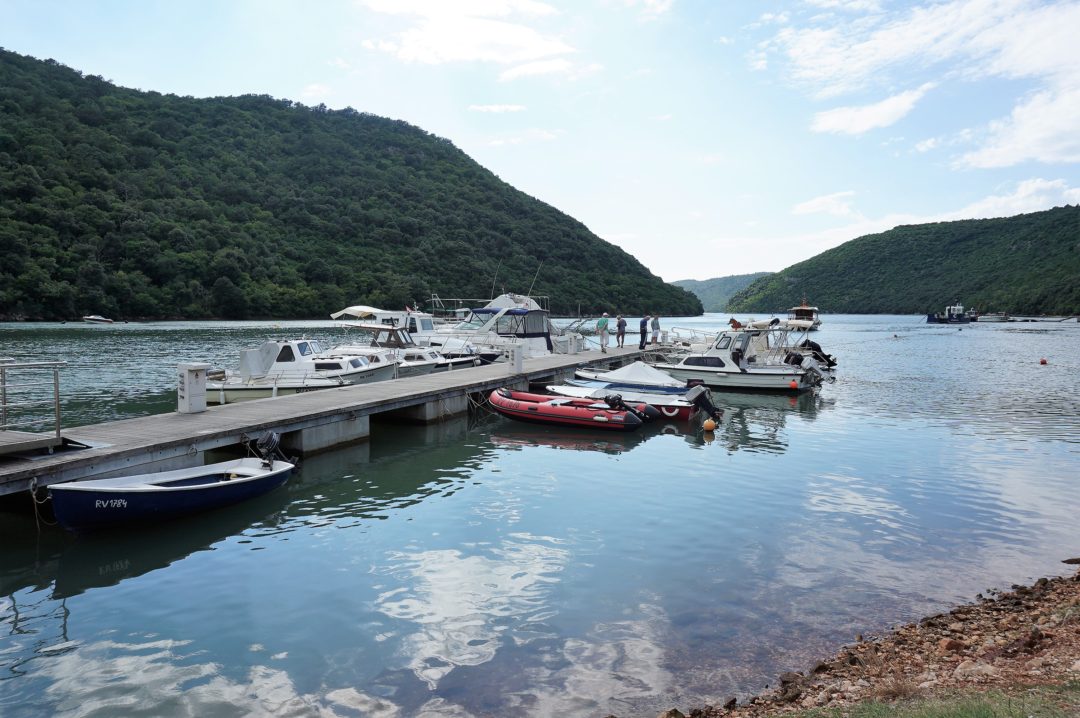 4. Istralandia
Just like on a holiday in France, here we also visited the aquapark. In Istria, you will find two, quite close – Aquacolors and Istralandia. We have chosen to visit the Istralandia Aquapark, located in the village of Brtonigla, less than 10 kilometers from Novigrad. Here you will find water slides (of which the largest is free fall), waves pool, two-level pool with hydromassage nozzles, children's pool with slides, or diving boards. Most of the attractions are for children of the 140cm height, so, unfortunately, our children were not allowed 🙁 But even so they had a lot of fun here.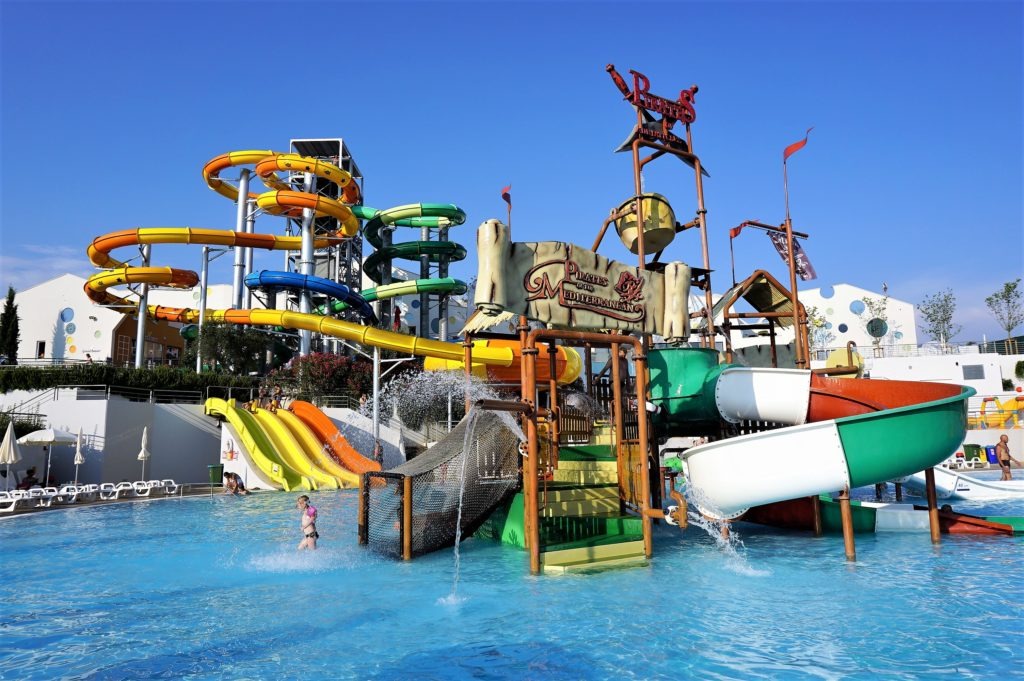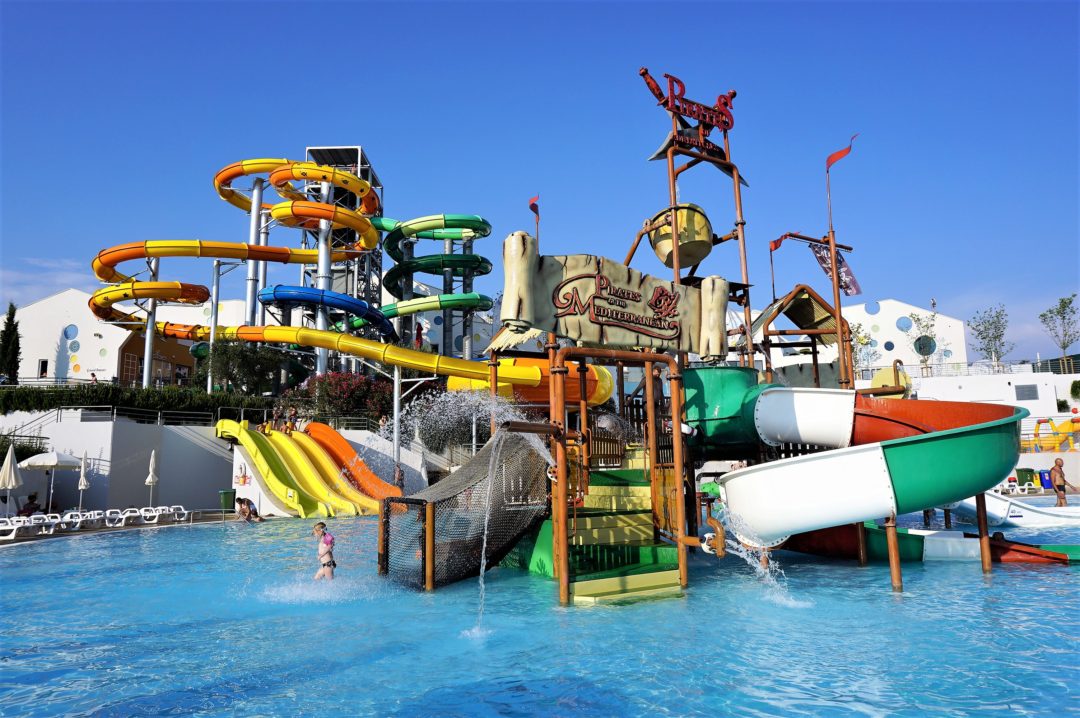 I liked the program that the aquapark offers: Aqua Zumba, aquaerobics, foam party, or "concert" of the brass band that plays rock hits right in the pools! That you must really see 🙂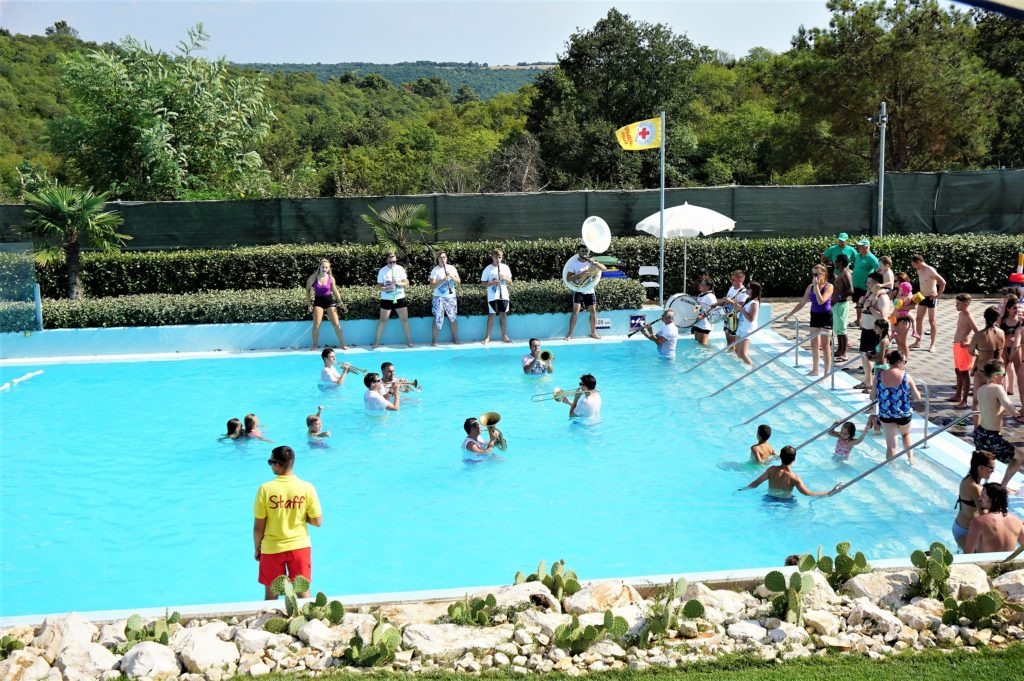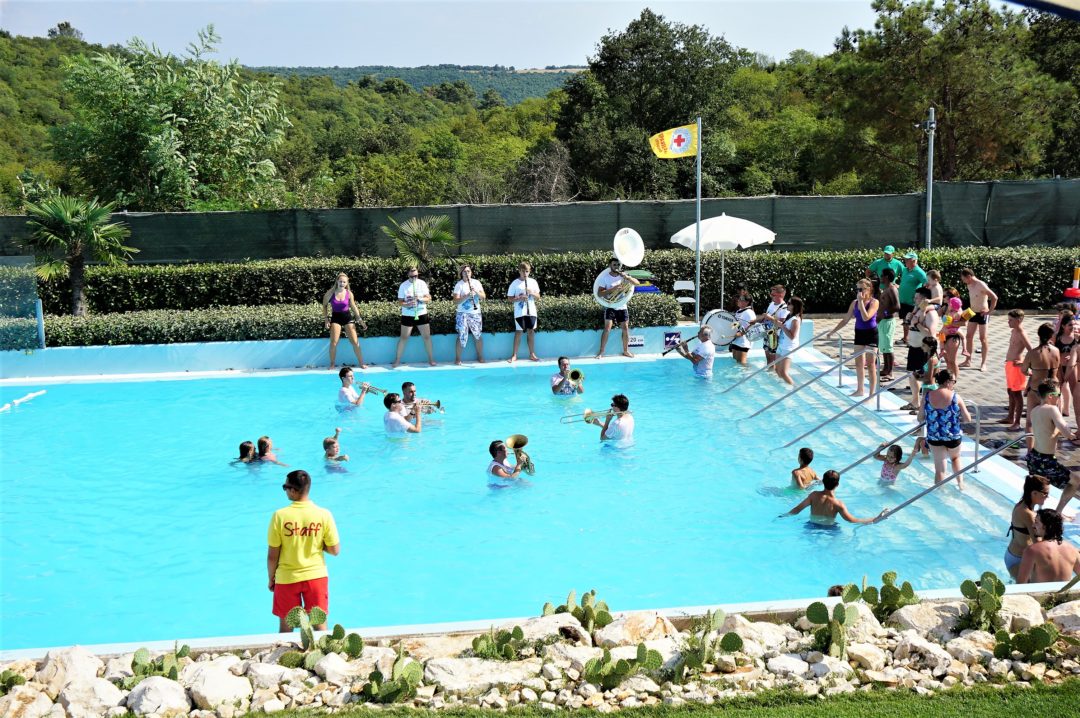 5. Novigrad
Even before our holiday, I knew that if we were to be near Novigrad, I must definitely find the Instagram-famous street with umbrellas 🙂 I was imagining how I – dressed in a new summer dress – was posing here with a dreamy look … , um, the reality was somehow incongruous with my imagination: we arrived in Novigrad, I found the street, but there was no mood to take some romantic photos. My hair was a mess after all day by the water, no make-up, dressed in my old dress, in torn sandals and on top with our littlest on my back in the carrier. And a hungry pack in the heels. So I was glad to take at least a quick selfie and we were looking for a restaurant so I could no longer listen to: "Mummy, I'm hungry". But we enjoyed a beautiful sunset here and we had a good meal in a nice restaurant.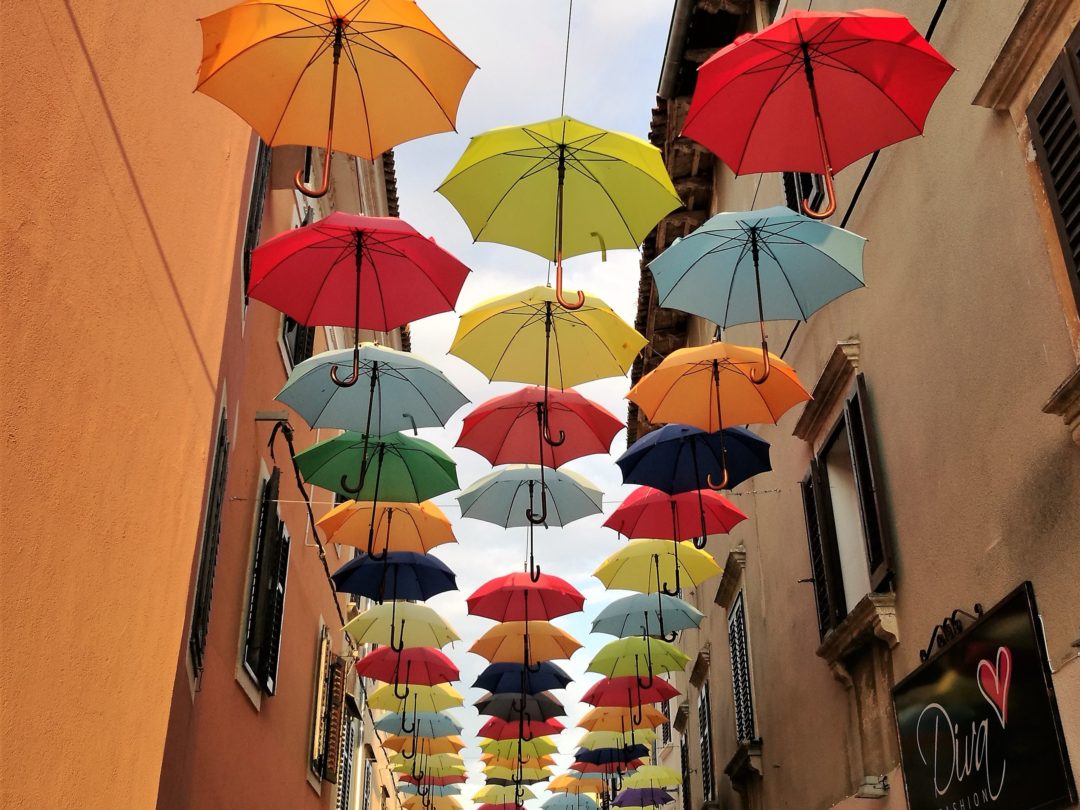 6. Dinopark Funtana
We couldn't have resisted visiting the Dinopark since we had a view of its entrance directly from the terrace of our Airbnb apartment 🙂 It is fun mostly for 5yo children but older children can learn here about prehistory by the natural way. Models of dinosaurs are moving (of course, they are not running through the park, but only their parts are moving 🙂 ), children had fun pressing dinosaurs buttons. The path leads through the Istrian forest (stroller accessible) so the place is ideal for those who want to "relax from the sea". Although the admission may seem higher, it also includes attractions that you can go to as many times as you like: there is a rocking boat, a centrifuge style carousel, a small roller coaster, and a carousel for younger children. The rides for younger children are self-operated with start/stop buttons. Twice a day (at 12 and at 16 o'clock) the show takes place in the Circus tent. For us, the highlight was a scissor lift, which takes you up to 15 meters. If you do not feel dizzy, you can enjoy panoramic views of the surrounding area over the top of the trees.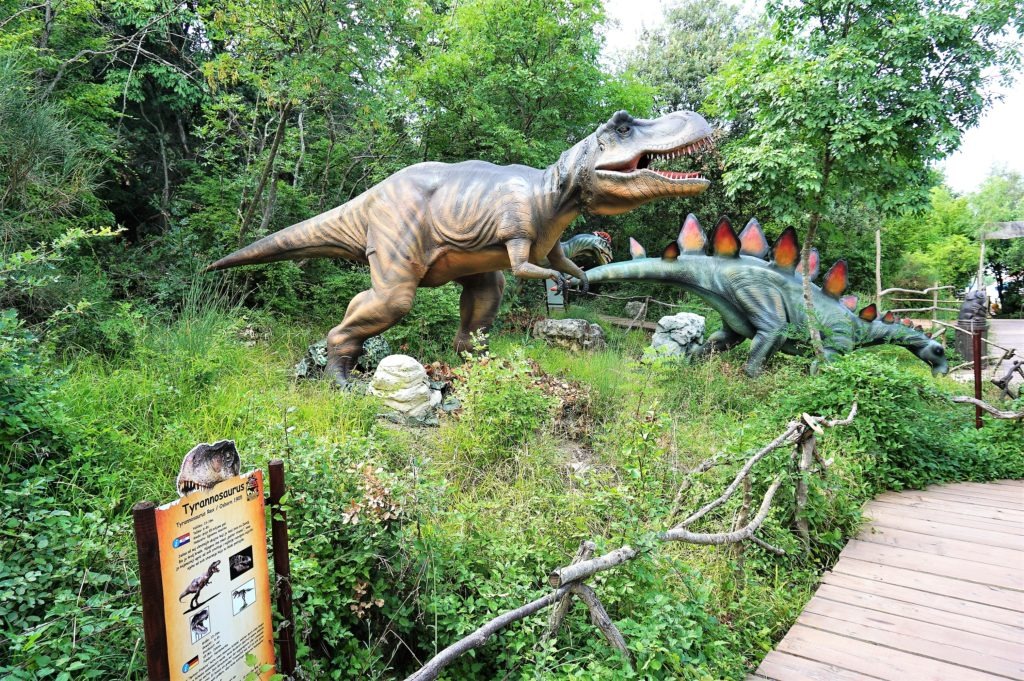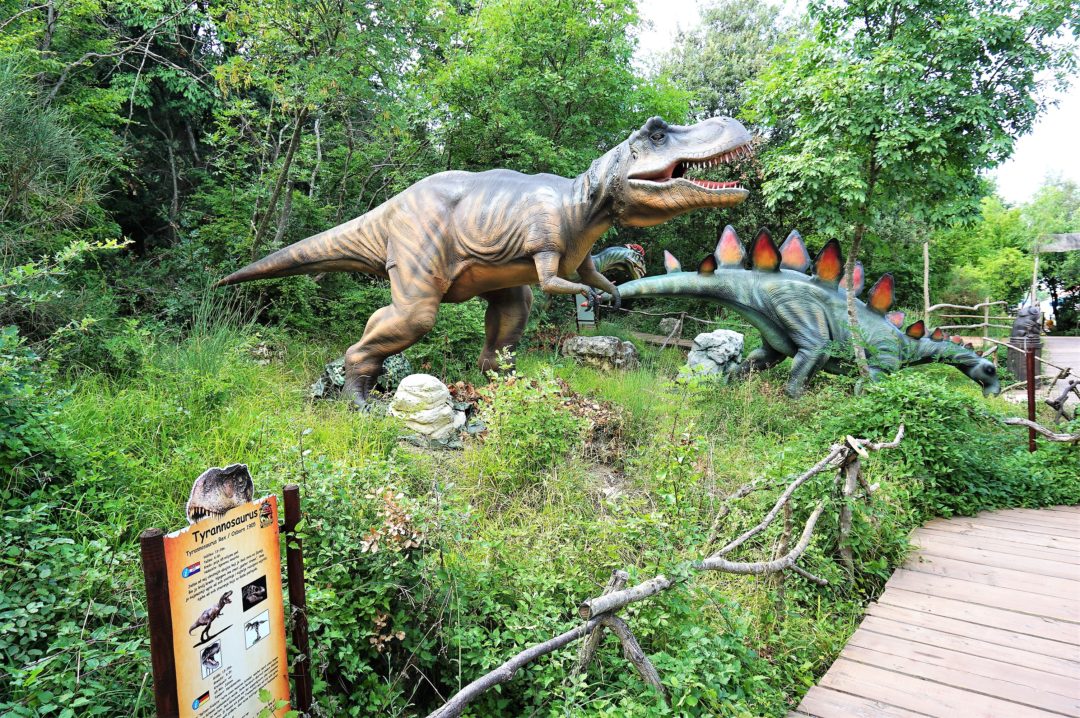 7. National park Brijuni
When our hostess gave us a tip for a trip to the islands of the Brijuni National Park, we did not have great expectations. We were more surprised at what we could see, experience and learn in such a small space. Official trips to the islands of the Brijuni National Park are run by the NP Office at Fažana, about 10 kilometers north of Pula. Here you buy the tickets (210kn/adult, 105kn/children over 4yo) that include a trip to the island by the ferry, and a guided trip around the island on the tourist train and visiting the museum. But all over the port of Fazana, there are people promoting private trips to Brijuni in small boats (for about 12-14 people). We have avoided these "hunters" and bought a trip right in the National Park office (you can find it right at the port at Brionska ul. 10). Although you can read on the Internet that we should get ferry tickets a few days in advance, we reached the ticket office around 11 and were able to get tickets for the 11:30 ferry departure.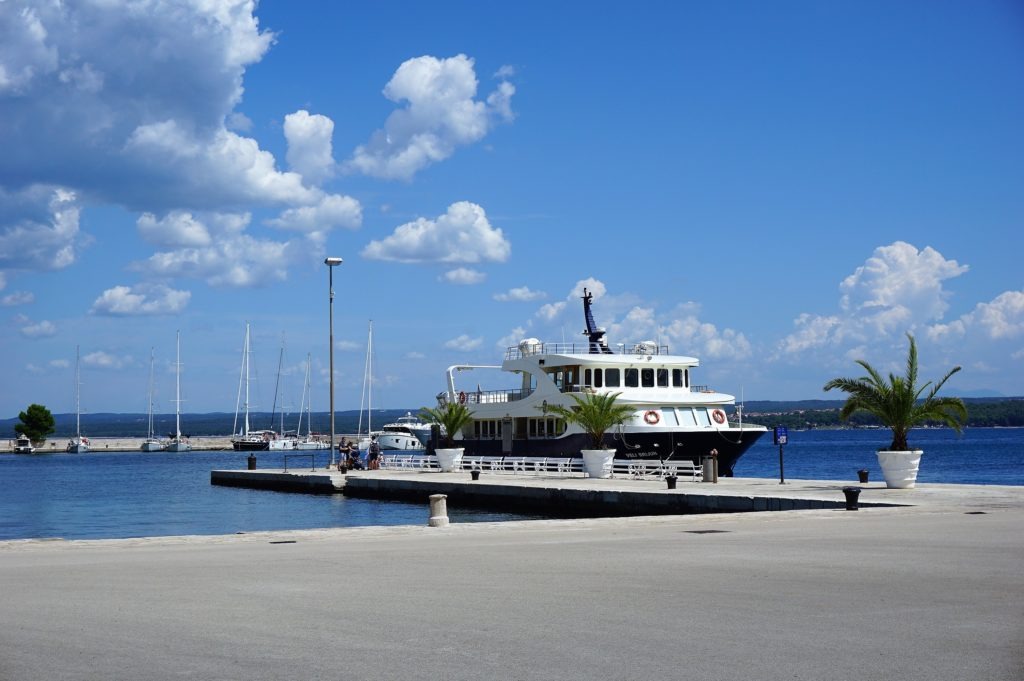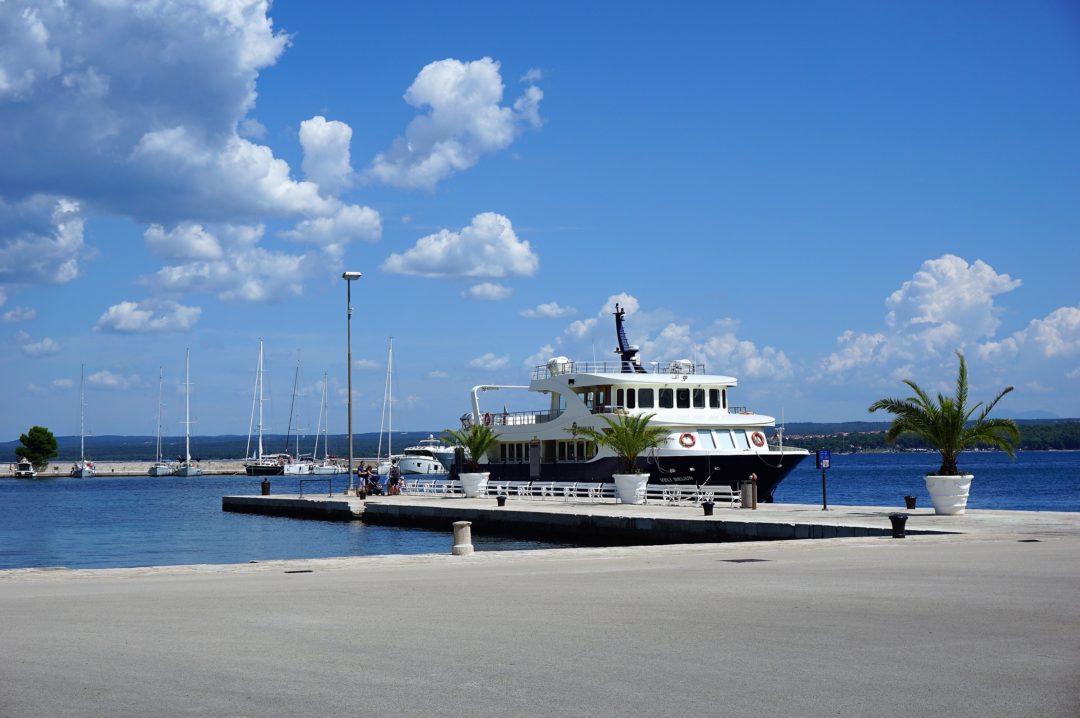 When we arrived at the dock (approx 10min ferry ride), there were guides holding signs to indicate the language in which they provide tours (EN, GE, IT, HR). We followed our guide Ivanka first to a museum dedicated to the former Yugoslav leader Josip Tito, who had his seat on Brijuni (he spent six months in the year here). In the small museum, you will see countless photos of famous statesmen that have visited Tito over the years (inc. Fidel Castro, Breznjev, Queen Elisabeth II.). We then got on the tourist train to take a ride. We passed the golf course, the small safari, the ruins of a Roman villa from the 1st century and one of the oldest olive trees in the Mediterranean.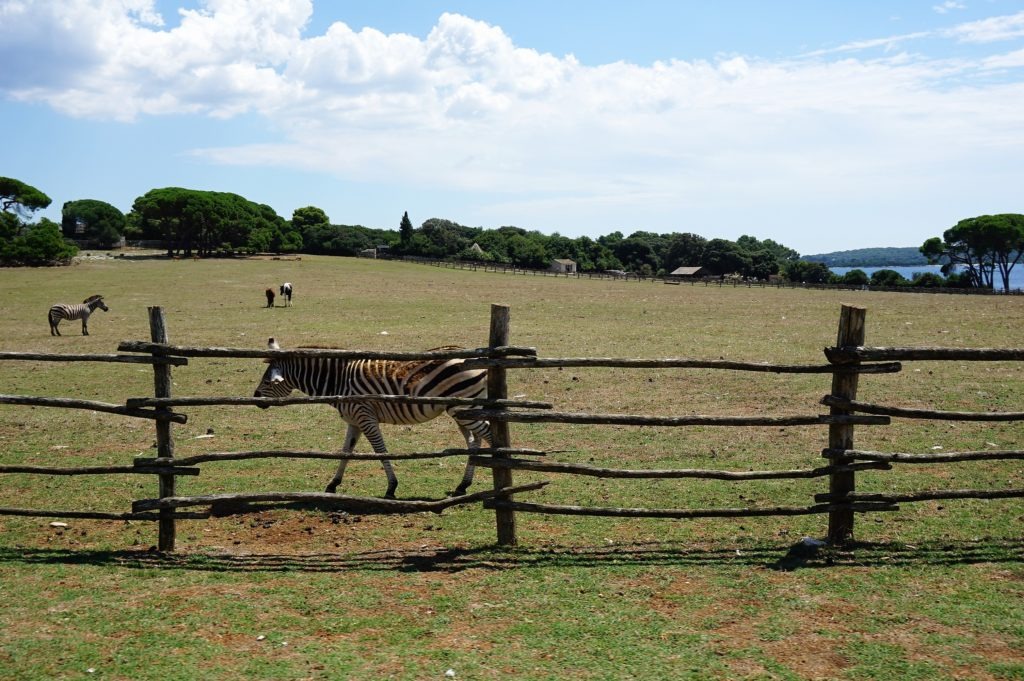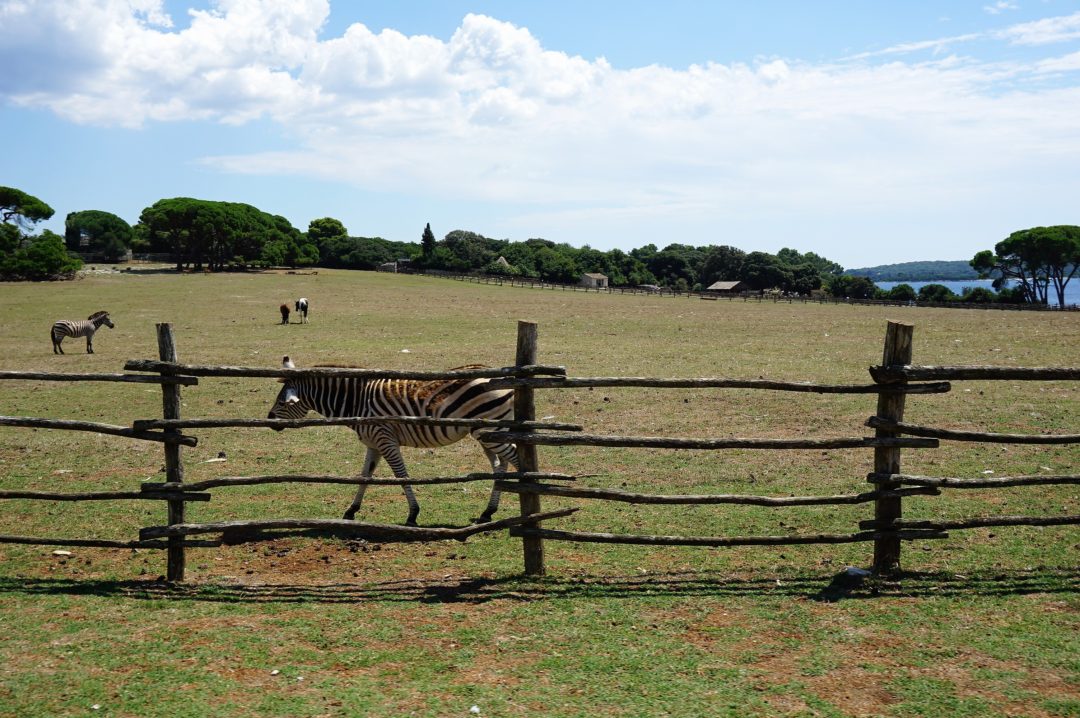 After the tour, we had plenty of time before the ferry departure, so we swam in the clear azure sea.
In the national park, you can also rent a bike or an electric car (golf cart) and explore the main island on your own.
8. Vrsar
We chose to visit the tourist resort south of Funtana the last evening of our holiday. Here you shouldn´t miss climbing the tower of the Church of St. Martin. As the famous Casanova spent some time in the town, a lookout is named after him (Vidikovac Casanova, Rade Končar Street). That's when you would not want to climb the stairs of the tower to enjoy the views 😉 Just on the day of our visit, "Ribarska fešta" was held in Vrsar – a traditional festivity with a gourmet offering of seafood specialties accompanied by various musical bands.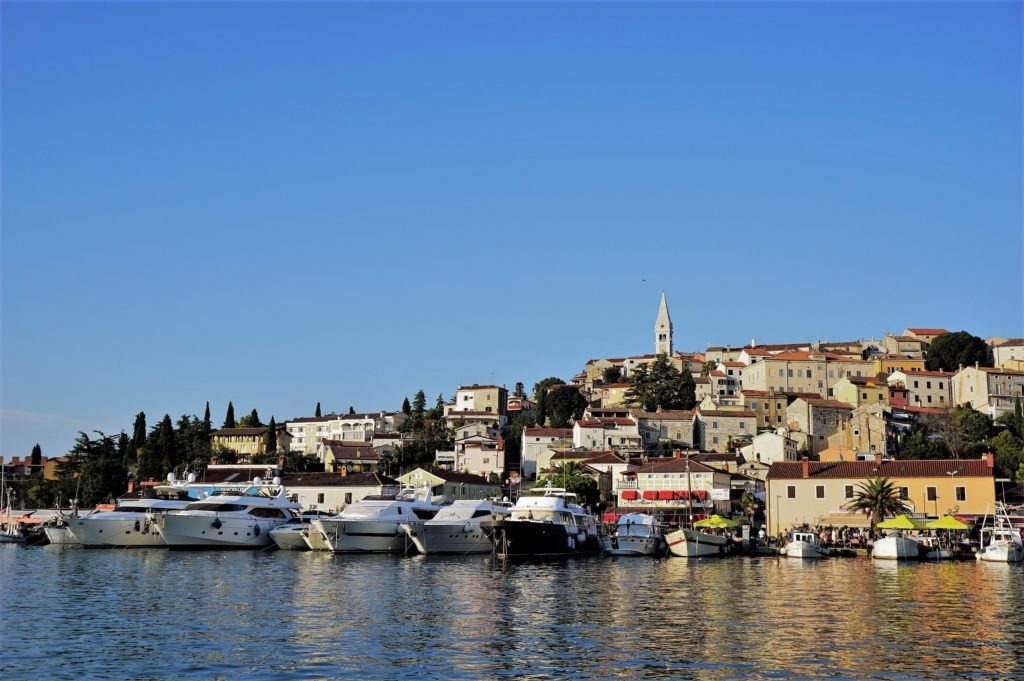 9. Local delicacies
Mentioning the food … in Istria, you can taste not only seafood specialties of all kinds, but other local delicacies are truffles. I had these rare mushrooms always associated with France, and I was surprised that they are typical of this area. You can have olive oil (btw. another local delicacy) with truffles, cheese, pasta… So when you are in Istria I definitely recommend trying truffles!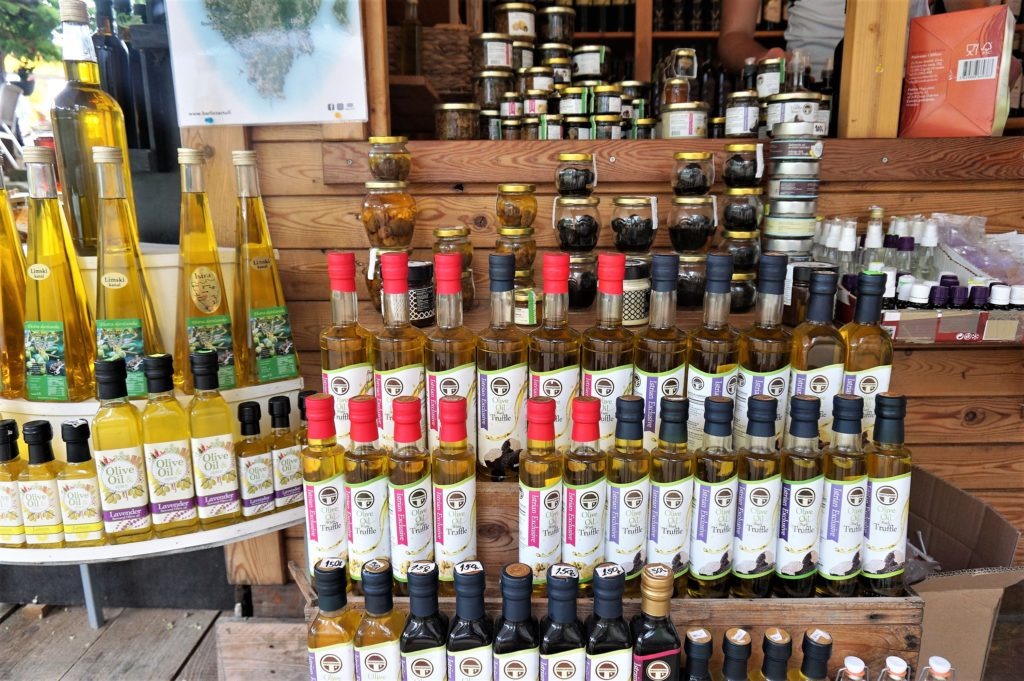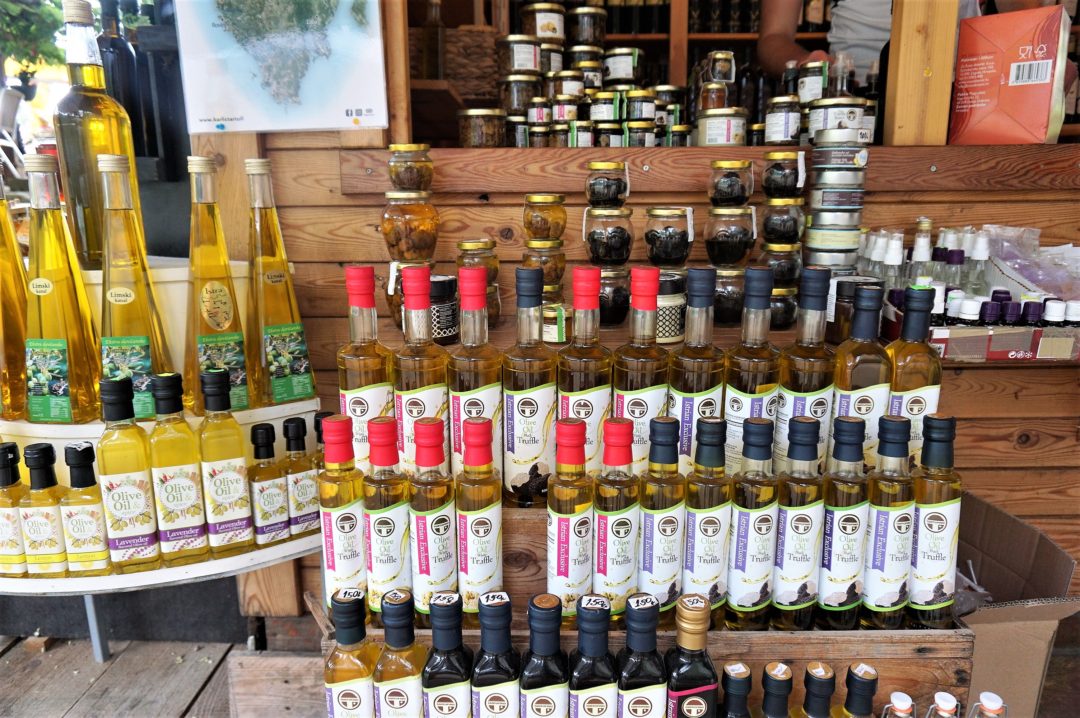 10. Beaches
Croatia is famous for its pebble beaches, many of which are marked with a blue flag, a symbol of their quality. As I mentioned above, we had our Airbnb accommodation in the town of Funtana, squeezed between two more famous resorts of Vrsar and Porec. But here we have found a great beach for kids. In addition to sun loungers and parasols, you can rent sports equipment (pedal boats, minigolf sticks, trampoline …). There are a beach volleyball court and the Fuente bar, where they have a great chocolate ice cream. This "our" beach in a small bay was empty at 9 am. But even later (around 10-11), when other people started to come in, it was not overcrowded. And we were here in the middle of the high season, and yet we did not have to crowd with anyone.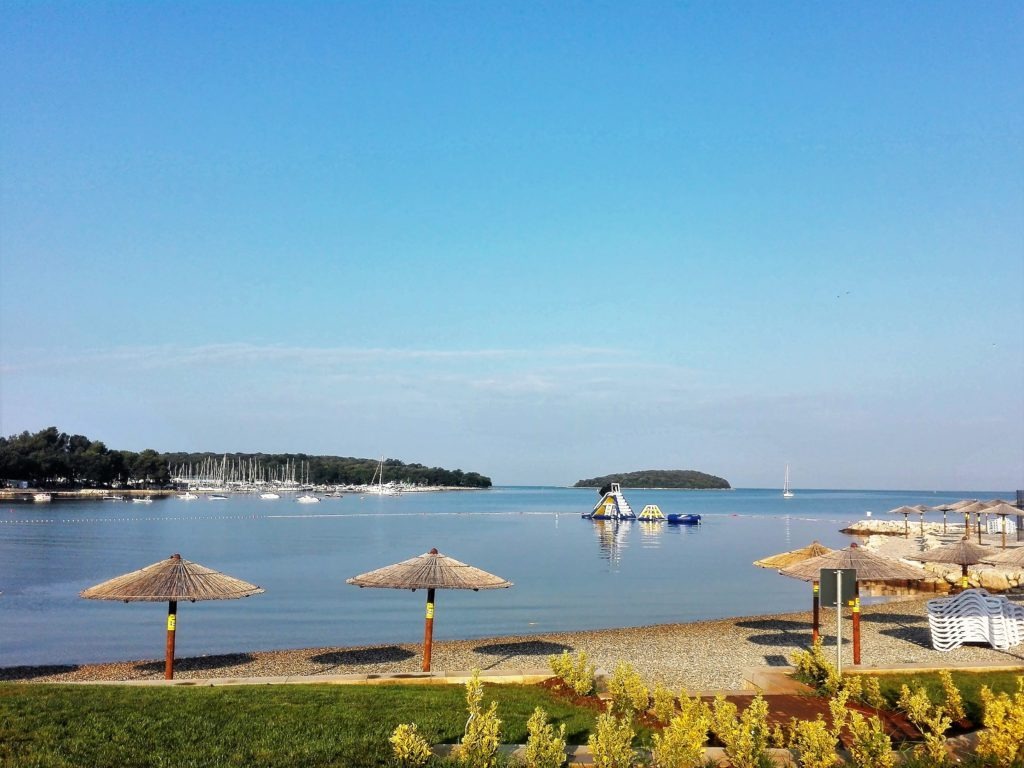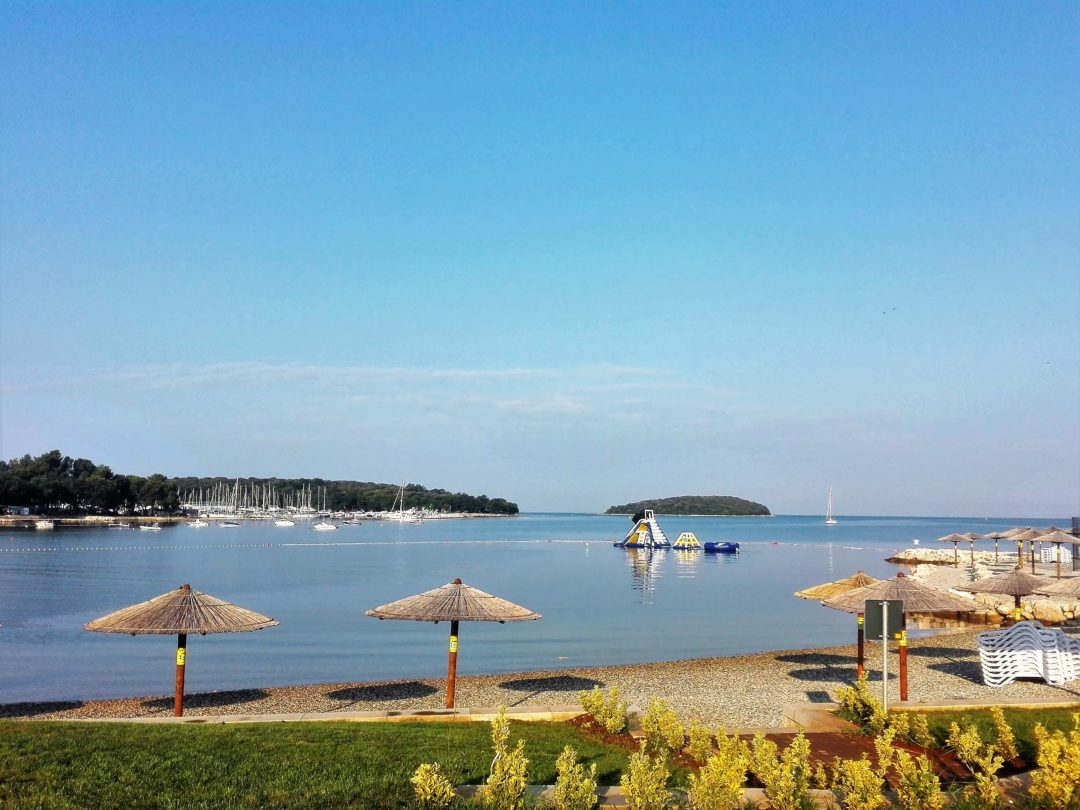 Even though our children (and we, of course, too) have many experiences from this year's holiday, we have not seen everything that Istria offers. Since I do not like open ending in books and movies, so is the exploration of new places. During our holiday, my husband and I agreed that we would definitely come back here again. There is still a lot of places on my list that I would like to see. At random:
Aquacolors Poreč – the second of the water parks in Istria.
Aerodrom Vrsar – in the airpark that is open all year round, you can visit a small aviation museum, an exhibition of old aircraft and see a photogallery with an aviation history in Istria.
Hilltop villages like Motovun or Groznjan
"Truffle hunting" – as I mentioned, the local specialty is truffles. And Istrian white truffles are

one of the most highly prized in the world today.

In the northern part of Istria, there are many small truffle

manufacturers

(such as in Buzet) where you can try searching for this delicacy.
Jama Baredine cave in Nova Vas near Poreč.
Traktor Story – a small museum of agricultural machinery is located a few steps from the Baredine cave
Rovinj – it is said one of the most beautiful cities in Istria
Delfin safari – well, maybe it's a kitsch, but as an irreconcilable romantic I'd like to experience boat cruise at sunset and watch the dolphins emerging from the sea. Even if the cruise is quite expensive (usually 1.5 hours of cruise per 100 kunas per person), if you don´s see the dolphins during the cruise, you will get your money back, which is quite fair.
By bike – Croatia has never been synonymous with cycling for me, but I was surprised how many bike trails were here. You can go among local wineries, or you can go on a bike exploring the aforementioned Cape Kamenjak (if you are on a bike, you have a free entry here)
Pula by night – I would like to go back to Pula and see the illuminated Arena. Or go here for a concert or "gladiatorial" performance.
In general, we liked our holiday in Istria very much. Even though many of our experiences were not the cheapest ones, and some may seem overpriced. Well, here is what our guide to Brijuni has mentioned: prices are rising with rising temperatures. But on the other hand, we take it that in Croatia, the mass tourism blooms only a few months a year, and the rest of the year the locals have to live from this money.
And what about you? Do you like Croatia? Are you happy here? And why? Send me your comments! And do not forget to share this article with others if you liked it! Have a great summer! 🙂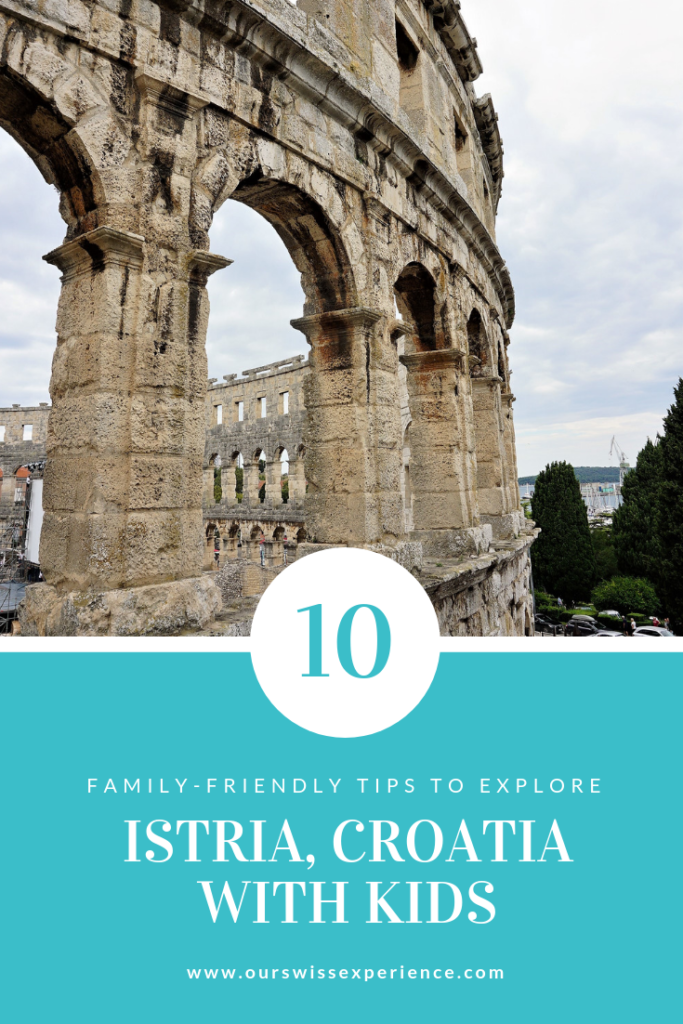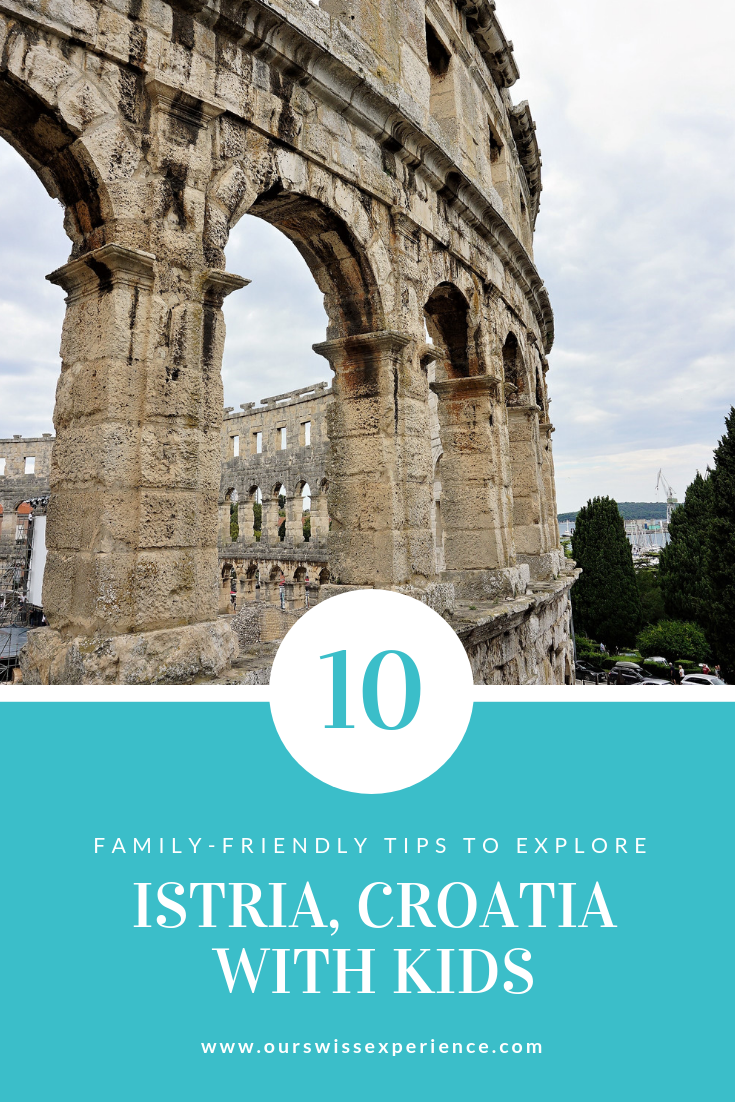 .