For the third time, we set off in the direction of Leysin, and finally, the weather was good enough for us to explore the local Berneuse peak. It rises 2,045 m above the town, which used to be known as a spa for people with lung diseases thanks to its sunny and mild climate. Our original goal was to make a short loop hike to the small mountain restaurant Refuge de Mayen, but in the end, we decided it would be a shame to go back the same way. So we forfeited our return cable car ticket and took route No. 5 back, Randonée gourmande, or gourmet walk, in the promotional material.
How to get to Leysin
By car: from Bern, take the A12 motorway in the direction of Lausanne. At exit 14-La Veyre, follow signs E27/E62/A9 in the left lane to Simplon/Gd-St-Bernard/Martigny/Montreux. Then take exit 17 towards Aigle/Ollon/Les Mosses and follow the signs for Aigle. From here you will climb 15 km to Leysin. You can park in the paid parking area near the cable car station (intersection of Rte de Crettaz and Les Esserts).
By public transport: Trains from Montreux run almost every quarter of an hour. The train ride to Aigle takes 9 minutes. Here you can take the R25 train, which will take you to Leysin-Feydey in 27 minutes. This train runs once an hour, always at .56. It is about 900 meters on foot from Leysin-Feydey to the station of the Télécabines la Berneuse cable car.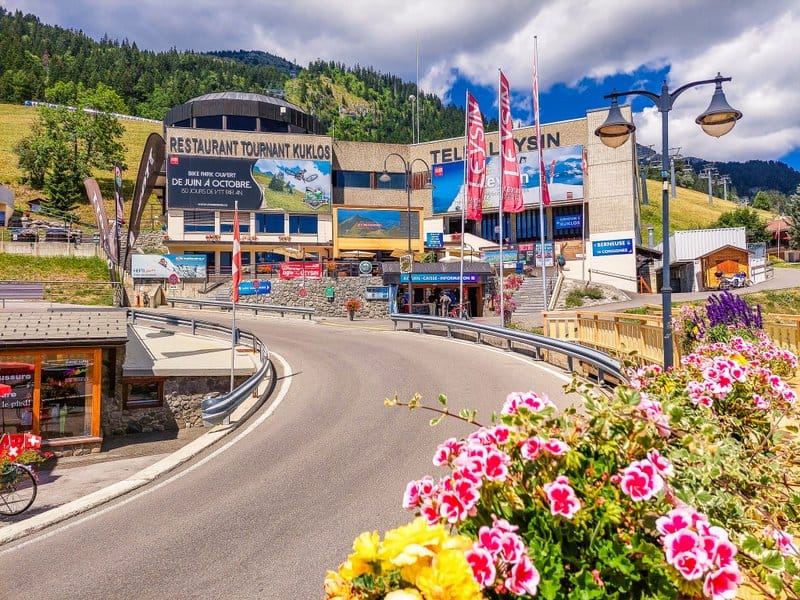 La Berneuse Cable Car
The cable car is open from 18 June to 30 October from 9.00 to 16.45.
A one-way ticket costs CHF 14.50 for an adult, and CHF 10 for a child (CHF 9 if in a family). GA Abo, Swiss-Pass, Half fare, or Junior cards are not accepted here.
The cable car runs continuously and you can enjoy incredible views on the way to the top.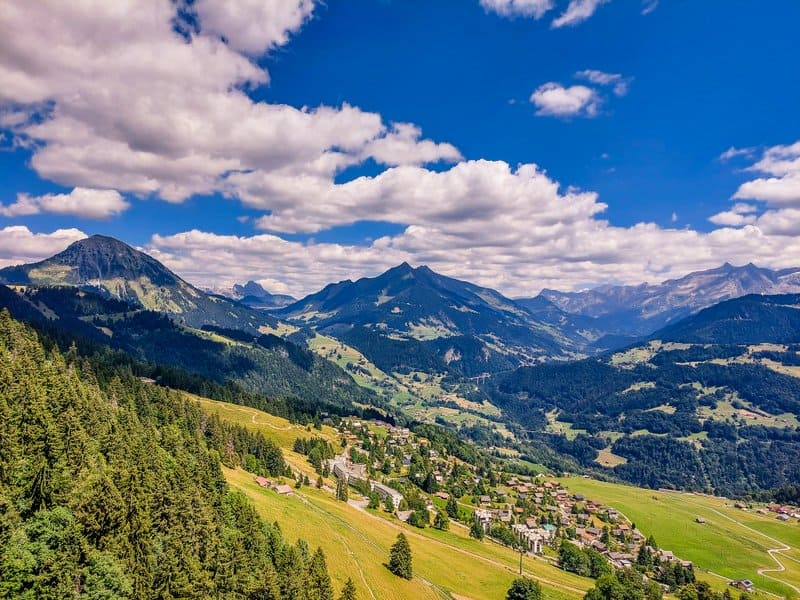 Restaurant Kuklos
When you get off the cable car, your first steps are likely to be toward the glass-enclosed restaurant. This restaurant is the only revolving restaurant in western Switzerland (you'll know the revolving restaurants from the Stanserhorn or Schilthorn peaks) and it turns around in an hour and a half on its axis. The hits on the menu at the restaurant are the dishes prepared with fresh and local produce that will satisfy your cravings and won't break the budget. If you don't have time to enjoy the entire menu from starter to dessert, you can grab a quick bite at the self-service restaurant one floor down with a panoramic terrace.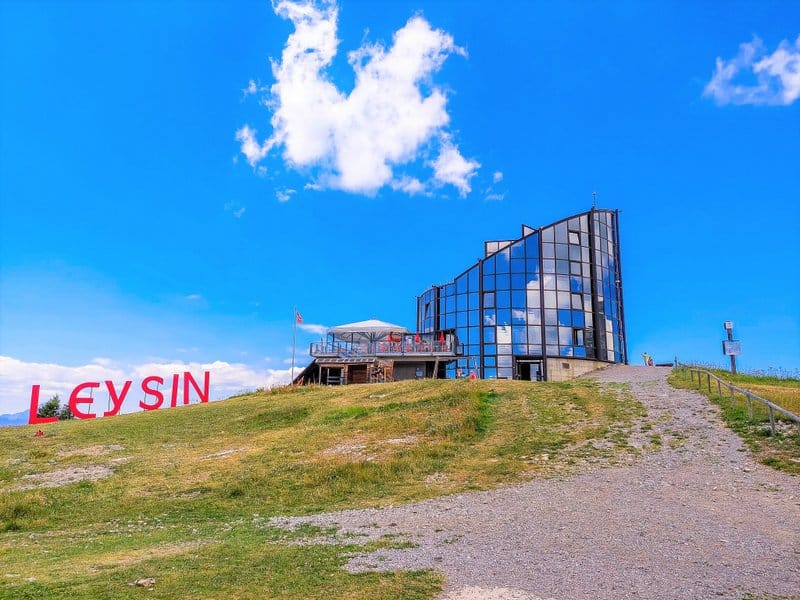 Even if you don't plan on stopping for a meal, I definitely recommend heading toward the restaurant as there is a beautiful view of Lake Geneva behind it.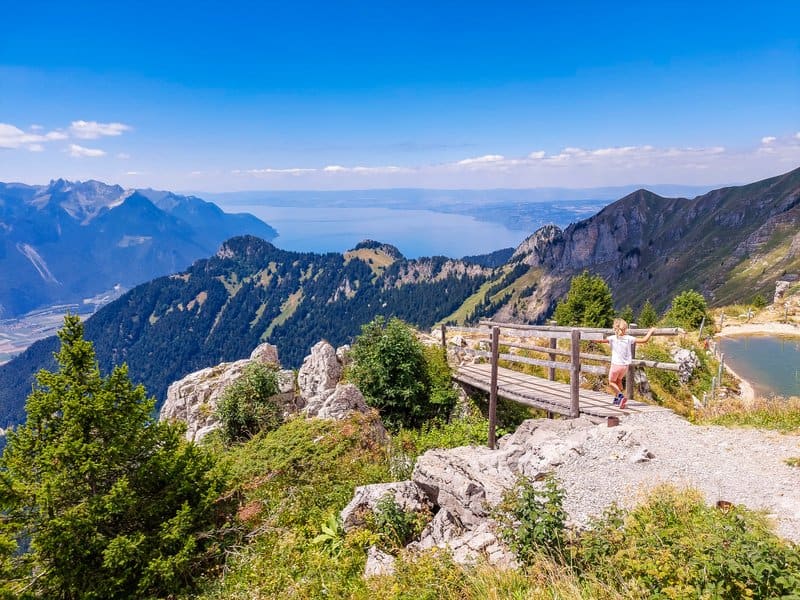 Randonnée gourmande AKA Gourmet Walk
From the top station of the cable car you head in the direction of Mayen, the route is very well marked thanks to the numbers.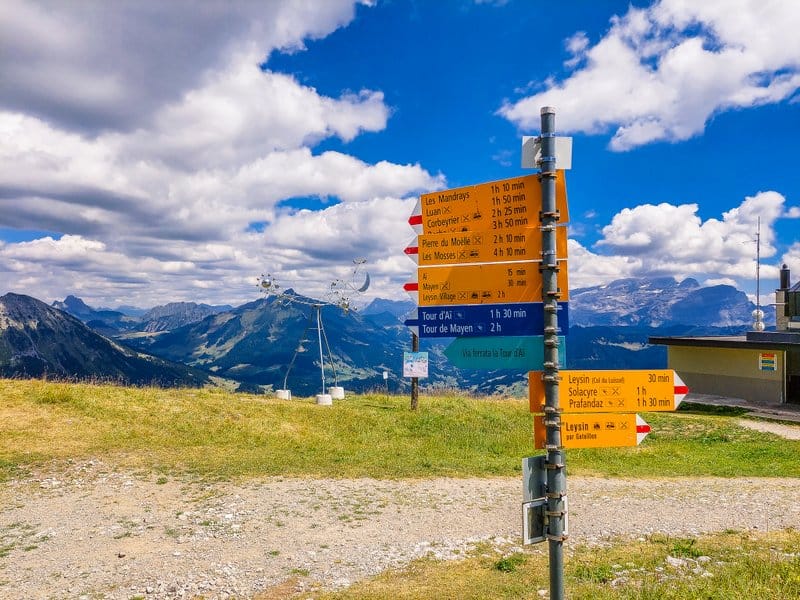 Since our original intention was to go directly to the Mayen restaurant, i.e. along part of route 9, and not along the Randennée gourmande, we turned right after a while directly to the Lac d'Aï (if we had followed route 5 exactly, we would have bypassed it from the left). But it didn't matter at all.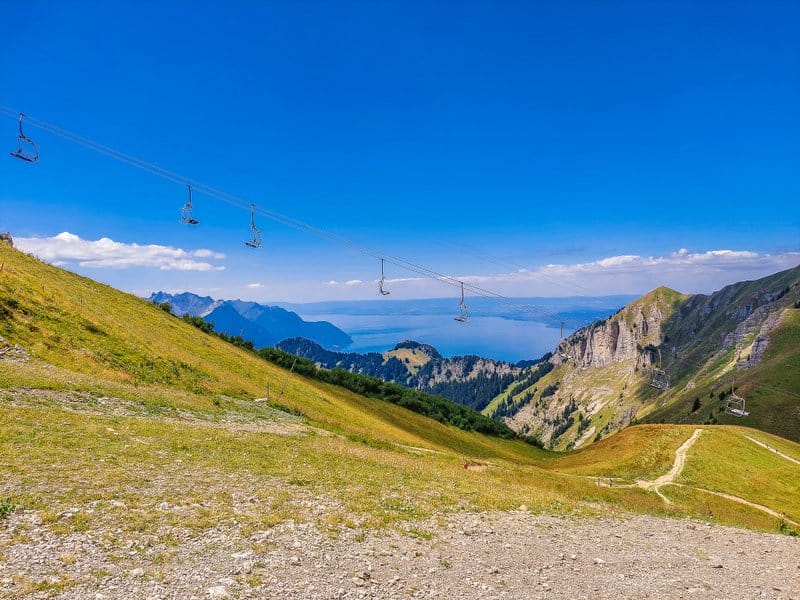 Under the "supervision" of the Tour d'Aï peak, which is certainly well known to ferrata lovers, we reached Buvette d'Aï in the charming hamlet of Aï with its cute original small houses made of stone and wood – the so-called mazots.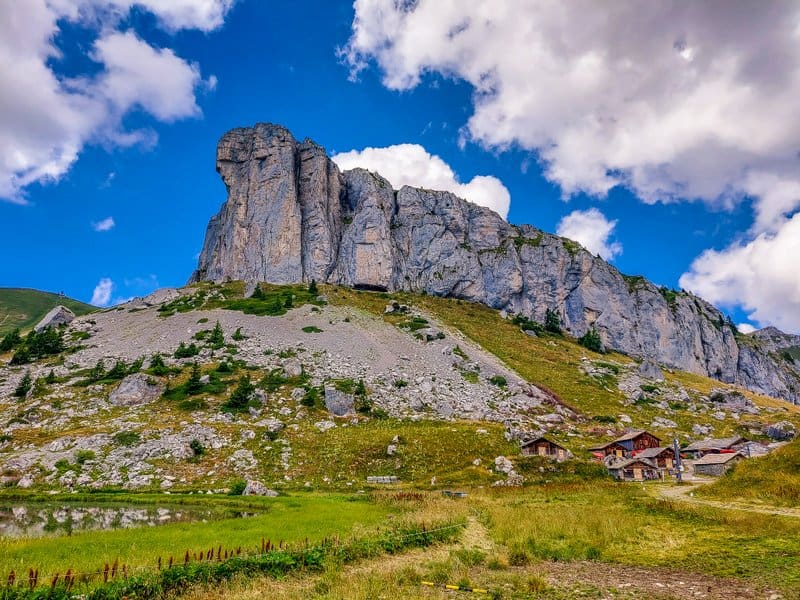 From Buvette d'Aï, it is less than 15 minutes along a wide dirt road to the next gourmet stop.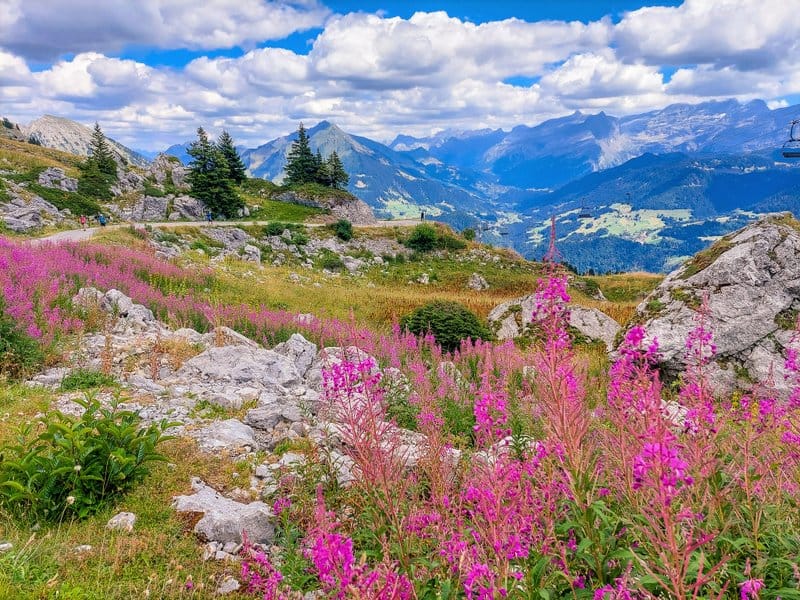 Refuge de Mayen
Refuge de Mayen is a pleasant place to relax and enjoy a nice meal. You order your food and drink inside, but then they bring it to your table. You might be surprised to find a wide range of Belgian beers on the menu, in addition to fondue and various soups and fruit pies, but no wonder, as the owners are Belgians. They only take cash, they don't accept credit cards!
It was here that we decided not to go back to the Berneuse, but to continue along route 5. After all, it was only supposed to be downhill from here!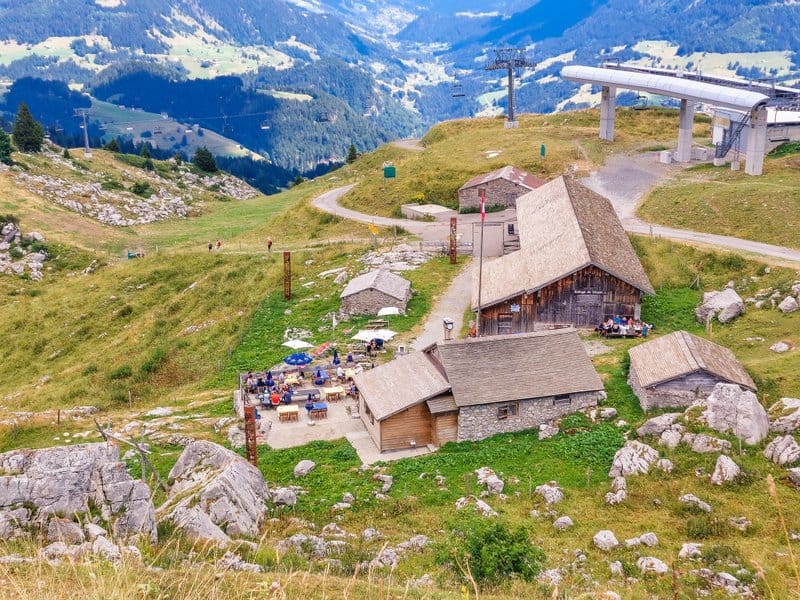 And we did the right thing. The dirt road turned to asphalt, the descent was gentle and we were able to enjoy incredible views on the way back to Leysin.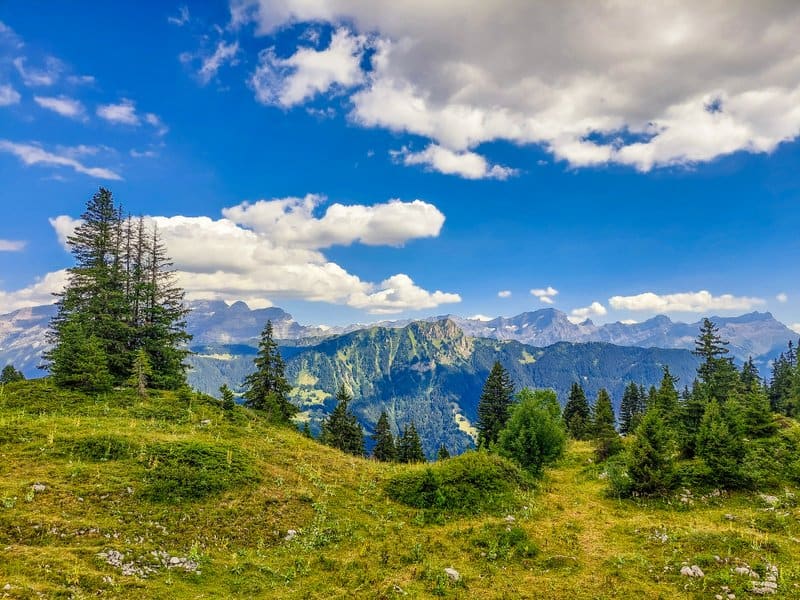 Ferme du Témeley
The next stop on the gourmet route is Ferme du Témeley, which takes less than half an hour to reach. Here you can stop and buy local cheese or have lunch.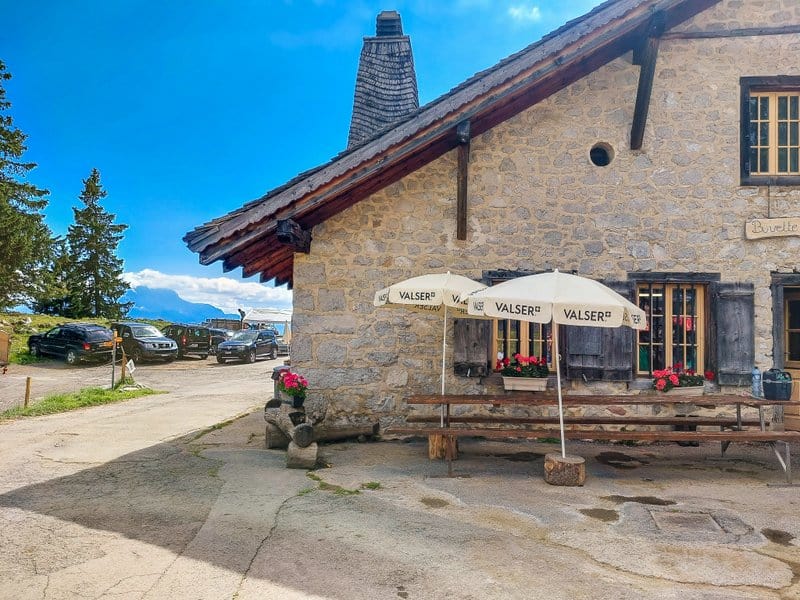 From here it is three-quarters of an hour back to Leysin to the car park by cable car.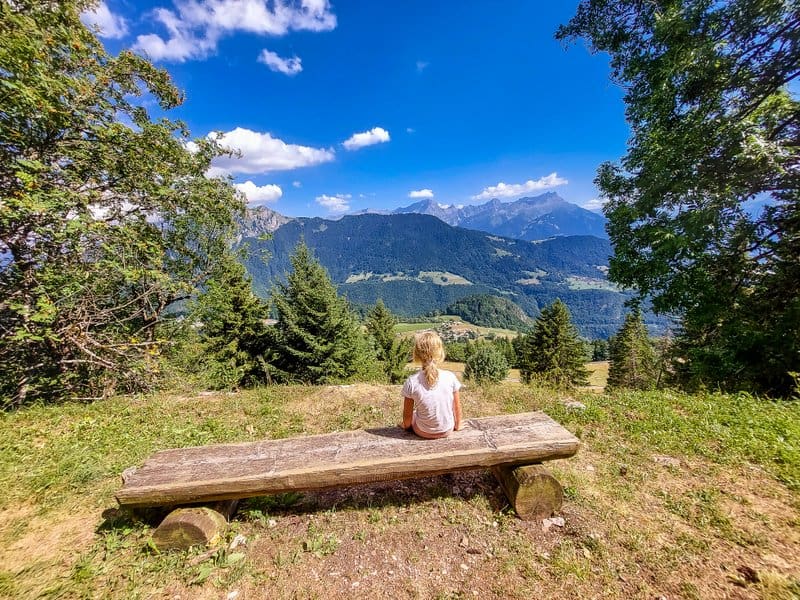 Summary
The trail is 7.3 km long and is not suitable for a stroller, although it might seem so at first glance. But especially the beginning of the route from the Berneuse cable car station to Lac d'Aï is really very steep.
In view of the above, I recommend sturdy shoes.
Since we were taking our sons to a hockey camp, we parked (for free) at the Centre Sportif de la Patinoire. From here it's about 20 minutes uphill to the cable car station.
You might also like