Before we picked up our boys from the hockey camp in Leysin, we took the road through Gstaad, drove through the Coll de Pillon mountain pass, and parked at the valley station of the Glacier 3000 cable car. We planned to spend a pleasant half day at the famous spot formed by the Scex Rouge peak and the Tsanfleuron glacier.
Glacier 3000
Glacier 3000 is a well-known ski destination, especially for those who love winter fun at the beginning of November, or even in May when summer slowly begins in the lowlands. Yes, the Glacier de Tsanfleuron, which measures just over three square kilometers and lies 3,000 meters above sea level, makes this possible. But for how long? The sad truth is that, unfortunately, the glaciers are melting and, as I read in an article, the Tsanfleuron mountain pass, which has been under permanent ice for more than 2,000 years, is already partially exposed and, according to researchers, a natural lake is likely to form here within the next 10 to 15 years.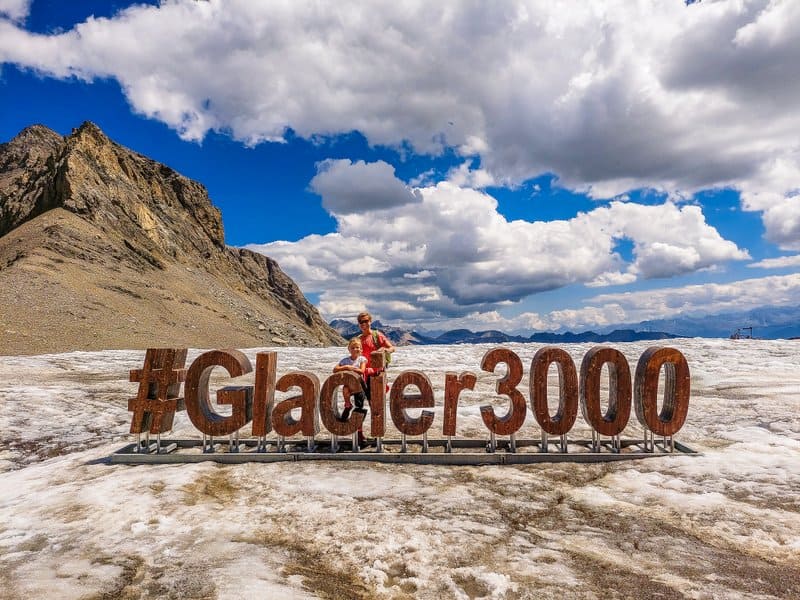 Glacier 3000 cable car
The cable car's valley station is about 20 minutes by car from Gstaad or 50 minutes from Montreux. From Gstaad, the 180 bus runs every hour to the stop Col du Pillon, Glacier 3000. There is a large free car park at the bottom station of the cable car.
The Glacier 3000 cable car departs from the Col du Pillon (1546 m). The cable car runs every 20 minutes and takes you over the Cabane intermediate station (2 525 m) to Scex Rouge at 2 971 m.
Operating hours and fares
Glacier 3000 and most of the attractions are open all year round, except for two weeks in May and a few weeks in October/November for maintenance (in 2022, maintenance is scheduled from 10.10 to 04.11). The cable car is open daily from 09.00 to 16.50. The cable car ride takes 15 minutes and you will enjoy spectacular jaw-dropping views.
A return ticket Col du Pillon – Scex Rouge costs CHF 80/adult, CHF 40/child 6-15 years, and children under 6 ride for free.
50% discount with GA, SBB Half-fare Card, Swiss Travel Pass, and SBB Day Pass. Children with a valid Juniorkarte or Family Card are free.
NOTE: Children under 15 months old are not allowed as the change in altitude can be harmful to their health. It is recommended to wait until they are 24 months old to go on Glacier 3000.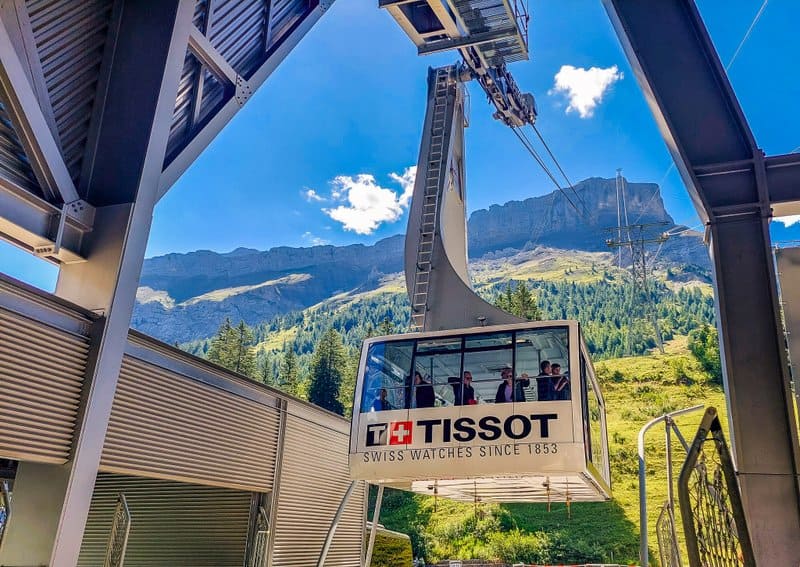 Glacier 3000 Activities
Highlights include the Peak Walk by Tissot suspension bridge, a bobsled run, and the Glacier Walk glacier trail. It used to be possible to go sledding in the fun park in the summer, but unfortunately, this is no longer possible because there is no snow. Its remnants were piled up under giant tarps, as you can see in one of the photos below.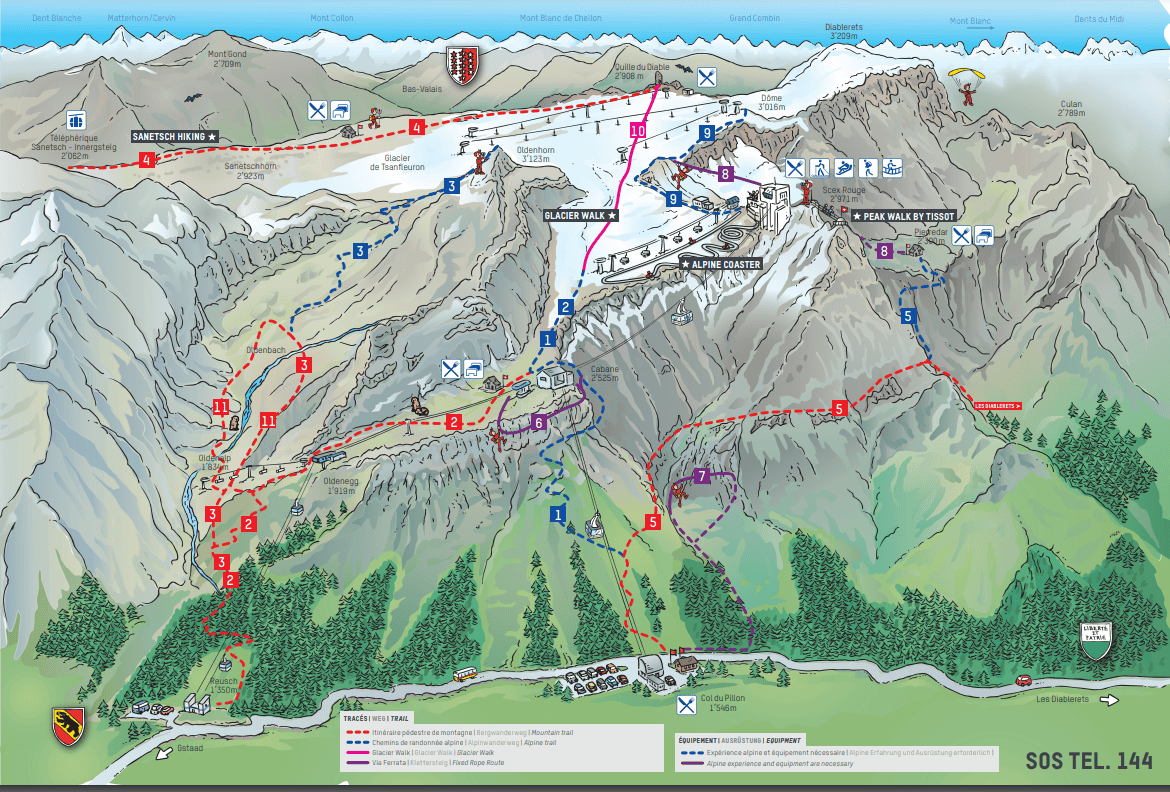 Peak Walk by Tissot
The Peak Walk by Tissot suspension bridge is the pride of Glacier 3000. Opened in October 2014, it is 107 meters long and 80 centimeters wide and connects View Point Peak with Scex Rouge, five meters higher. It is the only suspension bridge in the world connecting two mountain peaks. At the top of Scex Rouge, there is a viewing platform that offers a 360-degree view of the surrounding mountains. Binoculars are free and if you look into them, you will see the names of the peaks you can see. When the weather is good, you'll catch a glimpse of Alpine giants including the iconic Matterhorn, the Mont Blanc massif, the Eiger, and more.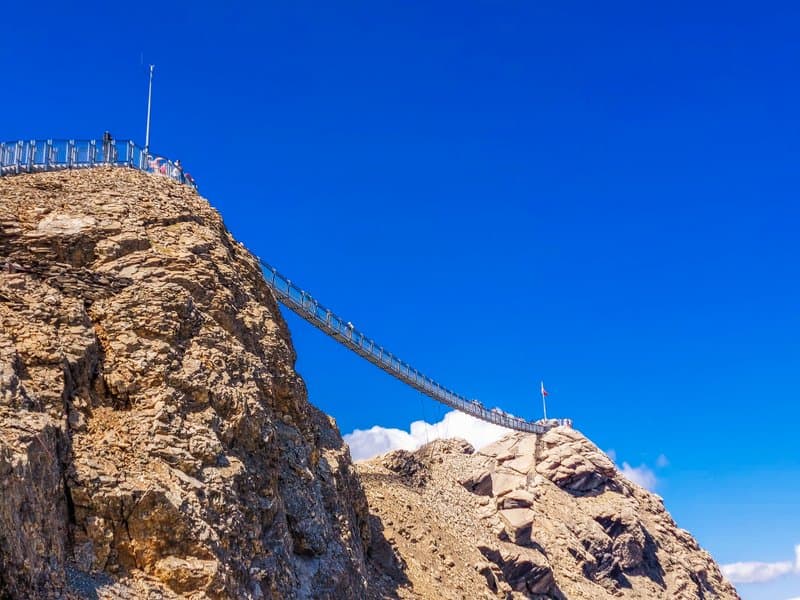 Glacier Walk
All year round, there is a marked and groomed footpath on the glacier that leads to the rock formation Quille du Diable (Devil's Cone) at the far end of the glacier. To get to the start of the trail, you'll need to take the Ice Express chairlift (free) down to the trailhead from the bottom station. It is 2 kilometers there and 2 kilometers back. If you reach the Refuge de l'Espace mountain restaurant, you will have a view of the Derborence valley and the canton of Wallis.
It's fair to admit here that we didn't make it to the Quille du Diable and packed up halfway through. Even though we had good hiking boots (and not any "city shoes" that would get wet right away), the snow and ice were melting and difficult to walk on. We were also pressed for time, as we had to be in Leysin at a certain hour.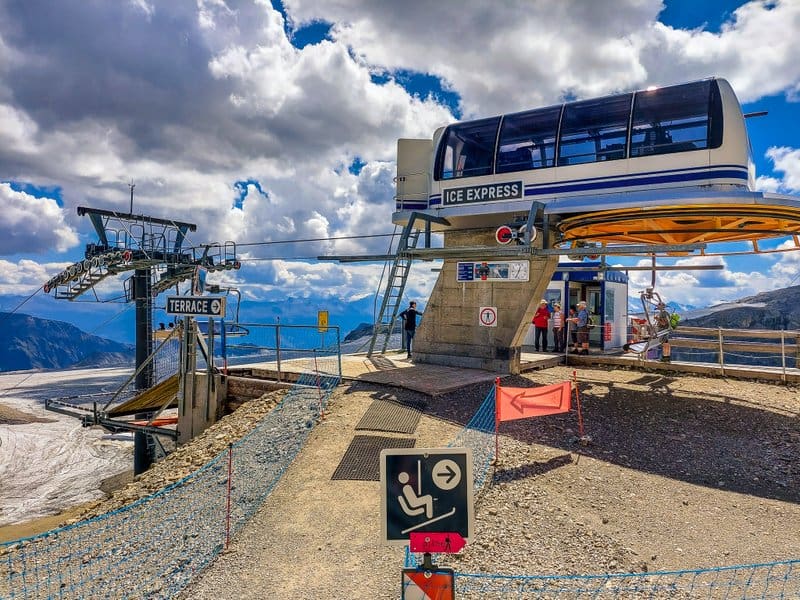 Alpine coaster
So we came back to enjoy the alpine coaster. Even though two people can fit on one seat, you pay 9 francs each (kids under 6 ride for free). But it's an amazing adrenaline rush, especially the loop at the beginning. You don't have to be scared, you are strapped in the seat like in a car 🙂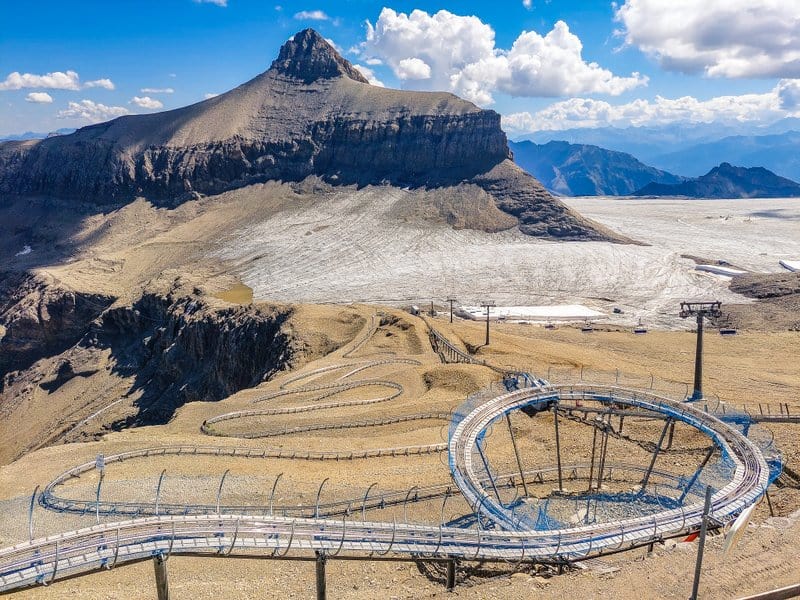 Refreshments
At the top of the Scex Rouge is a panoramic restaurant designed by the world-famous Swiss architect Mario Botta. There is a self-service restaurant one floor below and a large terrace outside for picnics.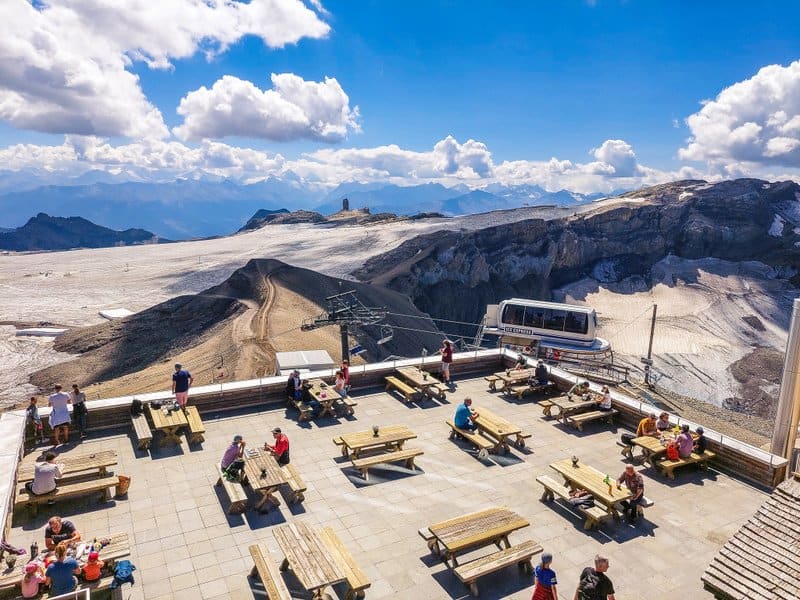 Summary
My daughter and I were lucky enough to visit Glacier on a beautiful sunny day and were rewarded with spectacular views in all directions. So be sure to check the weather before you go. Or there are big screens in the ticketing area that display it so you know what the weather is like up there. If weather conditions are not good (such as thunderstorms or fog), activities at the top are closed for safety reasons.
For the suspension bridge walk, I recommend you do it first if the weather is nice at the moment. This can change quickly and looking through the clouds afterward is not much fun.
You can take a stroller (with a child over 15 months, ideally over 2 years old) up the cable car, but you can't get on the suspension bridge with it.
As for the prices, it may seem exorbitant if you don't have a Halbtax, but you have to remember that maintaining and operating the installations at an altitude of 3'000 meters comes with very high costs.
All in all, this is a "must do" activity if you are in the Gstaad or Leysin region, but be prepared to pay for it.