If you have kids who are fans of the Swiss cartoon characters Globi and Globine, this is simply a "must do" trip to make with them. The adventurous journey will hook them from the moment they get on the train. A treasure hunt trail awaits the kids, after which a nice themed prize awaits them. At the top, there is the Härzliseeli lake, around and in which the barefoot trail leads. The toboggan and water playground at Ristis Station are just the icing on the cake.
Who are Globi and Globine?
The Globi character was basically created in 1932 as a marketing ploy by the advertising department of the Globus department store, which was looking for an "advertising medium" for children on the occasion of its 25th anniversary. And so Globi was born – a parrot man with a blue body, yellow beak, beret, and red and black checked trousers. In 1935, 8,000 copies of Globi's Journey Around the World, Globi's first book with texts by Alfred Bruggmann, were published. Since then, Globi has appeared in picture books, comic books, children's nonfiction books, radio plays, and film. Globi is Switzerland's most successful children's book character, with more than 9 million books sold. The classic series is now drawn exclusively by Heiri Schmid, with stories and verses written by Jürg Lendenmann.
Globine is Globi's cheerful helper, she is an energetic and adventurous parrot girl. Her adventures have been published in book form since 2015 (earlier adventures were published between 1988 and 1995).*
Engelberg Brunni – how to get there?
The Brunni Engelberg area is located in Engelberg, southwest of Lucerne in central Switzerland. BEWARE! Not to be confused with Brunni-Alpthal in the canton of Schwyz!
By car: from Lucerne, drive towards Engelberg, then drive through the town and follow the signs to the Brunnibahn. Park in the large paid parking lot next to the cable car station.
By public transport: The Zentralbahn operates a train from Lucerne to Engelberg that runs every hour (always at 0.10). The journey from Lucerne to Engelberg takes 43 minutes. But the children won't be bored! In fact, one carriage is dedicated to Globi, with Globi books to read in each seating area.
On arrival in Engelberg, you can wait for the FREE bus to take you to the Engelberg, Brunnibahn stop, a five-minute ride away. Or you can simply walk through the town, we did so on our way back and it took us about 15 minutes.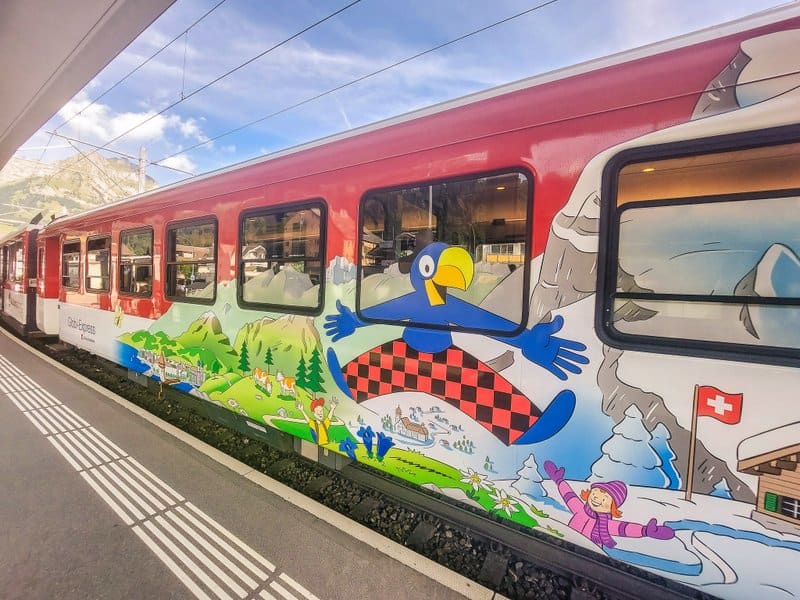 Brunnibahn
Operating hours
The Engelberg Brunni Resort is open almost all year round and is also a popular winter ski resort. The Brunnibahn consists of two lifts: first a large cable car from the valley to the Ristis station, then a chairlift to the Brunnihütte station. In the high summer season (from early June to mid-September), the cable car to Ristis station runs from 7:30 am to 6 pm (every 20 minutes). The chairlift to Brunnihütte operates from 8:30 to 17:30. It may be closed during lunchtime and because of the weather conditions.
Tarifs
If you only want to do one treasure hunt route (it doesn't matter whether it's Globi or Globine), you need a Kombiticket. This includes a return ticket for the Engelberg – Ristis cable car and a one-way ticket for the Ristis – Brunnihütte cable car. The Kombiticket costs CHF 41 for an adult, and CHF 25 with a Half fare card. Swiss Travel Pass holders get the Engelberg – Ristis section for free, paying only CHF 9 for a one-way ticket on the Ristis – Brunnihütte cable car.
Children accompanied by their parents travel for FREE throughout the summer season (so they don't even need a Junior card).
We knew that we wanted to do both routes, so only a return ticket from Engelberg to Ristis would do. The one for an adult costs 32 CHF, half with a Half fare card.
You can find all the information on prices and lift opening times and route availability here.
Ristis Middle Station
There is a children's playground with a carousel, climbing wall, trampoline, swings and slides at the middle station Ristis just behind the restaurant.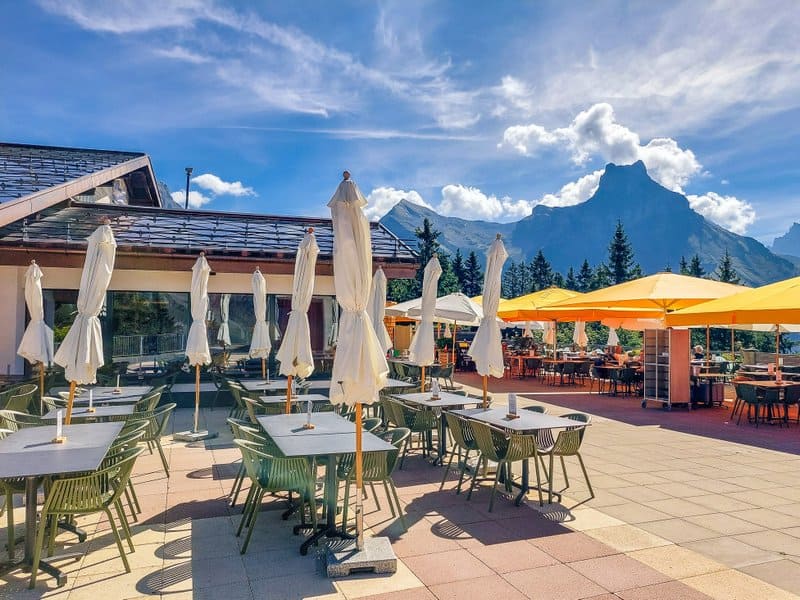 A short walk away is the Globi Wild Wasserwelt playground with water play, a toboggan run, and picnic areas with grills. Tickets for the 660-meter-long toboggan run can be bought at the on-site vending machine. One ride costs CHF 5. Children aged 8 and over can ride alone, younger children ride for free with an accompanying person aged 12 or older.
Globi Schatzweg
The treasure map is available for CHF 5 in the gift shop at Ristis station or in the Kräuterhütte at Brunnihütte station. Each treasure chest contains a snippet from the story of Globi and Globine, and the location of the chests changes slightly each year, so you don't have to worry that if you do the route a few times it will still be the same. So we set off from Ristis along the Globi Schatzweg in the direction of Brunnihütte (blue route on the right of the map).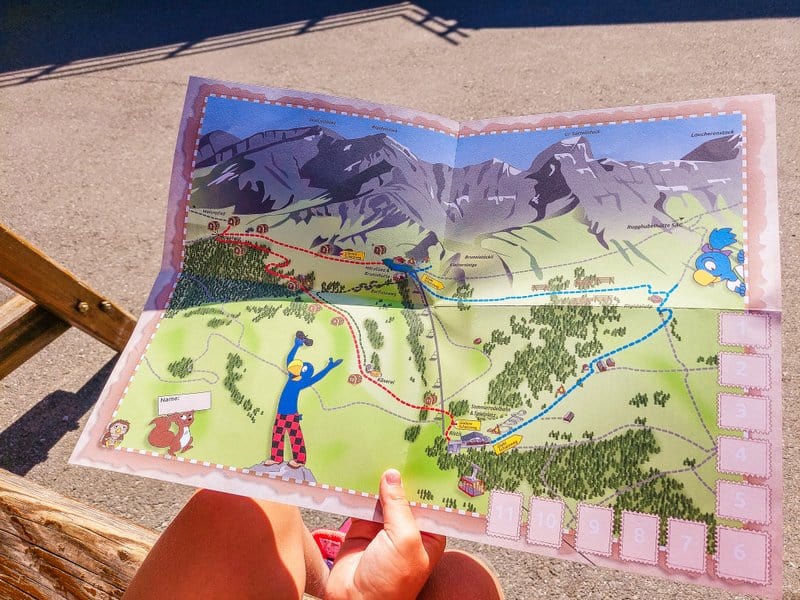 The trail from Ristis first follows a wide tarmac road up a gentle hill, then about halfway up it turns rocky and the gradient becomes steeper. I would recommend a good all-terrain buggy, with a brake if you take the route in the downhill direction.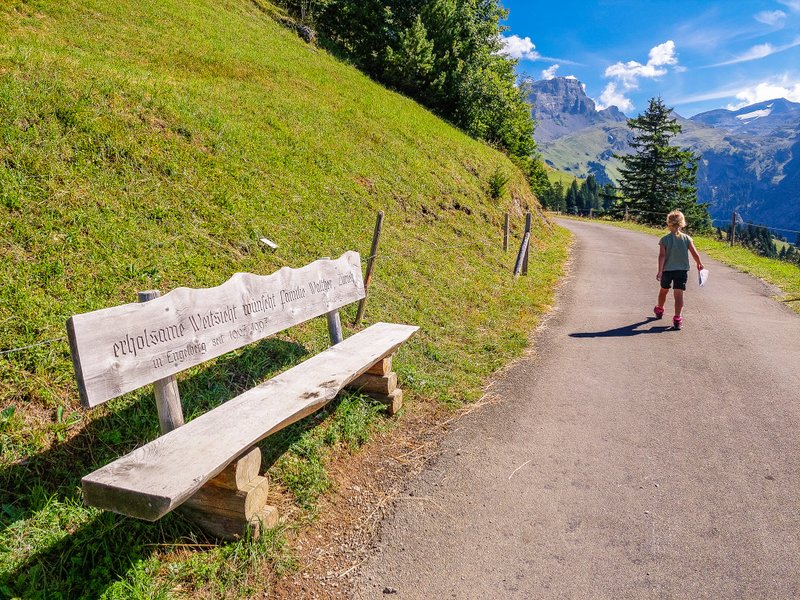 There is also a barbecue area about half a kilometer from the Ristis station.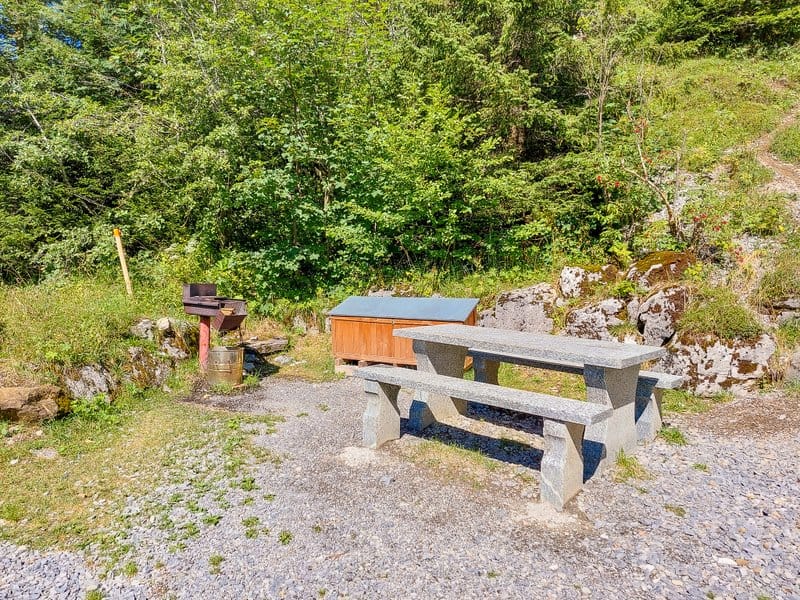 Härzlisee Lake
After about an hour and a half, we arrived at the idyllic Härzlisee lake, which is just behind the Brunnihütte mountain hut. It got its name because of its heart shape.
A 220-meter-long "sensory trail" (Kitzelpfad) build in 2001 runs around the lake, where you walk barefoot on surfaces such as sand, wood chips, pebbles, clay, mud, etc.
Refreshments
You can have your meal in the Brunnihütte, or next to the pond is a large picnic area with all the necessary facilities. If you don't happen to have any cervelas to roast with you, you can buy them at the Chruiter-Hüttli buffet.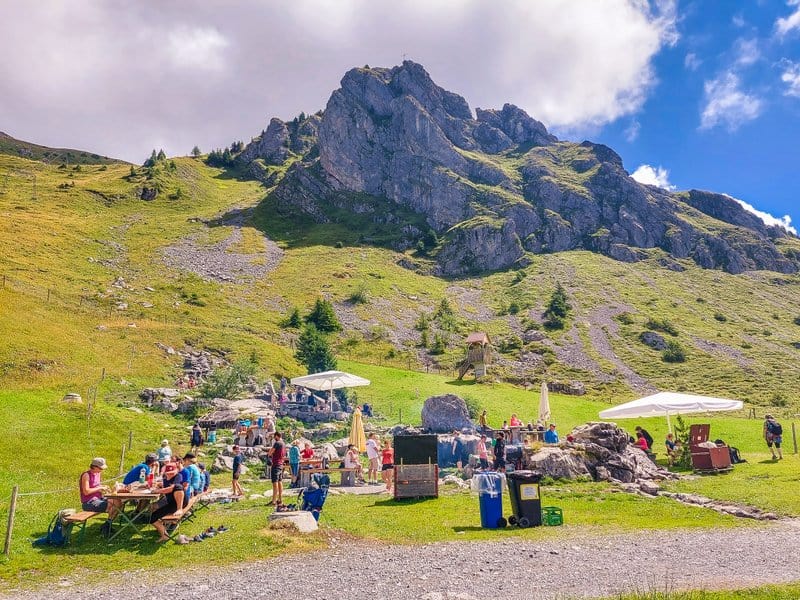 Globine Schatzweg
Globine Treasure Hunt is suitable for children aged 7 and up and is not suitable for strollers (its a narrow dirt footpath as you can see from the pictures below). Children on the route must guess the animal whose description and pictures are hidden in the chest and then write its name on the map. All the correct names then reveal the clue.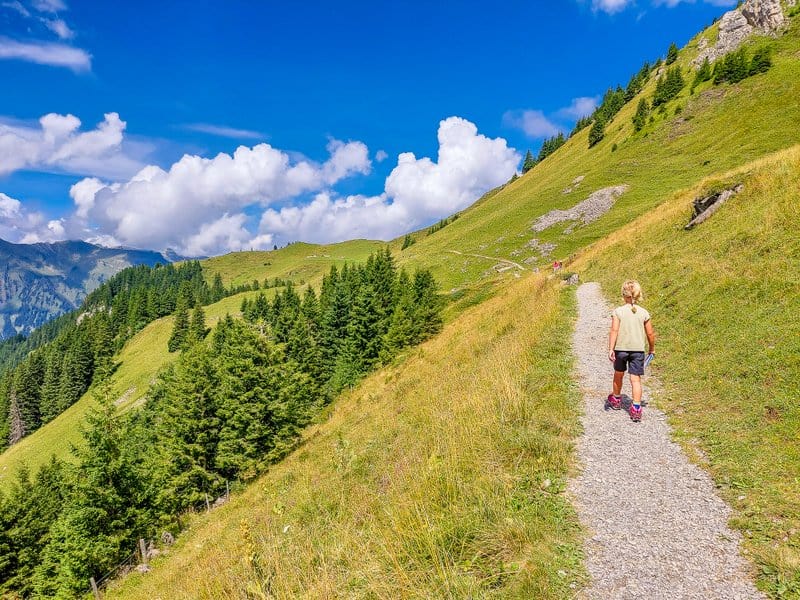 Collecting a prize
If you find all the clues, you can collect a prize at the restaurant. If the children find all the treasure chests and have filled in all the boxes for their chosen route, they can collect their well-deserved prize from the Kiosk at Ristis Station. I was surprised by the wide selection – book, cap, znüni box…our little one chose a beautiful mug, which no one at home is allowed to drink from except her 🙂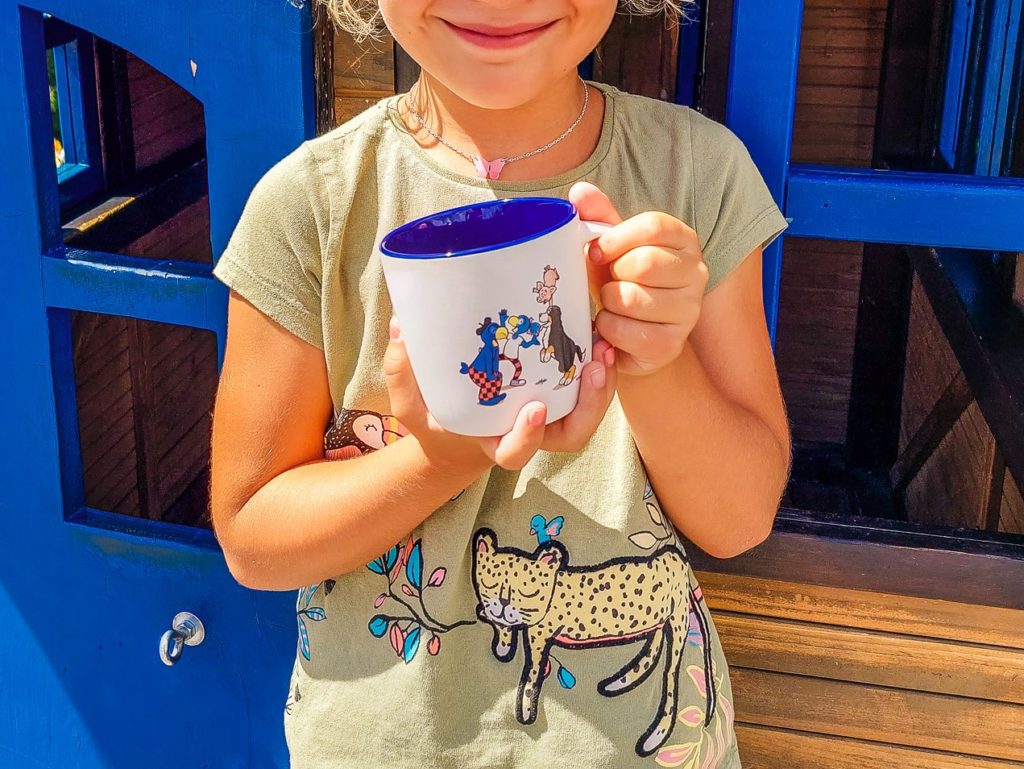 Summary
The Globi Schatzsuche route is 3.5 km long, the Globine Schatzsuche route is 4.5 km long (although my smartwatch showed me 3.5 km). These are definitely not distances that are not manageable with kids. Especially since the hiking is combined with a fun game. If you hike the Globine Schatzsuche, don't forget a pencil or pen!
Engelberg Brunni is a wonderful place for families. Count on spending a really full day here.
One map, one prize. So if you have more than one child and don't want them to fight over the prize at home, buy a map for each of them.
My advice is to take spare clothes for your kids. And one extra outfit for the spare clothes. Because they might slip and get washed out in the water of Härzlisee. And when you change them into dry clothes, they get wet again at the water features by the picnic area 🙂 Don't forget a small foldable towel too.