Some of you may not have kids at the age that you would have put them on skis (or your kids don't enjoy skiing yet), but you would still like to enjoy winter fun with your kids, preferably on a sled? Don't despair, here is my post with some tried-and-tested tips on where to go sledding with your kids in the Bernese Oberland.
1. TschentenAlp Adelboden
Last year, when I went skiing to Adelboden with our little one, after finishing her lessons at the ski school, we also found time for sledding on TschentenAlp. If you do not have a sled, you can rent it here (even several types).
My first article on sledding (and also skiing) on TschentenAlp can be found here.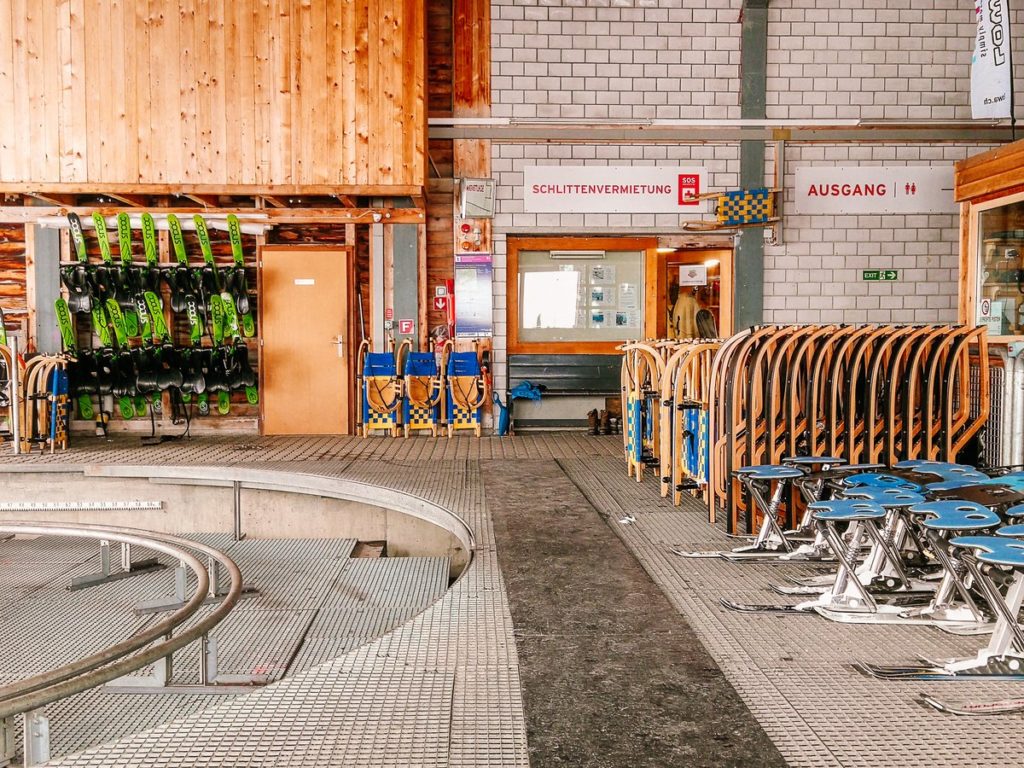 2. Schlittelweg Sillerenbühl – Bergläger (Adelboden)
Adelboden for the second time, but on a different hill. This was perhaps the first area to try when we went on winter adventures after moving to Switzerland. Since my blog at the time was still in its infancy, and my cell phone at the time was worth ***, I don't have any quality photos.
I just remember (even from last year's skiing) that the Schlittelweg route in certain places (especially at the beginning at Sillernbühl station) collides with the ski slopes, and therefore I appeal to the utmost caution, especially with small children.
3. Schlittelweg Aeschiried
The descent of the sled run starts at the Allmispitz and ends in Aeschiried (Scheidmatte). But it has one small hook – in order to enjoy a three-kilometer descent, you must first climb the three-kilometer hill. But I'll tell you a little tip (for the lazy of you 😉): for a good sleigh experience, the finish area is more than sufficient.
Behind the Panorama Hotel, there is a less steep hill for the little ones (with an amazing view of the Niesen mountain – see the cover picture). More information here and here.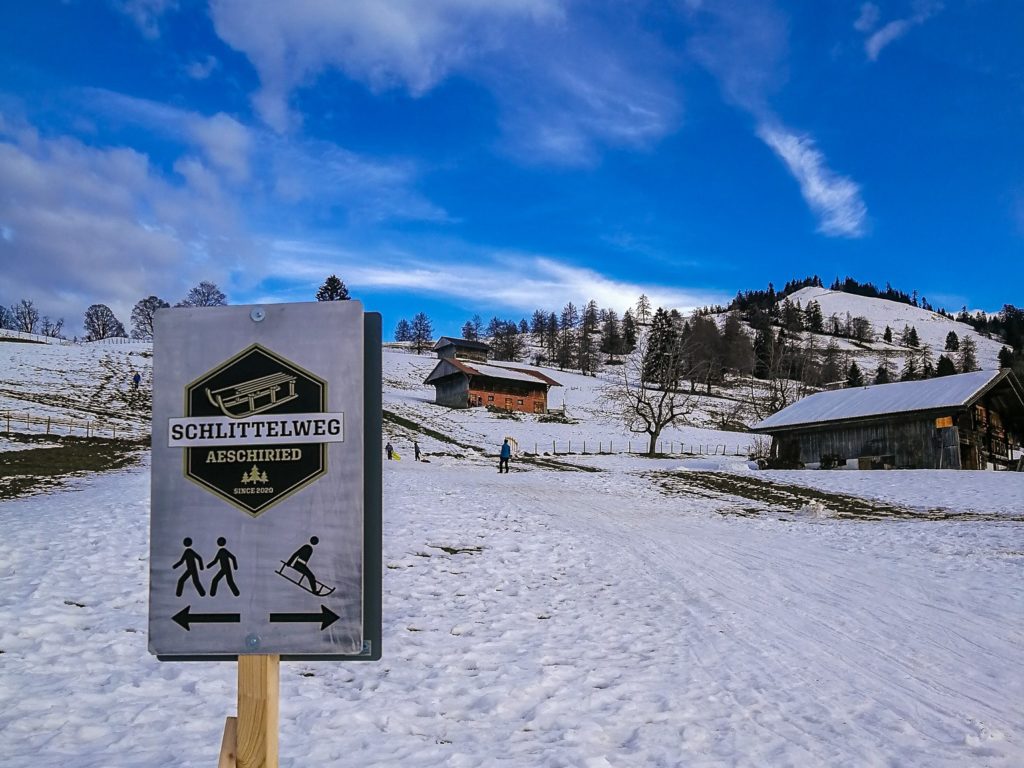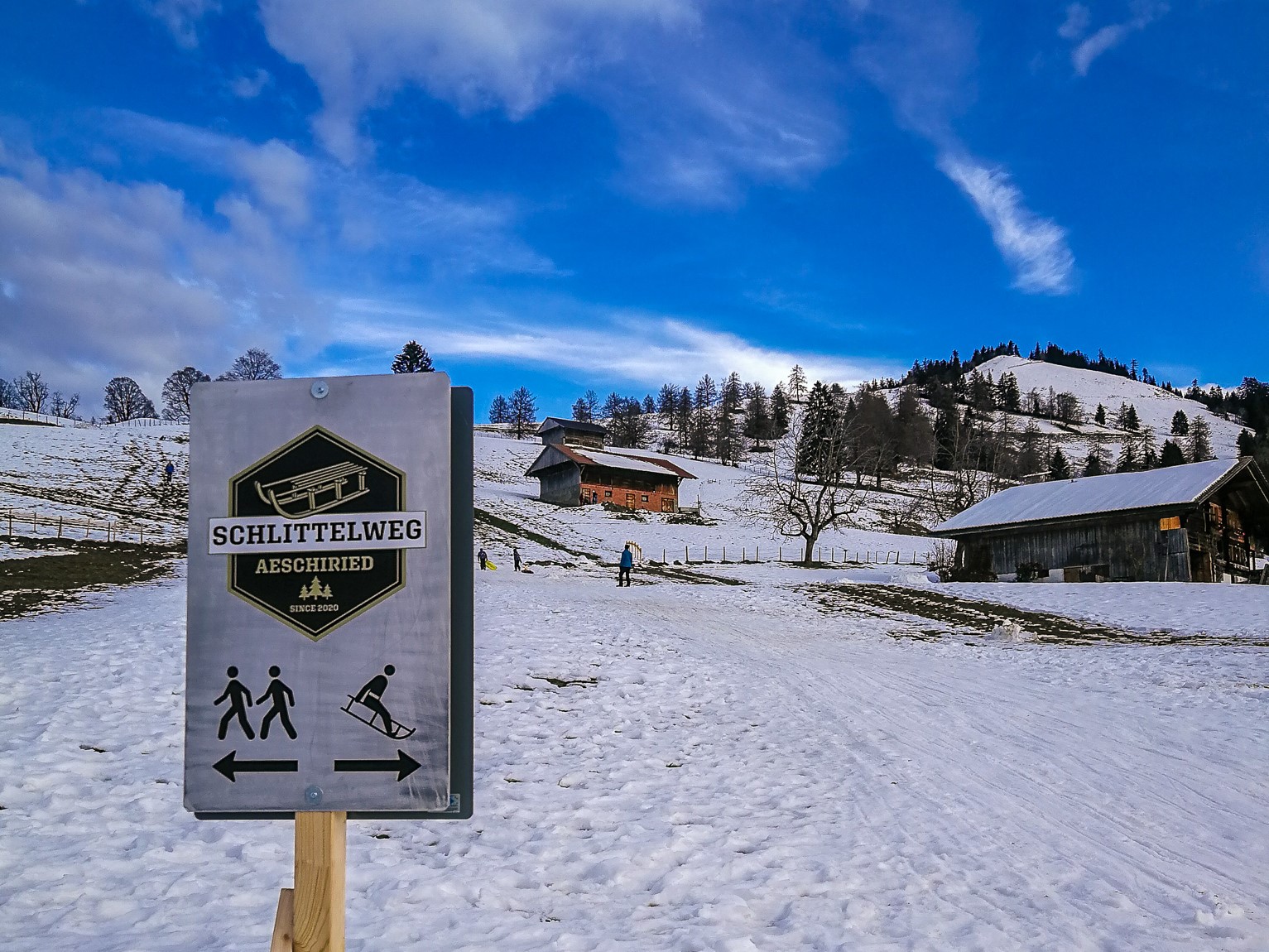 4. Oeschinensee
You can go to Lake Oeschinensee not only for skiing in a small cozy area, for a winter walk or for ice skating on a frozen lake, but also for sledding.
According to current information, the sled run down to the Kandertal valley is currently closed, but there is now a sled run for small children at the children's ski lift Oeschiland (at the top station of the cable car).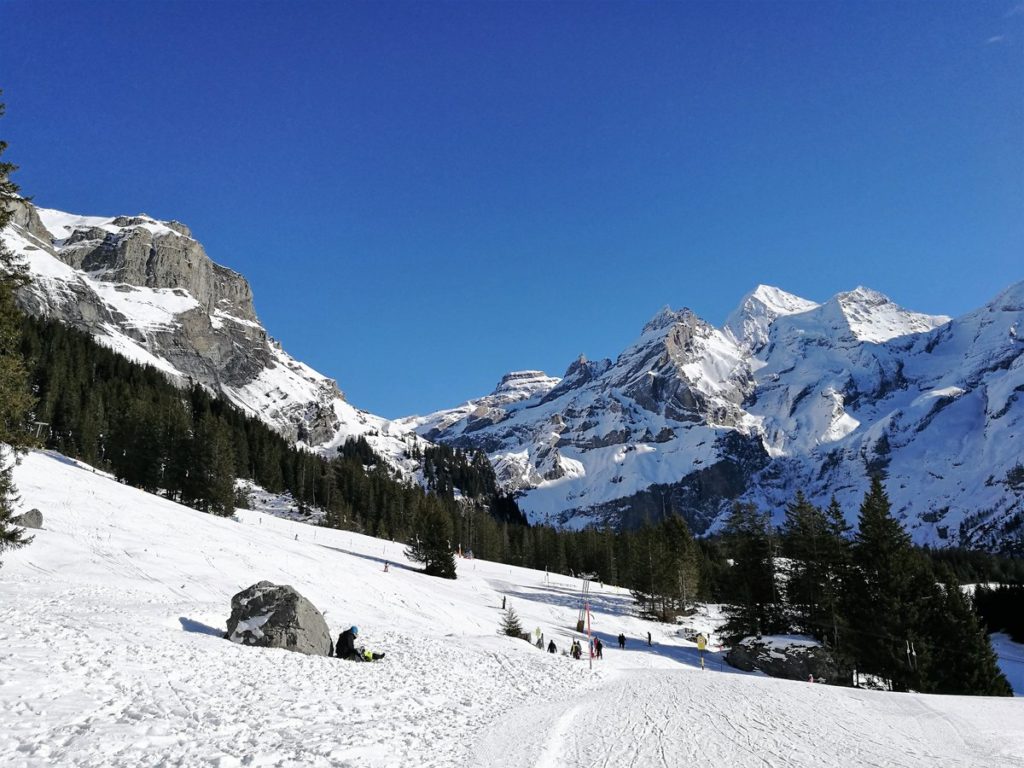 5. Wiriehorn (Diemtigtal)
Over 5 kilometers long daily groomed sled run is more suitable for advanced. The route with faster sections and bends leads from Nüegg station through the fir forest towards the valley. Photos from our sledding and skiing in Diemtigtal can be found here.
What else do we have on the bucket list?
I think it is clear that it is not in my power to cover all sled runs in the vast Bernese Oberland. If you have good snow cover, you can take the kids to the nearest local hill and still have fun 🙂 Anyway, the advantage of these known and long sled runs is that they are close to the slopes and are mostly groomed daily. And they are also at higher altitudes and you can often enjoy the snow here even in March. On my list of sled runs that I would sometimes like to try with kids are the following two:
When we were here skiing, we enjoyed the slopes so much that there was simply no time for sledding. We'll have to fix that sometime!
Europe's longest sled run: Faulhorn – Grindelwald
15 km of sledding fun with a spectacular backdrop of the three famous peaks Eiger, Mönch, and Jungfrau.
Männlichen – Holenstein
Do you remember how I shared the wonderful Lieselotteweg children's theme trail here? On its route, you will find a sled run in winter, which is described as easy, so it will hopefully be manageable even with smaller ones.
I wish you a beautiful winter!
Note: We are still in the middle of a pandemic, so please consider and respect local rules, which include wearing masks, social distancing, and hand hygiene. Be sure to check the local information before you set off. You can find current information on the BAG website.