I probably don't need to describe the sad truth that the older the children get, the harder it is to entice them to go on a trip. A boring route from A to B? So boooring, mum! And so you have to start figuring out how to make the upcoming family trip more attractive so your teenagers will be willing to go anywhere. Rope parks, of which there are many in Switzerland, are a great way to get your offspring to forget for a while that they didn't want to go anywhere with you. And when it comes down to it, they might even thank you for arranging such a great trip for them and, in the best-case scenario, beg for a repeat. To help you know where to go for adrenaline-filled fun with your kids, I've put together some tips for you and my readers on 18 interesting rope centers you can try with your kids.
There is a large adventure park at Fräkmüntegg, the middle station of the cable car that leads onto the famous Pilatus peak. In addition to the rope park, which has trails of varying difficulty levels, there is also the Dragon Glider, the Wimpelpfad (treetop trail), and the Fräkigaudi summer toboggan run. The rope park is open to children from 8 years of age and 120 cm tall. The rope obstacle courses are mostly in the forest. For children aged 4 to 8, there is a smaller rope park called PILU, which has seven stations.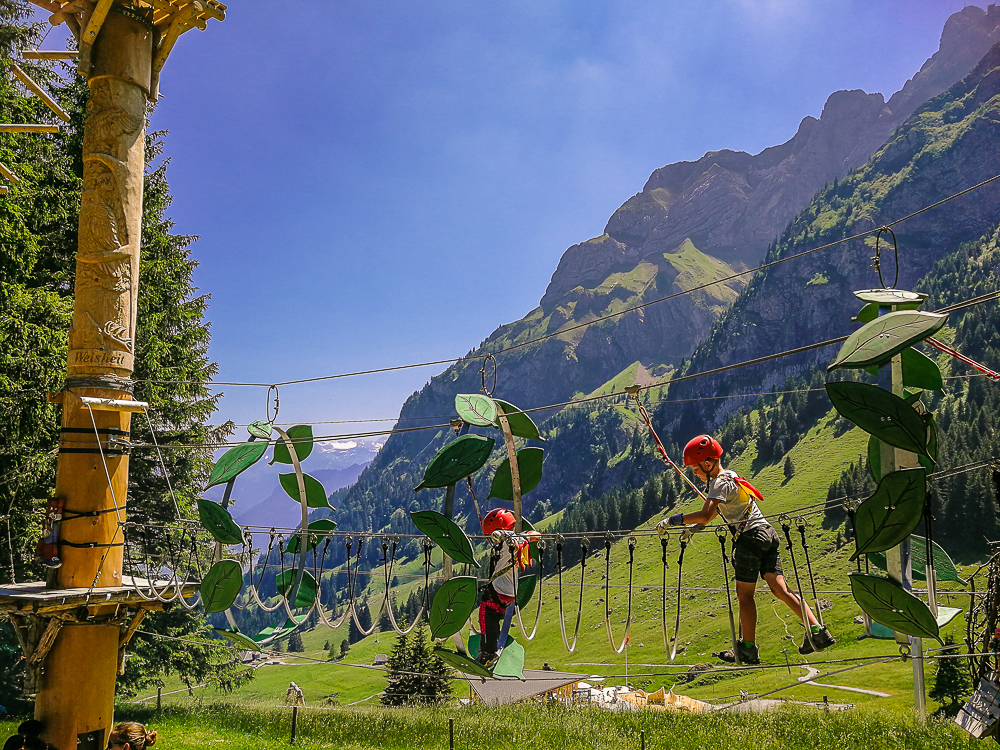 The Charmey Aventures outdoor park is located at the middle station of the cable car to the top of Vounetz. In addition to the rope center in the treetops, you can also experience a unique activity of its kind in Switzerland – on up to fifteen rope slides up to 300 meters long with a height difference of 400 meters, you can "slide" from the top of Vounetz to the adventure park in the middle station under the supervision of a qualified guide. If you go hiking in this direction, you will find adventurous individuals gliding right over your head 🙂 .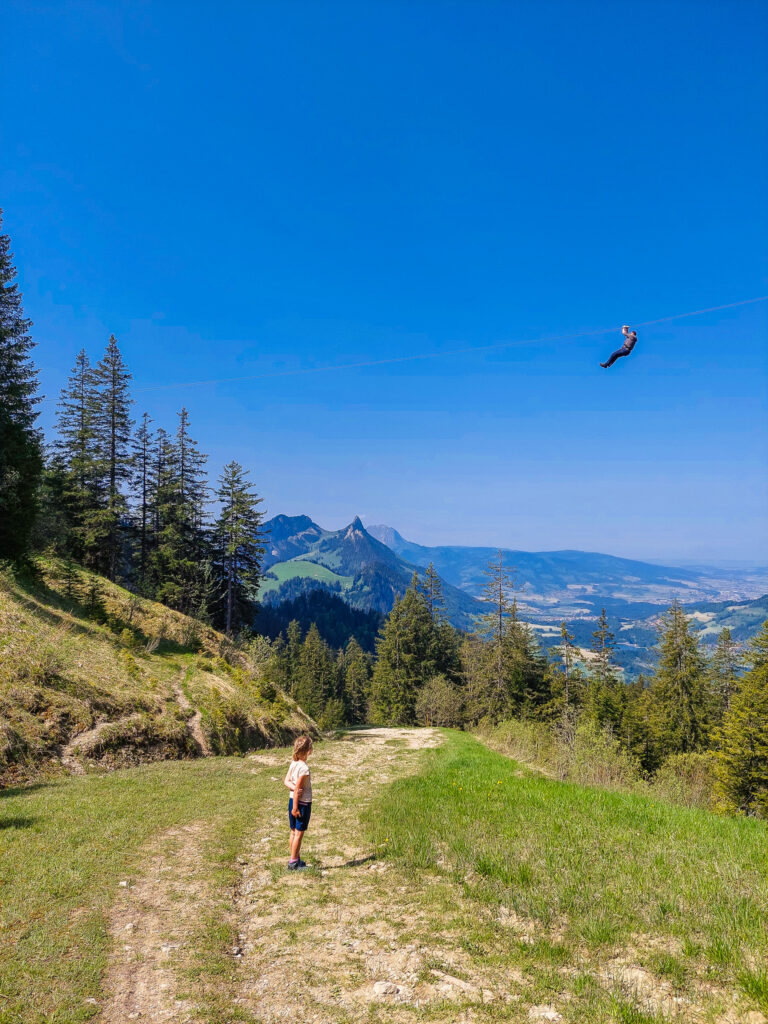 3. Seilpark Interlaken
I received a tip from Jana and Tereza about Seilpark Interlaken. As another blog reader wrote to me, her son loves coming here and will stay here for a long time. Not surprisingly, at Adventure Park Interlaken you can go on nine courses in the treetops with more than 160 obstacles up to 23 meters high.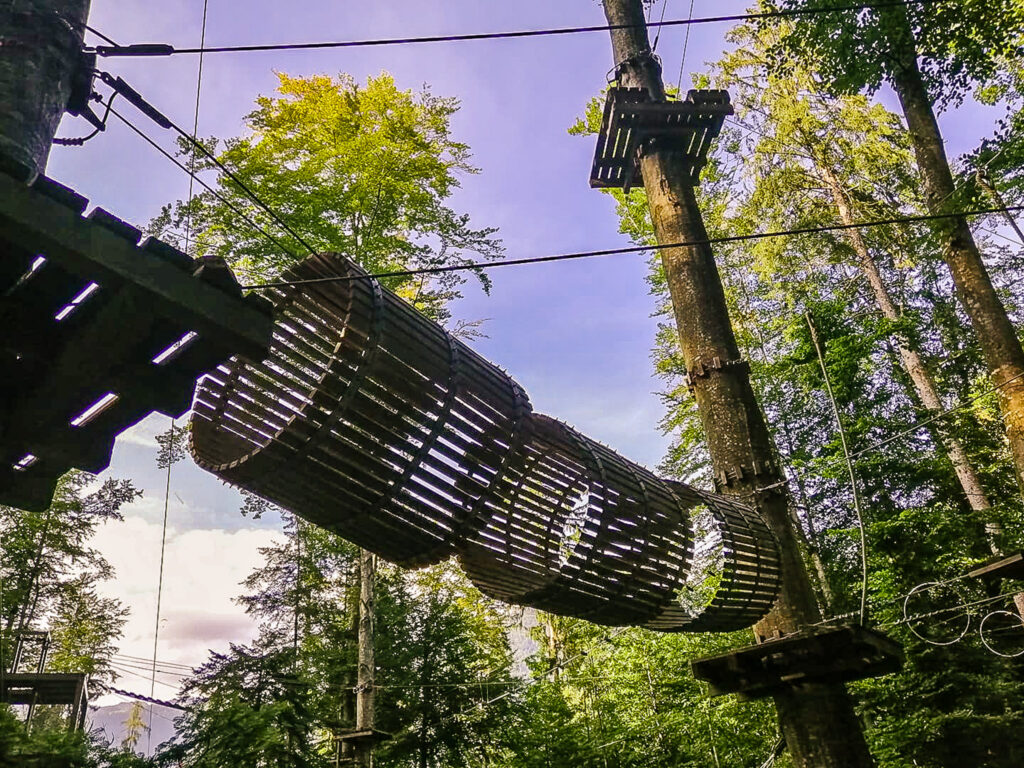 4. Forest Fun Park Zermatt
The rope climbing center at the end of the mountain village of Zermatt, overlooking the iconic Matterhorn, is recommended by Daniela and Petra. Daniela and her sons (aged 8 and 5) also tried the Kids Trail here – the largest children's course in Switzerland, which they loved.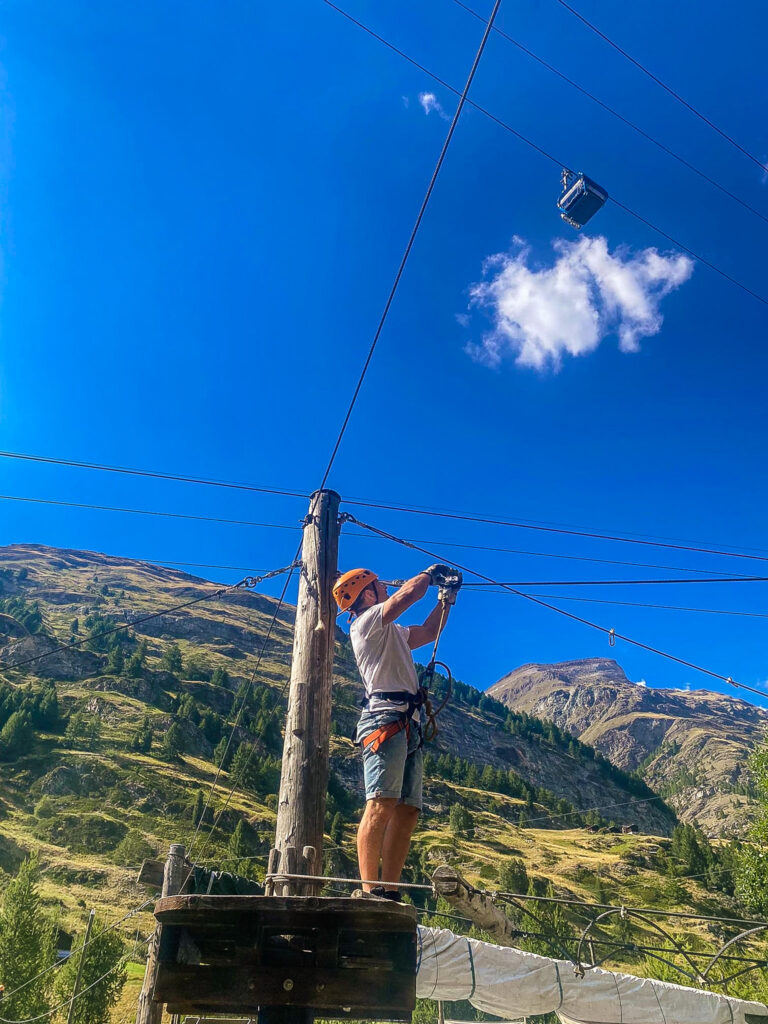 5. Adventure Park Rheinfall
I received a tip from Pavla and Míša about the Rheinfall Adventure Park, which offers a view of Europe's largest waterfalls on a 500-meter descent. It also has 2 tracks for children aged 4-7 and 3 tracks for children aged 8-9. Of course, this largest rope park in Switzerland also offers routes for adults with more than 160 climbing elements.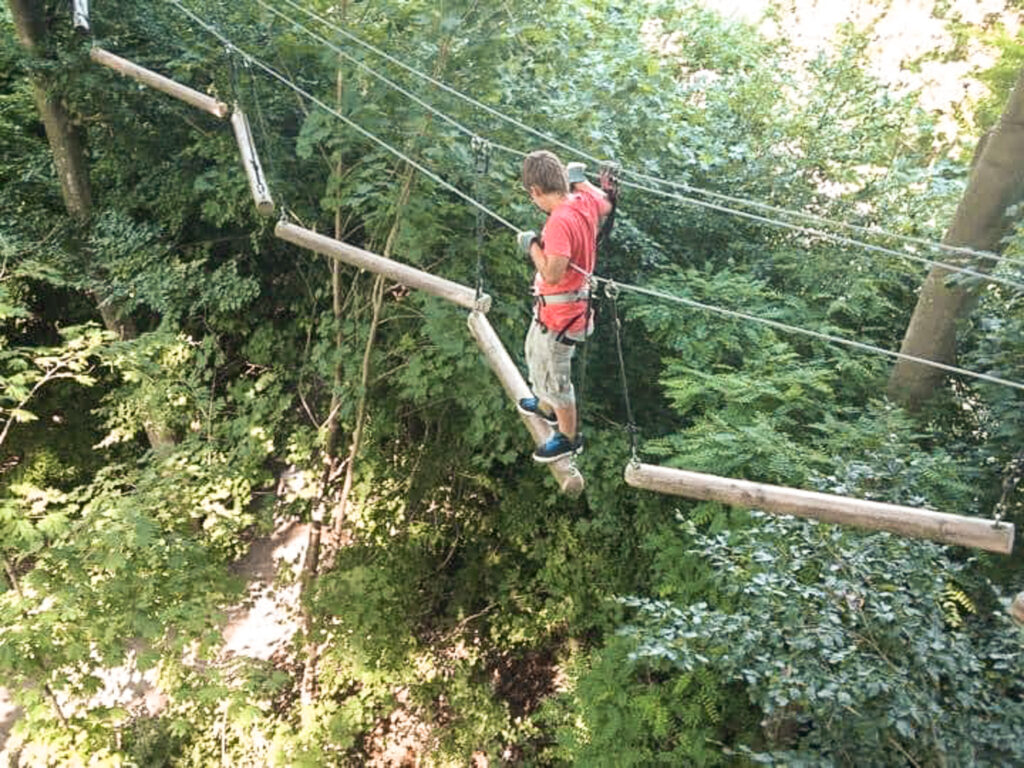 6. Kletterturm Frutigen
I got a tip from Tereza about Frutigresort, where this almost 16 meters high climbing tower is located. I still have a photo of it from when it stood at the cable car's mountain station to Sillerenbühl in Adelboden. It was moved in 2019 and now forms part of the resort, where you'll also find an indoor pool and outdoor swimming area. There is also an observation deck at the top of the tower, which is open to all visitors free of charge. The largest free-flying Swiss flag is also located on this platform at a height of 20 meters.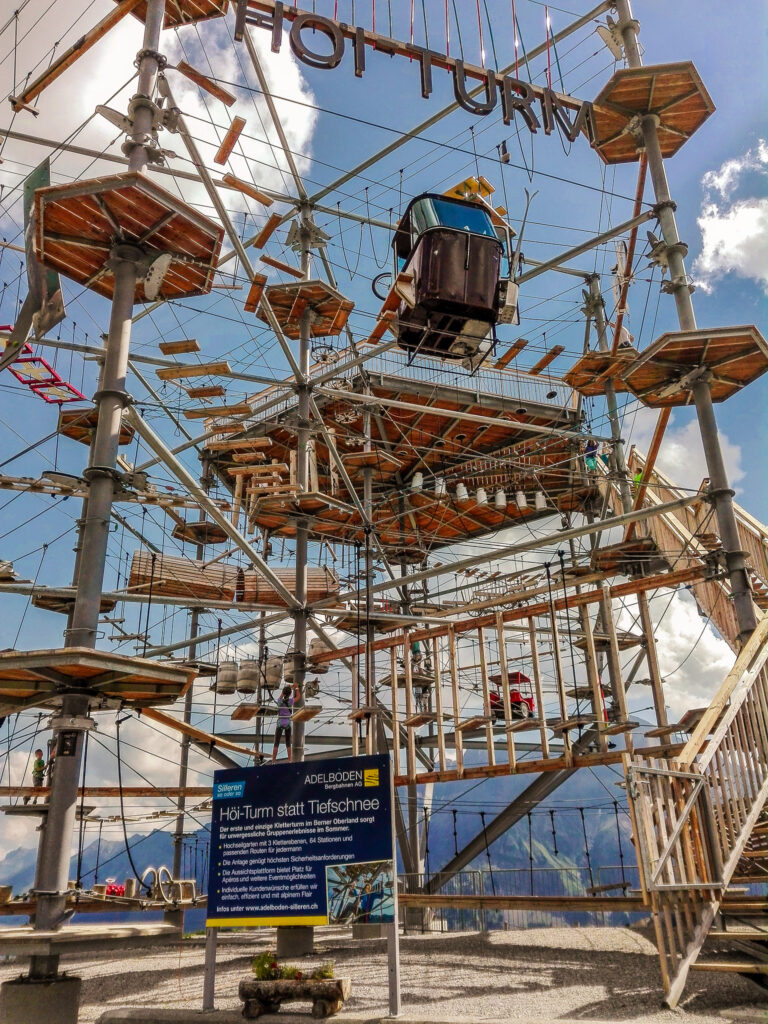 7. Seilpark Pradaschier, Chur
Our recent hike in Chur ended at the top of Pradaschier, where, in addition to a restaurant and the longest slide in Switzerland, you'll find a rope park with three lines and a 150 m-long zip line.
8. Waldseilpark Wasserfallen
At the top station of the Wasserfallen cable car in the Basel-Land canton, you will find a rope park, which Andrea and Kačka recommended to me. It is the first rope park in Switzerland.
9. Seilpark Abenteuerwald Saas-Fee
Tereza gave me a tip about a rope park in Saas-Fee. There are 4 levels of difficulty in the larch forest and the highest zip line in Europe.
10. discOWer Seilpark Melchsee-Frutt
You may wonder about the capital letters OW in the name of this rope center but know that it is nothing more than an abbreviation of the name of the canton in which it is located, i.e. Obwalden. There is a separate children's rope park with 3 routes for children aged 4 and up, otherwise, there are 6 routes for adults and children aged 6 and up. Vitek sent me a tip about this rope park, which promises fun for the whole family.
11. Zipline-Park Kronberg
As the name suggests, this rope park focuses mainly on zip lines, of which you will find a total of 25 with a total length of 1,210 meters. The tip was sent to me by Ivana.
12. Seilpark Zürich
Pavla sent me a tip about a rope park with the title "the most creative rope park in Switzerland".
13. Seilpark Balmberg
A visit to this rope park in the Jura Mountains can be a nice start or end to your hike to the top of Weissenstein near Solothurn. The large park, which can accommodate up to 230 climbers at a time, offers 10 routes with varying degrees of difficulty, and thanks to a special safety system, children as young as 4 can try climbing.
14. Forest Jump Jura
There is also a ropes park in Les Prés-d'Orvin, famous for its meadows of yellow daffodils in spring. Jana sent me a tip about this place, where, in addition to the rope center, you will find a preserve full of buffalos.
15. Ropetech Seilpark Bern
The rope park in the Dählhölzli city forest park offers 7 courses with different levels of difficulty and various obstacles up to 23 meters high. For the little ones from 4 years old, there are three other children's courses close to the ground.
16. Deinkick Seilpark Langenbruck
Kačka sent me a tip about the rope park, which is again something unique: "It is the first Swiss rope park that is operated exclusively with a continuous safety system. There is no need to re-engage the safety carabiners on the platforms, as the user is continuously secured by a continuously moving red safety runner along the entire route. This prevents accidental complete disconnection."*
17. Adrenatur – Fun Forest Crans Montana
Tereza sent me a tip about a rope center where little ones from the age of two can test their skills and courage.
18. Parc Aventure Chaumont
The Rope park near Neuchâtel offers 11 treetop routes, more than 20 rope slides, and the first outdoor laser tag in Switzerland.
So, what do you say to this list of rope parks? Have I missed any? Could you recommend any of them? Do you have pictures? Don't hesitate and send them to me!