Last weekend we had the opportunity to visit the canton of Ticino again after a year. While last year we brought back the virus, whose name I don't even dare to write anymore (I'm sure you've read enough about it in the past two years!), this time we took away many unforgettable memories. And that's thanks to the fact that we had the opportunity to spend a weekend at Reka Holiday Village in Lugano-Albonago.
NOTE: This article was written in collaboration with the Reka, who invited us to attend the opening weekend of the newly renovated holiday village in Lugano-Albonago. All opinions are my own.
A little detour into history – what is actually Reka?
Reka stands for Reisekasse, loosely translated as a travel fund. This non-profit cooperative was founded in 1939 by Swiss workers' associations and trade unions together with representatives of large companies and tourism organizations. Even at the time of its creation, the main idea was to provide affordable holidays for lower-income families in the spirit of the motto: 'Every worker deserves a holiday'. Initially, the Reka relied on so-called Reka stamps, later Reka cheques, a kind of currency of its own, which employers gave out from 1940 onwards on favorable terms and with which their employees could buy train tickets and spend their holidays in certain hotels. With the opening of the first holiday village in Lugano-Albonago in 1964, this success story began to write a new chapter in its history.
Today, in addition to private donors, Reka is financed by around 500 members of the cooperative, including countless Swiss giants such as ABB, Axa, Novartis, and Swatch, banks such as CS and UBS, as well as SBB and Swiss Post, and the National Bank.
Reka operates 20 holiday villages in Switzerland alone, 5 of which are in the canton of Ticino. The renovation of 16 of these 20 recreational facilities should be completed by the end of 2022.
Holiday Village Reka Lugano-Albonago
Reka opened its first holiday village in Lugano-Albonago in 1964. At that time, Albonago was a small village on the slopes of the largely undeveloped Monte Brè.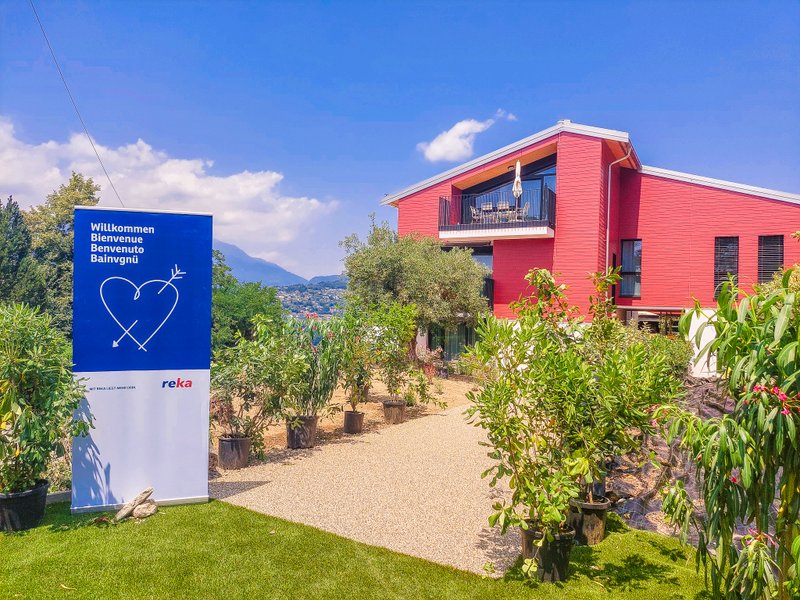 Over the past two years, the site has been refurbished at a cost of 33 million Swiss francs to create 7 apartment buildings with 49 apartments and two hotel rooms, an osteria/pizzeria, a panoramic swimming pool, a spa, bike stations, barbecue facilities, and children's playgrounds. This renovation has earned the resort four stars from HotellerieSuisse. The modern-designed apartments themselves are spacious, full of light, and have everything a family with children needs (including travel cots, potties, children's dining chairs, fully equipped kitchens, etc.). You can also bring your dog here.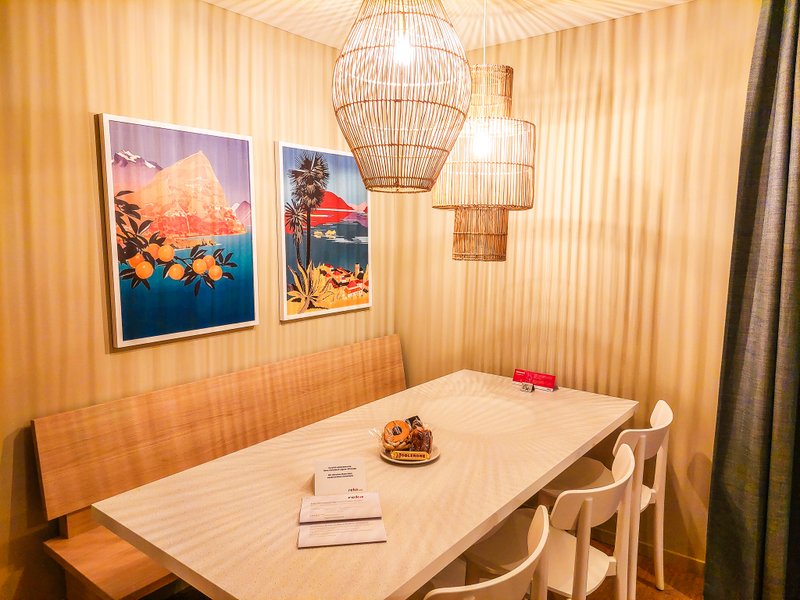 Catering.
You can either cook your own meals in your apartment, or you can use the self-service restaurant "Osteria" with indoor and outdoor seating under the pergola (you can book a half-board or bed and breakfast stay). Here you can enjoy your pizza, pasta, and the best classics of Ticino cuisine.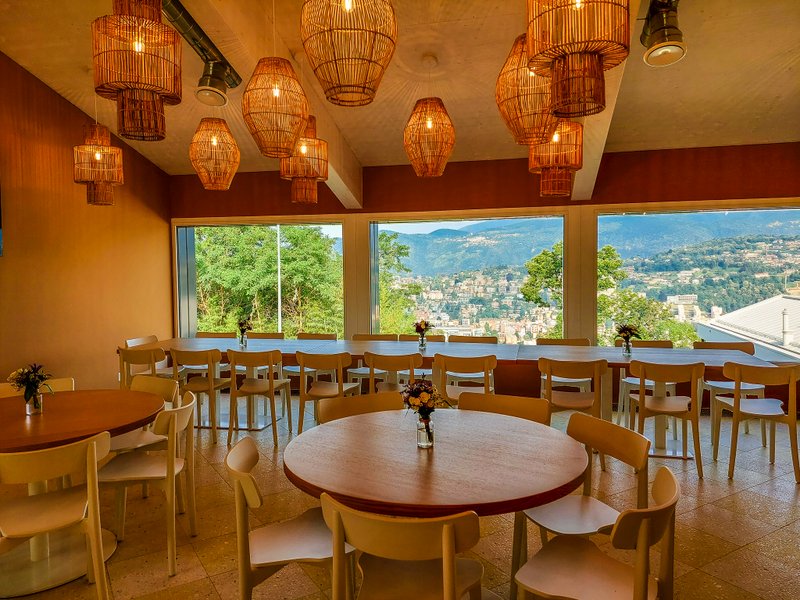 How to get to Reka Holiday Village Lugano-Albonago
By car: the Reka Holiday Village is located at Via Albonago 59A, 6962 Viganello. There is a two-floor garage.
By public transport: By train to Lugano, then take bus number 2 to the stop Castagnola, Capolinea. Here you change to bus 10 in the direction of Albonago, Pease. Line 10 runs at half-hourly intervals on weekdays and hourly on weekends.
Ticino Ticket
Ticino Ticket is included in your stay. With the Ticino Ticket (which you get free of charge when staying in a hotel, youth hostel, or one of the many campsites in Ticino) you can use free public transport within the canton. And public transport in Switzerland is reliable, punctual and gets you everywhere. Other benefits of the Ticino Ticket include discounts on cable cars, boat tickets, and major tourist attractions. You can also download Ticino Ticket as an app on your smartphone.
8 things to do when you stay at Reka Holiday Village Lugano-Albonago
1. Chill by the infinity pool
Did I mention that the main attraction is the infinity pool with a spectacular view of Lugano, Lake Lugano, Monte San Salvatore, and the surrounding hills?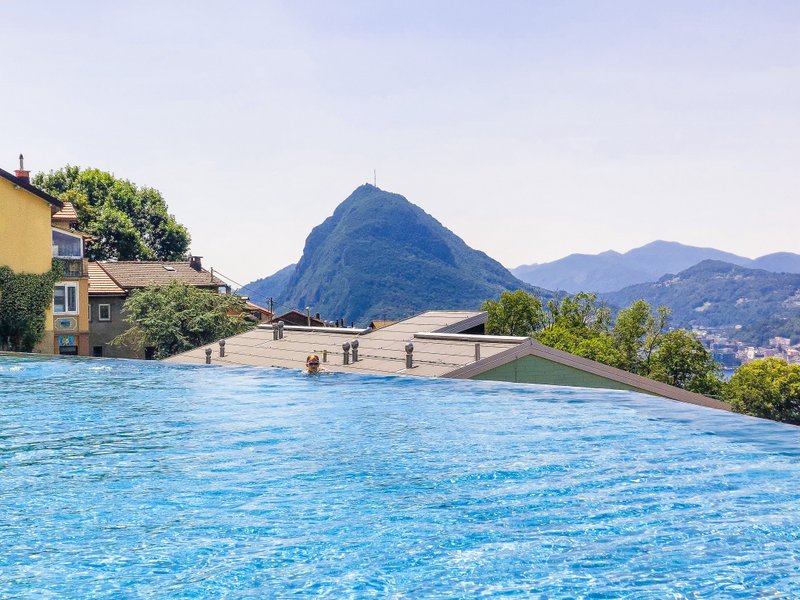 2. Take the funicular to Monte Brè
Less than a 5-minute walk from Reka Holiday village is the funicular station to Monte Brè, considered one of the sunniest places in Switzerland. From here you will have a beautiful view of the bay of Lugano, the Pennine Alps, and the Bernese Alps.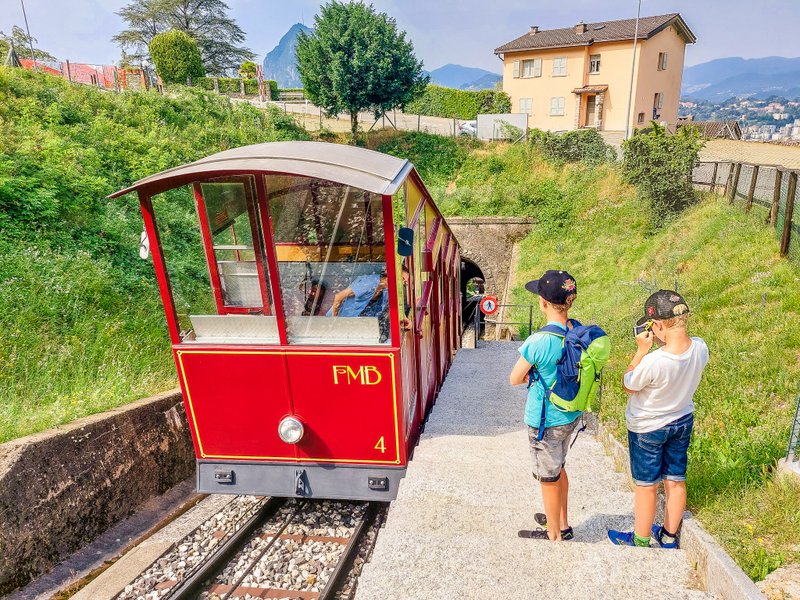 3. Take a hike
Monte Brè is also the starting point of many hiking trails in the area. You can either go for a short panoramic walk around the summit or make the roughly 4km descent back to Reka Holiday village via the hamlets of Curregia and Pregassona (more on this hike soon in a separate blog post).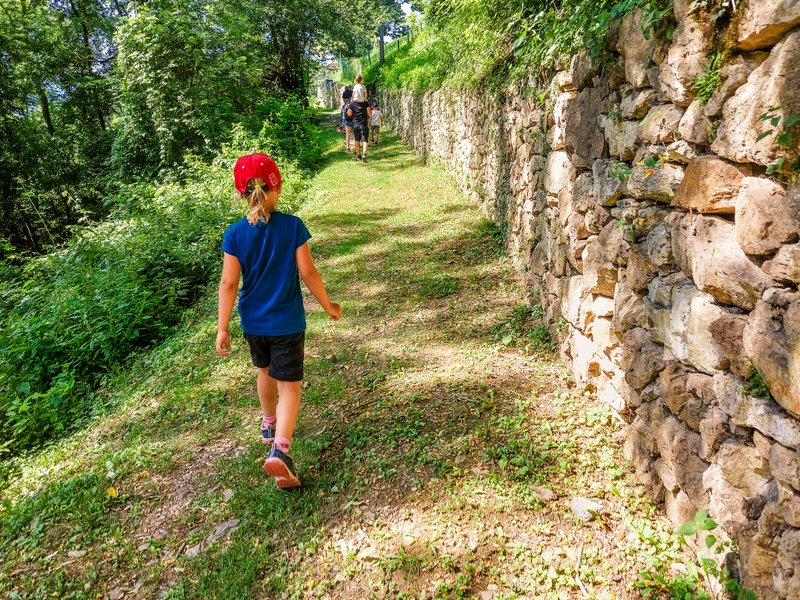 4. Let the kids play in the Rekalino Kids Club (and you go back to point 1)
It is no wonder that Reka holiday villages are the number one choice for family holidays in Switzerland. The price also includes an animation program at the Rekalino Kids Club.
5. Walk along the lake promenade in Lugano
Lugano is the largest city in the Ticino region and one of the most important financial centers in Switzerland. It is also the city with the largest Italian-speaking population outside Italy and is sometimes considered even more Italian than Italy itself.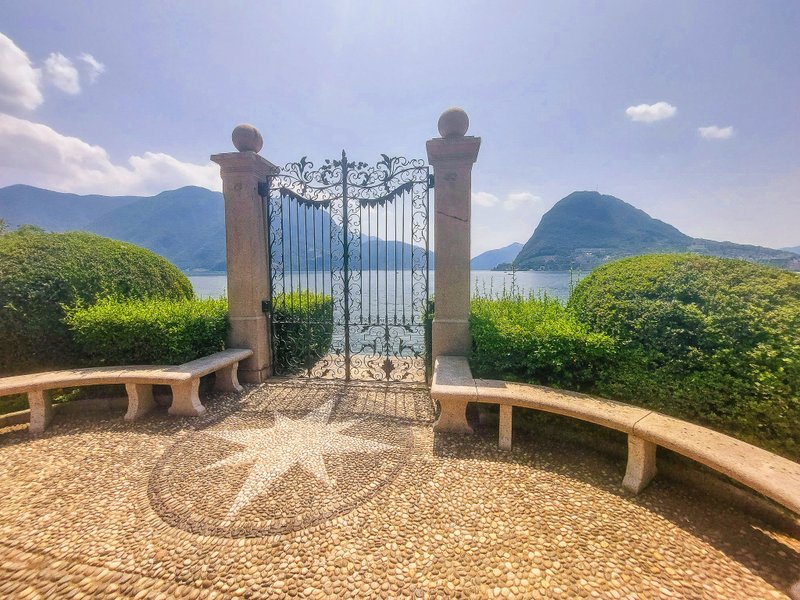 6. Take a dip in Lake Lugano
At the end of Parco Ciani is the city's popular Spiaggia Parco Ciani beach, which is completely free. If you don't want to take a dip in the lake, the local Lido swimming pool is right next door.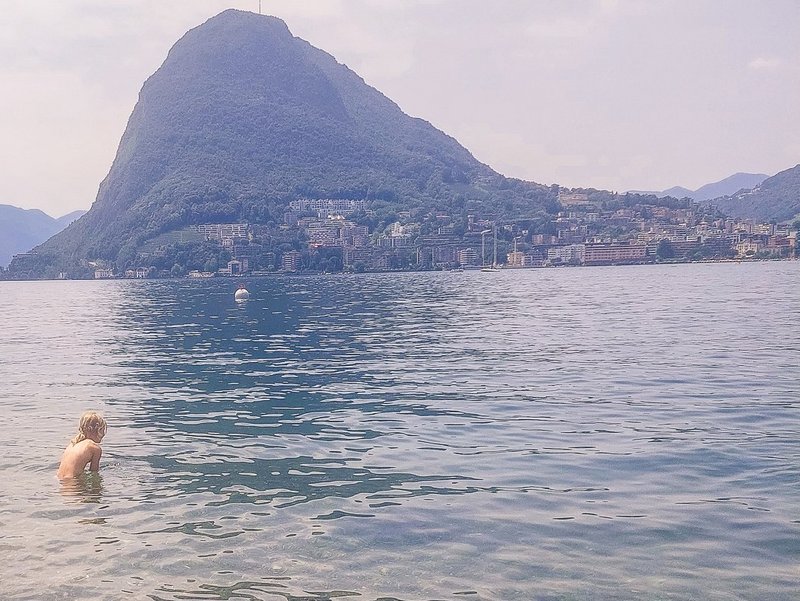 7. Take a trip to Monte San Salvatore
An iconic landmark of Lugano that you simply cannot miss is Monte San Salvatore. You can reach the top of this 912-meter-high mountain in the shape of a sugar loaf by funicular from the Paradiso district.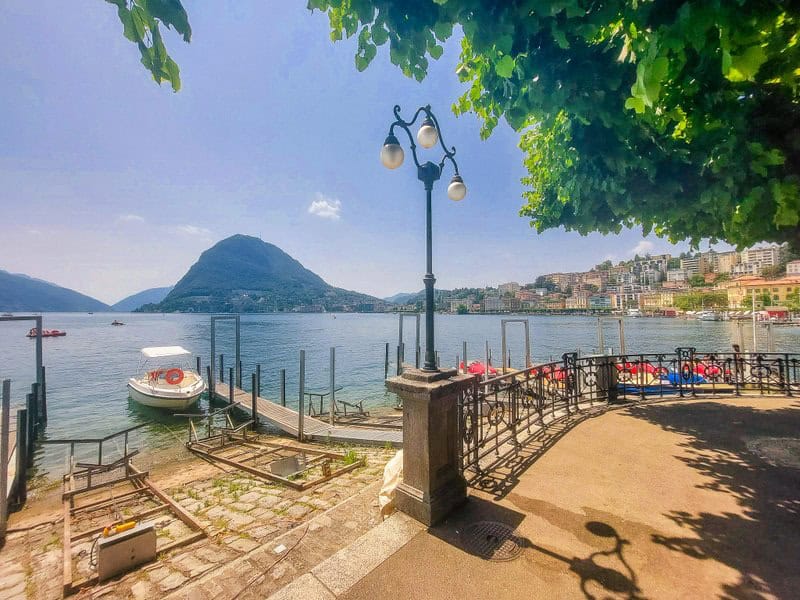 8. Enjoy the sunset
Most preferably by the infinity pool again. The view of the city and the lake is simply breathtaking.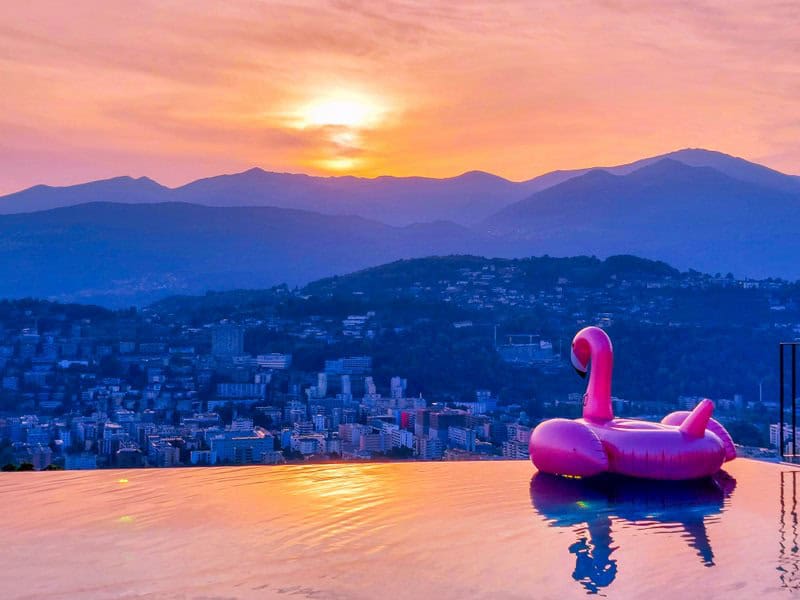 So, did I entice you with this article to go to Lugano and book your family holiday in Reka Holiday Village? I hope so 🙂 To get you even more excited, you can check out these articles:
And how did my colleagues from the Schweizer Familienblogs network feel about the opening of REKA Feriendorf?