Adelboden is a nice ski resort known, among other things, that it hosts FIS Ski Alpine slalom race at the beginning of each year (I wrote about it
here
). On Saturday we came here exceptionally not for skiing, but for sledding because in the area of Tschenten Alps you can find "Schlittelpark", which offers about 14 km of sledding trails. And we couldn´t resist trying it!
Post updated on 9. 1 . 2020
 How to get there
From Bern, you can get to Adelboden by car in about an hour. Several kilometers in front of Adelboden you will see placards signing that you´re going in the right direction, but with the arrival in Adelboden itself, as though the earth had swallowed them 🙂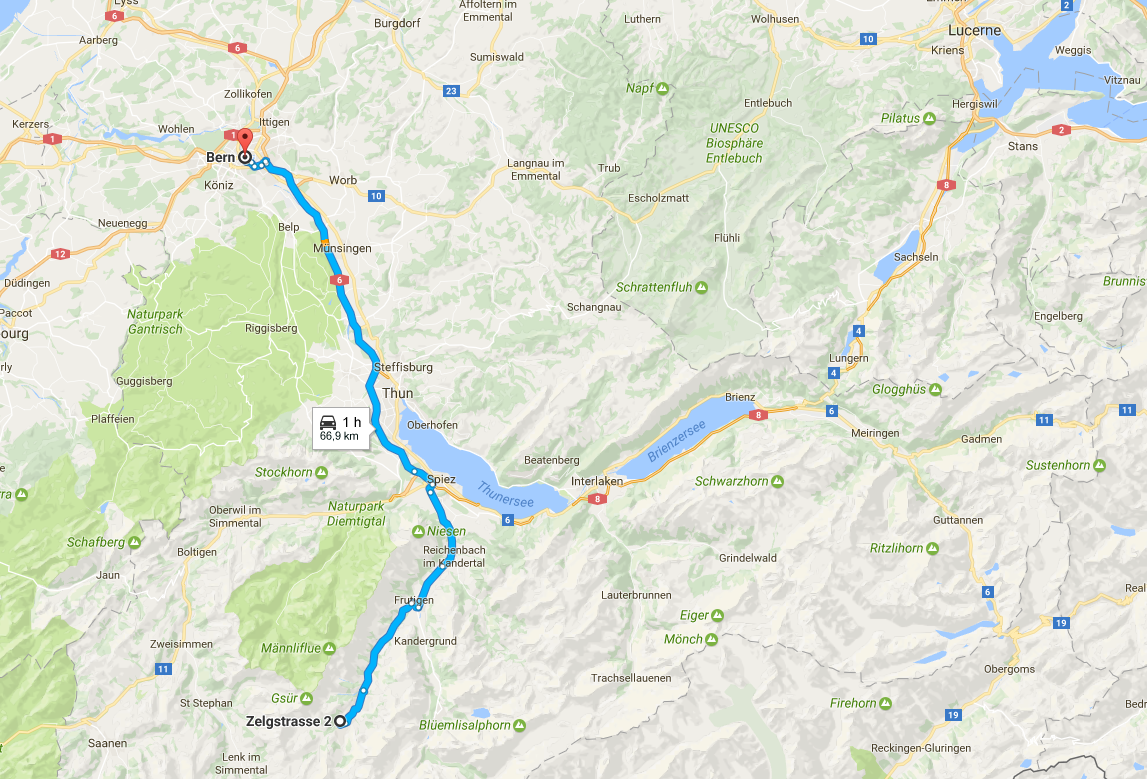 However, you need to set your navigation to the center of Adelboden and then not miss the turn left to the Parkhaus Zentrum at the turn-off. This multilevel parking garage is paid (> 4hrs – 6CHF, 5hrs – 7CHF, 6hrs – 8CHF).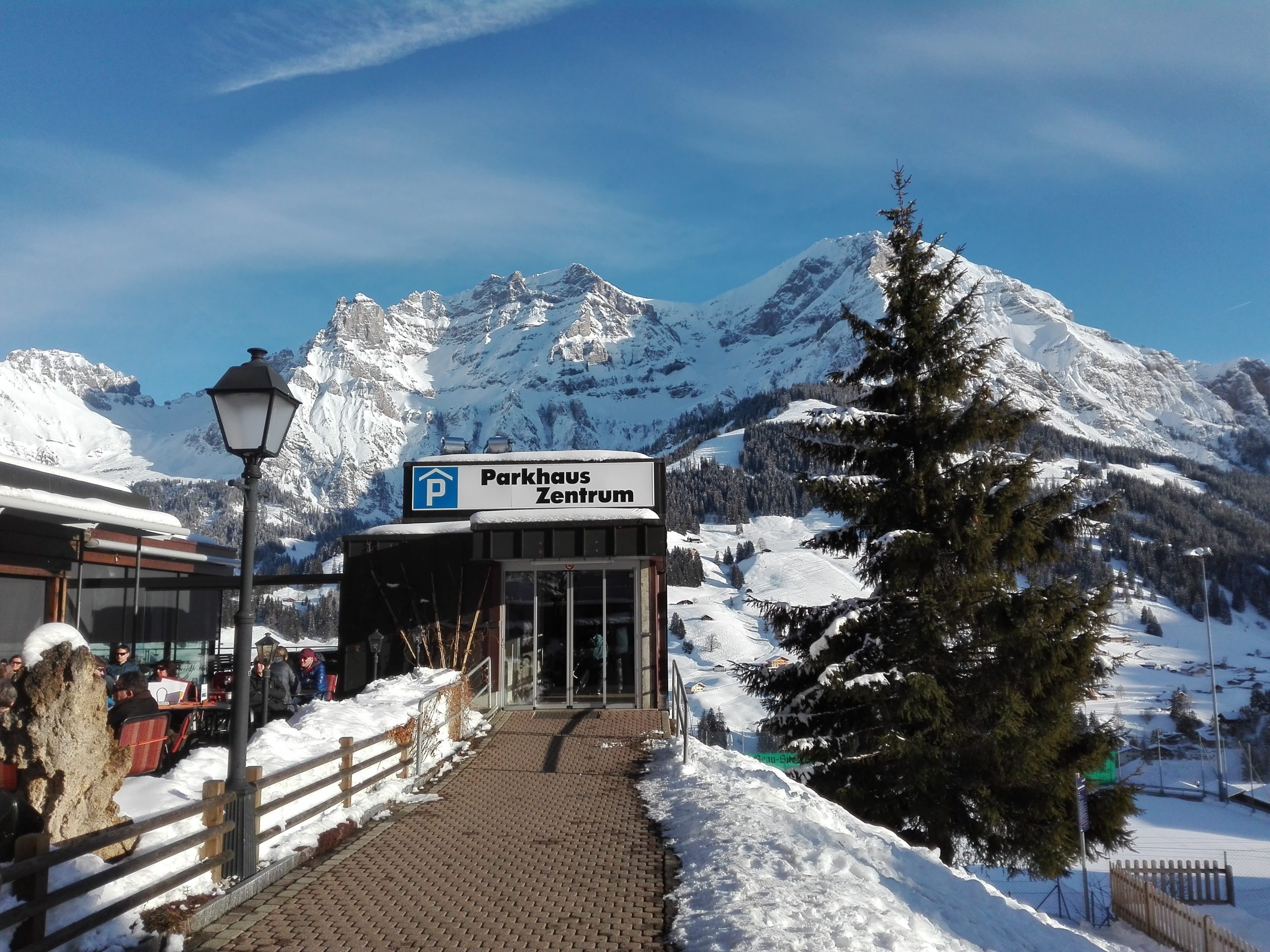 The lift will take you up from the parking just in front of the Restaurant Adler and from here you have to walk a couple dozen meters (past the church) to reach the cable-way station. It runs every 15 minutes.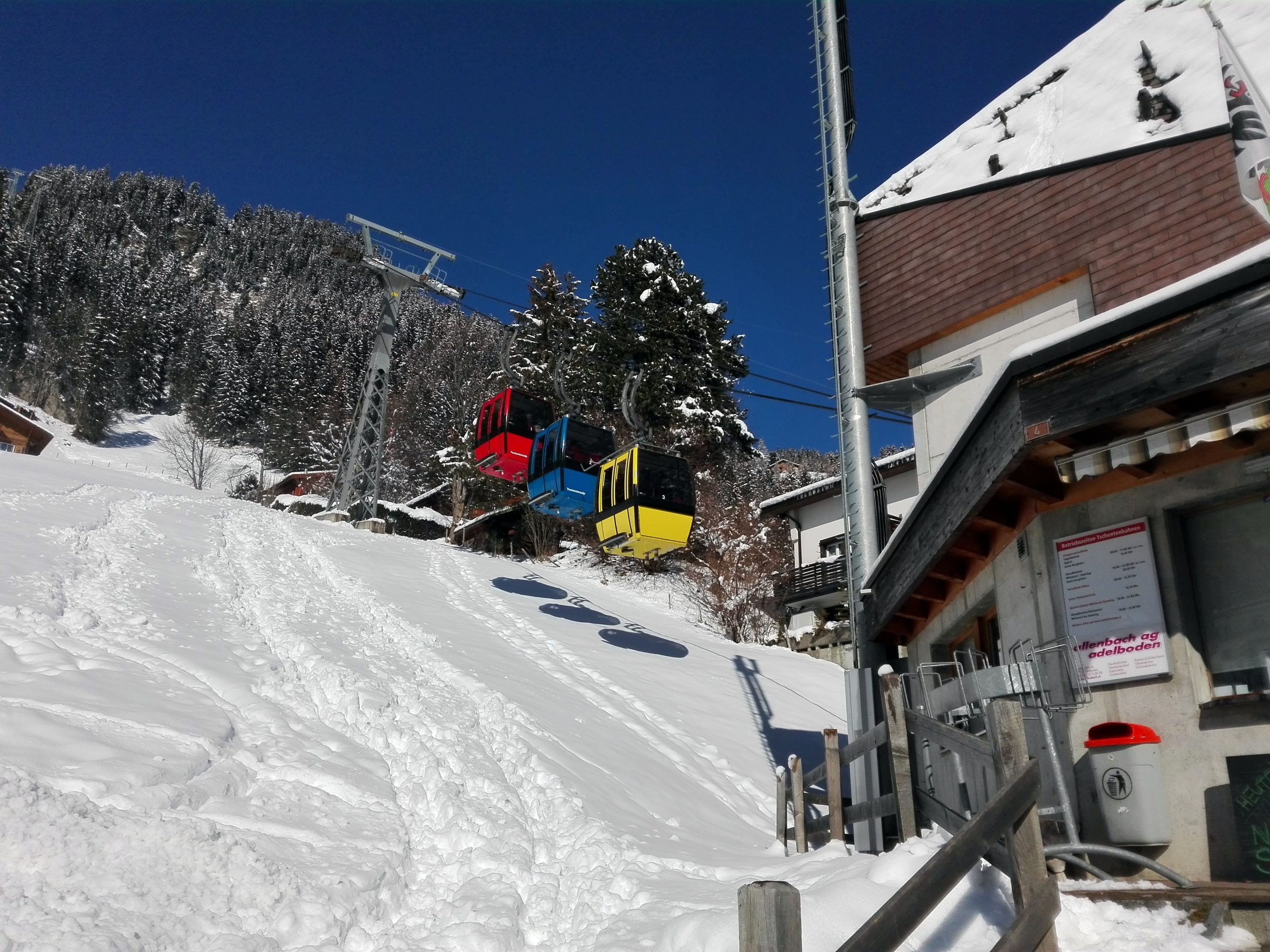 Sledding
As I wrote in the beginning,
Schlittelpark
offers 14 km of sledding trails. Their marking is similar
to
the ski slopes: blue – easy, red – medium difficulty, black – difficult.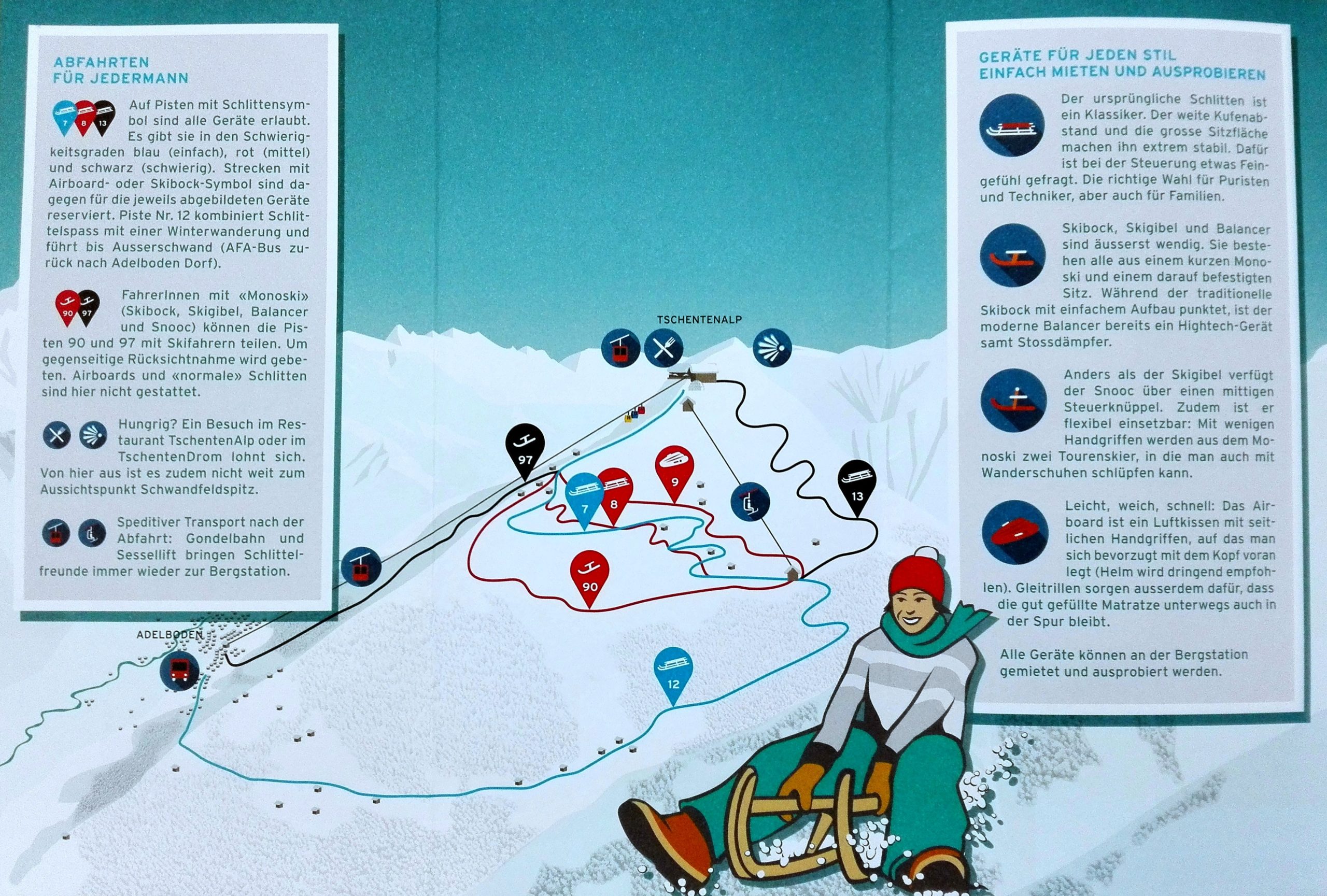 We were having most rides at trail No.7, that we found quite safe for the kids. I also tried trail No. 8. , but in my eyes, it was really a challenge: steep, narrow and winding.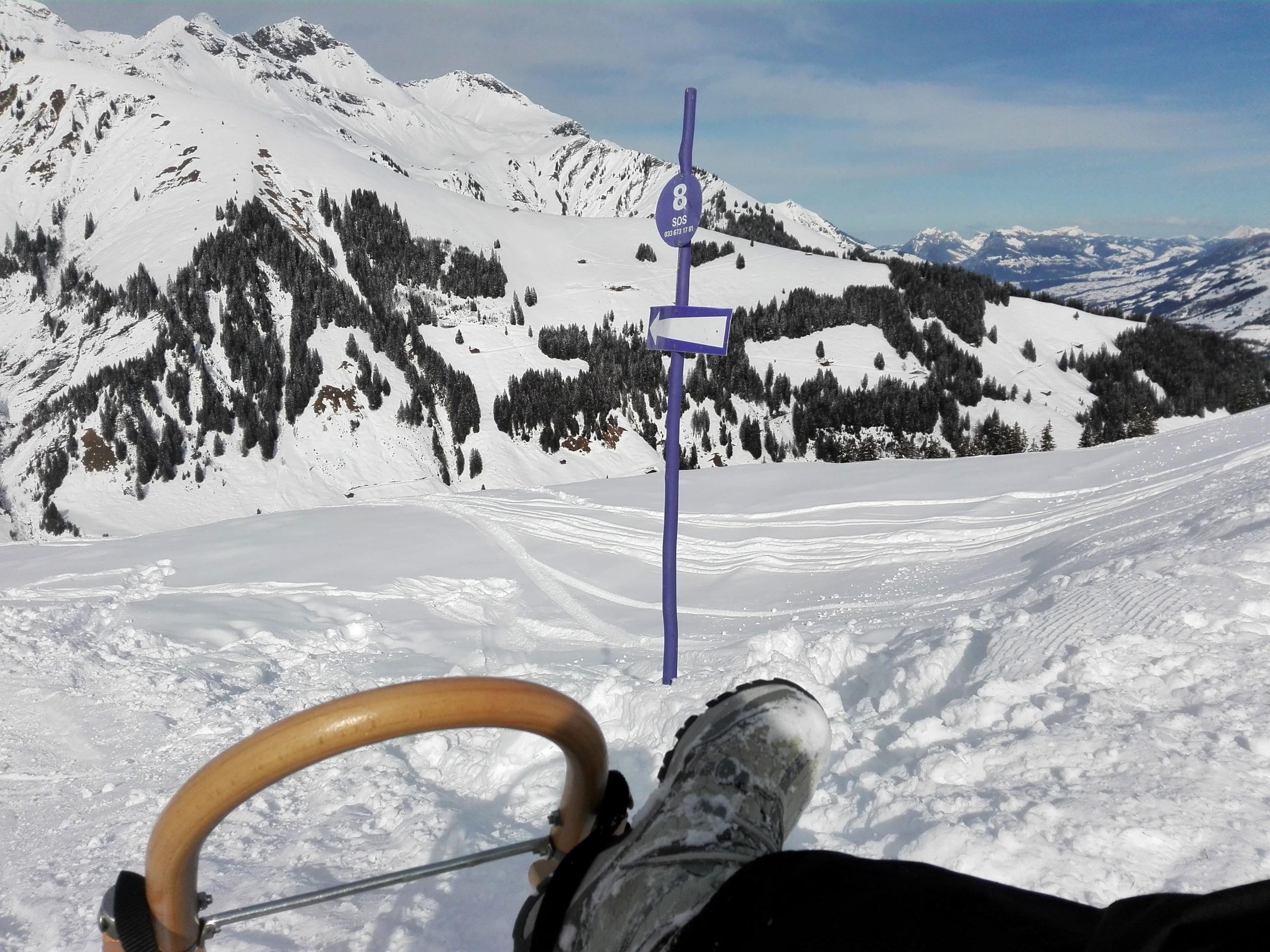 We also tried one ride with our 16-month-old daughter seated in front of me on the sled (since we saw one family with an even smaller baby), but for me: never again! Our little was very scared and so was I! Therefore, I suggest a shared ride on sleds with children from 3 years of age (and I wouldn´t recommend under 5years old to sled alone).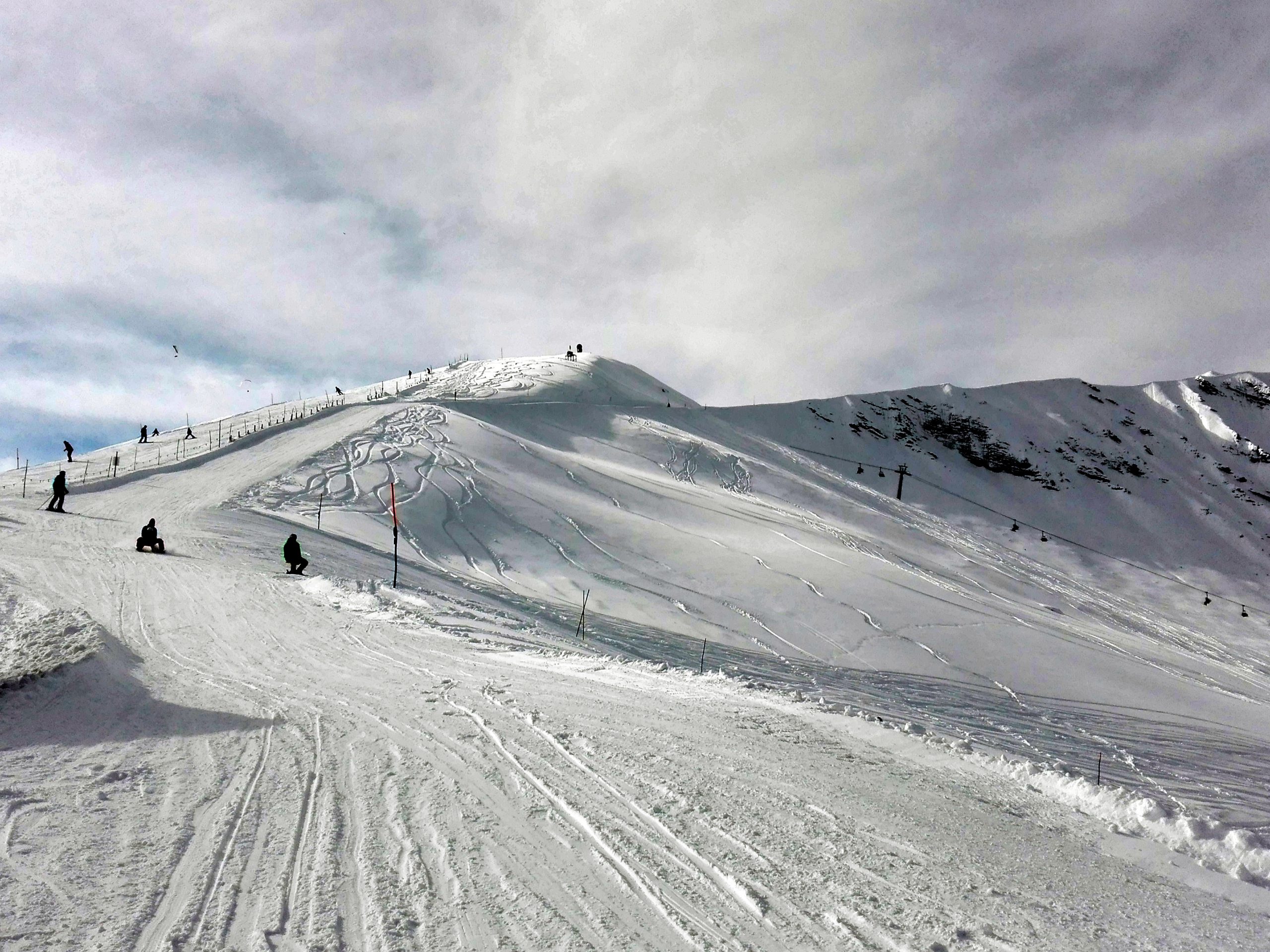 You can bring your own sleds or rent various kinds of sleds at the upper station of the cable car. You can rent not only sleds, but also various wooden skibobs, and also a special "air-pillow", which you hold in your hands and go upside down – which in my eyes was quite dangerous, due to very high speed.
When you arrive at the chairlift station, the staff will lift your sled on the hook onto the side of the seat and take off again at the top, so you don´t have to worry how you take them up.
Skiing
Of course, in Tschenten Alps you can also ski – good thing is that the pistes for skiers and sledders don´t cross (there are only 2 exceptions: about 100 m from the beginning of the trail and then down at the chairlift station).
For children, there is a slight slope, where they can try slalom between the different storybook characters and the "magic carpet" brings them back up.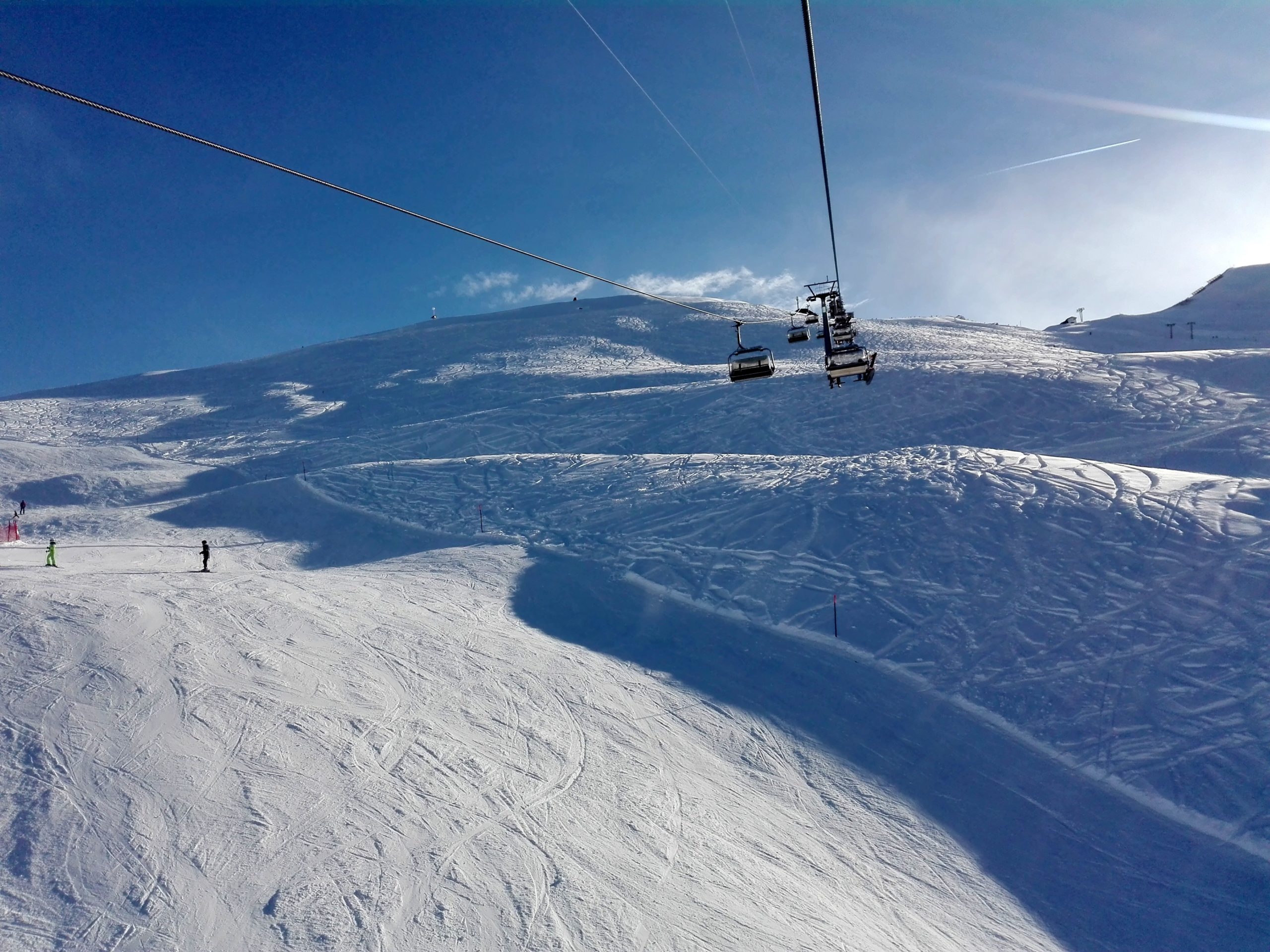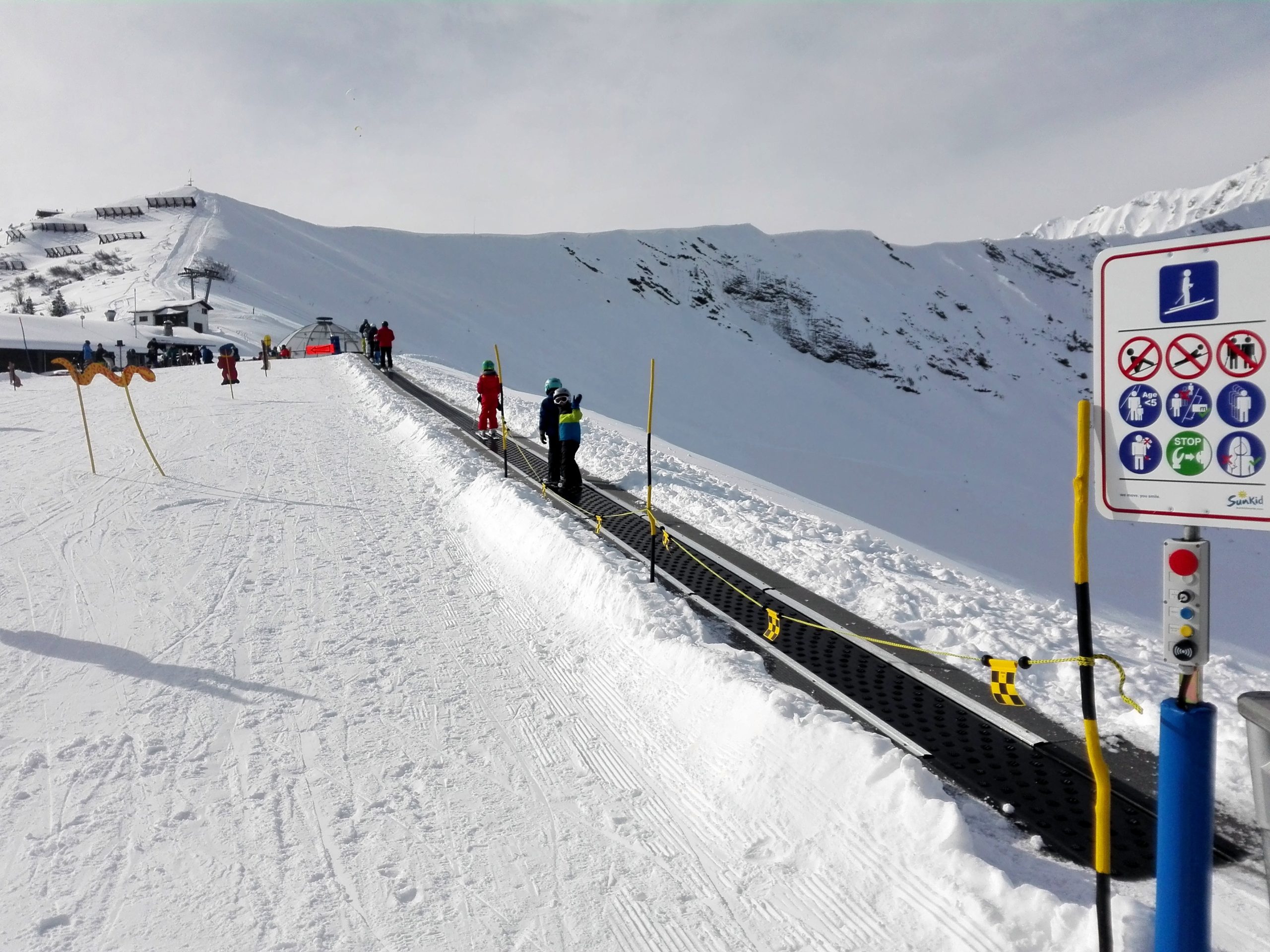 Refreshments
Right at the top cable-way station, you can find the restaurant "Berghaus Tschenten" where in good weather you can enjoy your refreshments on the sunny terrace overlooking the Alps. Restaurant staff is pleasant, heating the kids´ food wasn´t a big deal, plus there are high chairs and facilities for the smallest visitors (a changing table in the restroom).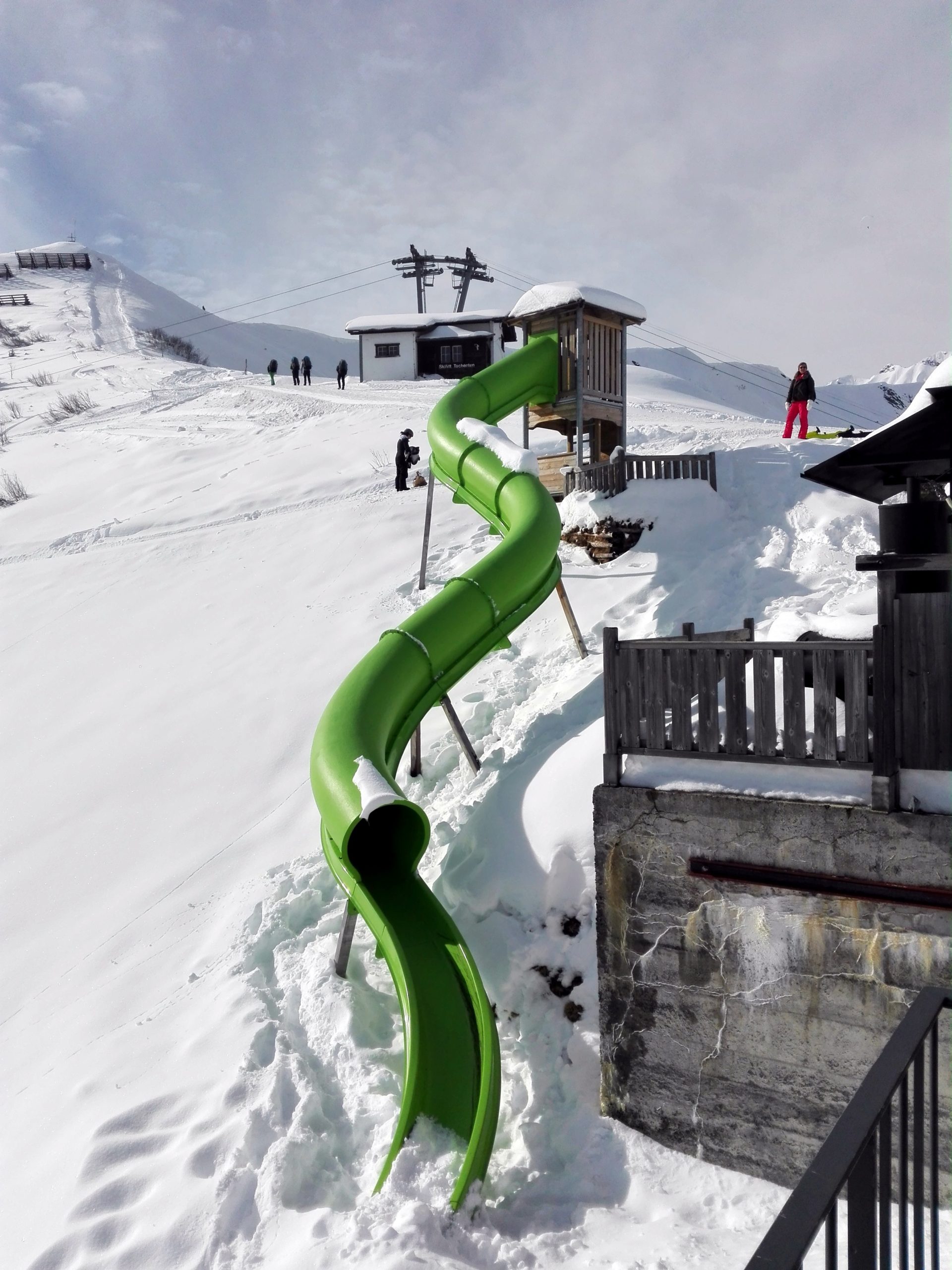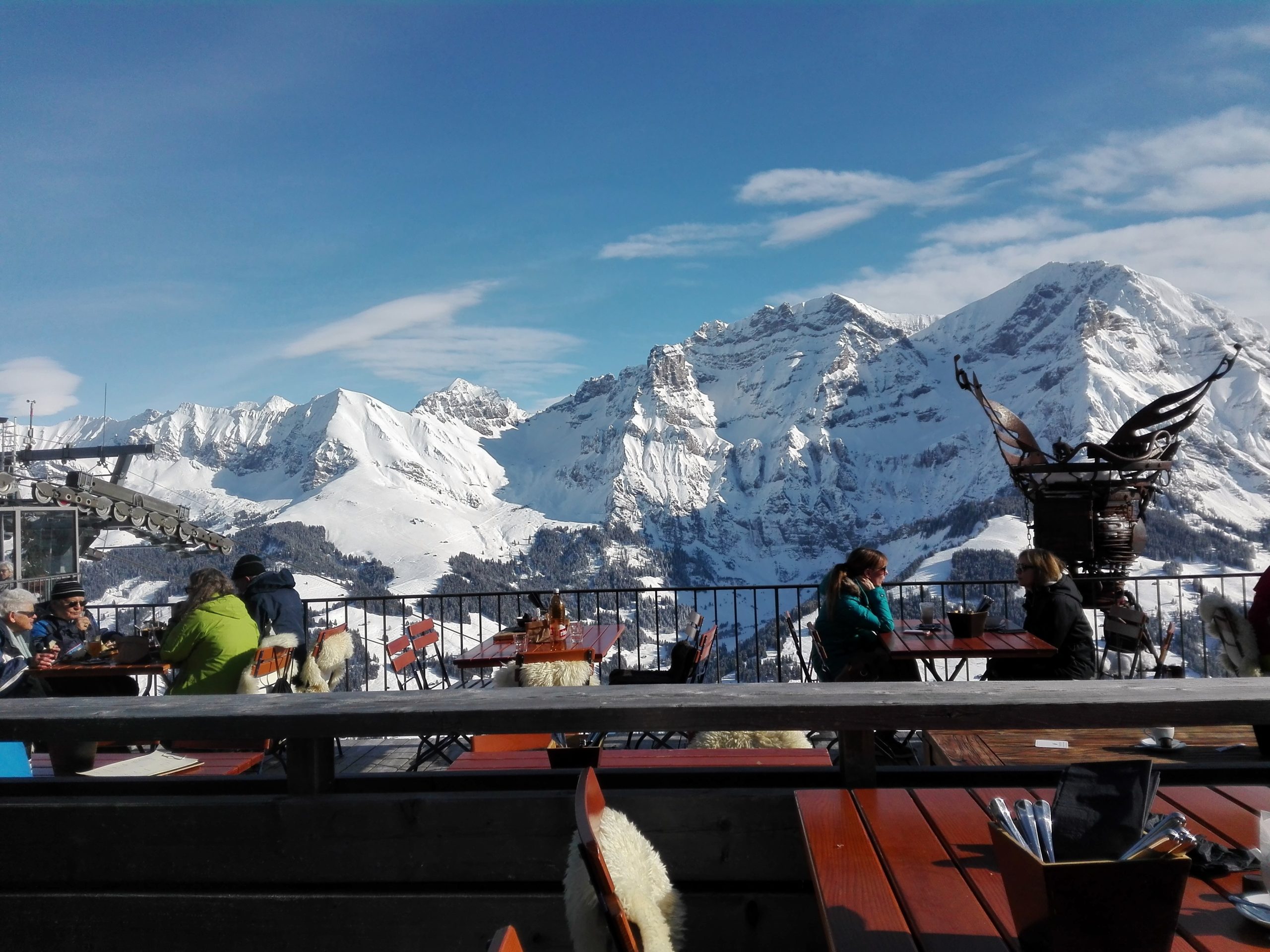 Not far away there is also an après ski bar.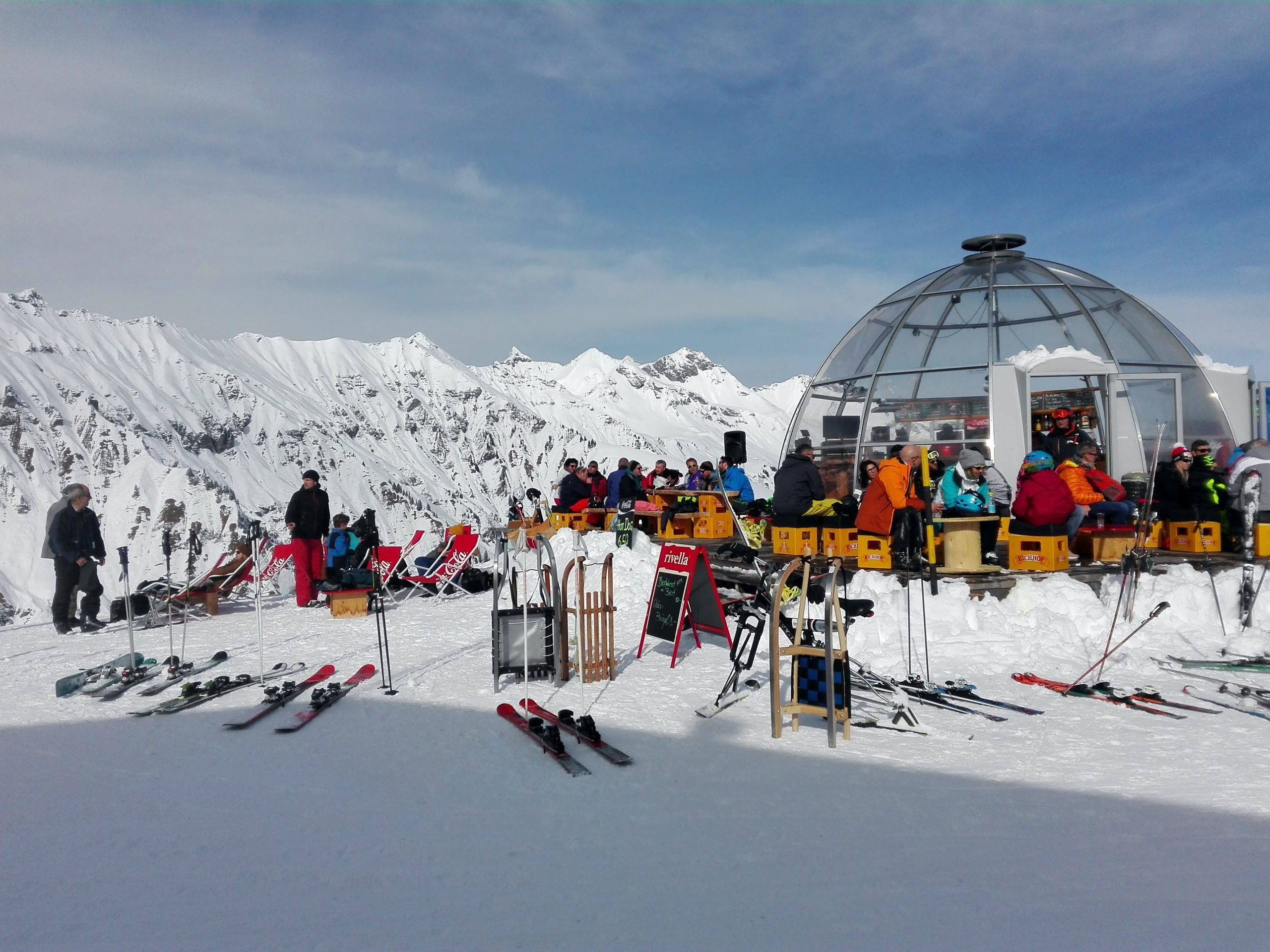 My tips:
Take all the necessary belongings (snacks, spare clothes) from the parking with you, then you can leave them in the boxes serving to this purpose at the upper station.
You´re using your feet to break, so take good winter shoes and a spare pair of socks for changing.
Pay attention to your safety. Put a ski helmet not only to your kids´ head but you should definitely wear a helmet too. Although it may seem that this is "just" sledding, it´s not so. Sledding can be a dangerous sport because you can get into really high speeds and collide with someone. We even witnessed the arrival of the rescue helicopter REGA that was taking an injured woman to the hospital – and that wasn´t really a pleasant sight.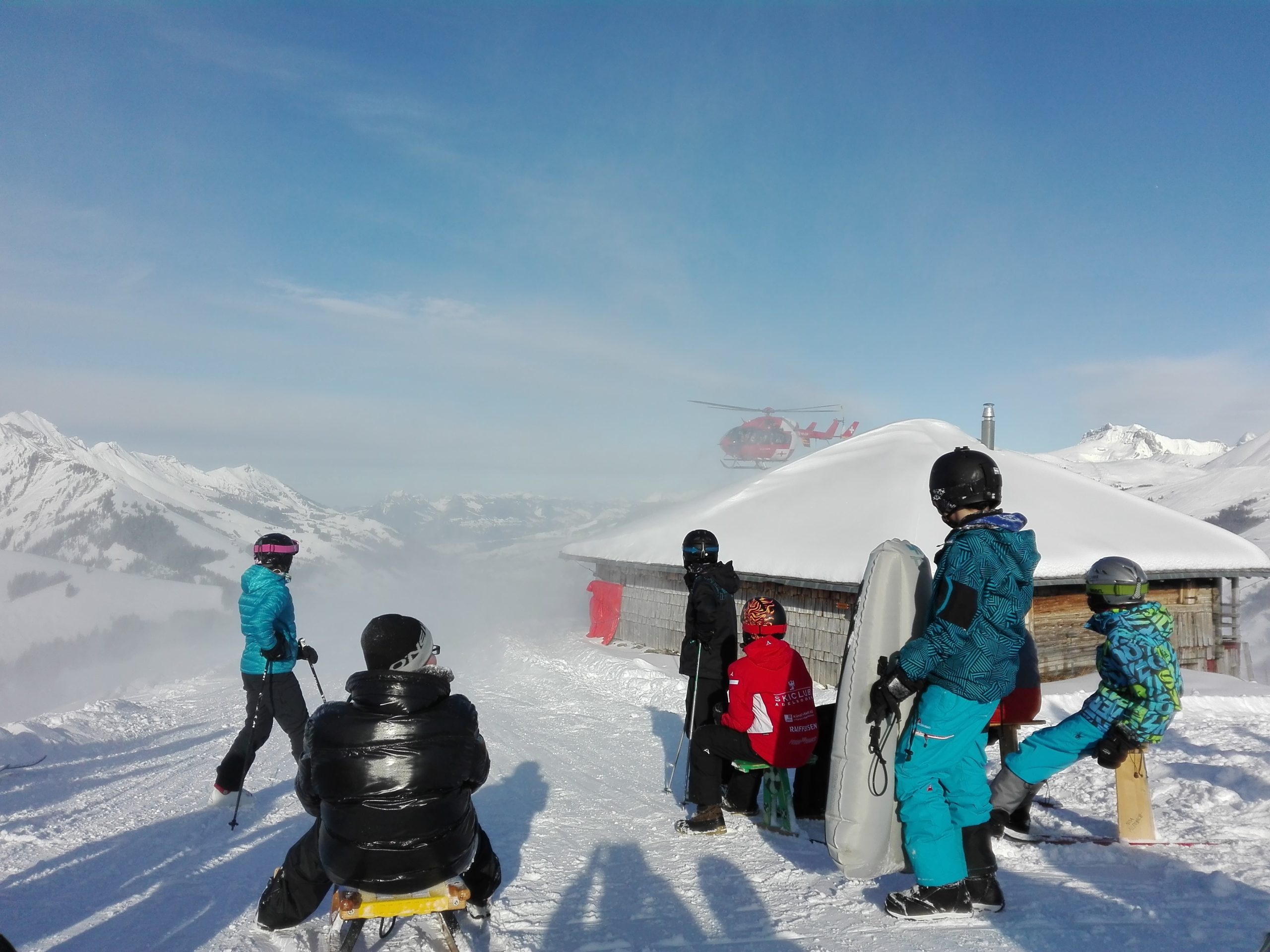 Conclusion
We really enjoyed sledding in the Tschenten Alps and will certainly come back here and try and skiing because the slopes were well prepared, large and surprisingly there weren´t too many skiers on them despite the beautiful weather.