As many of you know, it was a certain "R." (for reasons of privacy I do not state his full name 😉 ) who played the crucial role in our move to Switzerland. He, like us, loves hiking and discovering the beauty of Switzerland. Recently, he sent my husband photos from the top of the Buochserhorn, suggesting we could like this hike too. Of course, we are happy for every proven hiking tip, so we started to plan the hike to Buochserhorn. But when I saw that on R´s map of the hike, that was an elevation gain of 600 meters in the length of 3 kilometers, and the same down, I started to wonder a bit about whether the children would make it. Even during our last hiking experience in Adelboden, the elevation gain was about 200 meters and it was on the edge. That's why we searched and found that the original elevation gain would be lessened if we went up the cable car to Musenalp and started our trail there. OK, the plan was clear. But reality … 
Arrival
By car: From Luzern, take Highway A2 to exit Stans-Süd (direction Engelberg), enter village Dallenwil and follow the signs left to the valley station of the cable car Dallenwil-Niederrickenbach. There are a more than enough free parking spots right next to the cable car.
By train: From Luzern, take the Zentralbahn in the direction of Engelberg to Niederrickenbach Station (Stop on request!). From there you can reach the valley station of the cable car in 2 minutes on foot.
Dallenwil-Niederrickenbach Cable Car
The cable car runs every half hour (7: 10-11: 40; 12:00, 13: 10-18: 40). The return ticket for an adult costs 24 francs (Halb-tax fare is accepted). Those who are from Canton Nidwalden have a 10% discount. You can find more information here. You can pay only in cash!
The cable car ride takes 8 minutes and at an altitude of 1 158 m.n. you get off at the village of Niederrickenbach, which has only 34 inhabitants. We did not stop here, and we headed for the Musenalp cable car just a few steps away.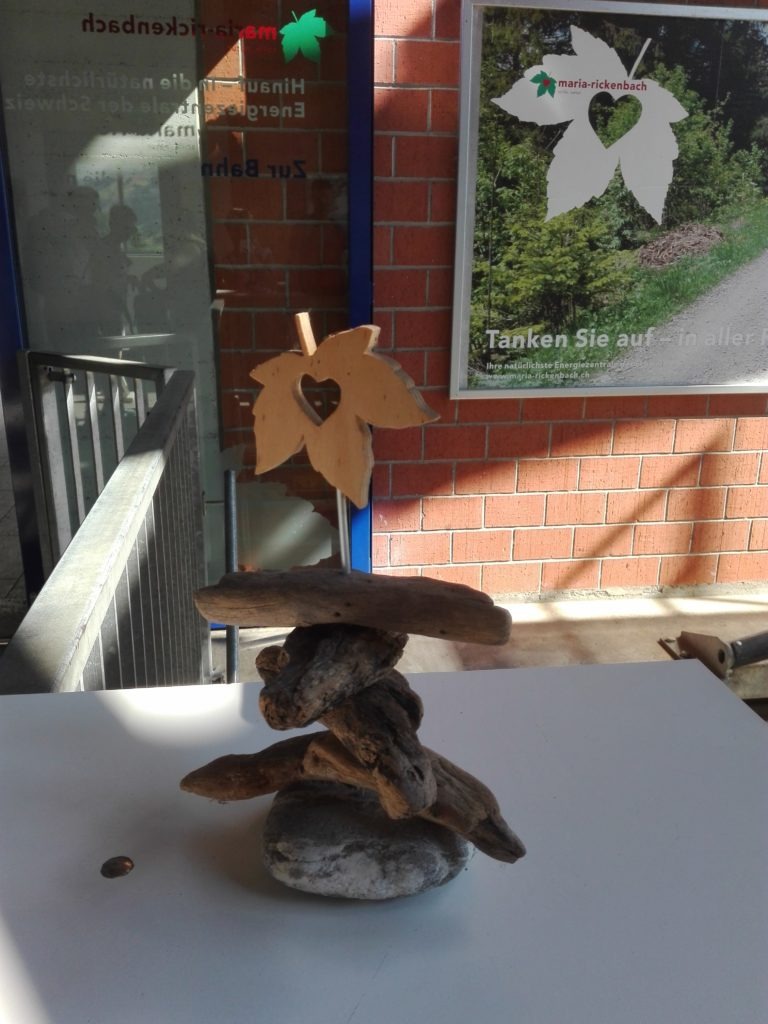 Musenalpbahn
The cable car does not have a fixed timetable, it runs (in season) if necessary (depending on you call it). We met this system for the first time, and it was an adventure for us: will someone answer our call? The cabin itself was pretty small (I was afraid if we even squeezed in it) and its equipment was fascinating for the kids (telephone receiver, do you know what is a rarity for today's children?). Adult ticket costs 7 francs (return 14 francs), for children 3.5 francs (7 francs). There is no Halb-fare and Junior Card discount and for kids. You pay after getting up, only in cash. More information here.
When we got out and paid the fare, we followed the red and white trail sign towards the first outlook point. Here, and like all the others we stopped, a cross was raised. I'm not entirely sure, but I think it has to do with the fact that in Niederrickenbach there is a nunnery and it is a place of pilgrimage.
Alpine trail
When we soaked up the views, we turned left. Truthfully, I was a little surprised that the sign was blue, not yellow, as usual, but I paid no attention to it. The route was set by my husband, so I believed him.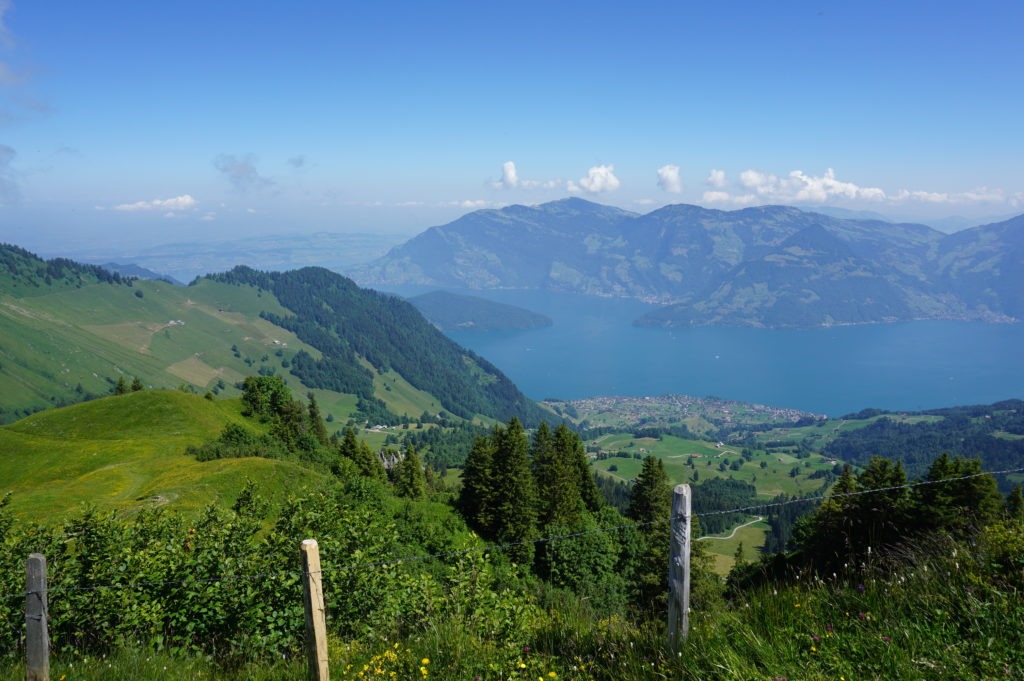 What initially seemed like an easy ridge hike soon changed into what Dominik characterized as saying, "A nice trail, but a bit dangerous!" 🙂 Well, a little bit … we just went through the "alpine trail" for the first time. Although it was not marked in the map, it was marked along the trail (of course, that was the blue sign and then the blue-white marks).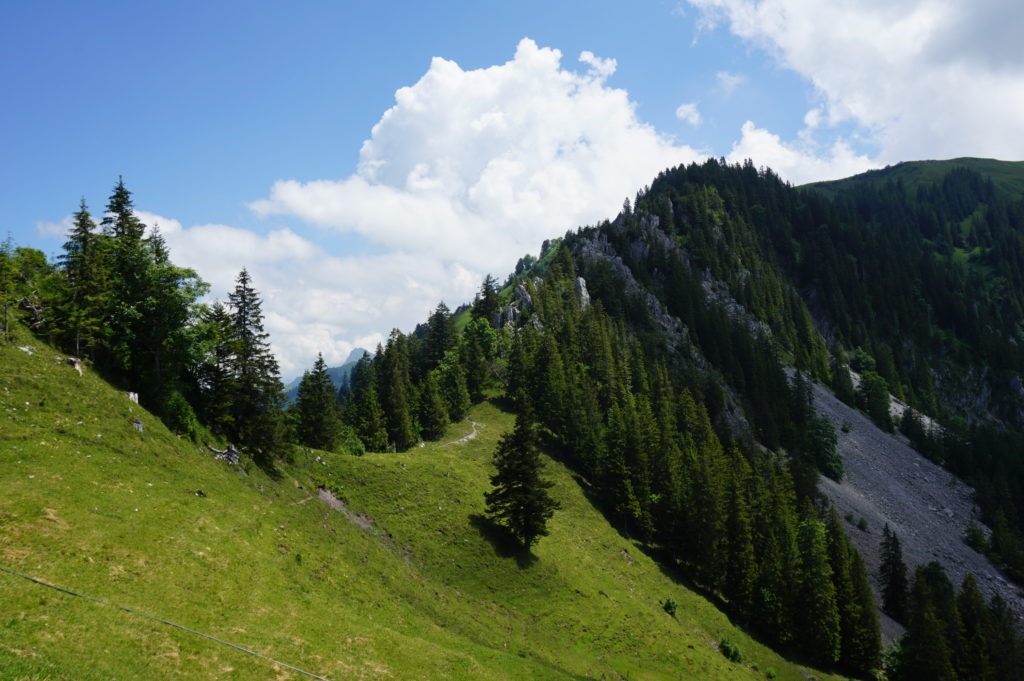 To the top
As we walked out of the rock crest, there was another 300m of elevation gain ahead to reach the top of the Buochserhorn. This time, we followed the "correct" red-white mark. I was wondering if rock climbing was even better – at least it was more or less horizontal.
Buochserhorn
Finally, in a lather of sweat, we reached the summit.
Here we were rewarded with great views of Lake Luzern and central Switzerland. But then we ran away quickly because we were literally in the siege of the flies and other insects.
Hiking back
What we climbed up, we had to hike down. I admit it was quite a burden for my knees.
When we reached the tarmac road, we decided to follow it instead of continuing the steep descent through the pastures.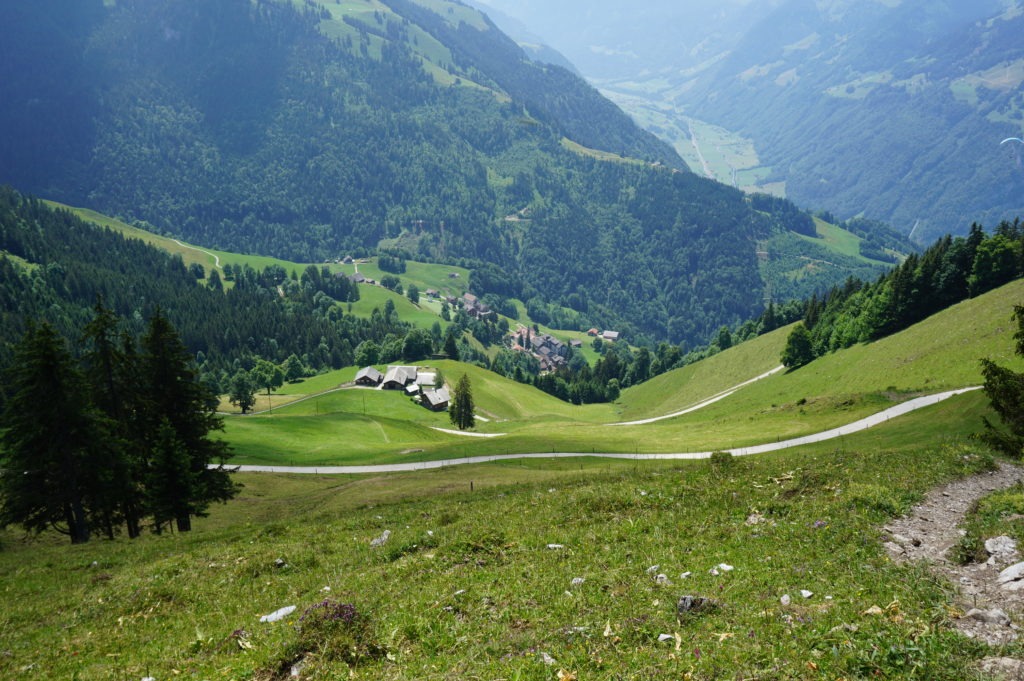 On the way, we walked past the farmhouse Alpkäserei Bleiki (cheese factory), near which there was a barbecue place.
Finally, we got back to the village after four hours on the way. Here in Niederrickenbach, you will find the Benedictine monastery. The local sisters, according to St. Benedict's Order, focus on prayer, work, and spiritual reading. In their monastery store, you can buy tea from alpine herbs.
Our impressions
This hike is likely to be recorded in the history of our family hikes as the biggest challenge so far. My husband later admitted that he had big worries when our boys were climbing the rocks – that they make a wrong step and fall down. He was also surprised that they did not protest when climbing to the summit (he admitted again that he was about to pack the hike in the middle of the hill and go down). Strangely, the boys were most complaining when we were hiking down and the path seemed endless, even though Niederrickenbach was still in sight (perhaps because of that).
I marked our hike in yellow on the map below (blue is the "alpine trail"). The next picture is a snapshot of my app, along with the elevation gain.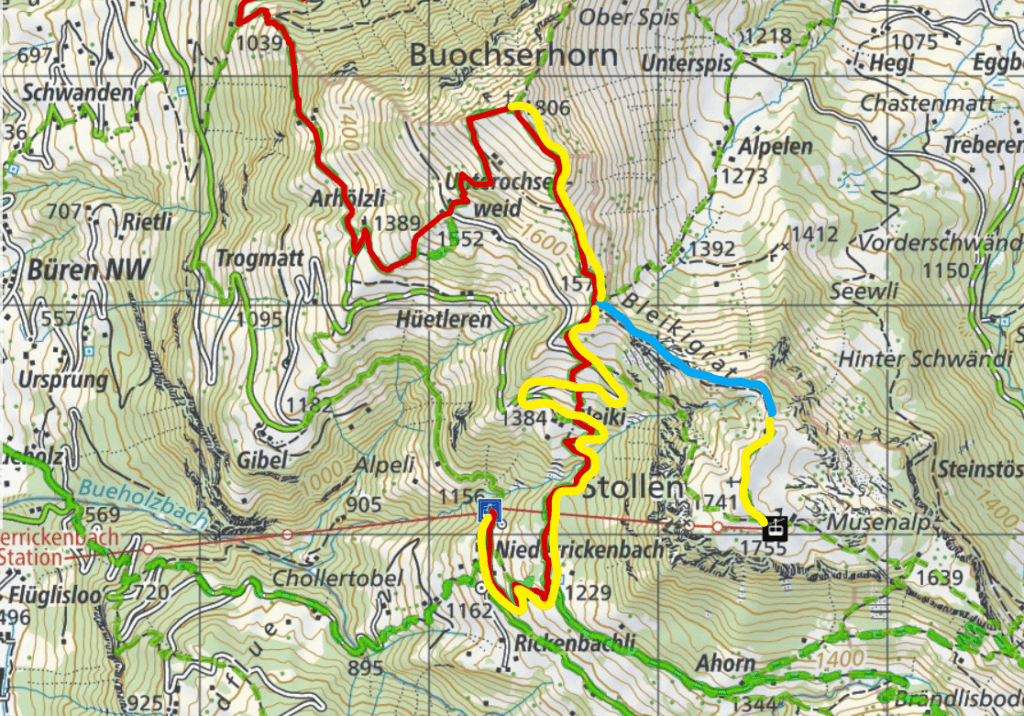 Anyway, I do not want to put you off the hike by the comments above. When we climbed the final part of the alpine trail on the iron ladder, a daddy with two sons in the age of ours was waiting at its heel (when he saw me climb down with our little lady in the carrier, he was marveling 😉 ). Also, several families with children of similar age were heading to the top, so it just up to you how you motivate your kids  😉
And what about you? What was your most difficult/challenging hike (with or without children)? Send me your comments! And do not forget to save this picture on Pinterest and share it with others! Thanks!