Can a pleasant walk along the shore of Lake Geneva be considered as hiking? But of course, it can! Are you walking? Do you follow the tourist signs? Yes? This is how you do hiking. Moreover, this super easy trail from the Chillon Castle to Montreux is doable with a stroller, on in-line skates or scooters. And you'll see it's going to be very much fun!
Although I write in the title of this post that we are hiking from the castle of Chillon, actually, we start our trip in Montreux. To make the experience of a beautiful afternoon on the lakeshore even more intense, there is no other way than to add a short boat trip on Lake Geneva.
During our trip, we left the car parked in the parking house Place du Marché. From here, it is only a few steps to the port. Be sure to check out Freddie Mercury's statue first. And from here, it is about five minutes walk to the port.
A short Cruise on Lake Geneva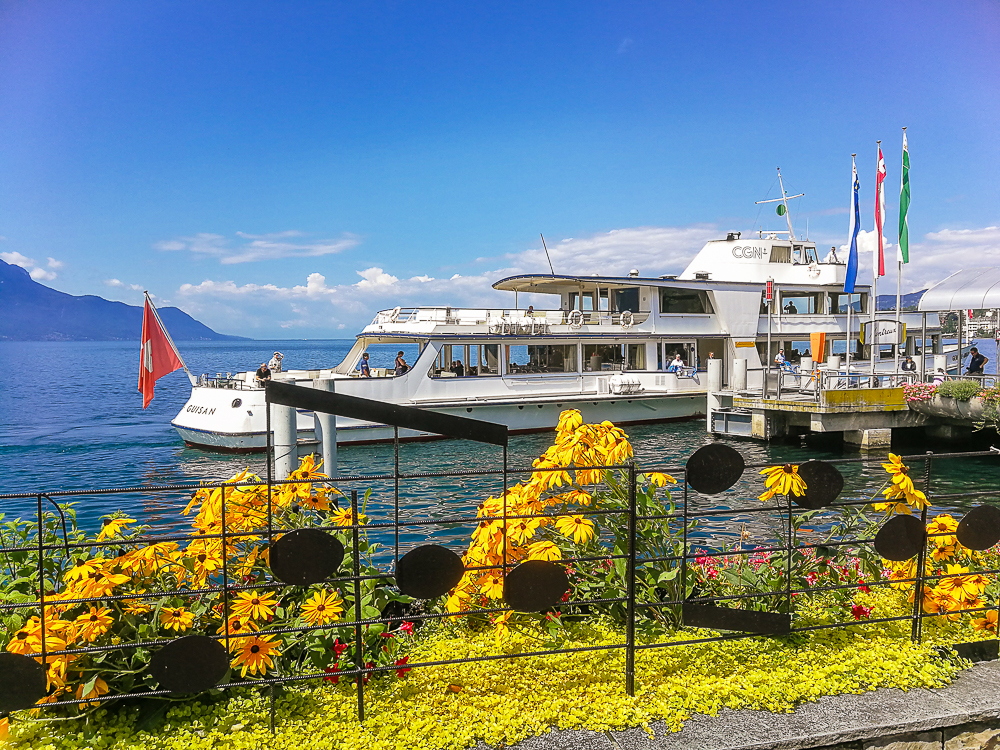 A full ticket from Montreux to Chillon Castle costs 10 francs, 5 francs with a Halb-fare card. Junior card for children is accepted here. If you own a Swiss Travel Pass, you don't have to queue at the ticket office, just join the queue of passengers on the bridge.
If you plan to cruise on Lake Geneva, be sure to check the timetables on the CGN website. Timetables vary by season and are very limited during the off-season.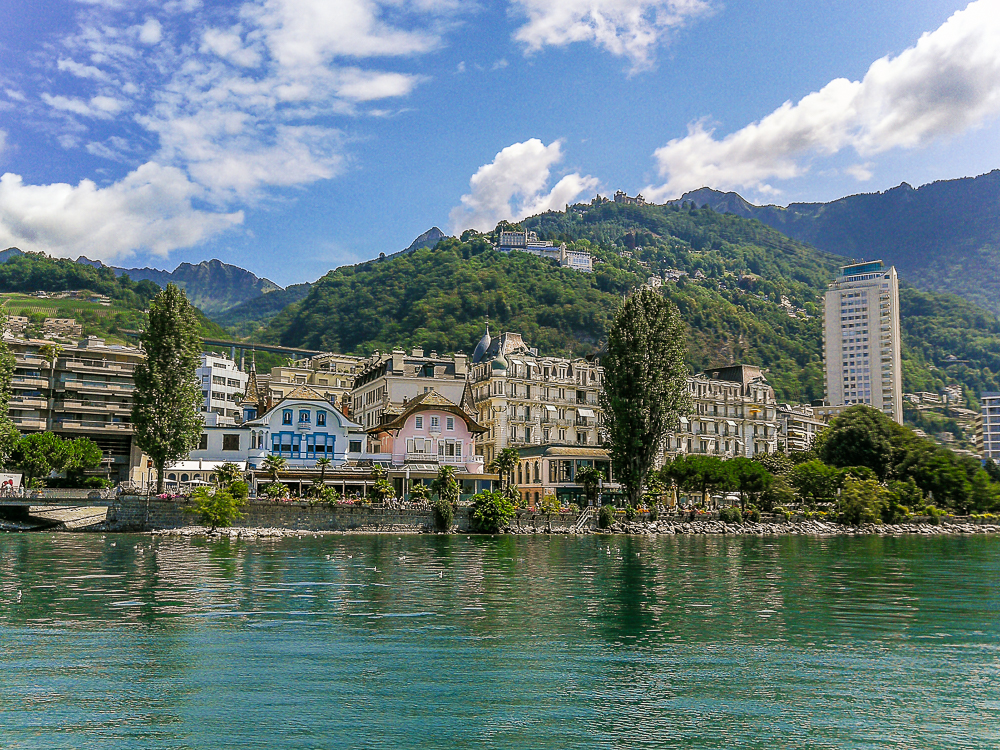 Château de Chillon – Chillon Castle
After a 15-minute cruise, you will arrive at Chillon Castle, the most visited castle in Switzerland.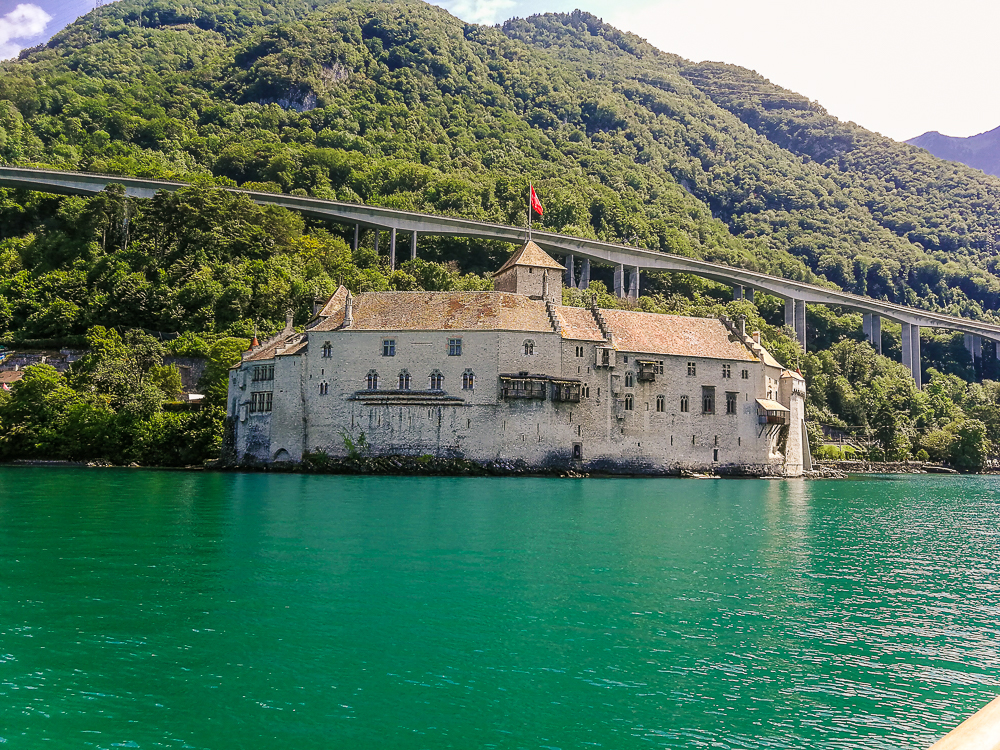 We visited the castle 4 years ago when my parents visited us for the first time. How it looks inside the castle and something about its history can be found here in my post (sorry for the quality of photos, then I knew nothing about how to edit photos and how to write a blog at all 😉)
This time, however, we skipped the visit of the castle – on this summer (plus weekend) day the castle was directly under the siege of tourists, so we went straight on a hike back to Montreux.
Along the shore of Lake Geneva
Swiss hiking route signposts show how long it will take you to reach your destination, not how many kilometers the route is taking. I don't know, this time I thought it would be probably better for our boys to see that the route was less than 3 kilometers long than they would have to walk 55 minutes 😉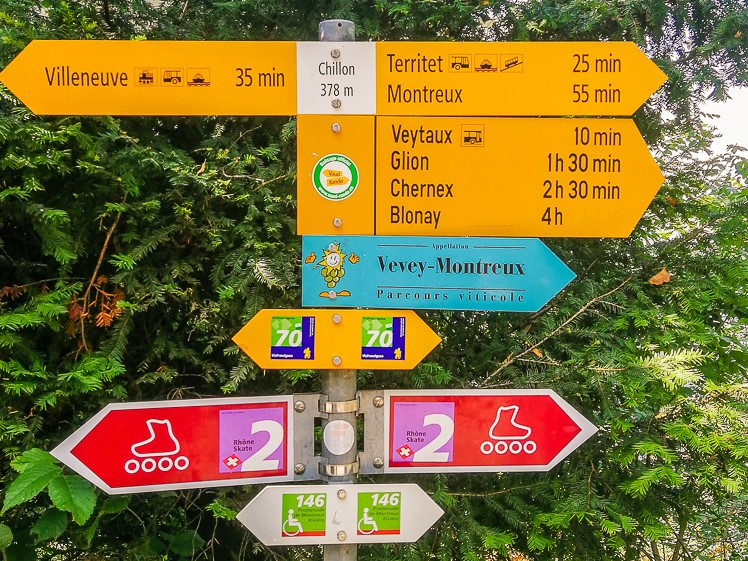 Fortunately, it was a really pleasant walk, you felt more like a seaside than a lakeside. In addition to the local colorful fauna lining the shore of the lake and the Dents du Midi massif on one side, one could admire the myriad of opulent villas, hotels, and apartments on the other. Some of them were hidden behind the high fences so that one could not see inside and could only guess what was behind those closed gates.
Back in Montreux
When you get back to Montreux, don't forget to visit the Queen Experience Studio – a small museum dedicated to this rock legend that you can find in the Casino.
Other posts you might find useful
If you don't want to miss any of my recent posts please sign up for my blog in the top right-hand corner of this page. Thank you. Be sure to follow me on Facebook, Pinterest, and Instagram.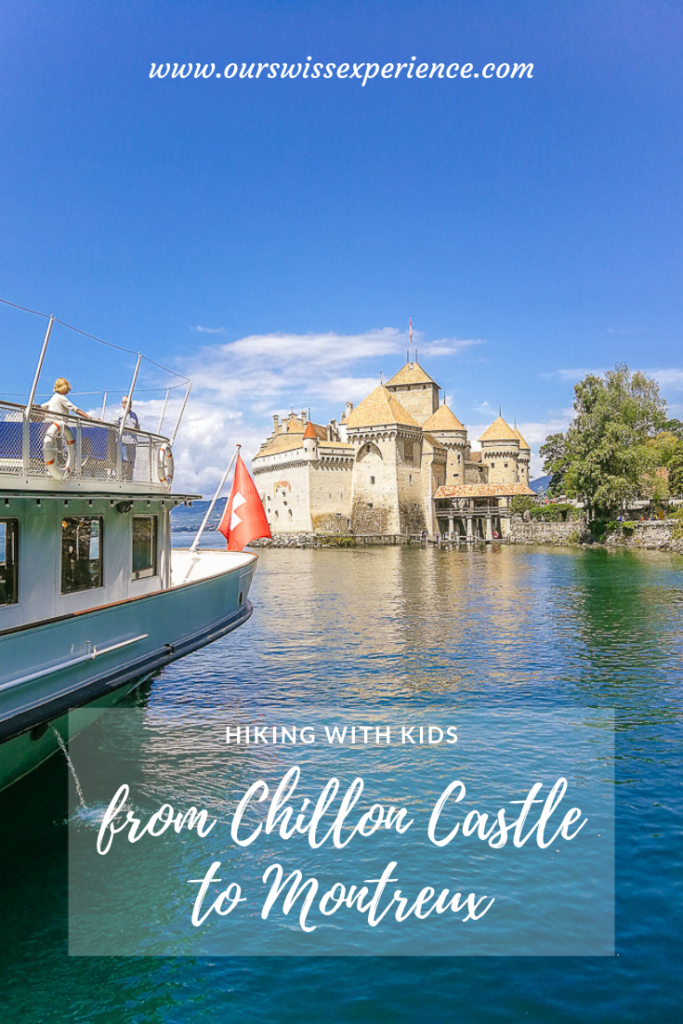 And of course, I look forward to reading all your comments.