Kids´paradise with a family ski pass at an unbeatable price. Additionally, due to the altitude of 2,000 meters above sea level, the snow on the Engstligenalp is guaranteed from December to early May. Okay, I admit, the "May + Snow" doesn´t sound good to me but it's good to know where to go if you still want to ski in May 😉
Getting there
The Engstligenalp area is about 70 kilometers from Bern. Take the A6 highway to Adelboden. Once you reach Adelboden, turn left in the direction Engstligenalp on the first roundabout. Approximately after 4 km, you will reach the valley station of the cable car at Unter dem Birg. There is a large parking lot for about 800 cars. Or you can take the bus from Adelboden (line 232)

Tarifs
Did I mention the all-day family ski pass for almost unbelievable 98 francs? This price is really great when you consider it includes skiing for 2 adults and up to 4 children aged 6-15 (for comparison: daily ski passes for one adult cost 45 francs and for a child 27 francs). And, unlike Lenk, this ski pass is valid every day (not only Wednesdays and Saturdays etc.). It's just a pity that this family ski pass cannot be bought online.
Skiing
The large cable car will take you up to Engstligenalp. The basin of the Elsigenalp Massif spreads out before you. An interactive map of lifts can be found here.
Kids' skiing area – Kinderland
For children, there are two children's lifts – rope and J-bar lift. There are various game teaching here, and you can try a slalom or ski through the booth. Pretty fun even for adults 😀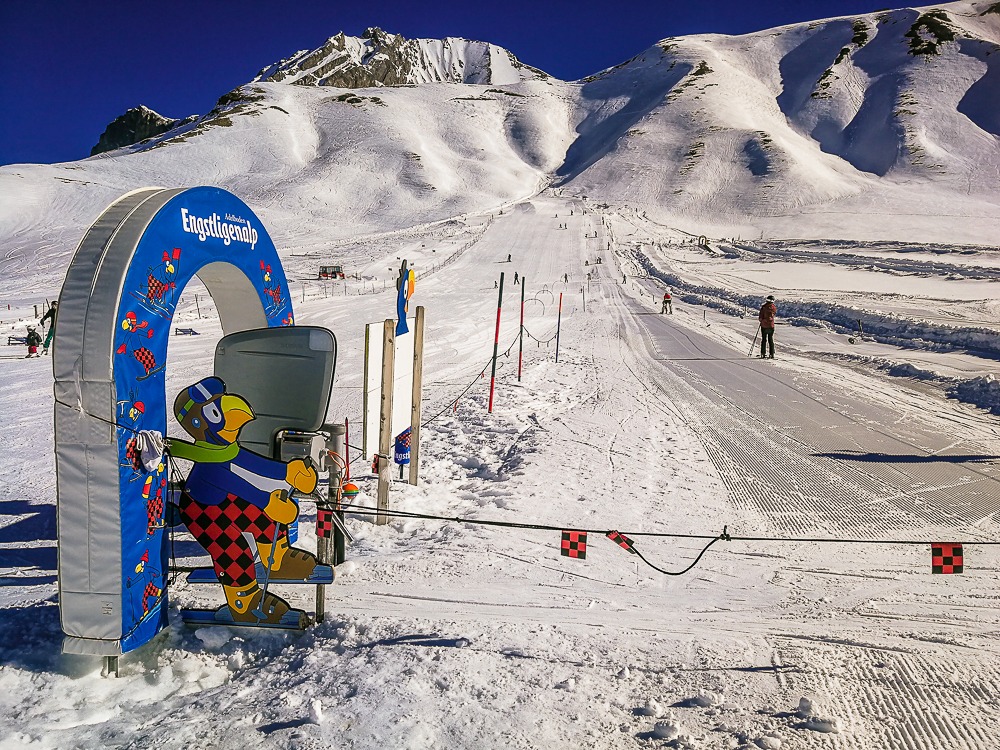 Fun for not skiing kids
For children, there is a children's igloo where you can make a picnic, a carousel, a wooden a toy box with shovels and tools to play in the snow. Your kids can try snow tubing (3 francs for 1 ride) or go sledding.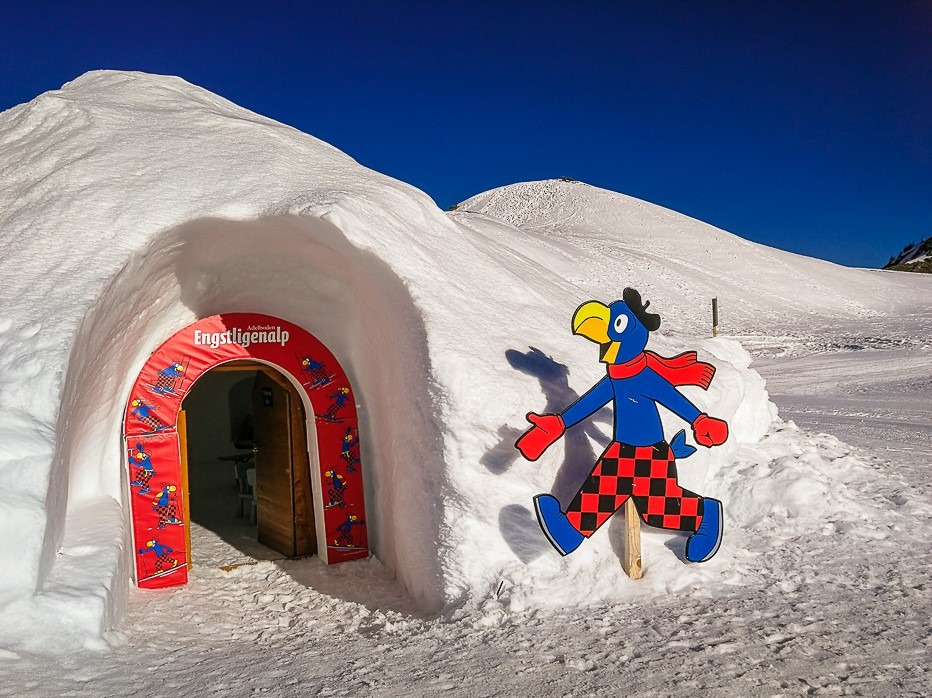 As you could notice, here (as well as in the Maestrani's Chocolarium) is present the Swiss cartoon character Globi. On some days you can even meet him personally here. Just follow the website.
Dossen and Bockmatti T-lifts
The "Schlepplift" (sorry, I don´t know the equivalent in English) take you to the three T-lifts on the other side of the basin. Just grab the rubber lianas to get to th lifts.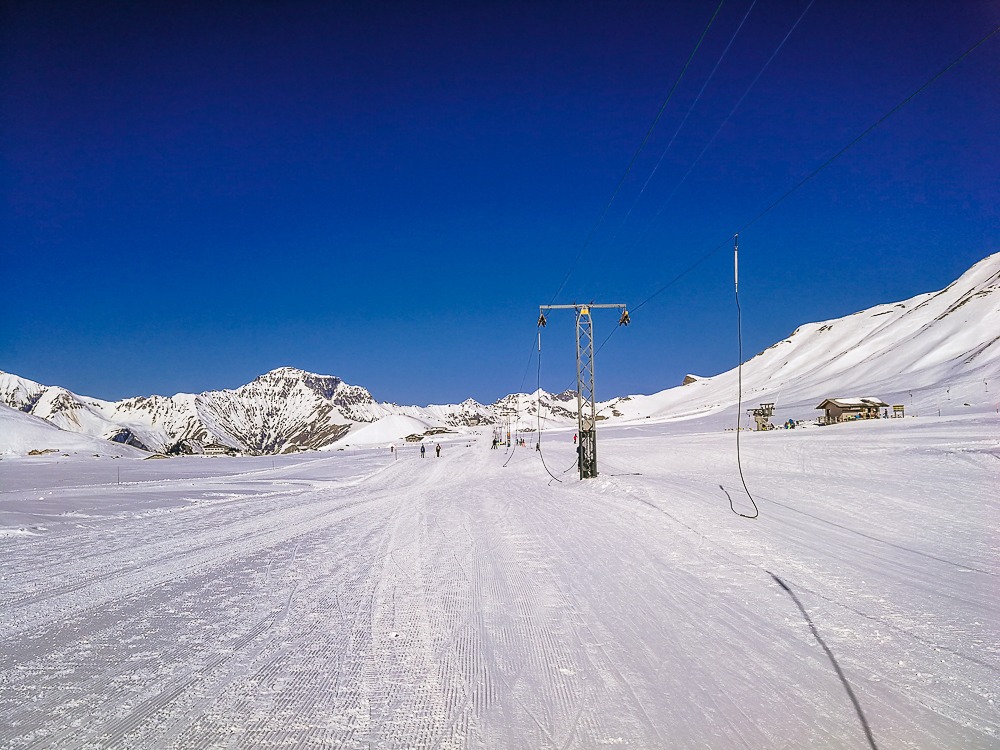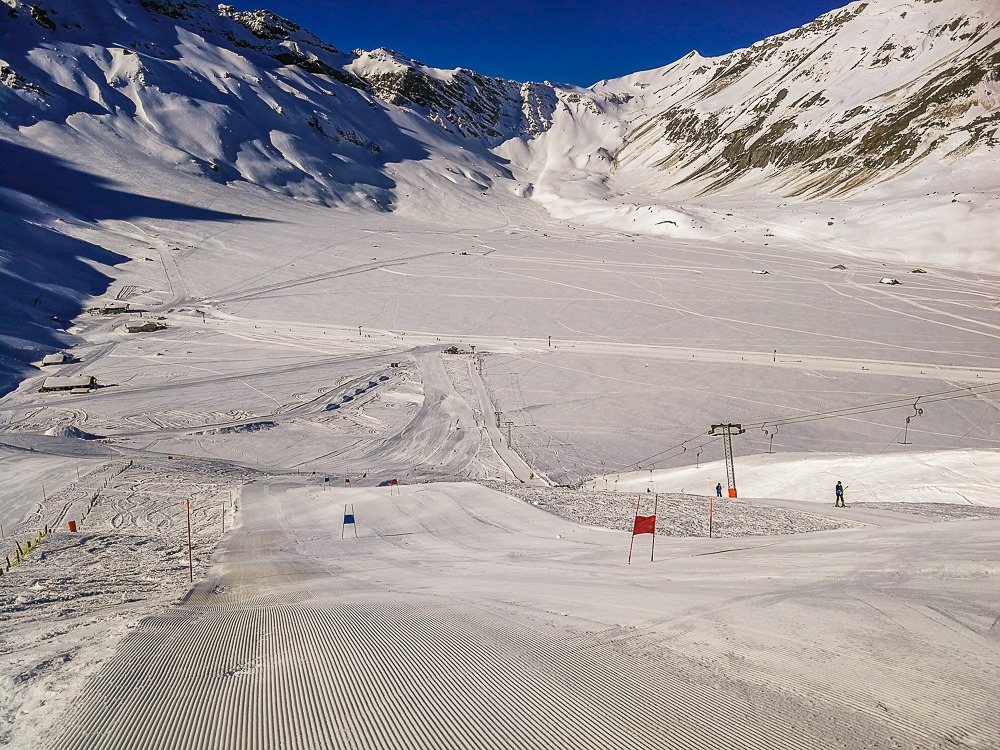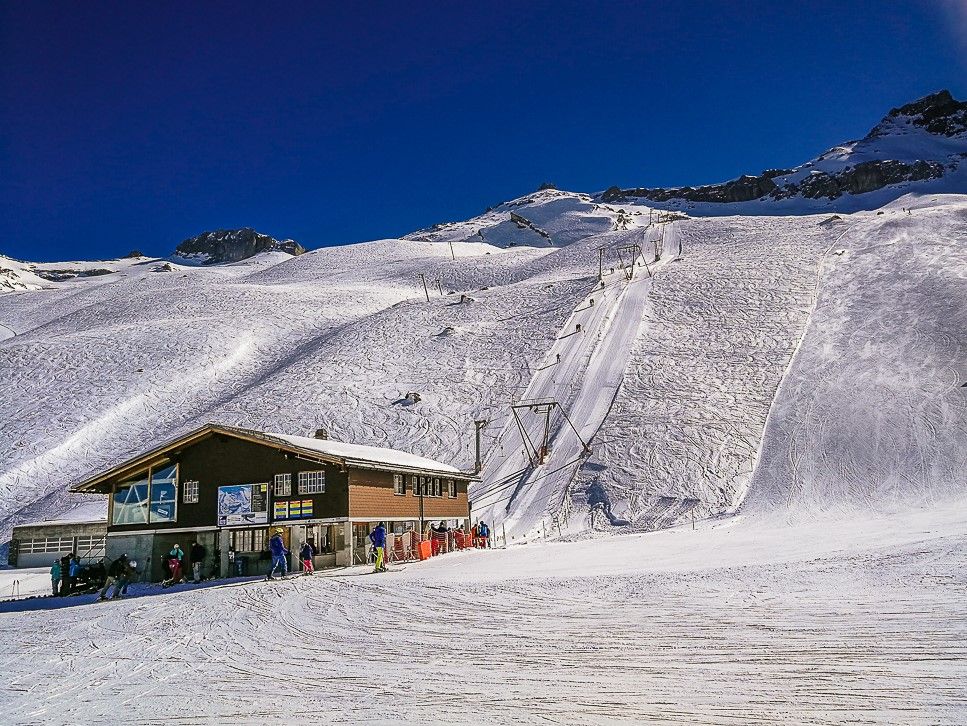 Refreshments
There are several restaurants in the Engstligenalp area: Berghotel Engstligenalp, Berghaus Bärtschi or Restaurant Stäghorä.
Fondue igloo
If having something good in the above-mentioned restaurants is not enough for you, you can treat yourself with a unique experience. Enjoy the traditional fondue in an unconventional setting.
Although the igloo rather looks like a huge messy amount of snow on the outside (who had imagined the traditional Eskimo igloo built from neatly cut ice blocks will be probably a bit disappointed), it's very nice and spacious inside.
This is the largest igloo in Europe and can seat up to 200 people. Inside you will find large rooms with ice sculptures – the flowers that are frozen in ice are truly beautiful.
Book your place here.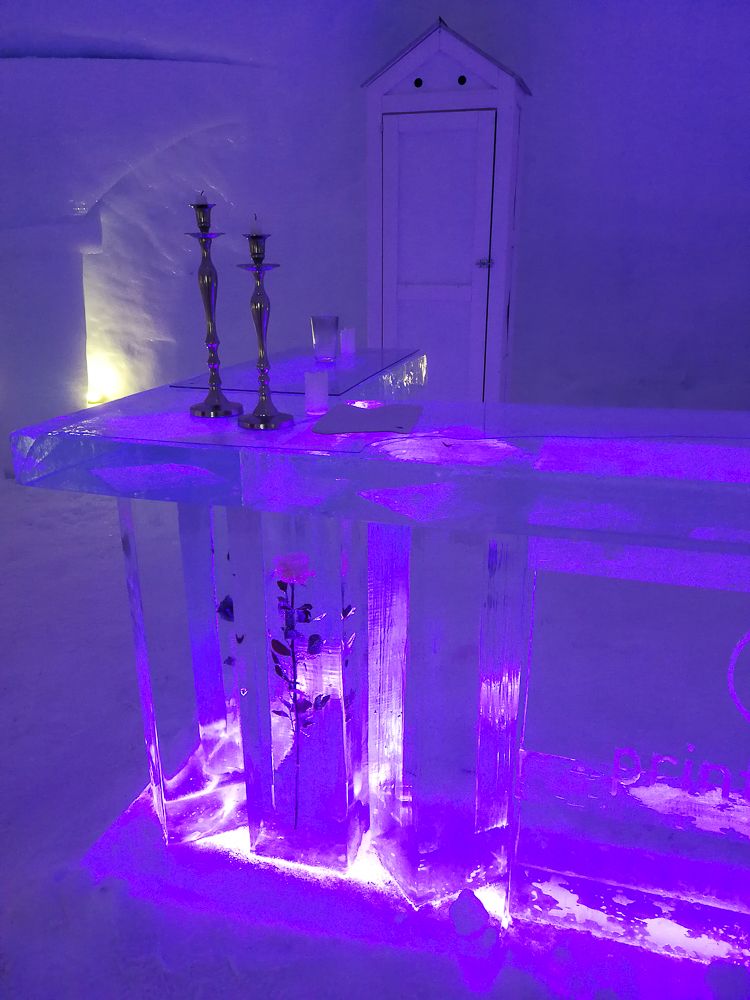 Summary
I must honestly say that concerning the facilities for kids, I was totally excited about them. And kids, of course, were too. When they did not want to ski, they had enough fun outside the slopes (Snowtubing, for example).
The disadvantage I see is that you have to take all the belongings with you. I do not know about you, but I prefer those ski resorts (like SnowPark Eriz) where you do not have to take all your belongings (and believe me with 3 kids is a lot of things) with you to the cable car without the possibility of getting into the car forgotten gloves, snack, etc.
My tip
If you want to go to Engstligenalp, I recommend here to be in the morning. And most preferably not on Saturday, when most of the hotel stay change. Although the capacity of the car park is large, unfortunately, the cable car is not inflatable. When we wanted to ski here a week earlier and arrived around half past 11 (we were stuck in the traffic jam), the queue at the cash desk was quite long. In addition, several rides did not transport skiers, but luggage and other cargo. So it did not seem that the queue would move forward soon. So we returned about a kilometer back and were skiing at Adelboden.
We were very happy that we could ski on the Engstligenalp this time.