It has become our tradition that when our children have school holidays, or if we have a visit from the Czech Republic, we will take a trip to a chocolate factory. At the end of January, our children had a week of holiday, so I drove them to Maestrani's Chocolarium – the Chocolate factory of happiness.
Getting there
The Maestrani's Chocolarium is located at Toggenburgerstrasse 41 in Flawil in the canton of Sankt Gallen in the east of Switzerland. Thanks to its location it is better accessible for visitors from Germany or Austria than from us. It is 2 hours by car from Bern. But what wouldn´t I do for the children, right? 😉
Opening hours and admission fees
Maestrani´s Chocolarium is open daily except Mondays. From Tuesday to Friday from 10am to 6pm, on Saturdays and Sundays from 10am to 5pm.
Entrance fee for adults (from 17 years!) is 14 francs, for children (6 – 16 years) the entrance fee is 8 francs, family admission is 34 francs.
The tour
"He who sees the world through the eyes of a chocolate lover will find true beauty and happiness" – This quote from the founder of this chocolate factory, Aquilino Maestrani, will welcome you right after going through the front door of Maestrani's Chocolarium. There is something about this quote, don´t you think? 😉
Theater
As an introduction to the discovery tour, a short film awaits you to explain everything associated with happiness and chocolate. Do you know when and by whom the factory was founded, what raw ingredients are needed to produce chocolate and where they come from? What products are the "flagships" of the chocolate factory and also how they are related to happiness? 🙂 Everything on screen verbally is in Swiss German but subtitled in English.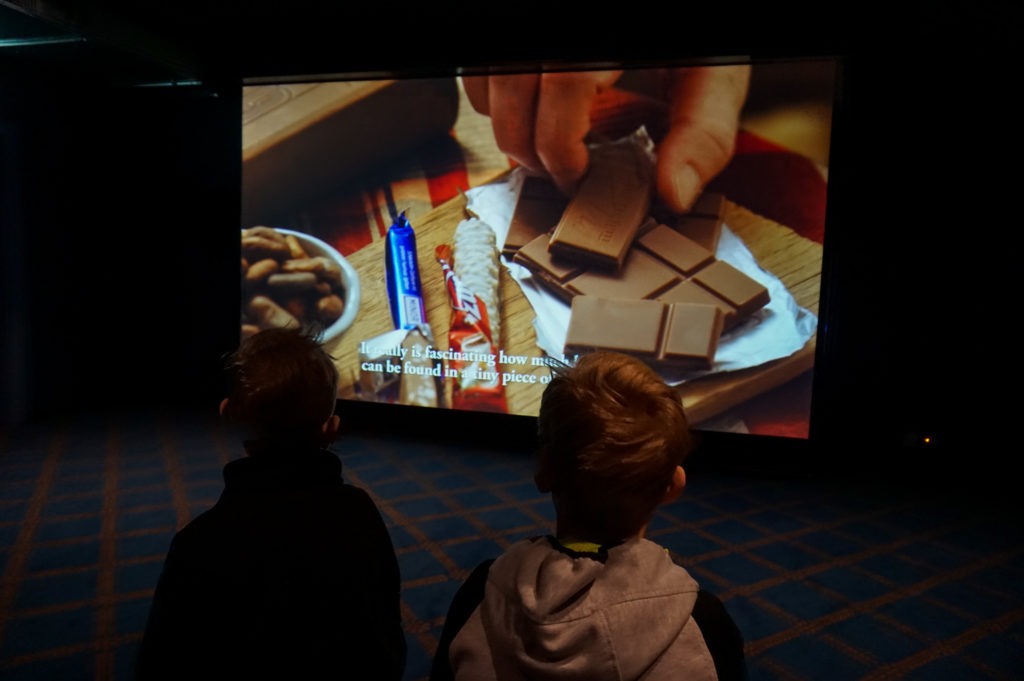 Then you are ushered into an area that explains what makes up great chocolate. Kids get to follow the process of chocolate making and how raw ingredients are processed.
You can download an app to your mobile, which lets you learn even more information during the tour (do not forget your headphones at home).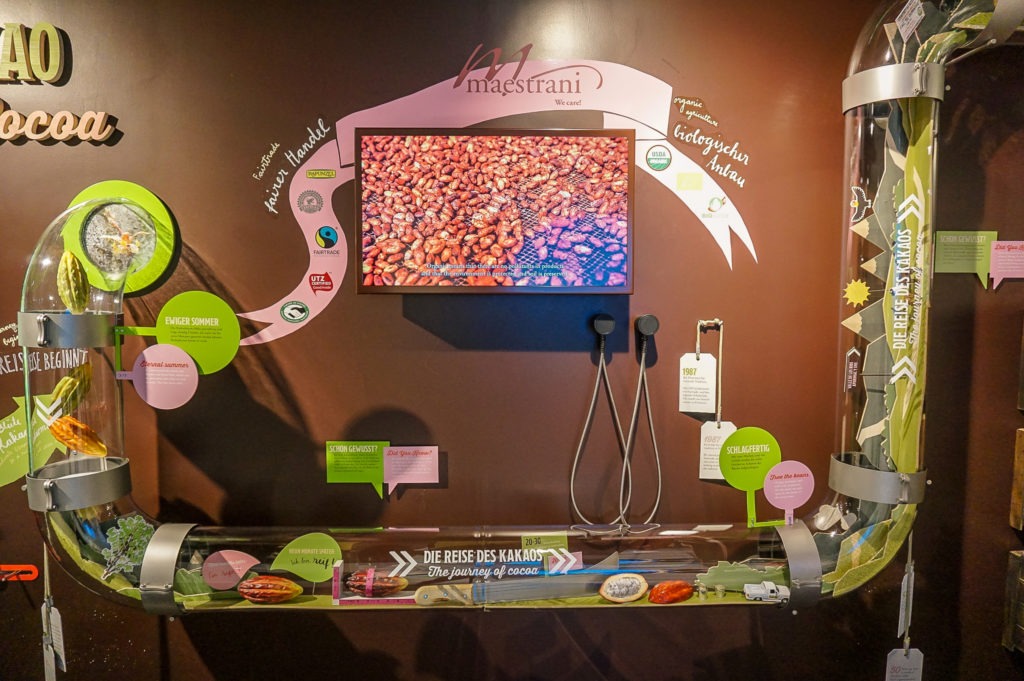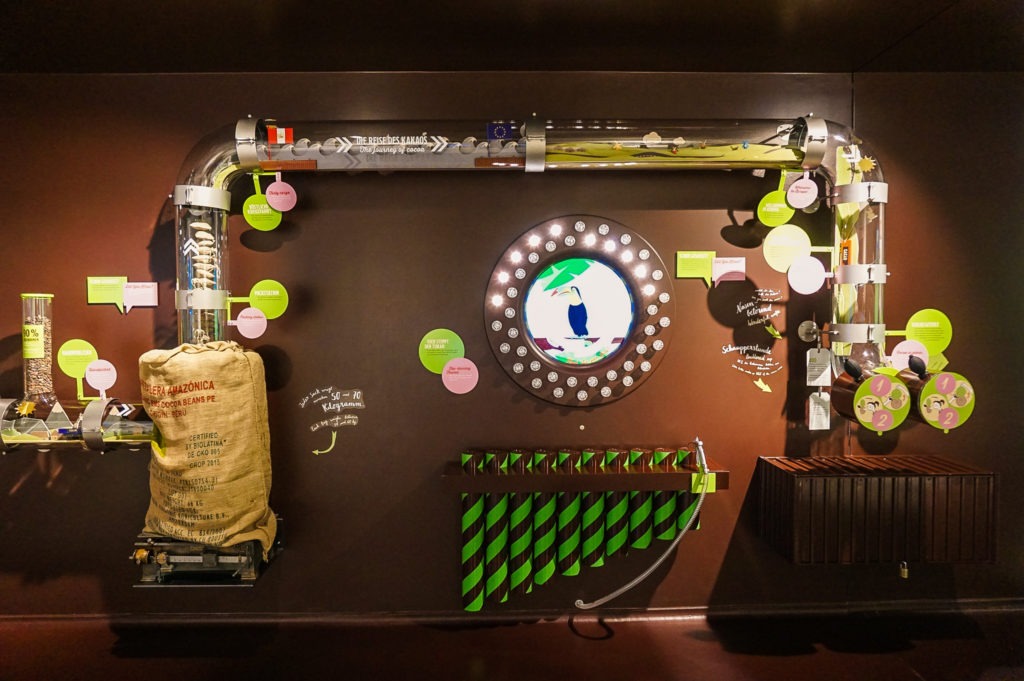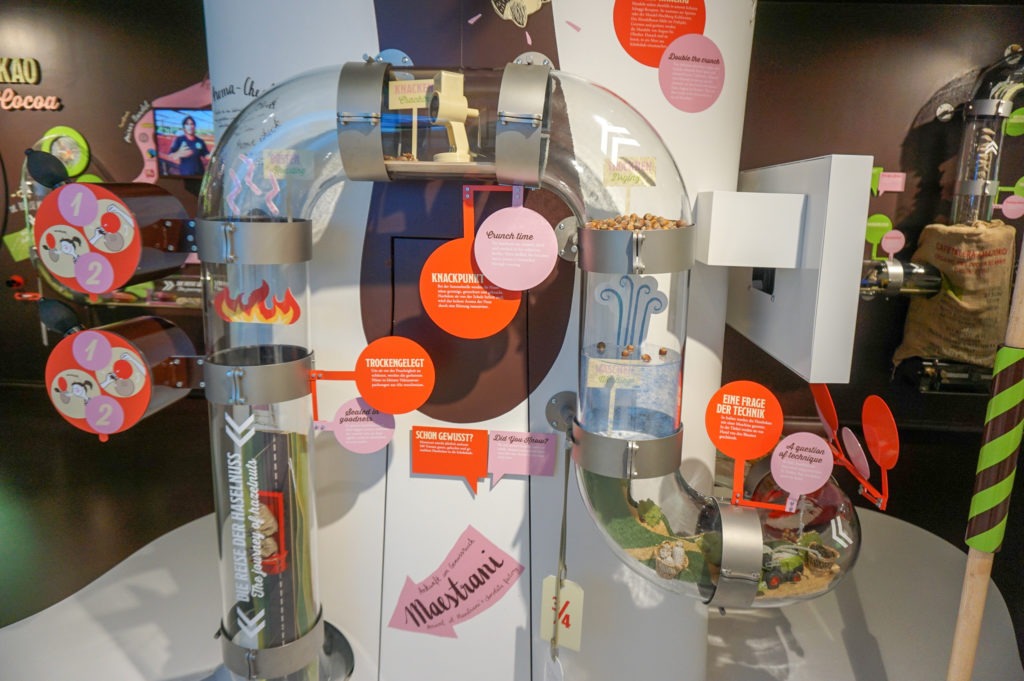 Milking the cow was a great success by our kids.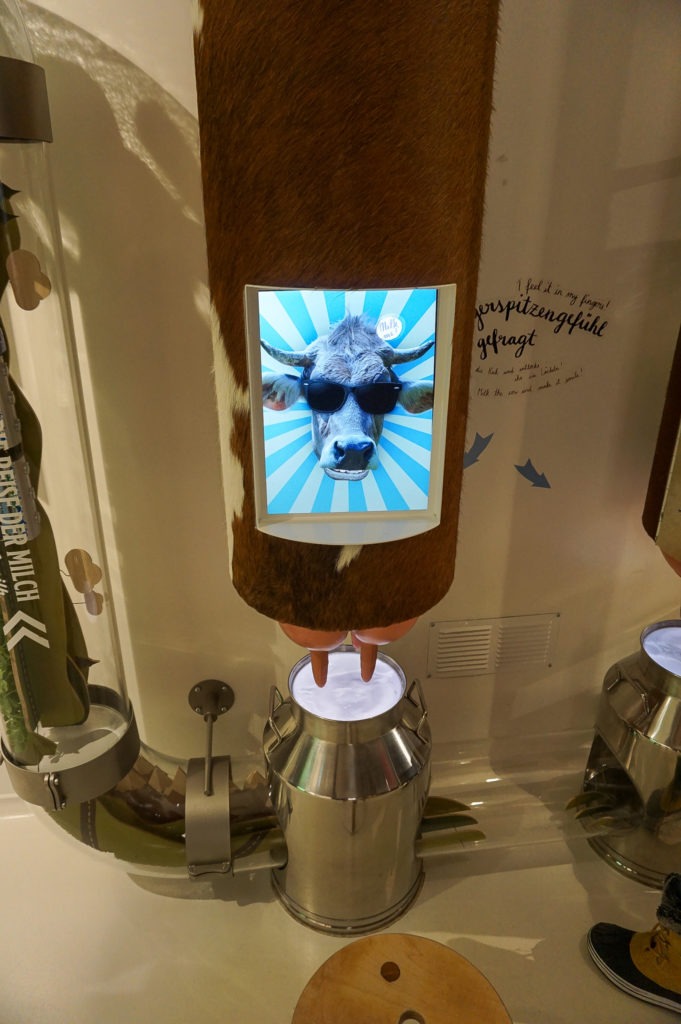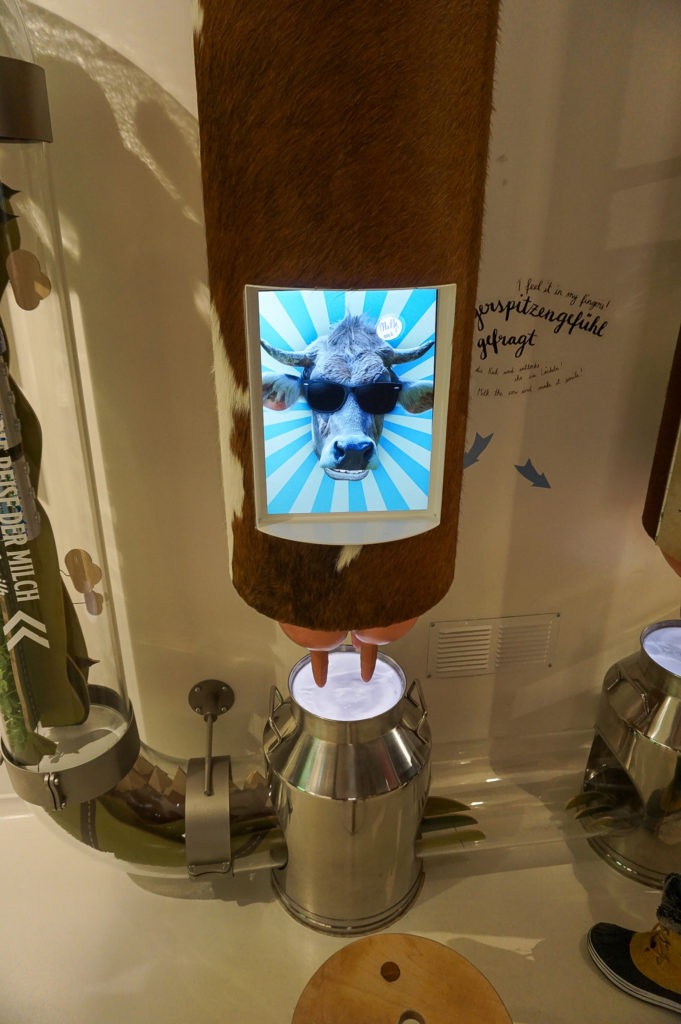 Everything is fun, colorful, interactive. You feel like you are entering the fantastic world of Willy Wonka Chocolate Factory. You almost feel that Willy Wonk is waiting around the corner to greet you.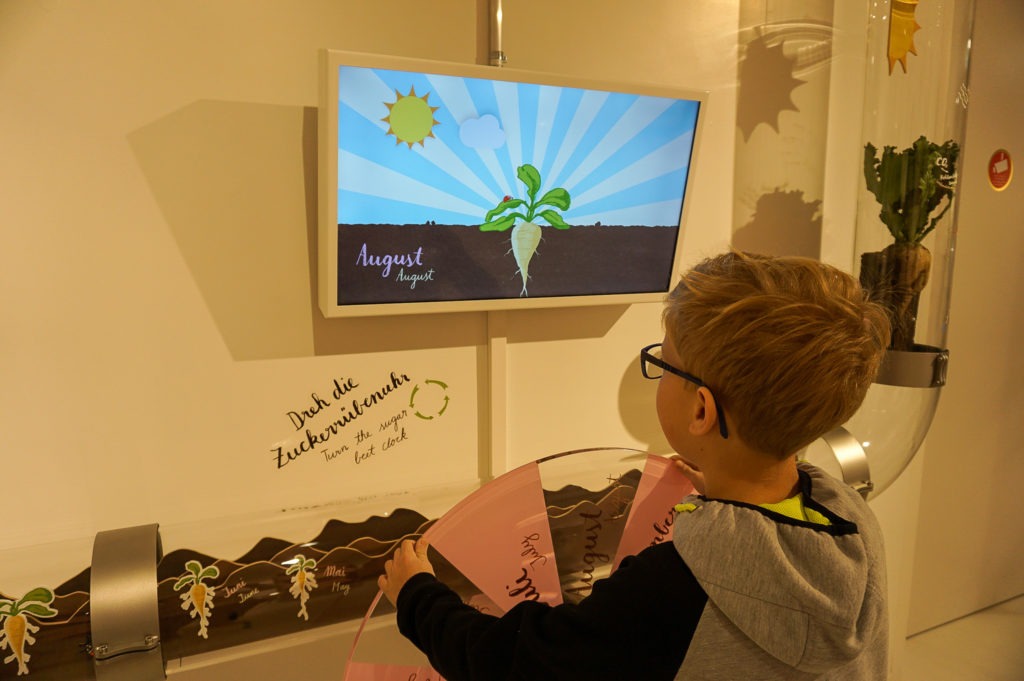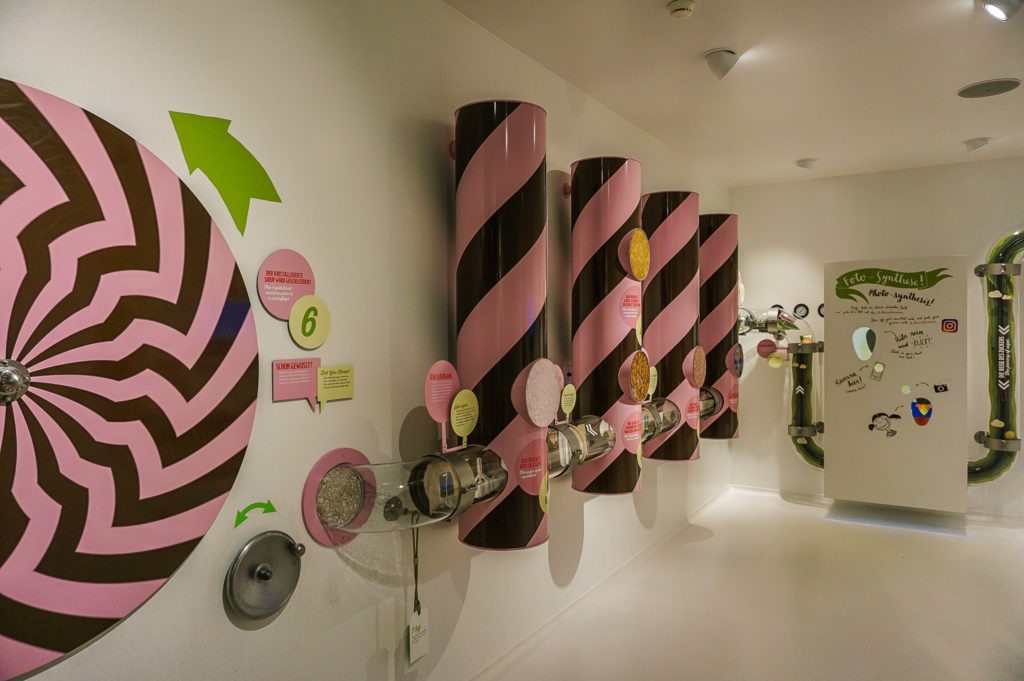 Then you enter the room with lucky charms from all over the world.
Here also begins the true chocolate happiness when you can taste the fresh chocolate from the fountain.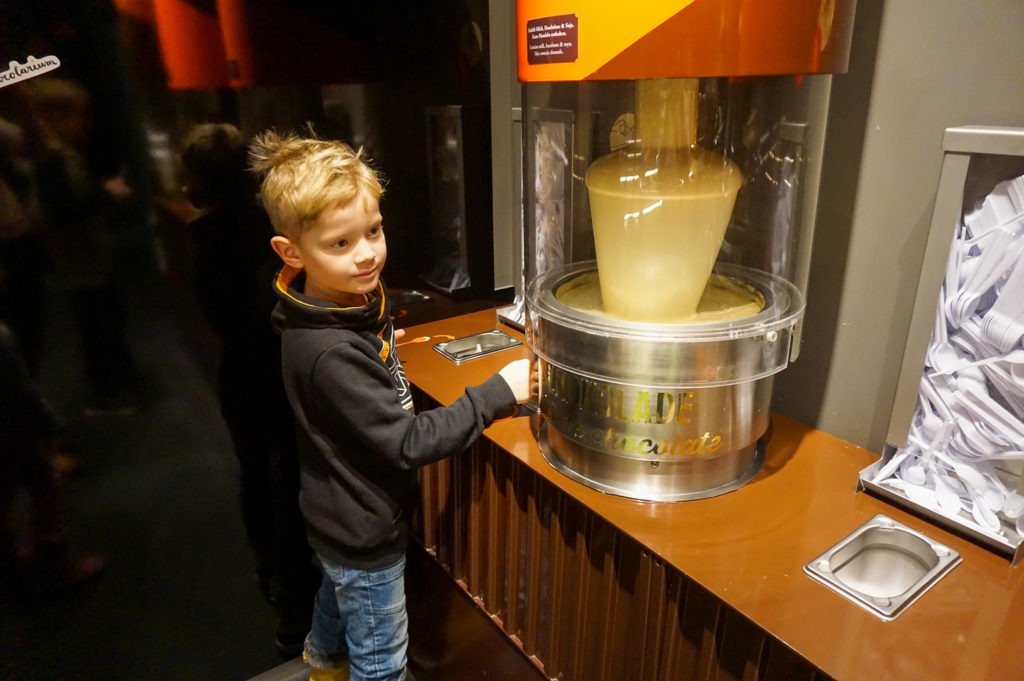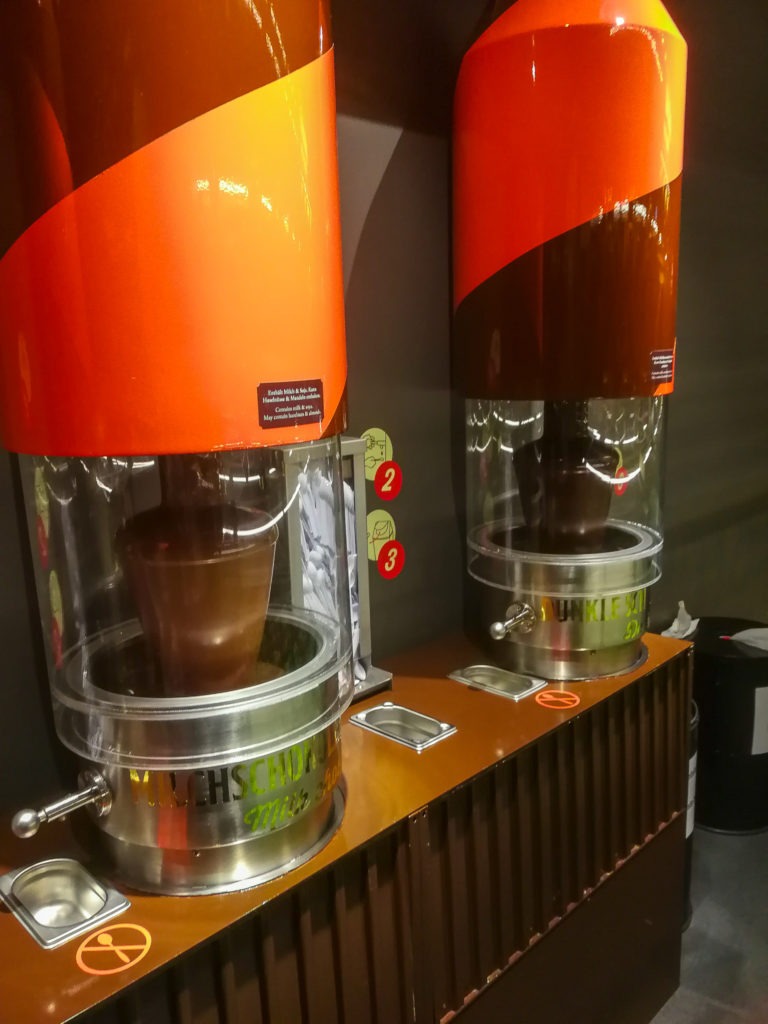 Then you enter an interactive room where you can have fun in front of the cameras and send your gifs to the mail or share them directly on Instagram.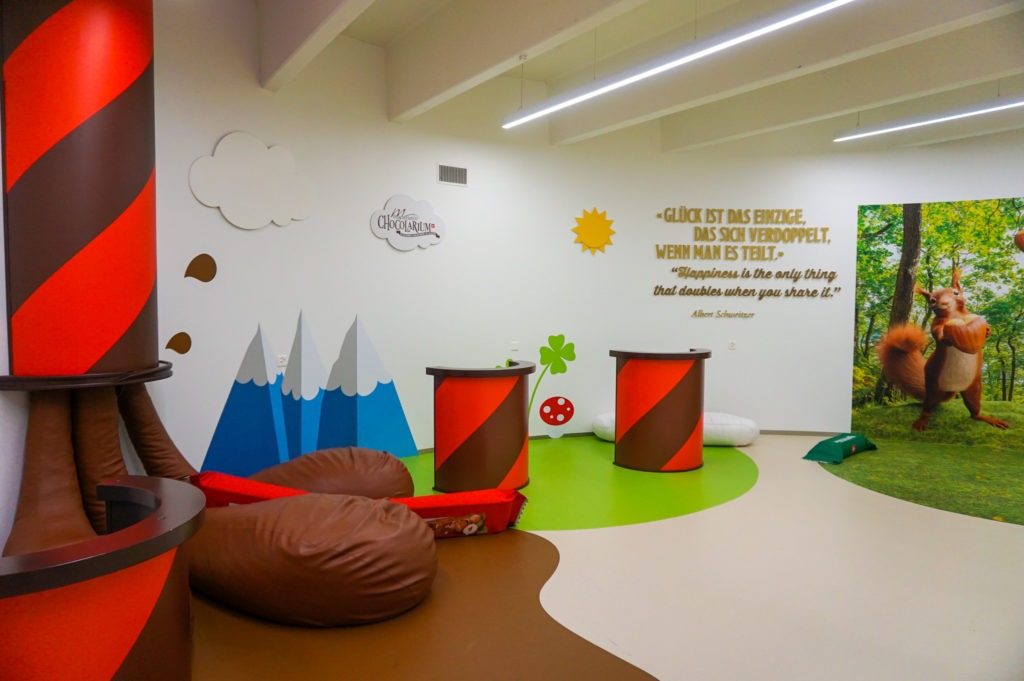 Then you get to the highlight of the tour. You walk along an 80-meter glass gallery to the cornerstone of production. Unfortunately, this is the only place where (for logical reasons) you cannot take pictures.
Here you are able to see a lot of the production process and you have a nice view of the production facilities.
While watching people and machines at work here, you can taste some unique chocolate flavors, such as banana split, caramel and salt, raspberries and many more. And, of course, the flagships of the production: mini chocolate bars Minor and Munz. By the way, Munz is said to be the most popular chocolate for coffee in Switzerland.
You will learn a lot of interesting information here. I usually take photos of them so that I can read them later at home, but as I mentioned, it is not allowed to take pictures in this section. But even so, I managed to remember that in the ranking of the countries where the most chocolate is consumed per person, the Czech Republic and France are in 12th place (each person eat 3.2 kg of chocolate per year). The first place occupies of course Switzerland 🙂

In the next part of the tour, you have the chance to make your own chocolate bar with different toppings (for CHF10). Here you will find plenty of recipes too!
Through a long corridor full of information, the tour ends.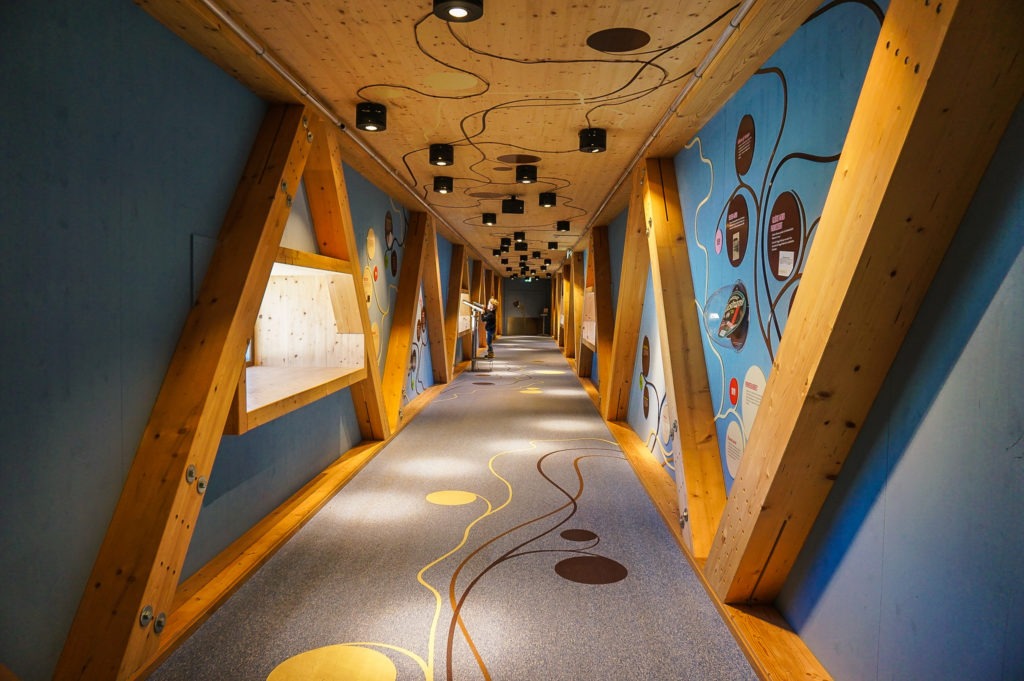 Surely you will not miss the fact, that during the whole tour you see the famous Swiss character Globi. This is the parrot in a black beret and checkered trousers (sometimes also called Swiss Mickey Mouse).
Shop
At the end, there is also the inevitable shop with more chocolate.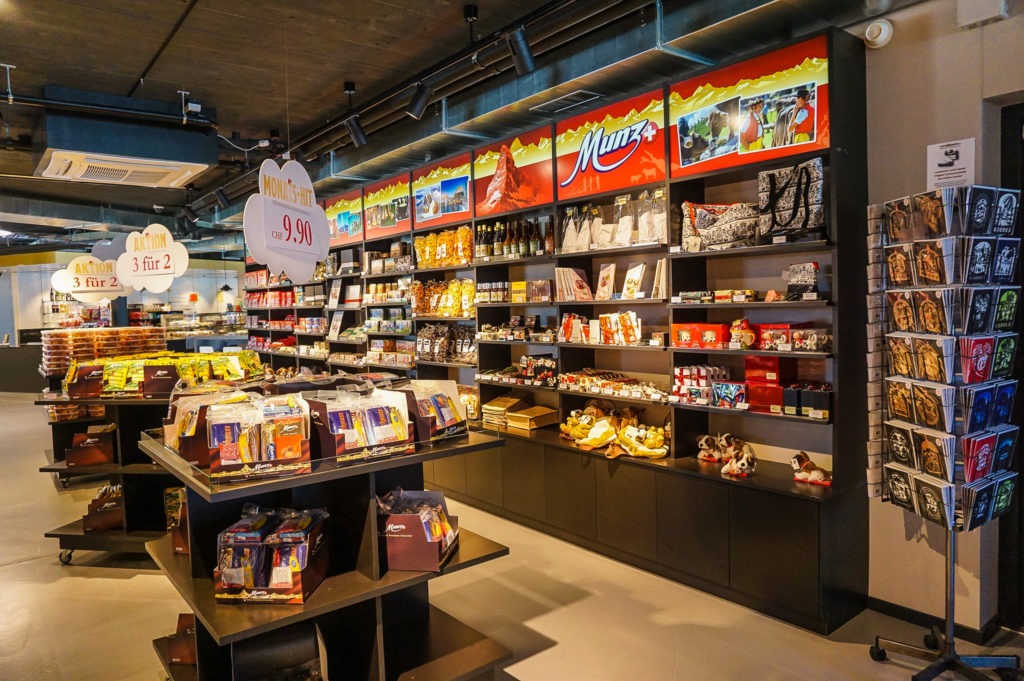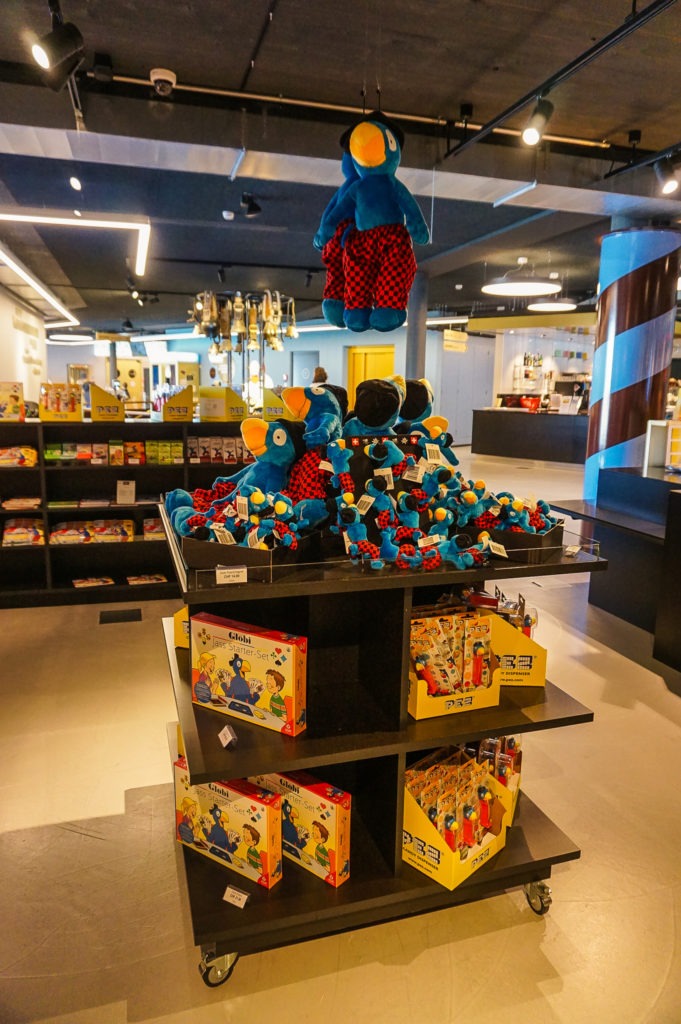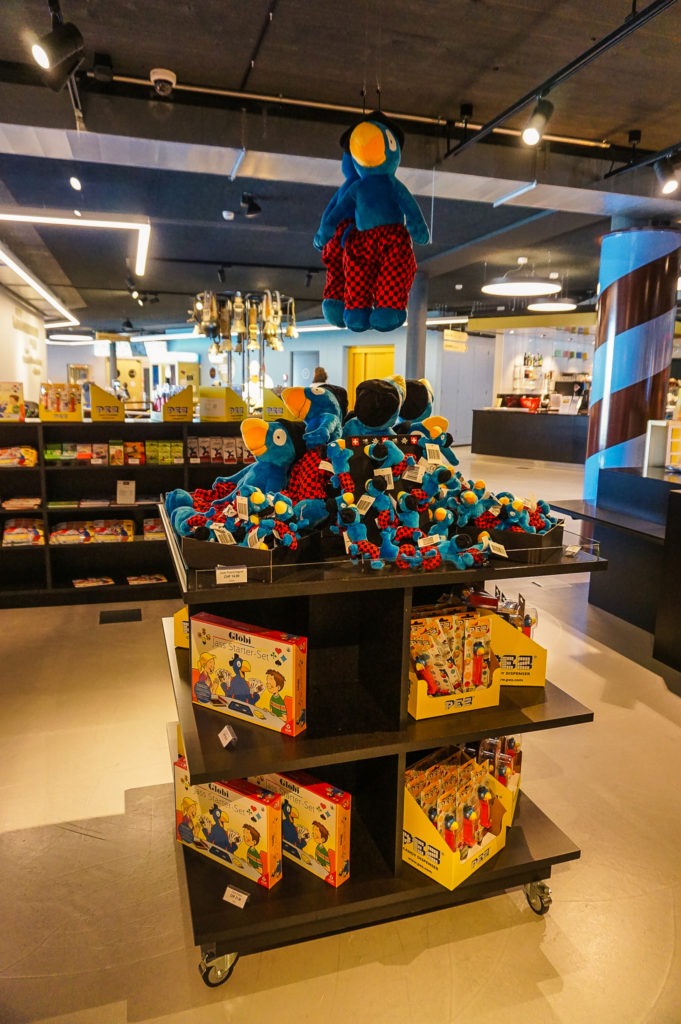 Café and Globi's children's play corner
While the children were playing in the play corner, I could enjoy my cup of good coffee and mentally prepare myself for a long journey home.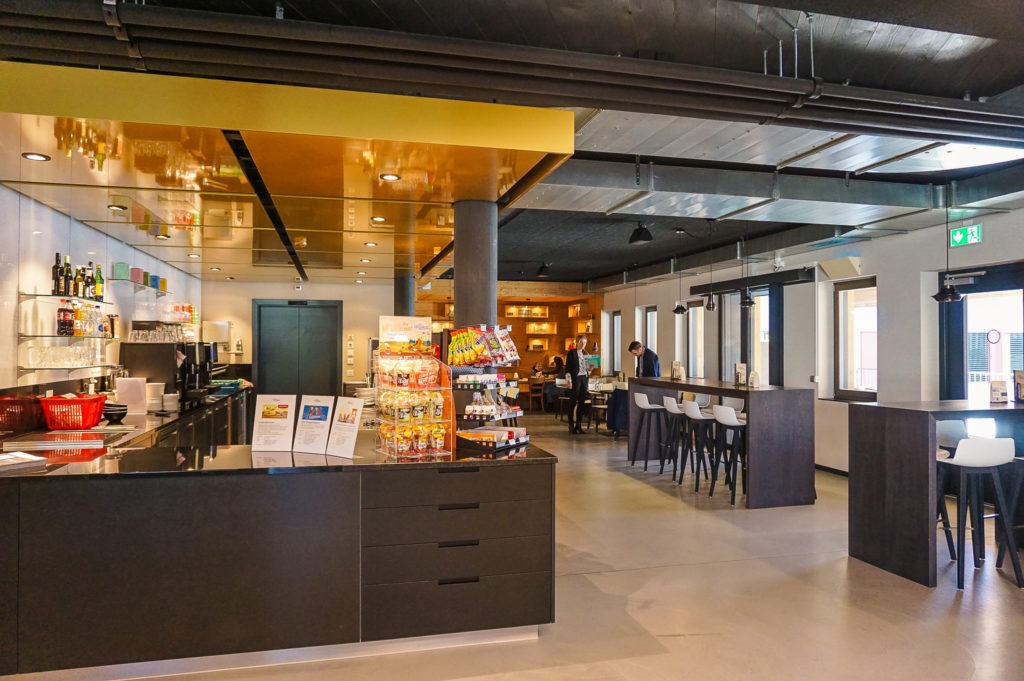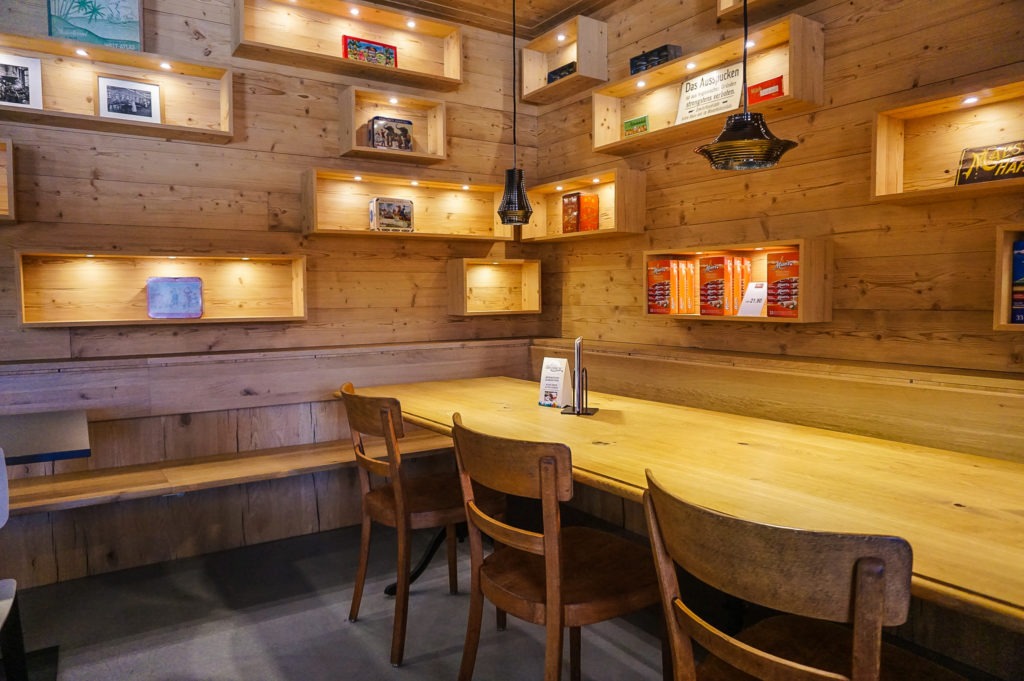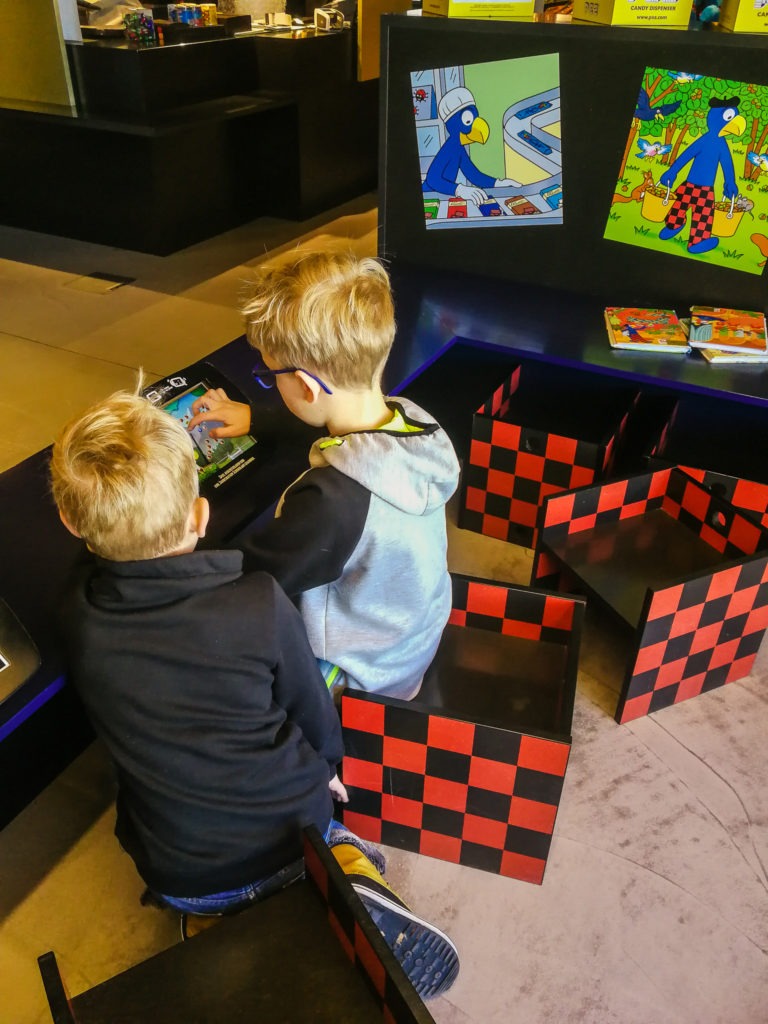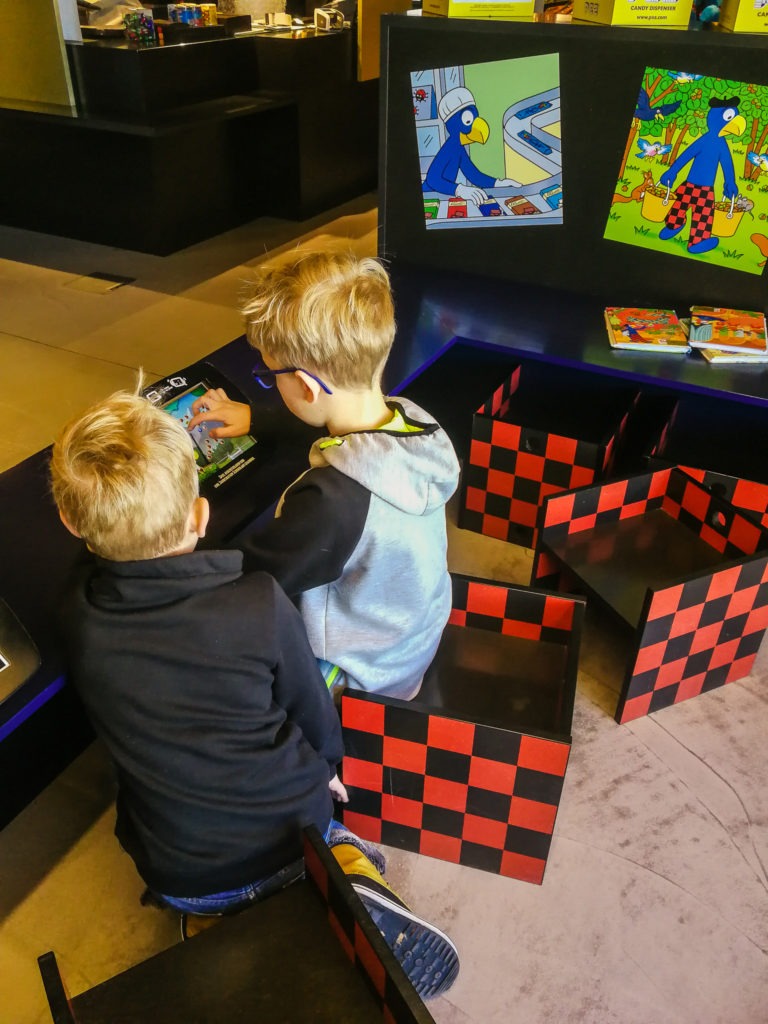 Summary and practical information
The whole tour is wheelchair accessible.
When planning a visit, the production lines are not in operation at the weekend.
Do not forget to have your headphones at home to be able listen to information from your app.
We spent approximately 1.5 hours in Maestrani's Chocolarium, but of course the time may vary depending on how much time you spend in each part of the tour.
What I have to appreciate are the wet wipes ready next to the chocolate fountains and other tasting opportunities. For me, definitely thumb up for this detail!
With children, you can also take the Schoggiweg from/to Flawil train station (the trail takes approximately 30-40 minutes on foot).
The entire exhibition is very modern – encouraging using social media, especially Instagram. When I asked the children where to place this chocolate in our imaginary chart, it's just TOP! 🙂