On a 4-kilometer route, we found ourselves as in several worlds in a short time. An absolutely intense experience condensed into such a short loop trail, thanks to which you will once again realize how diverse Switzerland is. And you are feel bliss, even if for once you don't admire the alpine panoramas. On a walk through the vineyards, you feel for a while like in France; in the villages along the lake as if you wandered into the Middle Ages. And when, at the end of our hike along Lake Biel, the sun rose again from behind the clouds, one felt like by the sea.
Add to that the fact that we completed two nature trails during this (by our means) relatively short trip, it's just perfection itself 🙂
Arrival
Twann is a municipality on the shores of Lake Biel, about 50 kilometers northwest of Bern. The best way to get here is by car on the A6 motorway. But the place is also easily accessible by train and even by boat.
If you come here by car, paid parking lot is right next to the train station, where the nature trail also begins.
Rebenlehrpfad – Vine nature trail
To get to the beginning of the nature trail, follow the tourist signs along Gässli Street (which follows the main road and then turns right). You will come to a signpost, according to which you will then go up the stairs between the houses. Then you reach the viewpoint, that will give you a view of the village, of Lake Biel, wineyards etc.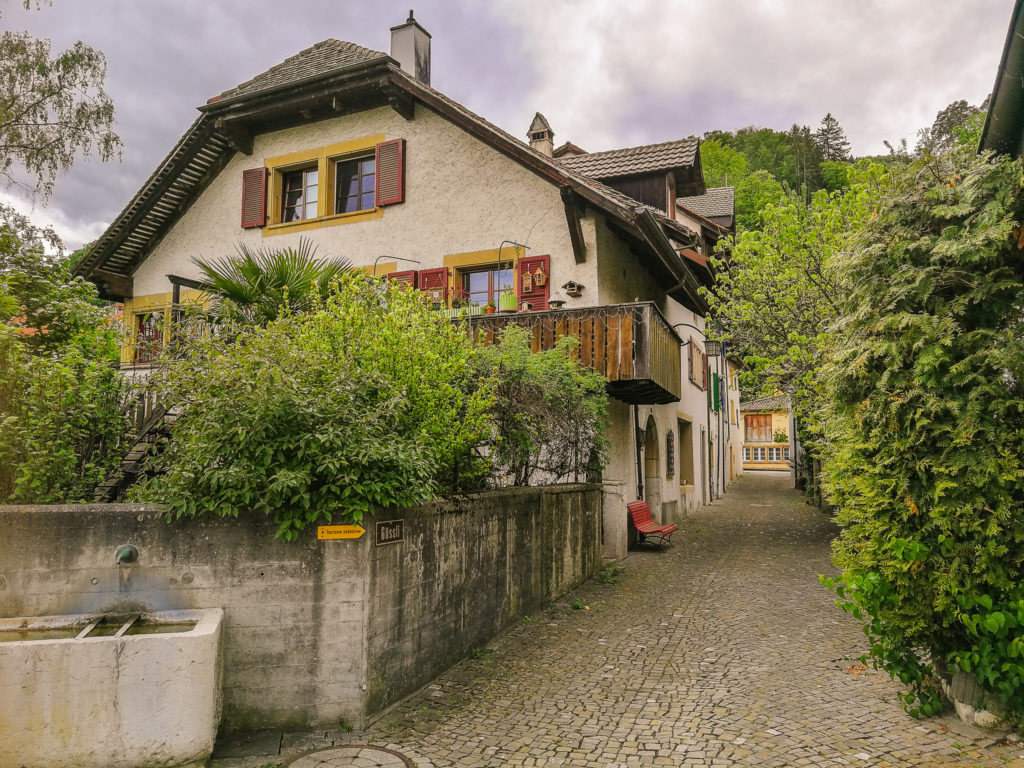 The beginning of the nature trail is above Twann, just behind the bridge over the Twannbachschlucht gorge. Twannbachslucht was still closed at the time of our trip, but we certainly know that we want to return here again (update: which we did. See the link to the full blog post at the end of this post).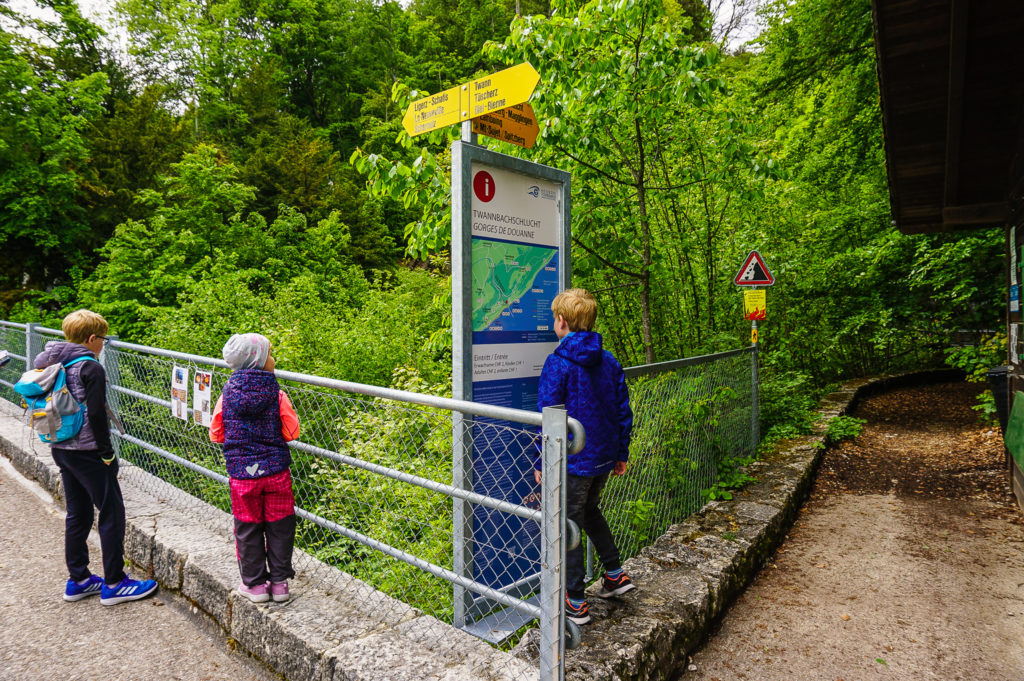 From here, the Rebenlehrpfad winds slightly uphill along an asphalt road to the vineyards. Most of the trail is lined with dry stone walls, which give the hilly landscape above Lake Biel a characteristic character. On the information boards you will learn interesting information about wine and viticulture at Lake Biel. Yes, I admit, it will probably not be very interesting for children, but who knows…? 😉
A pleasant place to relax and take a break is at the picturesque church in Ligerz. The path to the church leads nicely downhill.
Ligerz
In Ligerz you will find yourself in the middle of the route. If you no longer want to continue to Twann on foot, you have the option to return from here by train or even by boat. But don't forget to check the current timetable here.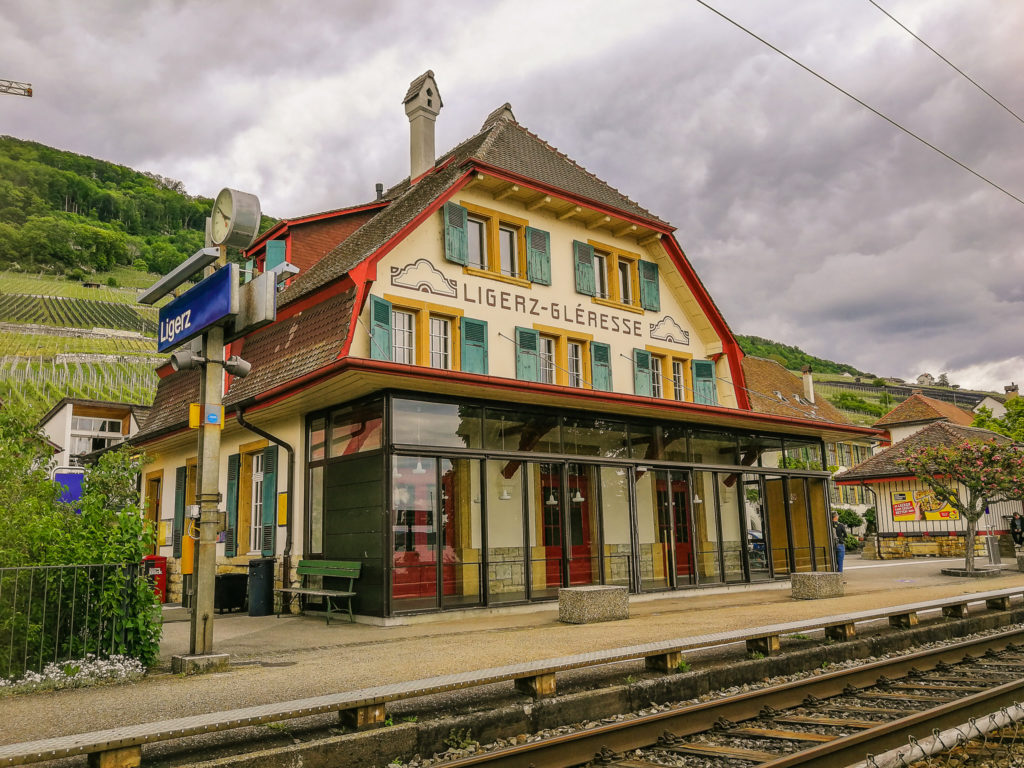 In the town of Ligerz, we seem to find ourselves in the Middle Ages. History breathed from almost every house, which was confirmed by engraved dates. In Ligerz you can also visit the vine museum "Hof" – the house of the lords of Ligerz from the 16th century is said to be one of the most beautiful houses on this lake shore.*
Fischweg (Fishing path) Ligerz – Twann
A nice bonus on the way back was the discovery that the route around the lake is lined by another nature trail. This time more for children 😉 In 2014, the first fishing nature trail in Switzerland was created here. At nine sites you will find interesting topics: get to know the lake and its many inhabitants, learn more about the local fish and the people who live by fish farming. *
We ended the walk on the grassy beach by the lake. After spending some time watching the ducks, we headed back to the car (and on the way we again soaked up the historic atmosphere a bit) and we were looking forward to having a glass of wine at home 😉
You might be interested in more tips for trips around Lake Biel
Hiking with kids through the Twannbach gorge
Biel – a city that has surprised us
Visiting the Omega Museum in Biel
St. Peter's Island on the Lake Biel
Hiking with kids: Taubenlochschlucht
Hiking with kids: The Witches Trail, La Neuveville