When I was wondering where to go with our little one on a ski holiday, my choice was quite clear – Adelboden. We discovered this place when we first set out to ski in Switzerland. And even if we try to discover new places for skiing, we come back regularly, even in summer for hiking.
You may ask – and what was with the rest of the family? Where did my men go? So, the male part of our family set out for a traditional skiing trip to Flachau, Austria. Here, dads only take those kids who can ski fairly well. Since our youngest does not yet fall into this category, I had no other option than to organize separate girls' holiday. And I think we had a great ski holiday (except for short-term crazy weather – but about it later).
Hotel Bristol
I found our accommodation in a cozy hotel Bristol (just a side note, this is no sponsored blog post, nobody paid me to praise Hotel Bristol here). I chose this hotel because it is ideally located right in the center of Adelboden and is literally just a few steps from the cable car to Tschentenalp and the ski school* meeting point.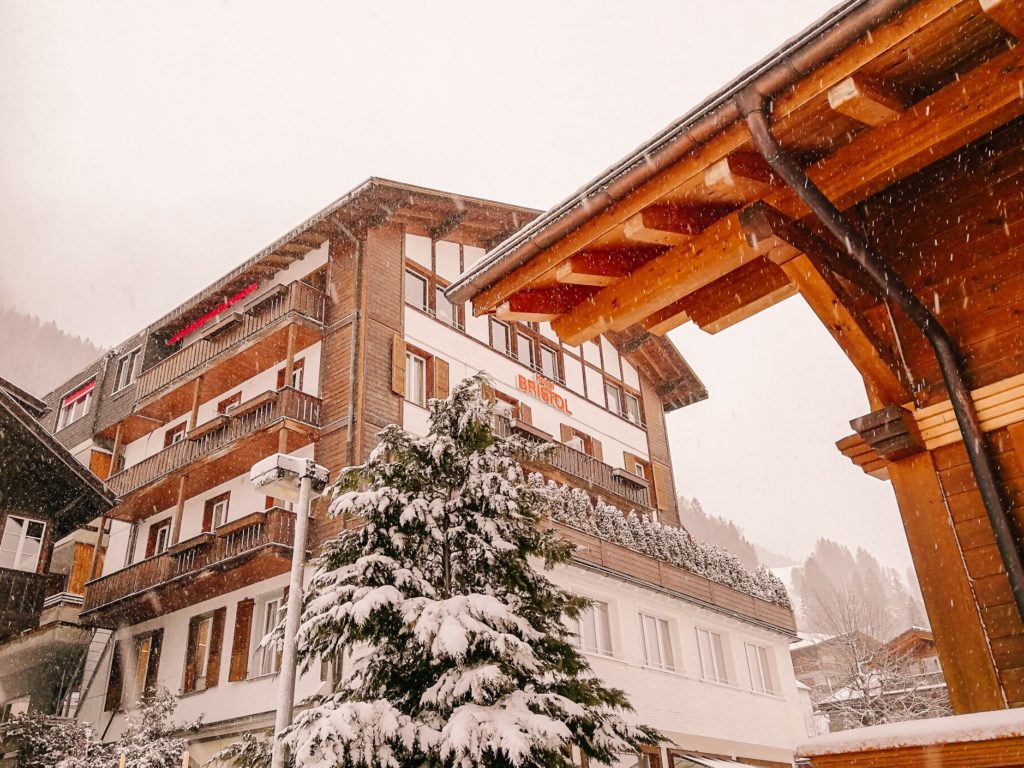 *yes, I enrolled our little one in a ski school of purely prosaic reason to learn to ski well so that I could send her to Flachau with her dad next year (or better the year after).
Well, back to the hotel. It's not a "Kinderhotel" where you can have your kids entertained all day long and you can enjoy the winter fun alone. Just the opposite, I would say. Until my friend and her two daughters came to visit me for a day, our little was the only child in the hotel. But she didn't complain. I think she enjoyed the attention she was getting and the great service, especially at the restaurant. A propos food! So that was the absolute highlight of our stay at the Bristol Hotel! For dinner that lasted at least an hour and a half, I was looking forward every day (yes, you read correctly, at least an hour and a half, because of a three-course menu and dessert on top!). I was looking forward to it even after I found out that to fit better, I should have worn at least a pearl necklace and a different cashmere sweater or silk blouse every day 😉
Ski School Adelboden
As I mentioned, I enrolled our little one on a ski school course. She already knows how to ski a bit, last year she even manage a children slope in the nearby Engstligenalp ski area, but I wanted her to strengthen the style. And yes, of course I wanted to get a few hours of skiing just for myself!
When we arrived at the meeting point on Monday morning, I was a bit worried because suddenly everything was wrong. Our little lady didn't want to wear a small plastic bag with her data around her neck, the gloves (at other times perfectly fitting) didn't fit well, I could not take a picture of her, etc. Of course, she was afraid, did not know what to expect when they all get on the big red bus… and I was freaking out inside as well (outside showing the biggest supportive smile I could manage) worrying if I wouldn't cause her traumas to deal with for the rest of her life! Fortunately, the instructors were great, they obviously knew how get along with children.
What surprised me, however, was that the lessons did not fall off even in that crazy Lolita wind and snowstorm, which meant that the lifts didn't run in the whole ski area. But apparently the children were not bothered by the windy weather, which cut down trees in the lowlands and tipped truck trailers. For them, it was "just snowing". And when it's snowing, it's just fun, right?
Of course, the biggest highlight of the course was Friday's small skiers' race, where the little girl brought a beautiful medal.
Skiing and sledding at Tschentenalp
As soon as I gave our little ones to the care of ski instructors on Monday, I went skiing to Tschentenalp. This small ski area with a few slopes is better known for its "Schlittelpark" – a downhill course designed for sledding. So in the morning, I had a good time skiing here, and in the afternoon I went here with our little one to sledding.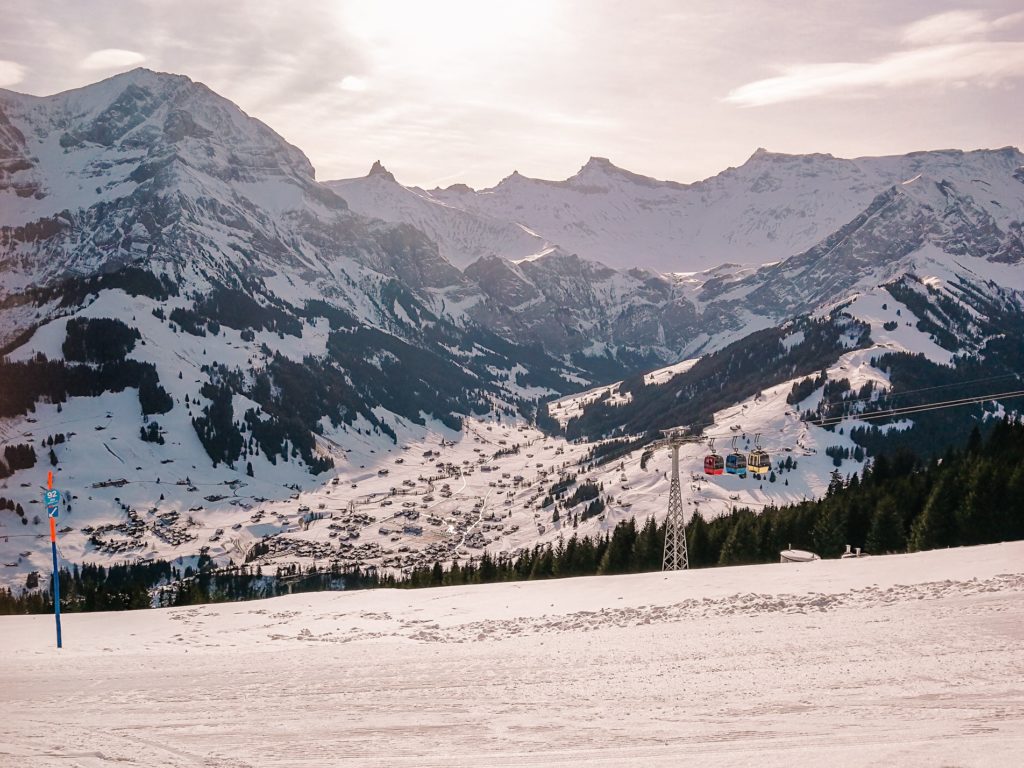 Off-piste trip – Tropenhaus Frutigen
We couldn't go sledding on Wednesday afternoon because the slopes were still closed due to bad weather, so we decided to visit Tropenhas in Frutigen. The last time we were here, our little one was still very small to really enjoy the visit, but now I think the timing of the visit was now perfect.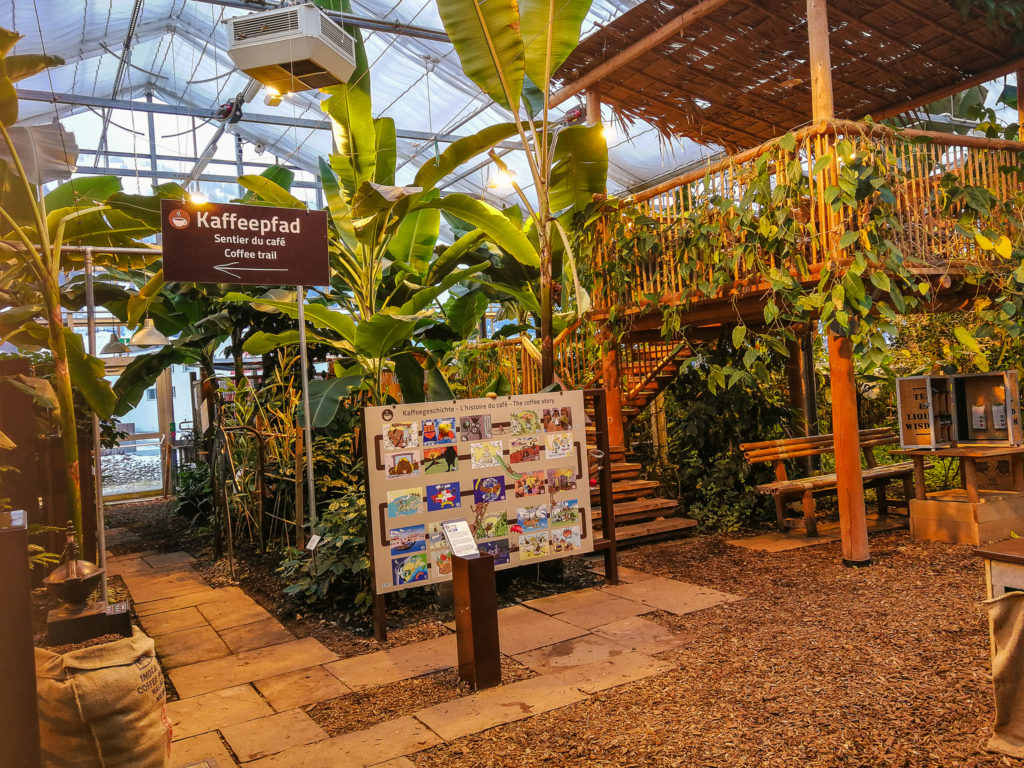 Skiing at Geils – Hahnenmoos – Bühlberg
On Thursday, thanks to friends from our village, whom I met here (and whose daughters were with our little girl also in the ski school), I had the opportunity to discover the slopes on the side of the ski area where we had never skied. We have always bought a ski pass only to the "purple zone" of the Chüenisbärgli-Sillerenbühl area, which was enough for us to take turns in skiing and still be relatively within reach of the children's lift in Boden.
This time I had a ski pass for the whole Adelboden-Lenk area, so I could go to Geils, where the ski school had its base.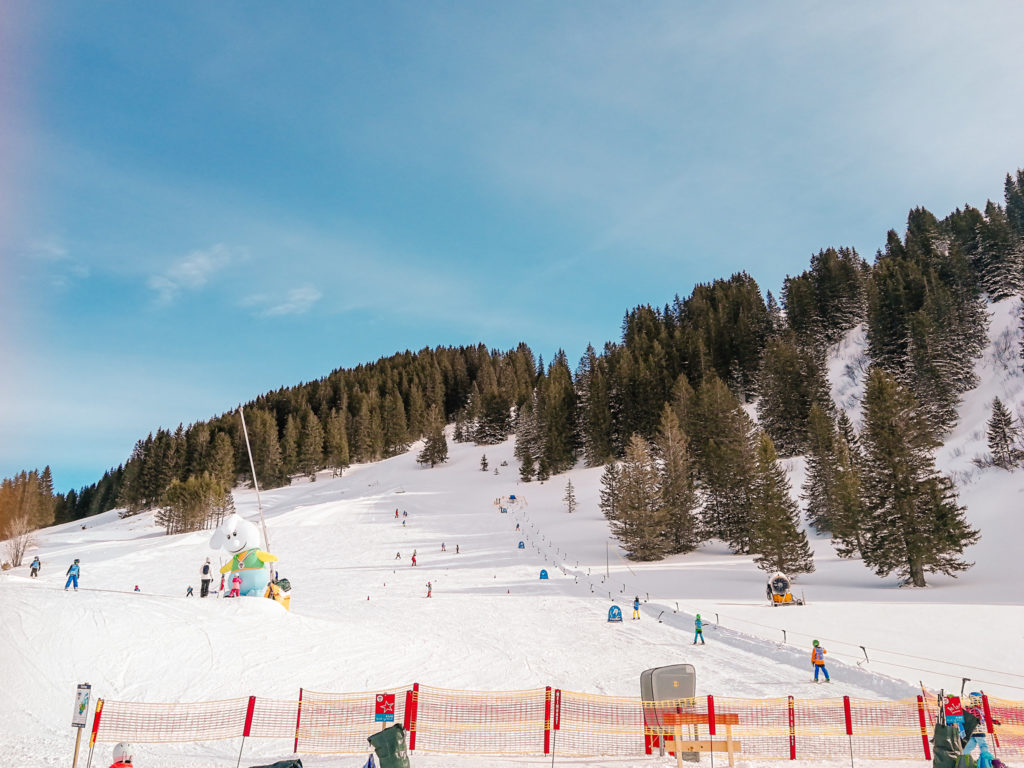 So, on Thursday and Friday, I was plowing the slopes around Hahnenmoos (if the name reminds you, your hunch is right. Every year at the beginning of January, the FIS World Cup takes place here).
I must say I was totally excited as a self-taught-and-amateur-skier. Wide gentle slopes, stunning views across the valley to Lenk, where we were skiing last year. Just perfect. I am looking forward to bringing the boys here because there is also the "Funslope" ski slope with fun elements.
I must say that we enjoyed our ladies' ski holiday. And I plan to repeat it next year! And what about you? What were your ski holidays?