"You know, Mom, if we just went to the Pilatus, it would be too boring, but this was so great!"
Well, the boys are growing up and come to an age where they are no longer enthusiastic about the idea of riding the cable car with a great view and that there is a nice playground on the way. But they need a little adventure in their lives.
And so the best idea seemed to be to take advantage of the Pilatus railways offer and try out new attractions at Fräkmüntegg as a "media representative". (DISCLOSURE: Sponsors are carefully selected in conjunction with my mission statement to bring you the content I think you'll love! All opinions and editorial decisions are solely my own.).
How to get here
Drive to Kriens and follow the signs to Pilatusbahn. There is a paid parking lot next to the cable car station and two more nearby. The day ticket costs 5CHF. Then take the gondola lift via Krienseregg to Fräkmüntegg.
Experience and adventure at Fräkmüntegg
Since June 16, three new adventurous attractions have been added to the existing ones (Rope Park, PILU Rope Park, and Tree Tents) at the Fänkmüntegg: the Dragon Glider, the Treetop Trail (Wipfelpfad) and the Drachenalp.
We were delighted that we were invited to try them all out to give you a good insight. All opinions are my own.
The rope park
The rope park has courses of various levels of difficulty. Children from 8 and 120 cm height are allowed (although our seven-year-old son is over 130 cm tall, he was not allowed to enter). The course is mostly in the forest.
PILU Rope Park
For children from 4 to 8 years, there is the PILU rope park, which consists of seven stations. Children get safety equipment – they even have dragon wings on their back belts, which is so cute.
I can't even describe how proud our youngest one was of herself when she passed through all the stations. Although at first, I had feared that she would end up at the second station because she could not pull the "rider" (I don't know how expertly called) over the ropes between individual stations herself. Fortunately, there were older children or her brother who helped her.
Wipfelpfad – the treetop path
Around six to ten meters above the ground you can walk from tree to tree over a narrow wooden walkway, well protected with safety nets.
On six of the thirteen platforms, you can find information boards with educational information about the local flora and fauna.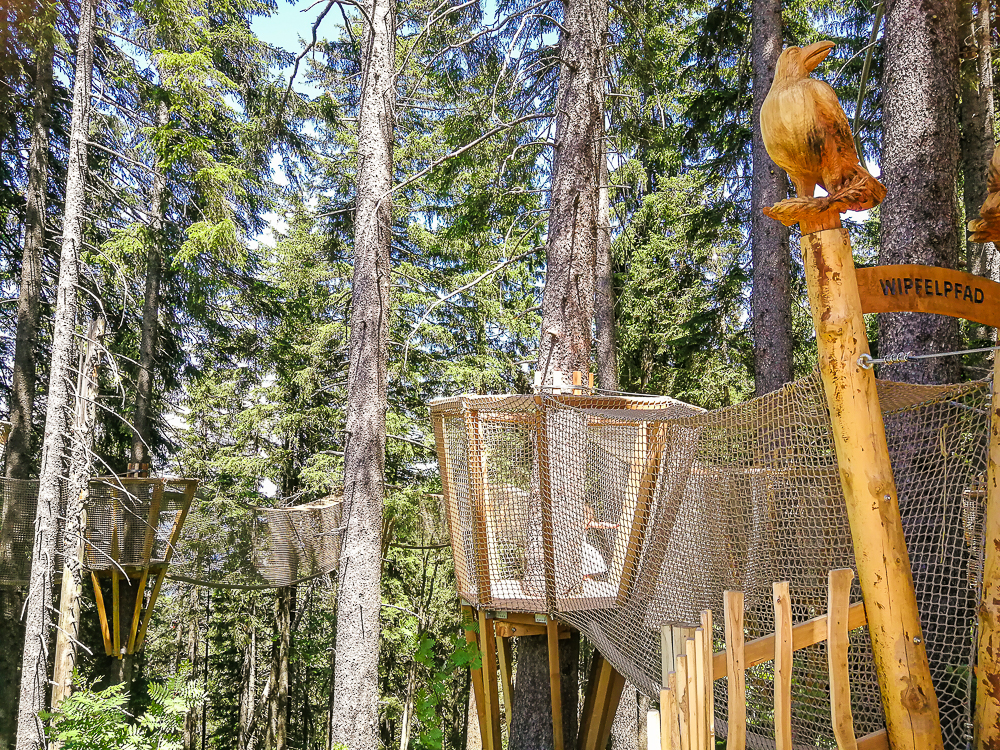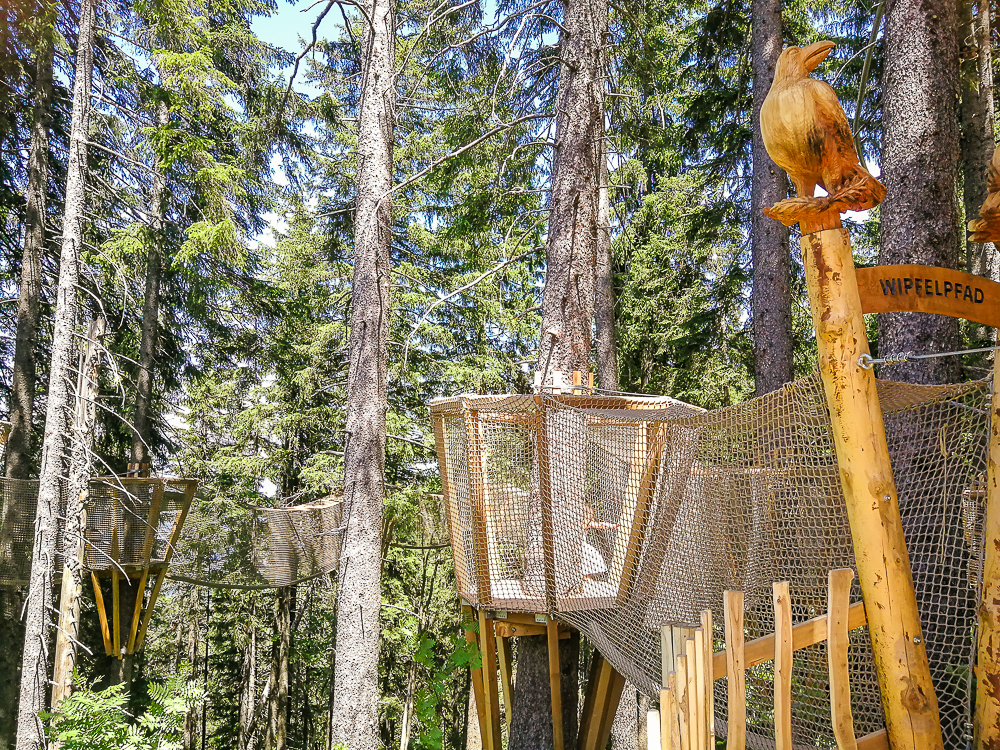 Dragon Glider
The Dragon Glider is unique in Switzerland. You sit comfortably in a paraglider seat and float eight meters above the ground between the trees on tubular steel construction. You don't have to worry – you can also glide with the little ones on the Dragon Glider. The ride takes about 2 minutes and ends at Drachenalp.
Drachenalp
Drachenalp is the new timber construction with three weather-protected barbecue sites available. If you don't want to have a picnic, you can get various delicacies at the kiosk.
Prices for attractions
Dragon Glider: 10 francs for adults, 6 francs for 8- to 15-year-olds
Wipfelpfad: free of charge
Rope park: 28 francs for adults, 21 francs for 8- to 15-year-olds (for 3 hours) and various family tariffs (depending on the number of kids and adults)
PILU Seilpark: 12 francs (4 to 8-year-olds, for 1 hour)
Take the Dragon Ride to Mt. Pilatus
When we were de facto halfway to Mt. Pilatus, we couldn't miss the opportunity to reach the summit. So we bought the tickets and went up with the new Dragon Ride aerial cable car.
Here I must confess: I always thought that Mt. Pilatus could only be reached with the world's steepest cogwheel train, as you can read in all the travel guides. I had no idea that there was a cable car from the other side of the mountain (haha, call me an expert for Switzerland! 😀 )
At the top
Mt. Pilatus, a massive mountain consisting of several peaks, offers breathtaking views over the region.
At the top, you will a big observation platform, two hotels with restaurants, lounge chairs, souvenir shops, etc.
We climbed the viewing platform on the Oberhaupt, reached Chriesilog and climbed the Esel peak.
Summer toboggan run "Fräkigaudi"
To complete our experience, at the end of the day we decided to try out the longest summer toboggan run in Switzerland (1.35 km!).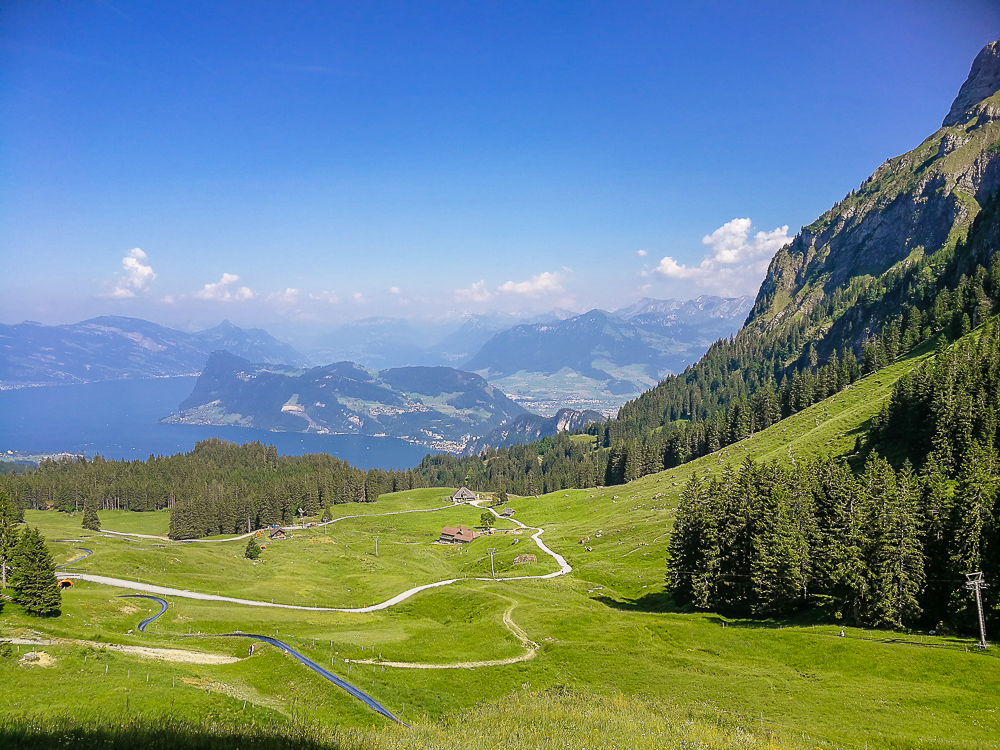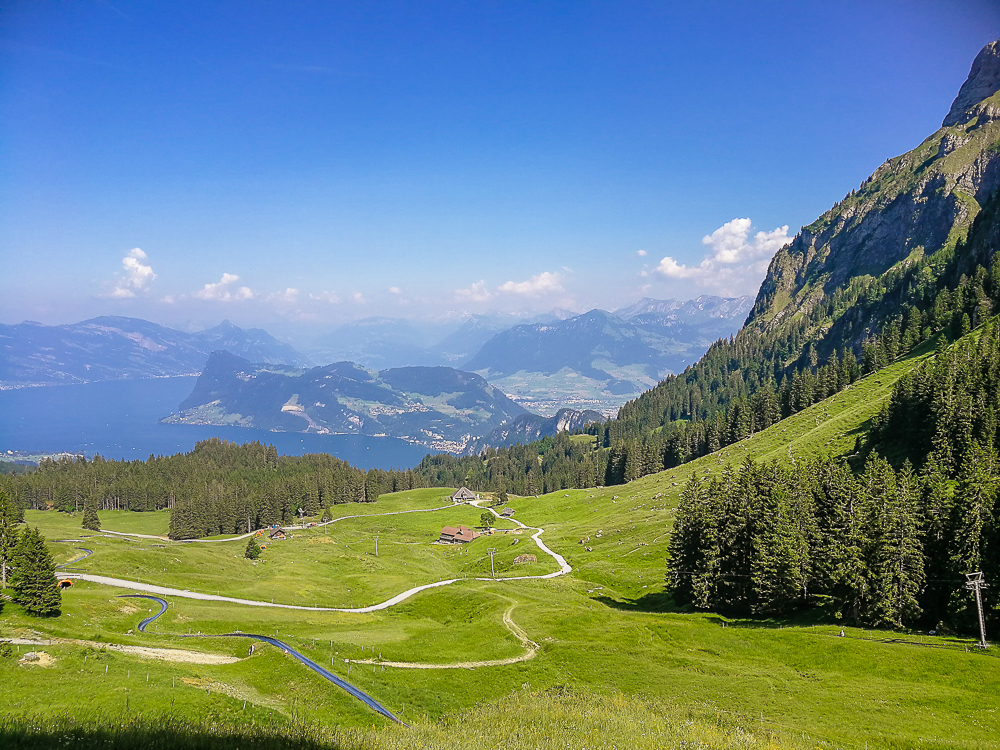 In the end, don't worry about hiking back to the top. There's a lift that pulls you back up! We had so much fun and I highly recommend it!
Price: 8 francs for adults, 6 francs for 6- to 15-year-olds; the photo costs 5 francs.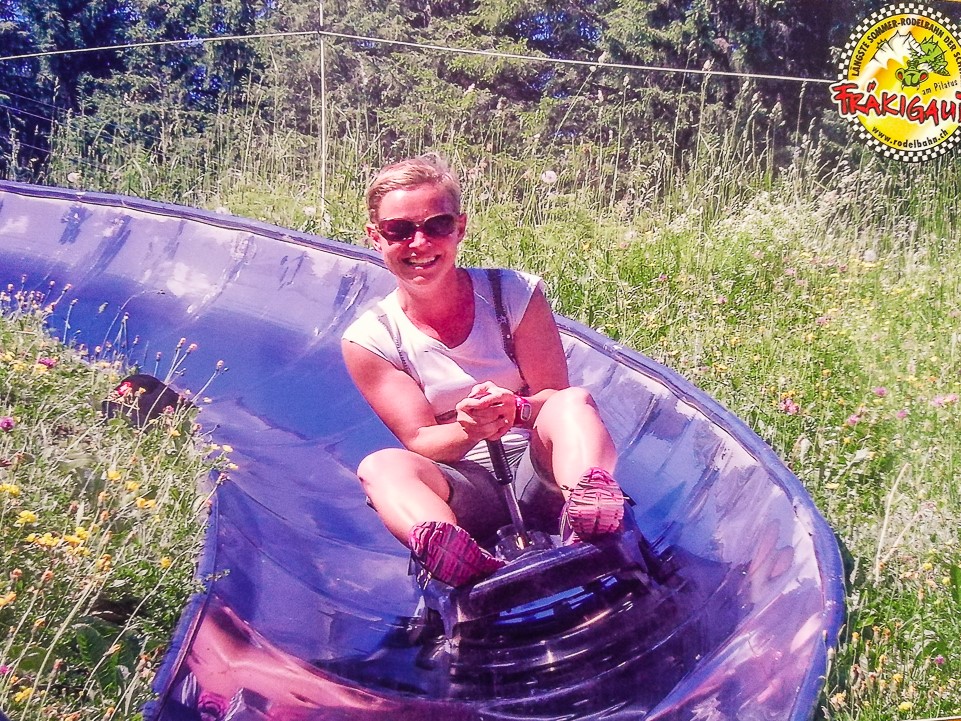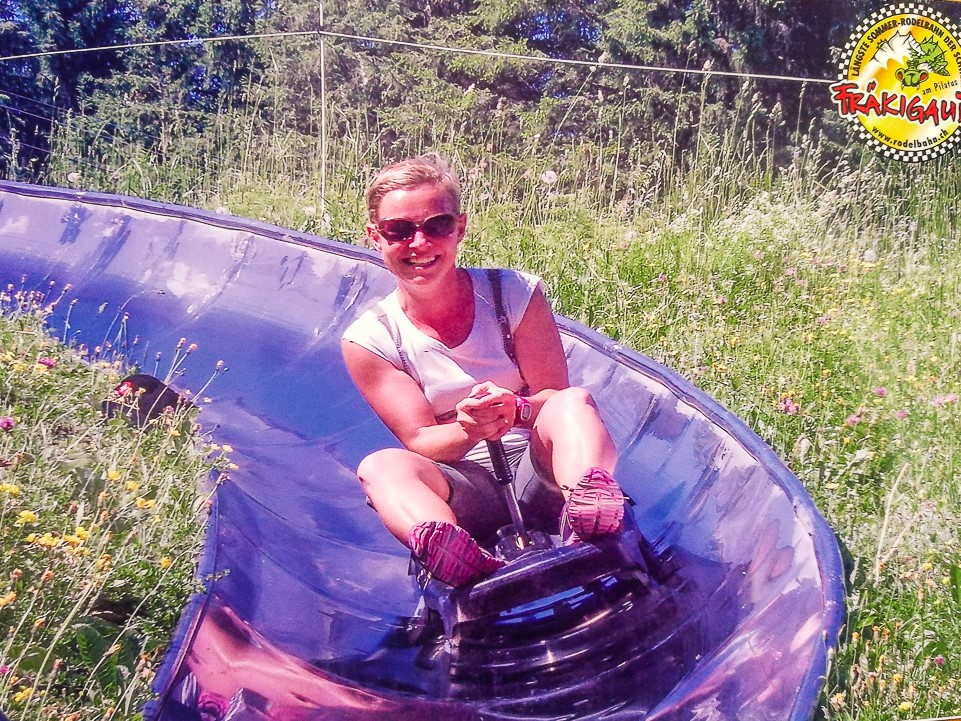 Again many thanks to Pilatus Bahnen for the opportunity to spend our day full of adventure on Fräkmüntegg.
I hope you've enjoyed my post. If you don't want to miss any of my recent posts please sign up for my blog in the top right-hand corner of this page. Thank you. Be sure to follow me on Facebook, Pinterest, and Instagram. And of course, I look forward to reading all your comments.