Before you start scolding me for misusing the definition of slow travel, which is a matter of three months to several years and there is definitely no need to visit all the tourist destinations in the certain area, you need to continue defining slow travel. Slow travel also means to enjoy a journey without rush and stress, so one can enjoy the journey the most when slowing down. And also that during the journey slow traveler takes the time to explore each destination thoroughly and to experience the local culture. Which is also the main goal of the Grand Tour of Switzerland.
Grand Tour of Switzerland
The Grand Tour of Switzerland is a beautifully scenic route that connects Switzerland's main tourist attractions, including famous cities, lakes, passes, mountains and other sights. The Grand Tour usually avoids the motorway and is only used if it makes sense. Otherwise, the route winds through roads off the main roads.
Maybe you also wonder why you should wander along the scenic roads when driving between two points on the motorway is much faster? But that's the magic of the Grand Tour of Switzerland. Because the countryside in Switzerland is just glorious, with so many postcards places. So taking the scenic route, rather than the motorway is something I really recommend if you have the time.
Grand Tour of Switzerland in numbers
It consists of 10 legs in the length of 1643 km (1021 miles)
It includes 45 top attractions, including 12 UNESCO World Heritage Sites and two biosphere reserves
On the route, you will find 22 lakes larger than 0.5 km²
The highest point of the Grand Tour: Furka Pass, 2429 m.a.s.l.
The lowest point of the Grand Tour: Lake Maggiore, 193 m.a.s.l.
To avoid getting lost on the route, you can download a route file from the Switzerland Tourism website. Here you will find all the necessary and practical information from A to Z (including the possibility of accommodation on the route or car rental) and I will not burden you here.
It is important to know that there are 650 signposts with the Grand Tour of Switzerland logo on the route and despite the Grand Tour can be traveled in both directions, Switzerland Tourism recommends you make the journey clockwise, preferably between April and October.

Photo spots
The part of the Grand Tour of Switzerland is also photo frames in the shape of a red shield, where you simply "have to" take a picture, so that all you family and friends (and all on the social networks) know that you have been here 😀 You can find the list of photo spots here.
My GToS & Mazda story
Not to be frightened, this is no sponsored post, neither by Mazda nor by Switzerland Tourism. But I wanted to share with you a story that in my case fits rather into the "sci-fi" category:
For some time I've been thinking about writing a blog post on the Grand Tour of Switzerland. And on one beautiful day, a Facebook ad appeared in my feed claiming that it was possible to win a 200km drive by Mazda on the Grand Tour of Switzerland. And so I had filled in my initials (just for fun) and had been waiting if something was going to happen. And it was (to my great astonishment) happening! In less than two days, I got a call from Mazda Suisse that they congratulate me on winning and if I am over 18 and have a valid driving license, they will send my information to the nearest Mazda dealer to arrange a car rental.
In less than ten minutes, I got a call from a Mazda dealer in the village about 5 kilometers away from us asking when we'd be coming to rent a car! OMFG! This was really quick! (let's call it an example of the Swiss efficiency 😉 )
And so it happened that one late summer day my husband and I and our youngest (the boys were unlucky, they had to go to school) got into the Mazda CX-5 and set off to vent its engine into my beloved Emmental (yes, even on the GToS route). Although we know this route relatively well, we've still found a place where we hadn't been yet, the little town of Willisau.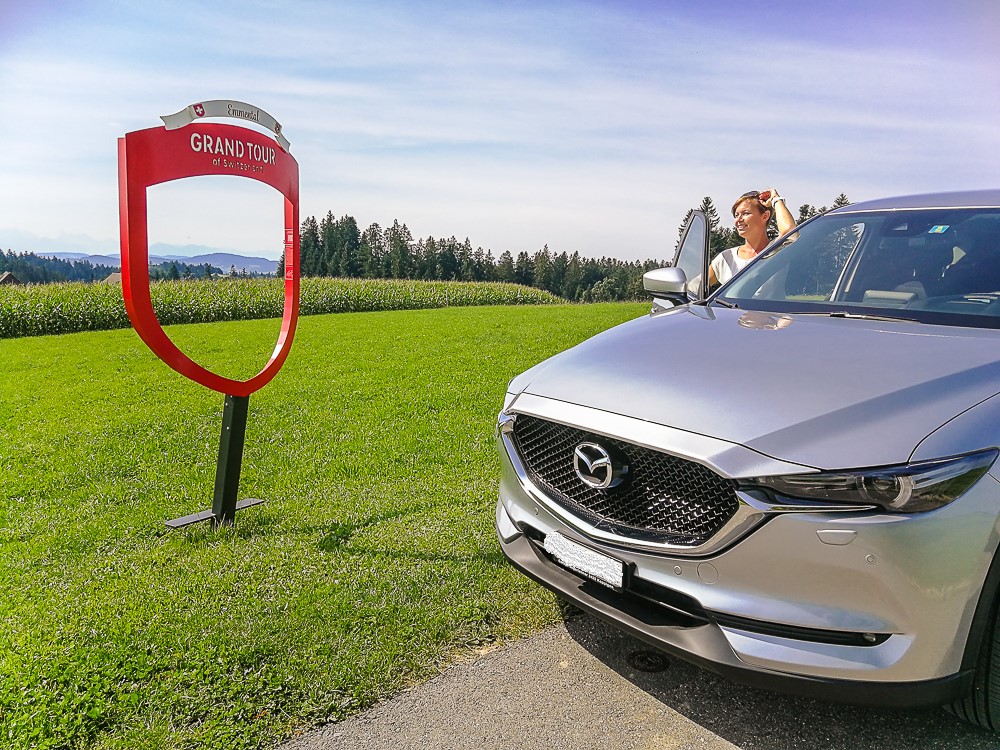 Willisau
The small town of Willisau in the canton of Lucerne has a population of just over seven thousand and is mainly known for its traditional "Willisauer Ringli" – hard ring-shaped biscuits characterized by their honey-lemon flavor.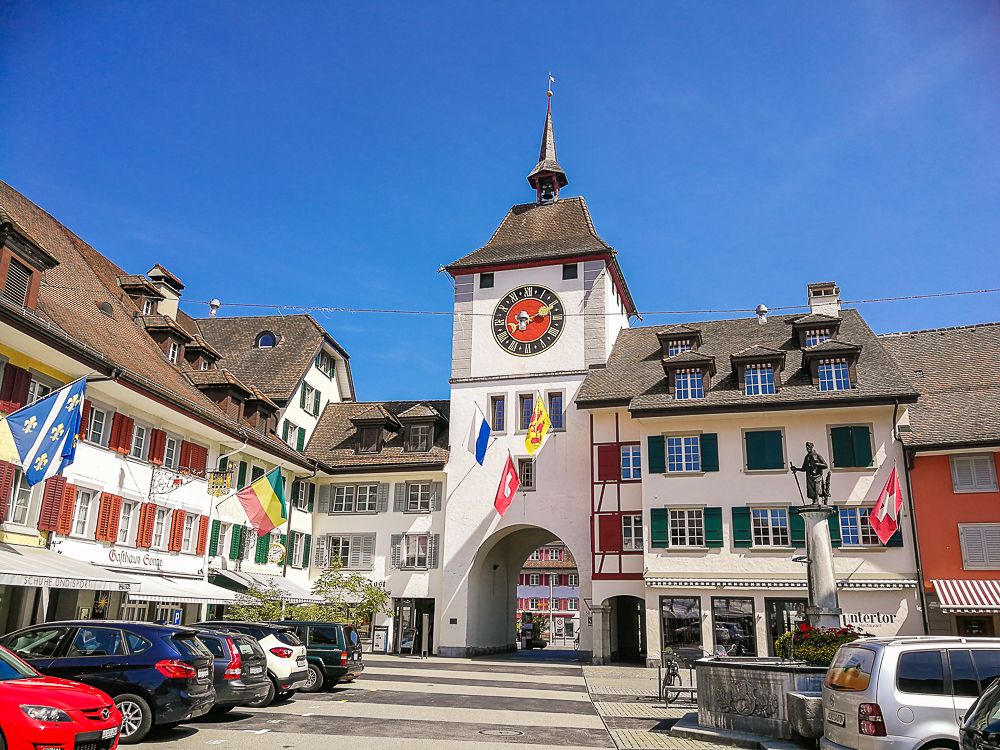 The original Willisauer Ringli is still produced in the heart of Willisau in the Ursprungshaus Café Amrein. As I read on my colleague Anita's blog, the difference from the much better-known Hug version of Ringli is that Ringli made according to the original recipe is much harder.
The center of the town is relatively small, the main draw is the street "Hauptgasse", in the summer decorated with flags. In addition to many shops, restaurants, and cafés, you can also enjoy painted house facades, decorated signboards, and three heptagonal fountains.
I also recommend climbing a few dozen stairs to the local mansion (which now serves as an office) and enjoy the views of the surroundings.
My other recommendations for the route Bern – Zurich
As I mentioned, GToS consists of 10 stages. We have visited a lot of places (even without knowing that they are on the route) and most of all those which are closest to us. Therefore, I would now like to share with you tips on why to go through the Bern – Zürich stage
Tips for other attractions on the GToS
You might also appreciate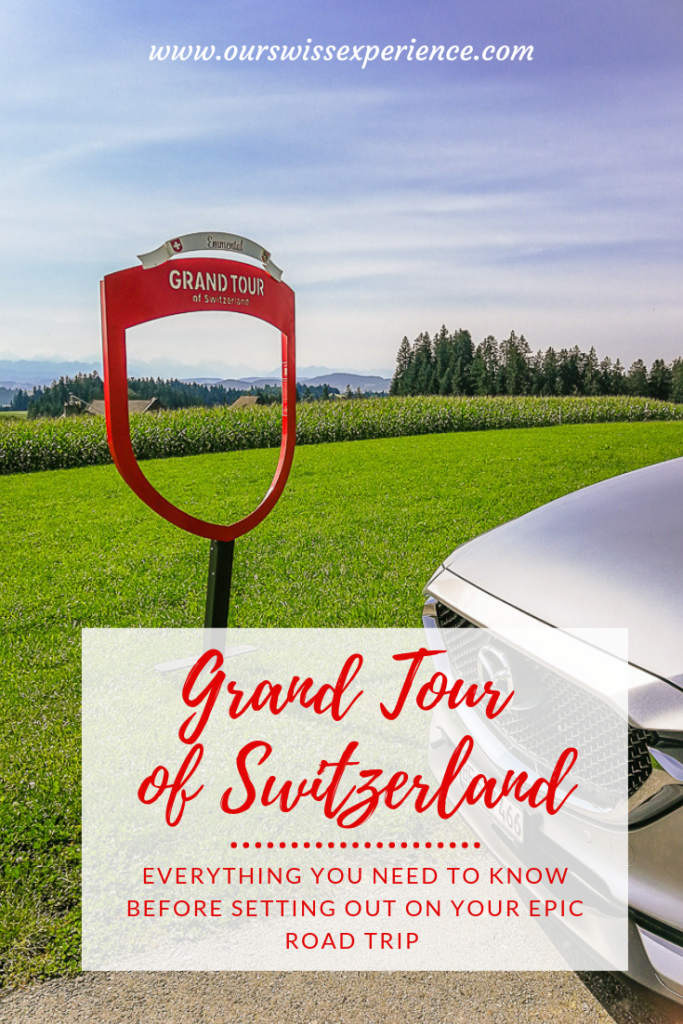 If you liked my post and you don't want to miss any of my recent posts please sign up for my blog in the top right-hand corner of this page. Thank you. Be sure to follow me on Facebook, Pinterest, and Instagram. And of course, I look forward to reading all your comments.