As regular readers will know, in our almost seven years in Switzerland, we have not yet had so many opportunities (in fact, almost no opportunity) to explore the largest canton of Graubünden. So, when the people at rocksresort Laax, asked if we fancied a weekend stay, we jumped at the chance. The rocksresort has a great location and here you have everything you need – as a family with active kids – literally at your doorstep. In this post, I will answer the questions I received from my followers when I shared the details of our stay on Instagram. Are you ready? Here we go!
[AD: our hotel stay, meals and tickets were complimentary]
Where is the rocksresort located and how to get there?
A 20-minute drive from Chur (Switzerland's oldest city) is the trio of attractive mountain villages of Flims, Laax, and Falera, which together form a large summer and winter sports resort. There are no trains, but it's easily reached by regular post-bus services from Chur.
The rocksresort is located just outside the center of Laax, on Via Murschetg 15. In fact, with a Guest Card, you can get around the Flims Laax Falera area completely free of charge with the shuttle buses (line 101, they are yellow and red, unlike the yellow post buses).
rocksresort
As a member of the Design Hotels™, the rocksresort impresses you especially with its timeless architecture of cubic buildings made of Valser quartzite. The square shapes of the buildings are also reflected in the apartments, which beautifully complement the clean lines of the resort's exterior. The bedrooms are lined with untreated solid oak wood, while the walls and floors in the living area are made of lime marsh and concrete. Of course, everything was sourced and built locally with sustainability and environmental friendliness in mind. Despite the minimalist architecture of the buildings, the hotel has a very pleasant and cozy feel.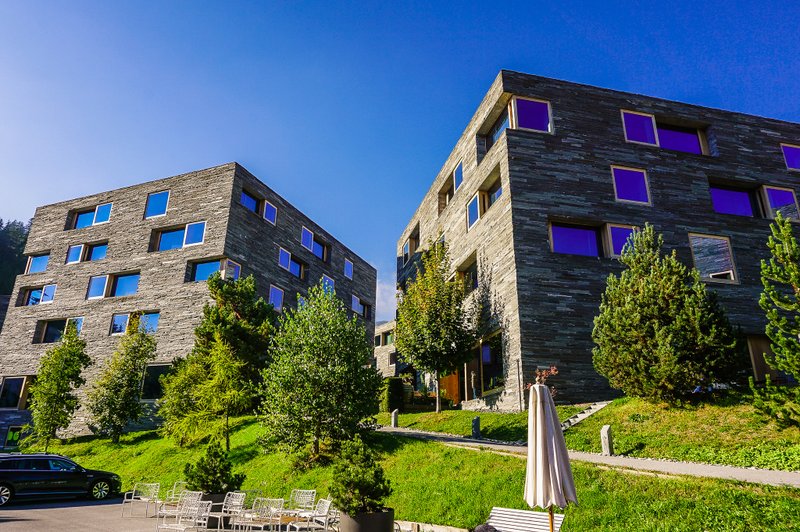 Why is the rocksresort Laax a great base for your stay in the Flims-Laax-Falera area?
You'll find everything you need on-site: close proximity to the cable car and connections to the surrounding villages, a Volg supermarket, a bakery, bike and scooter rental (7 CHF/hour), shops, cafes, restaurants and bars, laundry, a great playground for kids and most of all… there's a huge skatepark and pump track right on the resort, but I'll get to that.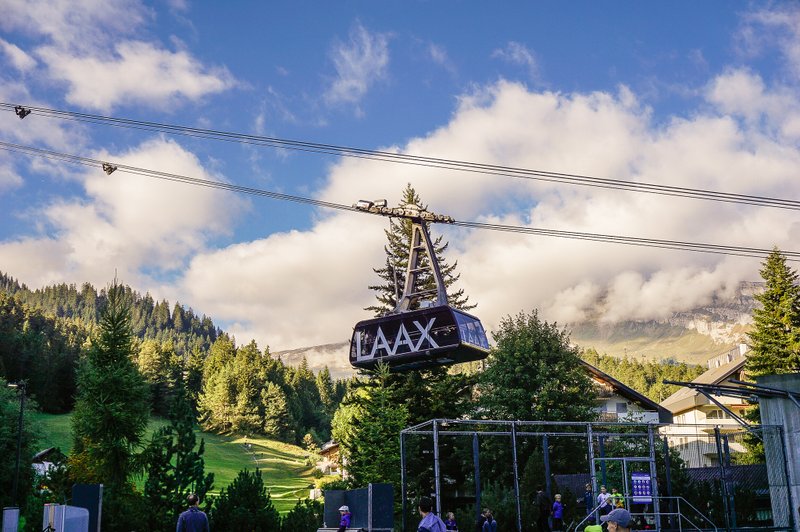 Before your trip, or as soon as you arrive at the latest, don't forget to download this app, where you can find all the information you need for your stay: current weather, cable car operation, but you can also use it to make restaurant reservations, buy tickets or get discounts on attractions in the area.
What are the apartment facilities at rocksresort Laax?
Our spacious apartment was on the second floor and had everything we could have needed for our stay. Despite the many families staying here, our apartment was totally quiet, making it a wonderful, relaxing place to retreat to after a day out hiking. For my husband, one of the best things about it was the fact that there was a steam bathroom. I really appreciated the fact that it had a separate bedroom with regular beds for all three kids, and the practical kitchen facilities (including cutlery, plates, knives, pots, pans, but also salt, pepper, sugar, olive oil, etc. in the cupboard). From 26.11.21 all apartments will be equipped with a Delongi Nespresso machine! Of course, our youngsters appreciated the fast wi-fi and TV.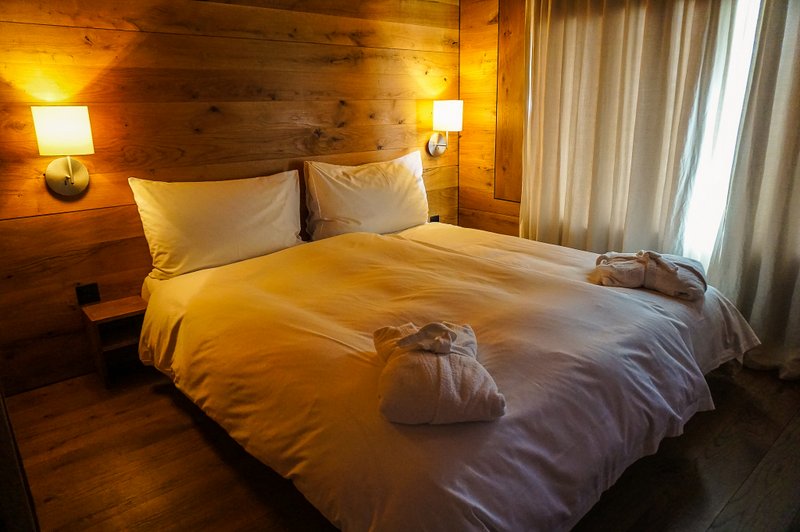 What are the restaurants in rocksresort Laax if I don't want to cook in my apartment?
Rocksresort Laax has its own restaurants, where you are spoilt for choice with a variety of culinary offerings – from regional specialties or pan-Asiatic creations to excellent gourmet cuisine.
On our first night, we ate at Ristorante Camino.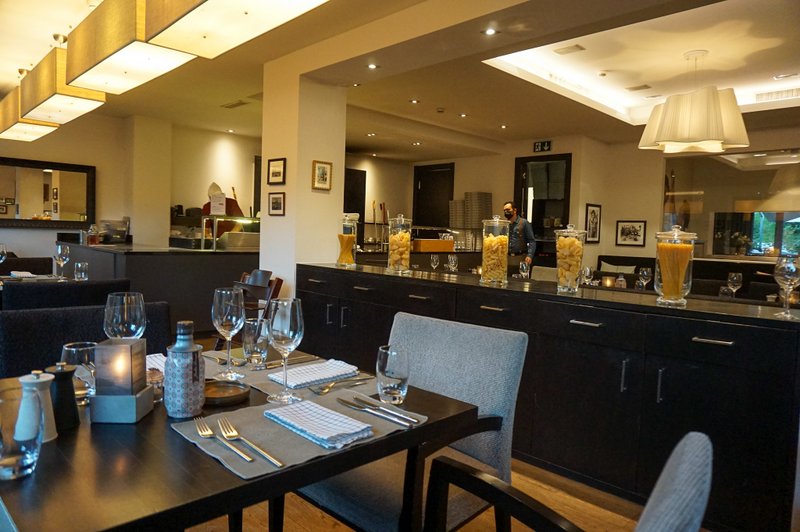 The second evening we tried the menu from the pan-Asian restaurant Nooba.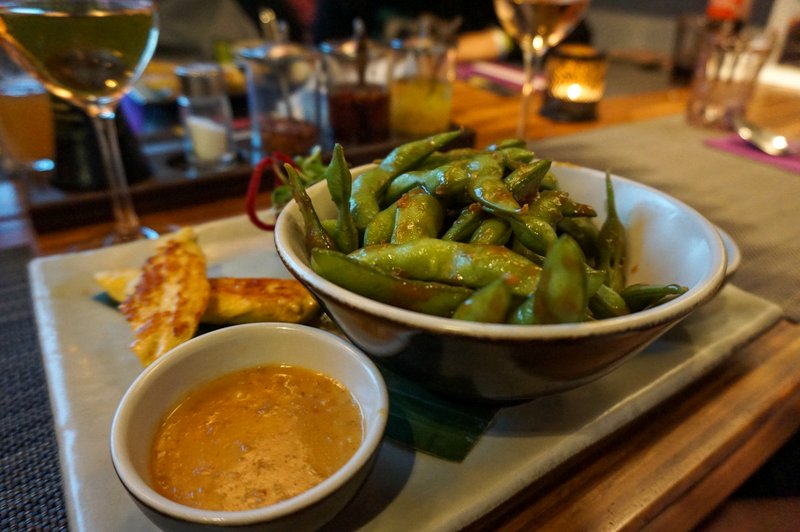 All restaurants are now required to have the 3G rule (i.e. healed, tested, vaccinated) by following government regulations regarding Covid-19, and certificates are checked upon entry to restaurants. You can book restaurant seats and/or takeaway food through the INSIDE LAAX app. The only downside to the local restaurants is their opening hours, which may be too short for most people – only until 9 pm.
What activities for children are offered at rocksresort Laax?
From the above, you have probably guessed that the rocksresort is suitable for families with children and offers a variety of interesting activities for them. Whether it's a trampoline, table tennis, badminton (equipment is free to rent), or a playground with a sandpit, slide, and swings. I probably don't need to point out that our kids absolutely loved the rocksresort PARK where they could ride on scooters (and if we didn't have to leave, they would still be there today 😀 ).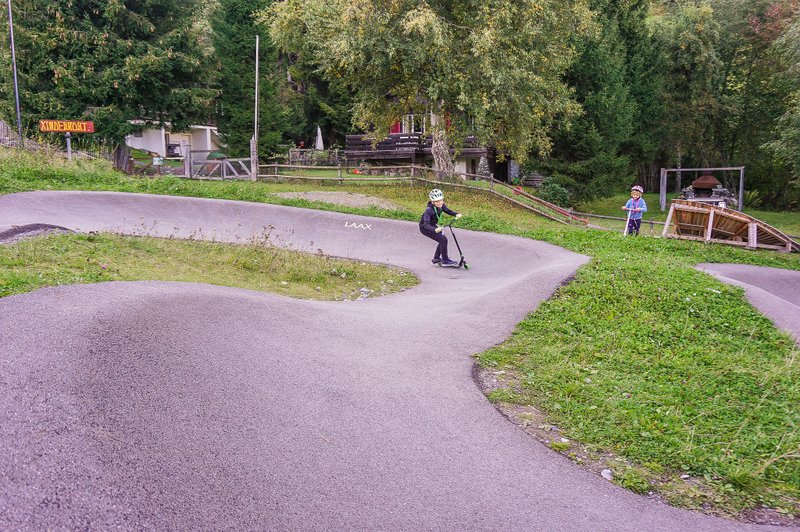 As an alternative in case of bad weather, there is the Freestyle Academy. Before you start jumping on the trampolines here, there is a compulsory introductory course with a coach who will show you what the arena has to offer and explain the principles of safety.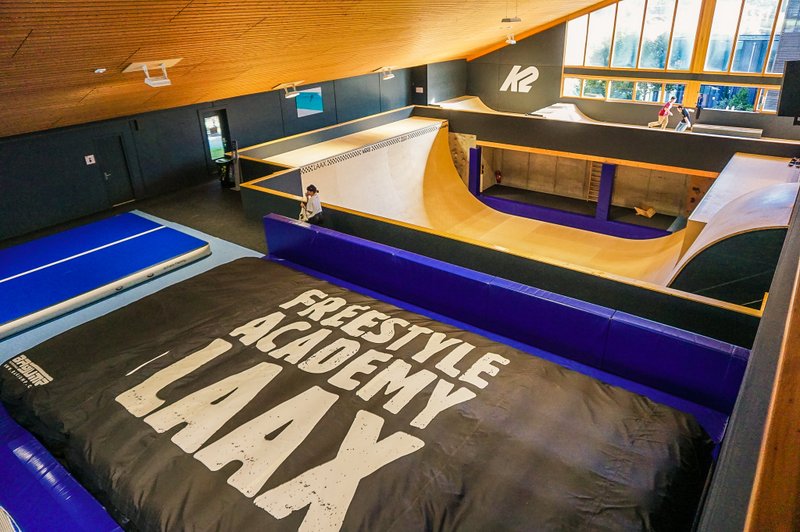 Senda dil Dragun is open from July 2021. At 1.56 kilometers long, it is the longest treetop trail in the world. It connects the two villages of Laax Murschetg and Laax Dorf (more about our visit here in this article).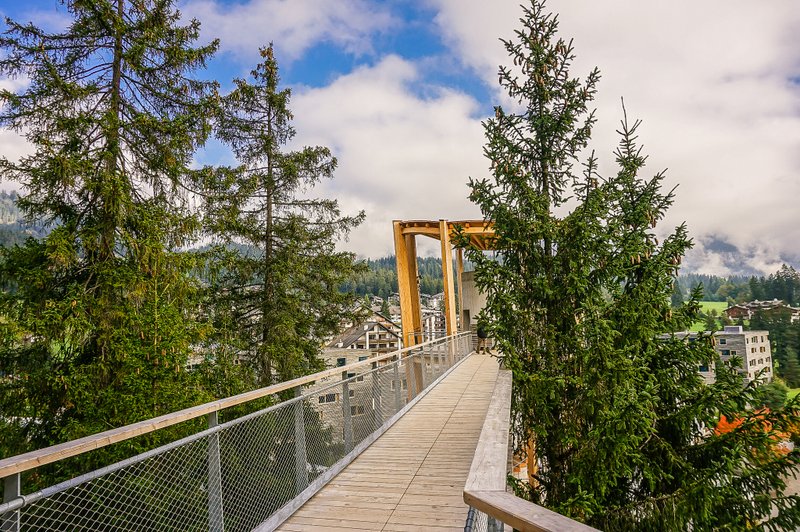 What activities can I do in the area?
The rocksresort is located directly at the LAAX valley station and offers direct access to winter and summer sports activities. It is a mecca for bikers in the summer and snowboarders in the winter. Of course, hiking enthusiasts will also find something to do here. We took the famous Trutg dil Flem trail – the "riverside path" that leads from the spring of the river Flem to the center of the village of Flims. The biggest attraction is the seven bridges that artfully span the mountain stream Flem and offer the best view of the beautiful water spectacle.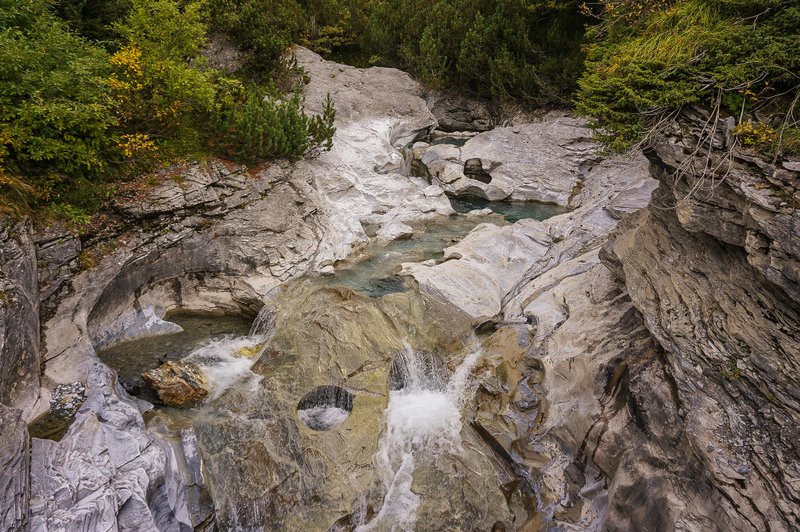 Another option is to visit the nearby Lake Caumasee and the Il Spir lookout tower, which offers views of the "Swiss Grand Canyon" – the Rheinschlucht valley.
Summary
Thanks to its combination of cozy apartments and excellent infrastructure, the rocksresort Laax is an excellent base for either a weekend break exploring the surrounding area or a winter skiing holiday.
We had a fantastic time, and it was really good to be able to enjoy something different than our "good old" canton Bern 🙂
If you'd like to follow in our footsteps, so to speak, rocksresort Laax has a ton of great offers and you can book your stay here. Enjoy!