London is an amazing European city that offers many interesting. But London is perhaps one of the most expensive cities in Europe, and maybe a lot of attractions can tend to drain your wallet. But on the other hand, there are many places that are for free and where your children will have fun. On the basis of our recent short stay, I would like to show you how you can enjoy two days in London with small children without unnecessary expense and stress. But do not expect a complete guide to all London attractions. Every family and every child is different, and everyone is interested in something else. This article can be taken as an inspiration for your next family trip.
Before you go
Before you set out, it's good to keep in mind the following points to avoid unnecessary stress and even sadness from unfulfilled expectations.
Involve your children in planning! When they are old enough and know a little about where you are going, you can ask them what they want to see and experience.
Try to fulfill their expectations, not yours! This point is closely related to the previous one. Even if you are a fan of architecture and museums, your children probably will not be interested in the Gothic Westminster Abbey or the Baroque St. Paul's Cathedral. London offers plenty of attractions for children, that even adults can enjoy.
The most important thing is meeting the needs of your children! This time, I mean mainly the physiological needs of your children – hunger, thirst, emptying and rest. You know what tired children can be! Keep in mind, even if the children have spent their entire London stay in a stroller, they'll get tired anyway. Because they have to absorb and process so many new sensations from a new environment and experience.
Be prepared for improvisation! Be flexible! Keep in mind that even if you have prepared the best itinerary, the moment can come when it will need to be flexibly changed.
Getting around London – a transportation guide
London is a city with an absolutely fantastic public transport network. Well, I admit that it takes a while for you to orientate in the tube map, but when you do it than anything else you find as a task for babies 🙂 London is divided into nine fare zones, with zones 1 and 2 being central London.
There are several ways to pay for transport. One of them is buying an individual ticket for £ 4.90. Distance doesn't matter. Whether you ride just one stop or the entire length of the route, you are charged one price.
However, if you plan to travel by public transport, consider buying a plastic smart card called Oyster card. This is probably the best way if you plan to use buses and tube often when you are getting around London. It can be bought at tube stations in vending machines, train stops or visitor centers. You charge it for a certain amount, and when you spend the maximum fare (£8) per day, you no longer pay (so-called capping). If you do not want to waste your time buying the Oyster card on site, you can order Visitor Oyster Card online, which will be delivered by post. It is important to note that, except for £5 as a deposit for the card itself, you still pay for postage. On the other hand, there are discounts on some attractions, galleries, restaurants, etc.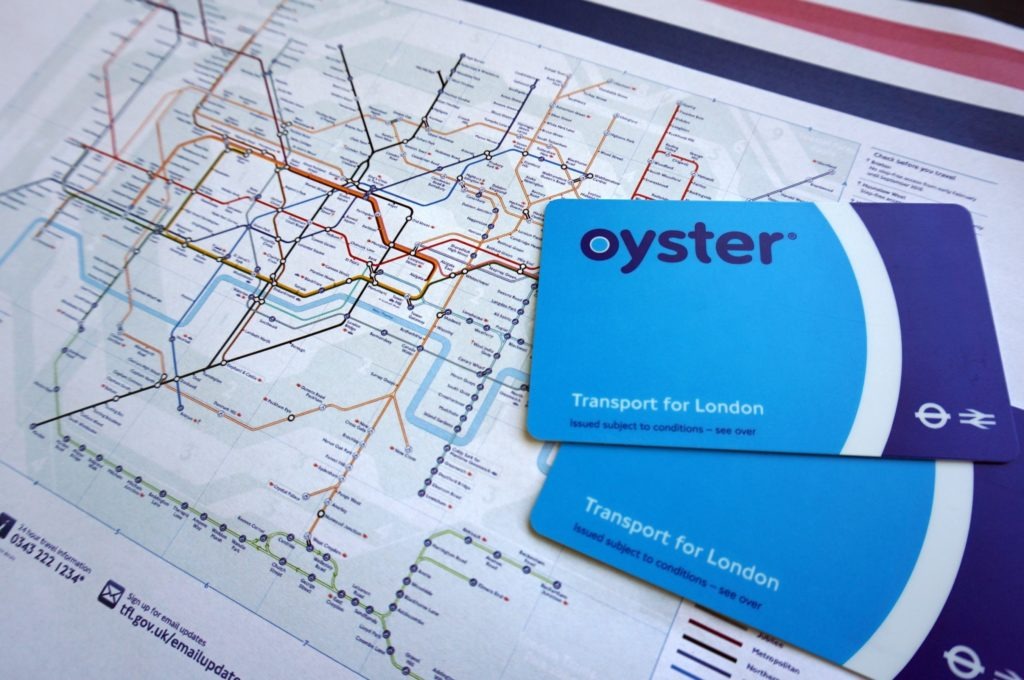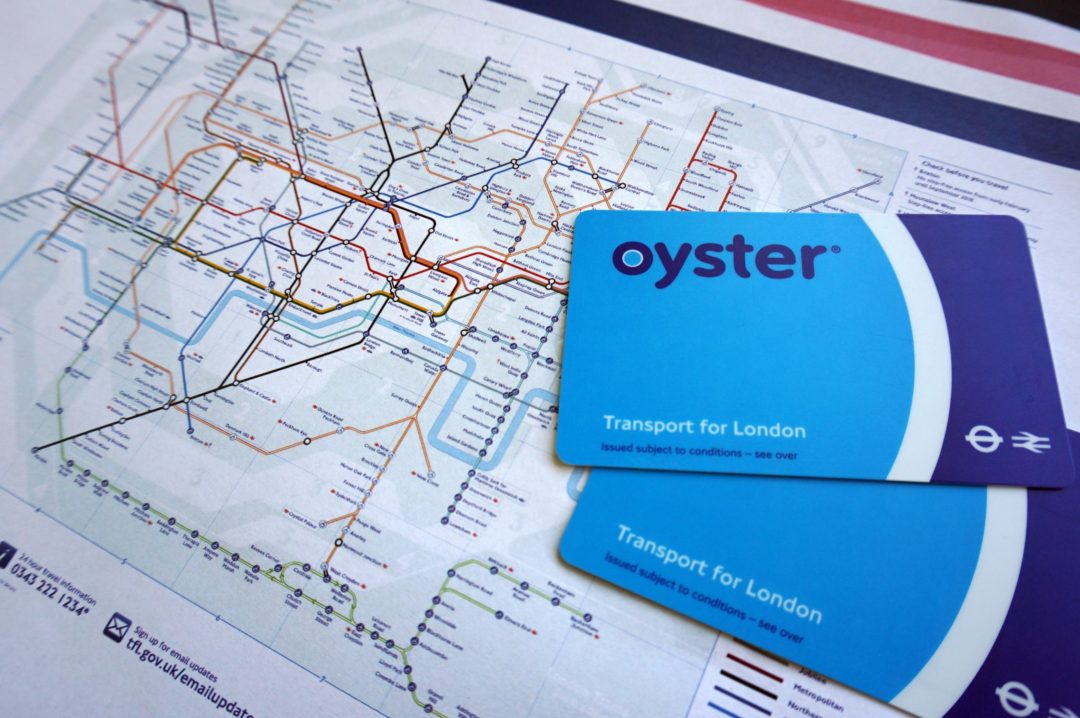 You can pay for a ticket in the metro even with your own contactless payment card. The same applies to it as for Oyster Card, ie. after spending your daily fare you will not be charged extra. The total cost of all the journeys that you make in one day is calculated at the end of each day and a single charge is made to your card account. If you charged your Oyster card for more pounds than you really spent, you will get the rest of the money back. In cash from the vending machine where the cards are sold or you can have them sent to your account (you can check in the visitor center).
The children under the age of 11 can travel for free on London's public transport if in the company of an adult holding a valid Oyster card.
Caution! If you do not want to be crushed with your children alive, try to avoid the tube during the morning peak (about 9:30 am). Believe me, I know what I'm talking about!
At the tube stations, there are wider turnstiles just for travelers with strollers or large luggage!
What to see
We wanted this to be a dream trip for our children. So before the trip, we asked them (so only the older two) what they want to see (remember the introduction of this post? 😉 ). Then the main pillars of our itinerary were clear: the Tower Bridge and the football stadium. Of course, I also asked my husband what is his idea of our trip. He said that if the weather was favorable to our trip, he didn´t want to spend time in museums (and there are lots of great museums for kids in London!). His wish was also heard! 🙂
In addition to visiting the Tower Bridge and the football stadium (well, you know, it's just a must-see item in our family 🙂 ), of course, I had a long list of places I wanted to visit. But due to the limited time, we had to narrow our schedule down. However, we did our best to fit in as many great London attractions as possible in that short time. How did we succeed?
We decided to use the Hop-on Hop-off bus the first day. In London, there are several companies running these open-decked sightseeing buses where you can hear the places where you are passing through the audio-guide. The bus has several lines, and you can use any of them to get where you need it.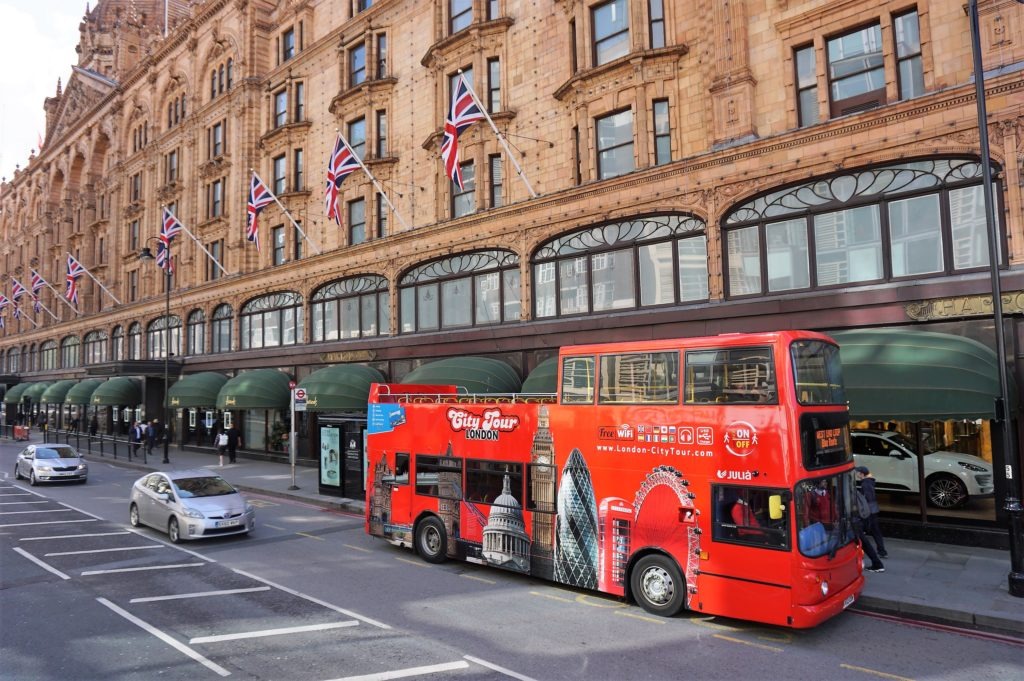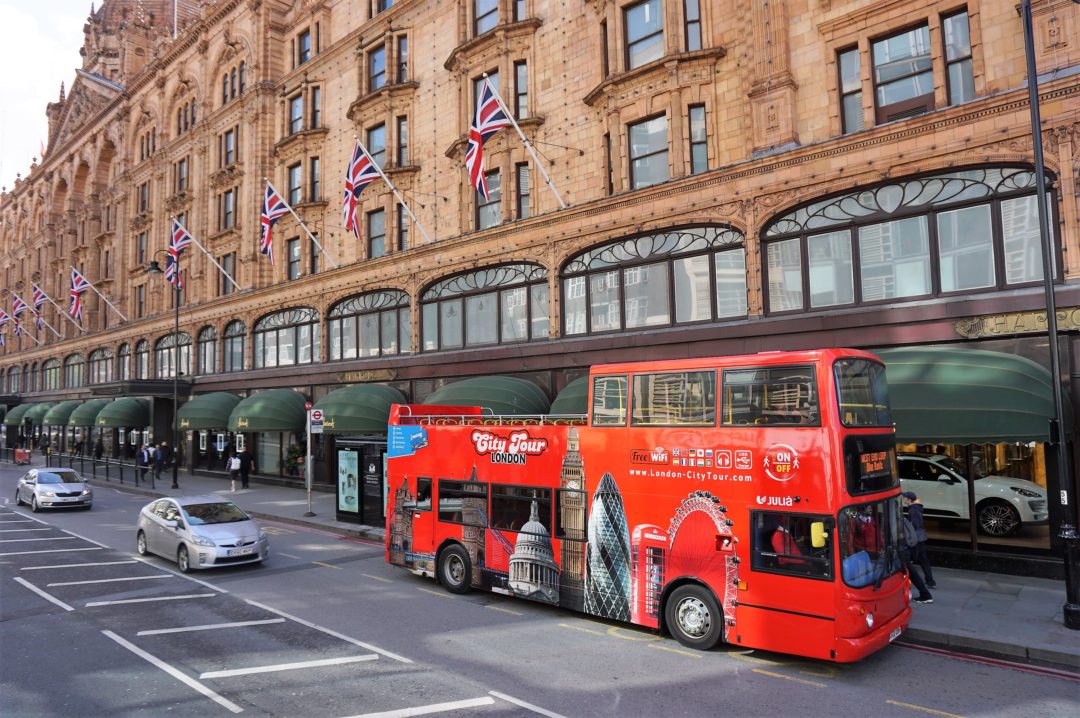 We paid £ 74 for a family ticket with Golden Tours. Children were excited about this experience. So we got from Chelsea to Tower, we crossed the desired Tower Bridge, and then we walked on foot.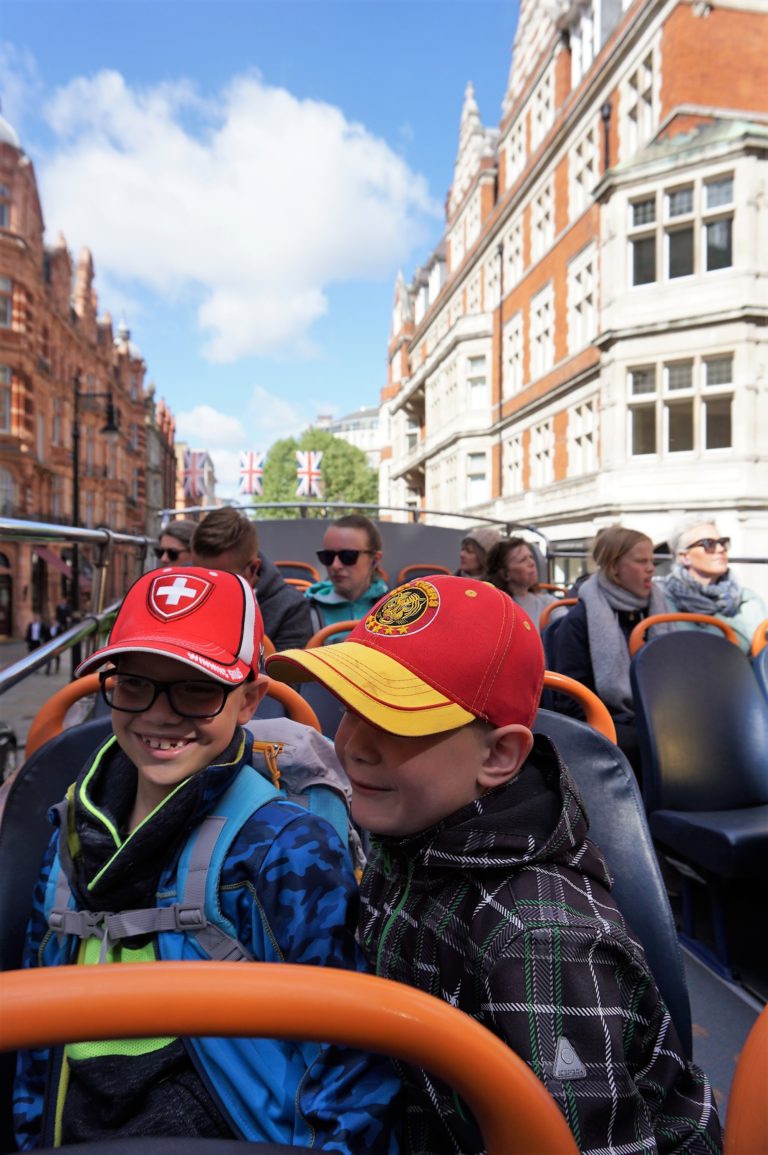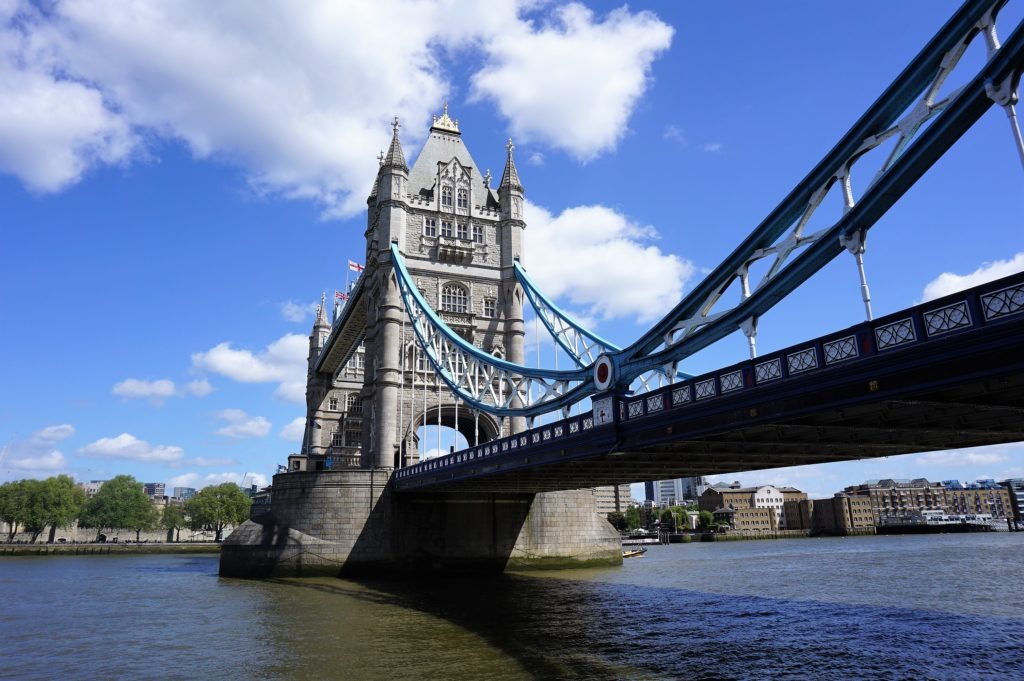 The main attraction of this day was the famous CocaCola London Eye. First, we had to queue for the ticket (here we used a 50% discount coupon 2for1 – see below!), then for the attraction itself. But it took not even 45 minutes. Next to the London Eye, there is a nice playground that is free, so here you can spend the time when your dear half is waiting in the ticket queue. In the capsule, there are photo zones where you can stand and when landing you can pose for a big camera located outdoors. But since then they want to charge £20 (!!!) for this photo, rather ask some of the co-travelers to make a photo of you. The ticket price also includes entry to 4D adventure. I definitely recommend it! But also here they will want to take photos of you and your family with the London Eye in the background (one for £20, two for £25!).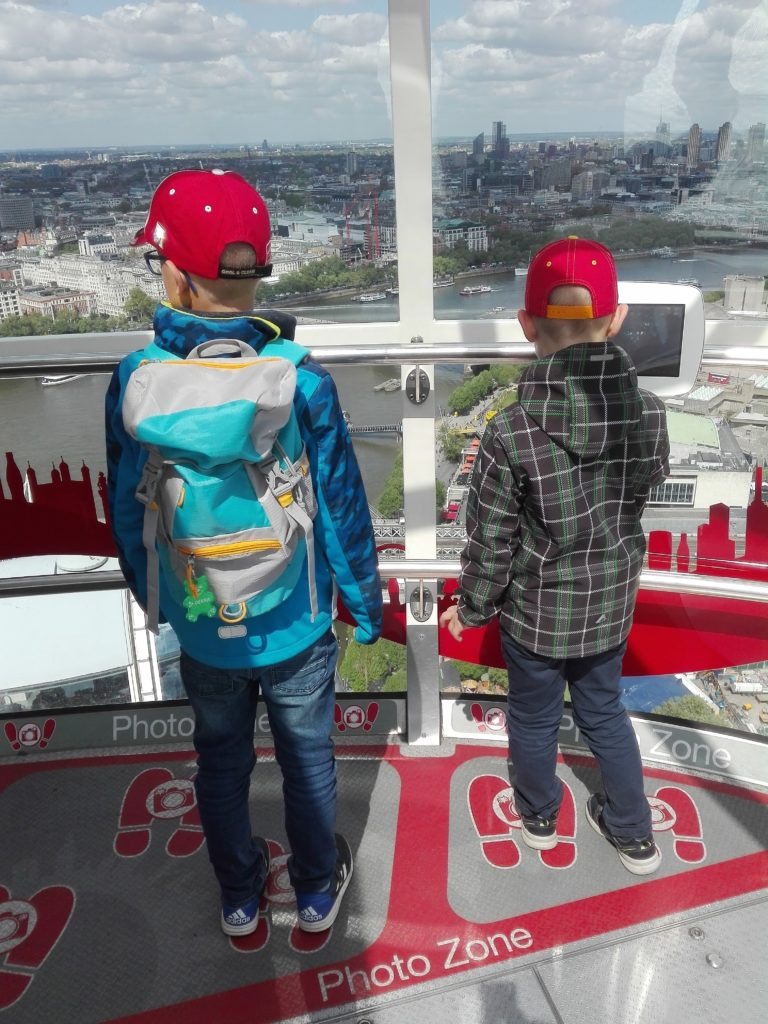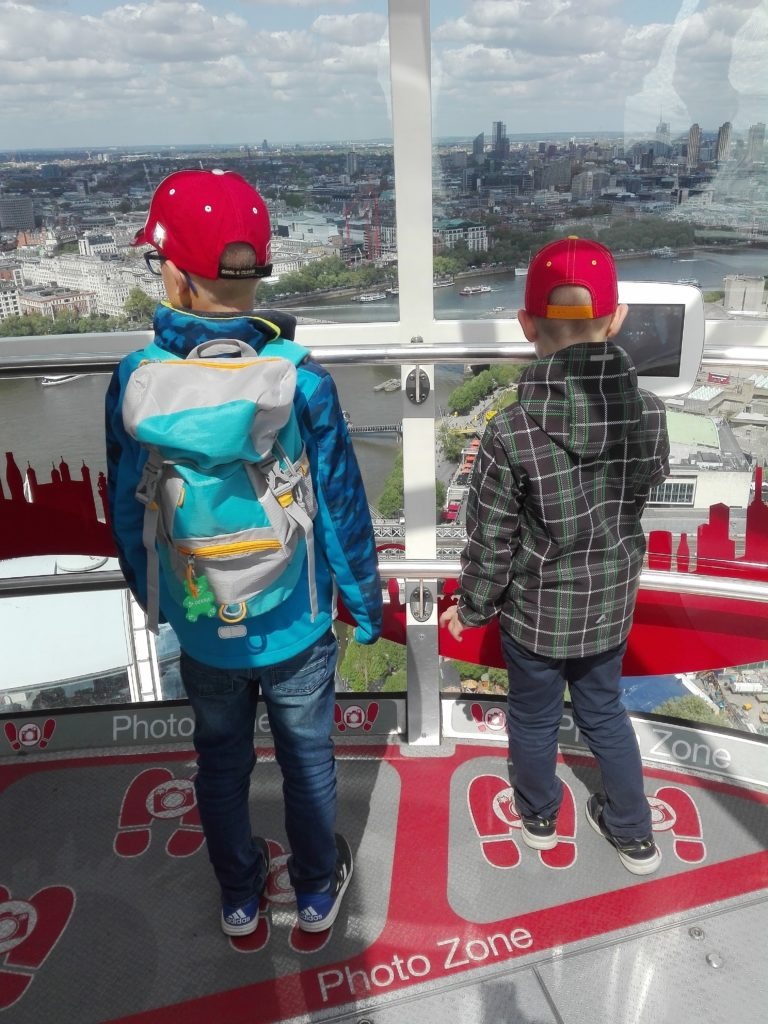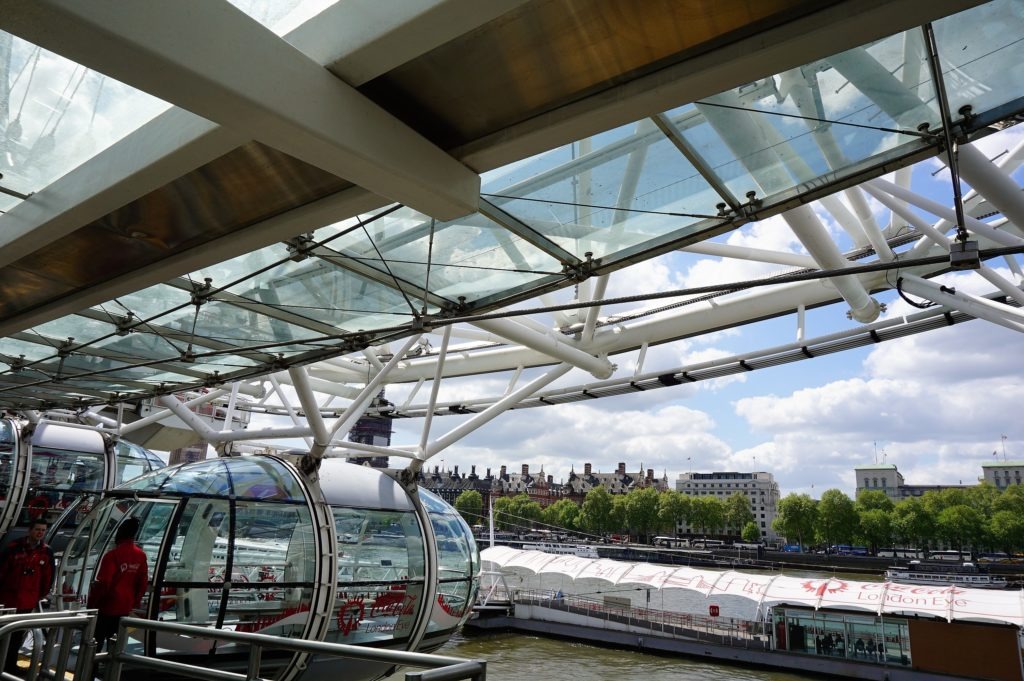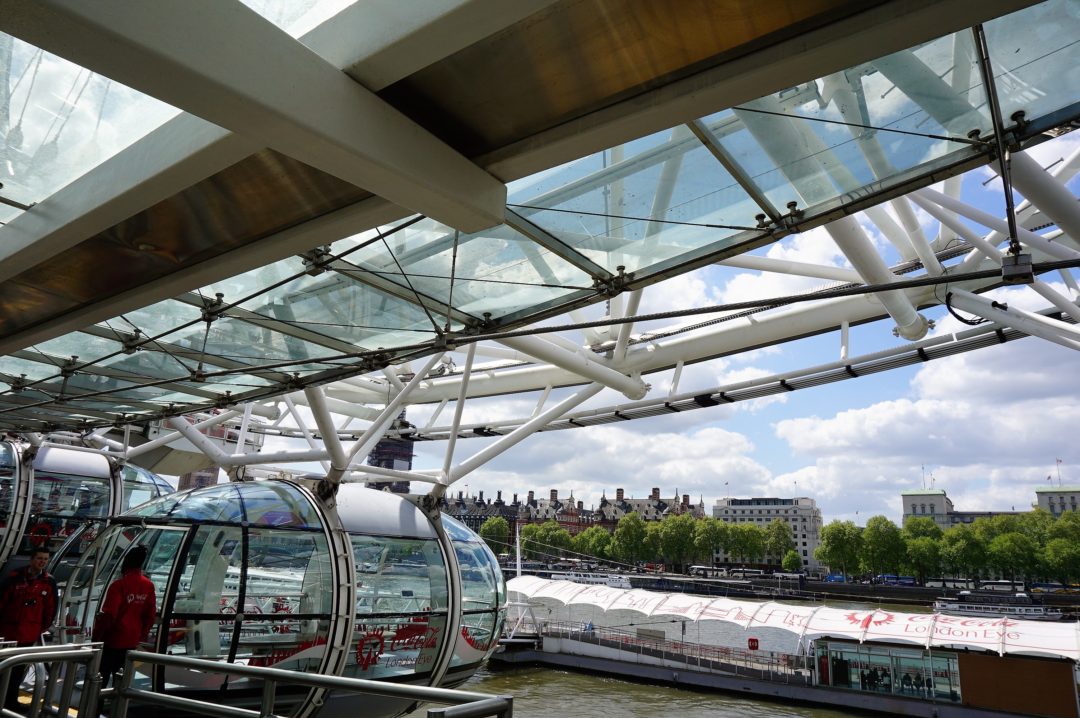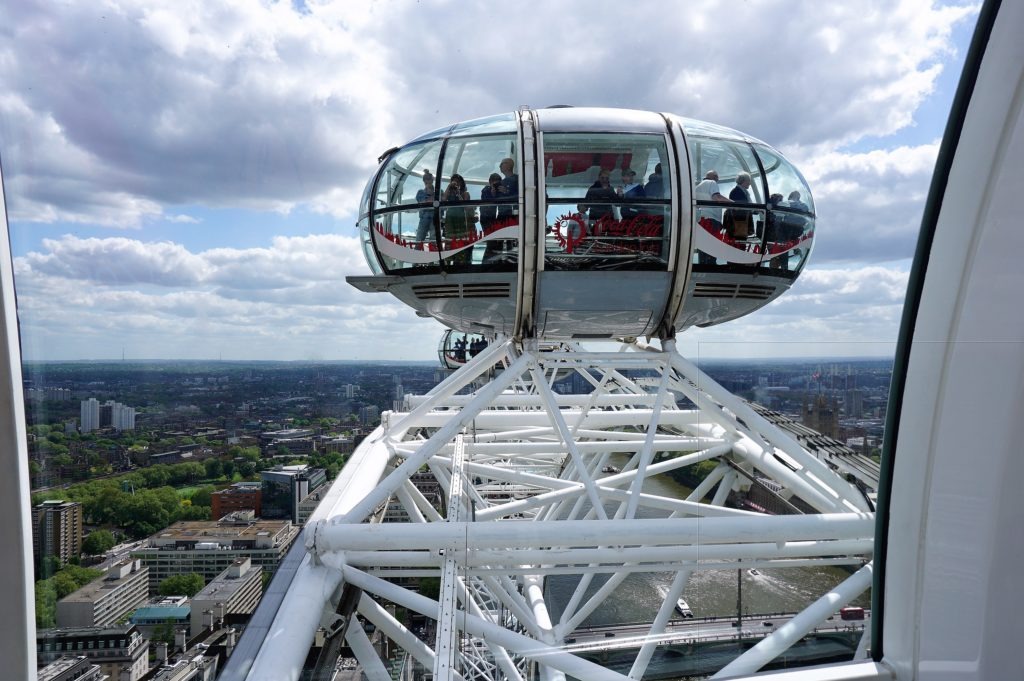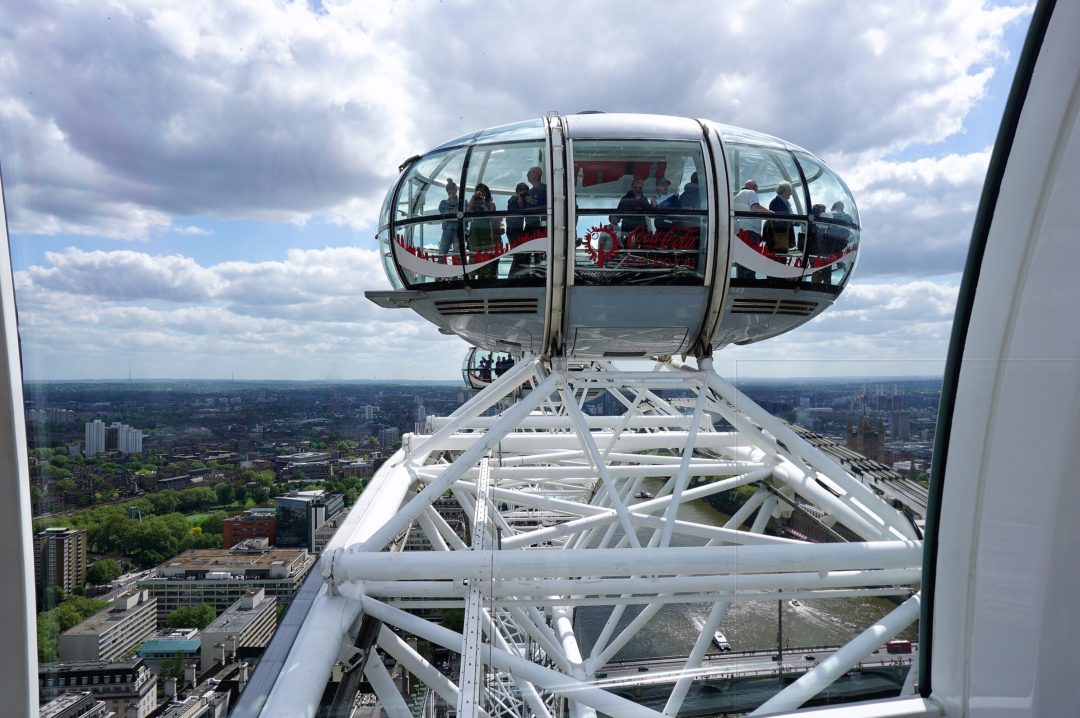 The next day, we went to the north of central London to visit the football stadium. In London, there are stadiums of well-known clubs (plus the National Football Stadium in Wembley), but by common vote, we chose the stadium where the famous Arsenal plays – the Emirates Stadium (more in the separate post).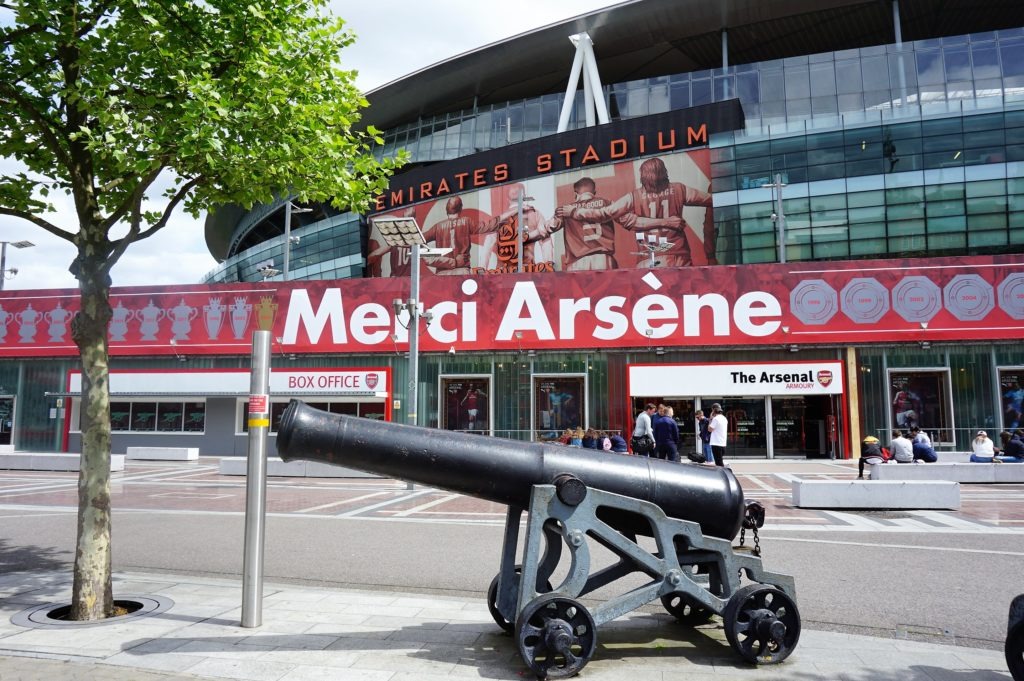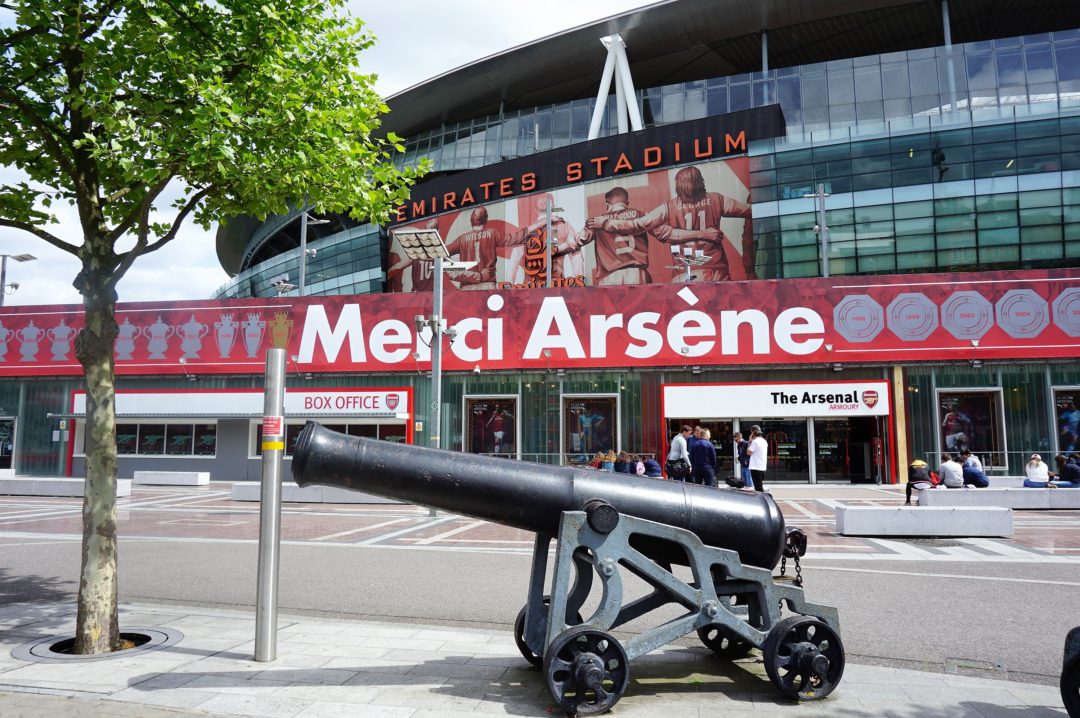 After the Arsenal stadium and the museum tours, we headed for Covent Garden. On the former flower market, the children will surely enjoy watching the performances of street artists who perform acrobat or magician's tricks or pose as live sculptures.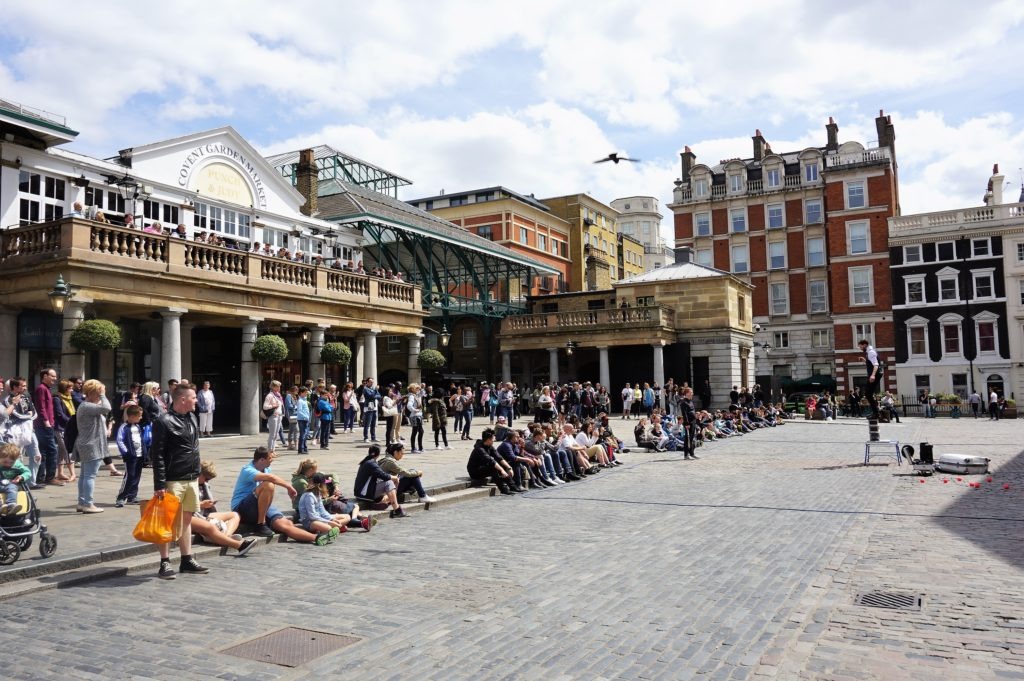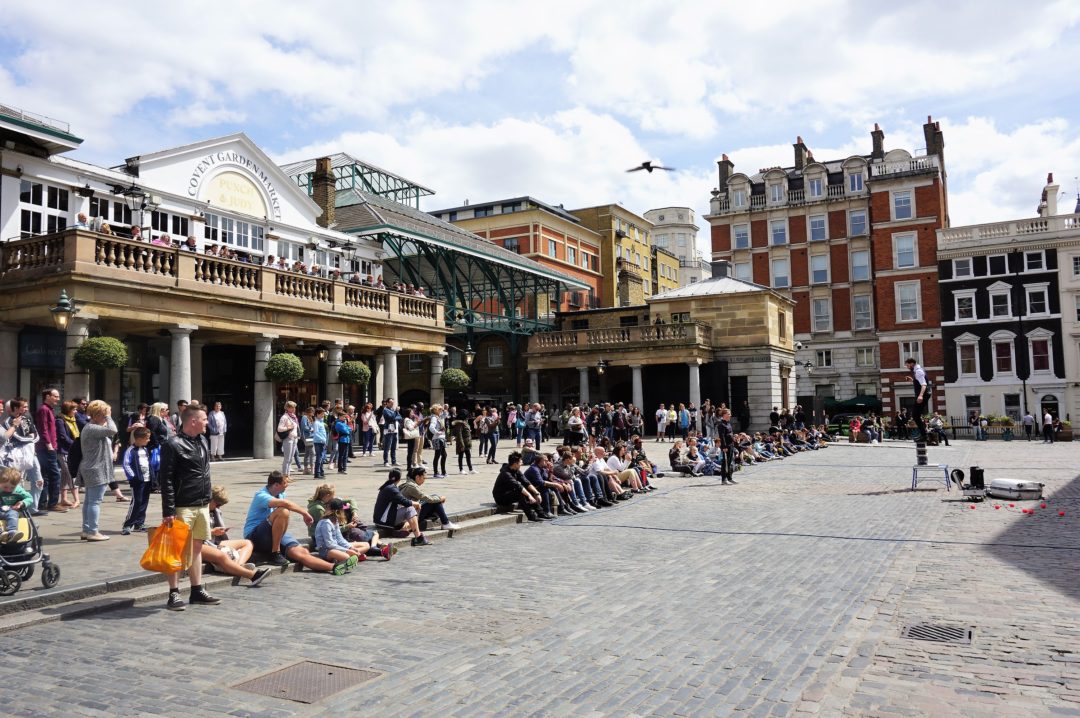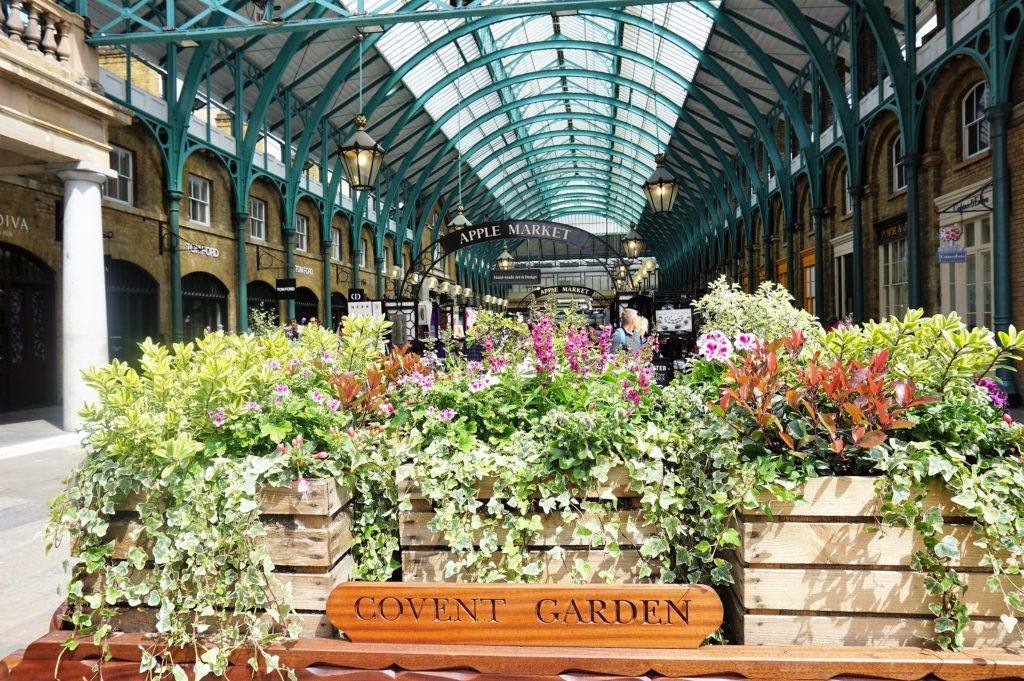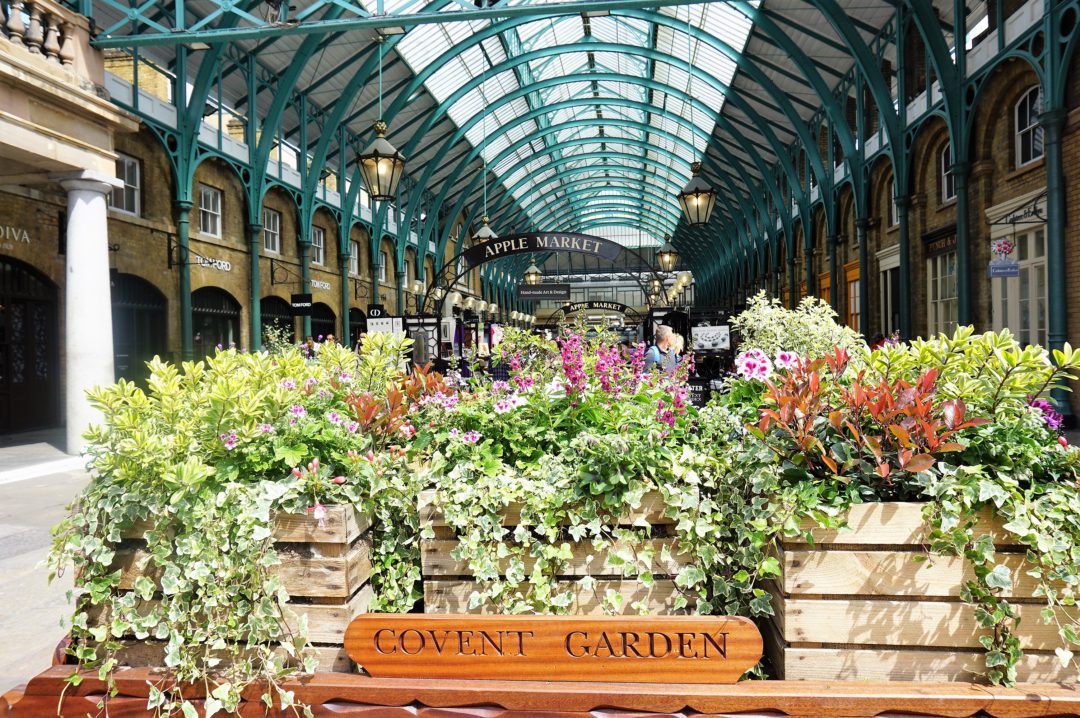 From here we walked to Leicester Square (other street artists) from where we got through Chinatown to the famous Picadilly Circus.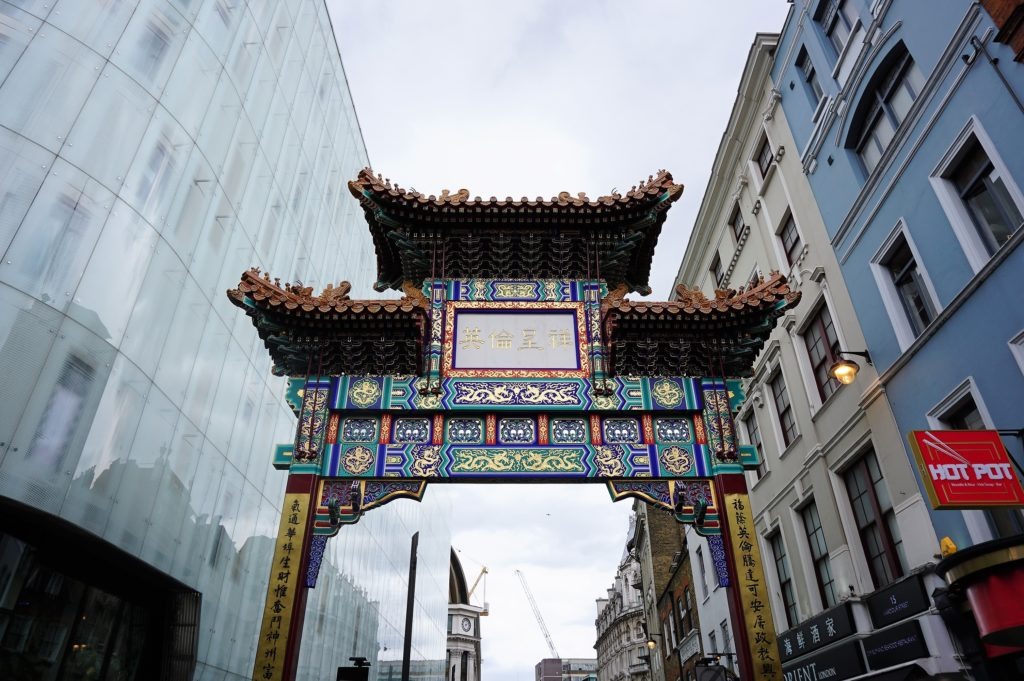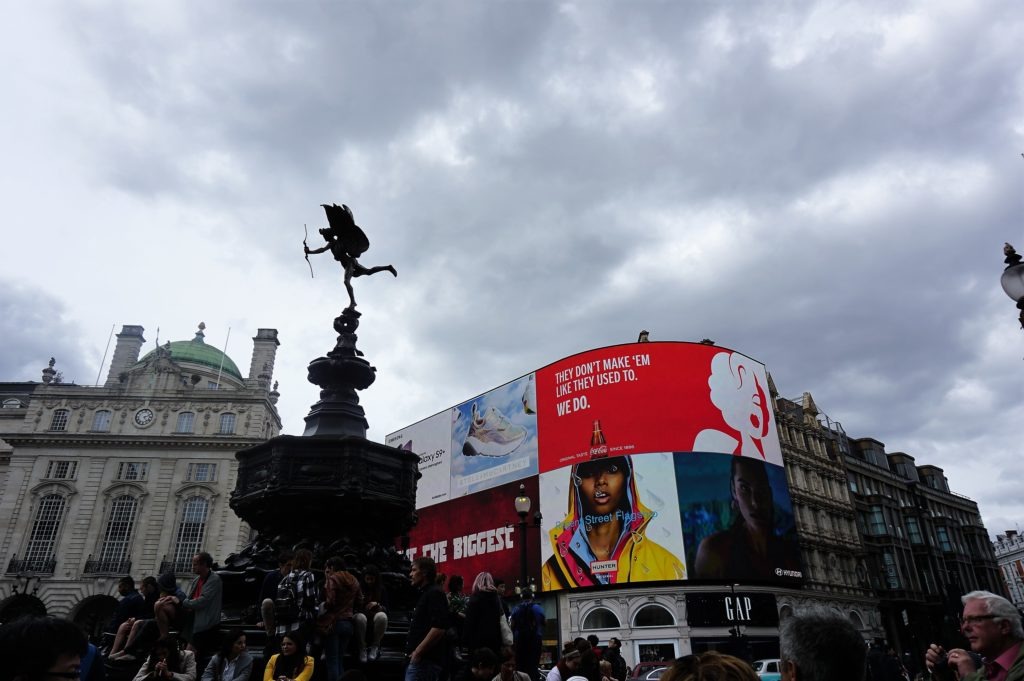 We were lucky that London's main streets were decorated with the British national flags (Union Jack) in preparation for Prince Harry's upcoming royal wedding. We scrolled through the decorated Regent Street. I would like to tell you to take your children to Hamleys – the world's largest toy shop – but if you want to keep your sanity (and the remaining contents of your wallet) don´t do that!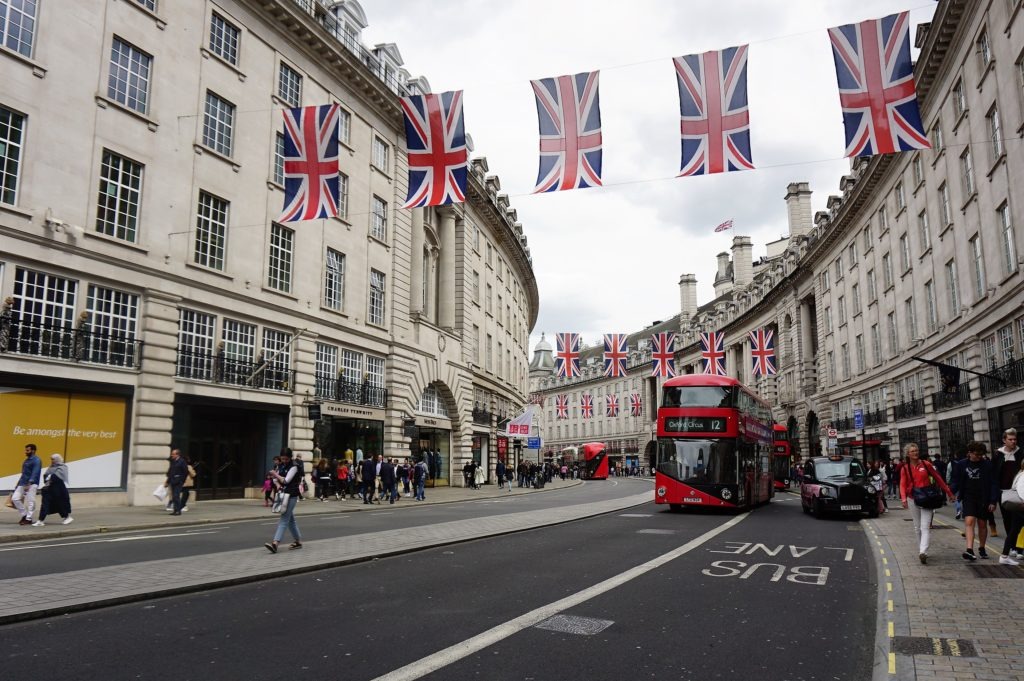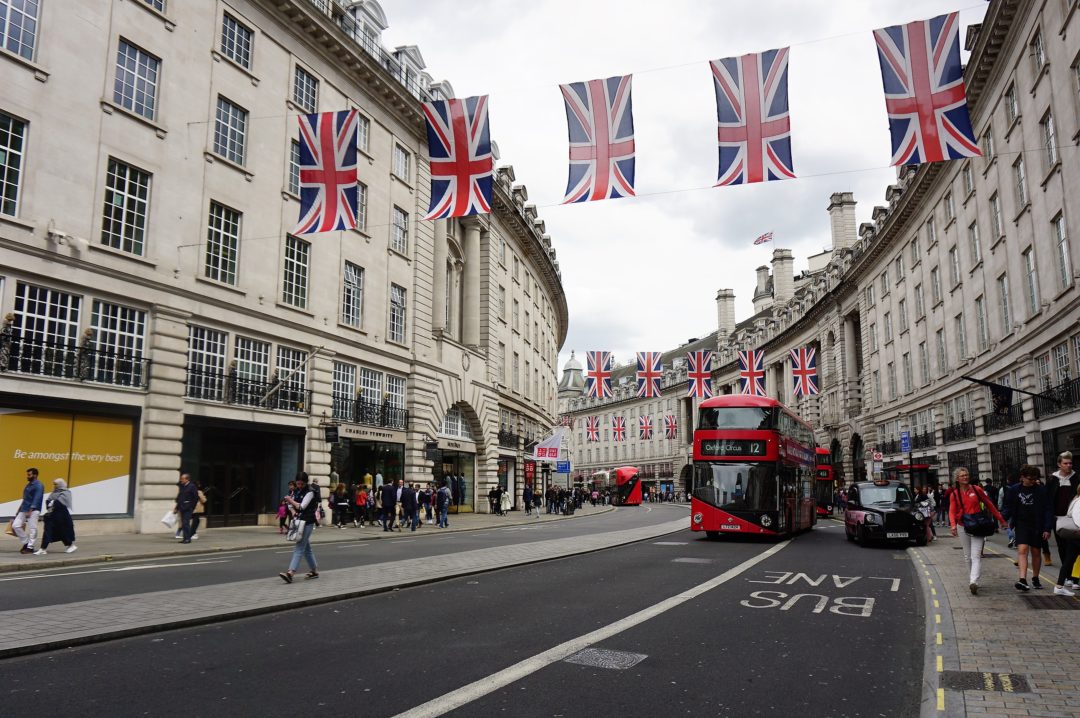 The end of the day we spent at Diana Memorial Playground in Kensington Gardens (free entrance). From here we went to Diana, Princess of Wales Memorial Fountain. Which, in good weather, can be a delight for children because they can splash in the water here.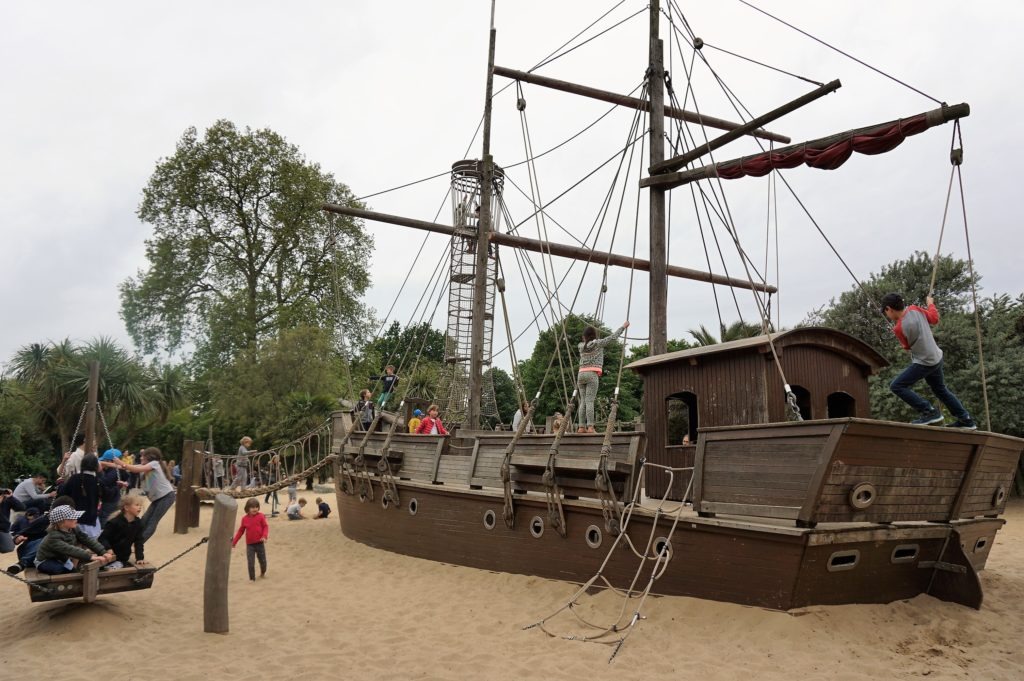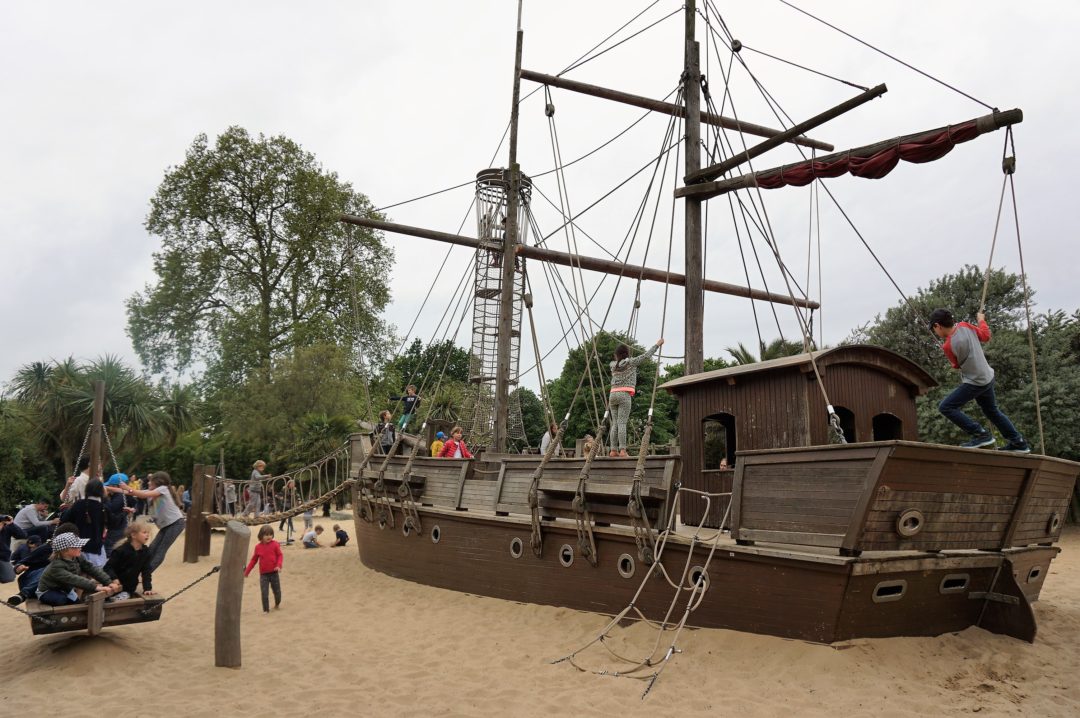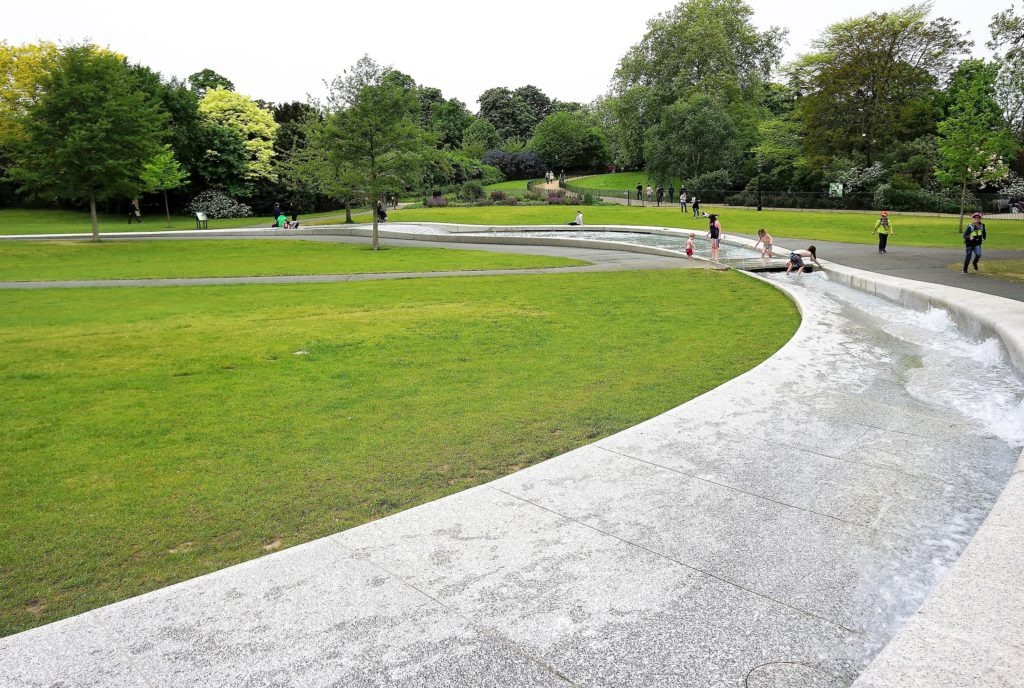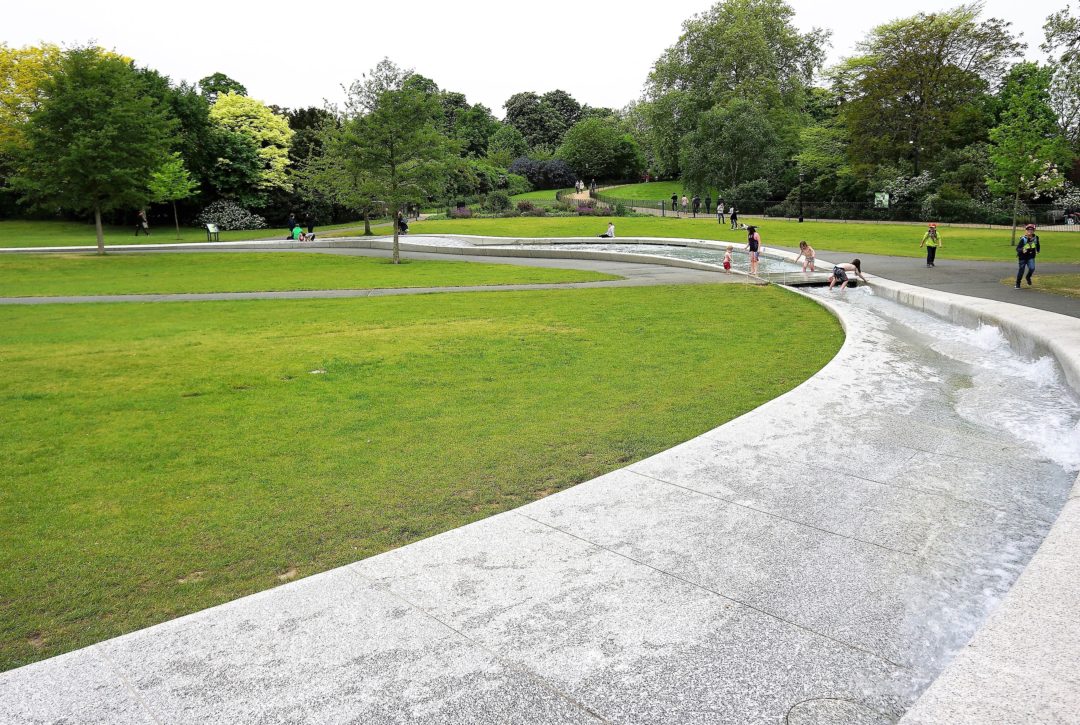 And maybe I don´t have to mention that the real experience for children was riding in a double-decker when they managed to catch the front seats 🙂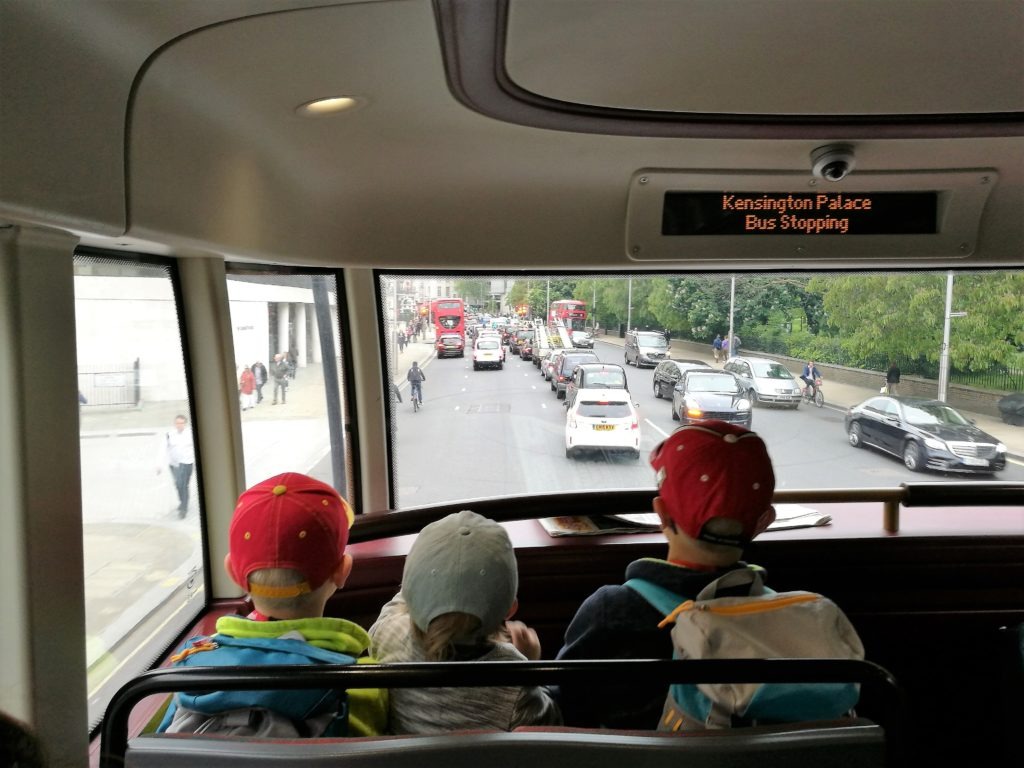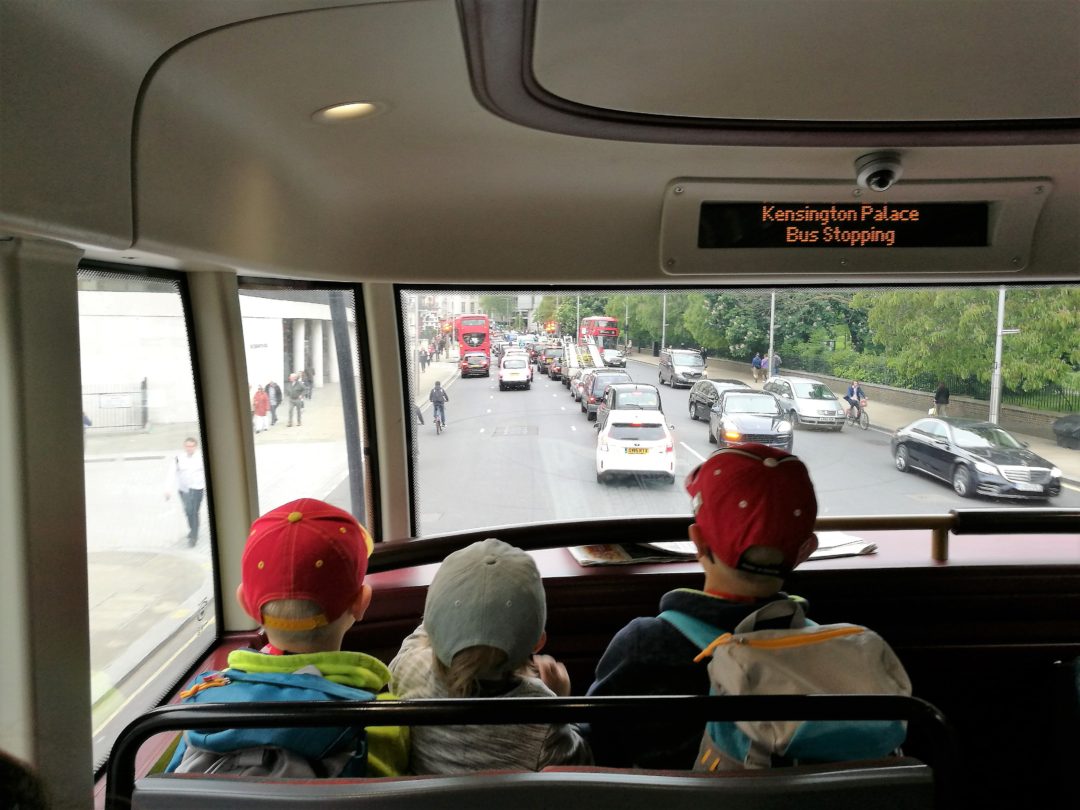 As I have written, there are plenty of museums for children in London. What was our Plan B for unfavorable weather?
Science Museum – although we didn´t visit it, we drove by bus around Saturday morning before the opening hours. I haven´t seen such a queue of people. So if you want to visit it, I recommend getting up early.
Shrek's Adventure – for fans of the green ogre
Sea Life London Aquarium
London Transport Museum – close to Covent Garden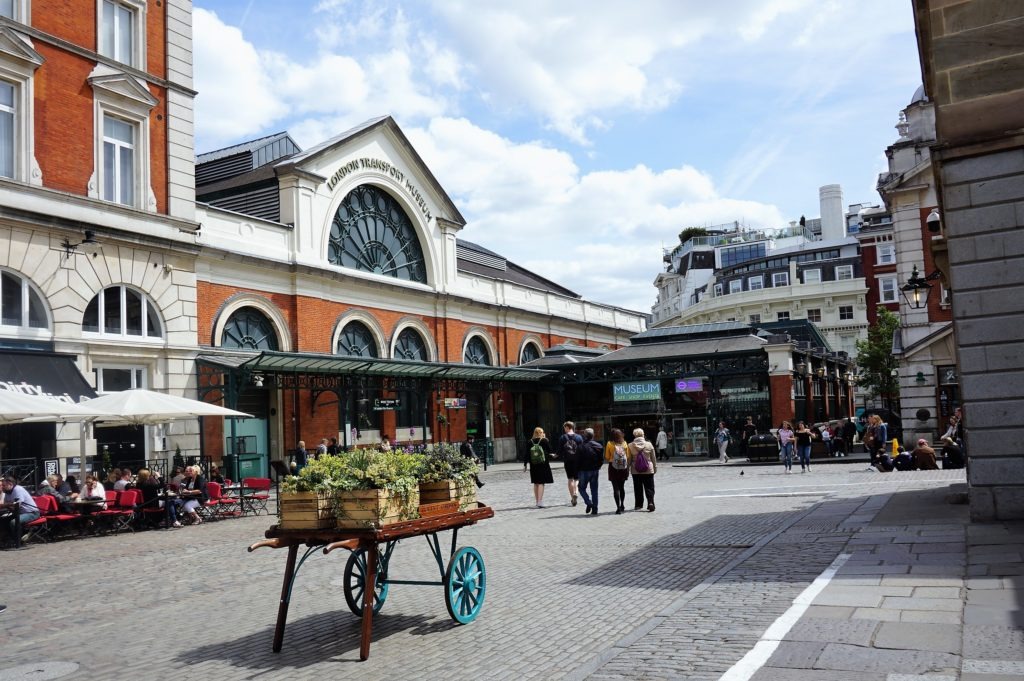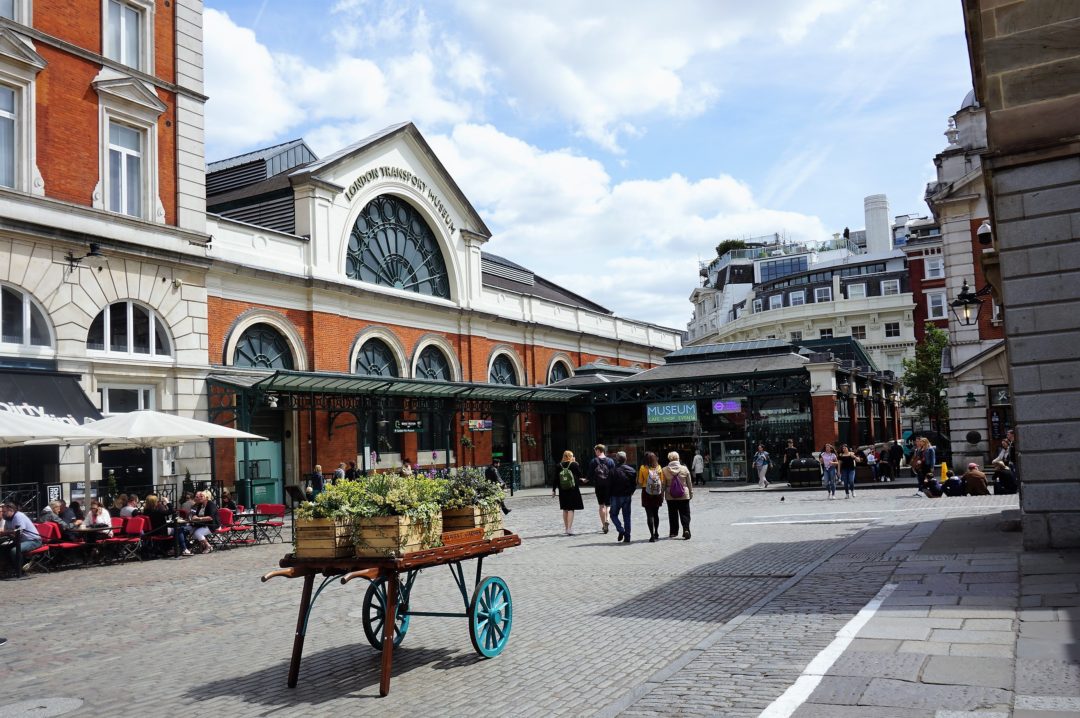 London on a budget – my tips how to save
As I mentioned earlier, London is a pretty expensive destination. In the following paragraphs, I will show you where we have managed to save some money.
Getting to/from London
We saved money by booking the flight tickets for almost half a year in advance at a low-cost airline. We knew what time we wanted to fly and so we were looking. Eventually, the return tickets for all family members (yes, even our youngest had to pay for the seat), went up to less €220. One-fifth of total spending.
Accommodation
Here we definitely saved something by not choosing a hotel in the very central part of London but in the Royal Borough of Kensington & Chelsea, close to Earls Court and Gloucester Road tube stations (via Booking.com). We decided to stay with breakfast only. But even three nights in the hotel made half the cost of our trip.
Food
We have brought snacks for children and us from home. We then continuously stock on our supplies in local food chains (Tesco, Sainsbury's, etc.). Food prices here are not dizzyingly high, plus you can combine a "lunch menu" at a great price. Of course, a local pub and traditional fish & chips could not be missed (but of course, also McDonald's :D).
Attractions
Almost at every tube station, stands or hotels you can find brochures with maps of attractions or restaurants where you can get a discount (like the above-mentioned Visitor Oyster Card). However, this is generally a 20% discount.
You can also buy the London Pass (available for 1 to 6 days for £69 and £144 respectively) but I would recommend buying only if you are sure you want to see all the top attractions.
We took advantage of the 2for1 discounts from the National Rail brochure (much more profitable for us). You will find them at train stations. If you are traveling with the National Rail (including Stansted Express from which we were going to the airport), simply fill in the coupon on the back of the brochure (of course there are a few to get discounts for more attractions) and show it together with a train ticket at the ticket office.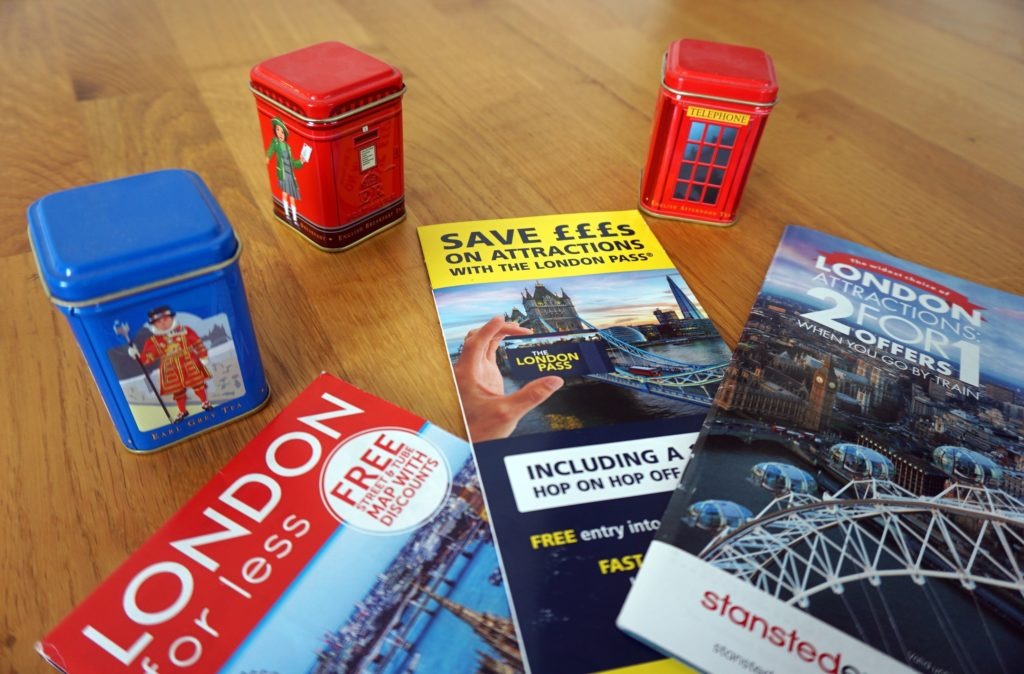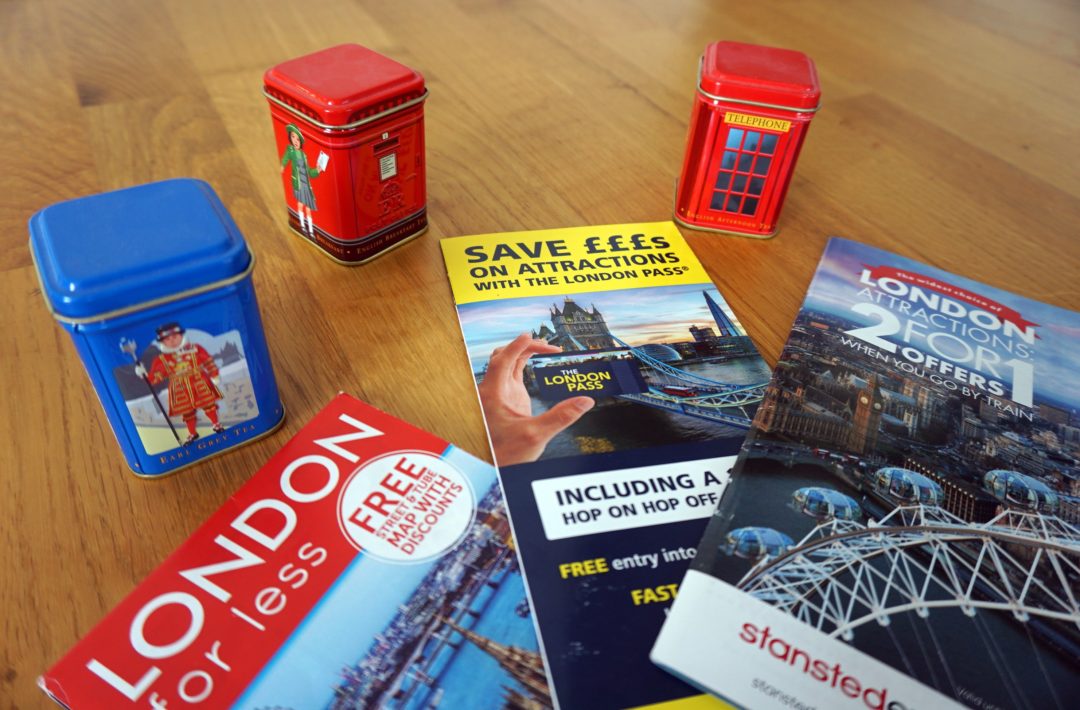 I think we enjoyed a lot of unforgettable moments and the kids had a lot of fun. If you need more inspiration, these travel guides for kids might help you as well*:
[amazon_link asins='1910994103,0241306531,1760342270,0789452499,0811864510′ template='ProductGrid' store='adinajustina-21′ marketplace='DE' link_id='cb740d57-636f-11e8-8f29-5ddb1f4e560f']
I hope that you got a lot of useful information in my guide to help you plan your trip. Or are you already experienced how to handle city tourism with children? Share your tips with others! And do not forget to save this picture on Pinterest 🙂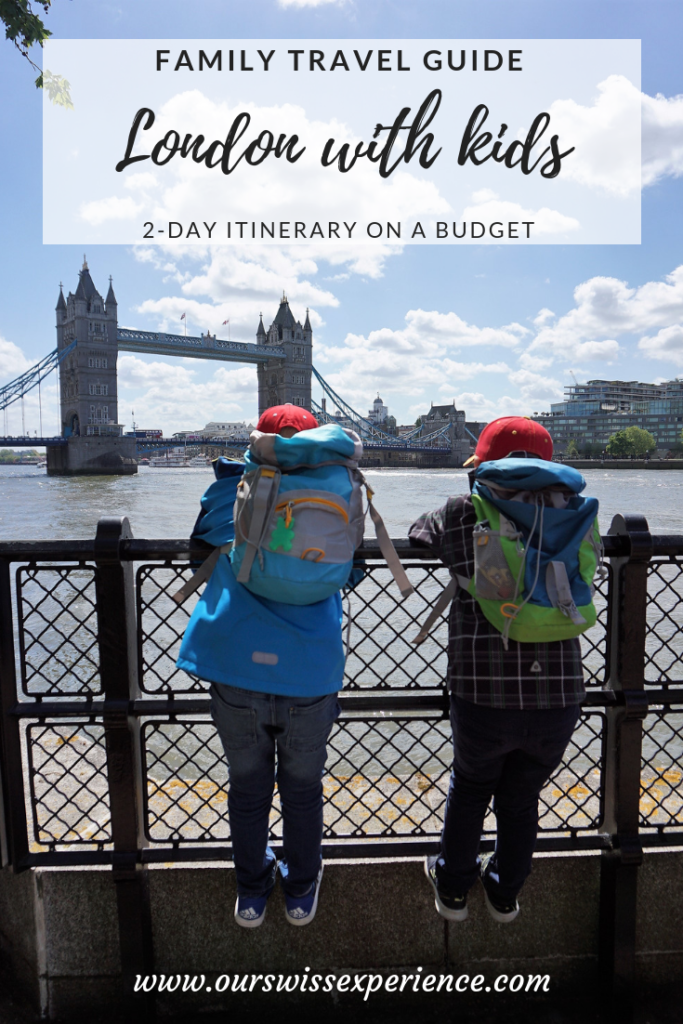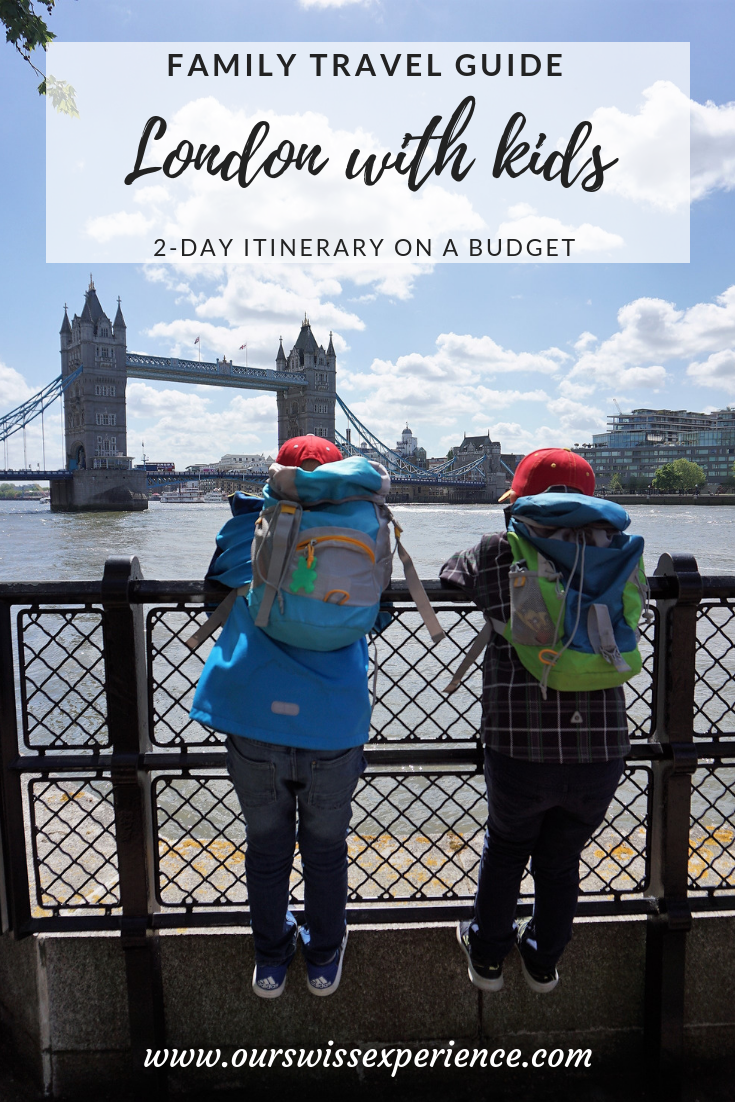 If you don´t want to miss any of my recent posts please sign up for my blog in the top right-hand corner of this page. Thank you. Be sure to follow me on Facebook, Pinterest, and Instagram. And of course, I look forward to reading all your comments.
*This blog is a participant in the Amazon Affiliate program. If you purchase from Amazon using one of these links I may make a small commission at no additional charge to you! I don't ever link to items I don't actually recommend!