The more people know that we like* hiking, the more great tips I get. Last time it was a hike from Hasle to Sumiswald in the Emmental, now I´ve got a tip for hiking around the former sandstone quarries in nearby Krauchthal.
* you understand that "like" is a certain euphemism especially among younger members of our family. It has been almost impossible lately to motivate them for the hike without having millions of stupid arguments why they don't want to go. And it is where we are now. I would be lying if I said I was happy about the current status quo. But as a mother, I can't just tell them: "OK, stay at home, play on PlayStation, watch Youtube videos, I don't care, I'm leaving, bye!" (I mean, I guess I could, but it wouldn't help much from the educational point of view, right?) Well, let's move on …
Arrival
Krauchthal is located about 15 kilometers northeast of Bern. By car, you are here in 25 minutes, by public transport too (train S7 to Bolligen, from here bus 451 to Krauchthal – stop Krauchthal Post).
Sandstein Lehrpfad – Sandstone nature trail
The "Sandstone Nature Trail" leads through four abandoned quarries around Krauchthal, where sandstone has been mined since the Middle Ages. You can find information on local geology, transport, and processing of sandstone on the information boards along with information on construction or crafts related to sandstone mining.
It is important to know (what we have overlooked) that the Chrüzflue lookout is NOT on the nature trail!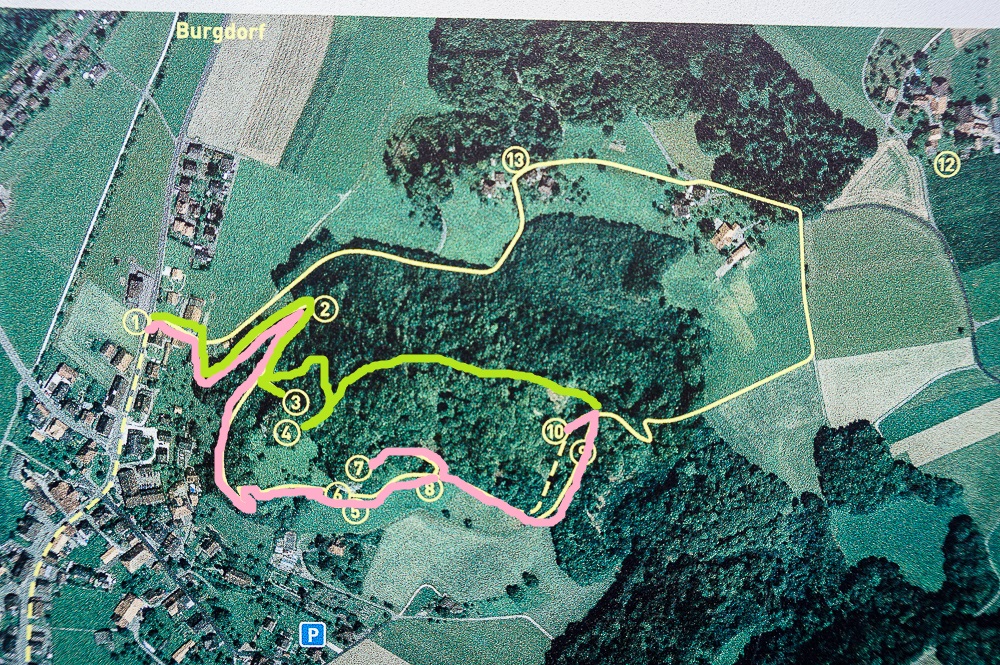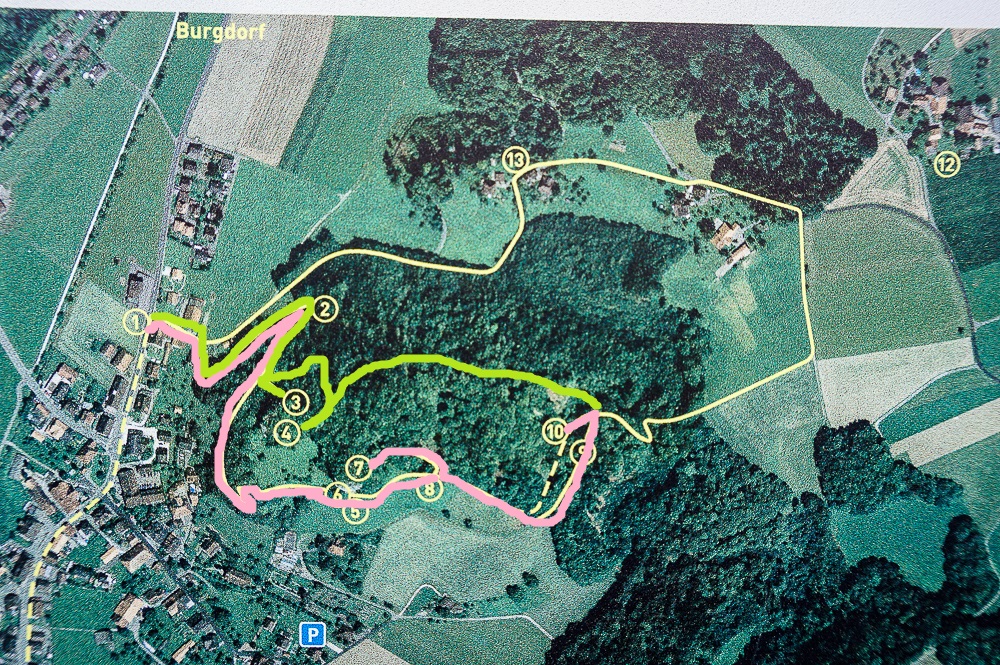 Trail
We parked the car in front of the local Gemeinde (further parking is available by the Hirschen restaurant) and set off on the signs along Oberburgstrasse in the direction of Burgdorf. After a few tens of meters, we turned right onto Dieterwaldstrasse and continued following the signs.
Through the pasture, where we met a herd of sheep, we continued to the forest.
Then the path led to the left and we climbed the rocky stairs.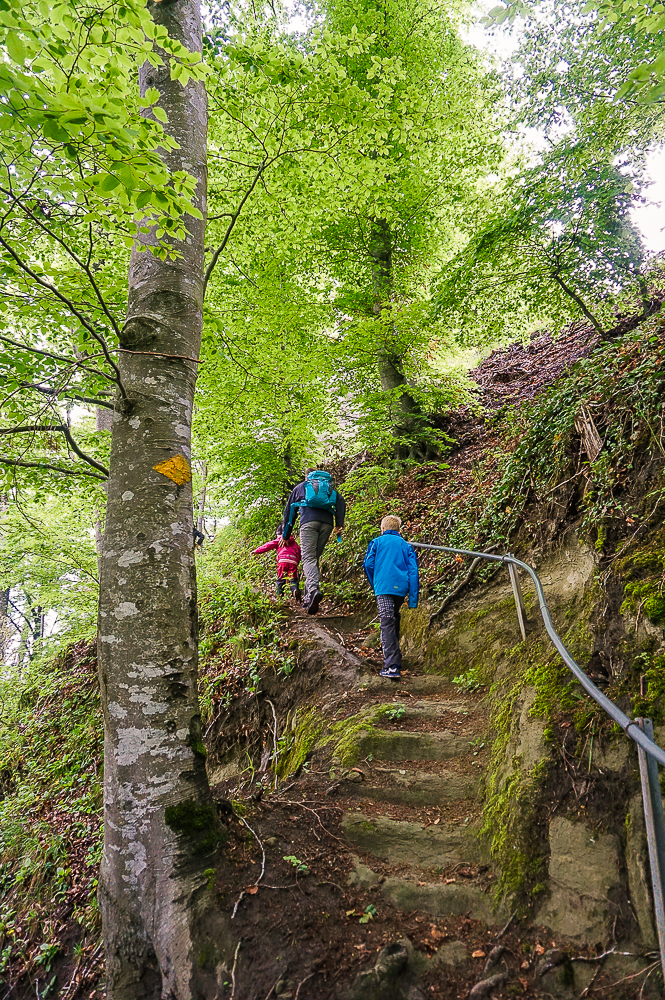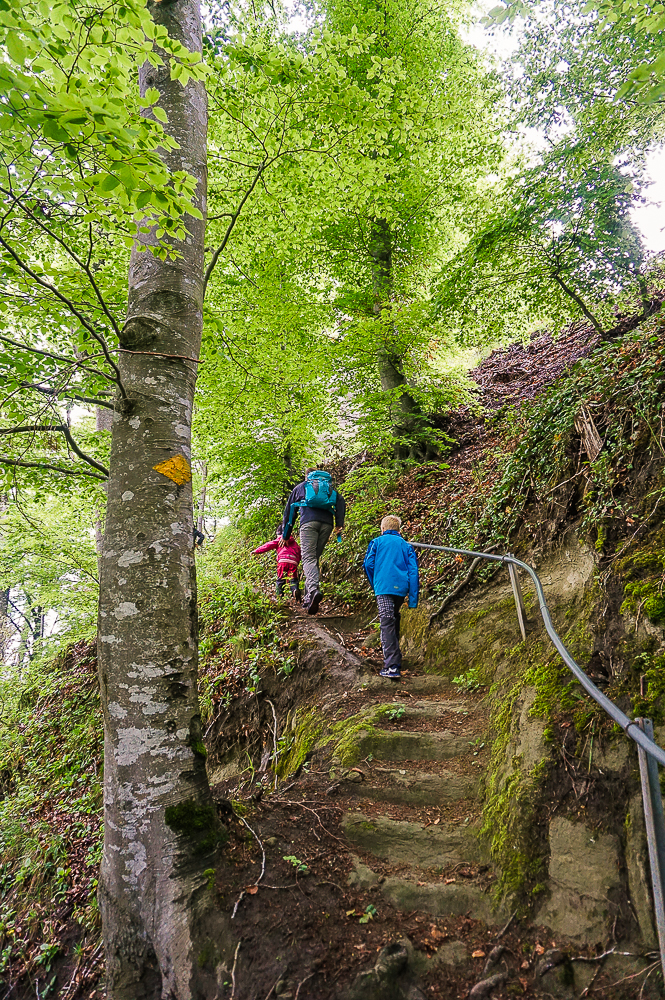 Now, look out! If you want to go straight to the lookout point Chrüzflue, turn left at this point where you go up the stairs. However, we (not realizing our mistake) continued to the right, along the nature trail.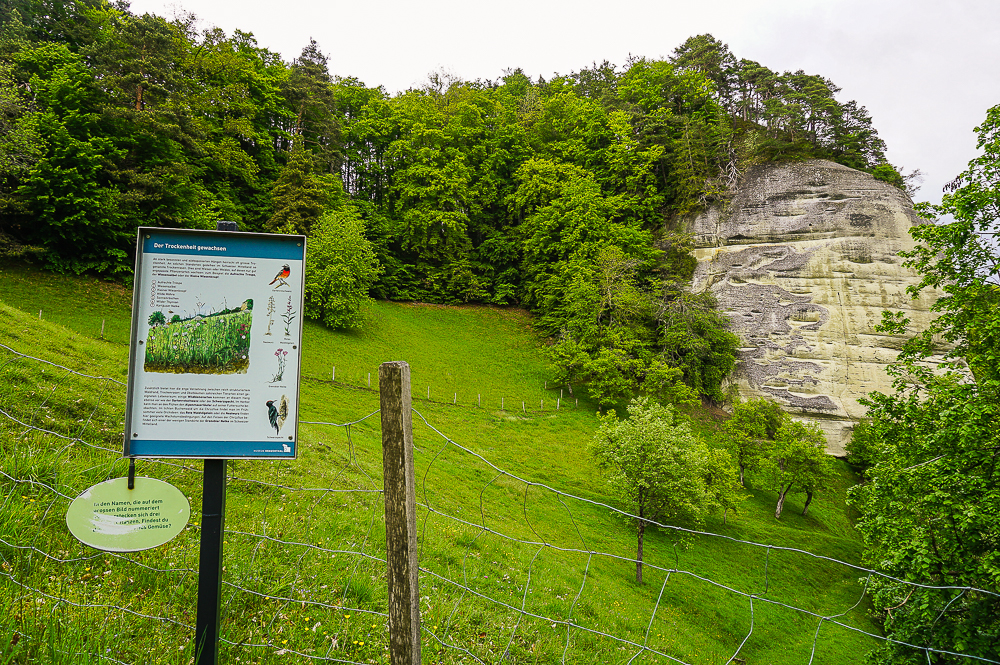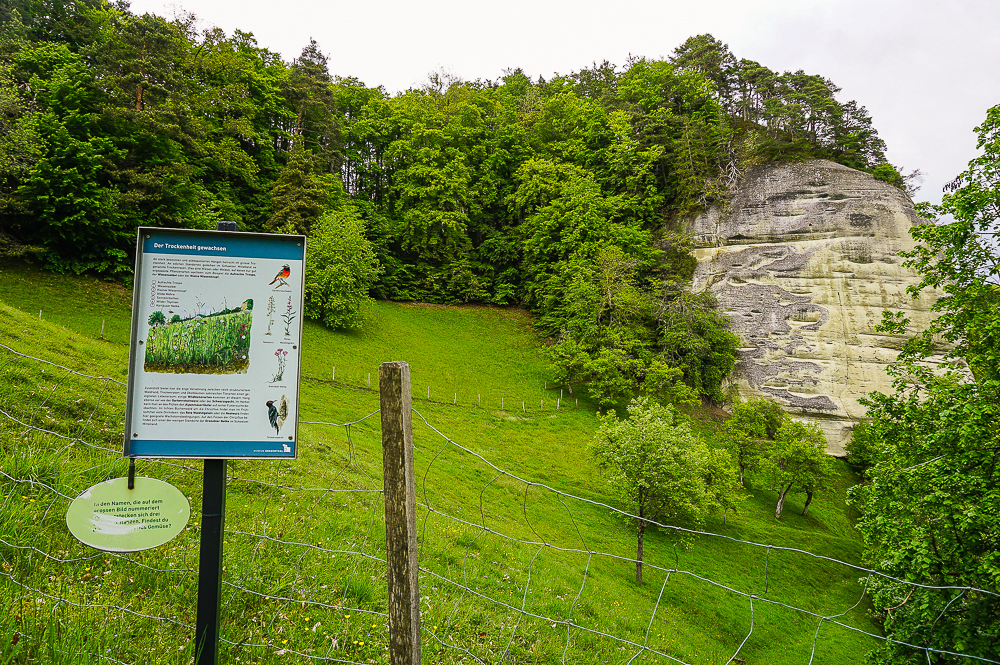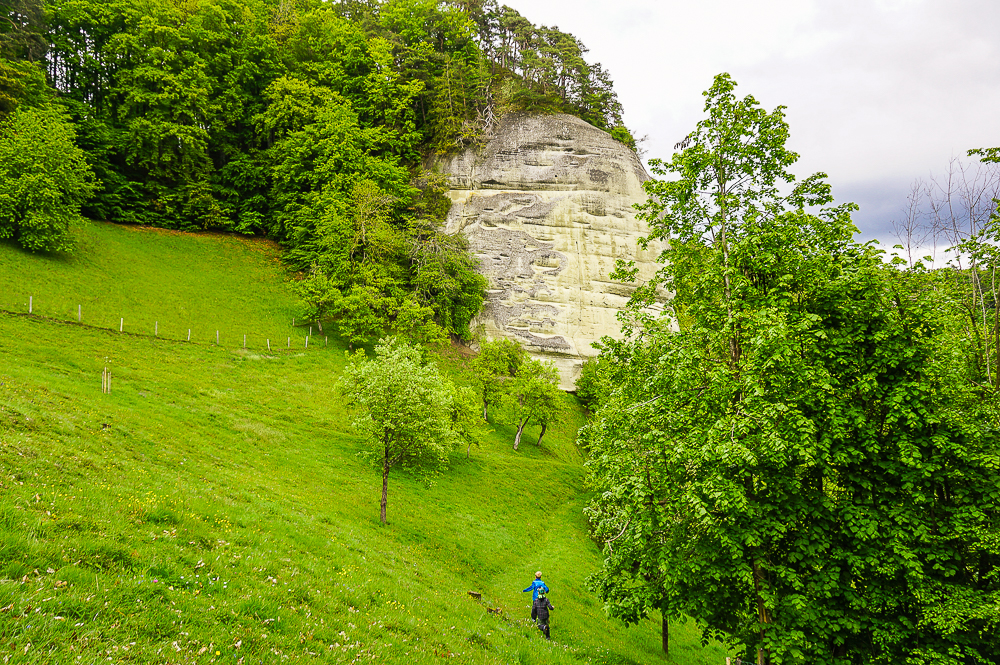 At stop 10 on the nature trail, when the journey went down, my husband said that if we wanted to go to the lookout point, we couldn't go down. And he was right. We returned a few tens of meters back to the wide forest path and continued on it to the left. After about 10 minutes we came across a yellow tourist sign that took us to the wooden pavilion on the lookout. Uh, that was a relief!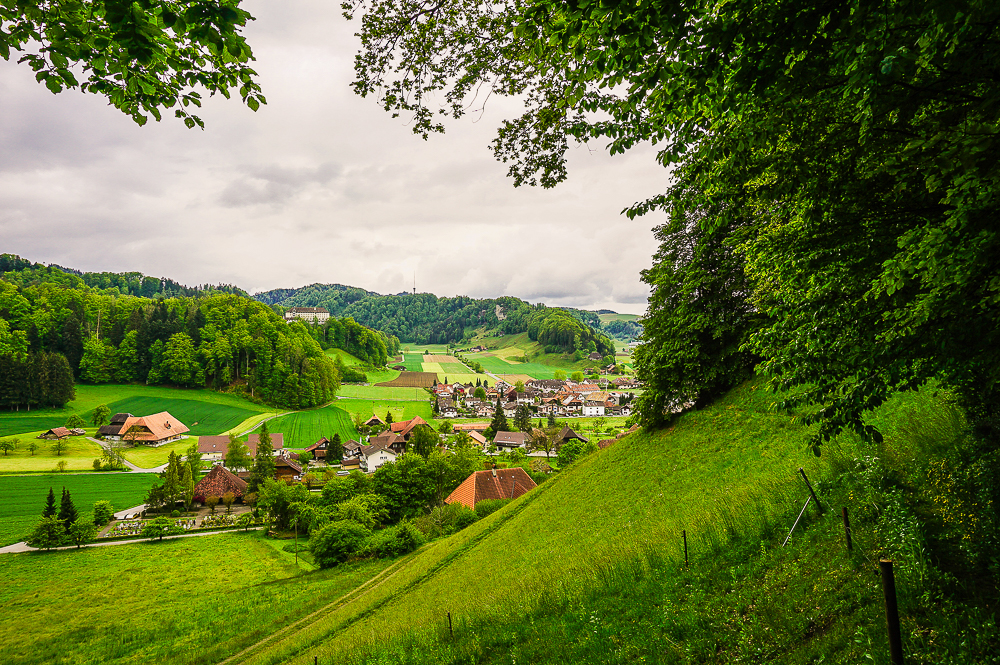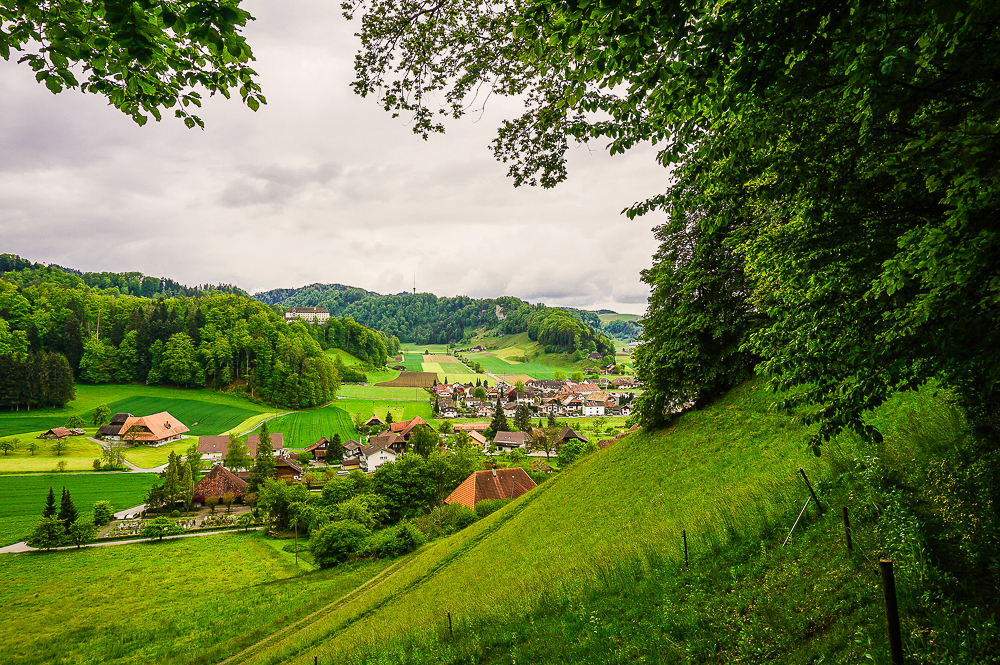 Chrüzflue
It would be a vain effort to look for Chrüzflue on official or Google Maps. There you will find Kreuzfluh, which means "rock with a cross".
The view from here is completely different from the dramatic view of the Alps. Here you feel that you can just stretch your hand and stroke the slightly rolling landscape. It´s somehow so calming.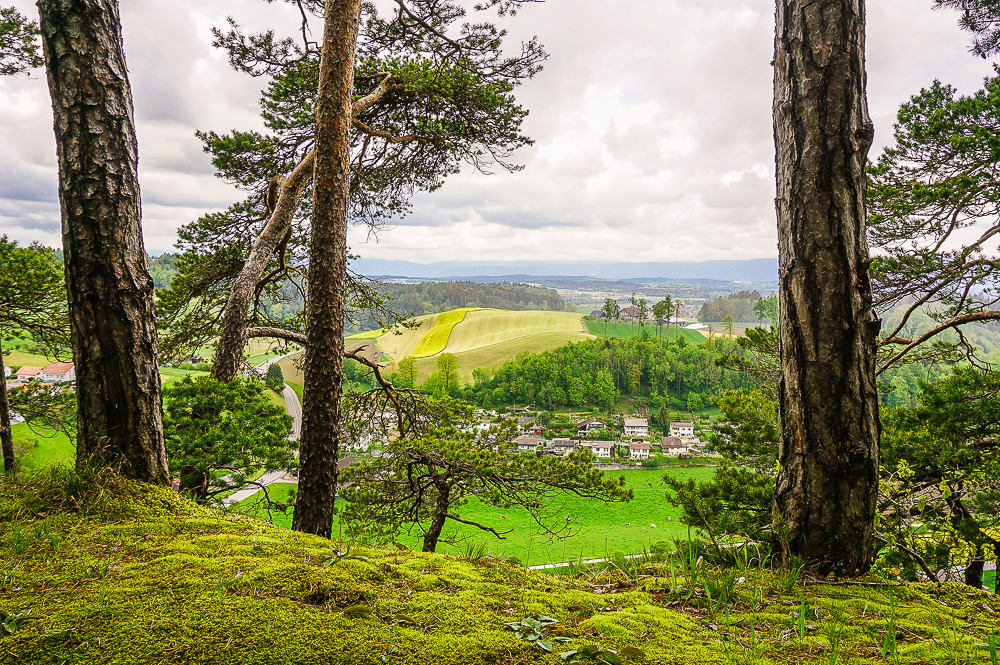 Hiking back
We thought that when we finally found our way to Chrüzflue, our adventure was over. But we were wrong. The way down was also a bit dramatic.
In the end, we had a look at the former sandstone quarry.
Summary
The trail leads mostly along narrow forest paths
Not suitable for strollers
Beware, if you go here after the rain – it may be slippery
The length of the trail is about 3.5km.