If you read my blog regularly and for a quite long time, you probably know that last year I wrote my Swiss Bucket List 2019, a list of places I would like to visit in 2019. The seventh item on my list was Stoos, which we missed last year. We did not succeed until this year, and in fact, it happened by chance.
On the day we set out on a trip to the canton of Schwyz, we were originally supposed to be in another canton, in Graubünden, Switzerland's largest canton. Specifically, in the mountain resort of Arosa, where our Dominik was to participate in a two-day hockey tournament. Although I pray that this year's hockey season is finally over, I was really looking forward to this trip, because we haven't been to Graubünden yet and I've put it on my list for this year (if you're feverishly browsing through my blog, if you missed something, I didn't post Swiss Bucket List 2020 on the blog 😉 ). But the tournament was canceled due to coronavirus – to my great disappointment (and of course to the disappointment of the participants)
And since I am the kind of person who always has plan B, I immediately found the destination of a "replacement trip" – Stoos and the world's steepest funicular.
Getting there
Stoos is a picturesque, car-free mountain village, located in the canton of Schwyz, in central Switzerland, that can be reached by the steepest funicular in the world. It is about 50 minutes' drive from Zurich, 45 minutes from Lucerne or 1 hour 45 minutes from Bern. Directly next to the funicular station you will find a paid parking lot and a parking house, which may be full soon. If this happens, keep driving in the direction of Muotathal to the P + R car park. From there, buses provide a shuttle service to the funicular station.
By public transport: Take the train to Schwyz, and then by direct bus (Line No.1) to the valley station of the Stoos funicular (bus stop Stoosbahn).
Stoos: the world's steepest funicular
I think you have read or heard about this rarity among funiculars. But perhaps it doesn't do any harm to repeat the basic facts: The funicular train to the mountain village, which has about 150 permanent residents, began to build in 2012 about 400 meters away from the original cable car route. There are three tunnels with a total length of 578 meters and two bridges with a length of 261 meters on the route with a maximum slope of 110% (47.7 º), which is a world record.
Also unique are the four circular-shaped cabins. The system of automatic balancing keeps the cabin floors level no matter what the incline. The cable car with a capacity of 1,500 persons per hour was inaugurated after five years of construction on 17 December 2017 at 12:17 pm (however, the entire process from plan to implementation took 14 years). *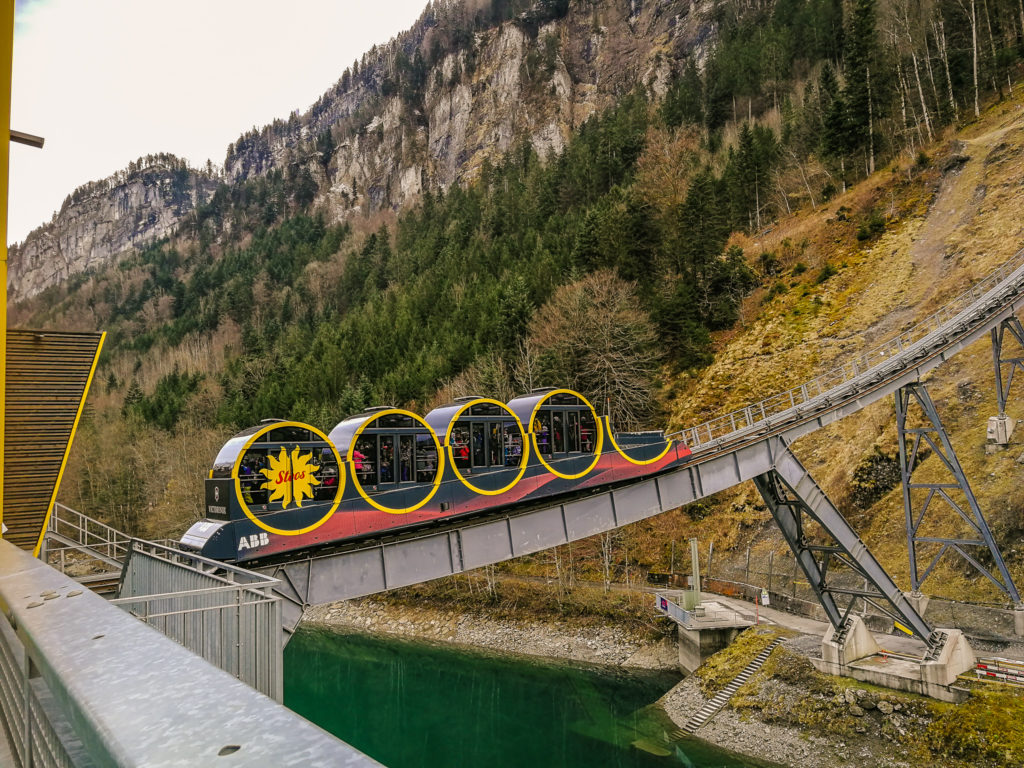 Tickets
If you do not want to ski on Stoos but reach the summit of Fronalpstock, from where you can enjoy panoramic views, there is the "Peak Experience Ticket – Winter" or "Gipfel-Erlebnisticket Winter". With this ticket, you can travel once from the valley station to the summit Fronalpstock and back in one day.
The price of an adult ticket is 46 CHF, with the SBB Halb-Tax card 36 CHF, children 6-15 years pay 19 CHF, children under 6 travel free. Children with SBB Juniorkarte travel for free.
If you decide to buy tickets in advance via the Internet, you can save 2 francs per ticket. So for an adult, you pay 44 CHF instead of 46, etc.
Information about ticket prices and operating hours can be found on the website here. The expected ski/winter season will last until 13 April 2020.
Our destination: the peak of Fronalpstock
Since our Patrik had a temperature two days before our trip, we did not want to overload his body with a long hike or, God forbid, with skiing. We just wanted to go to some nice place and take a walk and get some energy from the sun and fresh mountain air. So we decided to take a walk along the Panoramaweg Fronalpstock, about a kilometer long loop trail (marked on the map below by the number 44 and the yellow arrow). This practically flat loop route could be done in 30 minutes.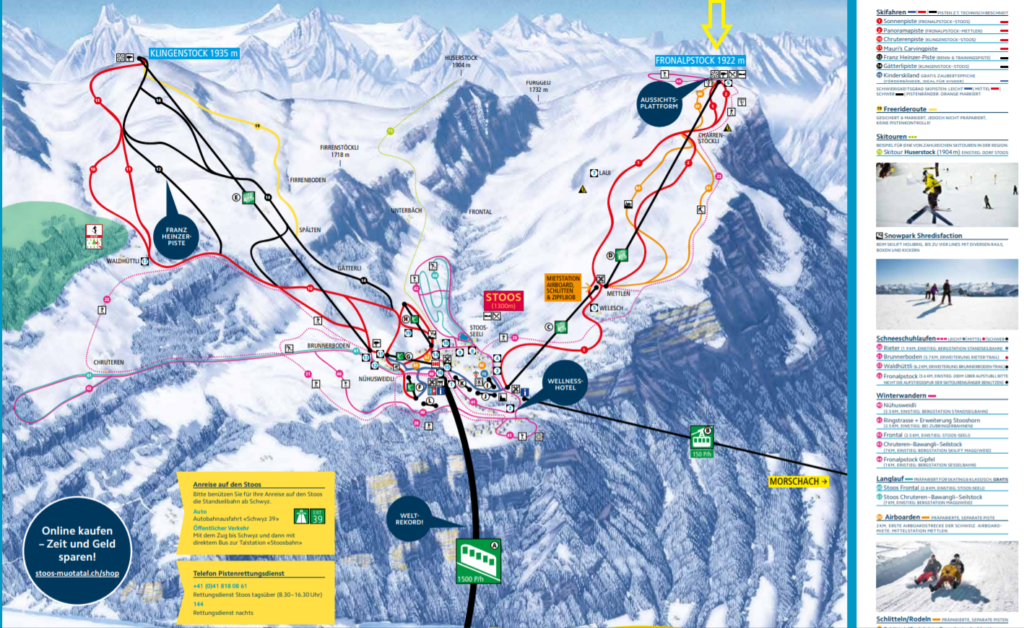 Once in Stoos, turn right and follow the signs for the SesselbahnFronalpstock Talstation. It is less than a 5-minute walk through the village. But we took it a little detour, around a small church.
Two chair lifts take you to the top of Fronalpstock. Let me tell you, it's such a strange feeling when you ride up the cable car and you don't have skis!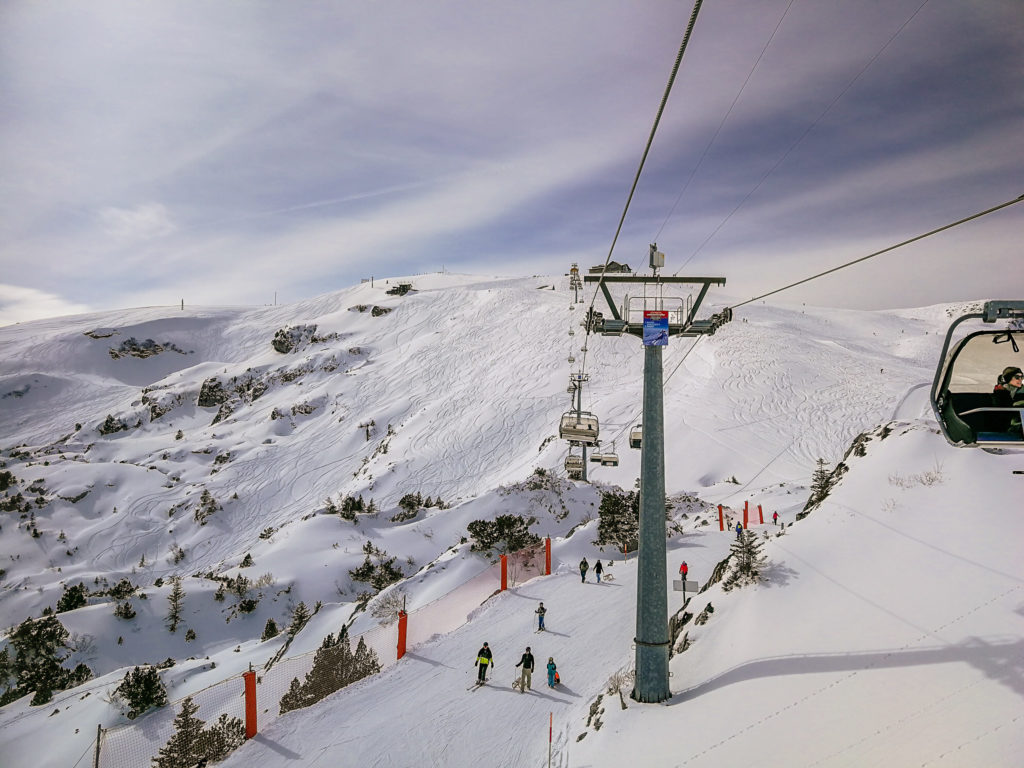 Before we set out for a short walk, we stopped on a viewing platform from where there are really incredible views of central Switzerland: besides Lake Vierwaldstättersee (Lake Lucerne) you will also see famous peaks such as Rigi, Pilatus, Bürgenstock, Stanserhorn or Buochserhorn.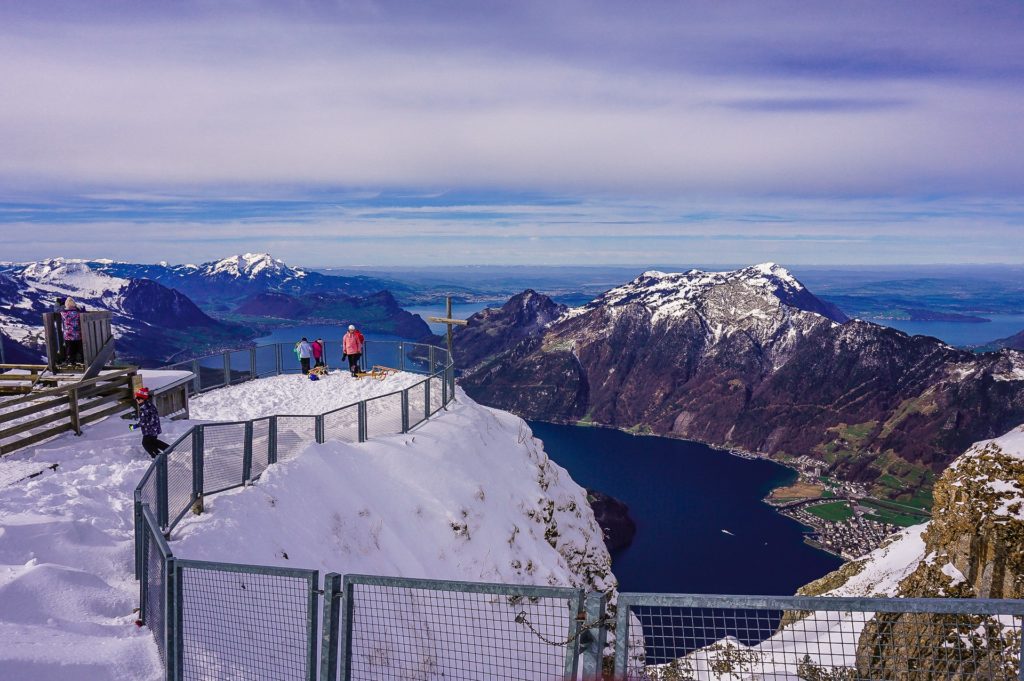 In addition to the viewing platform, there is a self-service restaurant with a terrace and a children's playground on top.
Panoramaweg
The Panoramaweg route is marked with purple bars. The path is wide and well-groomed, I think it could be doable with a terrain stroller (or you can drag smaller children on a sled).
We went back by chair lift again. And it was even more strange feeling than going up without a ski. But at least I could take a picture of Stoos from a height.
Skiing on Stoos
As I wrote, this time we left the skis at home, but of course we had a good look at the ski resort and we decided that we will definitely come back here because the slopes looked really good. There are 3 chair lifts and several T-lifts that serve 35 kilometers of slopes of all difficulty levels. For children, there is a children's slope in the village with two magic carpets and one rope lift, which are free.
So see you soon at Stoos!